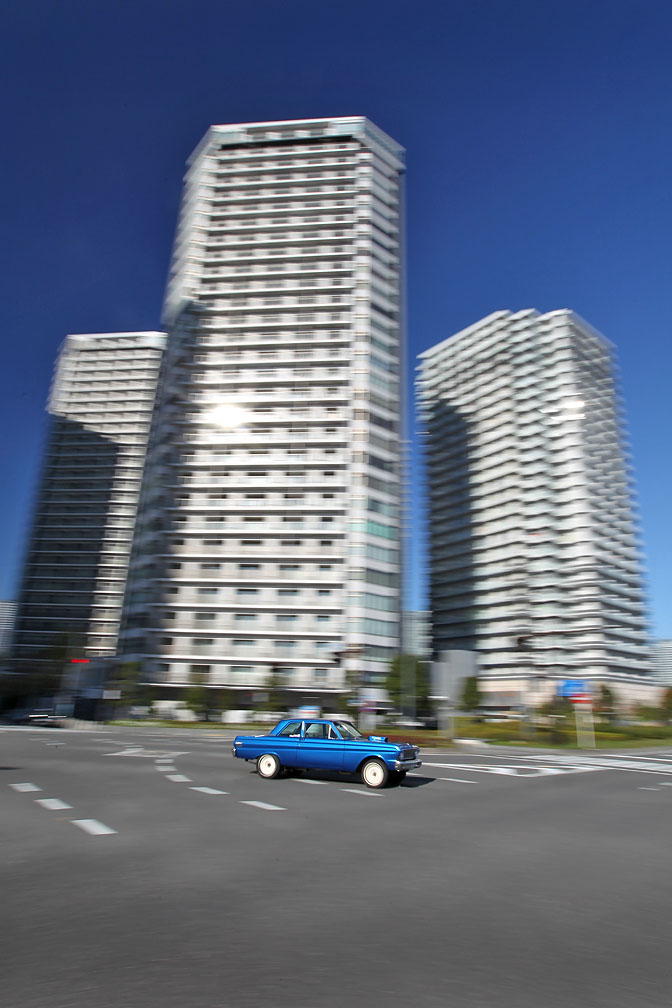 I can't believe this year has gone by so quickly! It feels just like the other day that I was in shorts and t-shirt covering D1 rounds, and now the winter months are edging ever closer. Early December could only mean one thing in Japan, aside from the clear blue skies and crispy fresh air, it is time for an event I've been eagerly awaiting, the Mooneyes Hot Rod Custom Show! 2009 was my first year being a member of the Speedhunters team and part of the deal was to cover everything that went on in Japan, JDM or not. I found myself in uncharted waters many a times, as I did my best to cover scenes I had never even contemplated of diving into before. The Mooneyes shows have helped to broaden my horizons and even if these events aren't exactly my scene, as a car enthusiast you really can't help but appreciate the incredible cars that participate. I have found myself looking forward to anything the guys at Mooneyes organize and the end of the year show is probably the best of them all.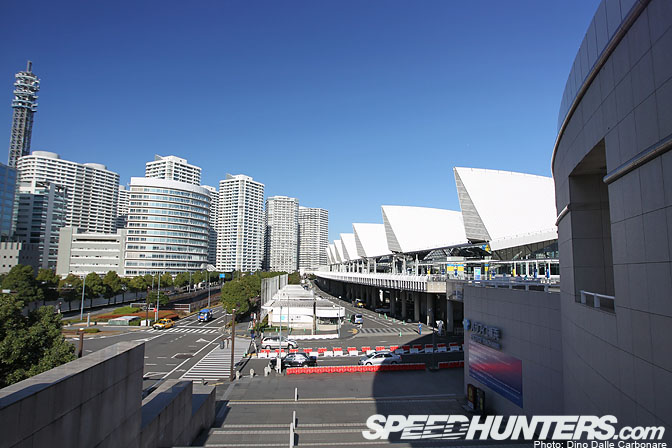 So this morning I got up nice and early and jumped on the express train down to the trendy Minato-Mirai area of Yokohama. My destination was to be the Yokohama Pacifico exhibition center where hotrodders and custom car aficionados from across the country would come to meet for the biggest Mooneyes Hot Rod Custom Show ever!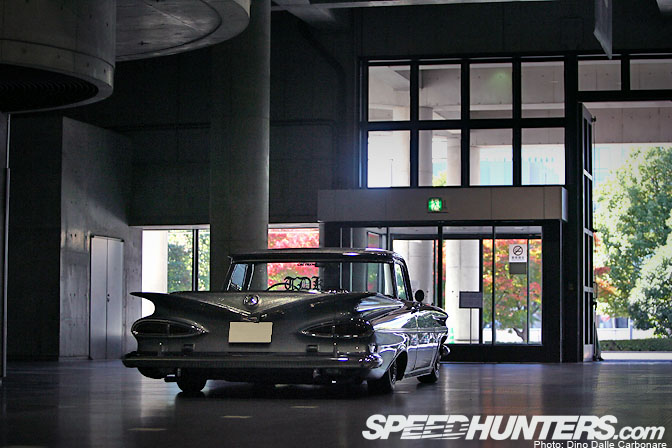 The main show is actually being held tomorrow, but with the Nismo Festival going on in Fuji Speedway at the same time I would once again, like in 2009, be covering today's set-up only.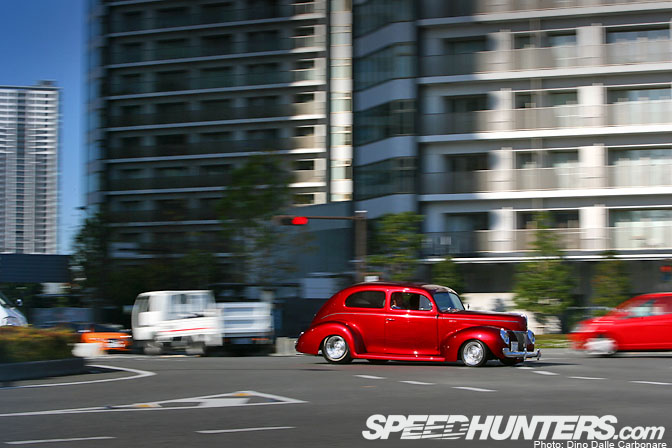 When I arrived outside the massive Pacifico exhibition center I decided to hang around outside for a while to check out the cars that were beginning to roll in. After all it's not every day that you see custom rides like these loose on Japanese roads. They looked even more special against the modern backdrop of Yokohama's most fashionable district.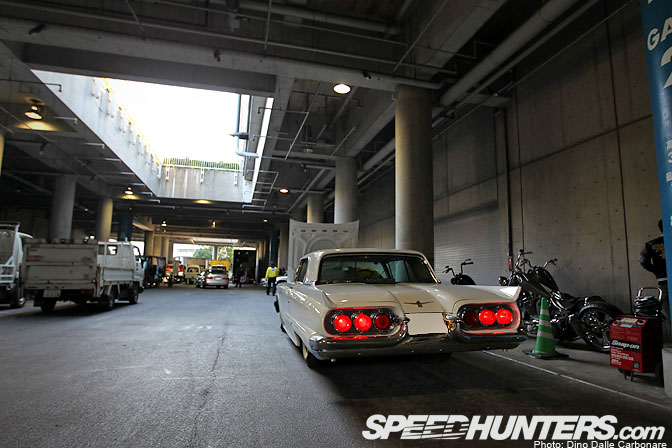 Behind the exhibition center the massive doors to the main halls were already open, with more cars arriving by the minute as owners and custom shops got to work at preparing their stands.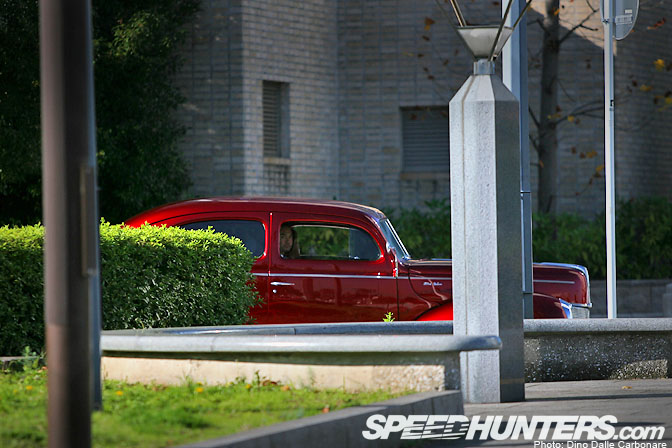 One of the best aspects about every Mooneyes show is the friendly atmosphere…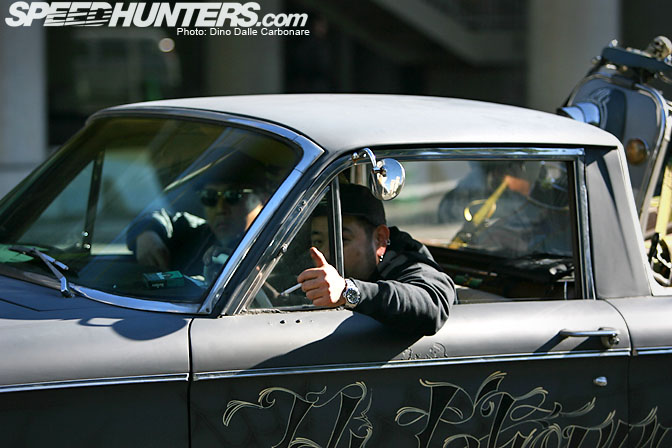 …with everyone that participates giving you a thumbs up and a big smile every time you point a camera towards them or their cars.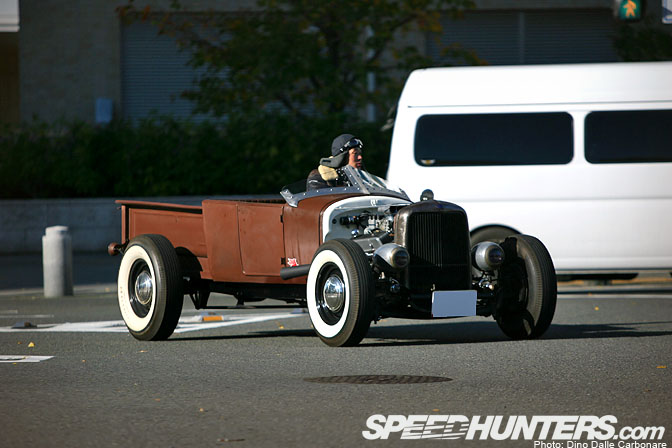 All sorts of cool crazy rides and extreme hot rods kept rolling in, either driven on temporary "slash" plates…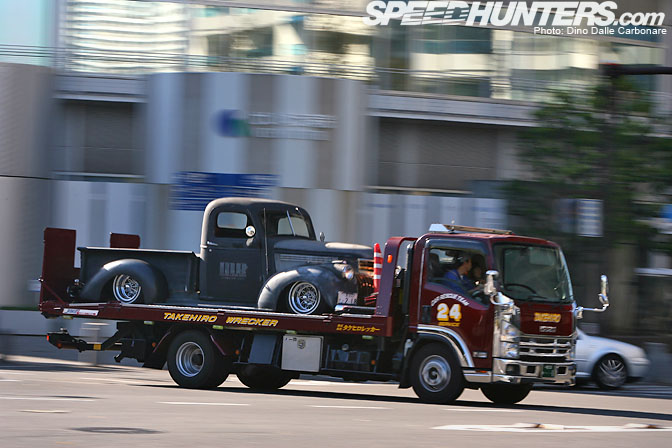 …or on board dedicated transporters.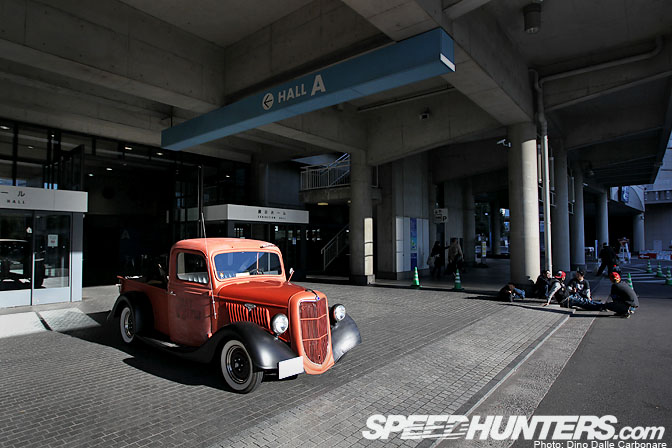 As I made my way towards the main central exit of the exhibition center I spotted this cool Ford pick up truck parked up outside Hall A.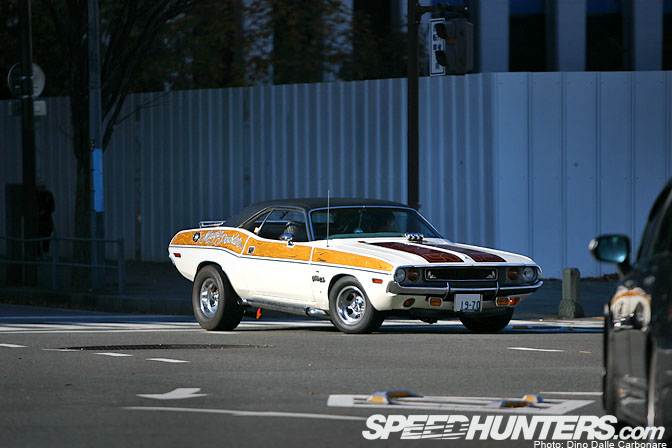 This "Magic Powder" 1970 Dodge Challenger is a regular at all Mooneyes events I've been to so far, but it's so much different seeing it drive by on the street with its crazy staggered stance.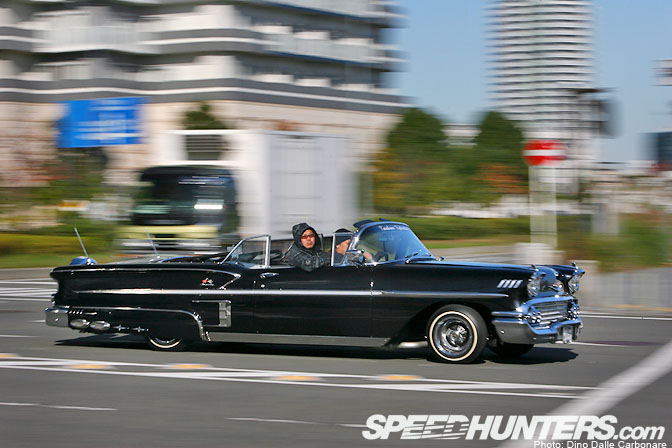 Pimping!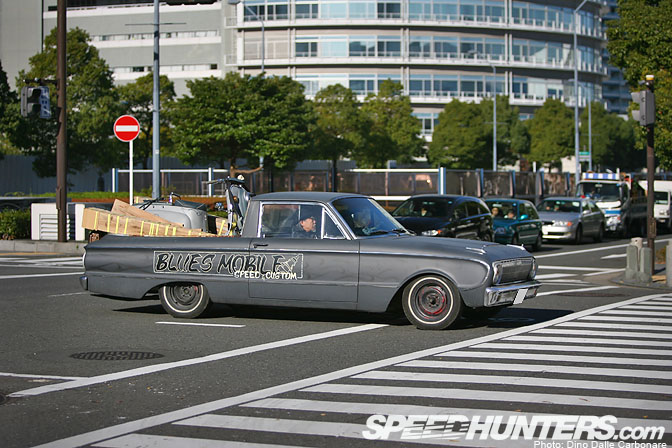 After covering most entrances into the exhibition center I decided to head inside to check out how the set-up was going…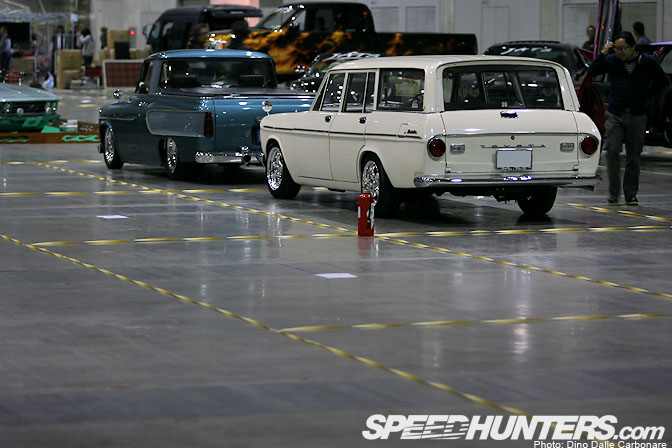 …and I finally managed to spot a couple of Japanese rides, an old Toyota Crown wagon and Toyopet truck, lined up in a still pretty much empty hall.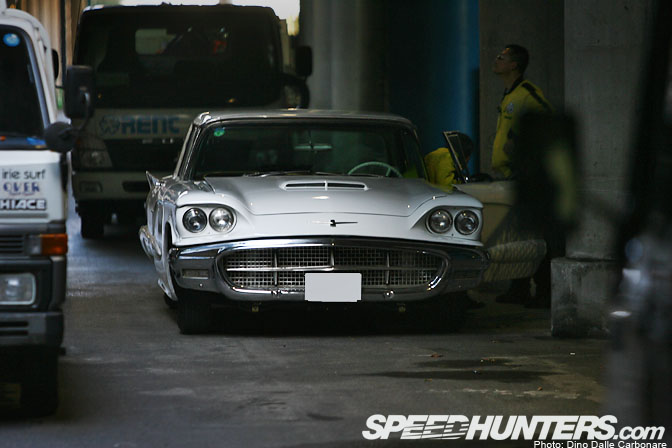 Cars kept getting dropped off at the back and slowly being driven inside.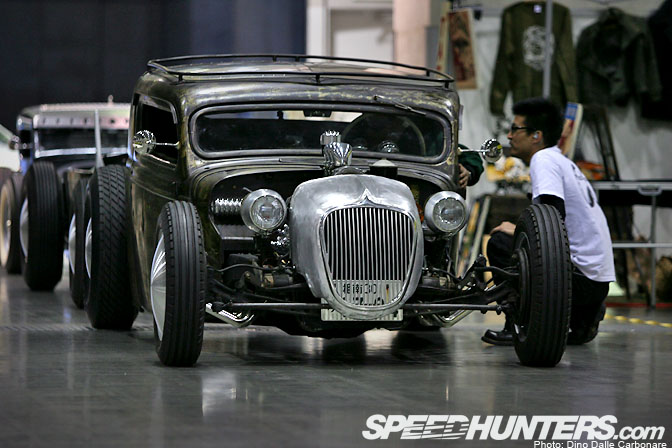 The first few rat-rods began to turn up, far more than I have ever seen at any of the Mooneyes shows I've been too in the past 2 years.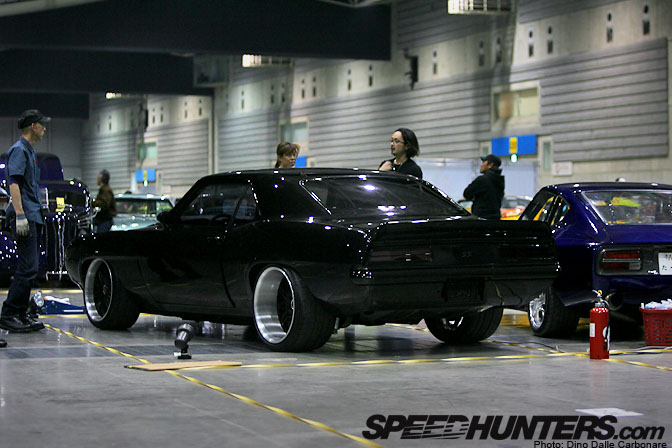 How is that for black on black…with a fat helping of lip thrown in for good measure!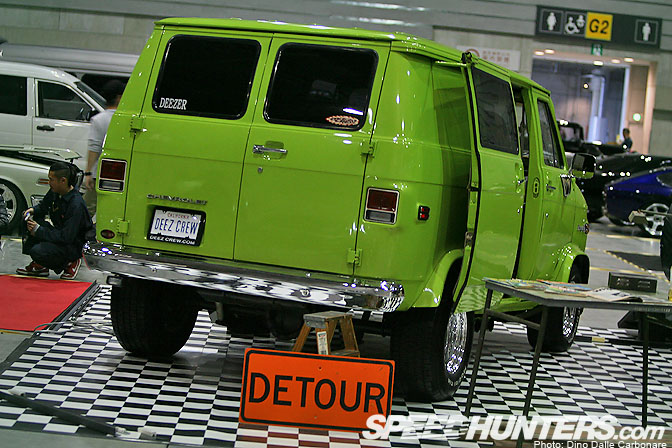 Any Mooneyes show would be incomplete without a healthy showing of Chevy and Dodge vans.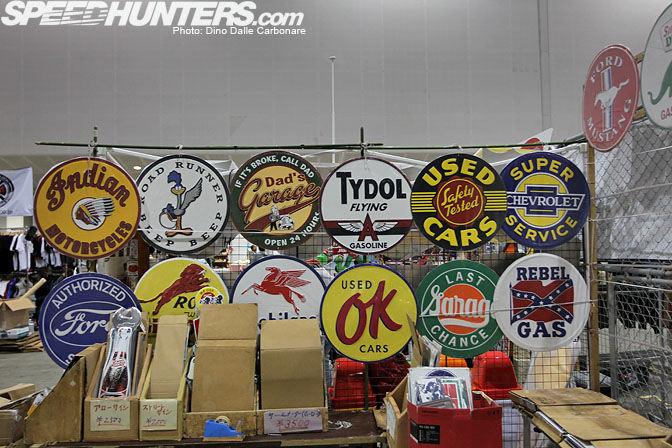 And where would a custom show be without the tons of little stands selling all sorts of collectable stuff, anywhere from greaser-type apparel to old 50's signs, model cars and toys.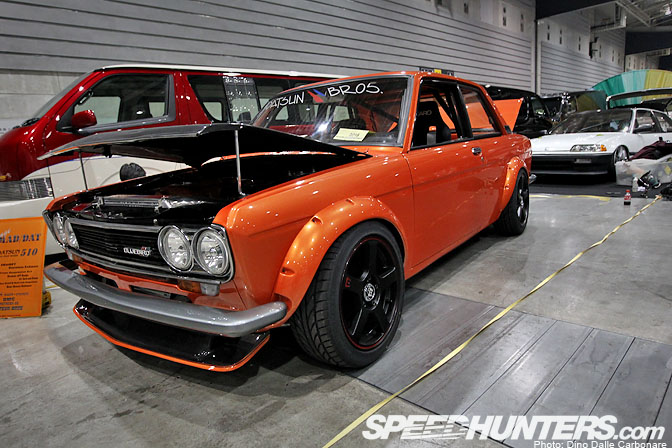 Back to some more JDM stuff! This Datsun 510 was sporting a pretty mean stance with riveted-on overfenders. Best thing about this metallic orange classic however was the not so classic engine powering it, a 350 HP SR20DET!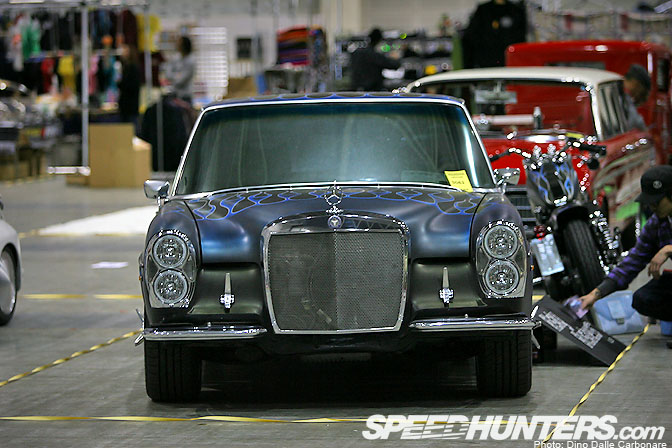 Badass Mercedes Benz!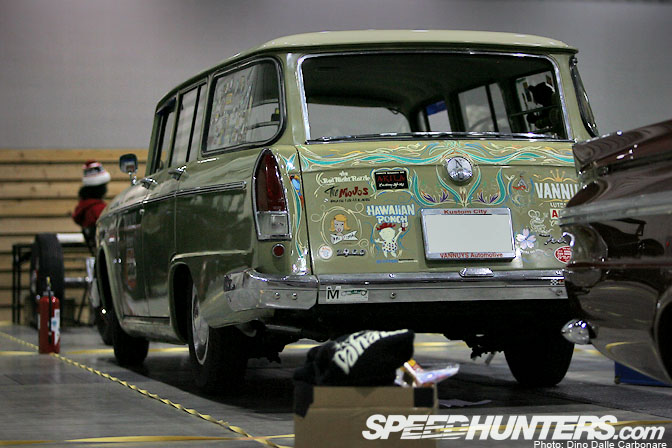 There really is something to keep everyone interested at these events, and I always seem to have this strange attraction to wagons!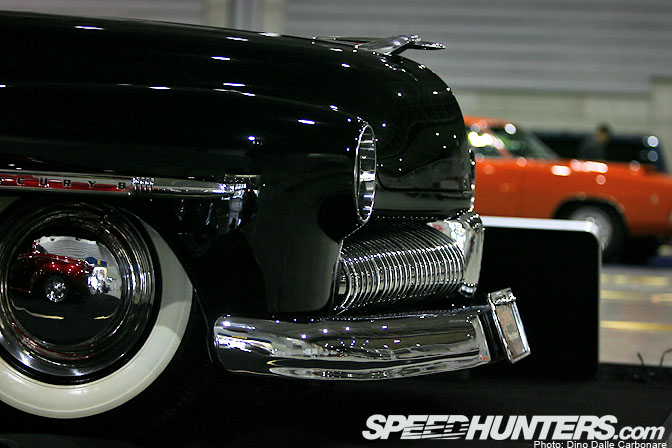 There is tons more to come from the Mooneyes Hot Rod and Custom show…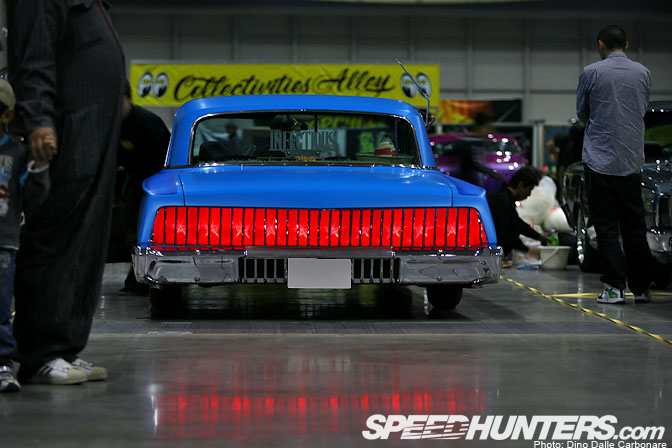 …like impressively customized rides and simplistic yet captivating rat-rods to suit any taste. But now, it's way past my bedtime. Tomorrow is an early start once again as I tackle the unbearable Sunday traffic to get down to Fuji Speedway in time for the 2010 Nismo Festival. Check back soon for updates from both shows!
-Dino Dalle Carbonare