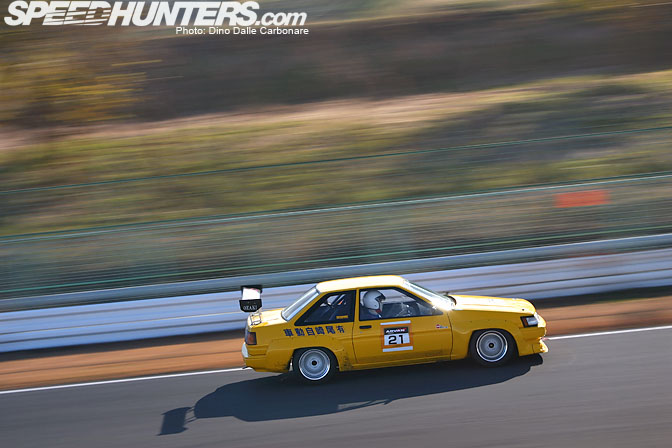 Back at Tsukuba now to revisit the AE86 Matsuri from a few weeks back. This is one event that was all about action and it's pretty impressive to see just how fast some privateers have managed to make their own rides. If you can't understand the appeal of the hachiroku among people and cars like these you may as well give up trying to. The enthusiasm and absolute devotion that I saw people share with each other is what it's all about, not only about their cars but the whole scene. These gatherings is what fuels this passion and without them tuning shops and owners wouldn't have half of the drive to push further and further to develop their cars.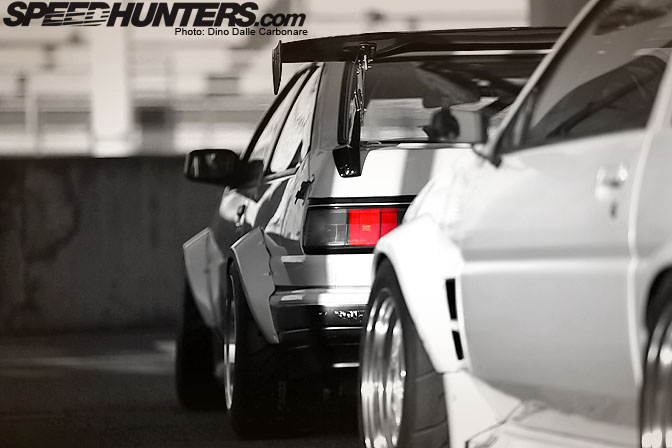 I always say this, but after spending so much time at drift events of every type this year it is always such a refreshing change to see grip-oriented 86s, with big GT-wings slapped on their hatches and out on track trying to find that extra tenth of a second.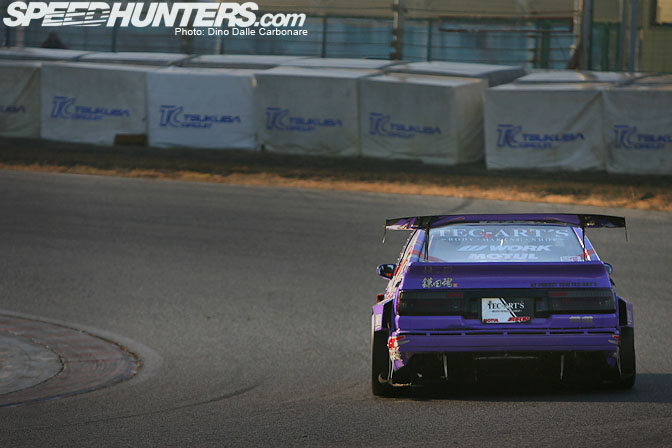 Kamata-san in the Tec-Art's N2 racer.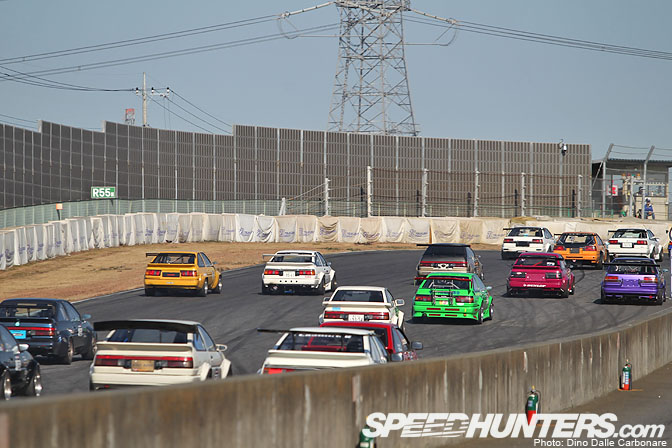 I headed to the pits to check out the start of the N2S race, the biggest battle of the day, as it's not every day you see almost 30 highly modified 86s blasting off the line at the same time!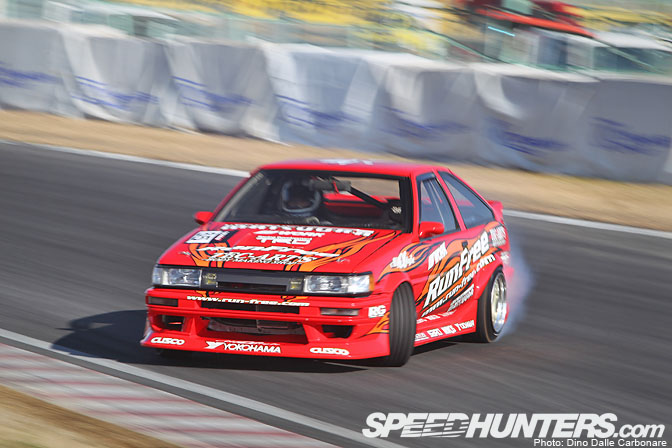 One of the RunFree cars out in action for a bit of sideways entertainment.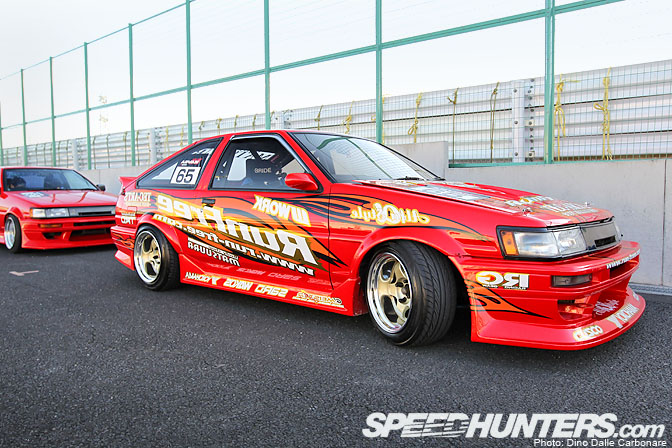 You know the driver is good when a drift car is this clean!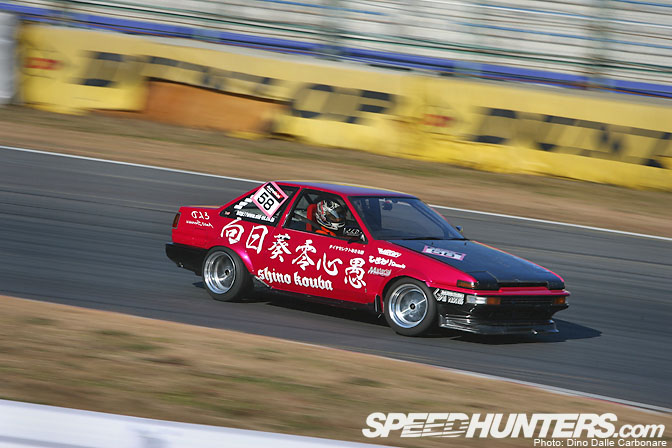 Every time I see drifting at Tsukuba it brings back memories of the great D1 rounds I covered here this past decade. I still can't believe the power war and the direction D1 has taken over the years has moved pro-drifting to faster circuits and away from impossibly entertaining tracks like Tsukuba. Hopefully the mess D1 is in now will force organizers to rethink their decisions. I think the start of a new decade will bring much awaited change!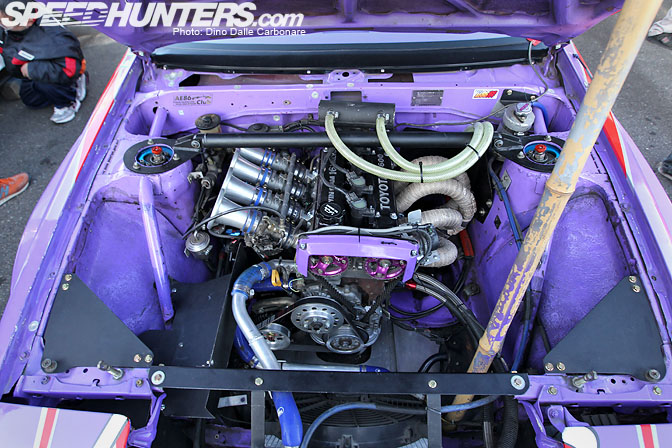 The little screaming 4AG of the Tec-Art's demo car. Dry-sump allows is to sit lower for a lower center of gravity. An impressive engine bay and one that had a steady crowd of admirers throughout the morning!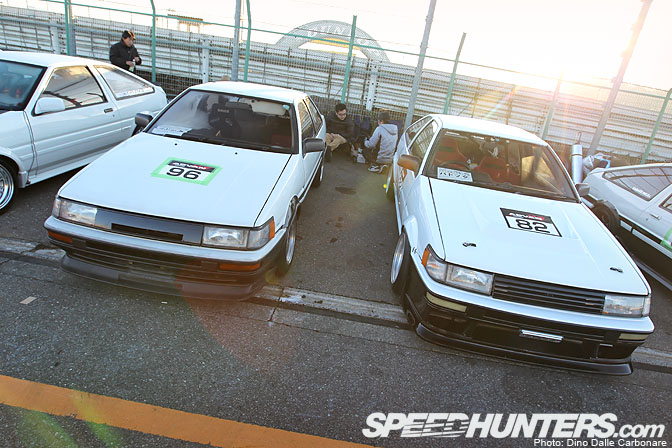 Among all the race-prepped cars there were plenty of more street oriented cars retaining much of the stock look, enhanced only by aggressive stancing and aggressively fitting wheels.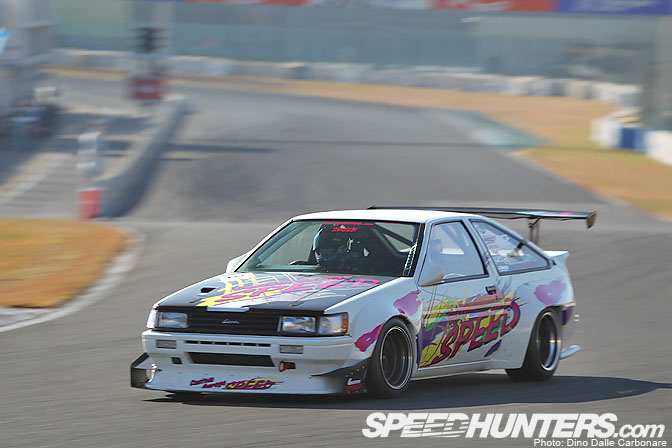 The N2 Custom Garage Speed Levin in action entering the first corner.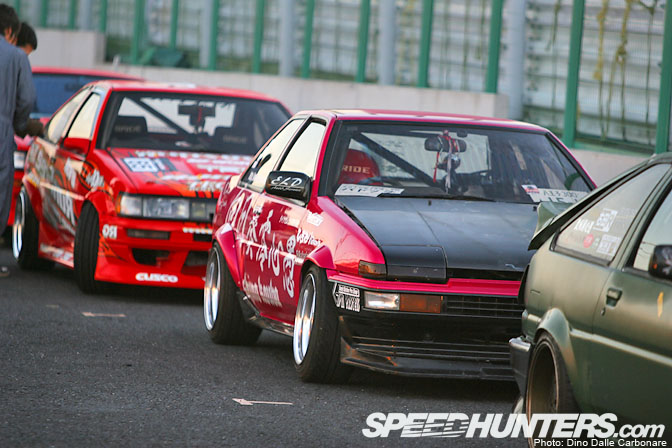 As I made my way around the drift car group…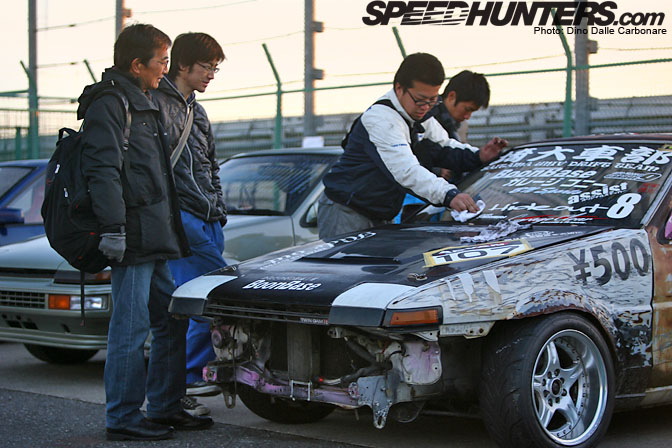 …I ran across a familiar car that I had seen up in Ebisu Circuit last month for the Drift Matsuri. Everyone probably remembers the ¥500 AE86! The owner was at Tsukuba for a little grip action!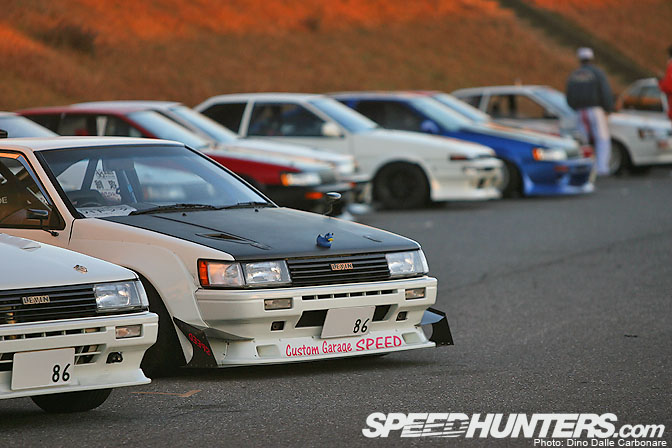 What a view!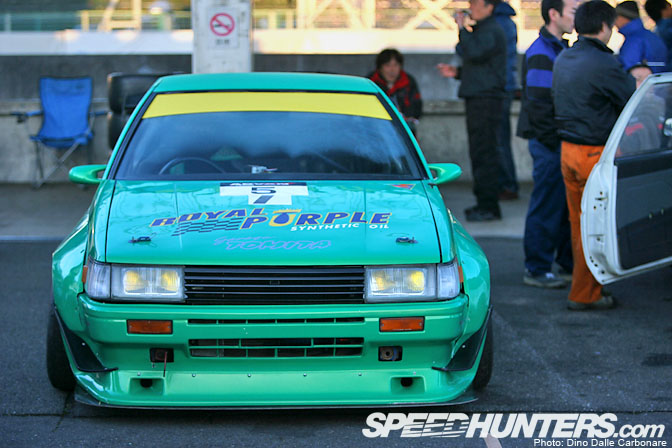 Another N2 contender, the Garage Tomita Levin.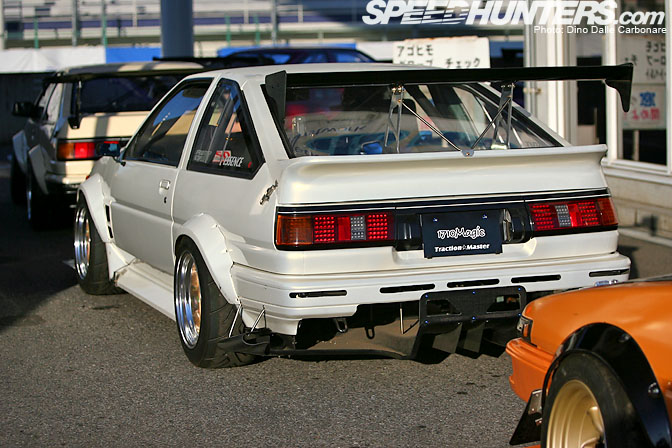 Along with cars like the 1710 Magic N2S car…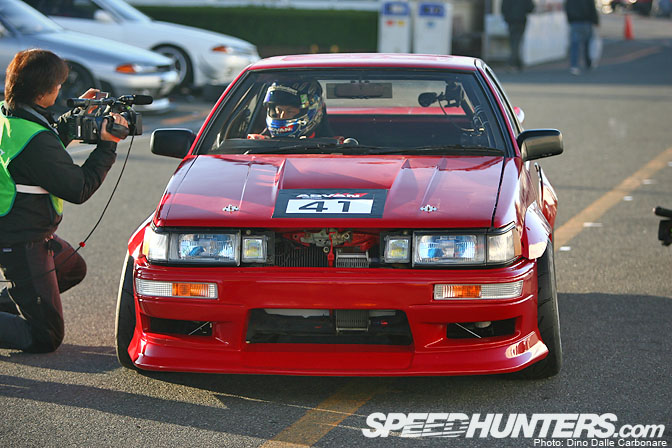 …was also Nobuteru Taniguchi in the N2S Hot Version with Yoshi Levin. As always, wherever Nob goes, he has video cameras shoved in his face! Will have to check out the next Hot Version to see what they were up to. It was also good to see gatherings like this getting some coverage from Video-magazines like HV!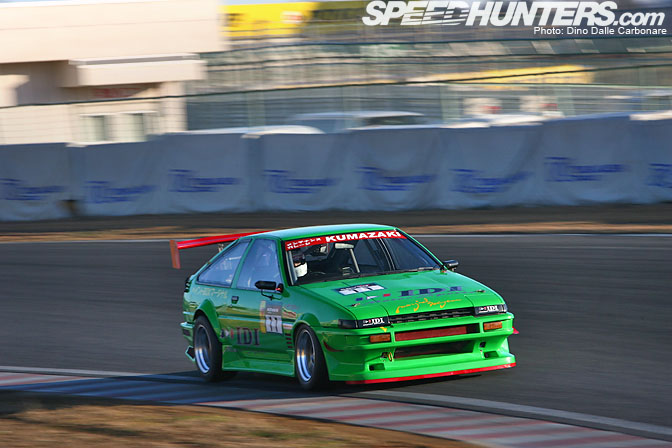 IDI Trueno under hard braking setting up for the hairpin.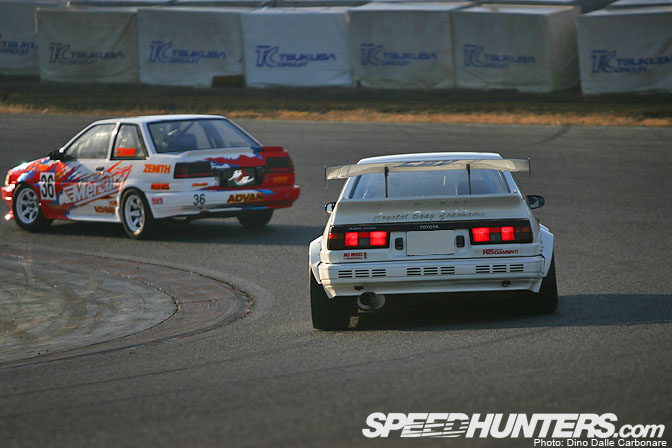 Mercury, the organizers, also had their own car, seen here chased by a CBY prepped car.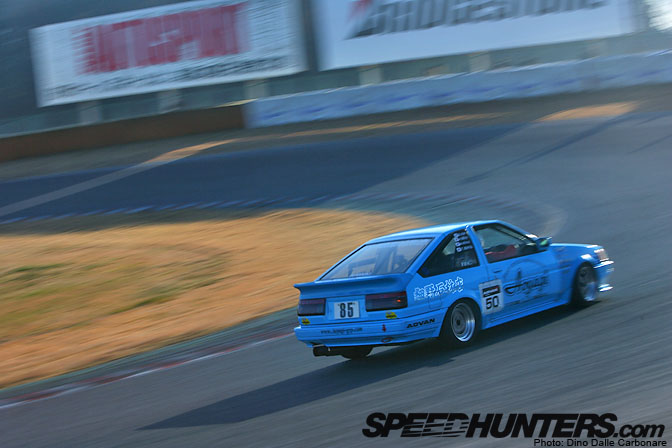 The hairpin at Tsukuba is where most of the action takes place, especially during the tightly fought races where tons of cars fight for the racing line.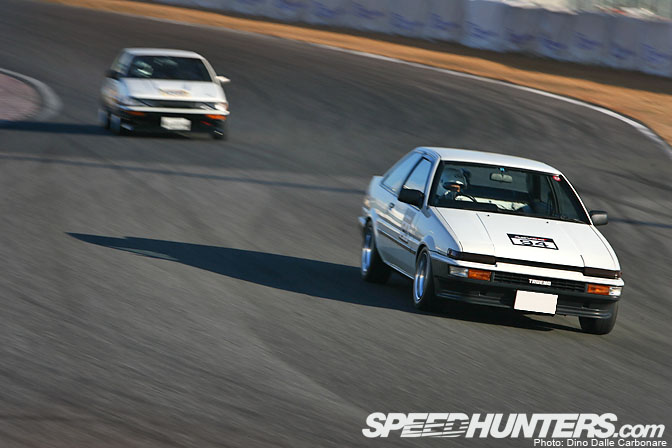 Here is Tomo out for a few hot sessions with his mint-condition Trueno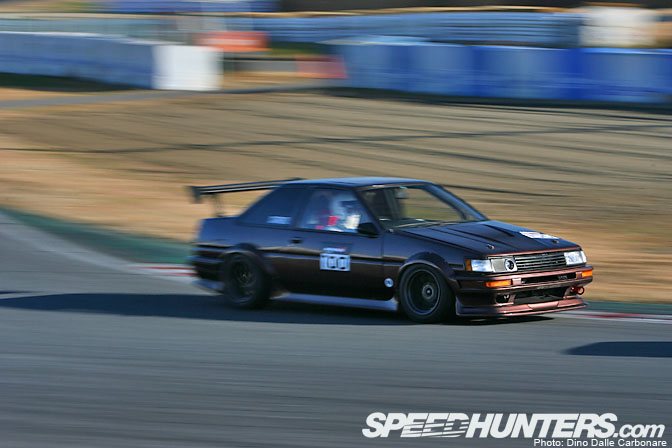 The variety of colors and unique tuning solutions makes checking out each car so interesting.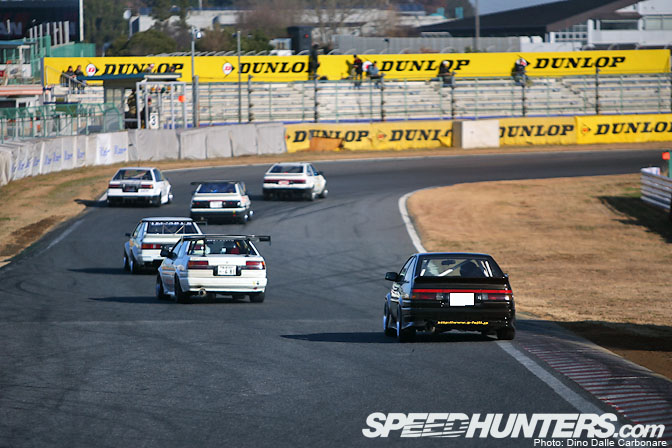 Well that's about it for this great event. We will have to wait one more year to see anything like this again and judging from the atmosphere I'm certain this is one gathering that is set to stay and most definitely grow!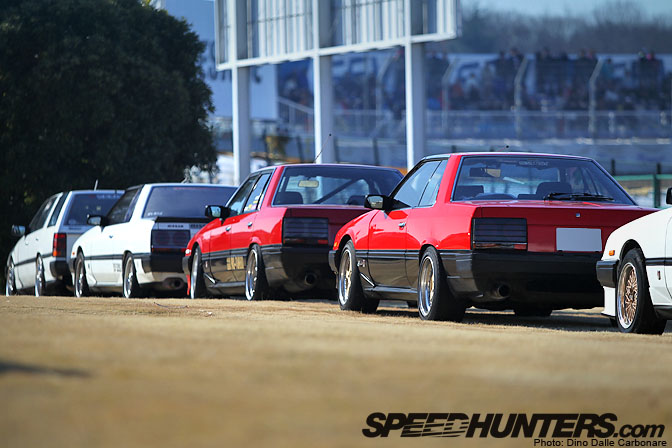 But wait! It wasn't all over. As the AE86 guys were out on track finishing up their session there was something else brewing up in the other half of the paddock and other areas of the track. You will have to wait until next year to find out what, thankfully 2011 is only two days away!
-Dino Dalle Carbonare