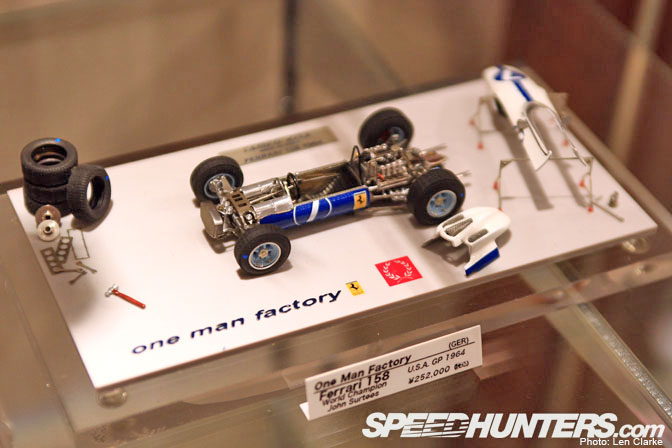 As a city, Tokyo never fails to impress with its endless array of interesting and unexpected places. In the world of hand-made 1/43rd scale models, Make Up Co., Ltd. has got to be Ground Zero. Despite the somewhat incongruous name ('make up' in this case refers to kits that can be built or 'made up'), the quality and range of cars here is truly astounding.  The price on that 1/43rd scale diorama of the Ferrari 158 above, is about USD$2,900.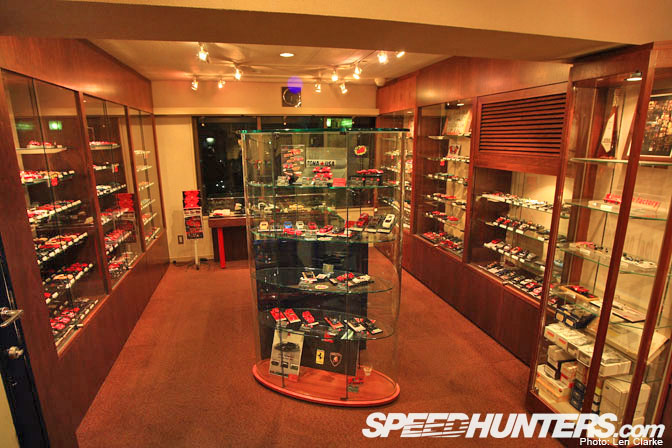 Located on the ground floor of an unassuming building in a back street of the fashionable Aoyama district, this is a favourite of car fans who have no budgetary constraints. Its softly-lit interior exudes an air of exclusivity the likes of which I've never witnessed in a toy car shop!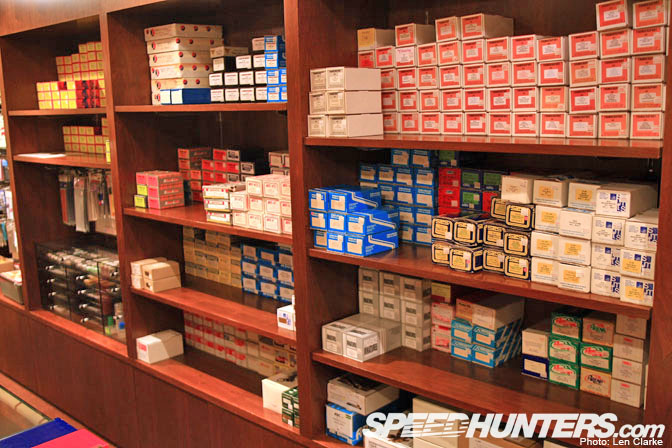 In addition to the diverse range of ready-built models, Make Up also does brisk business in white-metal and provence moulange kits as seen on the shelves in this image.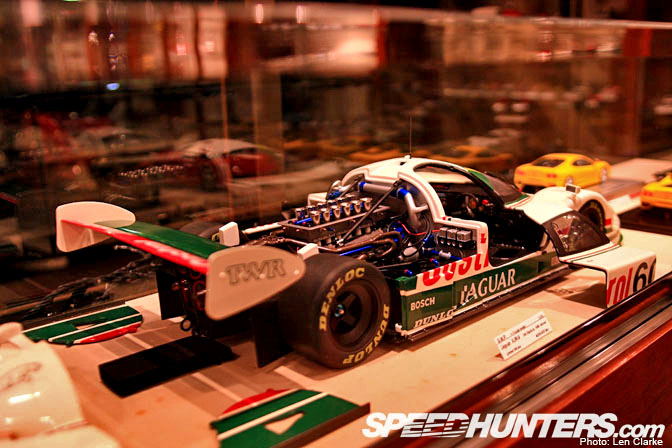 To say that the shop is high-end would be an understatement. Every piece on the premises is hand-built, whether from one of the world-renowned brands specializing in the preferred 1/43rd scale (BBR, One Man Factory, Southern Cross, Tameo, Marsh etc.) to their own recently-released and extensive line, Eidolon. There were also a couple of giants including this 1/8th scale Jaguar XJR-12 that contested the Le Mans 24 Hours in 1990.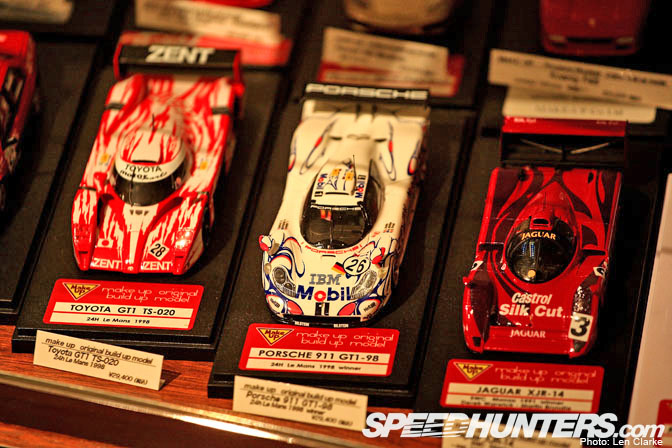 More Le Mans contenders: Just a smattering of the vast range of models available from the shop's 'house' brand, Eidolon.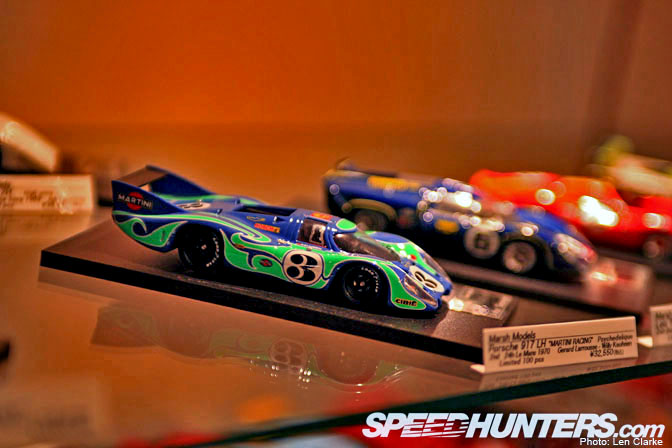 Marsh Models' 917LH 'Psychedelique as raced at Le Mans in 1970.' Mais oui!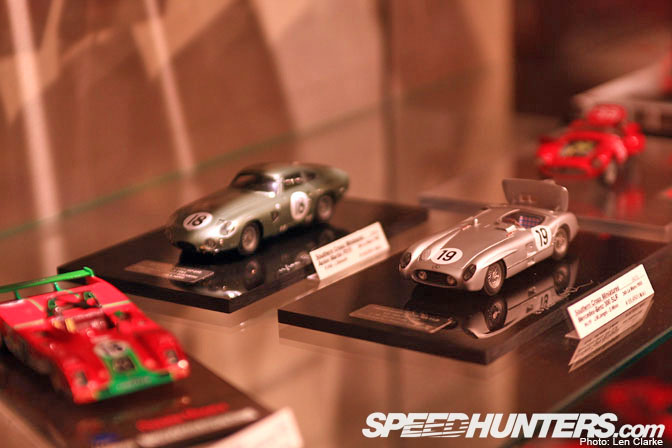 Southern Cross is another very highly regarded line of hand-built models, and appropriately are available at Make Up. This Mercedes-benz 300 SLR of Fangio/Moss was particularly impressive.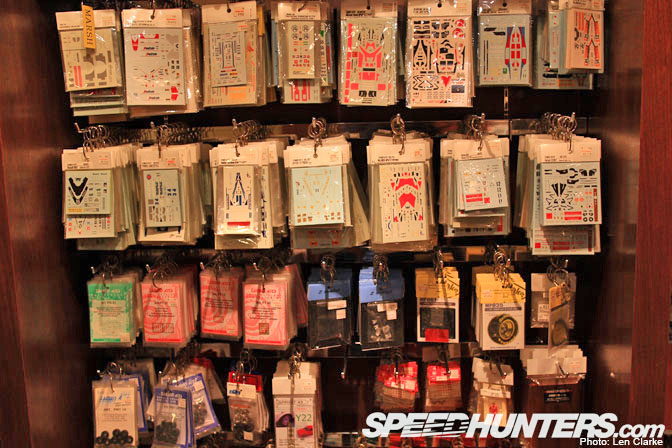 Serious kit builders need accessories too. Here is just one part of the wide range of decals on offer for all sorts of F1 cars, Le Mans challengers etc.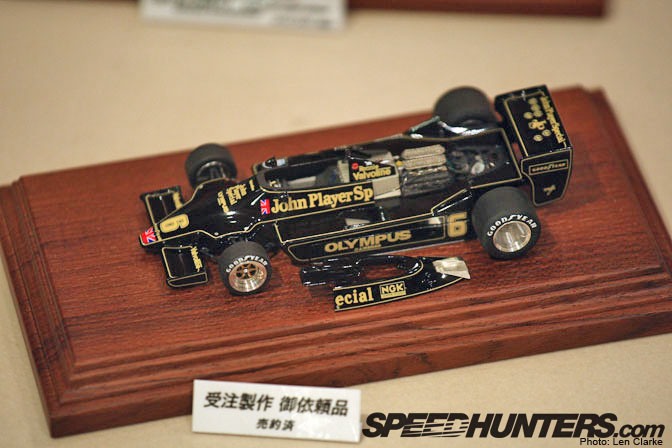 Two words: Ronnie Peterson.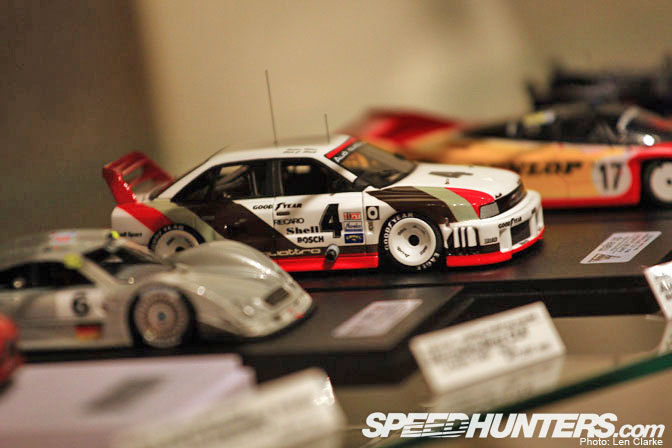 A very nicely presented example of the IMSA Audi Quattro from the late '80s. This too is from the shop's own line.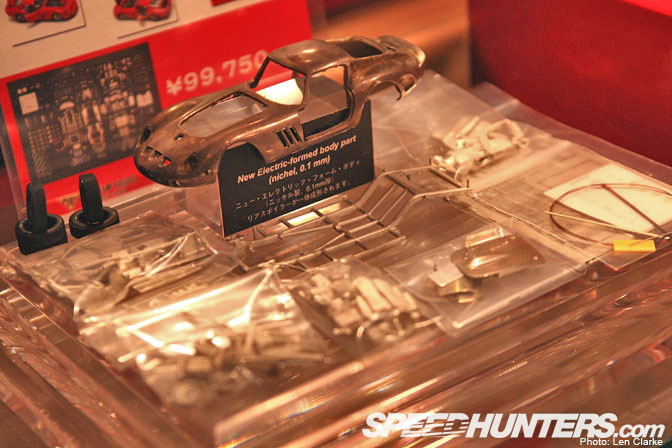 Featuring body parts only 0.1mm thick, this car must be as delicate as it is gorgeous.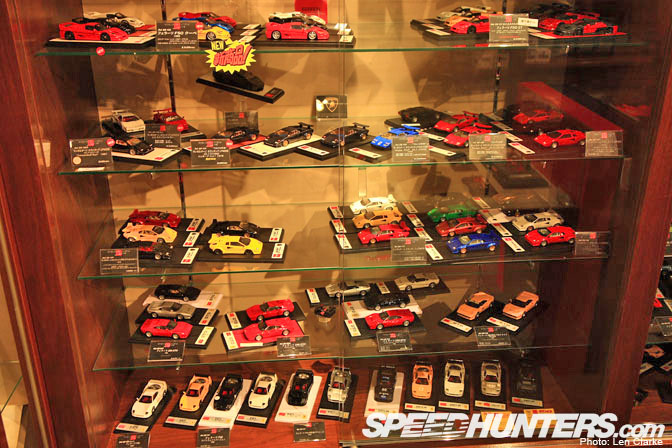 Here's the first of three cabinets devoted entirely to the Eidolon line. In typically Japanese fashion, the breadth of selection is staggering. In love with the Lamborghini Countach? They make no fewer than 33 versions of that design icon. This is a very serious shop!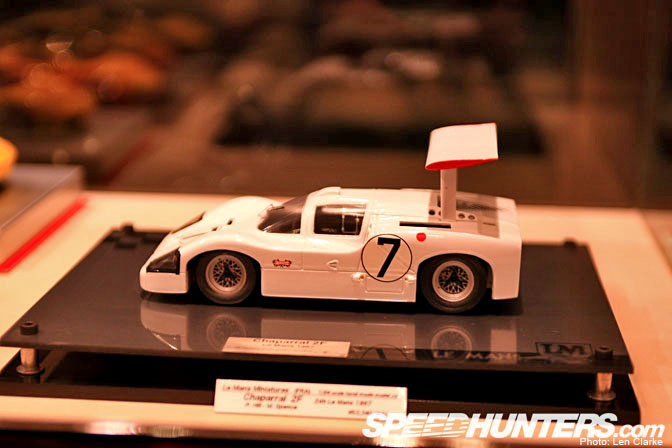 Another of the large format models. This is a 1/12th scale Chaparral 2F from Le Mans Miniatures.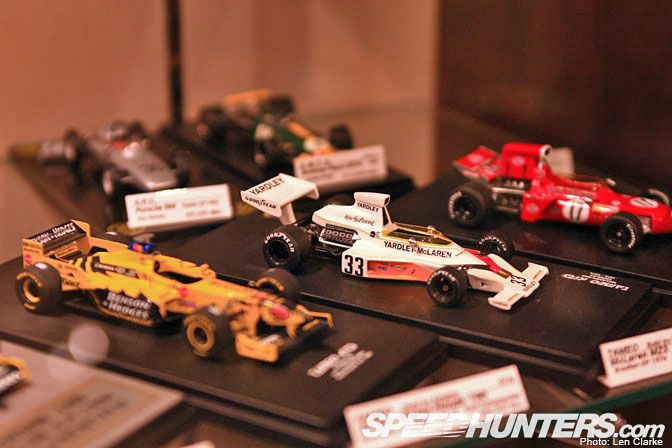 Tameo Kits produce a wide range of F1 cars, including the 1974 McLaren M23 of Denny Hulme.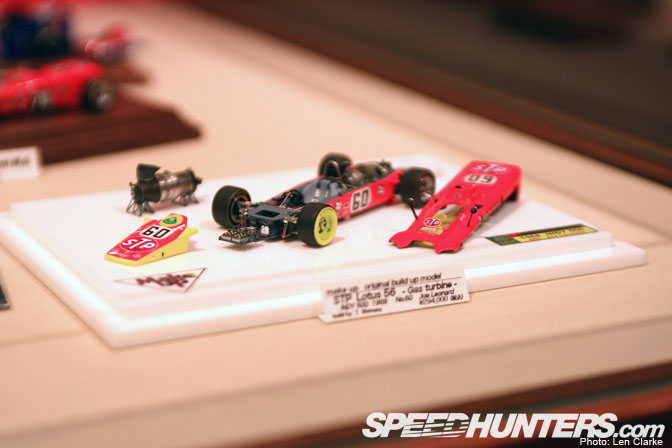 An original Make Up kit of the STP Lotus 56 Gas Turbine car – about $3,300 U.S.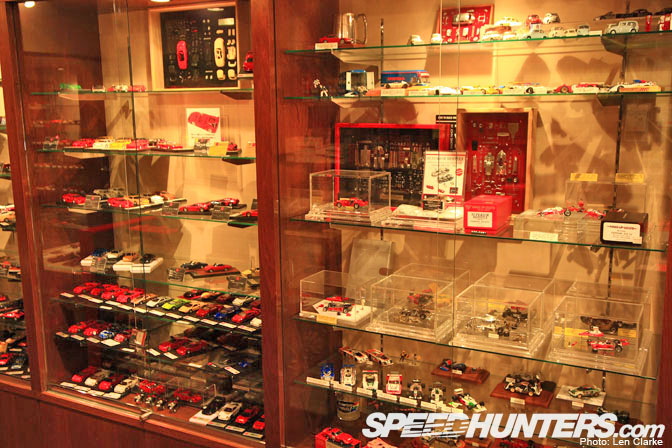 Despite the low light and no flashes request, I was bedazzled by the cars on offer.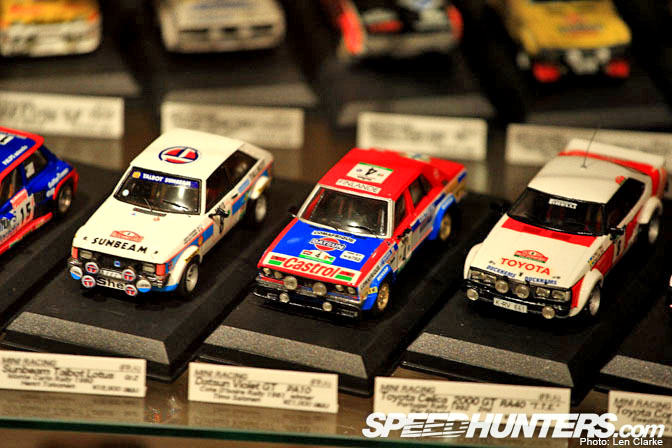 Here's a selection of classic rally machines from Mini Racing.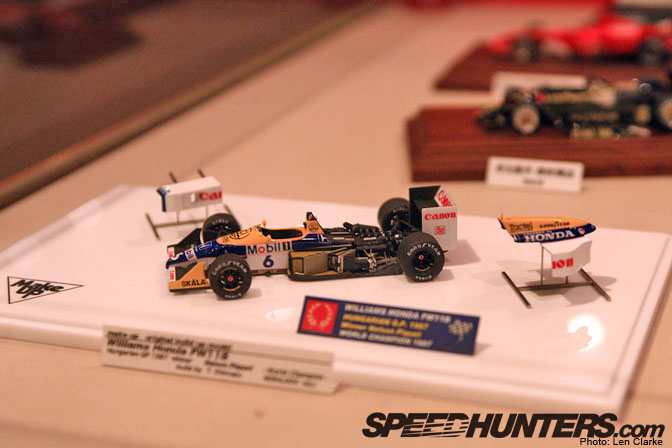 Another Make Up original, this one of the 1987 Williams Honda FW 11B of Nelson Piquet.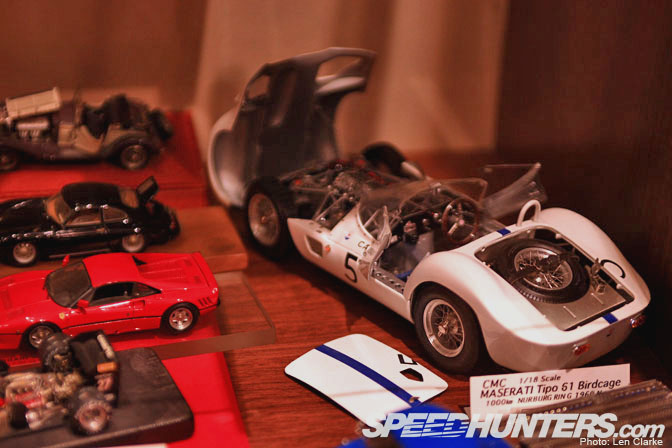 Older classics such as this 1961 Maserati Tipo 61 'Birdcage' impressed. 
Modern F1 cars including Japanese star Takuma Sato's Super Aguri racer from 2007 are good sellers.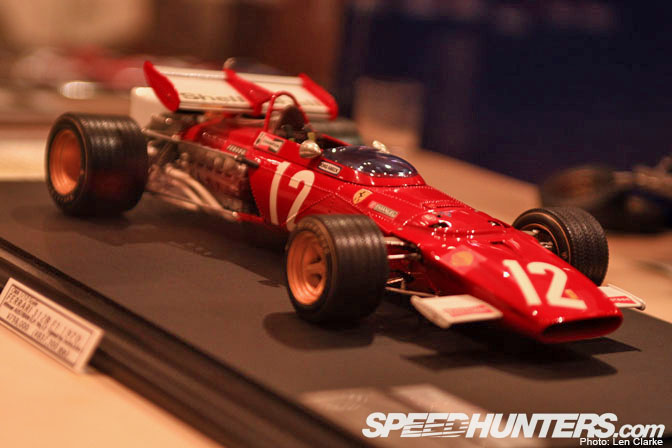 This close-up of Jacky Ickx's 1970 Ferrari 312 B F1 car (1/8th scale) was the most expensive piece in the shop at over ten grand.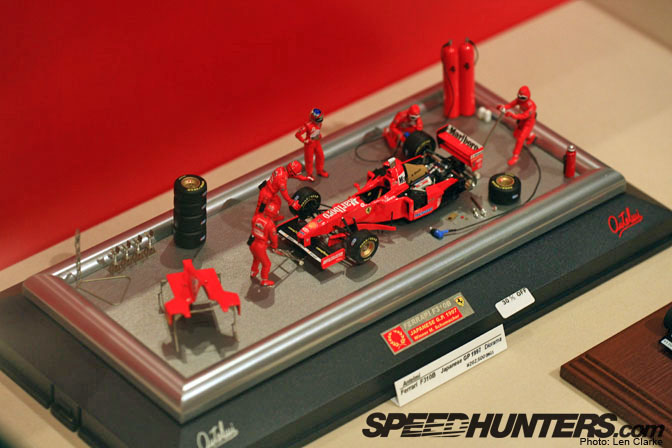 Dioramas also feature at Make Up, and this Ferrari pit stop simulation from the 2007 Japanese Grand Prix really caught my eye.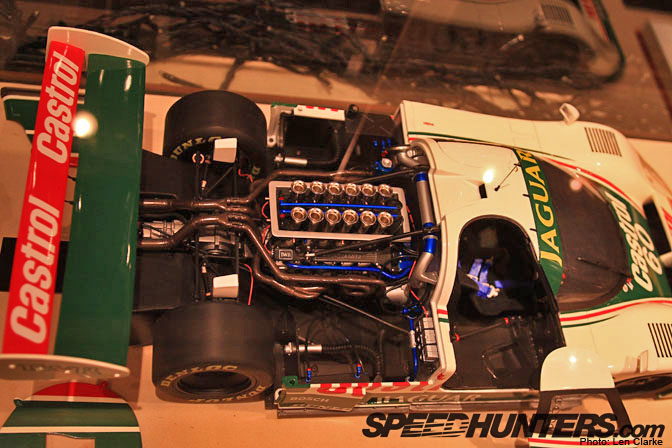 Here's a close-up of that Jaguar XJR-12. Unfortunately, the glass case couldn't be removed. It shows the incredible level of detail and accuracy that goes into models of this calibre, particularly the larger scale items.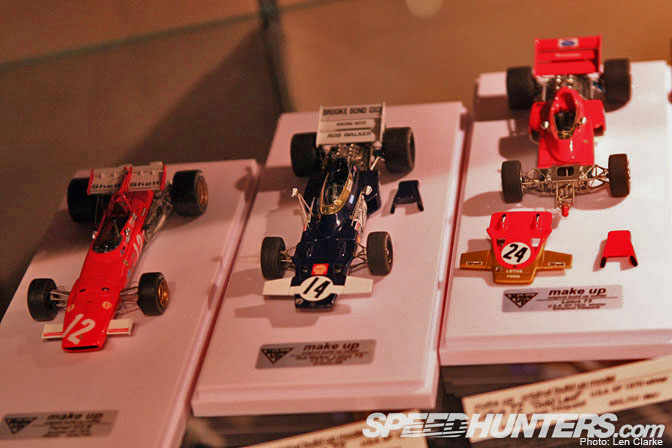 I'll end this post with a trio of Make Up brand F1 cars from the golden age of the sport. On the left a 1970 Ferrari 312 B with a Rob Walker Lotus 72 (centre) sat beside a factory version of the same car. To see more of the incredible cars at Make Up Co., Ltd., visit their website at: www.makeupcoltd.co.jp
 – Len Clarke