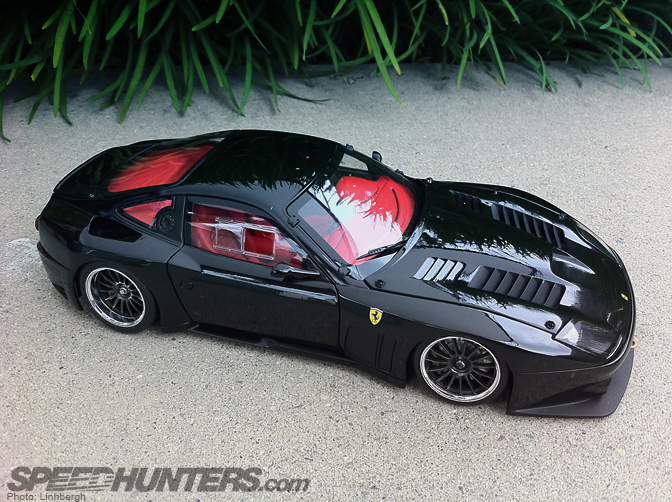 In the last post, we looked at Chris Lee's overall collection. This time around, we'll be taking a more detailed look a few of his favorite models he's built.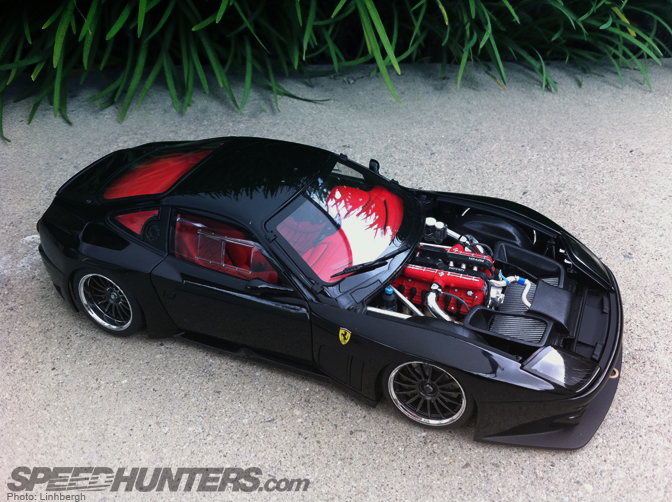 First, we'll start off with this street going version of a Ferrari 575 LM. It started as a Kyosho model with full race livery. He removed all the livery and gutted out the bottom of the car.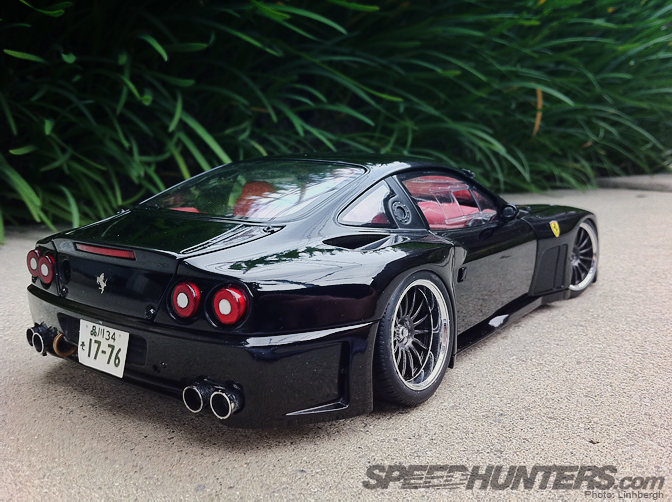 Chris also modified the wheels and slammed the already slammed 575 LM even more.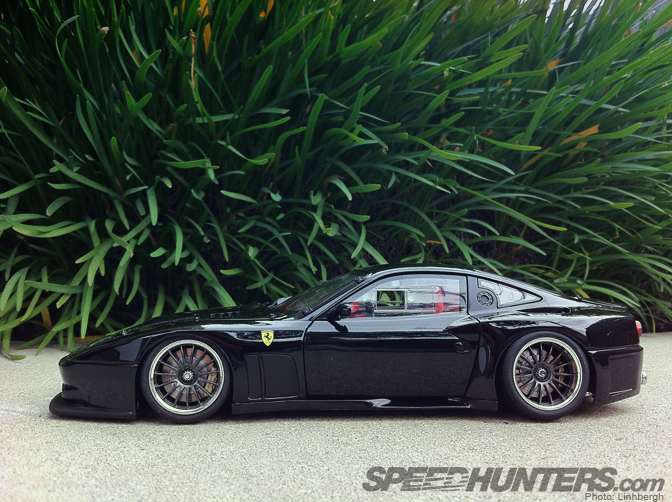 After he slammed the car, it became too low. So he had to remake the bottom and side skirts out of modeling clay and bondo to clear the ground. By doing that, he was able achieve the crazy stance it has now yet also retain its functions like rolling on all 4 wheels and steering.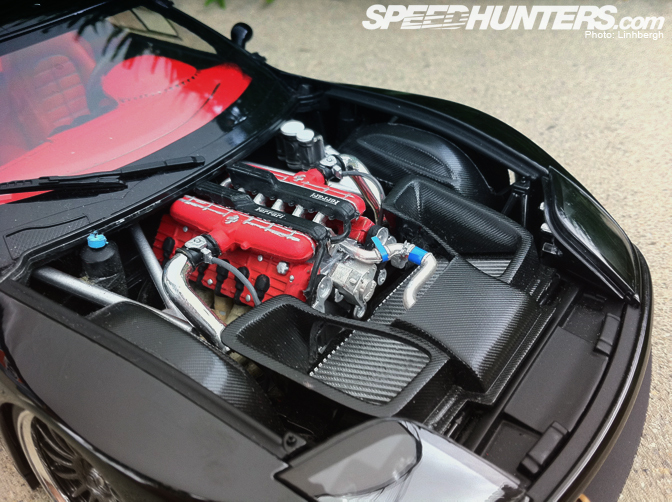 The engine that originally came with the Kyosho model wasn't very spectacular. So Chris created a whole new engine out of various parts. He used the original 575's block but mated it with a Lamborghini V12 head and topped it with Ferrari F456 intake manifolds. It makes no mechanical sense, but Chris assured me that it looks a lot better than what came with the original model. I believe him.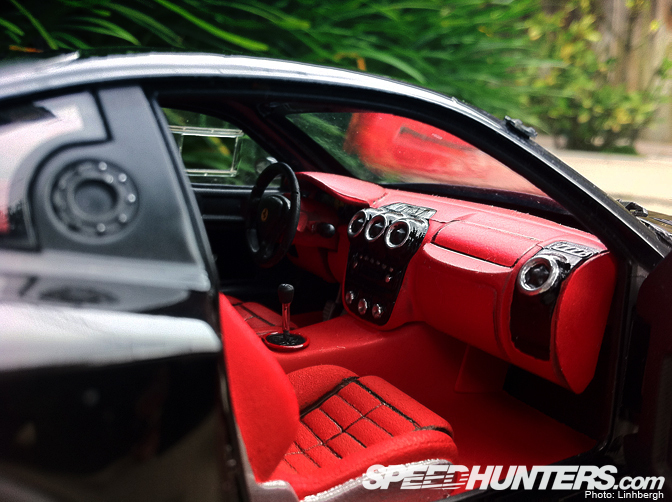 Chris removed the race car's stripped out and caged interior and replaced it with a full interior with seats and carpet from various street Ferrari models.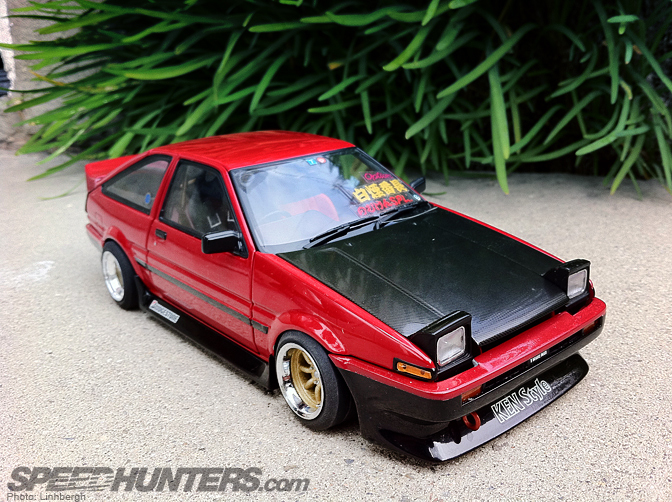 Alright, now let's look at Chris' Corolla.
This AE86 Trueno started out as a plain zenki Apex model with narrow wheels and 4×4 ride height. Chris has already modified three AE86 models from AutoArt; a white kouki body, an N2 race car that's currently under construction, and this red Zenki car.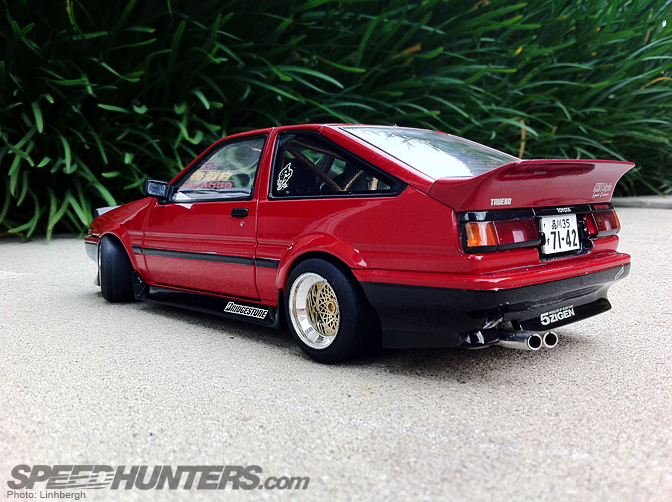 For his third AE86, Chris wanted to create a Japanese street drift styled car. He started off by creating a full ground effect kit out of model clay and bondo.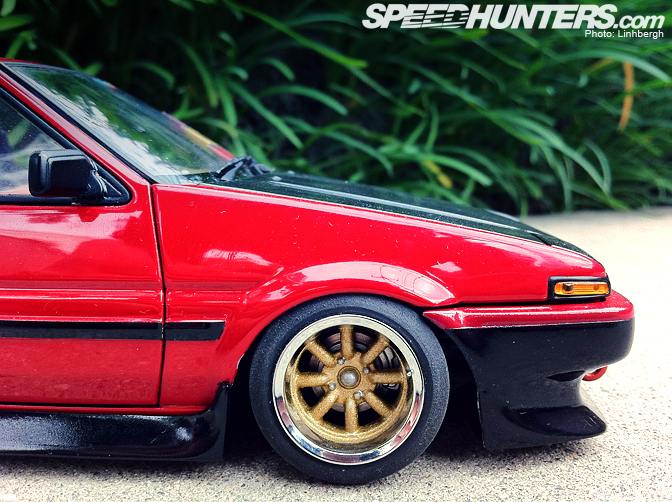 To continue with the street drift style, he opted for a mis-matched wheels. He found the set of wheels he liked and modified the barrel to make them deep dish. The tires were also modified to mimic the stretched look.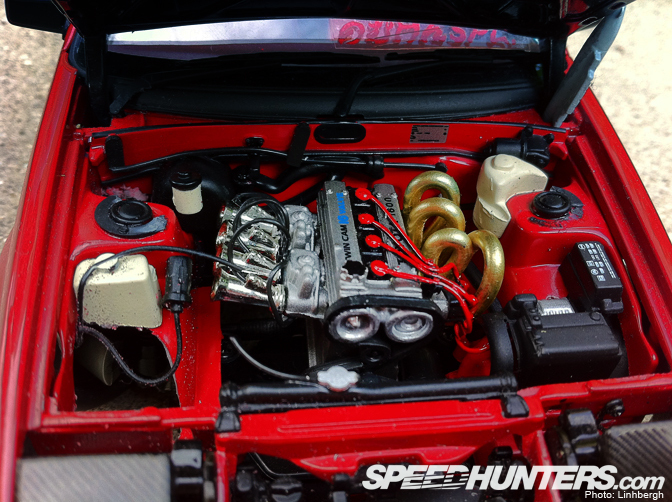 The engine features a scratch built ITB, exposed cam sprockets and equal length headers. The attention to detail is just astounding.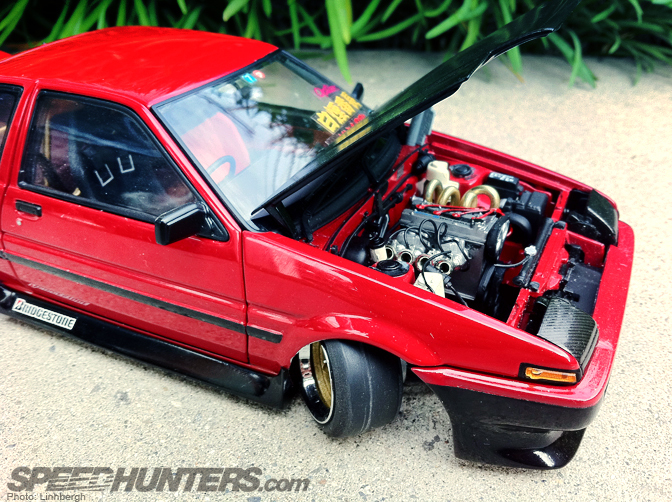 Chris spend a lot of time crafting the steering angle to get that crazy angle look. He mentioned that this was hardest part because these models have very little steering angle due to the complicated steering system and not enough room under the wheel well. He spent hours grinding the excess metal under the wheel well and modifying the steering to obtain the desired angle.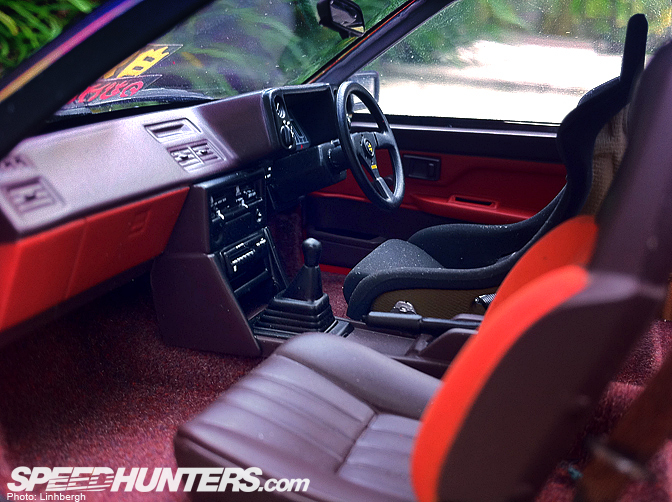 The interior retains that street drift style with the driver seat that has been replaced by a racing bucket seat. The steering wheel was also replaced by mini Momo wheel.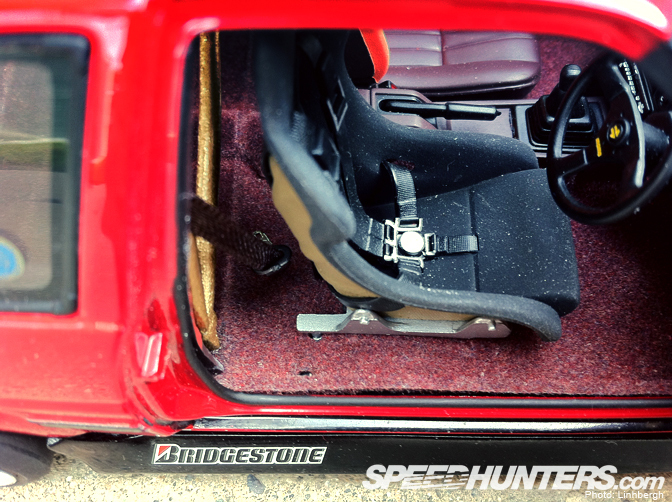 The buckets even include a five-point harness. Check out the racing seat mounting brackets!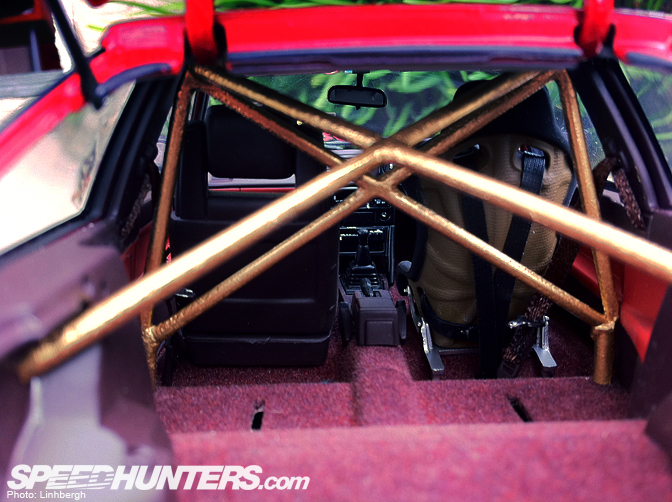 Chris even fabbed up this 4 point roll cage.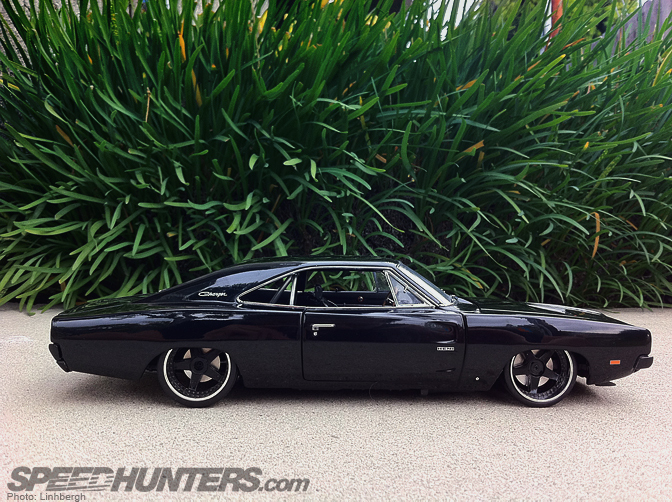 Next up is this mean looking Dodge Charger. Chris has a soft spot for Pro Touring style cars. So when this model came out, he hopped right on it.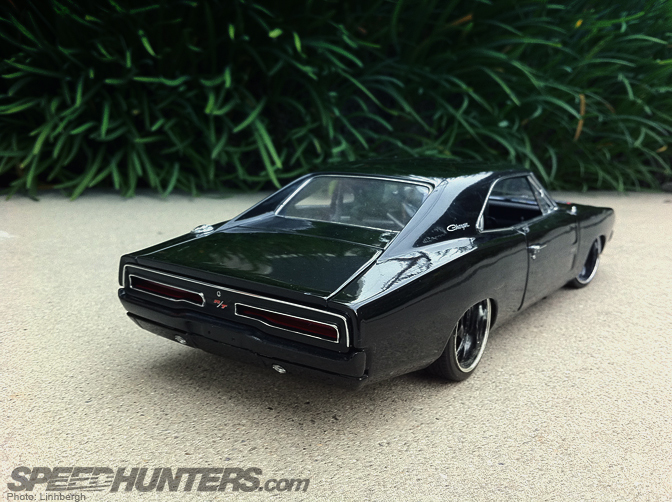 Chris tries to get models before it hits the mass market. He mentioned that most people try to at least enjoy the model for few weeks, or even few days, before they start to modify. But as soon as he got this Charger in his hands, he took it apart. He gets a little ridicule from the modeling community as people think he's a bit crazy because some of these model can cost around $100 to $500.
After he found set of wheels he liked, he then built the car around them. He had to tub the car exactly how you would with a real car to achieve that super low stance. He created a tubular chassis for the front to make the wheels fit and so the car can steer.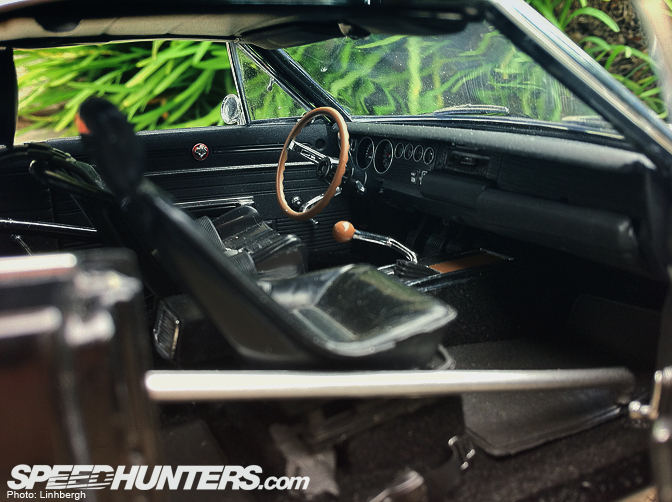 The interior is just as amazing. Chris added a 6 point roll bar and racing seats.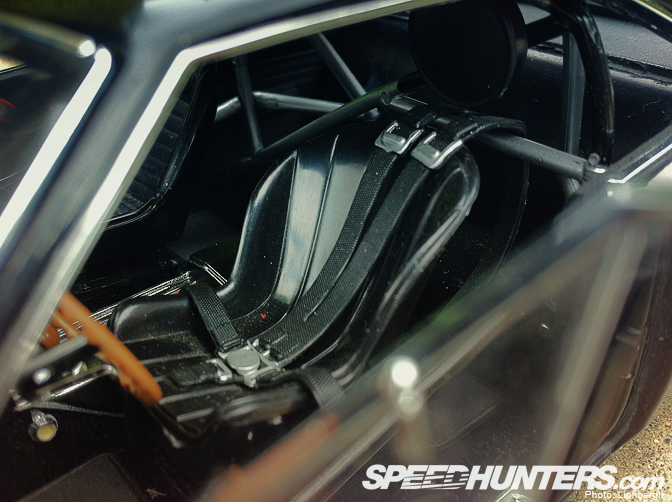 I just love the detail of the harnesses and also the head rest that's mounted on the roll bar. Old school NASCAR safety.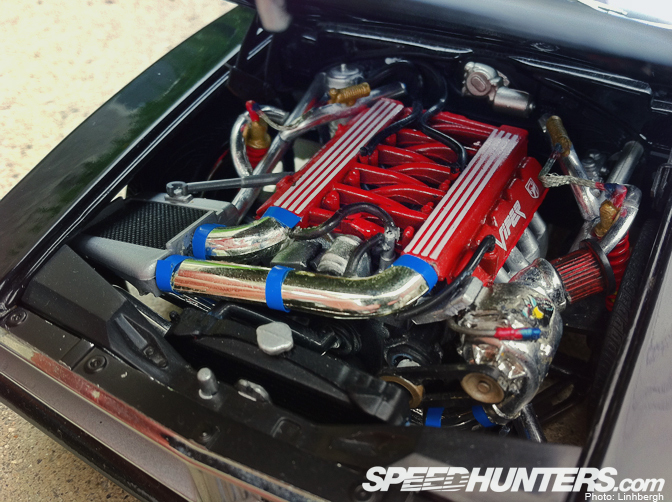 Chris was going to leave the HEMI V8 untouched but since he had spare Viper mode V10 swap was inevitable. He also added a small blower for kicks.
Just imagine driving this car around with that engine….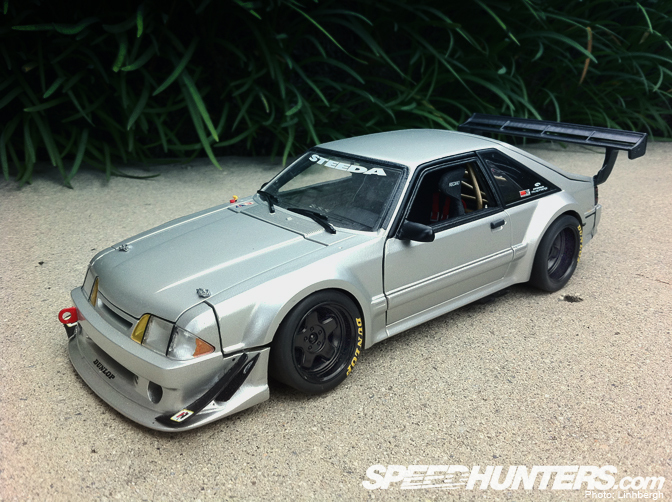 This Mustang was birthed from a competition held by modeling forum. Chris joined because he just wanted to win the prize: a 1:6 scale Ferrari 250 GTO engine from GMP. At that time, it cost hefty a $600!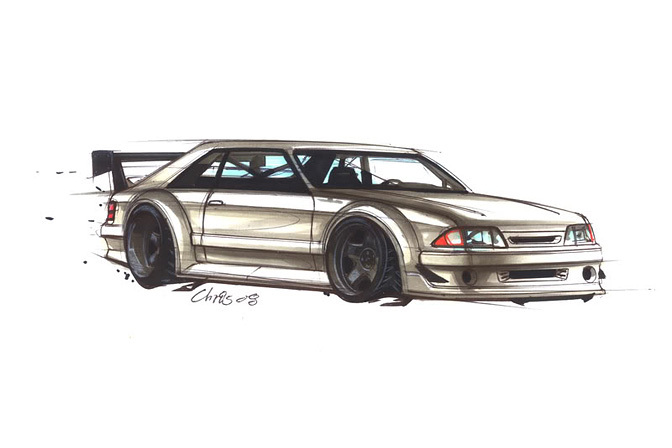 Everyone had to start from same stock Steeda Mustang from GMP and 'make something with it.' Unlike other cars, Chris actually did a small sketch before building this model. He decide that he wanted to do a road race inspired Mustang.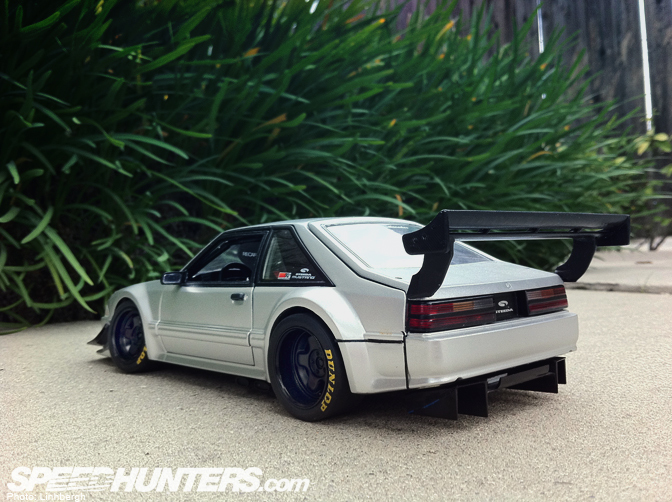 The wheels were widened and then built the flares and front fascia out of bondo. The aero bits were from various GT and LM cars.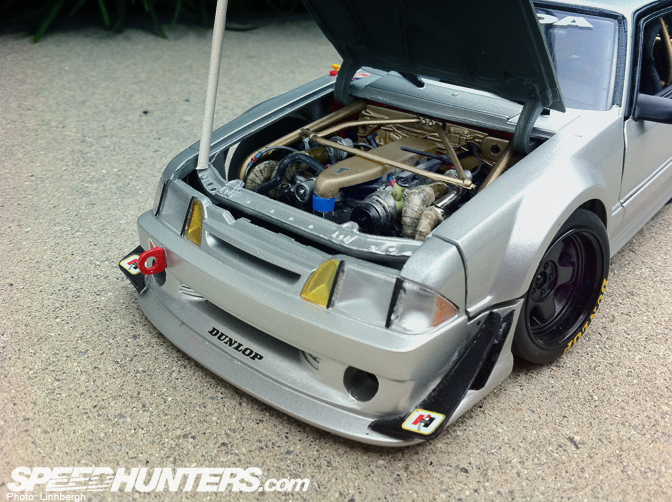 Engine was the fun part.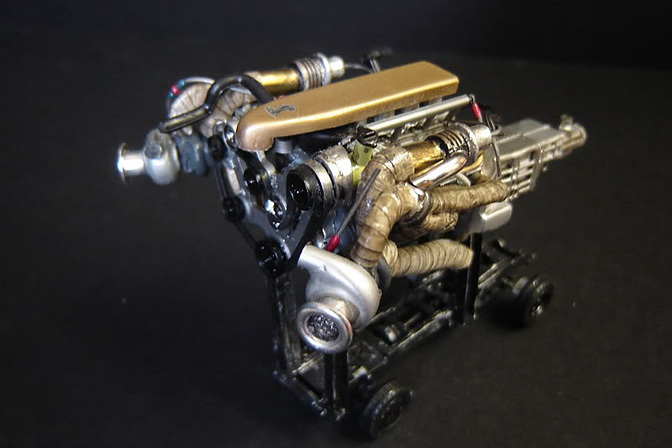 It started as a basic 302 that came with model. Everything else was custom built; the headers, the twin turbo system, the external wastegate, the intake manifolds, and intercoolers. He made sure everything was possible if it was a 1:1 scale car for the fact that he also loves building real cars. For example, he custom made the V mount set up on his personal Miata.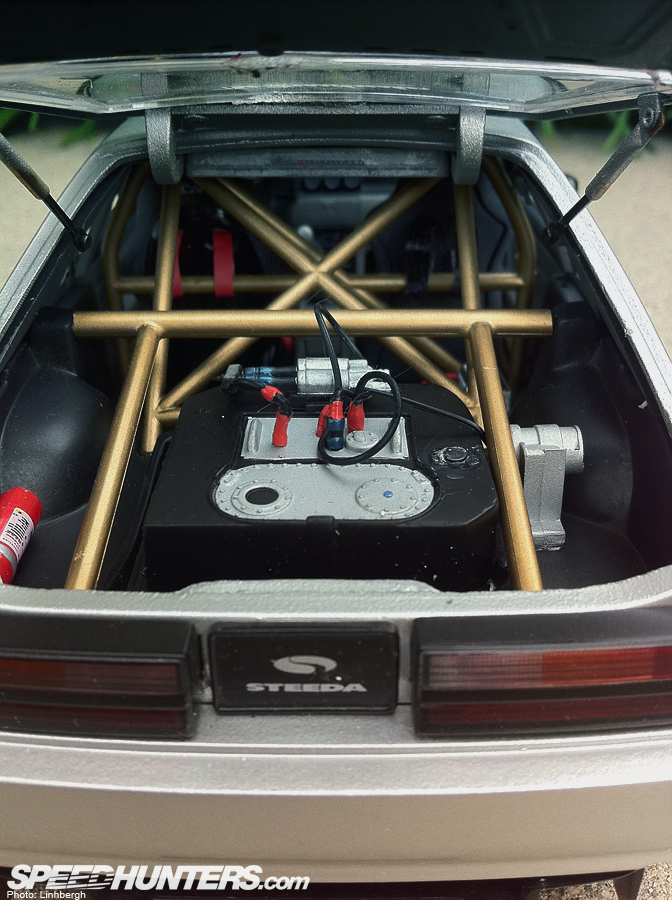 The road racing theme extends to the interior of the car with a full cage and fuel cell.
He now has a 1:6 scale Ferrari 250 GTO engine stting on he desk. Needless to say, he won the competition.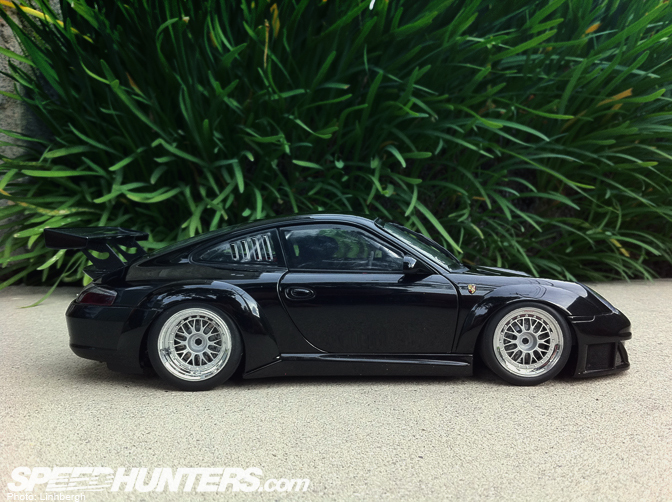 This Porsche started off as a GT3 RSR.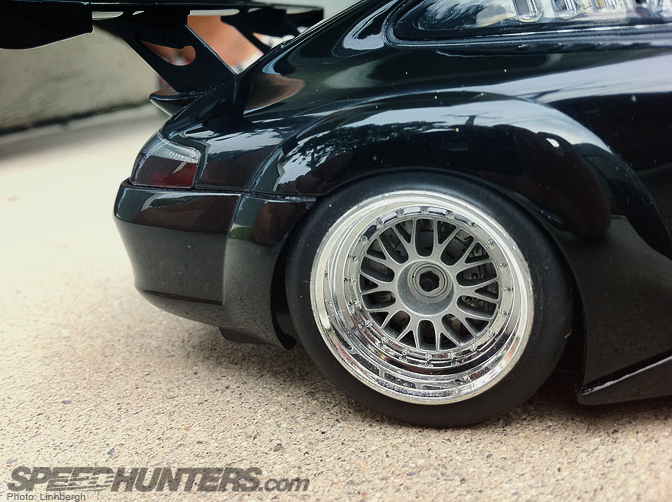 He widened barrel of the BBS that came with the model…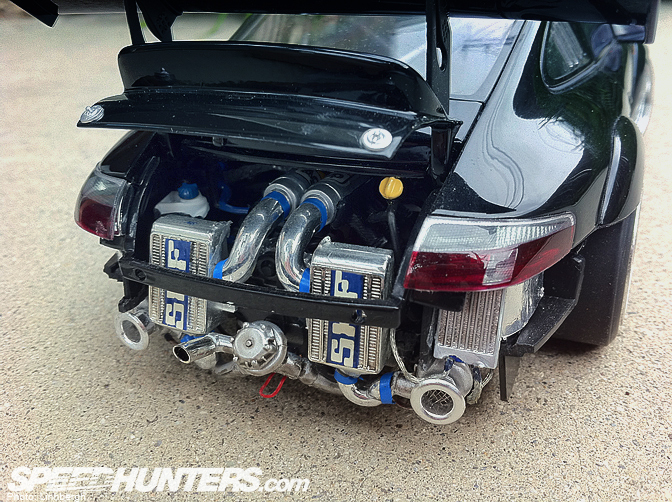 … and scratch built the crazy turbo set up you see here. I'm not sure if this is the most effective way to build the turbo on a real 911, but hell, it sure looks amazing.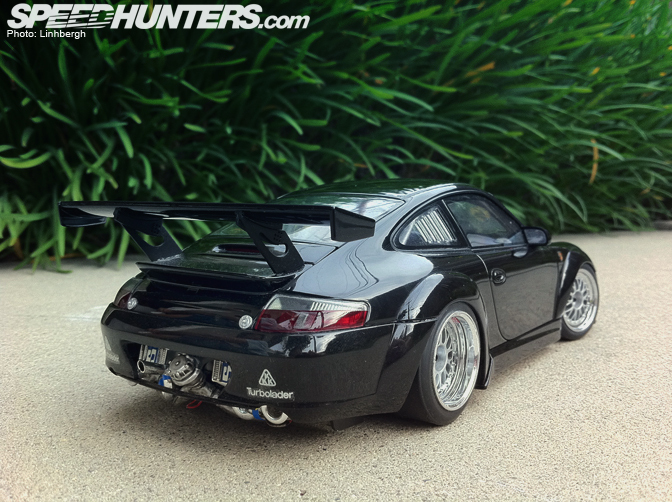 It features a twin turbo with integrated intercooler all housed in the engine bay. Chris mentioned that it was a tough to build anything in the back of the Porsche with the lack of room to work with.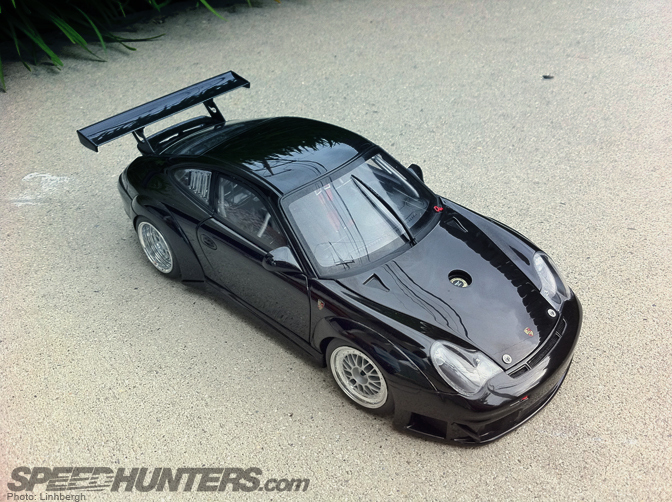 He garnered inspiration from Porsche 935 RSRs with their huge turbos sticking out of the rear for this car.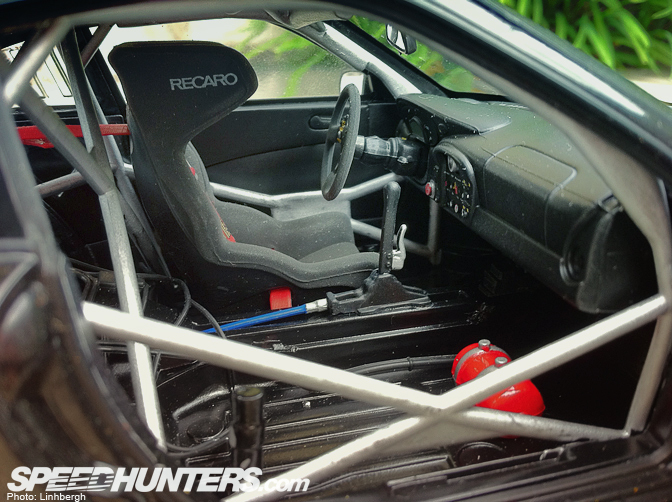 The interior still retains most of its RSR components.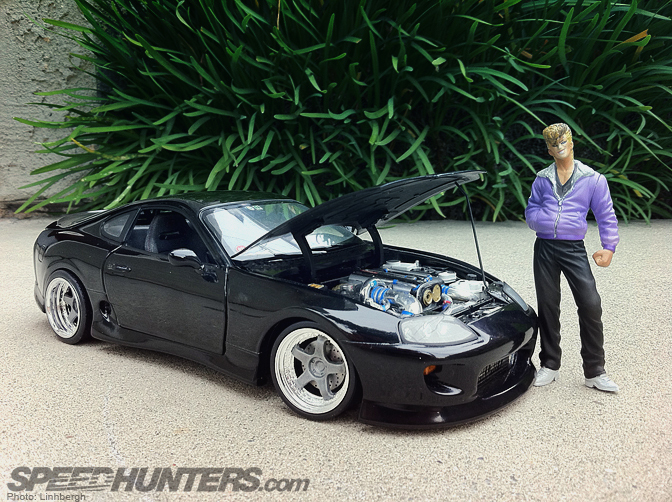 This Toyota Supra started off as a Kyosho model. The model was about 10 years old and looked really out of date when it came straight out of the box. There wasn't much detail and the ride height was not up to Chris' standards. But this was the only decent Supra 1:18 scale die cast model.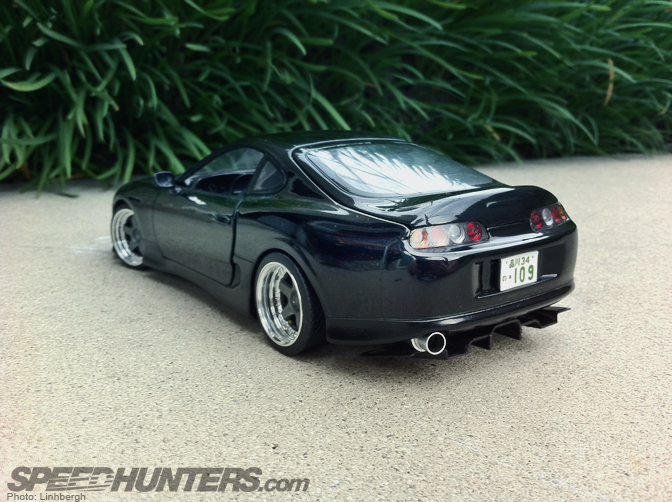 This model was so rare at one point that it was selling on Ebay for $500! But, like the Charger, Chris took it apart without any hesitation. He briefly mentioned that he actually has two more of these Supras that he started working on but never finished. That's $1000 sitting idle in his room.
The ground kit was hand made out of modeling clay. He wanted to gave it that period correct 90's kit look. 
He widened the Work Meister wheels.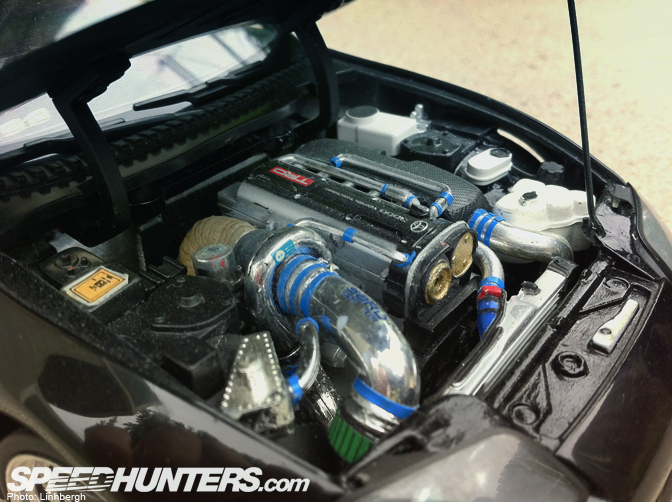 As for the engine, he added a big single turbo and scratch built various engine parts.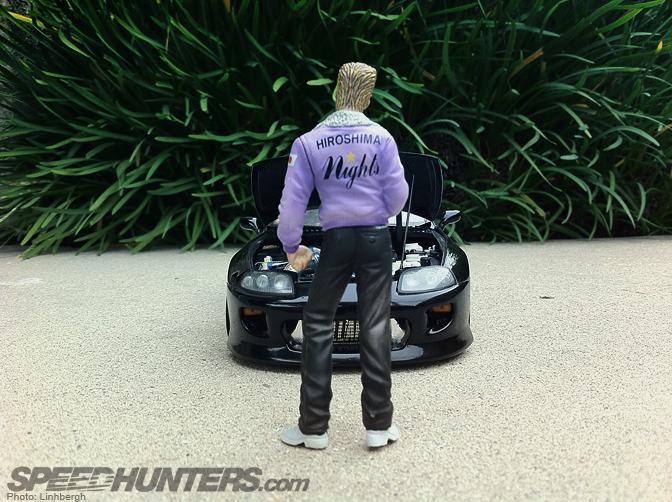 Scale cool guy approves of this Supra.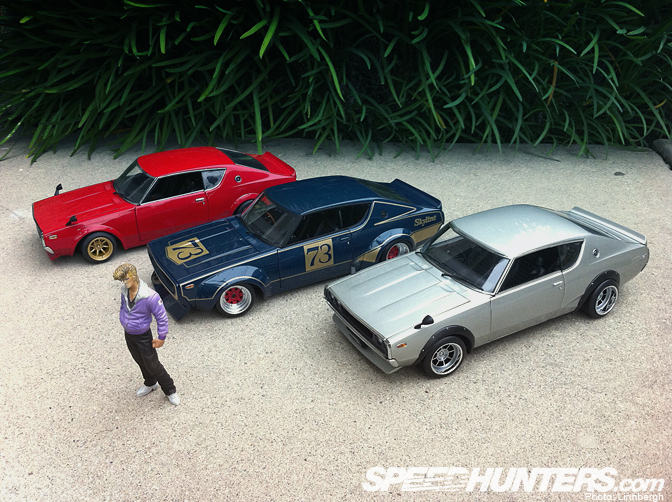 These last cars are three of Chris' most recent builds.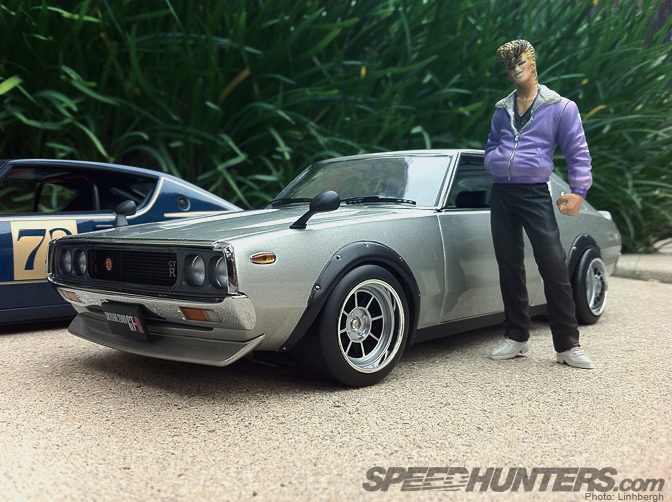 Who would ever modify a real KPGC110 Skyline GT-R like this? Slammed and Boso looking. But don't worry these 1:18 models it only cost $100 rather than the much pricer Charger and Supra models.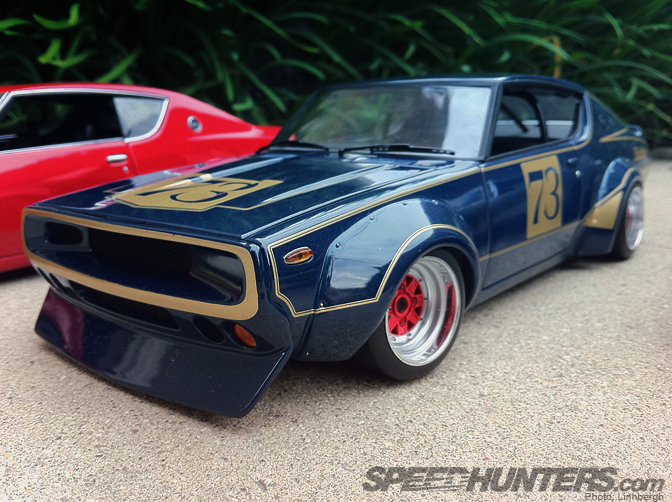 All three of these cars are slammed on widened old school JDM wheels. He also modified the tires for that stretched tire look. This blue Skyline was a presentation model of the GTR Touring car which never raced but it had the perfect look for a Bosozoku styled car. So Chris replaced the Watanabe wheels, which came with the car, and slammed it with widened SSR MKIIs.
What a collection.
-Linhbergh