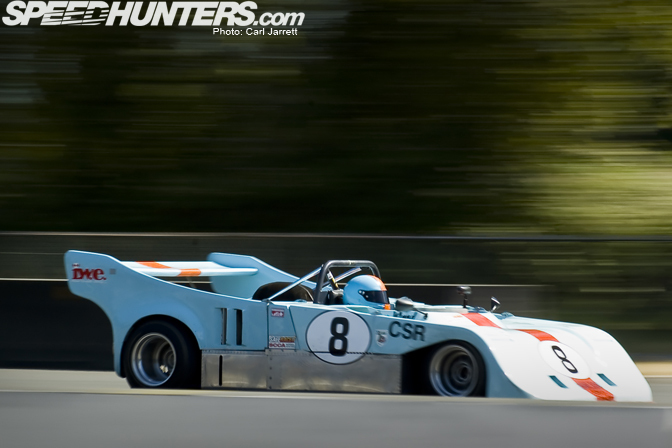 Where were you in the 60's and 70's when cars like this reigned supreme and were tearing up racetracks across North America and Europe? I wasn't even a twinkle in my parents eyes yet… though while I was never able to lust after these cars in their hey-day, I have grown a great appreciation of them in the last few years as I followed Vintage racing abroad.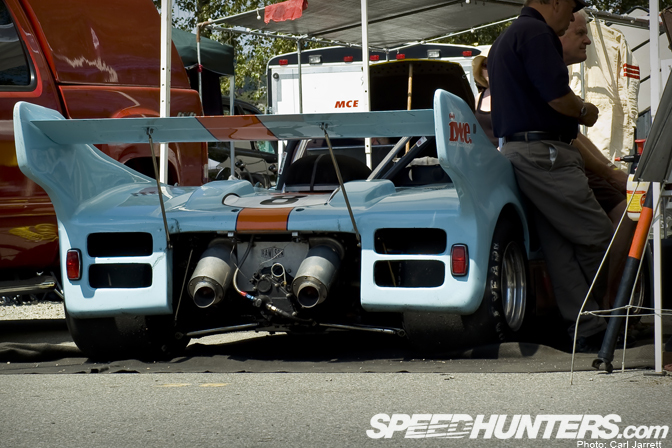 The car you see here is a Rawlson CR 11, chassis #001 of 2 ever built. This compact wedge shaped beauty was built in Folkstone, England in the early 70's by Mike Rawlings and Barry Shephard. The name Rawlson actually comes from a combination of Mike Rawlings' and James Henderson's surnames.  Unfortunatley James passed away, but Barry went on to join Mike to build cars in the late 60's.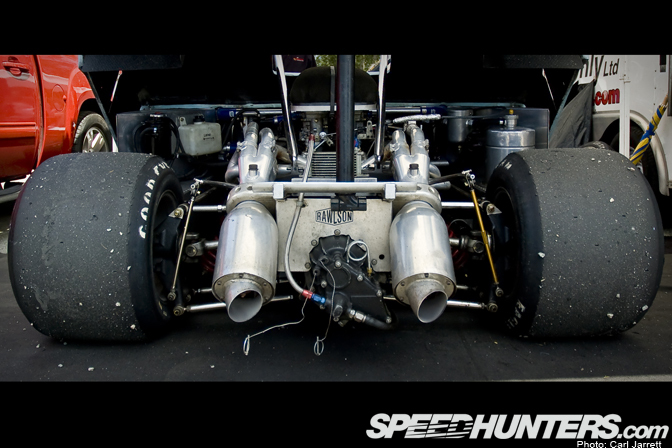 It is my understanding that this car raced in Europe in '74 and '75, competing in the Nurburgring 1000km and Le Mans but a lack of funding meant the car wasn't as compeititve as it could have been.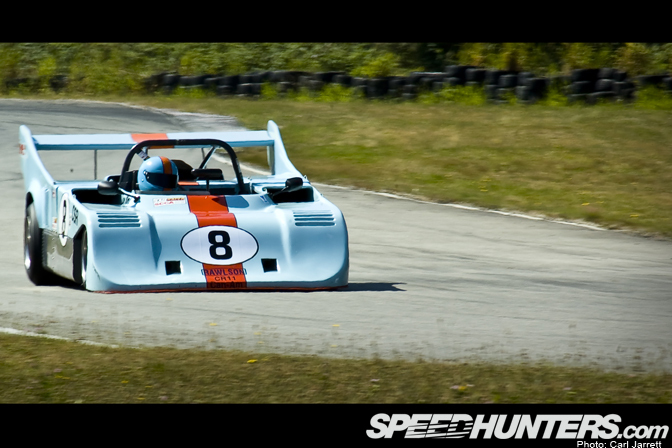 The current owner is a local Vancouver man, Ian Wood. I've seen this car run a couple times at Mission.  It's usually one of the fastest cars out on the track and is trememndous fun to watch!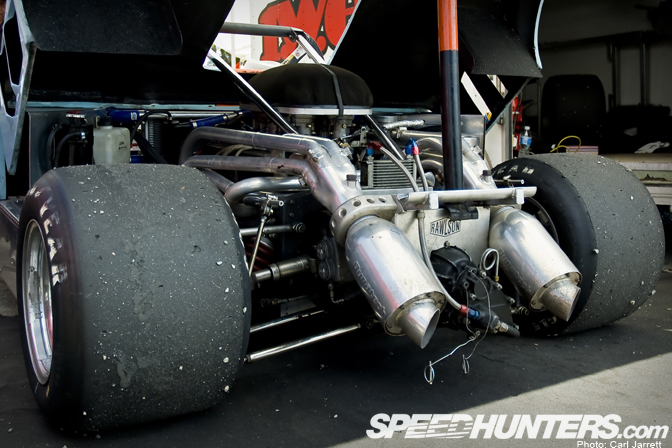 Originally powered by a Ford BDG, the CR11 is now powered by an all-aluminum Buick V8 based on the production 215 engine that Buick produced in fairly significant numbers from '61 to '63. Check out the bolt-on curved exhaust tips, I may have to steal this trick for my car so I can turn the exhaust away from the decibel meters at tracks with stringent sound regulations.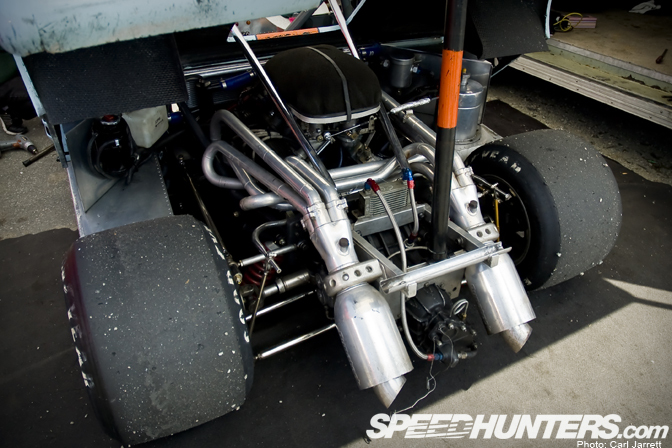 Pictures don't show how compact this car actually is.  I haven't been around a lot of Can-Am cars this close but it seems to be one of the smaller cars that raced during that era. Maybe you can get an idea of its scale from the size of those rear Goodyears!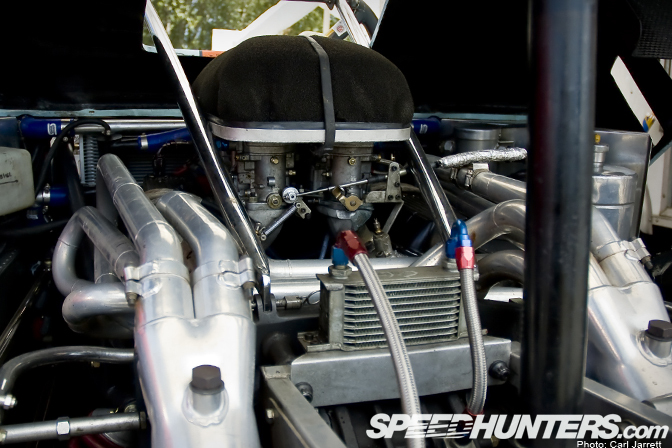 When raced back in the 70's this car most likely ran open exhaust, and sounded amazing, but since most race tracks are now so close to residential areas, modern mufflers need to be fitted for them to comply with local sound limits to keep the non-enthusiasts happy. Ian's car currently runs a pair of Dynatech mufflers, and the whole exhaust setup has been ceramic coated to keep engine bay temperatures down as much as possible. Looks like the two taps in the collectors are for sensors when the car is being tuned?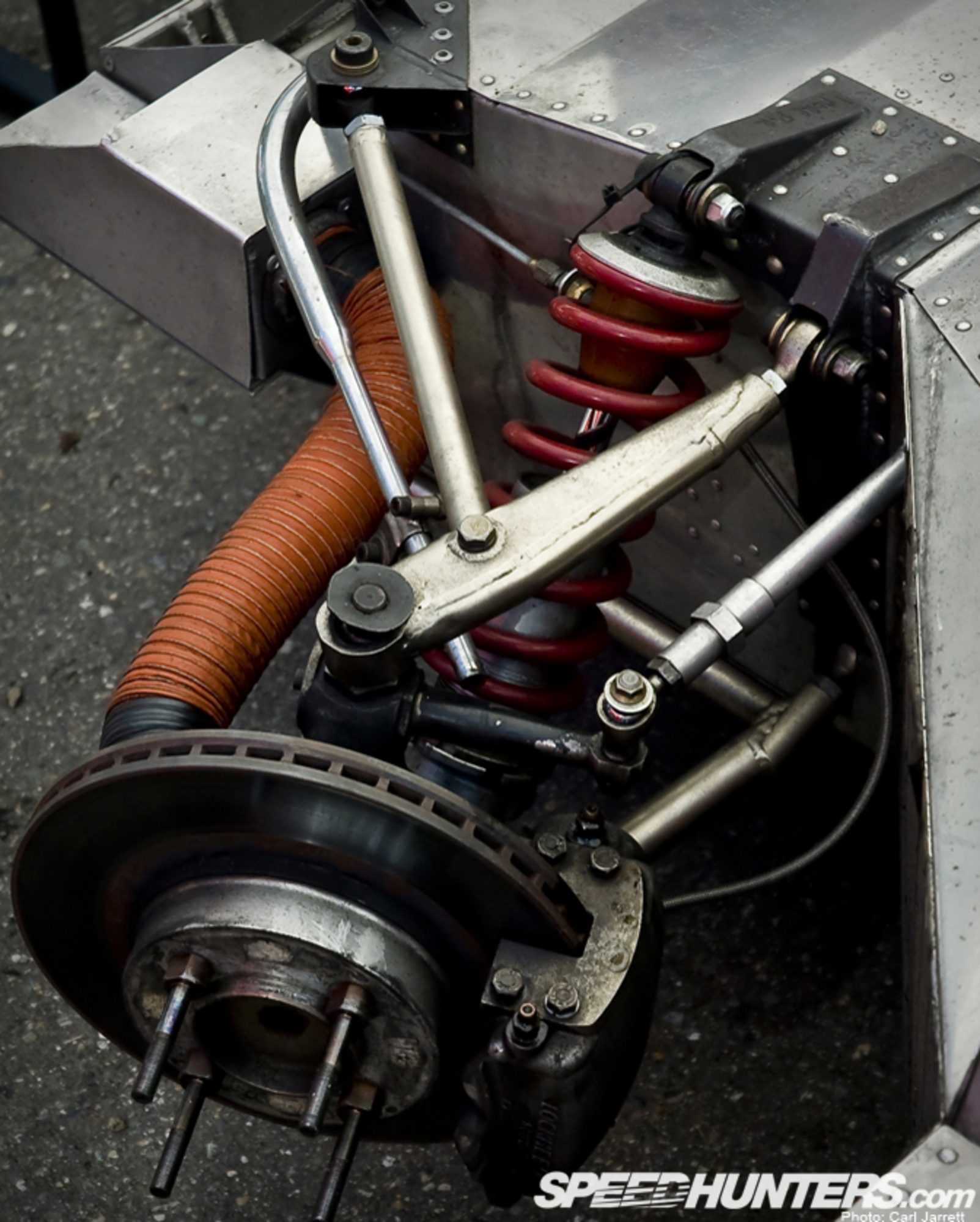 Up front the car runs a suspension setup that was pretty standard for its vintage. Double wishbone setup with a custom spindle gives enough adjustability. An adjustable solid anti-roll bar, and some modern coilovers help it around the corners as well. Check out the suspension hard points, all hand fabricated but have stood up tot the test of time. I love seeing the innards of these low-production race cars, there is always thousands of ways to skin a cat, and the suspension setups on many cars might be very similar in concept, they are vastly different in how they are fabricated.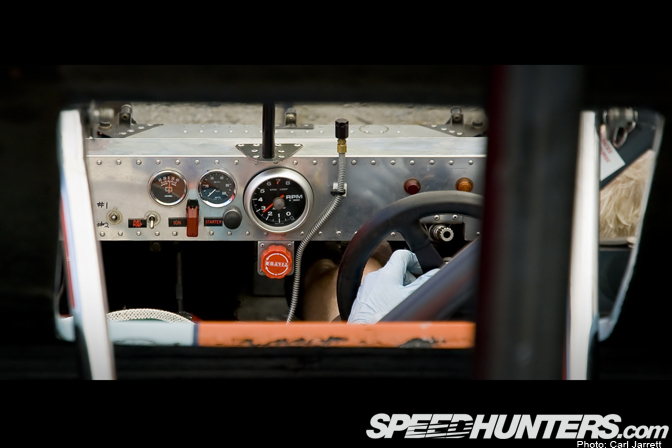 A view from behind the rear firewall shows a very simple dash layout. Modern tach to replace assumably un-reliable 60's era English gauged to make sure an accurate display of engine speed is constant, Oil Pressure to make sure the engine doesn't grenade itself, and a voltmeter, for a reason I'm sure…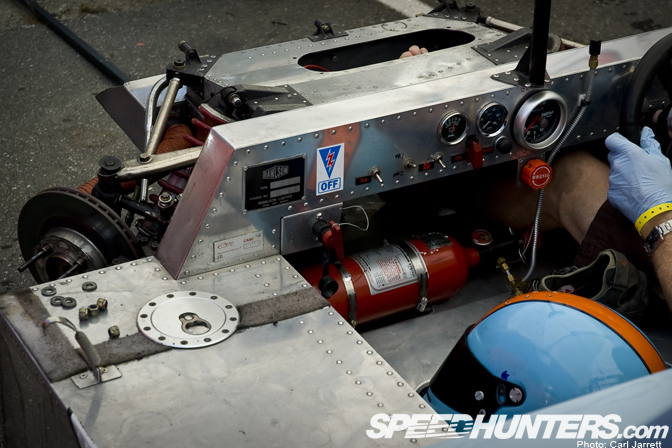 The pull for the fire extinguisher system is handily placed, so is the dial for the brake bias. In most race cars, it's important for the brakes to be adjustable by the driver so that when the fuel level changes or the grip levels on the track change due to rain, the bias can be adjusted to suit. Check out the fuel filler cap, each side of the chassis has fuel bladders installed… very very close to the driver. You can also see Ian's toes sticking out, as they adjust the pedals. Cars of that era, and even some current race cars, place the drivers feet dangerously past the front axle line, resulting in many lower leg injuries to the drivers of the car.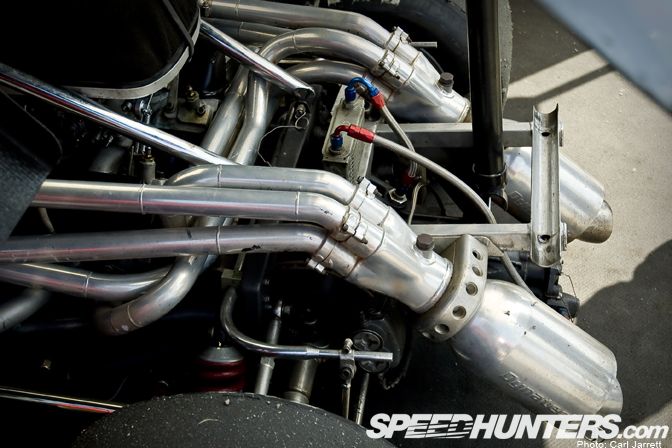 Just like the front, the rear suspension runs a double wishbone setup, with an adjustable anti-roll bar and modern coilovers. The transaxle is cooled by a small oil cooler placed in the airflow coming from the rear decklid, absolutely necessary for the longer races.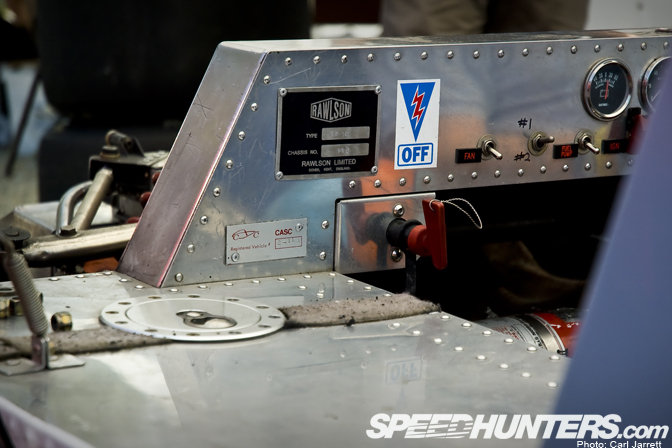 Chassis number 001, thats something special in any race car in my opinion.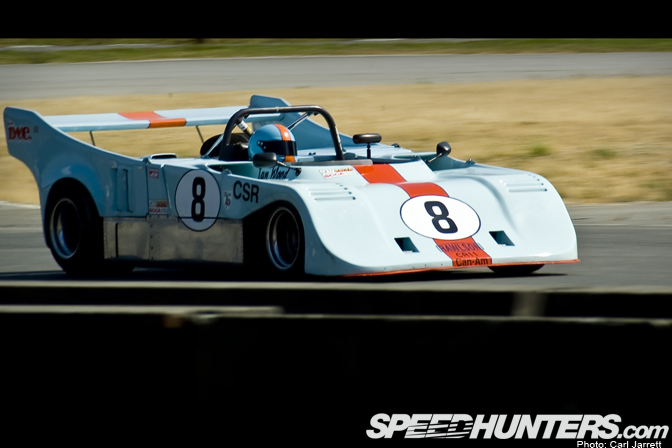 Check out some of the videos my friend Dave and I recorded last July at Mission on my YouTube channel:
Also, if you're like me and a like to geek out on car details and vintage cars, or just like to reminisce about the glory days of Can-Am, take a look at this book! I have David Bull's Shelby Cars In Detail already, and this one will end up in my bookshelf at some point:
- Carl Jarrett
@jarrettracing on Twitter!