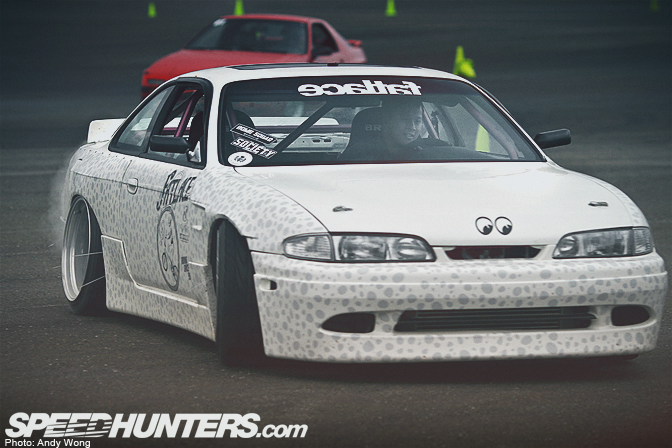 Han was right. There is no wax on, wax off to drifting. It's all about feeling. 
For the past few years, I've concentrated all my thoughts on three things: aperture, shutter speed, and ISO. In those years, I've travelled to countless automobile related events. And each time I pressed that shutter button, I felt the itch of being behind the wheel of one of the many cars that I photographed. Everyone driving seemed to be having so much fun and I wanted in on it. So, over the past years, its been an itch that has grown to an uncontrollable rash.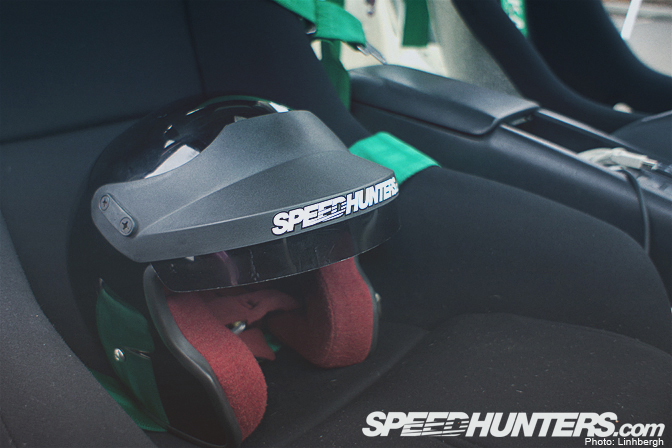 A few months ago, I received an email from Fatlace's own, Mark Arcenal, inviting those Speedhunters to one of his grassroots drift events in Northern California. If you haven't already seen my breakdown of the last Word Up event, you can check it out here. 
Along with that invitation was also an invitation to drive Mark's S14 drift car. I jumped at the chance. Though, there was one problem: I didn't know a single thing about how to actually drift.
I've photographed grassroots drifting for years three years now and professional drifting for two. I've gotten rides in both grassroots and pro drift cars. You'd think after seeing so many cars sliding and and getting so many rides, some form of rice osmosis would happen. But you'd be wrong. The extent of my not-knowing-how-to-drift extends to the virtual world as I somehow cannot, for the life of me, drift in video games!
I spoke this concern to Mark and his reply was simple: "I'll teach you."
So, last week, I packed my stuff, climbed into the E30 and made the trip from rainy Southern California to its rainy northern counterpart for the Fatlace Word Up event.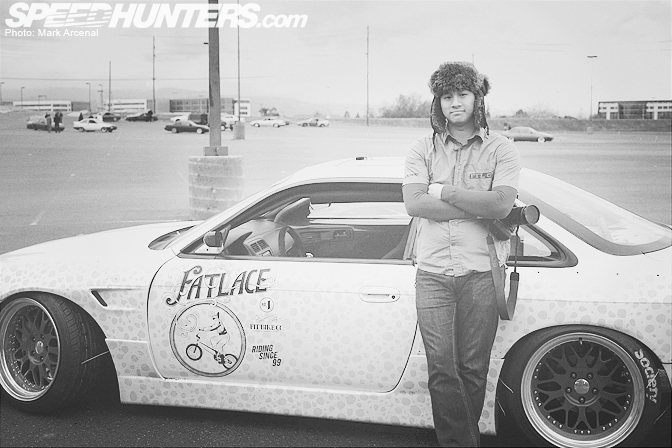 Pigs don't fly but this was a good reason for them to grow some wings because I, Linhbergh, a devout light-capturist, would be learning to drift.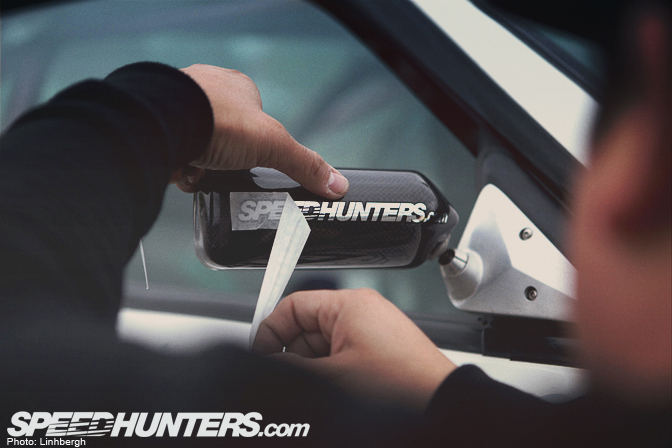 But, before any of that sideways-tire-burning-ozone-hole-creating malarky can happen, a bit of sticker bombing was needed. I supplied Mark with a chrome Speedhunters vinyl sticker…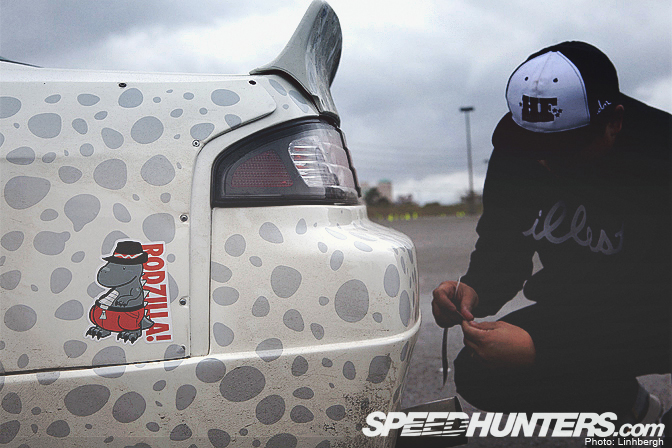 …as well as the last few of the "Rodzilla" stickers which were only available at Formula D Irwindale.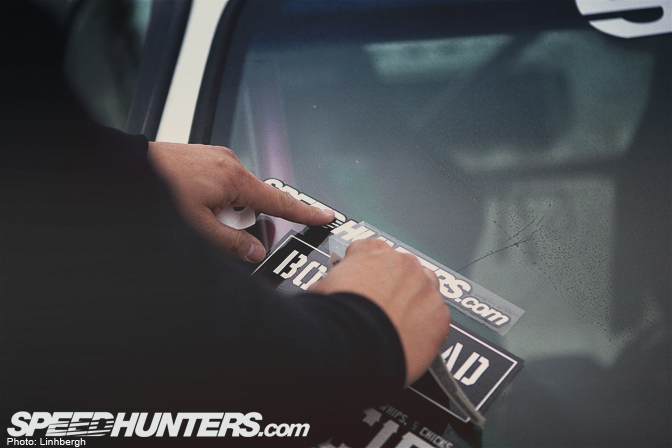 And one more sticker for his windshield as Mark wanted to cover up the crack.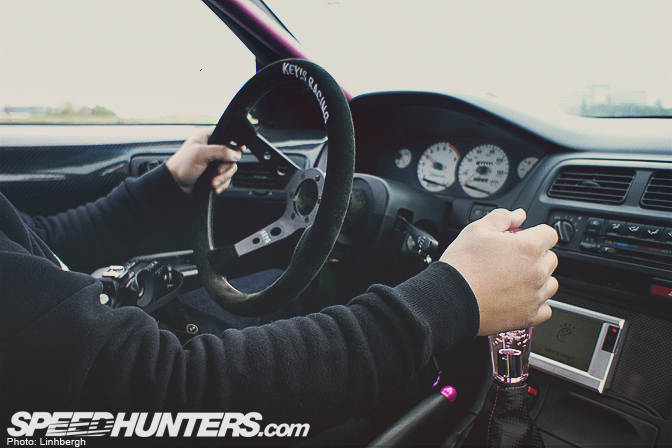 Before I went out to learn the most basic of drifting skills, the donut…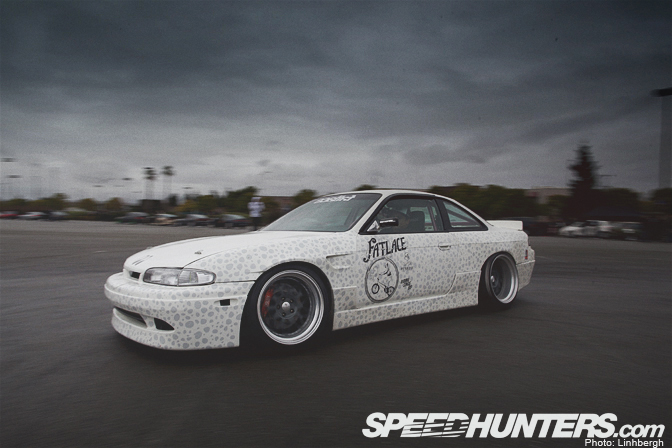 …Mark went out and showed me how it was done.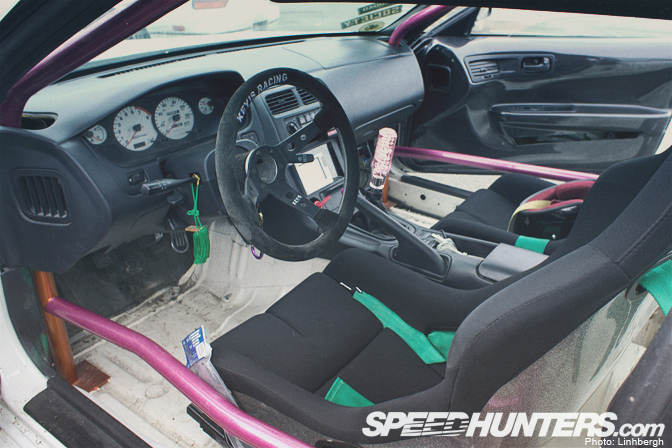 Usually, the whole event would be my "office" for the day. But on that rainy Saturday in Santa Clara, California, this was my office.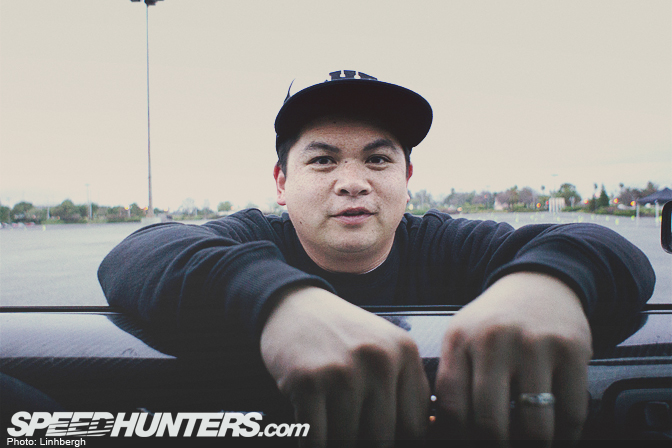 After I climbed into the car and buckled up, Mark came up and said: "Drifting is like being a Jedi. It's all about using 'The Force.'"
In other words, I had to throw out almost every grip driving technique I've learned over the years and feel it. Han style. Aperture, shutter speed, and ISO were traded in for steering wheel, clutch, and gas.
I was definitely not in Kansas anymore.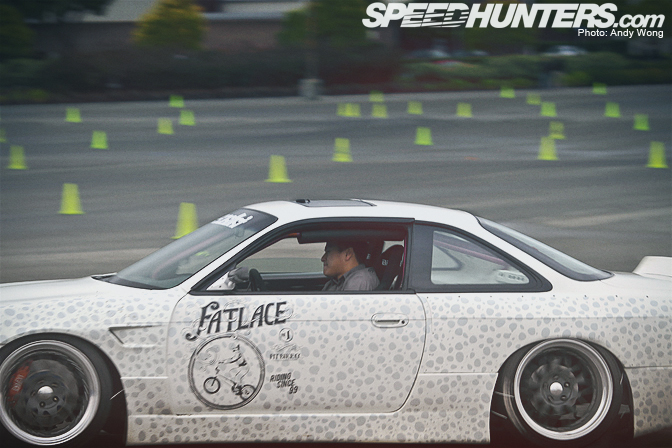 My first few minutes inside the car were, of course, futile. I clutch kicked too much, gassed too little, and spun out. Or I would turn in too fast and greet the gods of understeer with a huge offering. 
After the initial failings, Mark gave a bit more advice: "park the car near the cone, hold down the clutch, build up the revs, and let her rip."
Doing that should give enough wheel spin for me get into a good drift.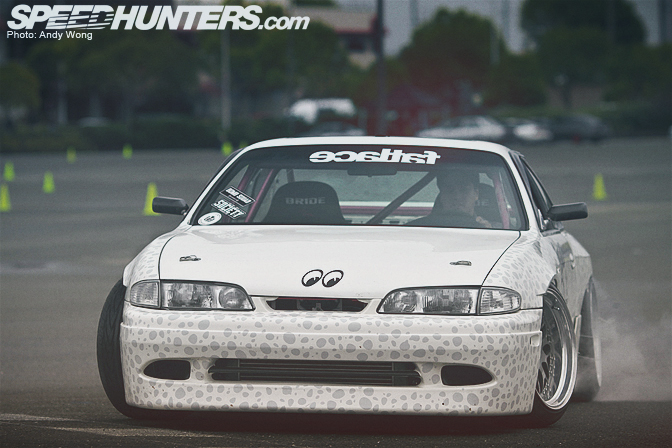 That piece of advice was all that was needed. I built up the revs, dumped the clutch, and let it rip. It was donut making 101. 
Mark put together this great video of my donut session. Check it out here!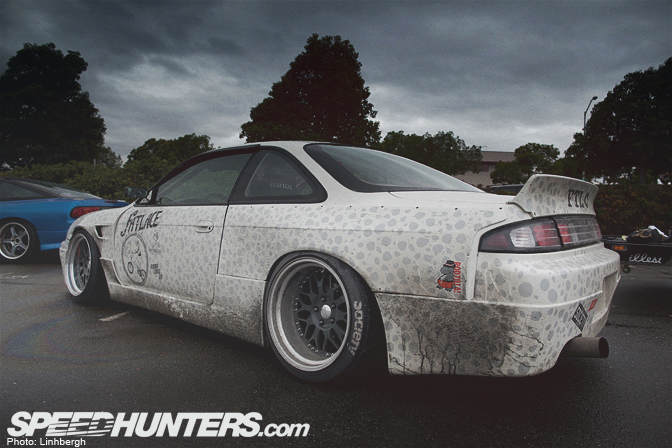 As I've said in the video, the car was great. It 
handled exactly like I imagined a drift car would. There was enough power (450 horses to be exact), the suspension was dialed in, and rear end was very predictable as long as I knew how to react to it with my right foot. It was the perfect learner drift car. 
But that's not say that you need a built SR20 with 450 horse power to properly learn to drift. Suspension and a differential are the two most important things you need if you want to get started. The third most important is seat time in a safe environment like the Word Up events.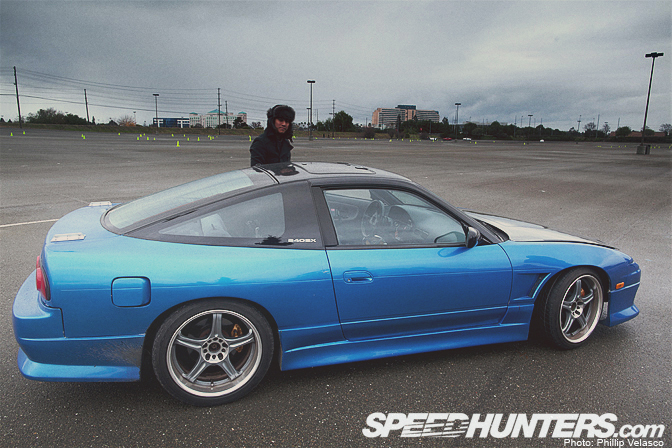 After getting comfortable in performing a few donuts Mark's car, Phil Velasco, from 360 Video Magazine, offered to let me try out his newly purchased 240sx. This blue 240 was built up and owned by Toshi "what up Tosh" Hayama before Phil bought it. It wasn't as built as Marks S14. There was suspension, a differential and a KA which was turbocharged.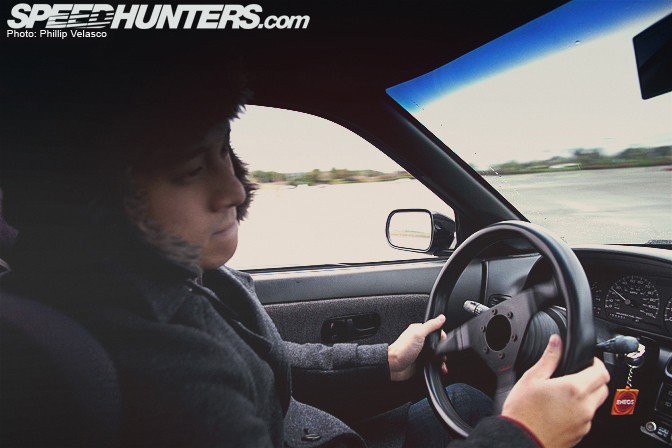 This was my donut creation face.
There was a bit more body roll on Phil's car as it didn't have a full cage, and not-as-stiff suspension. But that didn't make it a hard car to drift in. As I drove these S-Chassis throughout the day, I realized just why these cars have such a large following in the drifting community. They really are the perfect learner cars; easy to modify, predictable mid-slide, and they look great lowered with a set of wheels.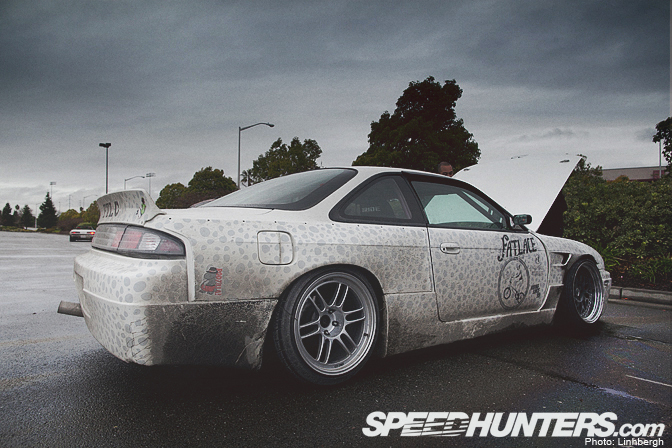 Throughout the day, the rain came and went. The track dried up and then got wet again. The result of this constant on and off was a very dirty drift car at the end of the day.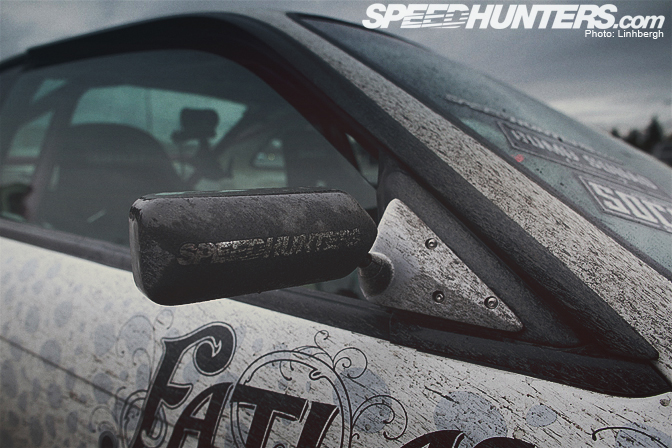 The chrome Speedhunters vinyl was covered up from all the donut making and drifting. Proper speedhunting.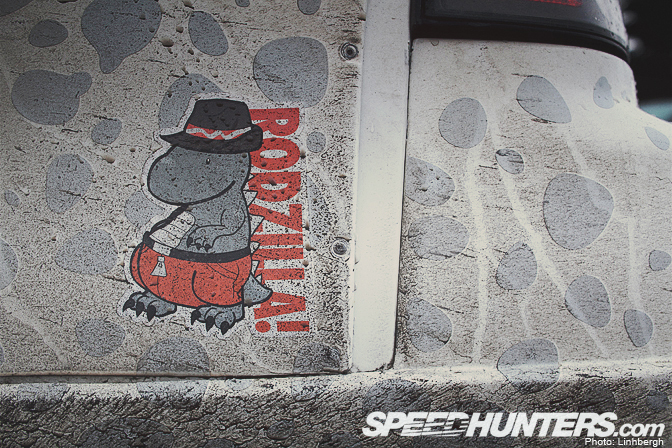 Even Rodzilla himself got dirty.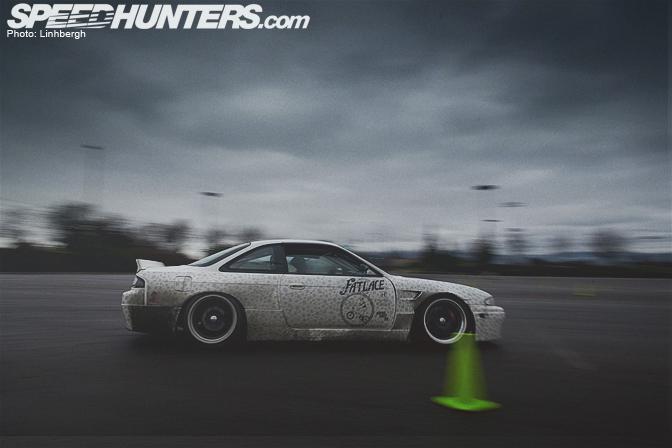 As the light started to fade and the event started to wind down, Mark and I went out for one last session. Seeing how I did fairly well with the donut, Mark nudged me to take on one of the drift courses. Not feeling particularly confident in my skill, I suggested that I should take it slowly and move on to the figure 8 course. 
The figure 8 was the natural progression once any would-be drifter felt comfortable in doing donuts. It was a combination of two donuts, but with a direction change between the two cones. 
I had a go at trying the course without any direction but failed. Mark stepped in, spewed out some some Jedi-master-ish words and what resulted was my first complete figure 8.
You might've noticed in the first video that I was crossing my arms while turning the car or counter steering. Mark noticed this and told me that I didn't need to. In the second video, there's less of that.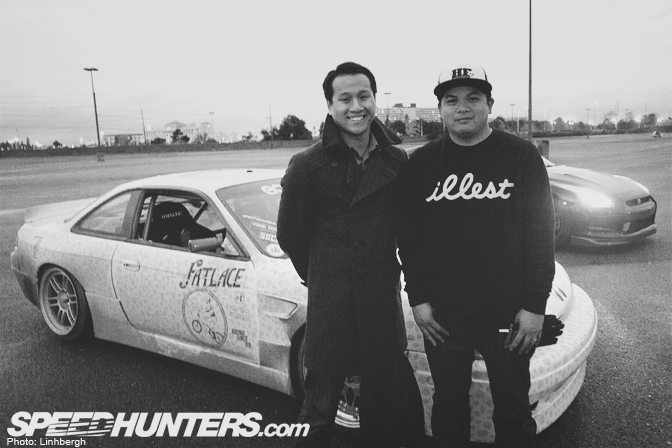 I learned to do some donuts and learned to properly drift a figure 8 course. Even though I accomplished those things I still feel that I barely scratched the surface of drifting. I'm certain that with more seat time, I'll start to notice little mistakes and fine tune.
Being behind the wheel of the Fatlace S14 and doing what I did was, without a doubt, insanely fun. I've been bitten by the bug and now I feel the disease that many drifters feel. I feel the need to get behind the wheel of a car at an event as soon as possible. 
For those of you that are looking to get into drifting, my advice is simple: get a RWD car, any would do, get some suspension, get a differential if it doesn't already have one, and sign up to the many drift clinics that are set up around the world now. Spend most of your hard earned cash on seat time, tires, and preventative maintenance (changing fluids, belts, etc). Be smart, safe, and of course, have fun. 
As for me, I'm doing just that. The E30 is looking to get a suspension upgrade in the very near future and soon after a differential will be swapped in. Mark will definitely be seeing me again at one of his WordUp events in 2011.
-Linhbergh
Special thanks to Mark Arcenal, Andy Wong, and Phil Velasco for supplying photos.