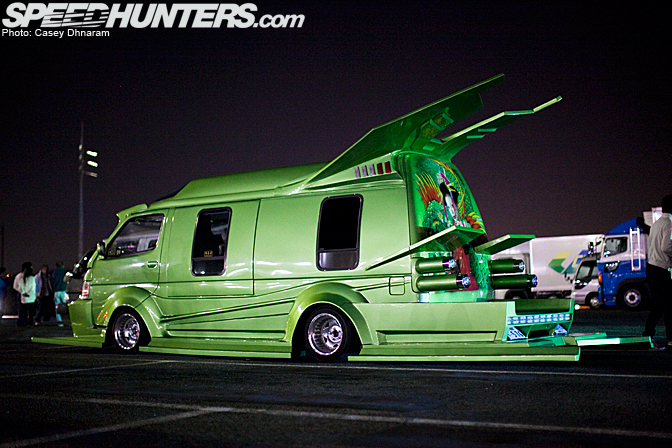 I started shooting with my father's 35mm Pentax SLR when I was 9 years old, but never did I think I'd be shooting in Japan for one of the largest car culture websites on the planet. I'm sure the majority of you are familiar with my trip to Japan last month, but I thought you may be interested in seeing what unfolded behind the scenes. Enjoy…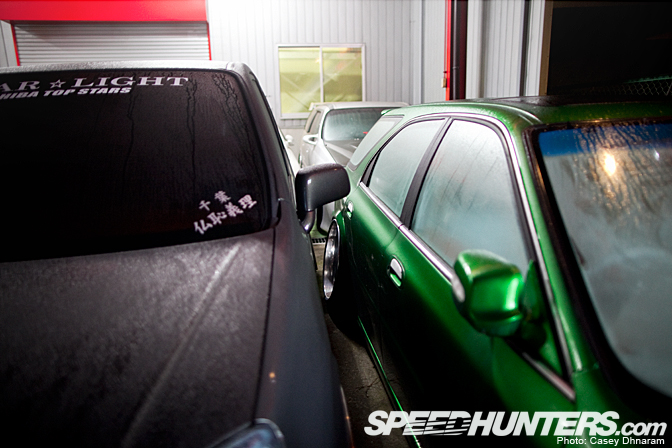 On the first day of November a group of Australian – 9 including myself – headed from Melbourne to Narita International Airport, just outside of Tokyo. Running off the plane like a pack of wild rabbits it was obvious the adrenalin was already pumping! After a solid hour of trying to find vacant hire cars throughout several agencies we finally had our names written down for two little Toyotas. A short 5 minute drive down the highway and a couple of random turns later, we came across a workshop by the name of T-Style. This is a photo of a slammed Honda Accord wagon that was parked outside. You can imagine the hysteria we were in… we were only ten minutes into our trip and we were already spotting cool cars! Japan was sure going to bring us some awesome sights.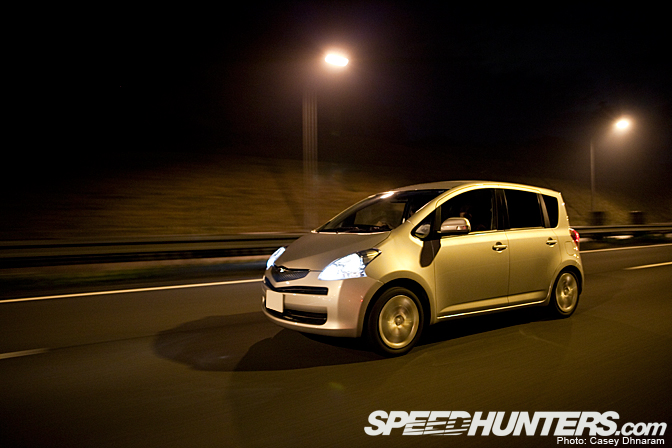 After drooling at the cars T-Style had sitting out in the cold, it was time to keep moving. We headed toward Chiba, and along the way we once again spotted a large garage with some cool cars out front…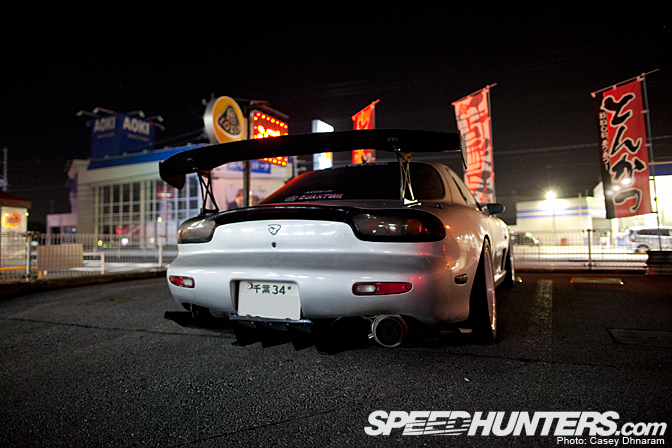 …Of course, we had to pull in. The owner of the garage eventually came out and started speaking in Japanese, but unfortunately none of us spoke the language. He mentioned to us that it was a Lotus workshop, three stories high and that this was his daily driven Mazda RX-7 that he occasionally races.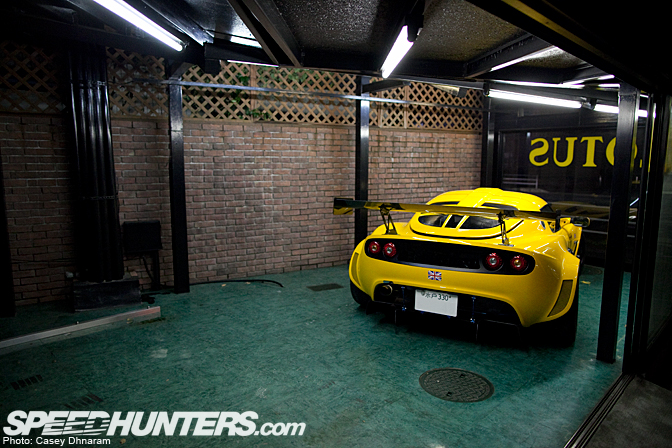 Continuing to look around the workshop I spotted this gorgeous Lotus Exige.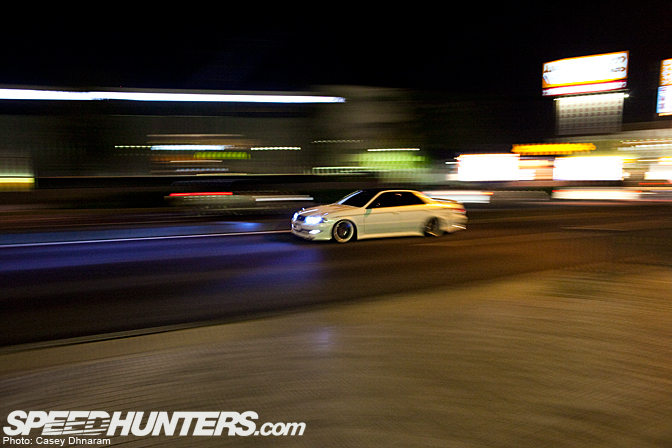 Time began to slip away so we pulled into a McDonald's for dinner. Just as we were pulling in, I spotted this JZX100. Immediately it clicked, this car looked so familiar. I jumped out of the car whilst it was still moving and snapped these two shots of it. We had only been in Japan for an hour and already I was seeing so many nice cars.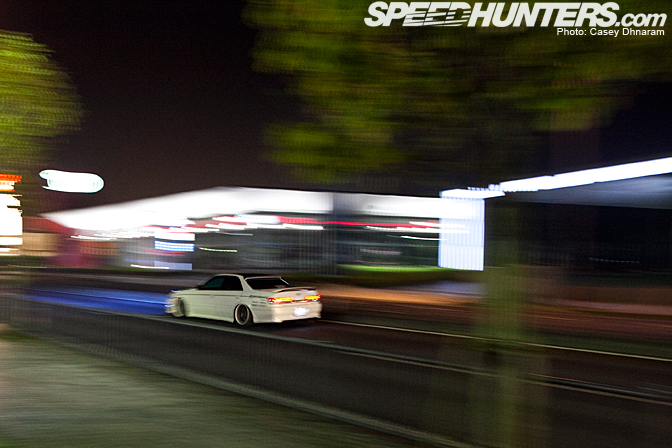 Purchasing the latest Drift Tengoku when departing Japan, I indeed had spotted this JZX featured in a 4 page article on night street drifting!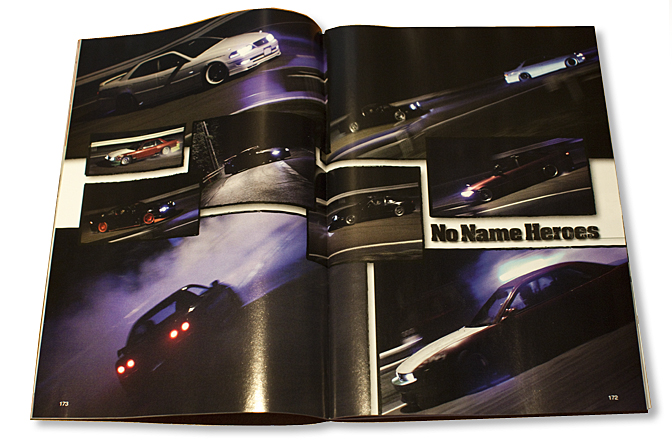 No Name Heroes, page 1.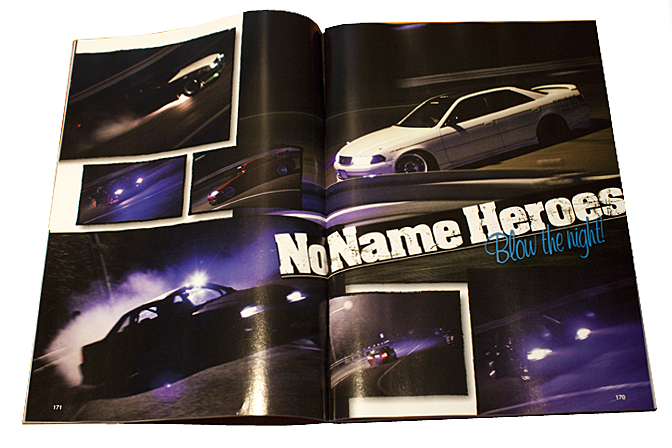 And the second double page spread, pretty cool!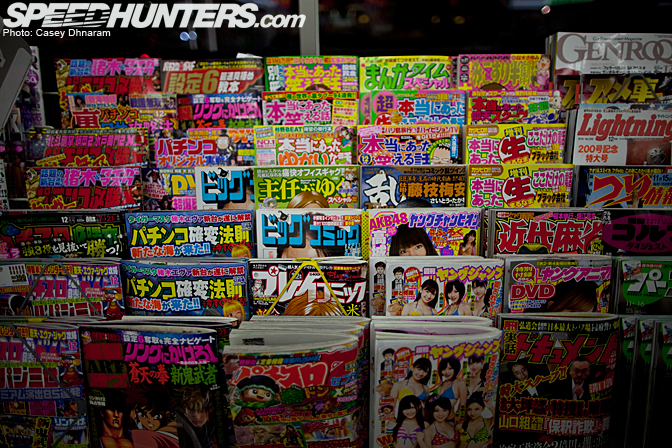 We also managed to check out some Mini Marts, Lawson's and 7-11's too! They all have quite a magazine range.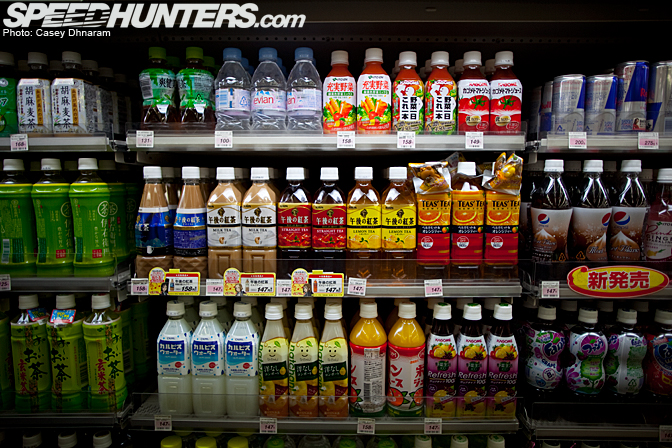 Oh and drinks, how could I forget the drinks.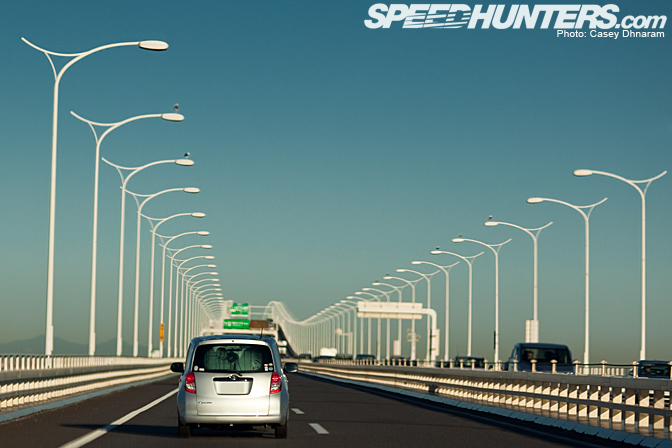 After all the sidetracking on the first night, we finally made it to Chiba, but unfortunately we were unable to find any hotels with vacancy. Sleeping overnight in the two hire cars was something to remember. Not a single one of us knew where we where, all we knew was that it was somewhere between two large rice fields. At the crack of dawn we grabbed our coffees and set the GPS system to Super Autobacs in Tokyo. Here are one of the large bridges we crossed to get across the bay.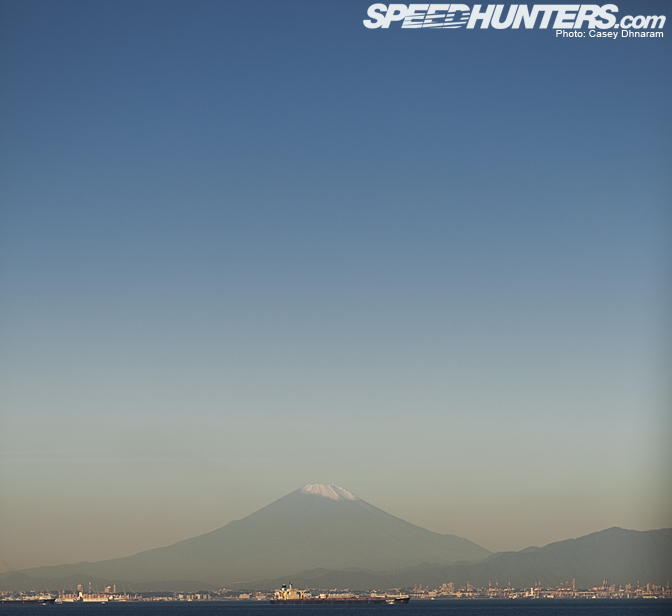 Being such a clear day, Tokyo Bay was looking gorgeous amongst the never ending blue skies of a Spring day in Japan.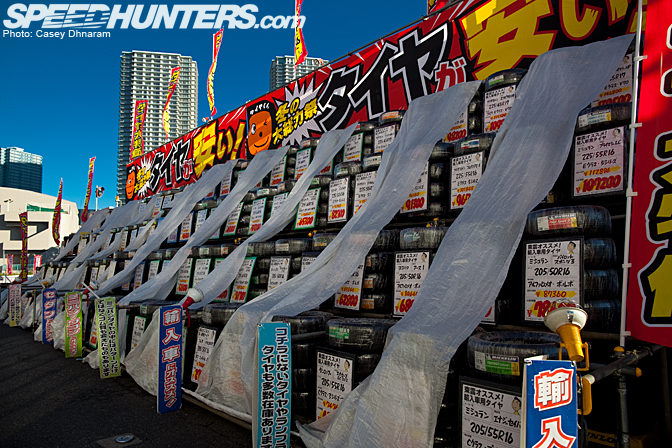 By 10:00AM we where at Autobacs, not knowing it opened at 11:00AM…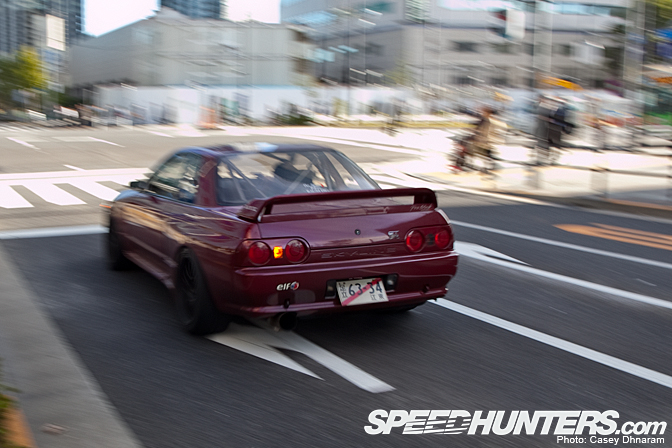 We spent the hour trekking around the city, spotting this 'caged R32 GT-R driving by.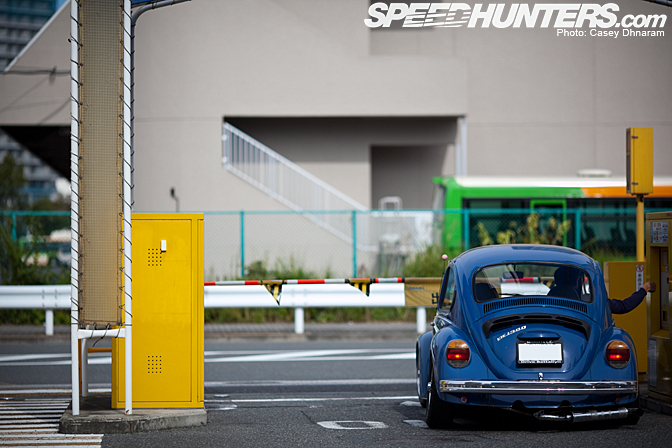 After a few coffees and a solid walk around the city, we found ourselves back in the Autobacs carpark…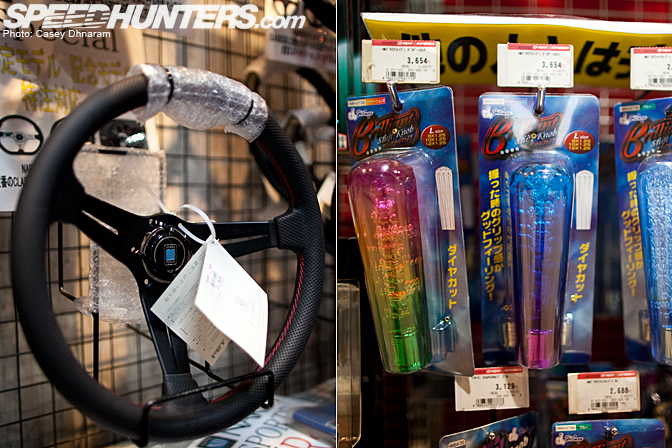 …Where we went crazy like kids in a candy shop.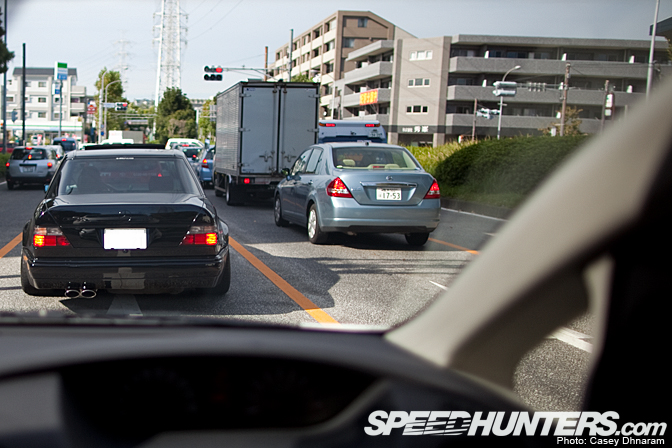 Just after lunch we moved on, with the plan to visit Bee*R workshop and the main Up Garage store. On the way we crossed paths with this wide-body Mercedes.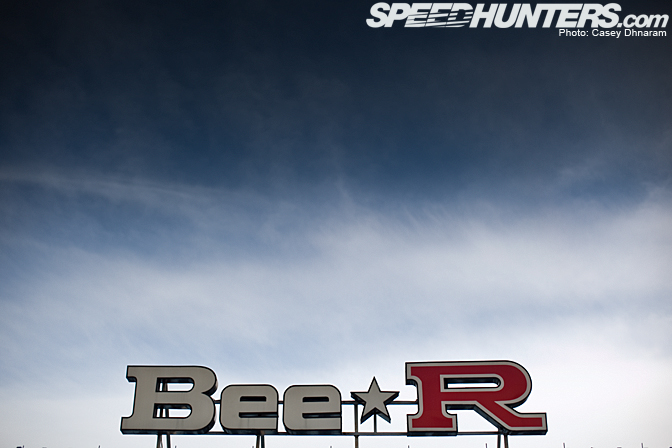 A good hour's drive and the ever so famous logo was there before us… Bee*R.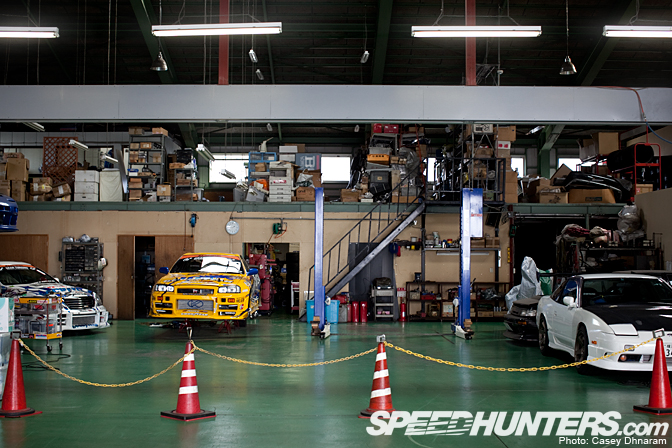 This is what you see as you enter their shop floor. Both Bee*R D1 Grand Prix cars were to one side with some street cars to the right.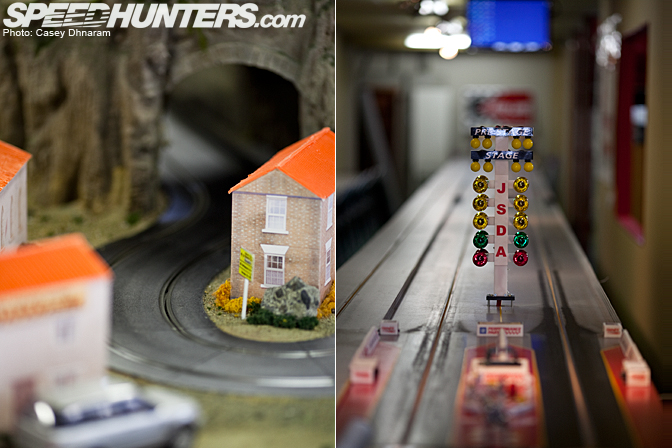 We noticed a little shop next door that turned out to be slot car heaaven There were tracks that ran through miniature towns and even a quarter mile drag strip. Seriously cool, and perfect for our Collectables theme!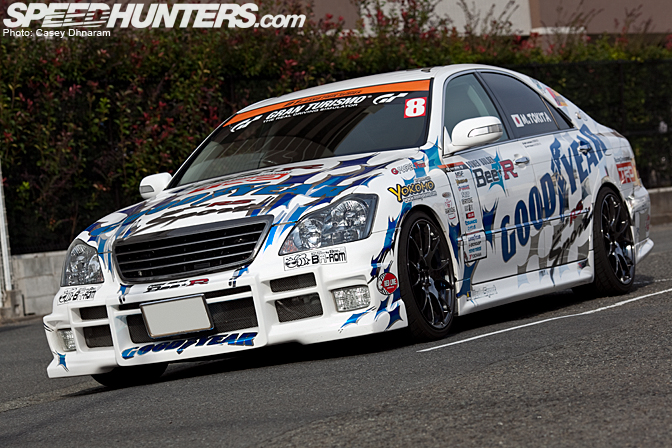 After catching our breath we had a proper look at the workshop, noticing one of the worker's cars out the front which is a replica of the D1GP drift car.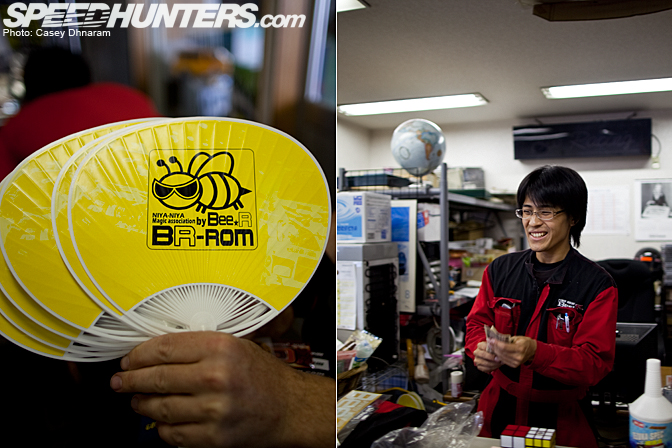 Of course, being tourists meant we had to do a little shopping! The fellow working behind the counter happily gave us 50% off every marked price whether it was overalls or stickers, and even threw in some Bee*R fans as gifts.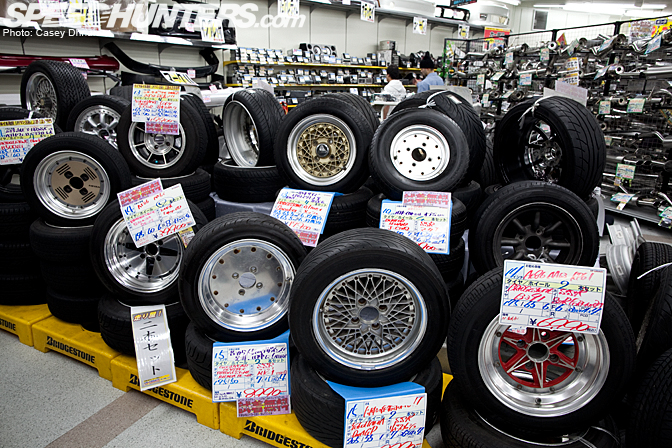 The next stop on our trek was Up Garage, and obviously I was blown away by the sheer number of parts they had on display. Here's one shot for the Hachi lovers.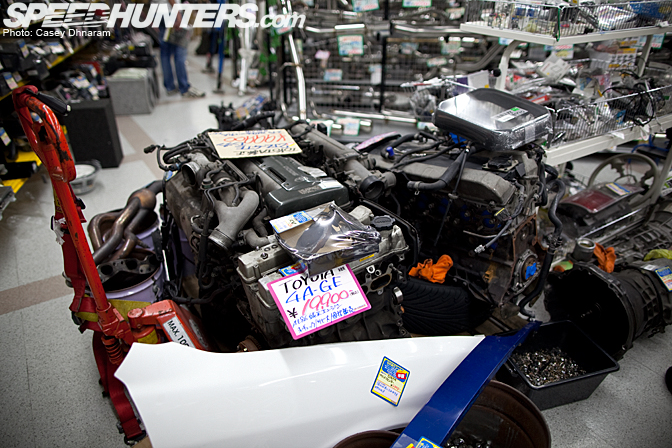 If wheels weren't on your shopping list, maybe a 2JZ or two?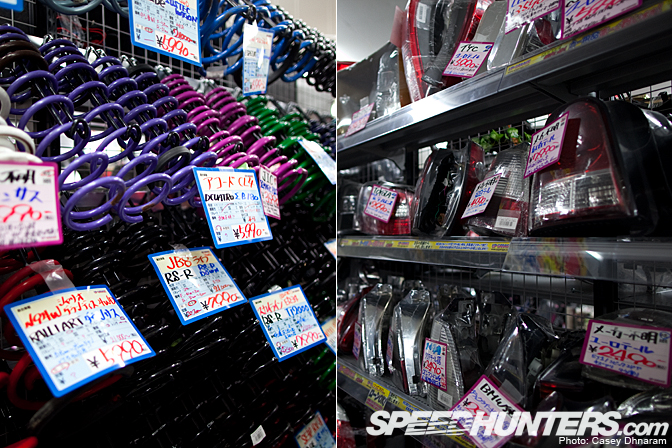 Over a dozen aisles, filled to the brim of car parts. If only there was more room in my bag…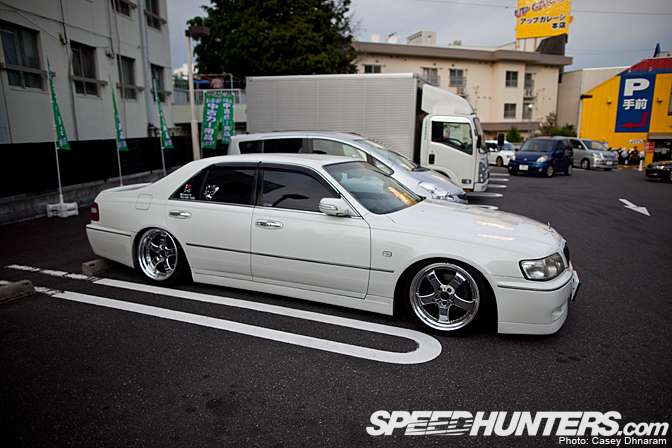 This V8 Cima was innocently parked in the carpark.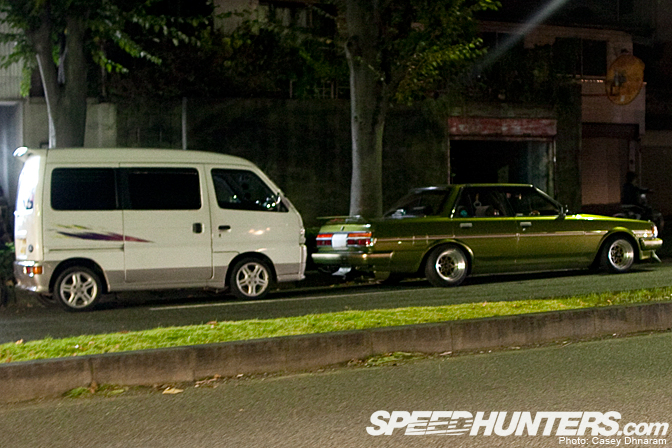 After a quick and easy dinner the day had suddenly turned into night. On the way back to Chiba I spotted some pretty crazy cars, one being this GX71 hardtop mark 2 sitting on a rare set of Starsharks.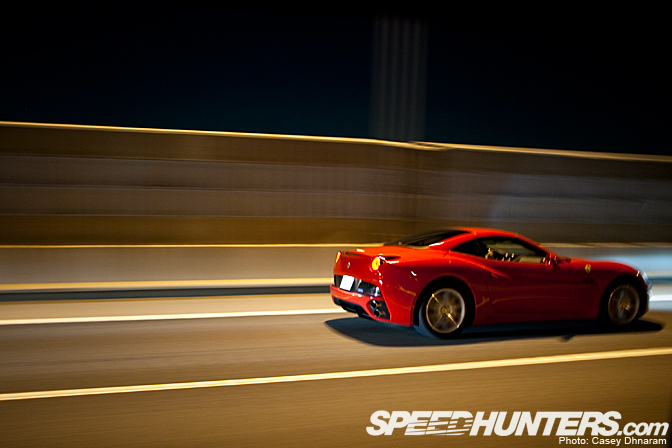 The majority of Italian and European cars in Japan are left hand drive. The first Ferrari I spotted on the trip was this California cruising along the highway.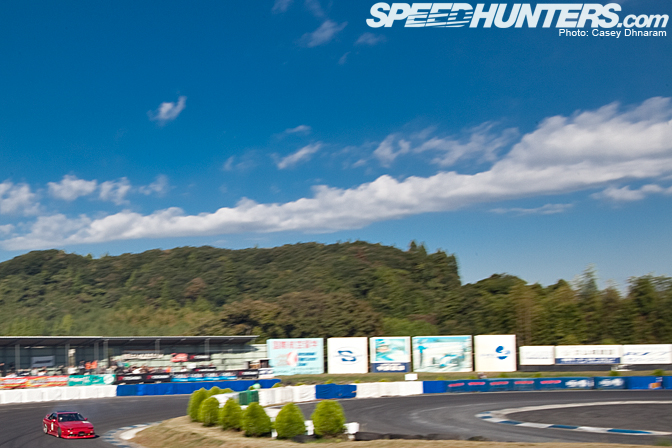 The next morning we arrived at Mobara Twin Circuit where the final round of MSC Challenge was taking place. This was one of the first photos I took of the day, giving you a look at a red 180SX Type-X drifting through the last corner.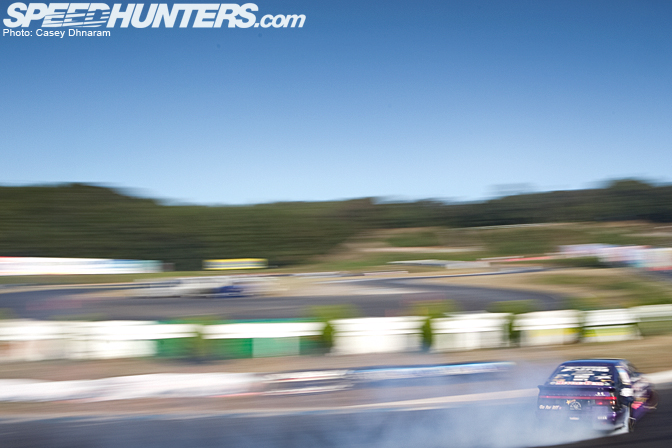 I have to say MSC was by far one of the best events we saw whilst in Japan. With the perfect mixture of cars, atmosphere and people you couldn't ask for much more from an event!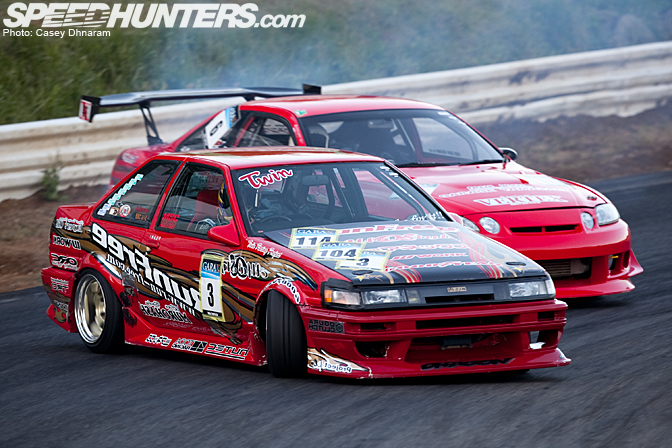 At one stage I recall looking through my viewfinder and seeing two red hot cars entering the last corner a la that 'classic MSC' photo. Here was my attempt.
Also if you missed out on a stack of images from the day, be sure to check out my article.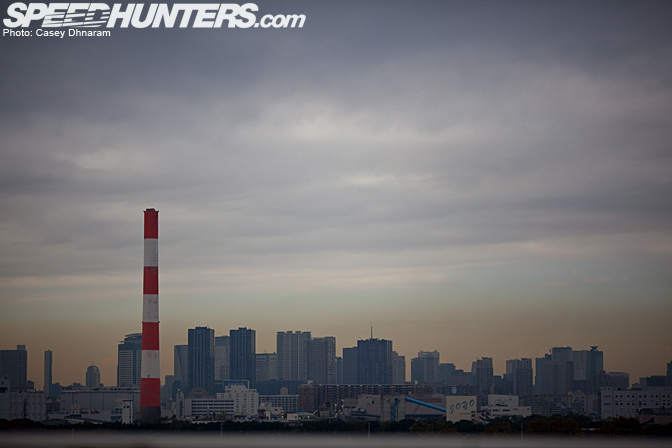 The following day we headed out to Tomei's HQ.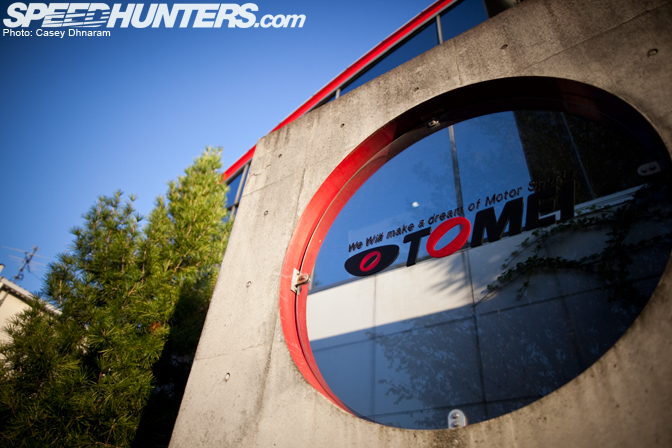 After sitting in traffic for a solid two hours we finally made it there around 3:00PM. Walking up the vine wrapped stairs and entering the building was quite a feeling. Allen Lorenzo popped out from the office and welcomed us to come in.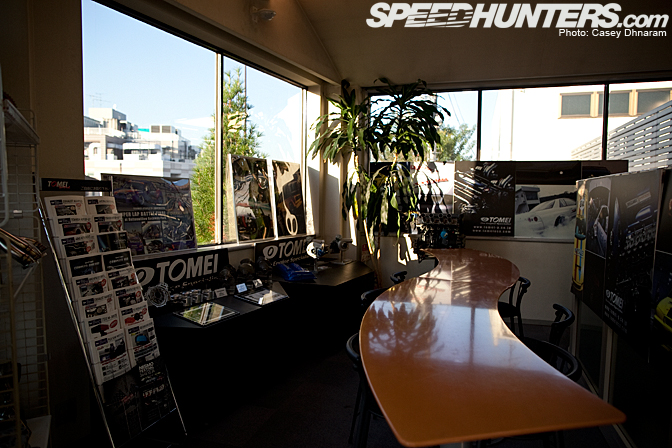 I bolted down the stairs and gave the boys the okay to enter the building…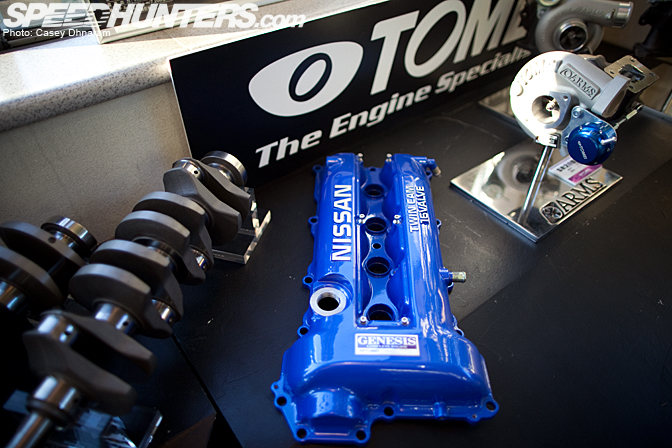 Some of the cool parts on display in their showroom.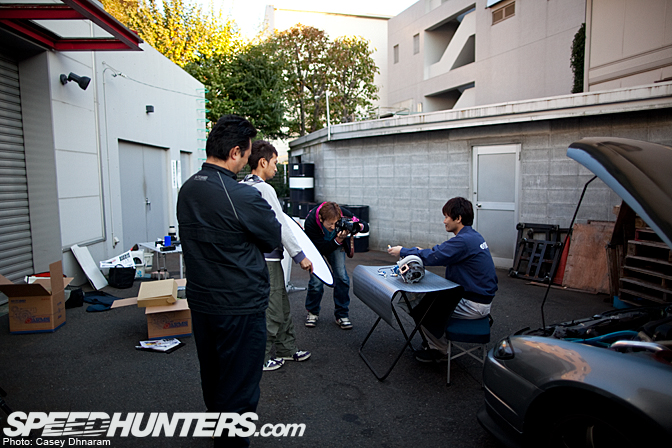 As Allen walked us down the driveway to the rear of Tomei, I spotted this photographer shooting some Tomei parts. Nigel bought the November issue of Drift Tengoku a week and a half later and the photos had made it into that issue. Talk about a quick turnaround!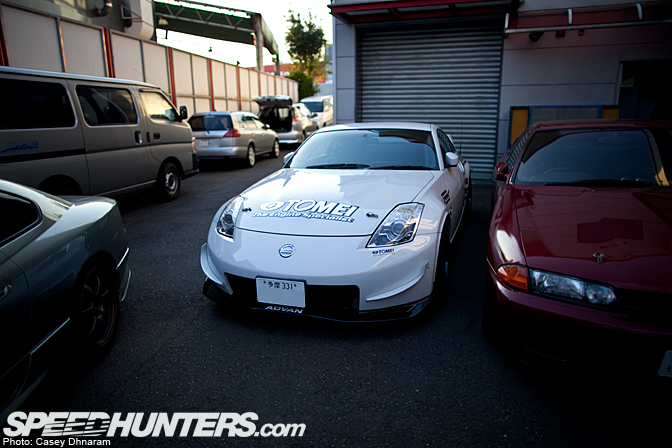 Allen kindly let us sit in their Nissan 350Z.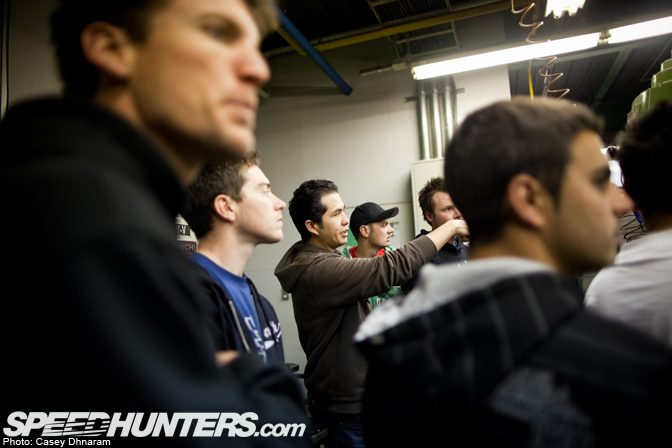 Unexpectedly Allen gave us a full tour of the Tomei workshop which was absolutely breathtaking.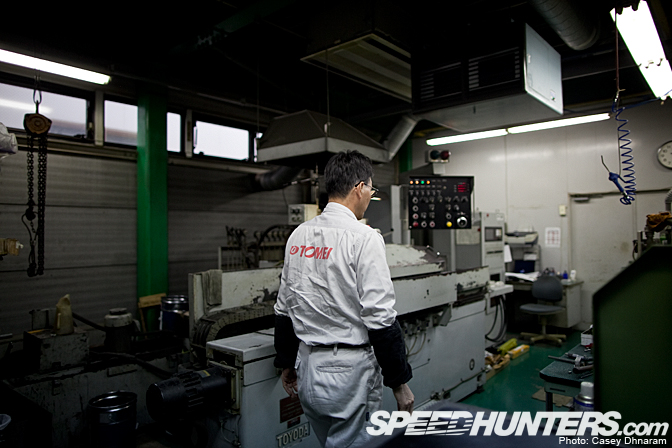 Some of Tomei's workers had been there for over 25 years…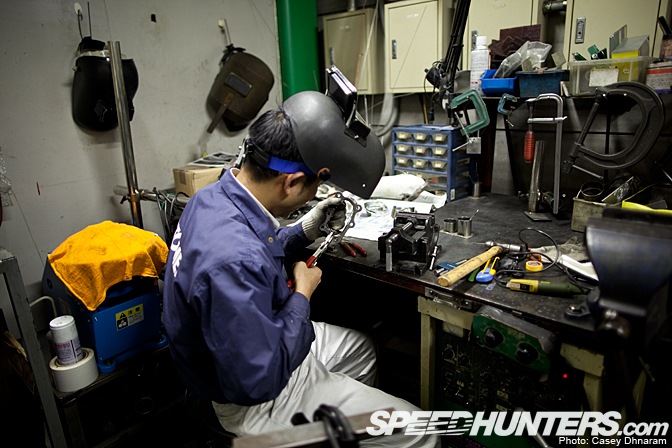 This fellow by the name of Mr. Hatanaka produces some of the finest welding I've ever seen. He is the ex Yoshimura bike exhaust engineer.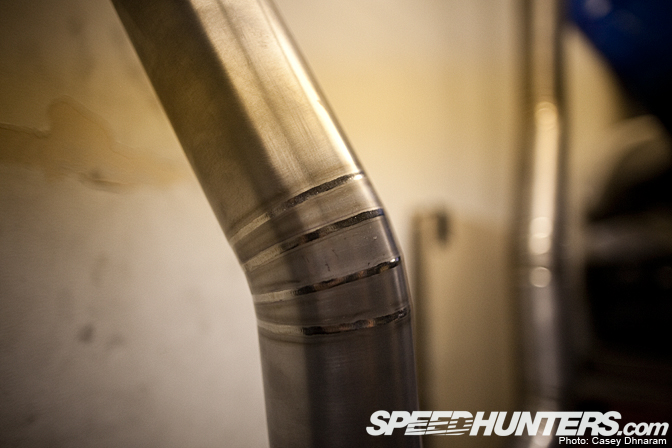 Here's a closer look at the next exhaust for the Time Attack EVO…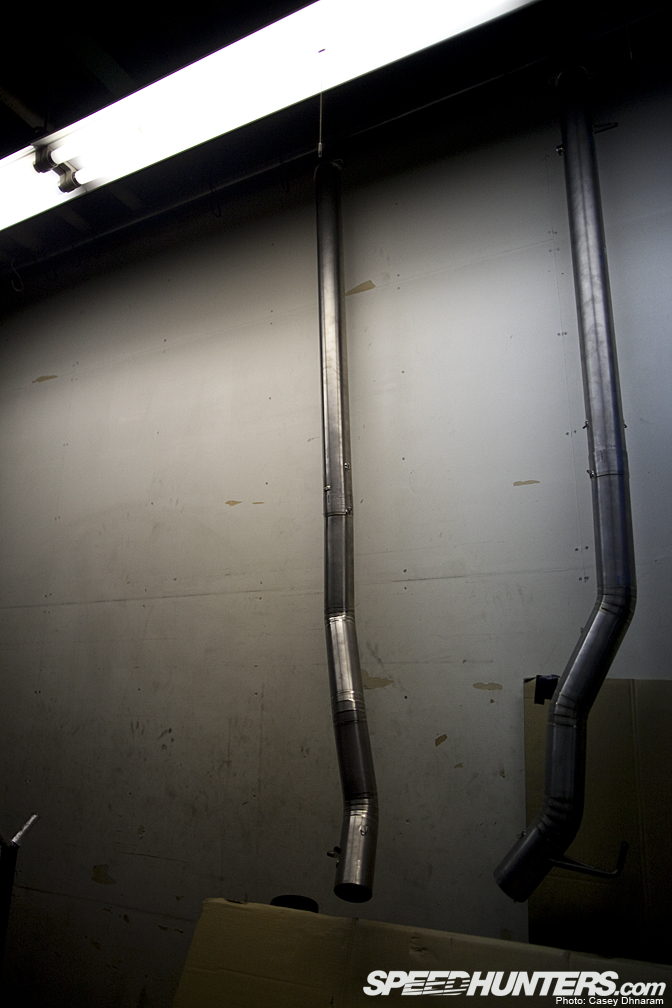 …Which is almost ready to be fitted to the car.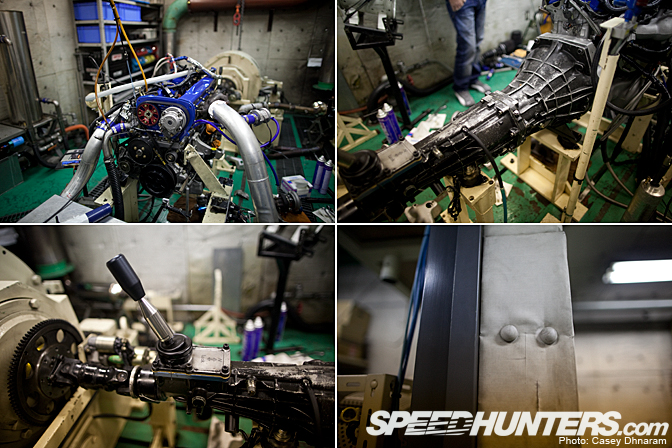 The engine dyno room was by far the most interesting. I've read about them and seen photos, but this was the first time I had seen one in person. It was lucky they had a motor attached just to see how it actually works.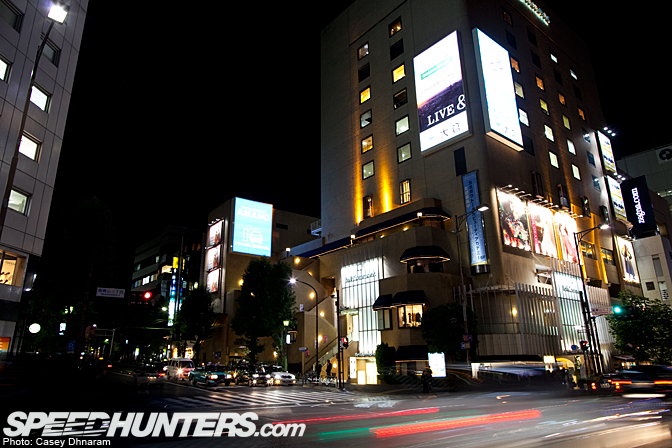 Whilst on the topic of Tomei, I'd sincerely like to thank Allen Lorenzo for taking the time to give us a tour, it was a fantastic experience. After visiting Tomei it was time to head back to search for an available hotel, and luckily we found a place in Shinjuku to spend the next couple of nights.
Stay tuned to see what we got up to in Part II!
-Casey Dhnaram