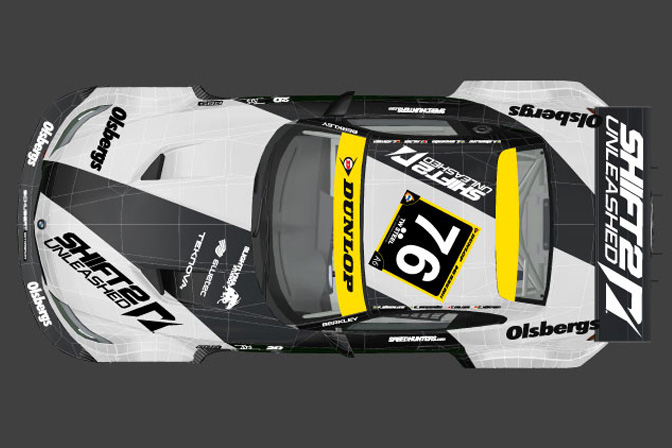 The last sportscar race of the 2010 season may have just finished in Argentina, but teams, drivers and partners have been busy working on the 2011 season for some time. Team Need for Speed is no exception.
Following a great season where 'Team Need for Speed by Schubert Motorsport' finished third in the FiA GT3 Teams Championship, and we are happy to announce we'll be competing in the 2011 Dunlop 24 hours of Dubai with the BMW Z4 GT3!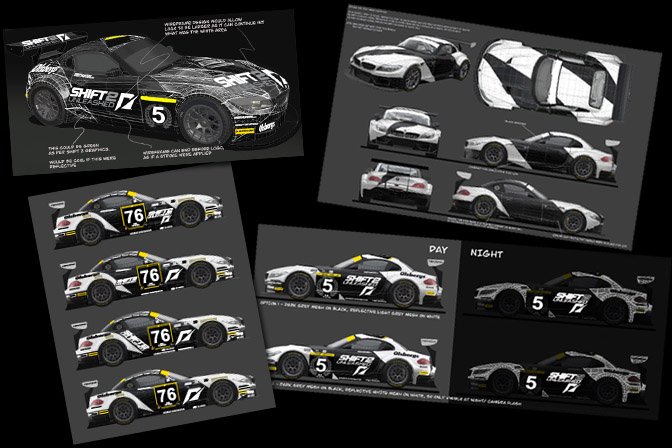 As you may remember, we like to make each Team Need for Speed car individual. I had the opportunity to develop the design for 2011 and came up with the idea of putting a wireframe mesh from the forthcoming Need for Speed Shift 2 Unleashed' game on the actual car.
As the Dubai event is a 24 hour endurance, the mesh which appears on the white area of the car will be reflective and glow in the dark!!! We investigated different Wireframe mesh levels of detail.
We ended up going with a mesh, less detailed than the in-game car!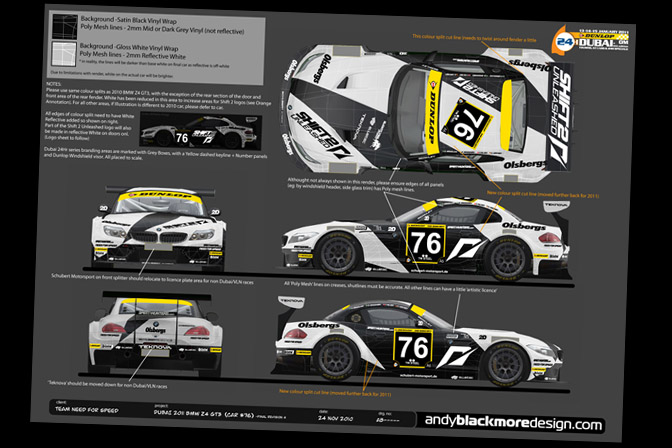 As you can see in our design images, we also had to resolve placement of the huge number panel and Need for Speed branding on the side.
The Team Need for Speed livery is also asymmetric, so while this helps it stand out on track, it does make placement more of a challenge.
I blame the designer…..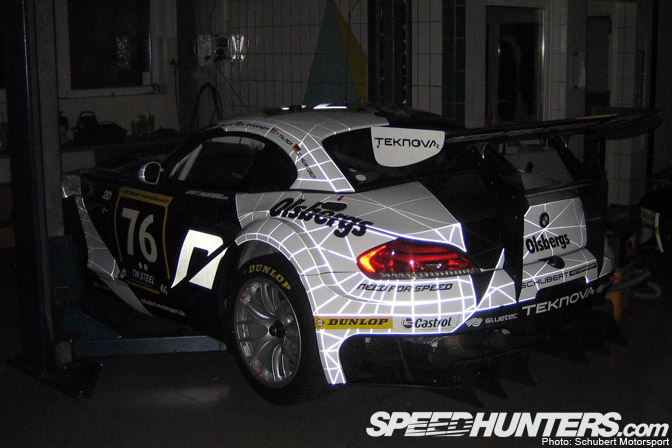 These images were taken last week, moments before the cars were packed away in Containers in Rotterdam. They are now on route for the Dubai Autodrome!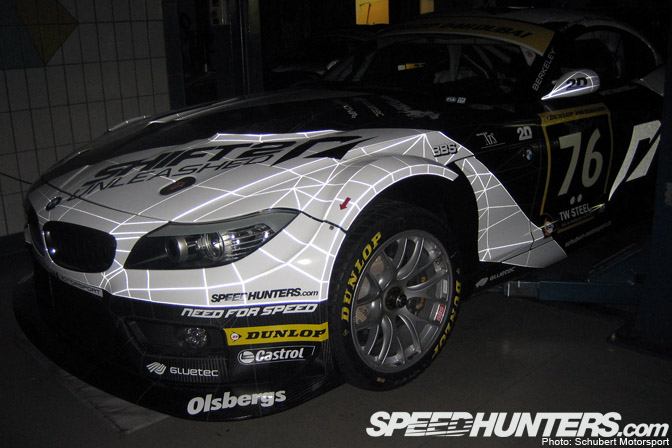 It should make for a striking looking car. Special thanks to Suzy Wallace and Casey Ringley at Slightly Mad Studios for organizing reference for the design. Additional thanks to Stefan Wendl at Schubert Motorsport.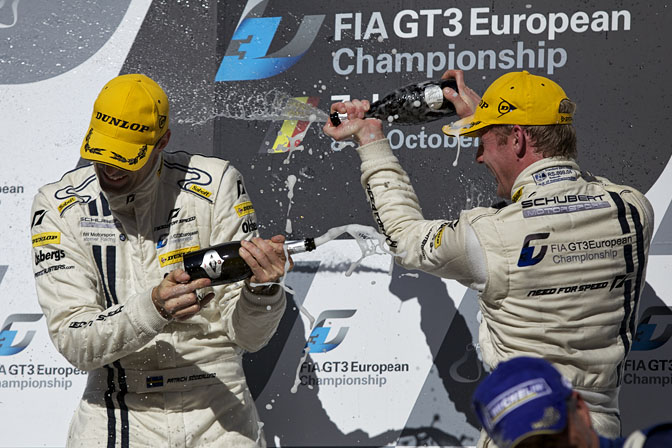 Regular drivers, Patrick Soderlund and Edward Sandstrom will be joined by Claudia Hürtgen and Speedhunters' Tommy Milner.
This will be Patrick's third time at the 24 Hours of Dubai, finishing 5th overall last year, the final outing for the Need for Speed branded Porsche 911 GT3.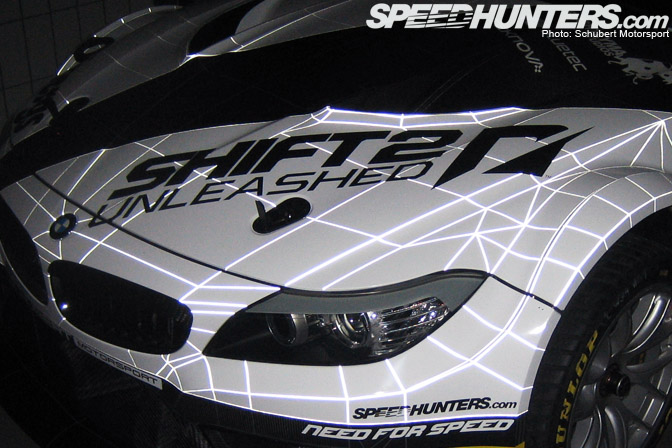 Claudia Hürtgen needs no introduction to Sportscar fans. Hürtgen has previously competed in the American Le Mans Series, Nurburgring, Daytona and Le Mans 24 Hours races. She was the 2005 VLN Endurance Champion.
Claudia and her team mate took the maiden win for the Team Need for Speed  BMW Z4 GT3 at the Jarama circuit earlier this year.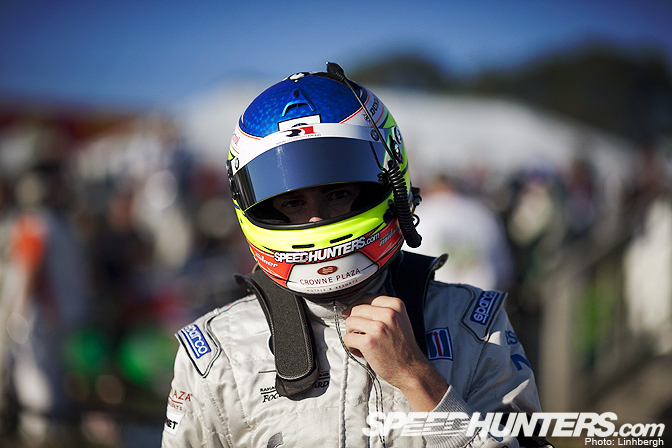 Tommy Milner drove for BMW Rahal Letterman for the past two seasons in the American Le Mans Series, finishing 3rd in the ALMS GT Class Championship. I spoke to Tommy earlier this week and asked how he is approaching his race.
"First time to Dubai for me and I'm really looking forward to working with Team Need For Speed and Schubert Motorsport in the Z4 GT3. Since I haven't been to the track in Dubai before, normally I would have hundreds of laps at the track on the computer. However, since I'm in the middle of moving, my sim rig is all packed away and I've had to just watch lots of video on YouTube and replay the track in my head. I should have my stuff setup by the end of the month so I'll have some time to get some virtual laps in before the event.
Either way the track looks like fun and I've never had a hard time getting up to speed at a new track so I don't see that as being an issue. The hardest part will just be the grueling nature of the 24 Hour race, staying out of trouble, and as always, a bit of luck!"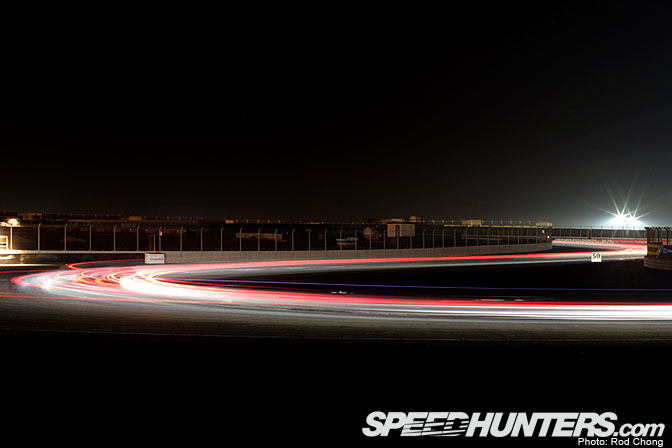 A second Team Need for Speed by Schubert Motorsport  BMW Z4 GT3 entry (Car #77)will be in reversed colours with EA SPORTS branding. This car will be driven by Bill Auberlen, Joey Hand, Boris Said and Paul Dalla Lana  and will be co-supported by Turner Motorsport.
The Dubai 24 hours takes place from 13th – 15th January next year. Expect extensive coverage on Speedhunters as always!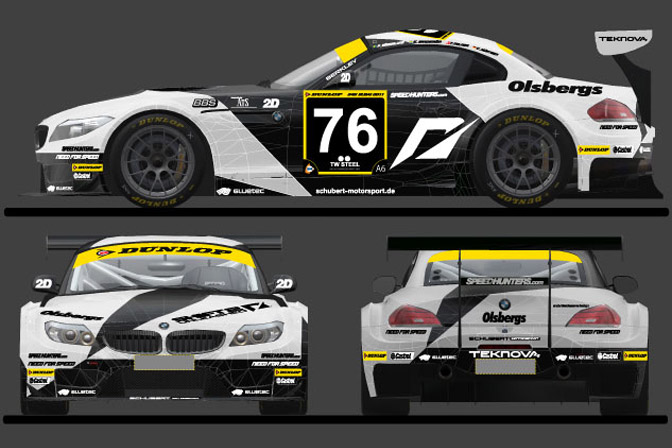 – Andy Blackmore