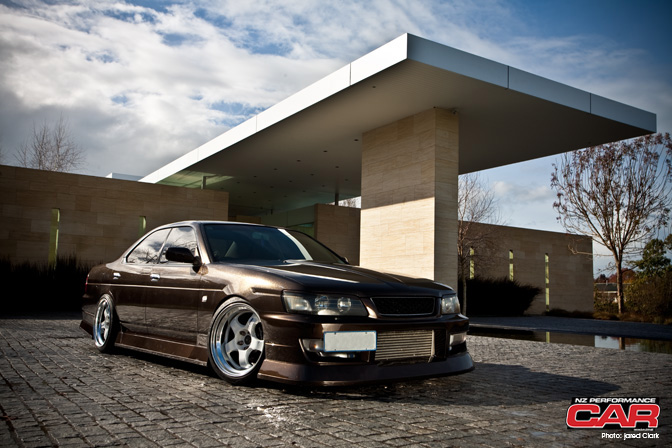 Jordan Mayall's 1999 Nissan Laurel is a car that looks like it has rolled straight off the streets of Japan and onto a boat headed for New Zealand's shores. But that couldn't be further from the truth; this car is 100 per cent Kiwi built. "I wanted to create a car that looked like it had been built by a tuning shop in Japan, instead of here in Hamilton," says Jordan. "That means there is nothing but Japanese parts in this car; it's all genuine gear from the best tuners Japan has to offer."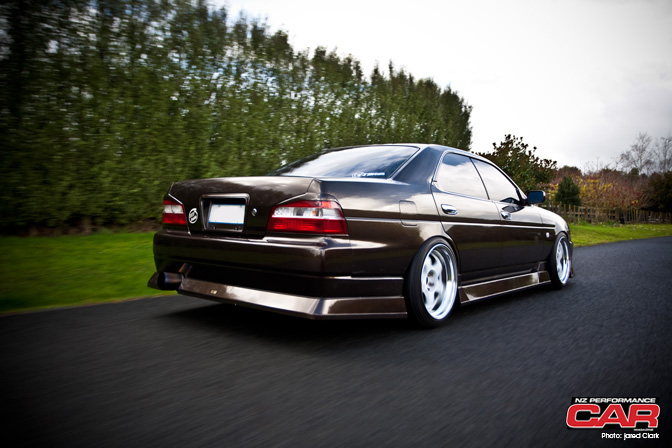 When the Laurel arrived in New Zealand it was sporting a naturally aspirated RB25DE six-cylinder motor, backed by a 4-speed automatic trans. Obviously this had to go, and although most would naturally assume that Jordan would have opted for a turbo six-cylinder replacement like that in his previous GT-R-powered C35, Jordan had other plans. Having a lot of experience with all types of Nissan engines, he made the interesting decision to go for a smaller, four-cylinder, 2-litre SR20DET motor ripped out of an S13 Silvia shell. I can guess what many of you will be thinking: big car + small motor = disaster. But in this particular case, although the motor is a little smaller when compared with, say, an RB26, it has seen a healthy amount of modification, resulting in a hefty 369hp (275kW) at the rear treads. That's more than enough wick to get the 1400kg Nissan moving.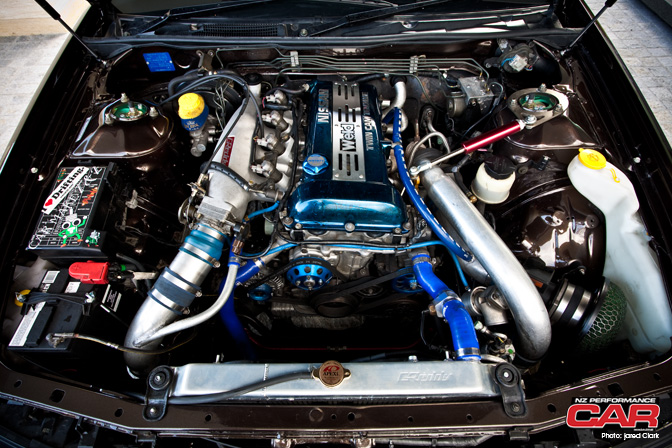 Remembering that Jordan has used all high-end Japanese-made gear in the car, I would hate to see the bill for this particular engine build. A set of 87mm GReddy forged pistons was slotted into the block next to Nismo bearings and an enlarged GReddy sump. A 1.4mm GReddy head gasket separates the block from a ported and flowed head, complete with a set of Tomei 264-degree cams. The head gets its fair share of air via a GReddy intake manifold and custom intercooler piping. In fact, it appears Jordy has gone through a large portion of the Trust/GReddy catalogue with his credit card, buying and installing nearly everything he could.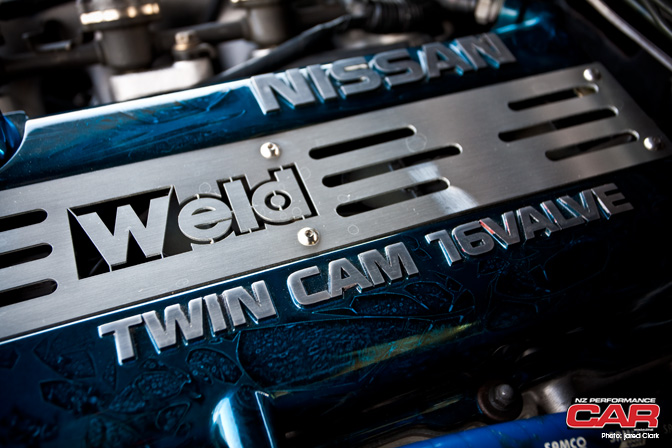 Look under the hood and you will find the GReddy name everywhere, including the large TD06-20G turbo, Type S intercooler, Type R blow-off valve, and 48mm external wastegate mounted on a GReddy stainless exhaust manifold. The manifold dumps into a 3-inch GReddy stainless exhaust pipe, which in turn sends gasses out into the atmosphere through an interestingly named 'Boyz Co' 82.5mm (3.25-inch) cat-back system. Going from a naturally aspirated setup to hard-tuned turbo meant that Jordan needed to pull the rest of the car up to standard to support the new system.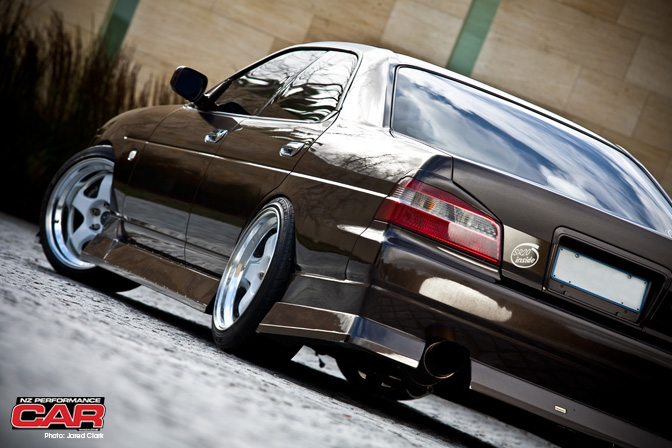 With the engine bay looking like it had come straight out of the Tokyo Auto Salon, Jordan set about making the rest of the car appear that way too. In terms of the exterior, he was able to save some cash, as this particular Laurel came into the country with a tremendously named full 'Car Modify Wonder' body kit already fitted up. Pulling the car out of his garage on the day of the photoshoot, the aggressive body glistened in the sun thanks to a custom House of Kolor brown with gold pearl and ice gold flake paint that Jordan mixed up himself. To fit the wide 18×9.5-inch Work Meister rims, the front and rear guards have also been pumped out a good 30mm, making for a very tough-looking ride.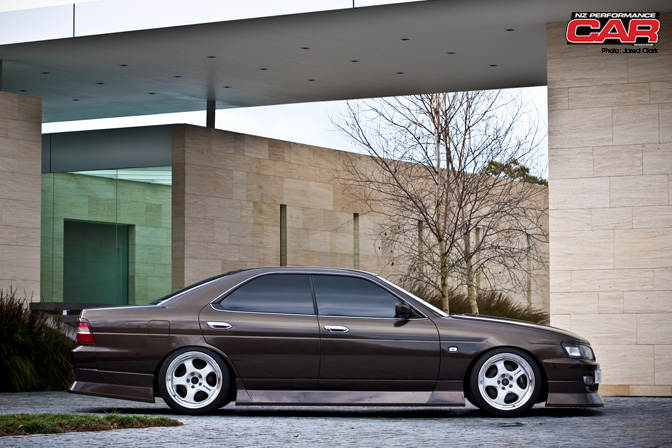 As Jordy manoeuvred the car into position, a nice rattle could be heard coming from the ORC twin-plate clutch that is mated to an S14 5-speed gearbox, which in turn feeds power out to a Nismo two-way limited slip diff. Another less recognisable noise also accompanied the rattle of the clutch. "Oh, that's third gear," Jordan told us. "It's less…well…attached than it was a few days ago." Suffice it to say, he has since replaced the box. Unfortunately it meant we weren't able to experience the C35 at its best, although we did take the car for a quick spin around the block.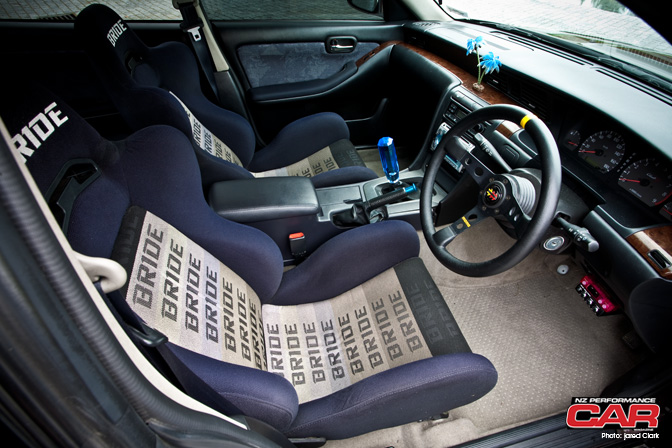 Sitting in an amazingly comfortable pair of Bride Brix seats, the Laurel is an infinitely comfortable machine, despite the Tein Super Drift coil-overs and myriad of Kazama suspension parts. Jordan shifts through the available gears using a hilarious J-style crystal shifter and pilots the car gripping a MOMO Mod7 steering wheel. In terms of braking, things have been taken care of with the addition of awesome Wilwood discs and calipers at the front, and R32 Skyline GT-R callipers clamping onto Brembo discs at the rear.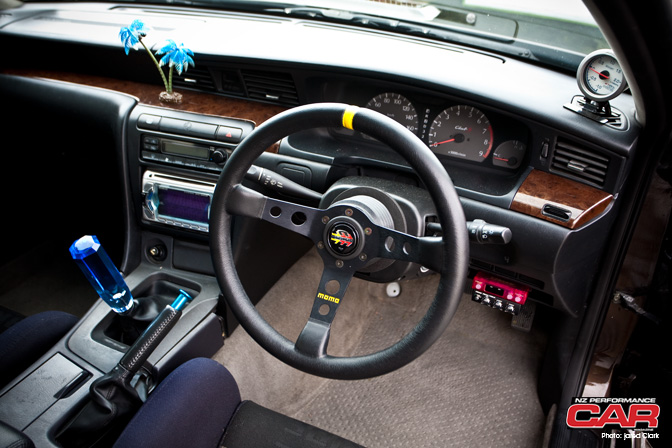 As Jordan already has plenty of fun on the track with his drift-spec S14 Silvia dubbed STUFIT, he saw no need to cage this car, and built it purely as a fun, daily drivable machine he could fit all the boys in and take for a cruise down the beach during summer. With a daily driver that most drifters would love to have as a competition car, Jordan is on form, and has hit the nail right on the head in terms of an authentic J-style street drift machine.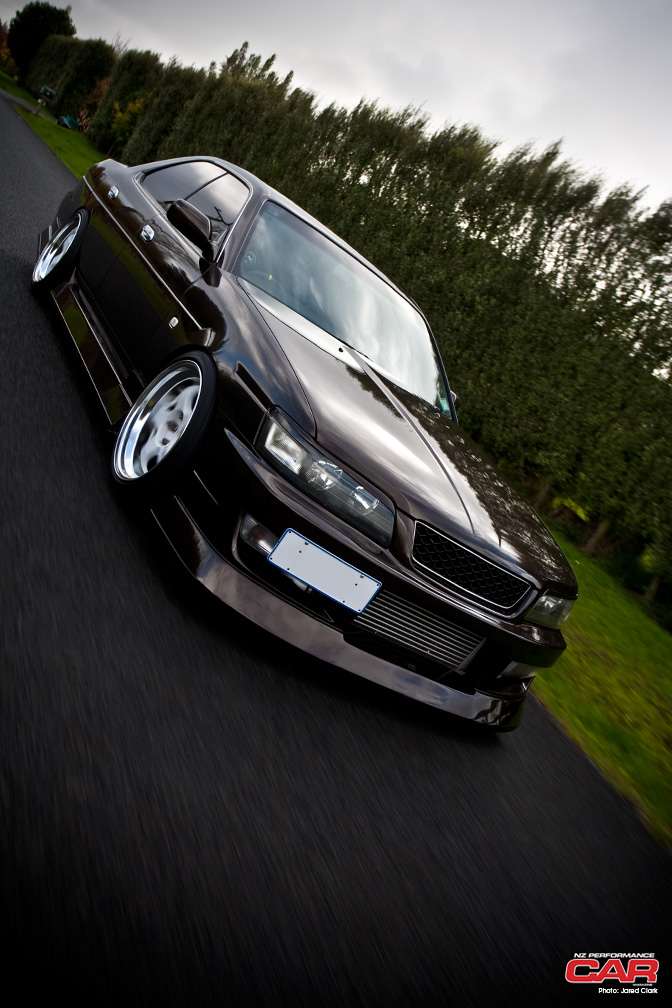 Although there are currently very few C35s in New Zealand, we can't help but wonder whether these Laurels will become as popular as the previous C33 shape has become. One can only hope there will be a whole lot more cool examples like Jordan Mayall's rolling around our streets sometime soon, whether they be built in Japan, or here on our own turf, like this particular head turner.
Photos by Jared Clark