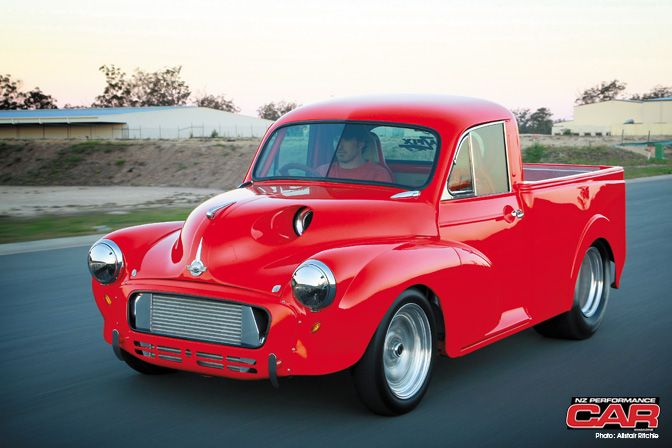 Who knew a humble old Morris Minor could be so damn cool?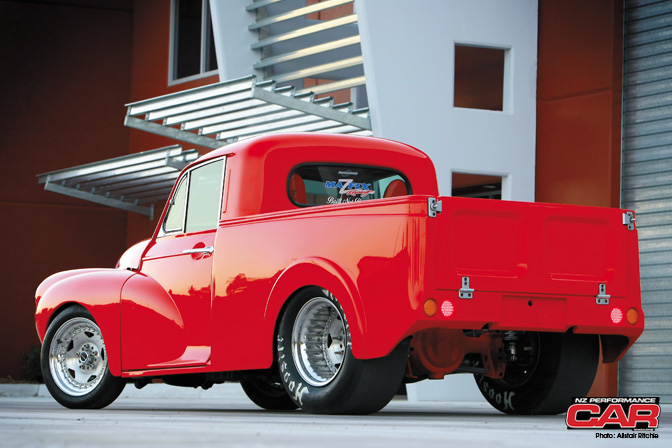 It was 1993, and a young Queenslander by the name of Brett Morgan had just received his driver's licence. Finally he was old enough to go hunting for his very first car — one of the best moments in every gearhead's life. While all his mates were out buying Fords and Holdens, Brett was looking for something entirely different. "I didn't want my first car to be like everyone else's. I wanted it to be unique," he says today.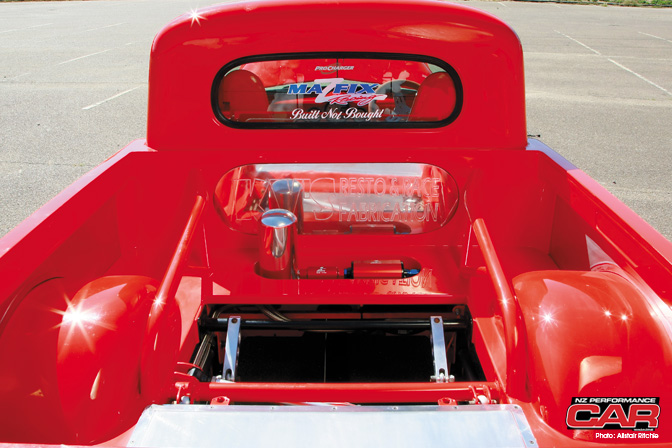 Sixteen years on, Brett still owns his first car, and to describe it as 'unique' is something of an understatement. The 1954 Morris Minor utility he eventually chose has never left his ownership, and during that time has gone from barely running and incredibly underpowered to one of the most evil Morris Minors in the world.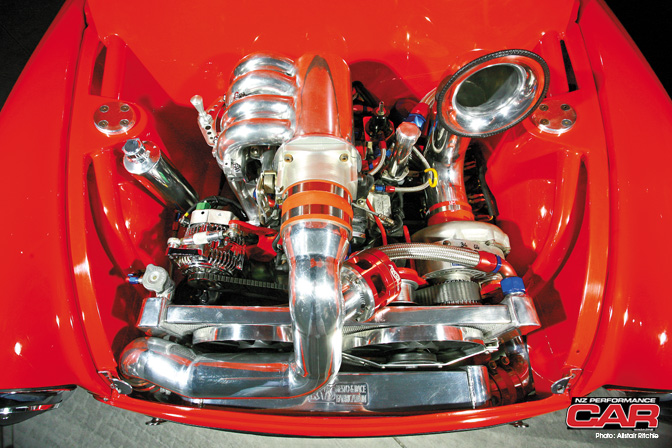 How exactly does one make a 55-year-old Morrie go fast? It certainly isn't with the 800cc factory motor, which attained a grand total of 30hp at the flywheel. Brett weighed up his options, needing to factor in the tiny dimensions of the car. "In the end I chose to re-power the car with a rotary engine," he says. "It was the best choice as it is very small in size and light, too, yet is still capable of big power."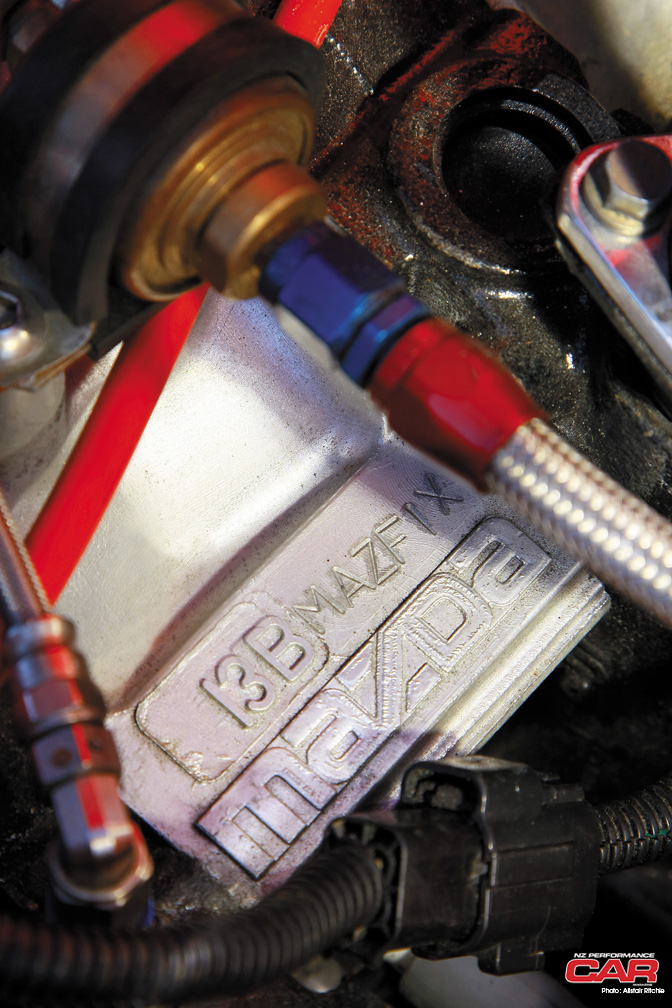 Although Brett likes to do much of the work on the car himself, for the engine side of things he wisely chose to enlist the help of one of Australia's top rotary tuning specialists: Archie Kajewski of Mazfix. A 13B block pulled from a JC Cosmo was chosen, given a very angry turbo-port treatment, then rebuilt using super-strong components.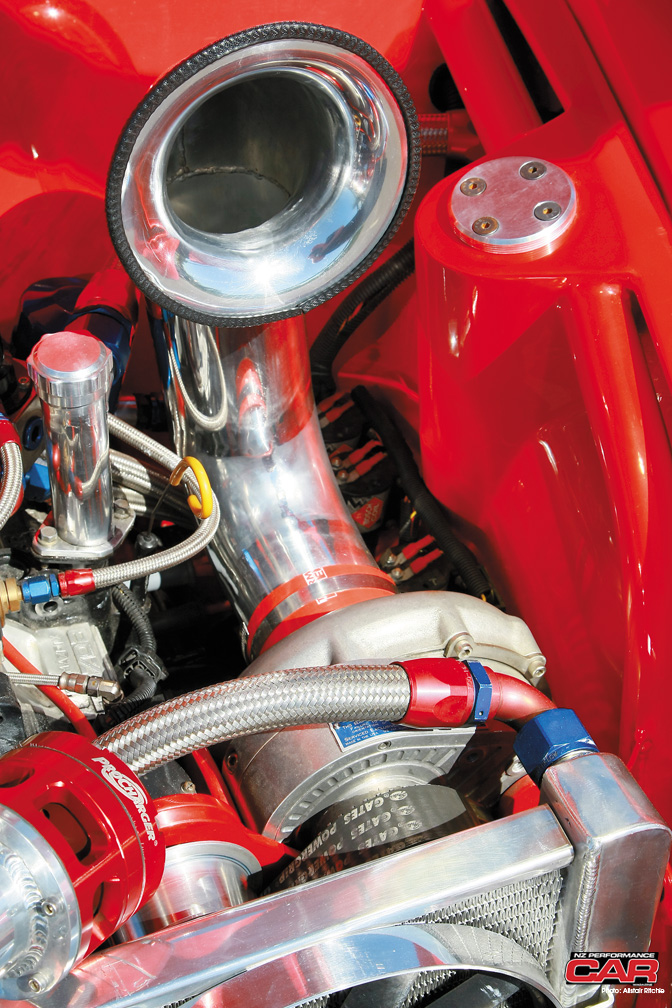 In keeping with the completely unique theme of the car, Brett decided to stay away for the more common turbocharged method of forced induction for the time being, choosing to install a ProCharger blower instead, running through a custom fabricated induction system. Although the 13B install was a nightmare at times the end result seems well worth it — a pulsing, screaming 400hp running through an indestructible C4-auto and Ford 9-inch driveline, a combination that lays down rubber wherever it goes.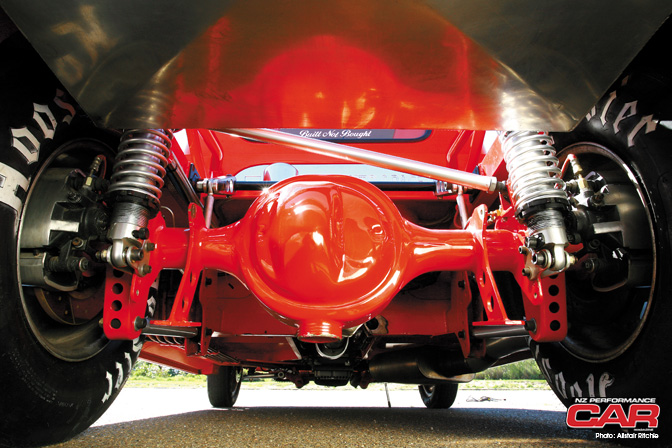 That rubber comes from a pair of huge 28×10-inch Hoosier drag slicks, which, as you can imagine, simply do not fit inside factory Morris Minor guards. Like many other areas of the car, Brett has fabricated tubs to allow for the new performance parts, yet he has also tried to retain the original Morrie look as much as possible. The end result works very well, and although you may not notice it at first, many areas of the car have been stretched, widened or smoothed as required, all to the highest of standards.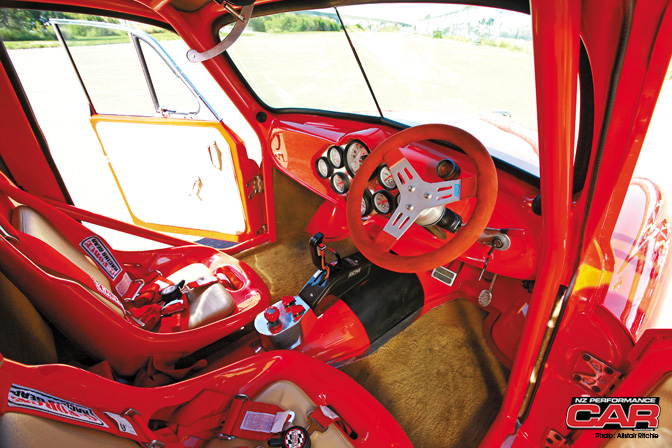 Inside the car it is a similar story, with an integrated rollcage wrapping around Brett and his passenger as they sit in a pair of custom camel-upholstered RCI race seats. At NZPC we have a real appreciation for race cars of such a high quality; they could turn up to a show and shine and take home a swathe of prizes, which, coincidently, Brett's Morris Minor quite regularly does.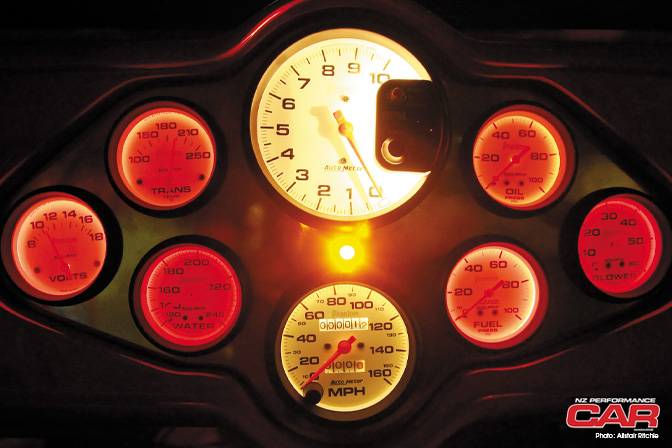 Considering Brett has owned and built this ute his entire adult life, where and when will it end? "It is a very hard car to work on, purely because of its size," admits Brett. "But it has endless character and a lot of sentimental value for me now, I wouldn't do anything differently."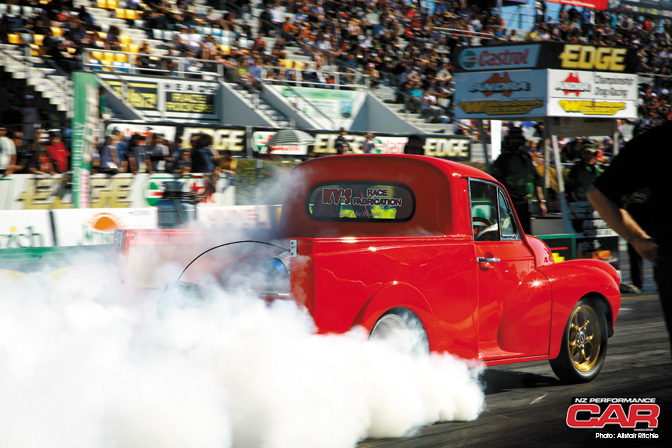 Since our photoshoot, Brett has given his Minor a serious power-up, ditching the supercharger in favour of a more practical — albeit not unique — turbocharger setup. Now running nearly twice the power, the little ute has more recently been seen dipping well into the mid-nine-second bracket on the strip. We can't see Brett Morgan ever selling this Morrie, and we simply wouldn't want him to. Would you let a car like this go if it were yours? Didn't think so.
- Peter Kelly
Photos by Alastair Ritchie