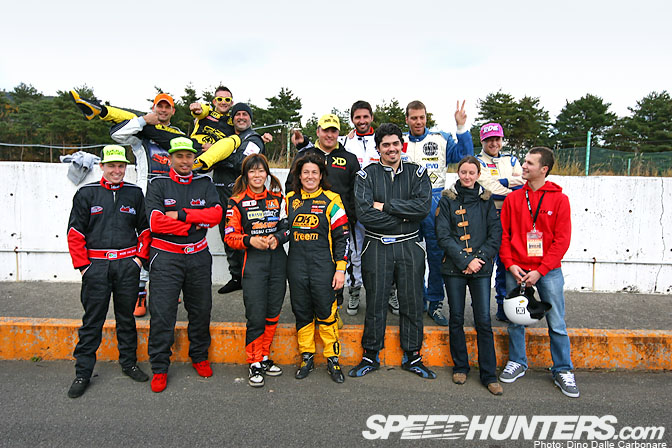 Returning back to reality after five days of non-stop drifting in Ebisu has been tough. But the best thing to address the inevitable severe Mondayitis that I've been going through today is to revisit the action that I covered, starting with this second part of the World Drift Summit & Competition that was held on Wednesday and Thursday. With representatives from key nations where Drifting is still a growing sport, the guys at Team Orange organized a fun-filled week of action, peppered with the odd discussion on the best ways to promote and organize this entertaining form of motorsport.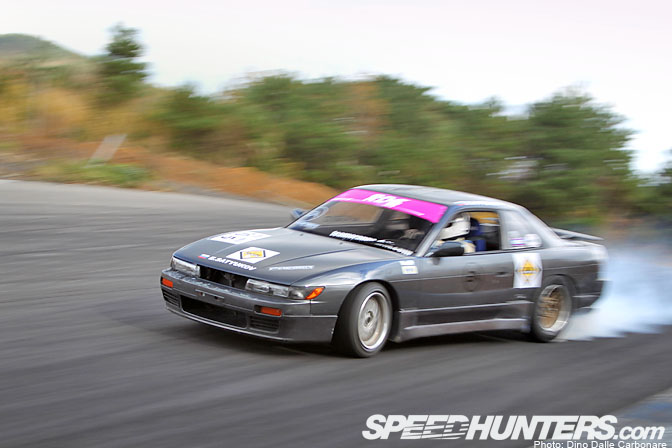 You may recall from the Preview post that pro drivers from each nation were let loose in Team Orange school cars, mostly with stock engines and very basic modifications to help them drift. The idea here was to force the competitors to put all the skills they had learned during previous drift training sessions with Kumakubo and Suenaga to use. Even on the day the two D1 drivers couldn't stop emphasizing the difference between powersliding and drifting,  With the action well and truly under way with the first practice session in the morning…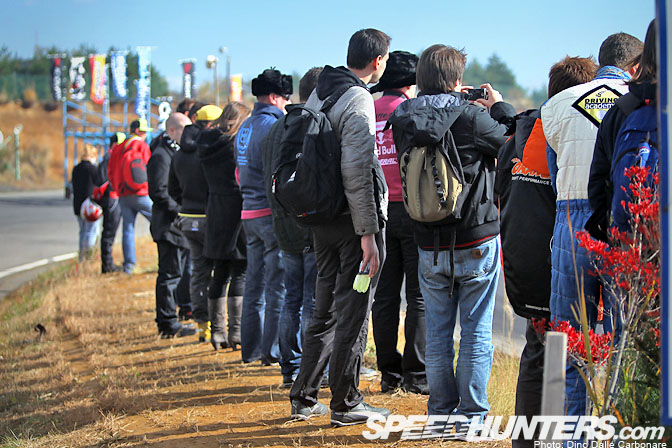 …everyone else was out there watching attentively as drivers began to feel more confident and relaxed in the cars they had chosen.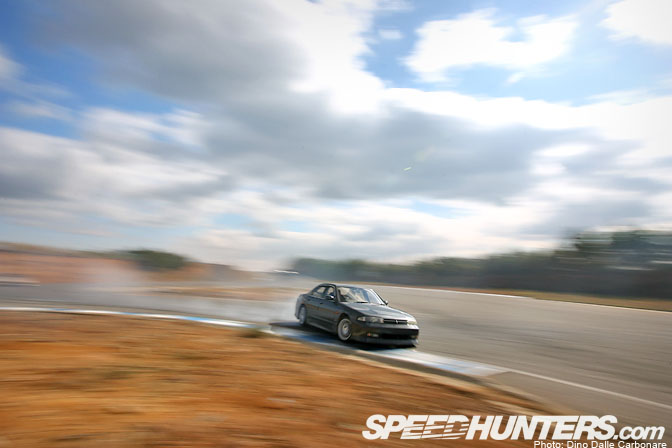 Representing Japan was Sumika Kubokawa from Team Orange, who the previous weekend took the championship win in the Venus Challenge at Tsukuba.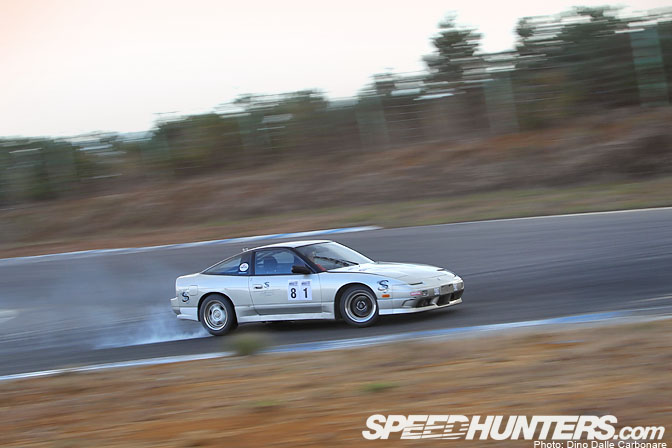 Another lady drifter was Italian Monica Burigo who was at the wheel of this 180SX, a car she shared with Lithuanian driver Tadas Luckaitis.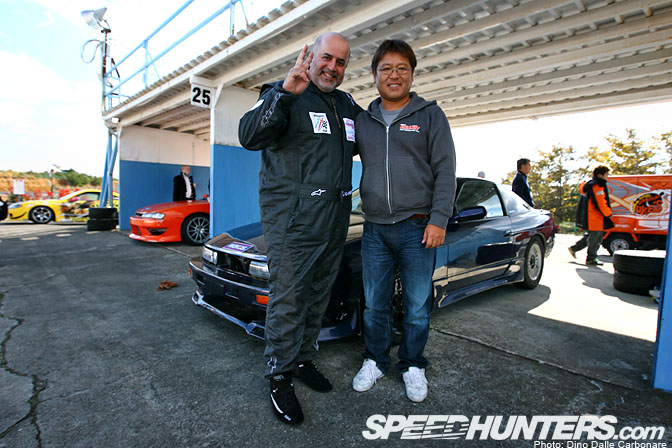 Jaber Al Khalifa from Bahrain, here with Kumakubo, chose this dark blue Sileigty…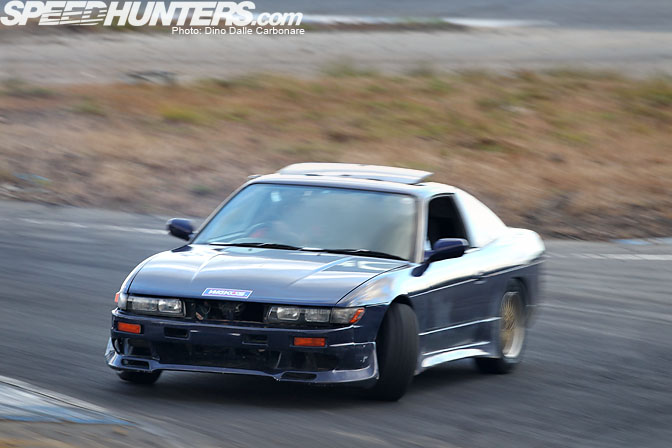 …as his weapon of choice. Over the course of the 5 days at Ebisu he really improved his skills and managed to keep his car in one piece even during his outings in Drift Matsuri "traffic."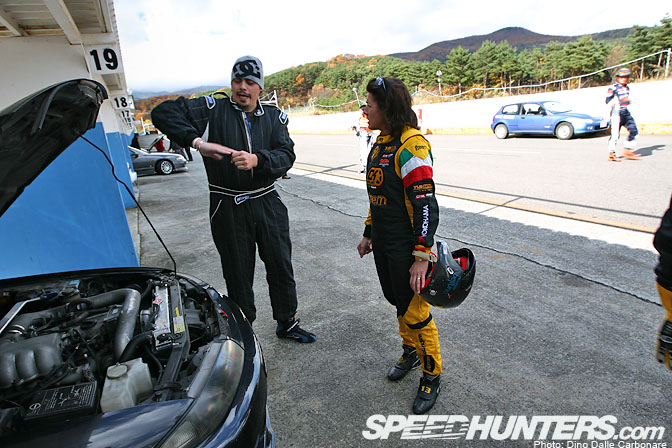 Paulo Cristovao and Monica discussing best techniques to enter the drop at the Nishi short course.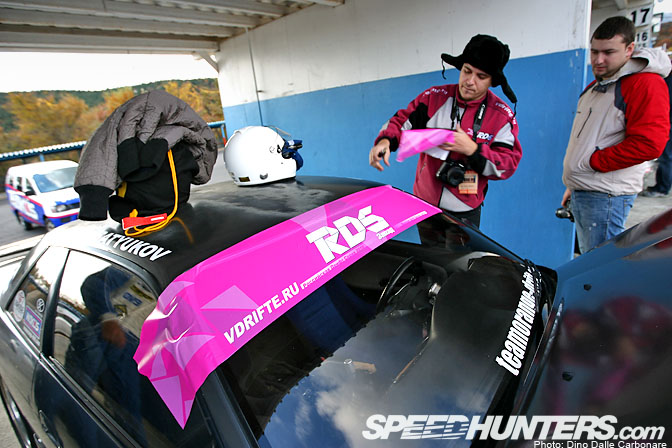 Russian driver Eugene Satukov was on board this black S13 which the was soon modified with a Russian Drift Series windscreen sticker. Eugene is the current RDS champion.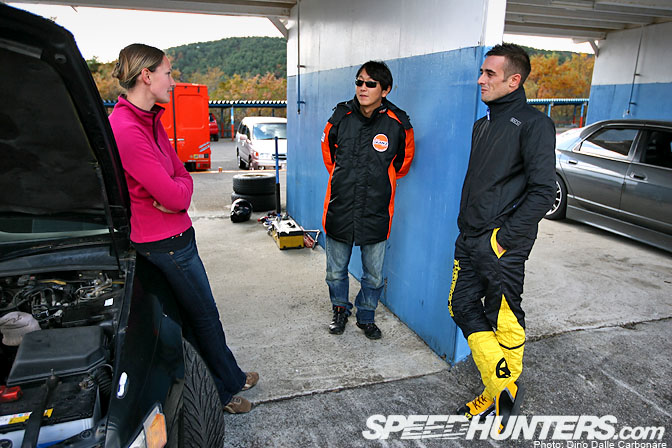 Representing Scotland was Emily Loudon of Powervehicles.com here chatting with Federico and Sleepy in the pits before the practice session kicked off.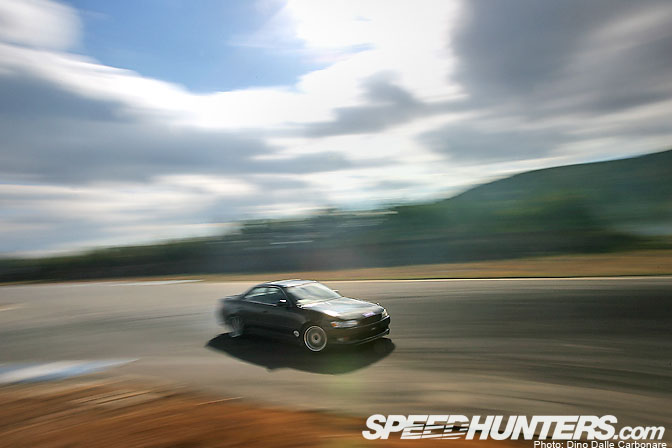 She chose this black JXZ90 as her car for the day.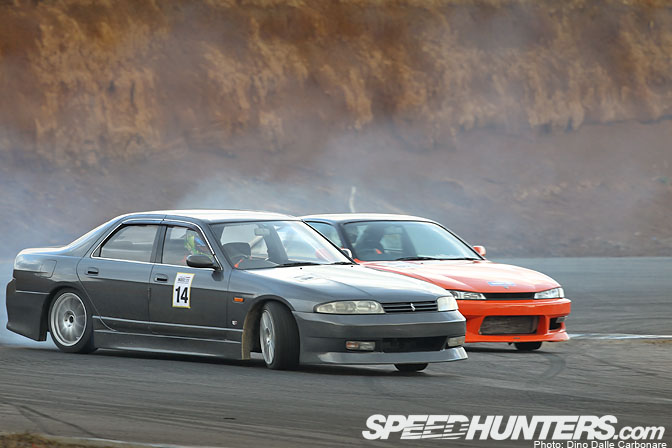 With only 14 drivers participating, everyone had an opportunity at a tsuiso run with Federico and Wade Zummeren from South Africa automatically moving into the Best 8 after having put on the best runs in the qualifying session. Above is a shot of Sumika and Kevin Delhaye from France in their Best 8 battle. Sumika ended up taking the win and moving into the semi final where she met Federico.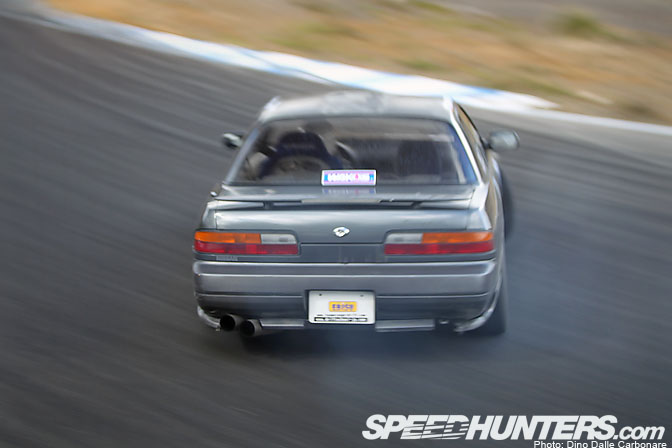 Thomas Papapaschos of Greece in action in his S13.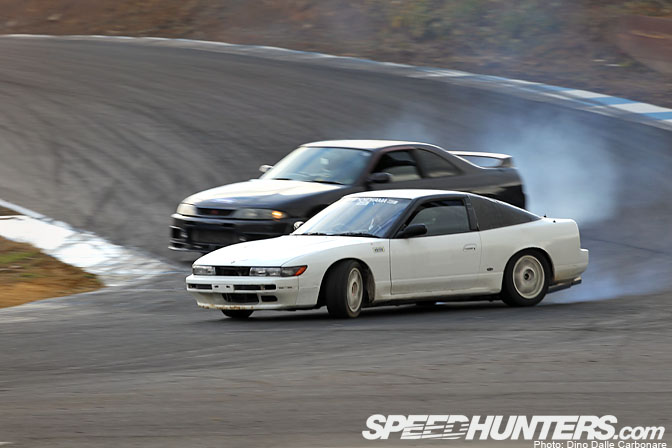 Polish driver Maciej Polody going up against Federico in the Best 8. The "Scheriff" took the win and moved up into the Best 4 where he met Sumika in the 4-door R33 Skyline.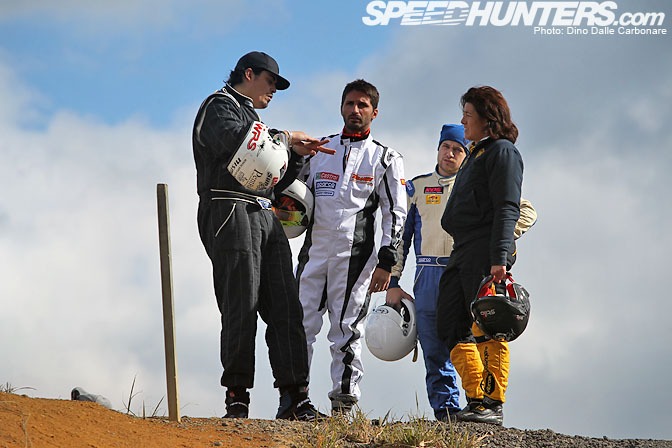 Drivers were lined up behind the Nish Course hill waiting for their turn to go out. A little discussion on lines was probably going on here.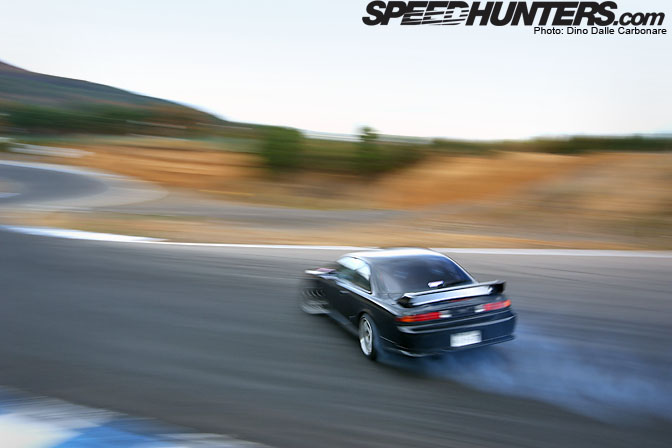 South African drivers Wade Zummeren and Sean February took turns in their S14.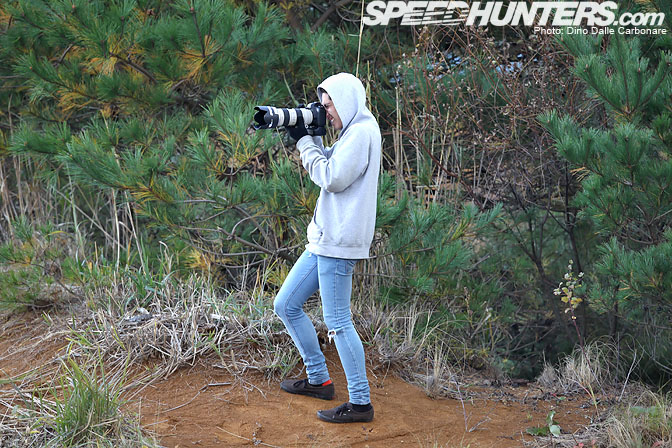 At one point during the action Casey showed up to check out the action. He kindly lent me his intimidating 400 mm lens…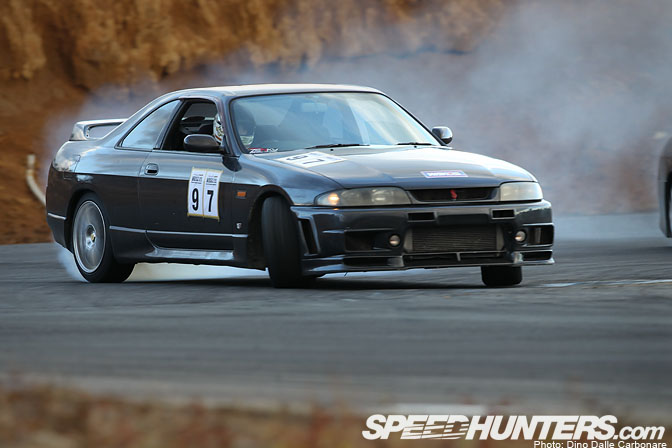 …which I tried to get used to. Not an easy thing handling glass of that reach! Here is Federico in action again in the Skyline he was sharing with Paulo from Portugal.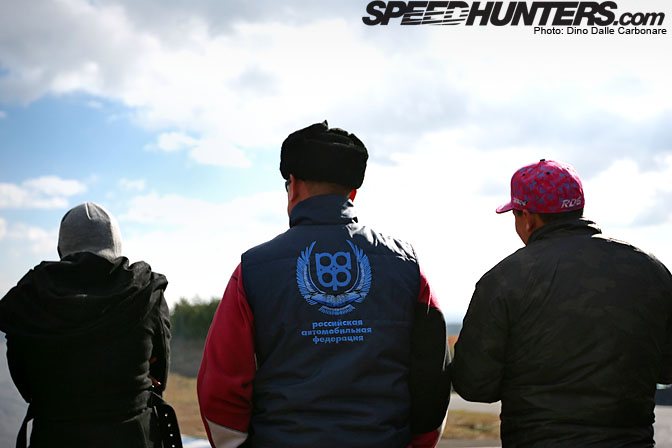 The Russians had the correct headwear to protect against the cold Ebisu afternoon winds!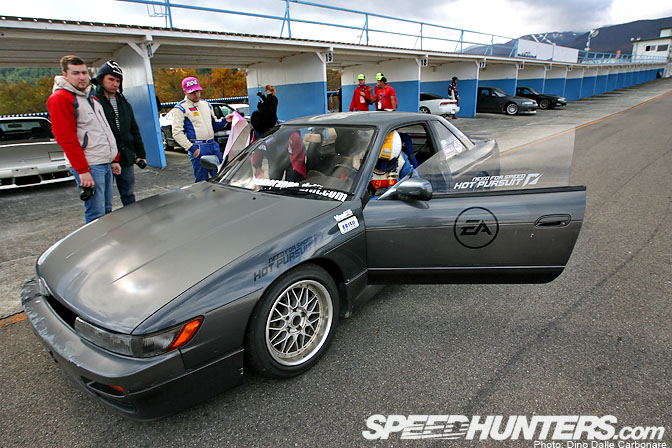 Looked like Thomas had an arrangement with EA Greece to publicize the new NFS Hot Pursuit game.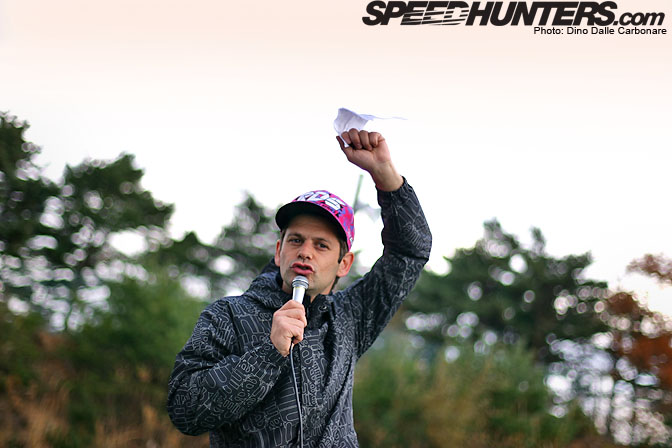 I think we have managed to find someone that has an ability to talk more than Manabu Suzuki and Bomber combined. Dimosthenis Loukisas of Greece was on hand to provide a running and colorful English commentary of the action. Thanks Dimos!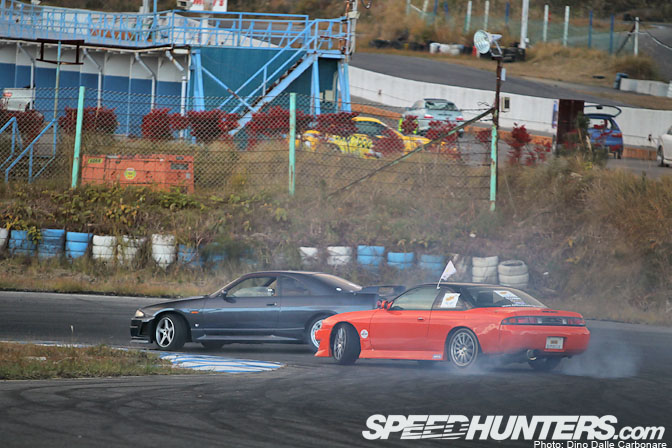 In the end it was Federico Sceriffo and Nikolas Nikola of Cyprus…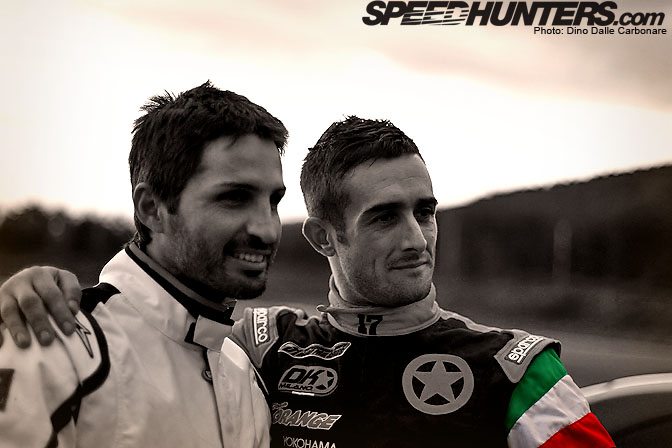 …that ended up in the final. After a series of "one more times" edged on by Dimosthenis on the mic, Federico was the one that put down the best series of runs, allowing him to take the win for this first WDSC Nations Cup.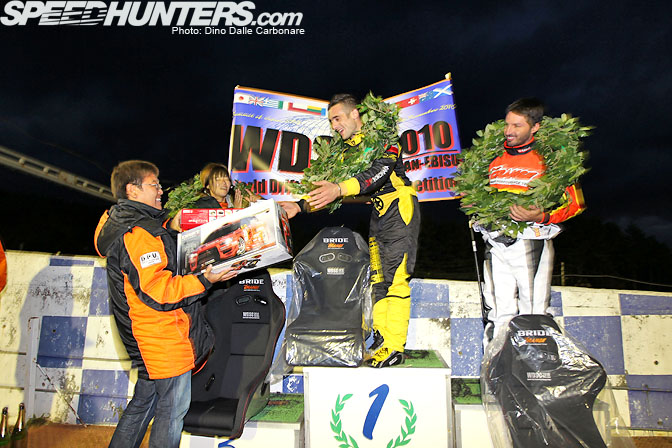 Nikolas took second position and Sumika third. During the podium Federico was given a Yokomo RC drift car as a prize and everyone that participated…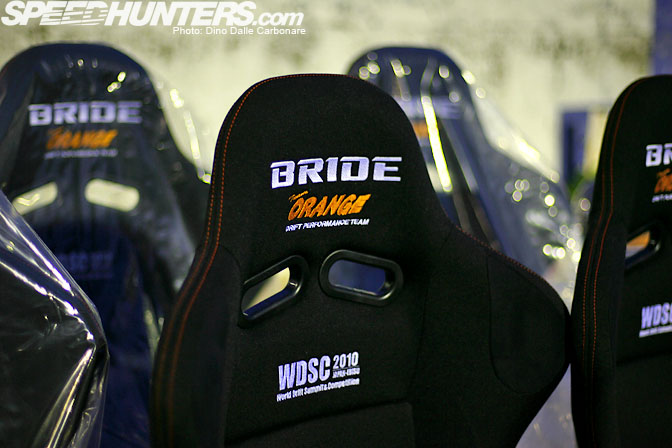 …took home one of these very cool Bride bucket seats embroidered with the Team Orange and WDSC 2010 logos.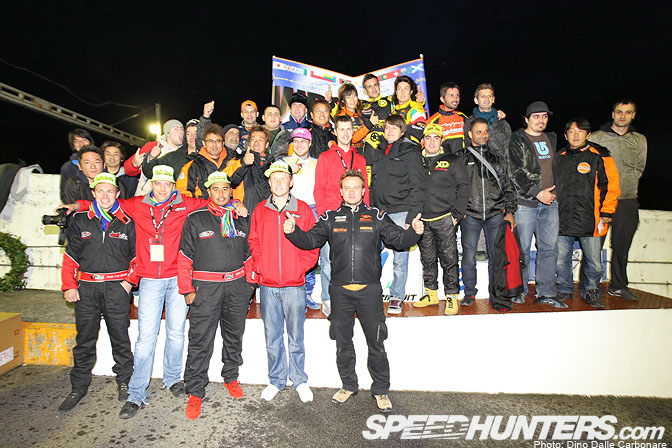 Great fun was had by all and most importantly each participant will take home what they learned at the Summit to help diffuse and promote drifting and help it grow as a recognized form of motorsport.
I'd like to personally thank Kumakubo, Sleepy, Suenaga, Sumika and Mana-P for all their hard work in putting this together and allowing Speedhunters to be a part of the event…and of course all the drivers for the show they put on. Can't wait for WDSC 2011 next year!
-Dino Dalle Carbonare