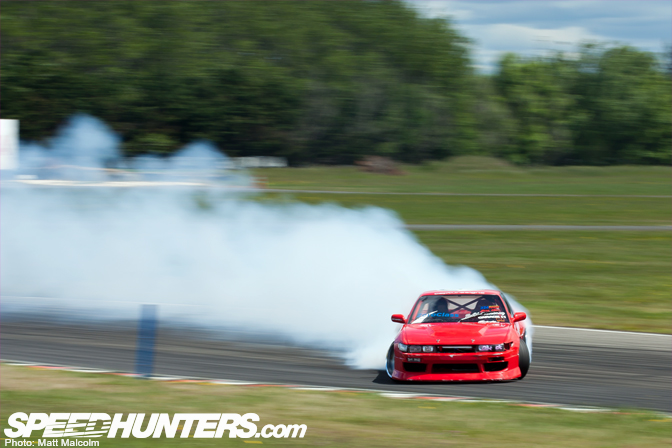 If I had to pick one word from the dictionary to describe Round 2 of the 2010 Rockstar Energy Drink D1NZ Championship it would have to be drama. Or maybe emotion, or perhaps comedy. Actually, at times it seemed as if it was a chaotic cocktail of all three!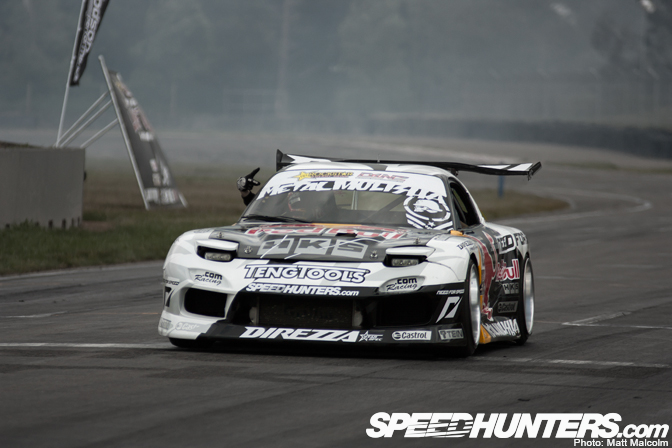 I arrived in the early morning at Manfield Raceway in Fielding on the Friday before the actual event to check out the D1NZ practice and D1NZ Rookie battles. As I exited the car and rubbed the sleep from my eyes and dust from my lens, I could see drivers and pit crews were already unloading their cars and preparing them for the morning's scrutineering session.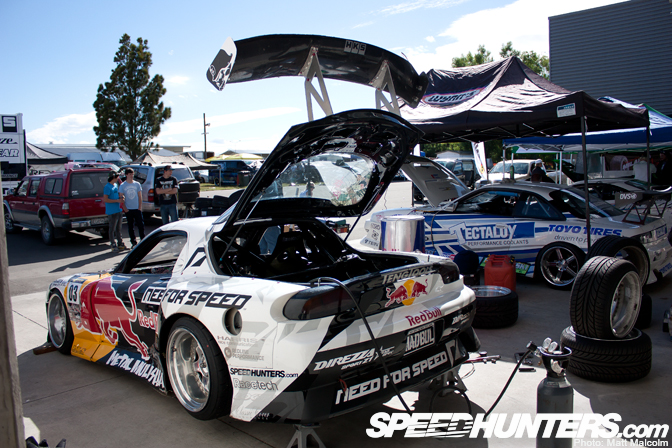 The drivers briefing followed scrutineering with track officials stressing the importance and reasoning behind the tracks noise restrictions. Extra mufflers were quickly fitted and several fingers crossed.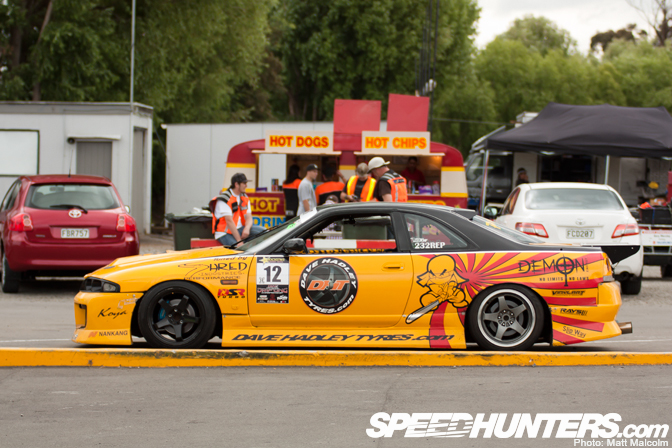 Drivers began lining up for the morning's practice session. Have a look at Carlos Walters' R33 Skyline. How awesome is that Samurai on the rear quarter!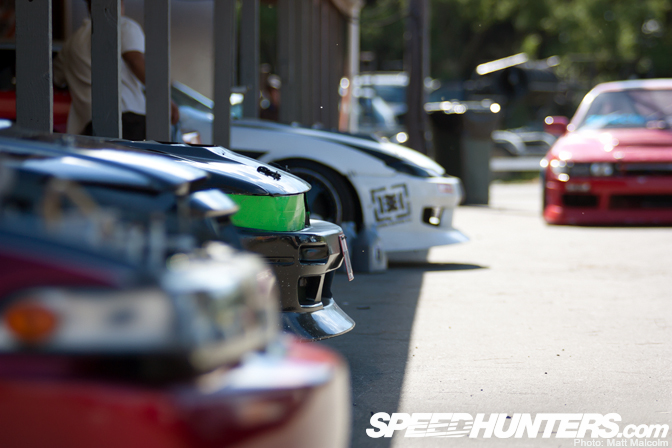 Drivers and pit crew quickly finished off last minute adjustments.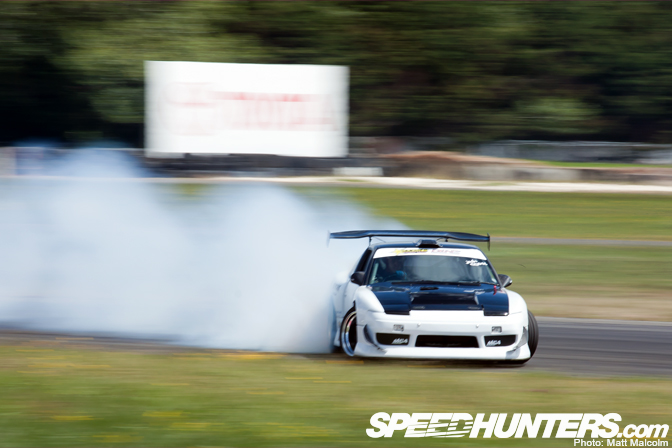 And jumped straight into practice.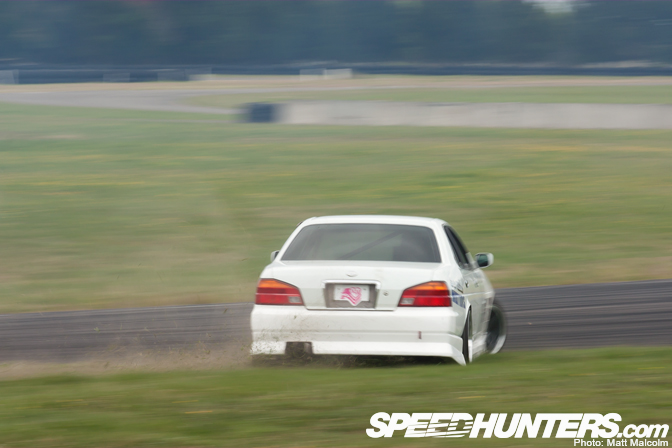 This C35 Laurel in the Rookie class looked as if had come straight off the boat from Japan. I just loved watching it as it clipped the corner exit through the center section of the tight course.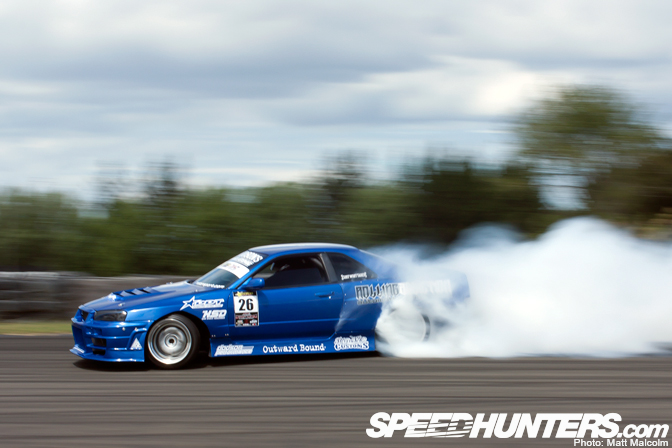 Curt Whittaker looked like he was going to be a force to be reckoned with, quickly adjusting to the challenging track.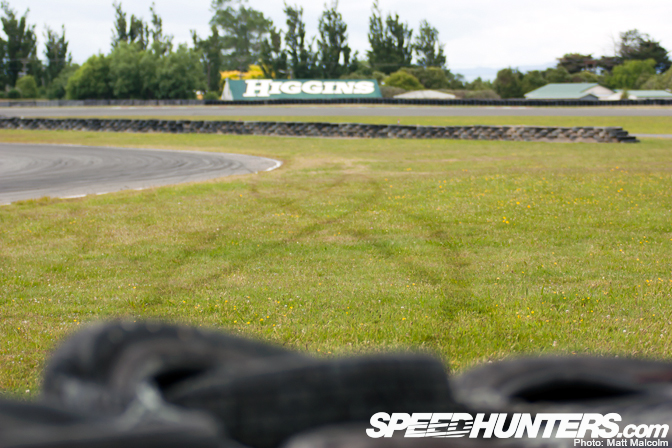 During practice, Jodie Verhurst in her Toyota Supra left some very symmetrical lines as she barrelled off track and towards the flag mashalls.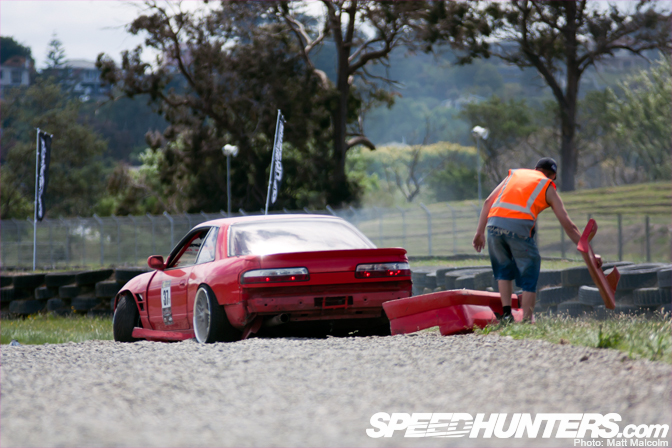 Max's red S13 Silvia looked great sliding in the midday sun. After suffering gearbox problems earlier in the morning Max was back out there driving with huge entries and no regard for his aero.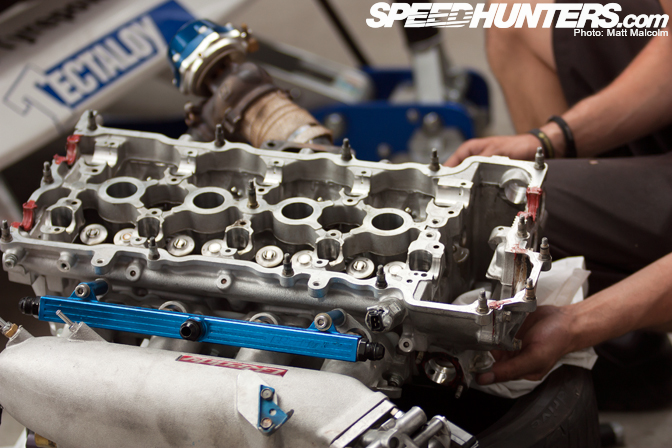 Drama. A blown head gasket crippled D1NZ driver Gaz Whiter's S14 Silvia, forcing him to miss out on a large amount of practice. His pit crew quickly got stuck in and began removing the head from the very unhappy SR20.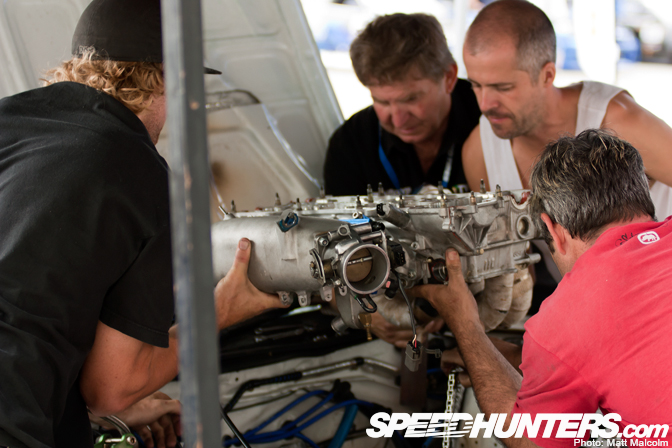 Time ticked away as his crew swapped the head gasket for a new one.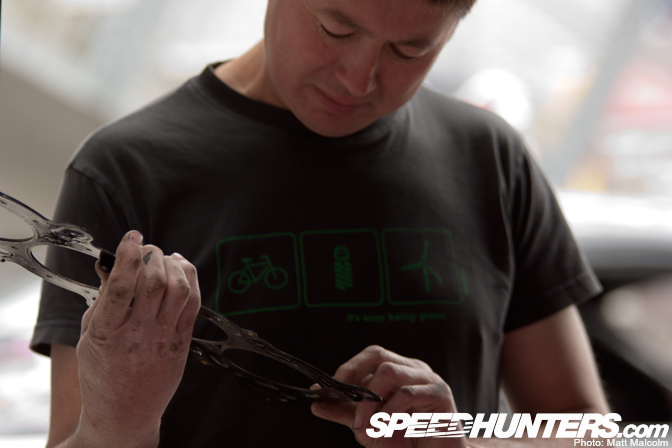 Worrying signs from the SR20's beaten head gasket.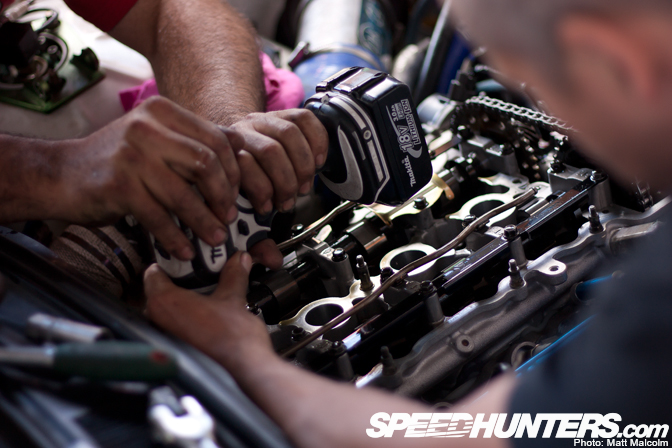 His problems did not end there either; a spark plug broke later in the day and fell inside the cylinder head leaving his crew with only one option – to get surgical. Magnets and drills were used to tap and pull the shrapnel remains out through the spark plug hole.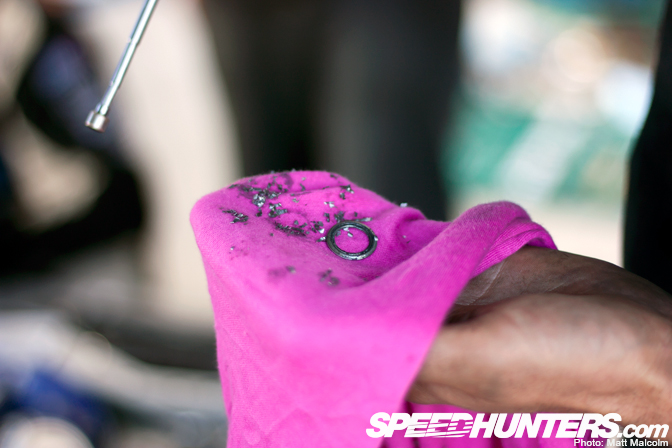 Not good.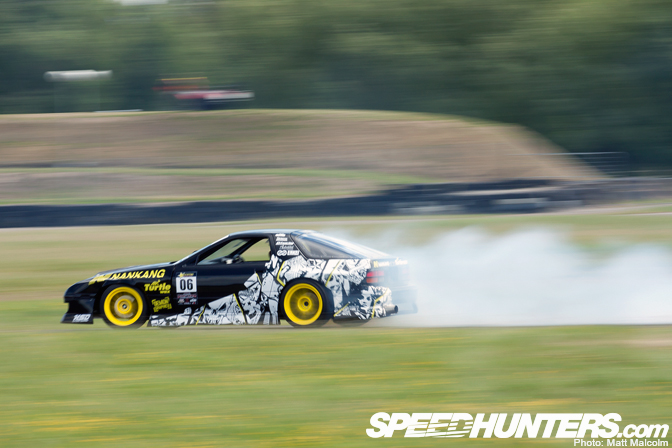 On and off the track things happened at such a blinding pace that it was difficult to keep up with all the action. D1NZ driver Andrew Redward's switched from his Mazda RX-7 back to his S14 Silvia due to some mechanical problems early in the day.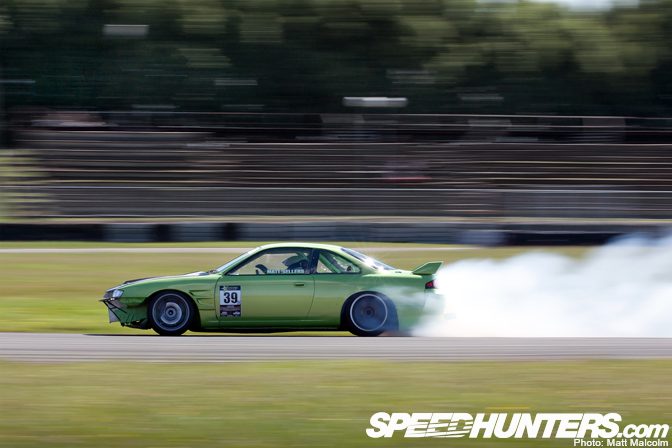 Matt Sellers in his freshly painted S14 Silvia looked stunning with the sun bouncing off the crazy glitter paint.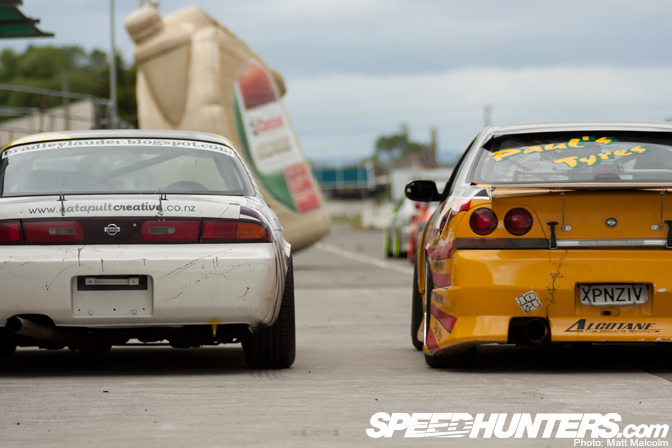 Bradley Lauder's beaten S14 Silvia next to Carlos Walter's R33 Skyline. Two very good D1NZ Rookie drivers.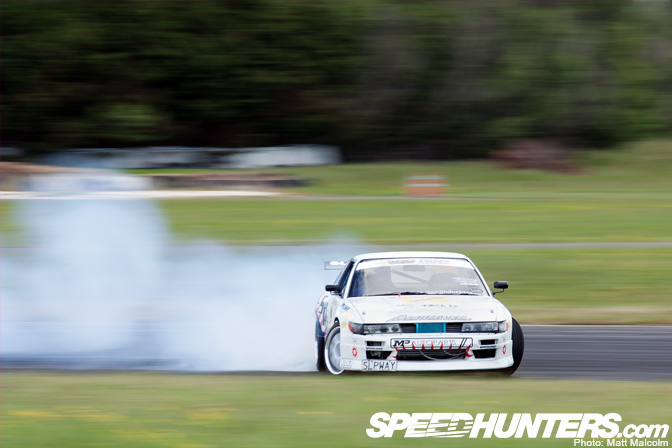 D1NZ Rookie driver Ben Watson drove his S13 to the top qualifier spot for the day.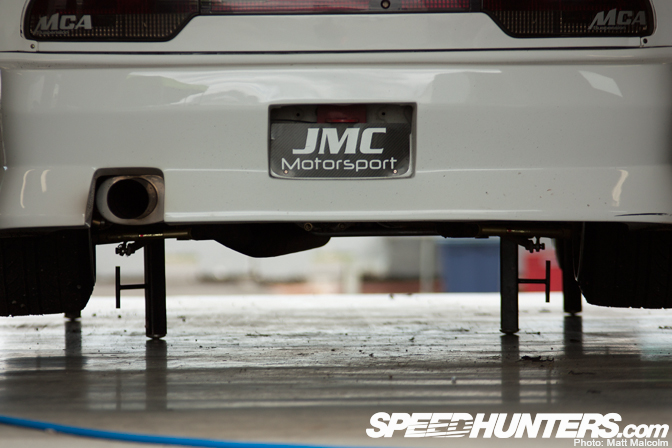 Back in the pits and Australian Josh Coote's 180SX was sporting some very race car serious modifications – like four air-jacks.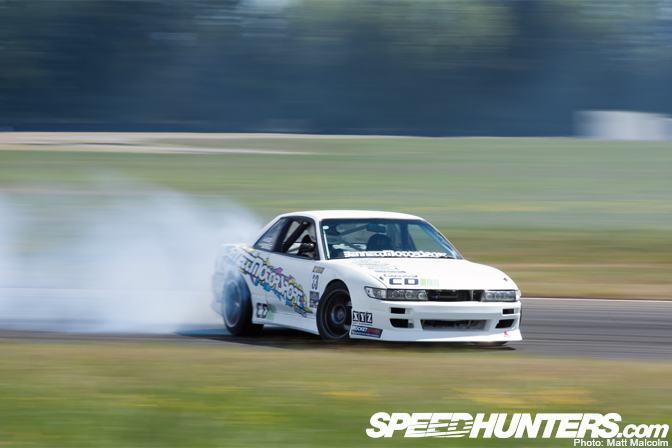 D1NZ driver Jono Bennet's S13 Silvia looked very tidy in practice.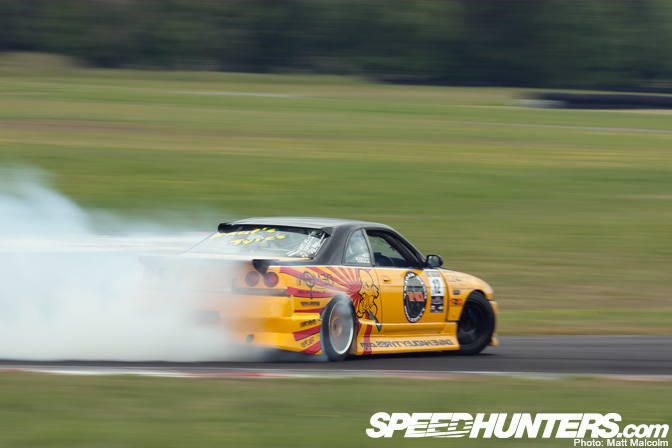 D1NZ Rookie driver Carlos Walter's R33 Skyline looked even better moving than it did standing still.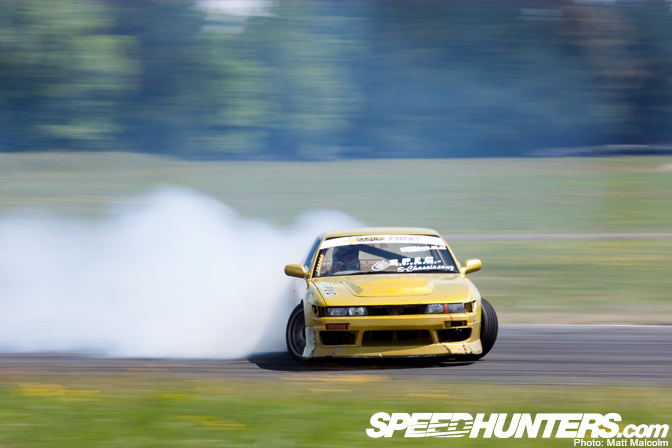 Have a look at the angle from Paul Tomlin's S13 Silvia. This is courtesy of some custom steering knuckles designed and built by Paul himself.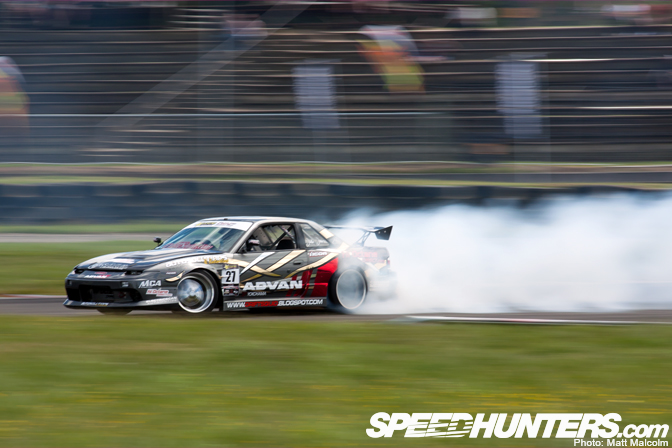 D1NZ Driver Jake Jones was happy to back in his S13 Silvia after mechanical issues plagued Round 1.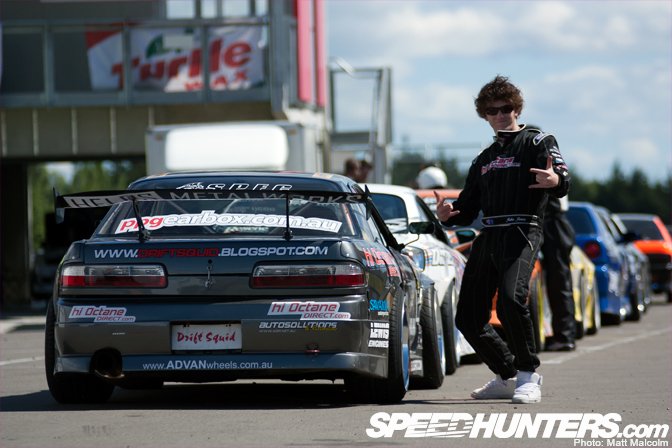 Check out the hair on Jake, I heard they had to design a custom helmet just to fit it all in!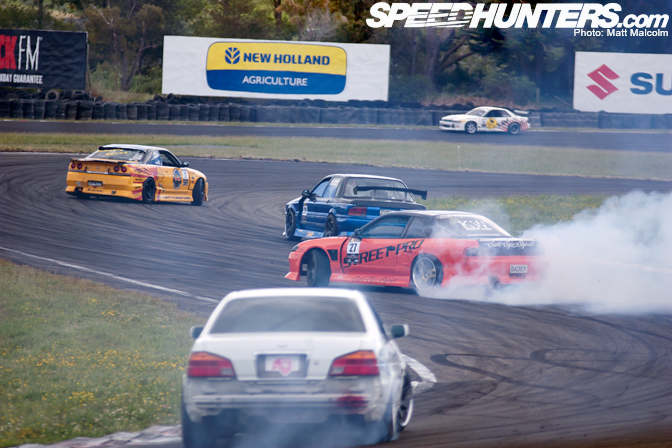 A quick warm up session for the rookie drivers before the battles began.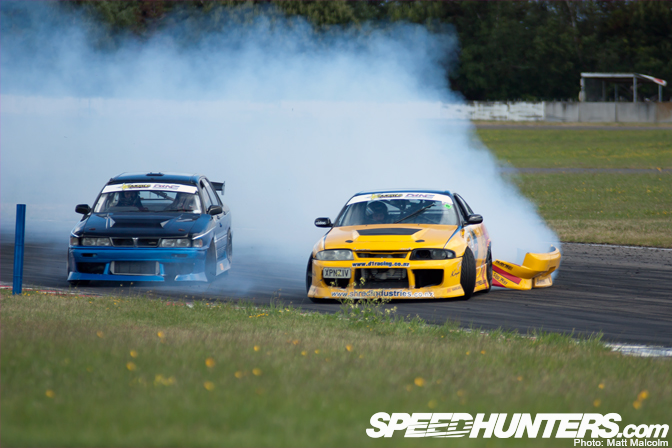 Carlos Walters drove hard to win his rookie battle. Showing us how D1NZ rookies should drive with his aggressive speed, huge angle and a little insanity!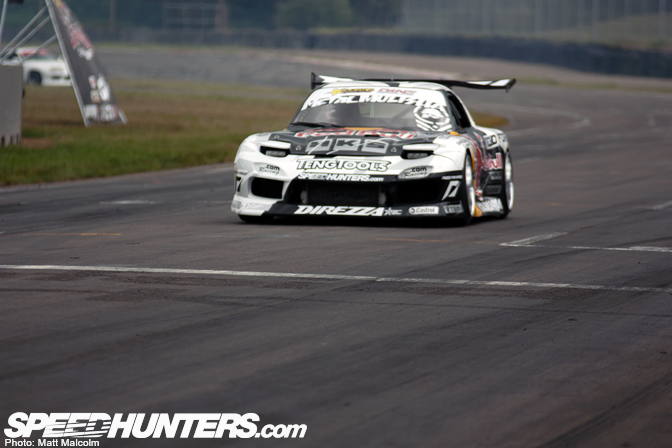 Here is Mad Mike as his Mazda RX-7 picks up speed down the front straight.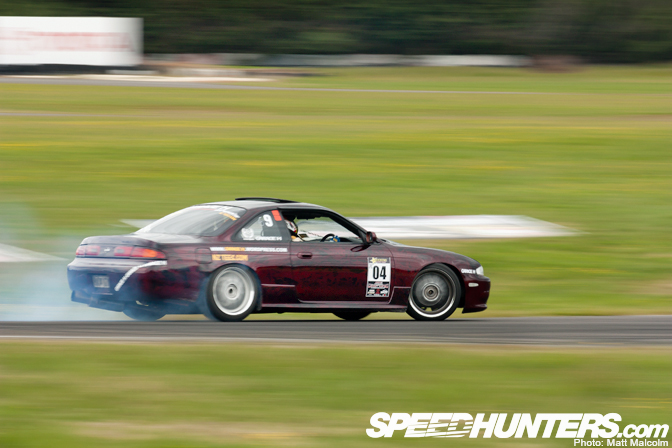 Look at the crazy marble themed paint job on D1NZ Rookie Simon Bourke's S14 Silvia.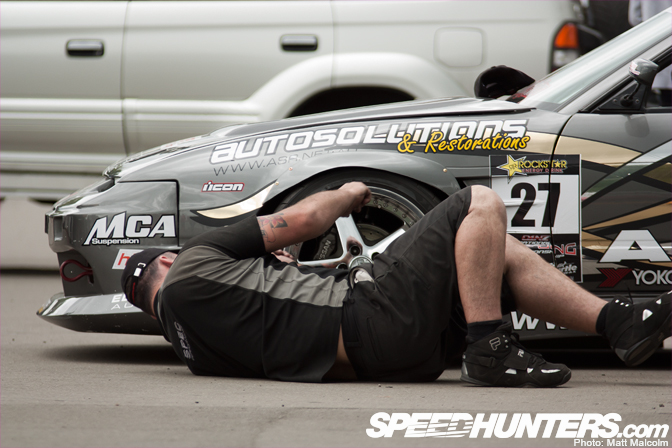 Unfortunately, Australian Jake Jones suffered some steering rack issues later in the afternoon, forcing an early end to the day.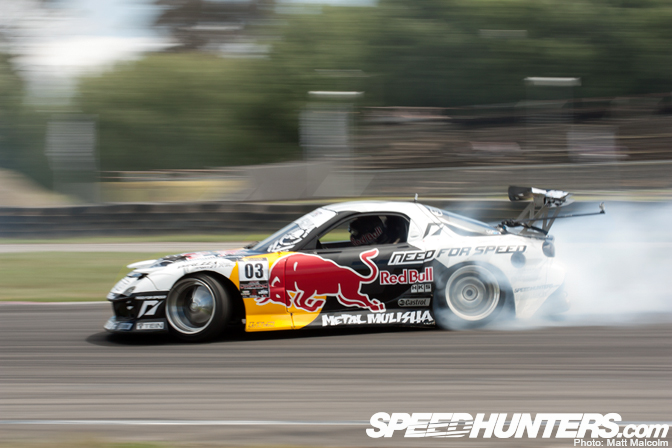 Mad Mike looked great in practice, with the angry sound of his Mazda RX-7 echoing across the racetrack.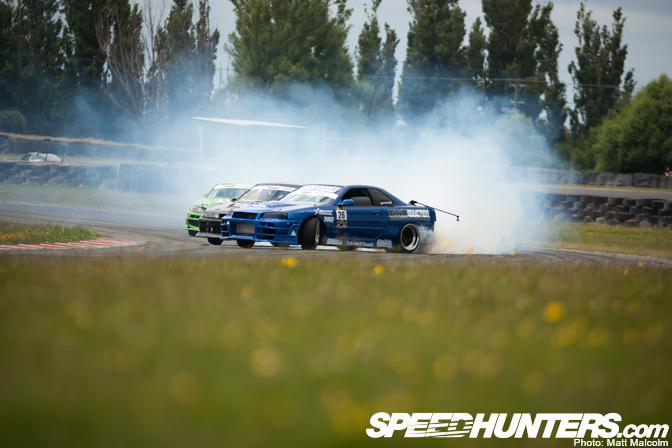 Three car drift train into the fast right hand sweeper – top D1NZ drivers doing what they do best.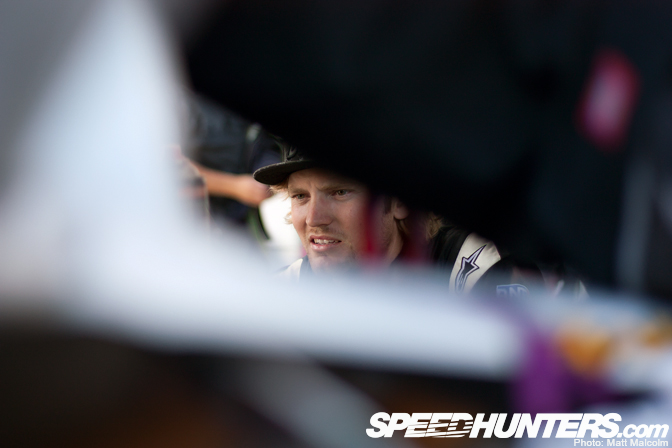 If problems came in three's then it was Gaz Whiter's turn again. Cracks through the engine head itself ended his day and left his pit crew scratching their heads as to where to find a new cylinder head in such short time. With the afternoon sun setting and the hours quickly drawing nearer to qualifying they only had the evening to track one down, install, test and hope it ran.
It looked like a late night ahead.
Stay tuned for day two!
-Matt