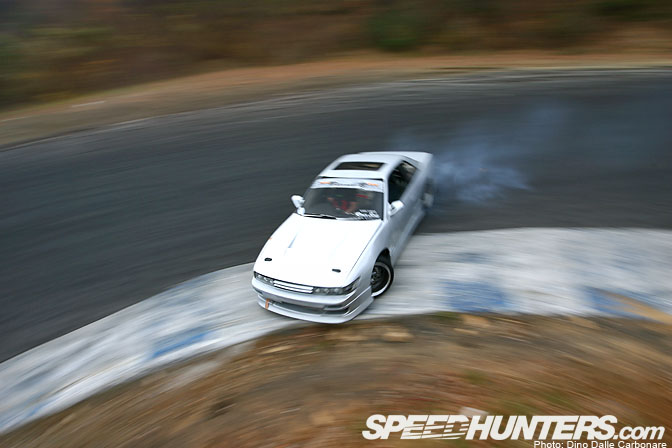 Let's proceed with more drifting from Ebisu as we immerse ourselves further into pure, unadulterated Matsuri goodness!  Opening this second part is a shot of Aussie drifter Christian Pickering nailing the apex on the first corner of the North course with his Riverside S13, one of my favorite places in the whole of Ebisu to shoot from.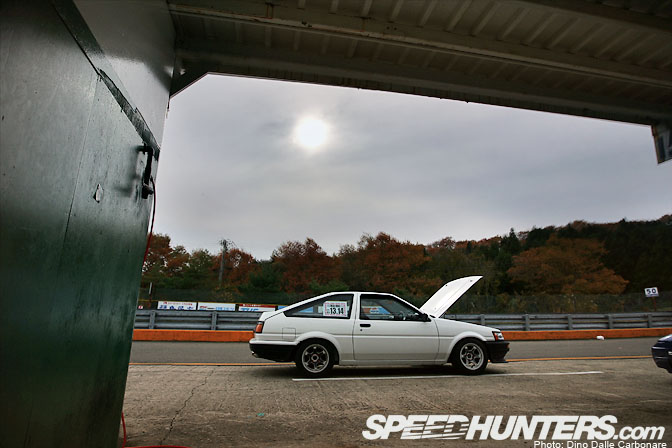 I sometimes like to escape down to the Higashi course, usually the most relaxed and quietest circuit. The demanding layout that snakes up and down the mountain also attracts those looking for a spot of grip driving, giving an interesting mix of action.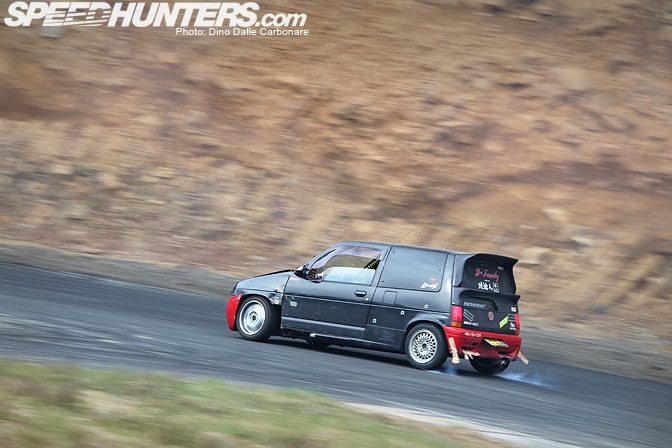 I even spotted this kei-car attempting to get some angle with the use of a little handbrake…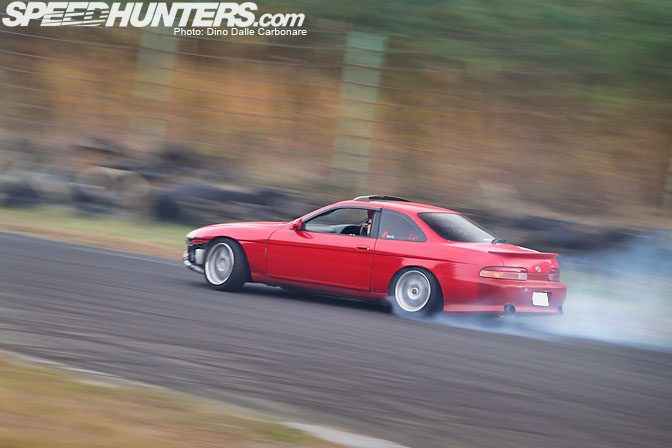 …but I you really can't beat the power-induced slide now can you?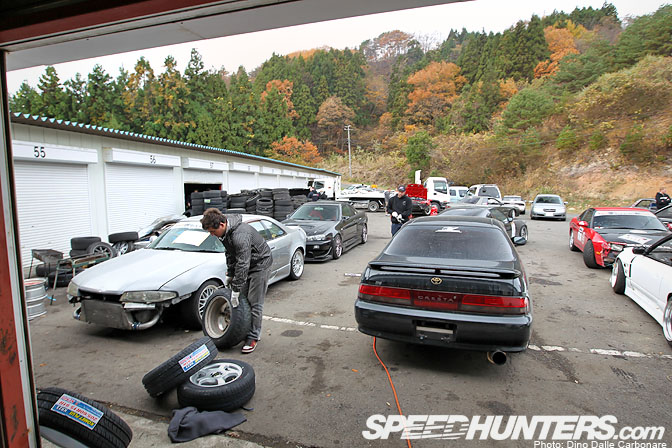 I tried to drop by Andy's garages as often as possible to see what was going on…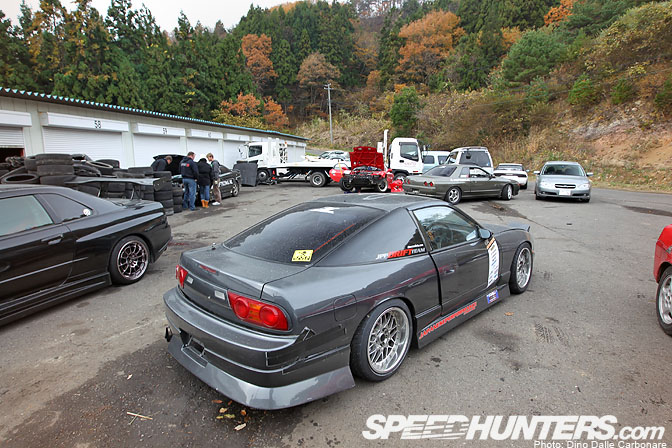 …and to see what cool cars were hanging around. This RPS13 was driven by Aussie David Lawrie of JPP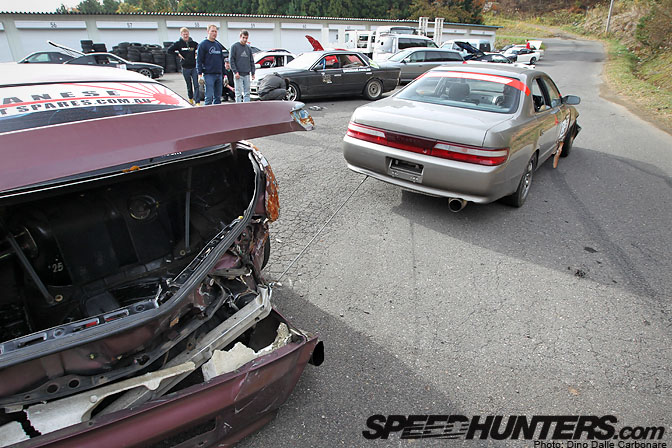 In one corner I spotted something rather interesting going on. Jay Duca had accidentally hit the rear of Andrew Sunderland's JZX90 and the two came up with a cunning plan to pull the bent right rear side…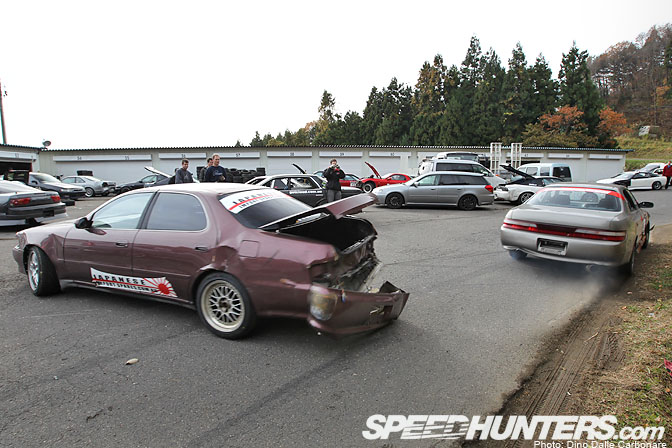 …back to its original-ish shape. Jay dropped the clutch and yanked the cable that was strategically attached to Andrew's 90. It's hard to get a feel of this from pictures alone so take a look at this video taken by Brie Lawrie to get a better idea of how things are done at Matsuri!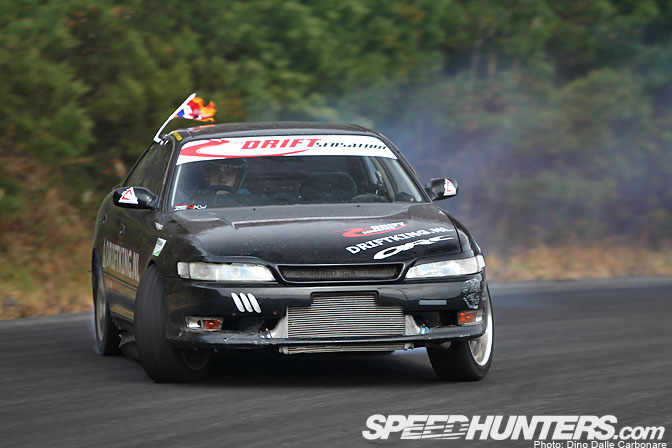 Up at the Kita course I bumped into Paul again who was getting some pretty mean angles coming up the hill into the main straight. The idea here is to flick the car twice before hitting…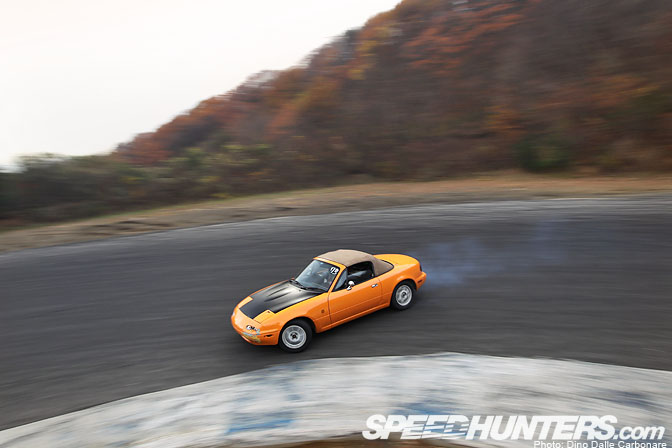 …turn one, which is a widening hairpin bend.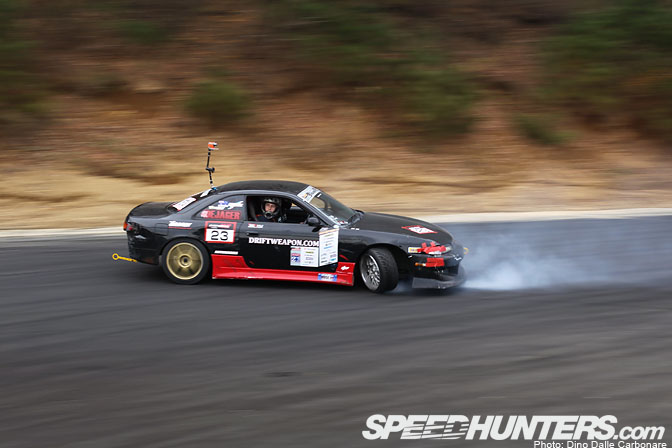 There are those that like to do things differently! Chris has become the master of rear-end entries in Kita and was showing everyone how it's done!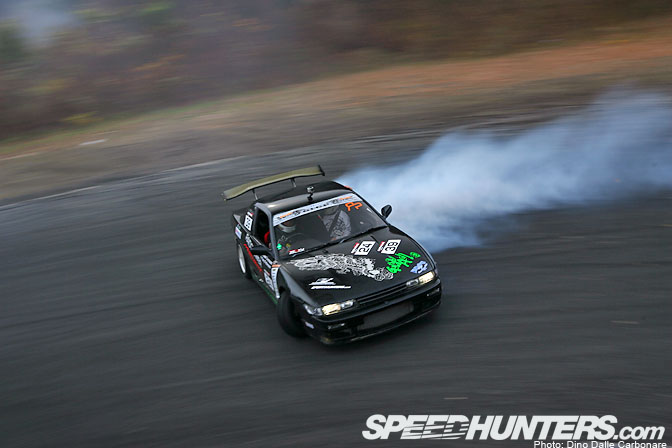 Mikael Svensson from Sweden had a few goes too with his S13 Silvia!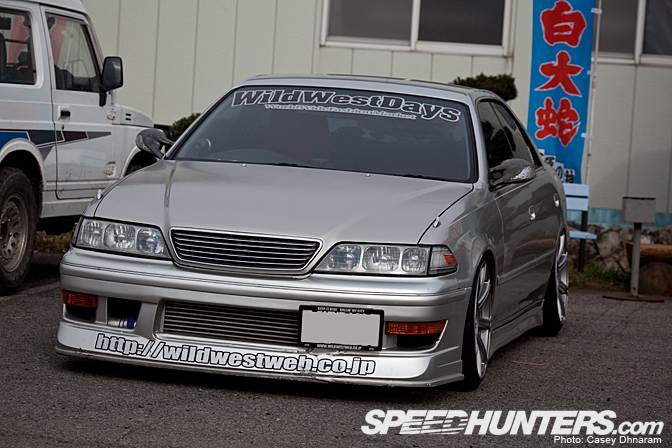 In the meantime Casey was doing his own thing around Ebisu…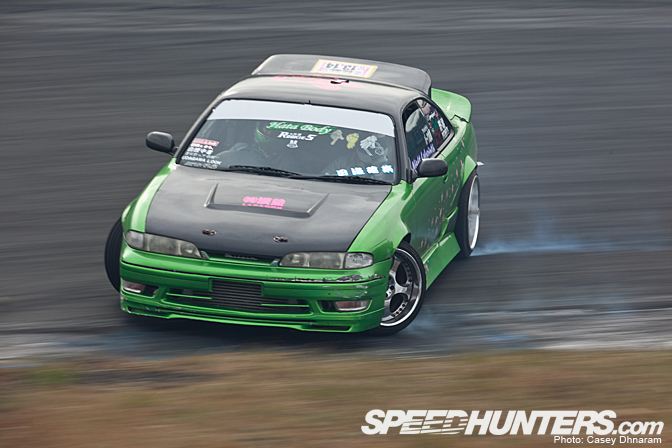 …doing his best to cover the action that was occurring at the other tracks. Sure helps to have a second shooter around!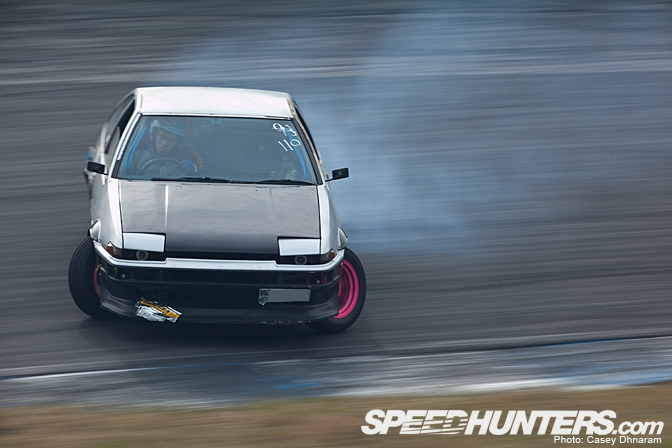 He happened to hit the Minami course when the action was hotting up…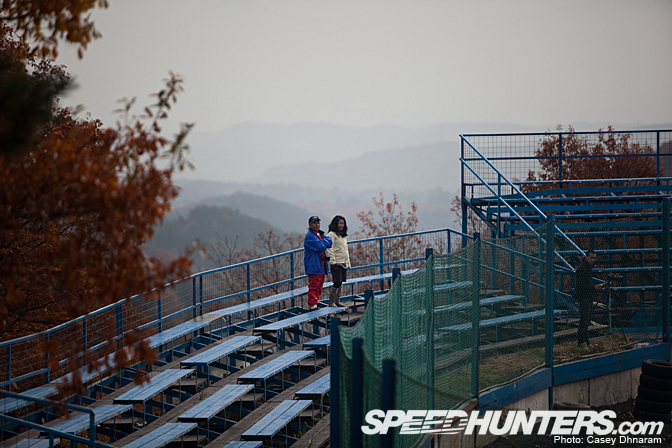 …not that it was attracting many spectators, everyone is usually too busy driving! You can just about see Remi Schouten in the corner there working away filming sequences for his video.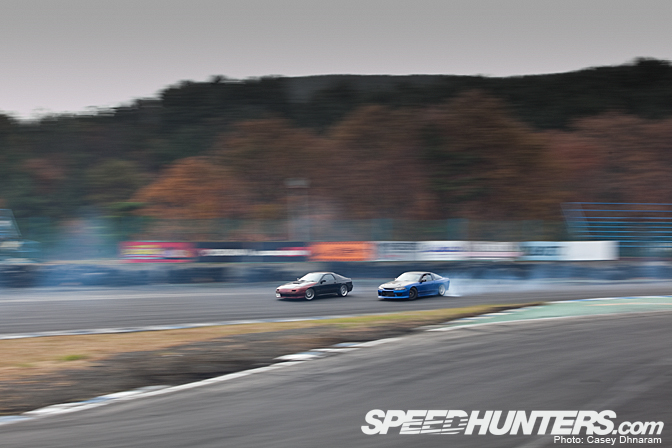 Casey was lucky enough to assist a few practice battles that Daigo Saito had with his buddies.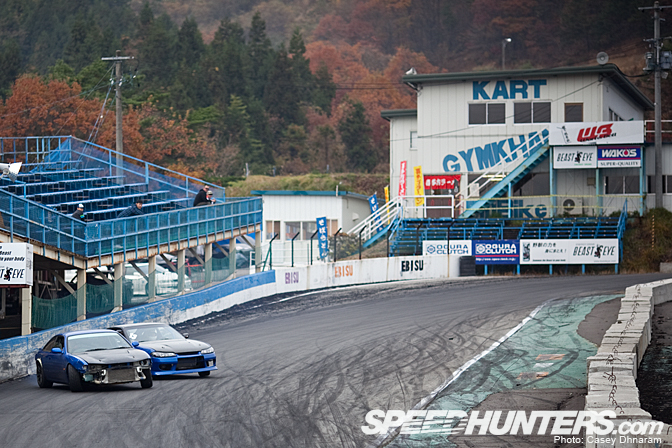 The guy behind the wheel of the blue S14 is D1 driver Koguchi…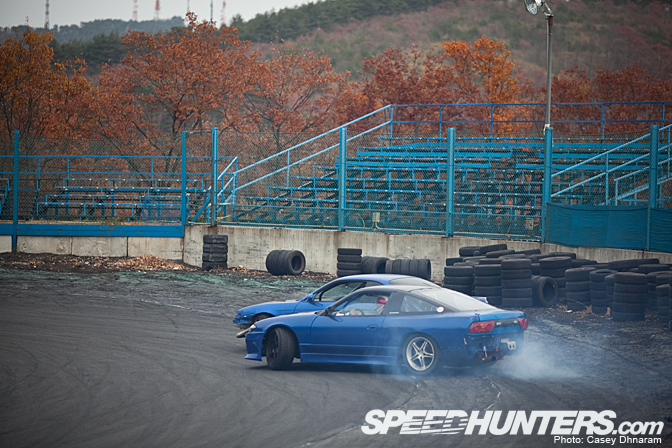 …giving Saito and his LS1-powered RPS13 a run for its money.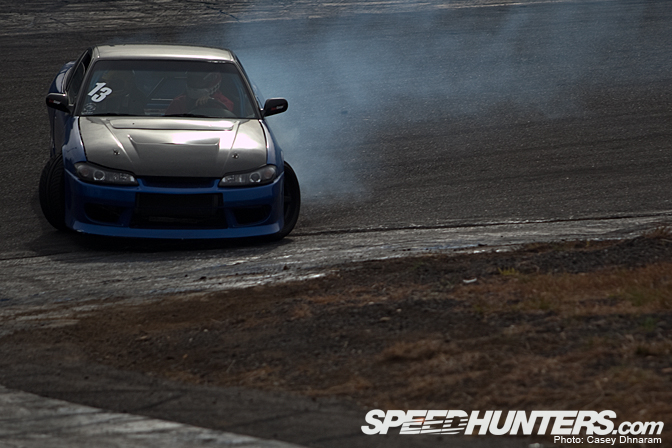 Now that is angle!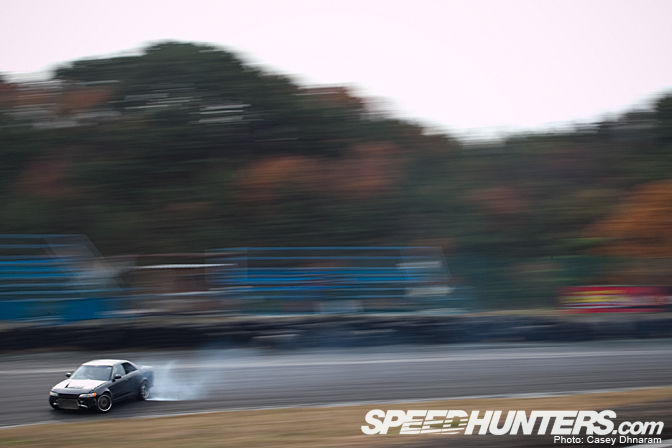 After the D1 drivers had done their thing it was on with the gaijins…

…to come over for a bit of Minami fun.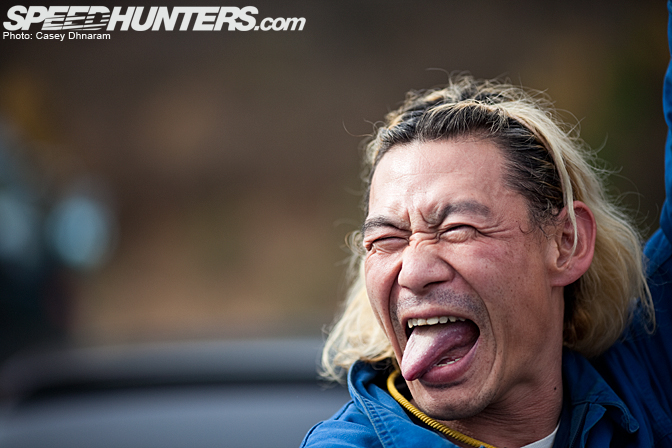 Bomber, who never seems to miss a Matsuri, was enjoying it too!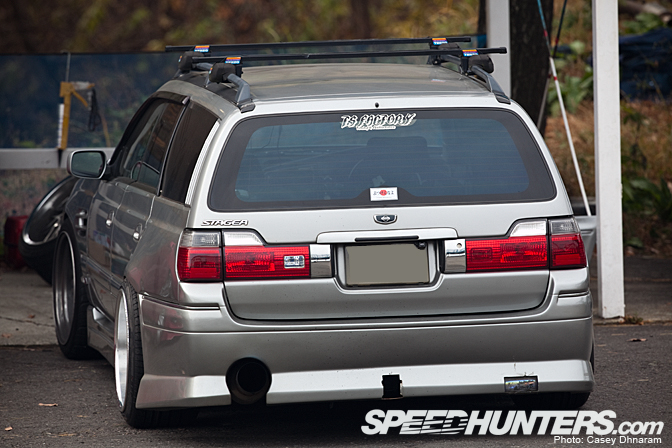 Every time I see a Stagea I just can't believe Nissan has decided to discontinue it. A true pity.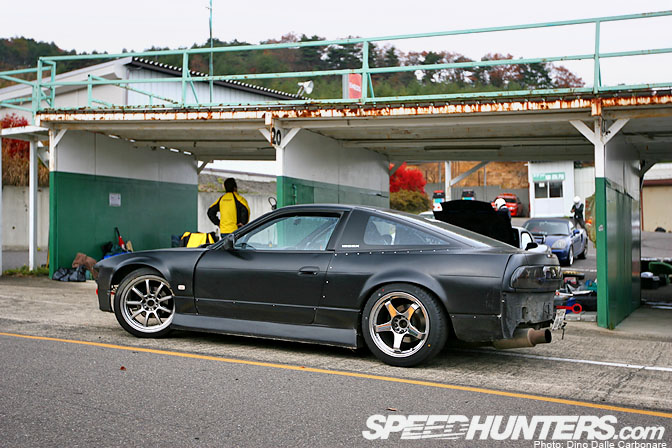 I once again headed down to Higashi to see if Koguchi, who had set up camp there with his friends, was going to go out for a few laps but there wasn't much going on except a few cool cars sitting in the pits.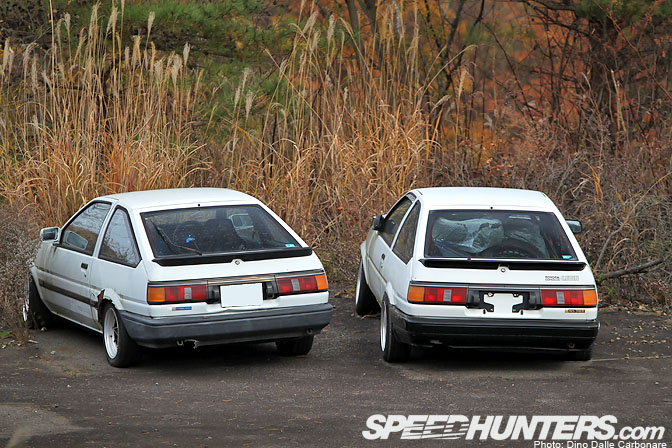 I decided to take the quad for a quick run down to the garages at the bottom of the track and grabbed a shot of these two abandoned AE86 that have been sitting in the same place for years now. The Higashi course is scattered with abandoned machinery, in fact next time I'm there I think I will dedicate a post just to these cars!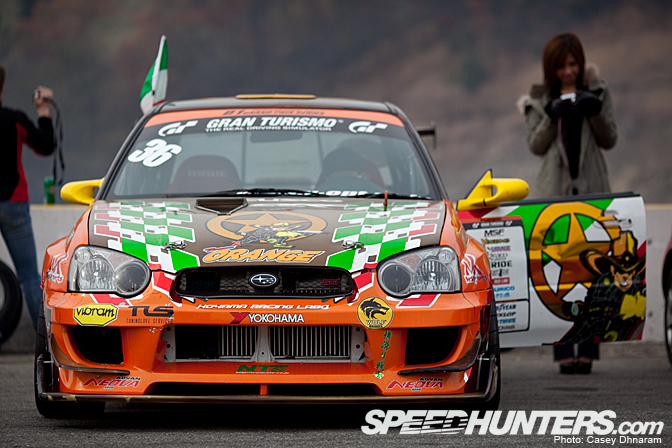 Federico took out the D1 Impreza he uses when he competes in Japan. It would have been a true pity to let it sit there in the garage all weekend! He even gave me a ride in it around Nishi on Sunday, and I can tell you the thing is a beast!!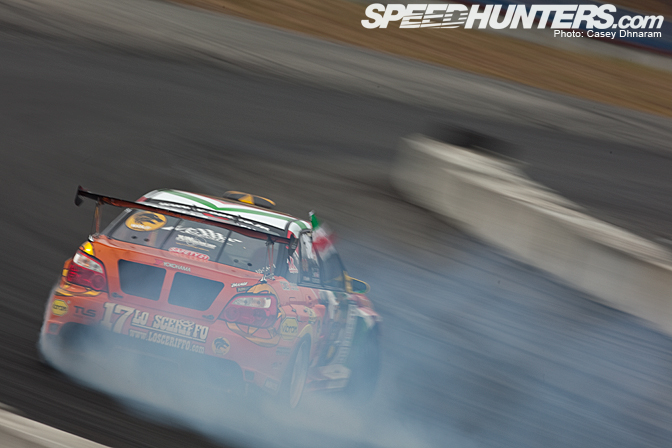 Here he is enjoying himself!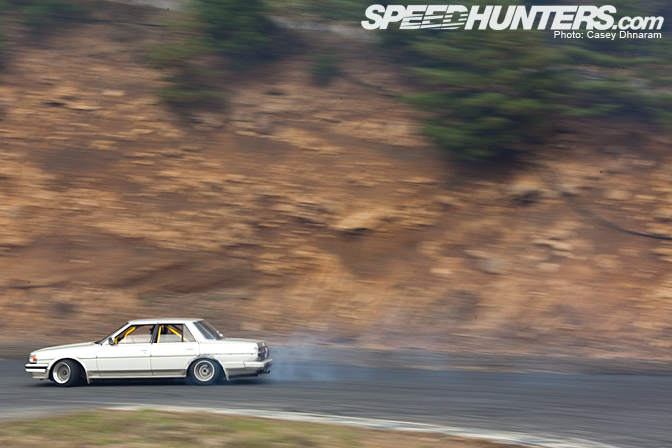 Casey stopped over at the School Course…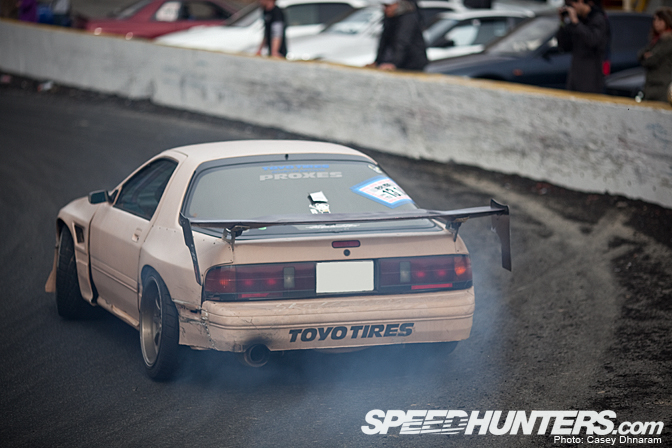 …when he spotted the Drift Samurai out for a little practice in his FC3S.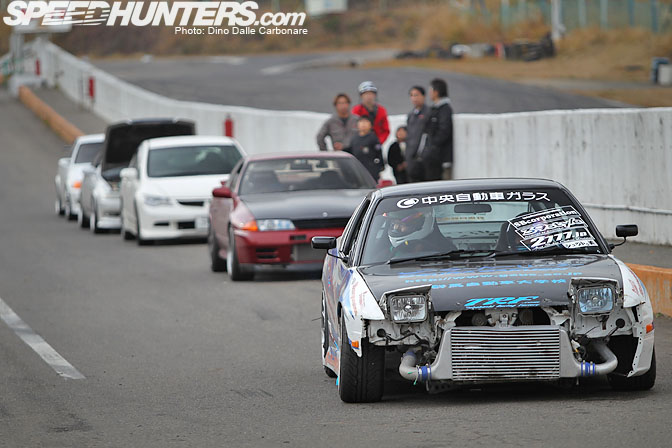 I, on the other hand, headed over to Nishi in the afternoon just in time for when they opened the short course…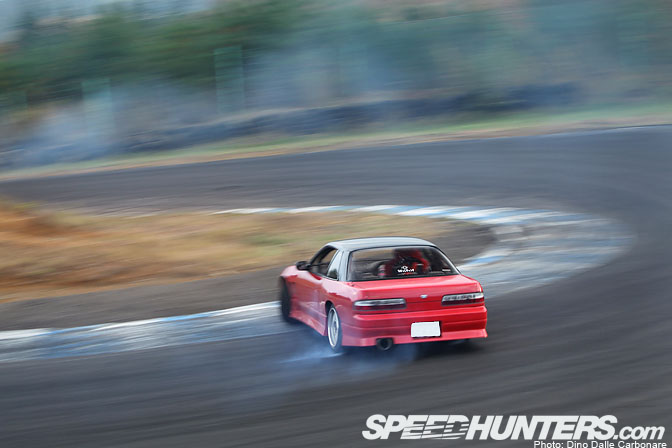 …something that attracts a ton of cars. This S13 driver was lucky to get out when the track was still pretty empty.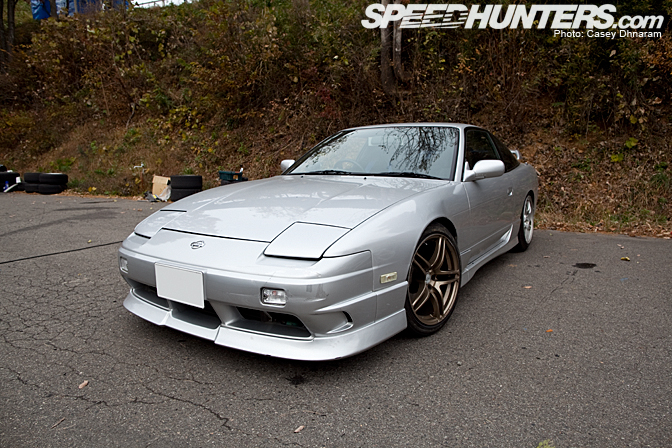 There really seemed to be a much higher number of clean cars at this Matsuri…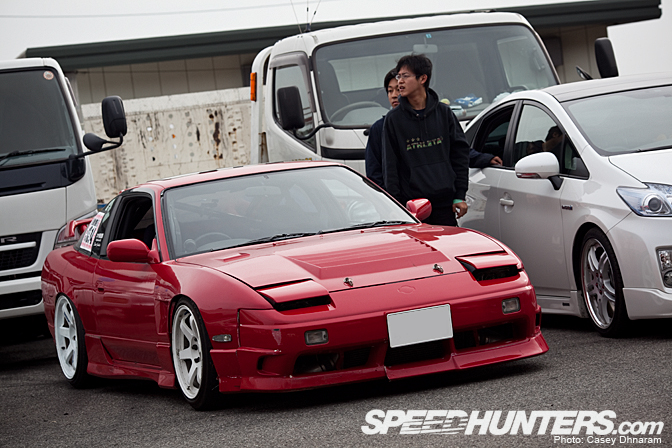 …maybe all the drivers that have been destroying missiles over the last few events have developed their skills so much, that they can trust themselves with their "clean" cars, like this 180SX…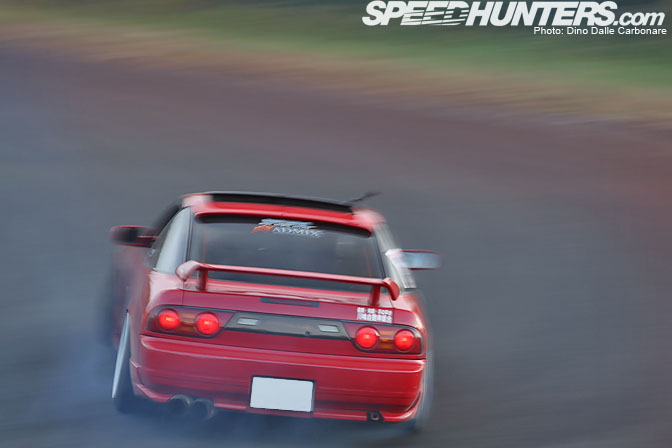 …tuned by the guys at Admix.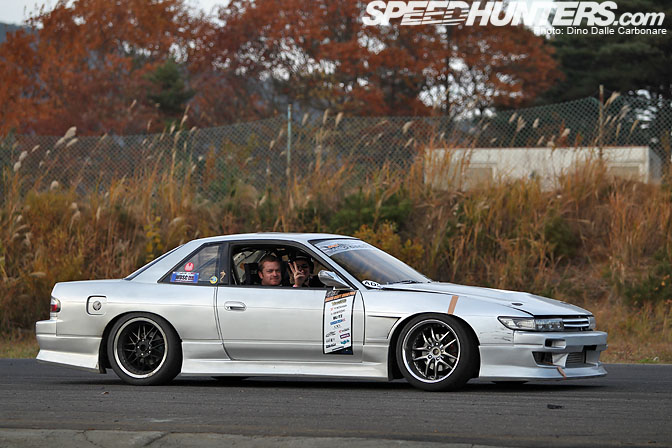 Chris waiting to go out again at the Nishi course.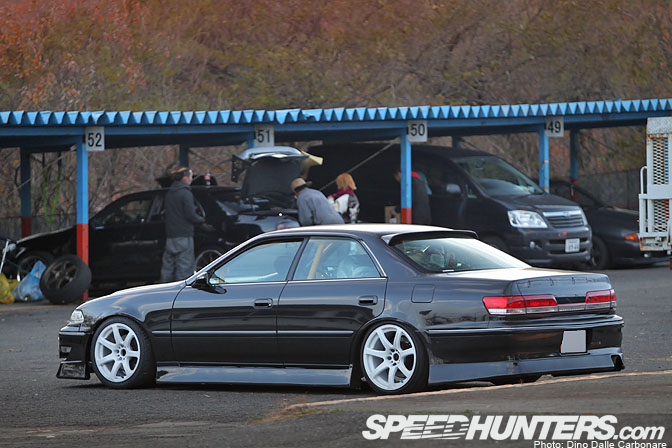 JZX100 perfection.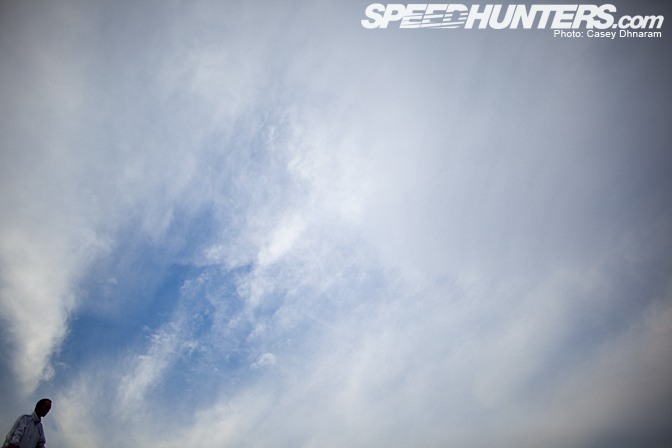 As the sun quickly disappeared in late afternoon the drifting began to cease as people started preparing for a spot of dinner to top up their energy levels, ready for the mayhem that would follow at night.  Back soon with some high-ISO coverage!
2010 Autumn Drift Matsuri Part 1
-Dino Dalle Carbonare