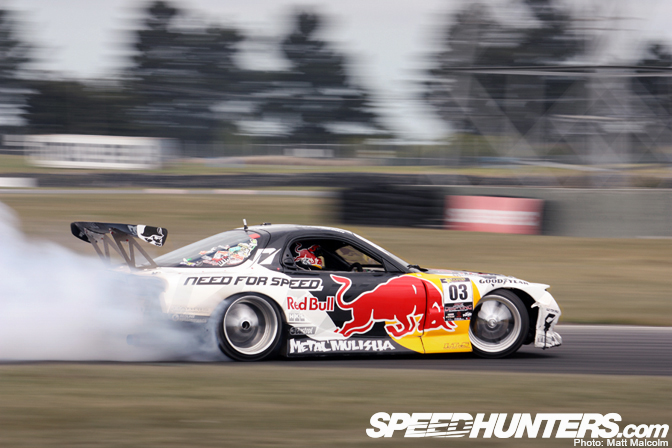 What up Speedhunters! So after a long year of battling it out with the crazy machines and drivers that make Formula D, I am really pumped to get back behind the wheel of my MADBUL 4rotor FD RX7 and swap some paint with my kiwi pals. D1NZ is set to be bigger than ever for 2010-11 with a summer schedule that is conveniently during the off season in the USA. This means I will be competing all year and have enjoyed a whole year of summer! Jealous Much??
My team were biting at the bit to get back out to the track and breathe that flavorsome smoke deep into their lungs. 
So before I start the Round 1 blog, I'd like to thank Cromey and Damez along with Alec Bell of Kiwi-RE. They have been hard at work rebuilding the RX7 over the last couple of months. The last time I competed in this car was at Formula D Asia Pacific last November in Thailand, where we won. With a limited budget left over from my American expedition, I could only afford to make minor changes to the FD. Installing a Wilwood pedal box, plumbing up power steering, a new scream'n exhaust, new carbon Racetech seats, bolting up all my old WORK rims, Megan Racing arms, wrapping the car with the new NFS/Red Bull livery, larger wing mounts and a Kiwi-RE tune on pump gas mixed with Castrol R30 2stroke to pump out 549hp @ the wheels! Yeeeeeehaa I was just itching to get back in this beast.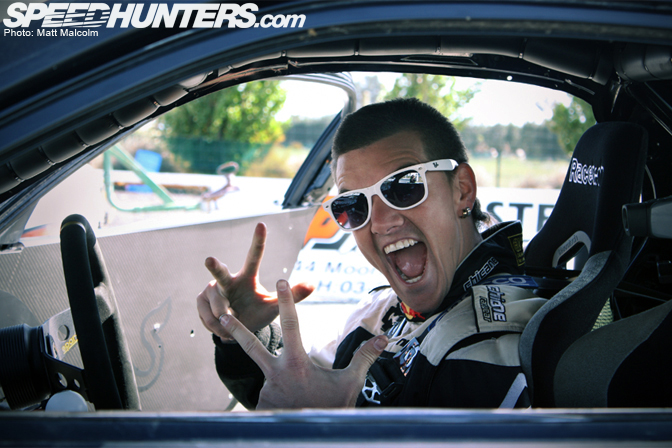 We got to blow out the cobwebs in our OPTIMUS PRIME big rig with a 15hr drive and 3hr ferry ride down to Ruapuna Raceway in Christchurch. D1NZ hadn't been to the south island for two years so everyone was eager to hit the track.  We had a longer than usual off season and my competition had been making good use of the time between building their new machines and getting lots of much needed testing time in.
Yep. Definitely great to be back in the MADBUL.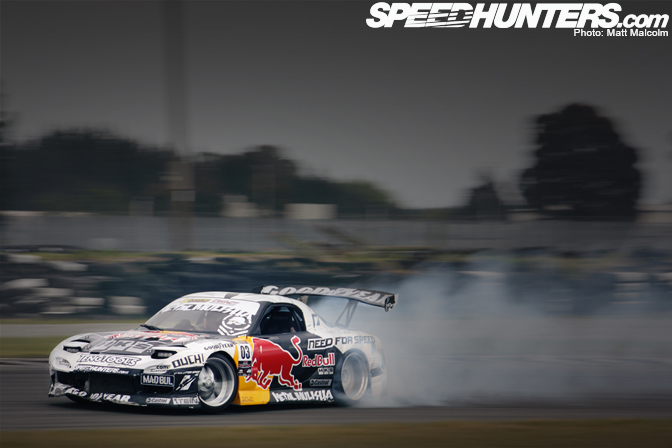 During testing I made short work of both front and rear bumpers! The front actually came off in one piece but unfortunately on the next lap it was sitting pretty in the middle of the track and I plowed through it at full throttle demolishing it into about 30 mangled bits. Damion then had the task to ziptie and tape it all back together for the main event on Saturday. Note my special touch with race tape "OUCH!"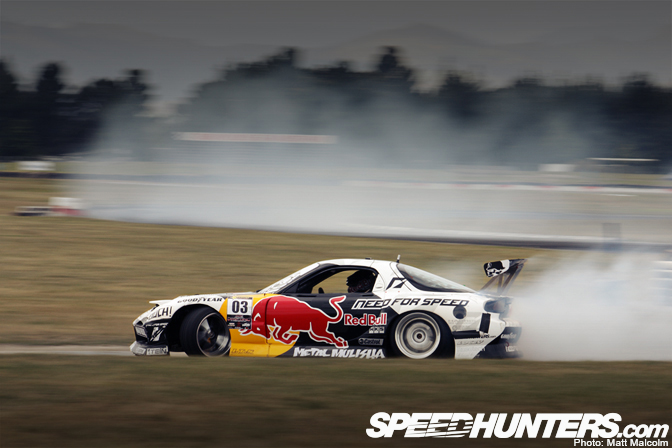 Loving this pic Matt caught with the snake trail of smoke through the esses. The power steering felt really good but I was too aggressive. Hence, the early demise of my body kit. It was hard work but fun at the same time having to adapt to the RX7 after being accustomed to the grip and set-up in the BADBUL RX8.  This thing felt like it was on ice.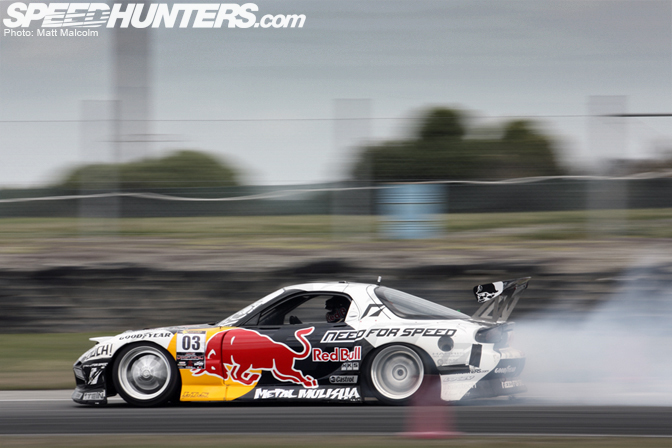 It feels a lot faster with the lighter weight Meisters on the back rather than the VIP Weds we ran on last year.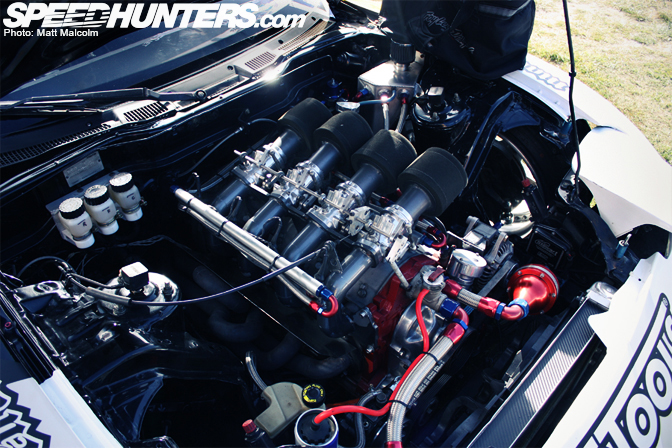 I would love to whack this motor in a Miata to take on D'Macs Bullet Saturn Sky in the USA! Imagine that!!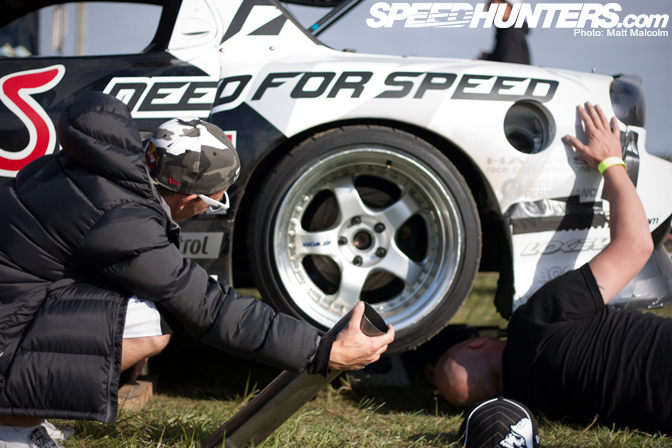 The new exhaust sounded unreal. All it took was for one person to comment that it sounded quieter than last year. So you can see my own straight slip in pipe to replace one of the Borla mufflers.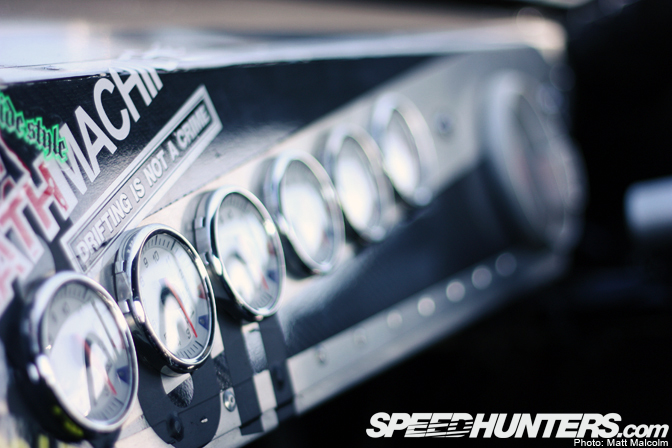 Some more additions to my decal cluster.  I have been collecting these all year from various events ranging from grass routes stuff to pro FD events and of course our limited addition team NFS decals that the team at EA design and produce for each round.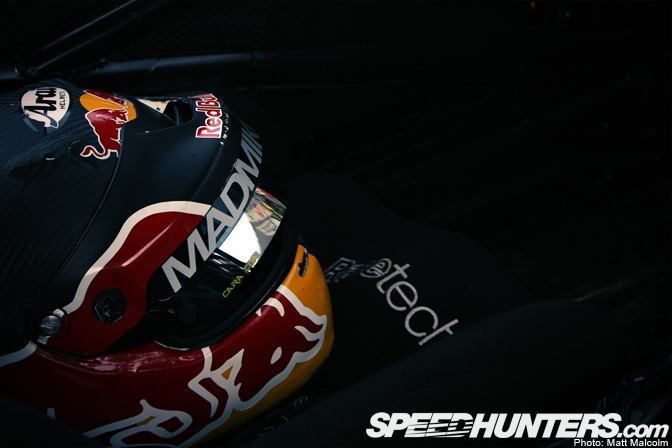 Usually I like to run my Troy lee MX style lid, in NZ, but with the trick new GPS and intercom communication units we have from Harris Communications, I can't hear anything over the grumpy Peripheral Port quad rotor. My Arai I used in the states however was perfect for the job.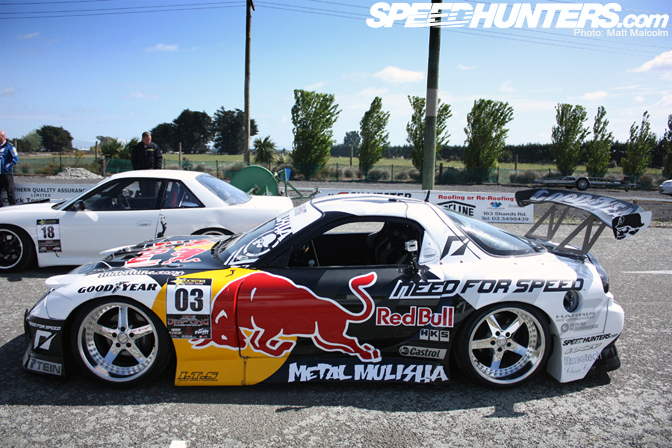 The RX7 looks sick in person with the NFS livery.  I think having the white livery on each corner of the wide body accentuates the width and aggressiveness. The WORK Equips make for a good combo. You can see my new wing mounts here, I would like to fit an over sized duck bill wing but this SARD wing has a massive effect to the rear grip and makes it much more violent.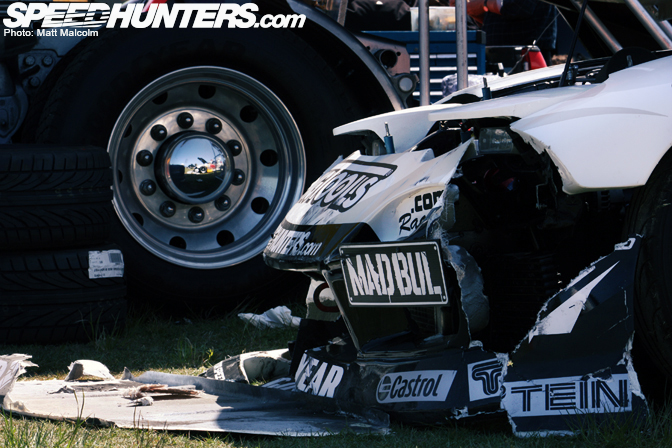 OUCH Sorry Damez! Fortunately for me, I have a fantastic kit builder Shannon and Gam of Lokey Industries.  Together utilizing Lokey Industries skill and my vision we were surely a big part of what achieved  'Best looking car of Formula D' 2010 with the overkill wide body RX8 kit created from scratch. Thanks again boys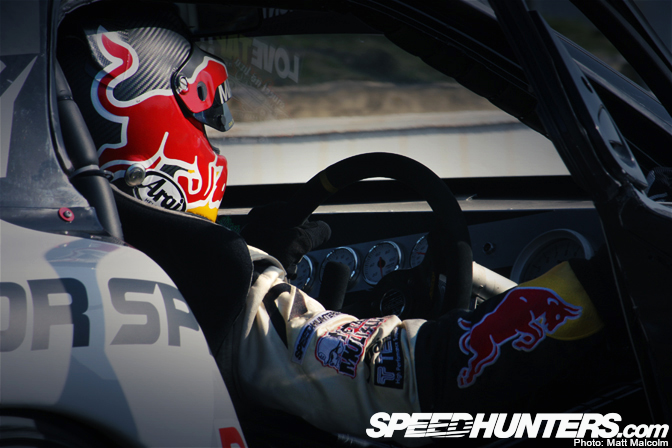 OMG Drift sticker reflected in the windscreen 'LOVE TAP!' there was plenty of that later on.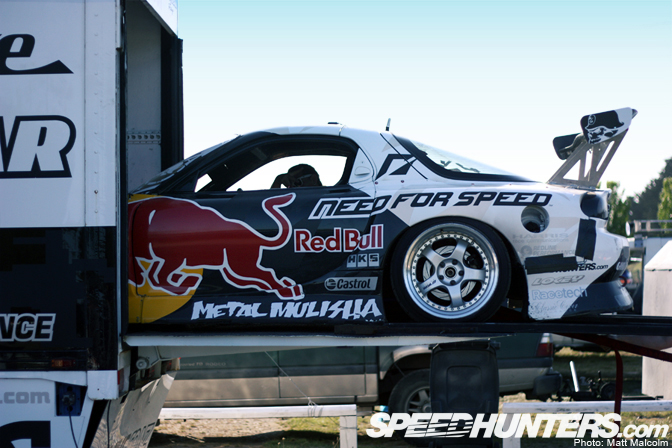 Loading up after a wicked day back in the MADBUL, overall really stoked how the car was feeling with the new set-up. Still a bit sketchy in it but not too bad considering I hadn't competed in it for nearly a year. The car was going good and strong I just needed to tame it!  It was also just great to have this car back in NZ as it had been away in Asia for 2009.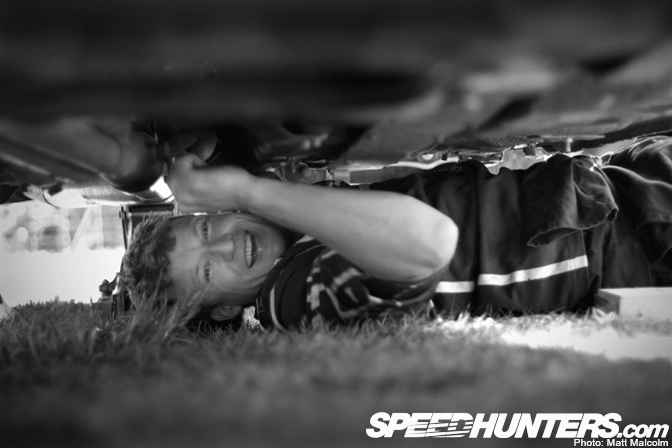 Tony Green gave us a lending hand over the weekend as Cromey couldn't make this event, Tony has competed in D1GP also driving FD's. Thanks for your motivation and help Tony – You are more than welcome to lend a hand with the team anytime bro!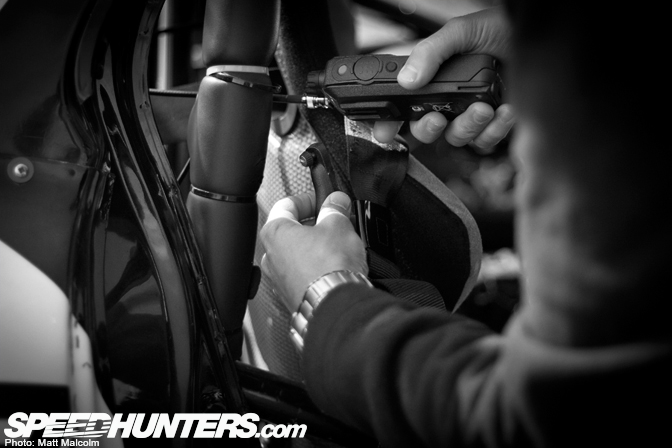 This was the first time we had used coms in NZ. Thanks to HARRIS communications I now can interact with my team. We discovered this year in FD that communication is a must if you want a solid winning team. They also had me wired into the loud speaker so I could talk the crowds through the runs while I'm out on track, which, I thought was rather SWEET.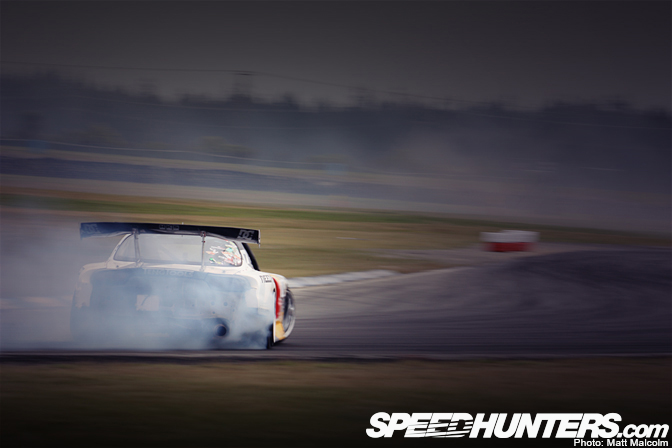 Matt shows us just why he makes the cut as a Speedhunters photographer with pics like these! 10,000rpm blowing through the tyre smoke. I had been a little inconsistent over the weekend with having to run two different breeds of tyre. Unfortunately my new Dunlop Z1 star specs hadn't arrived into NZ in time so I was left to run with Dunlop DZ101's which I had never used before and I found they had alot less grip than the Goodyear Asymmetric which I'm use to and which I only had a few of… dilemma, now to ration tyres…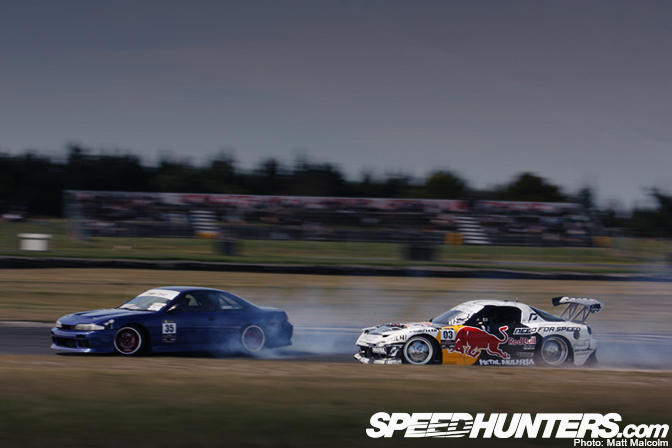 Top 16 I would meet Chris Protheroe, Chris put up a good fight but couldn't match the power and speed of the MADBUL. These guys will learn rapidly this year as I was in the same position in the USA competing with cars built on a much bigger budget. Nice work Chris and good luck for the rest of the season dude. Watch my chase run here.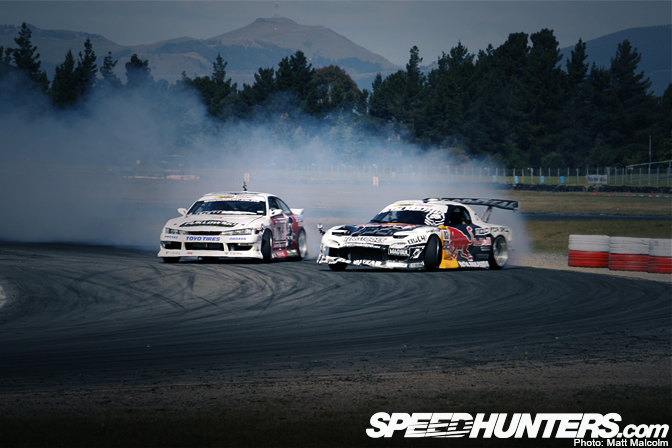 I like the way this pic shows 2 totally different car expressions, the evil s14 facelift to the lazy eye FD with a fat lip. So for top 8 I would meet my all time rivalry Gaz Whiter, Gaz and his old man Tony have been busy at work over the off season rebuilding the BIG BEN pies s14, the car now has more power, grip, brakes and not to mention a gangster blister BN wide body! The car is awesome and another sweet example of kiwi style drifters. This is usually a final battle pair up but we met early with us qualifying 4th and 5th. Now time to stretch on my Goodyears. I would chase first and I laid down a pretty epic chase, the Red Bull NFS RX7 felt like a different car again with the change of rubber and I was able to stick to Gaz, watch my chase here. Now his turn to chase I knew he would be right on me as we came into the judged section on lock, then 'BANG' Gaz was literally climbing on me, he gave me a good love tap and I managed to catch it without spinning – which would have given me an easy win.  I wanted to pull it off and give Gaz the opportunity to show his chase skills, that he did but it just wasn't enough to knock me out. Watch my lead here. I advanced with the win and move to top 4. 
Top 4 I got knocked out by number 1 qualifier Carl Ruiterman in his EH Motors s14. I had a tight chase but dirt dropped the inside wheel which I was subsequently deducted points for, as the car bounced over the track edging it gave Carl a car length which I couldn't close on the last 2 corners. Carl would advance to the finals.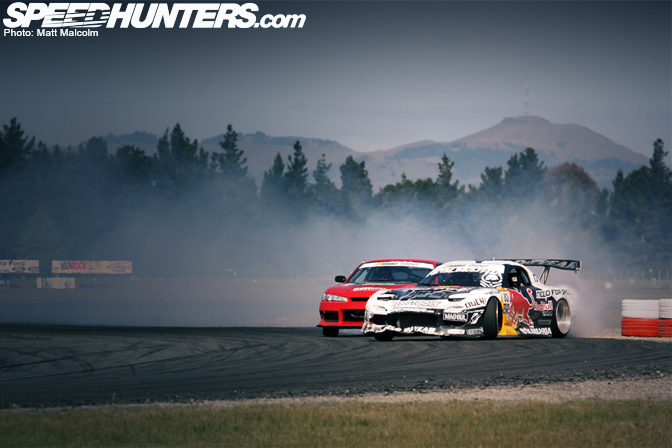 Top 4 I got knocked out by number 1 qualifier Carl Ruiterman in his EH Motors s14. I had a tight chase but dirt dropped the inside wheel which I was subsequently deducted points for, as the car bounced over the track edging it gave Carl a car length which I couldn't close on the last 2 corners. Carl would advance to the finals.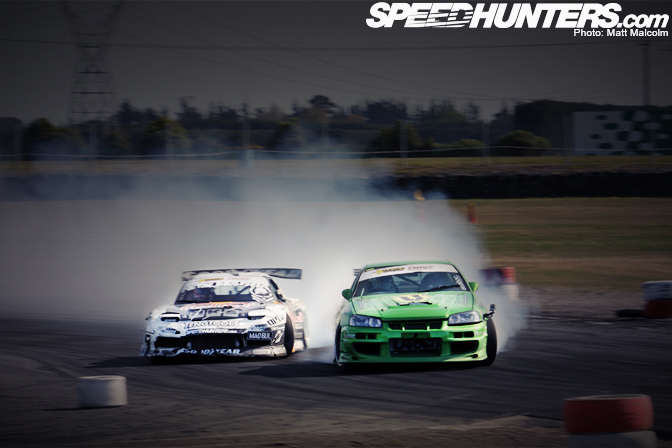 Now the battle for 3rd and 4th, I would fight it out with Cole Armstrong in the V Nissan R34. Cole is another who has invested into some big improvements with his platform giving it more power, a strong transmission and some bigger feet to burn. My chase run was super close and I couldn't see a thing 95% of the time powering through his smoke, watch it here. Gotta love spectatory commentary it rules ALL.
He had a good chase but couldn't close the gap. Watch my lead run here.
I screamed the 26b over the finish and Damez radioed through we would be standing on the podium until they called a 'one more time' at that time I was okay with the call because I didn't know how close Cole was to me, We re-ran and I pushed myself too hard and was too aggressive resulting in a spin chasing him. After seeing the youtube clips of our first battle I can't see how the judges voted for a OMT? In any case Congrats to Cole for beating me to the podium. You can watch my chase here where I handed it to Cole.
Congrats also to Kurt Whittiker for taking out round 1.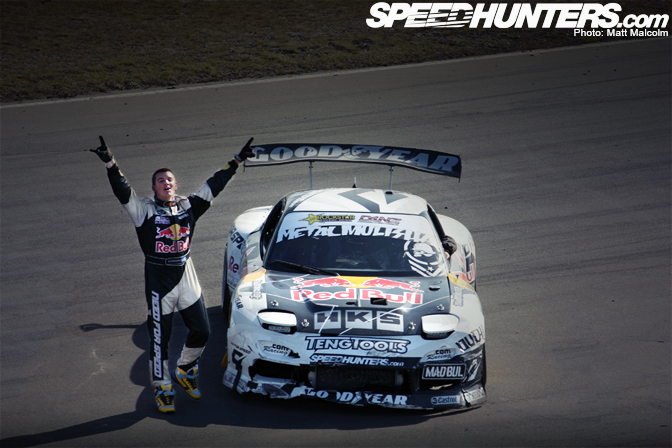 MADBUL looking angrier than ever 'GOD YEAR' on whats left of the lower lip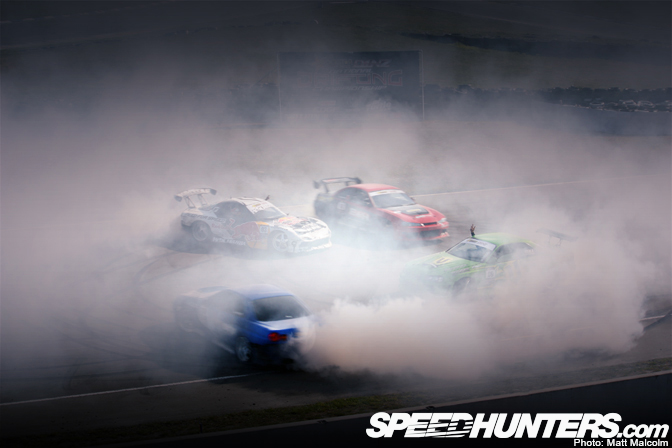 The victory burnouts were ON!!! With 4 up donuts turning into a madhouse with the 3 others drifting around me while I was spinning donuts or 'circle burners' as Doug from FD would say! hahaa
A massive thanks to all my supporters, all the spectators that showed up after all the carnage Christchurch has been through with the earthquakes, Porters/Eagle Spares for your help and run around vehicles, my team and all my sponsors for your support.
D1NZ is going to be a killer series so keep Speedhunting until our next full update from round 2 on the 26-27th Nov at Manfield Raceway.
MM