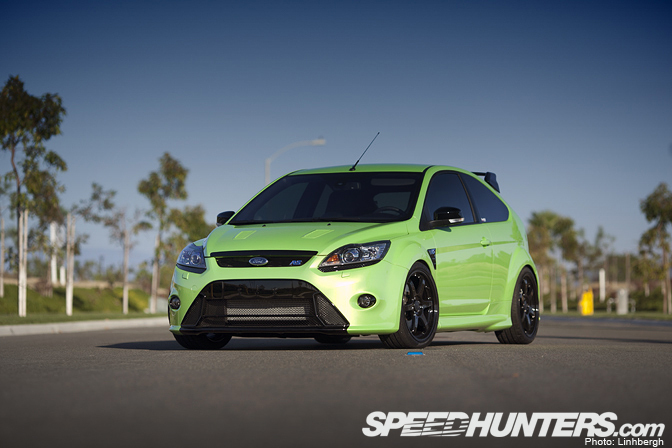 Here's a question for you all: Would you replace your 550 horse power Mercedes CLS for a lime green hot hatch with about 200 less horse power?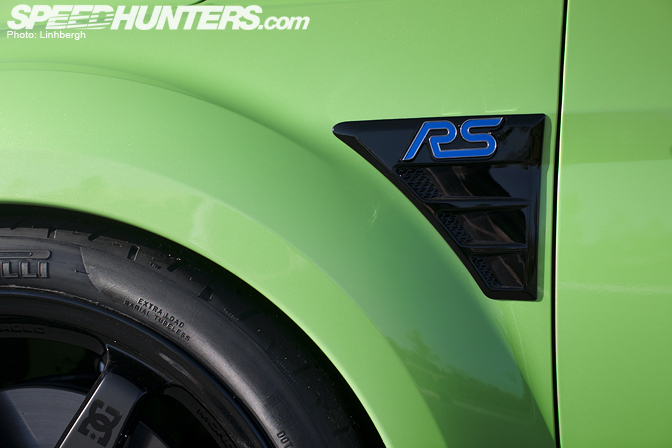 Keep in mind that the hot hatch, a 2010 Ford Focus RS, is not available in the United States. So add the rarity factor. Also keep in mind that your day job consists of being a professional hoon in a 850 horsepower peanut.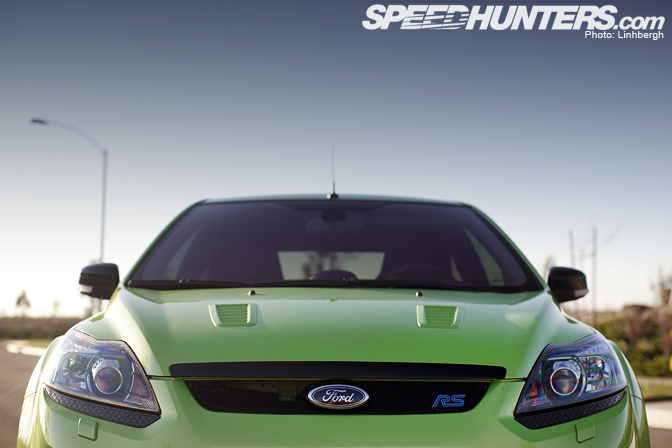 And being a professional hoon, you'd want a car that puts around town in a comfortable, yet fun car. A cruise liner sized CLS would not be able to zip around town like a busy bee would it?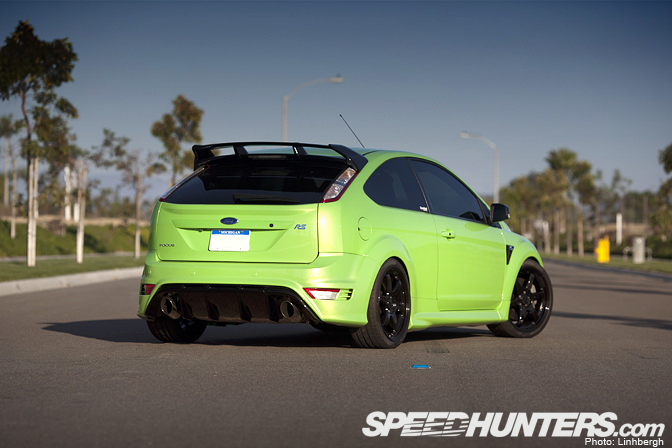 Replacing a Brabus Mercedes CLS K8 with a 2010 Ford Focus RS is exactly what professional hoon and internet phenomenon, Ken block did.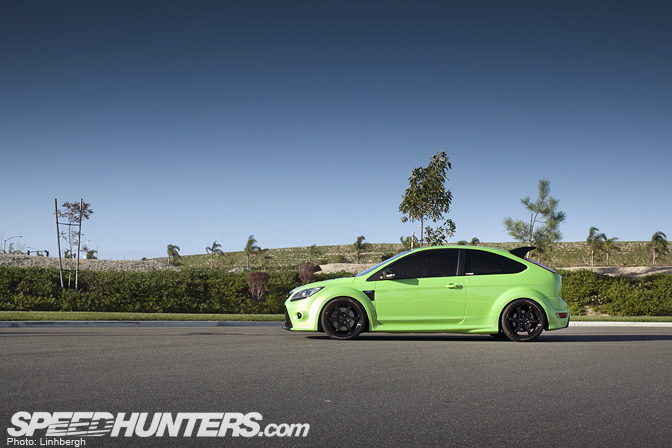 Knowing Mr. Block, there's no way he'd keep a car completely stock. The Focus RS' original suspension was replaced by a set of KW GFw INOX V3. The lowered stance makes the car look just a bit more mean. Though, the bright green paint job counters that quite a bit.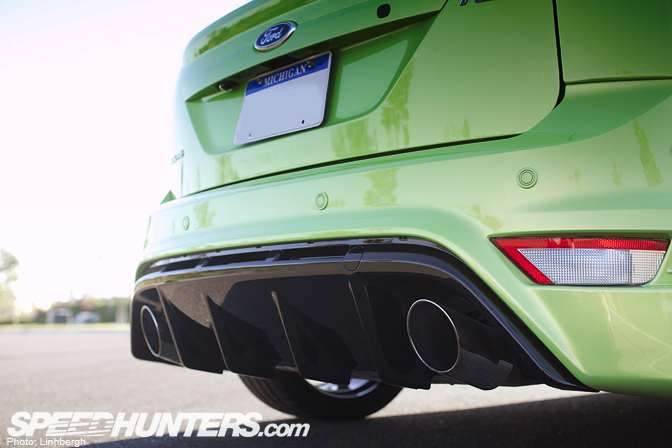 I have to admit that the stock rear valance give the car a very beefy look.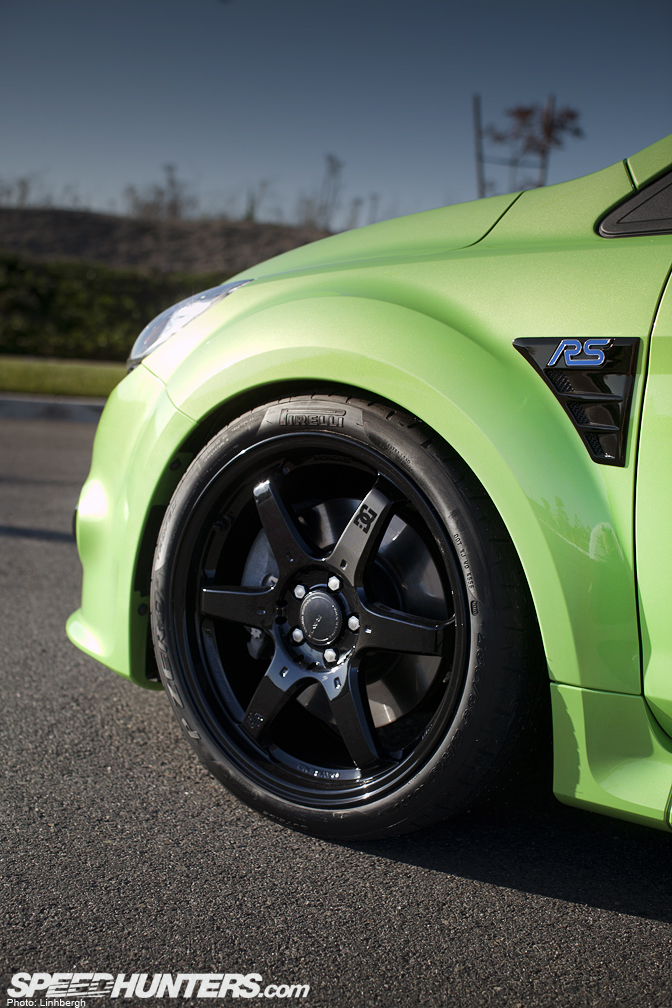 The OEM silver multi-spoke wheels were replaced with a set of Volk Racing G2s. The guys at Crawford Performance repainted the wheel to be the brilliant black you see now. The single matte-black spoke with the DC logo looks sweet.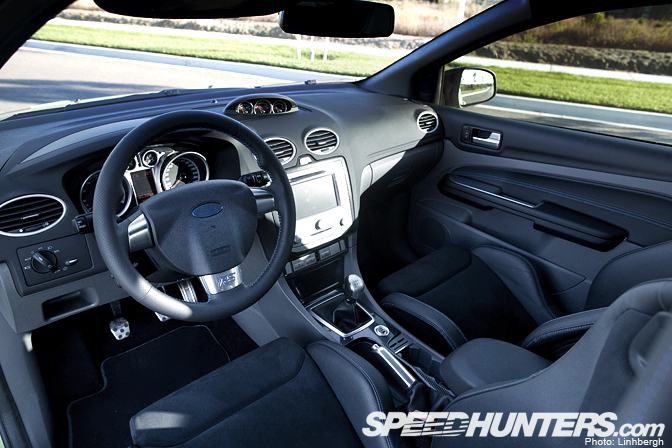 The interior has been completely untouched. Being a daily driver, all the creature comforts are still present: the satellite navigation, stereo controls on the steering column, iPod dock in the arm rest, and of course, cup holders.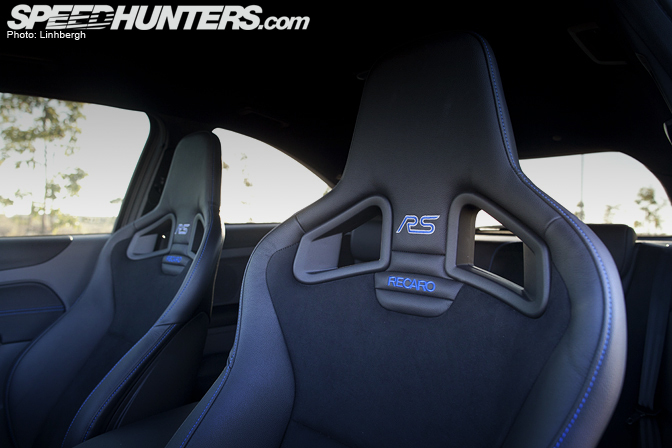 Even the stock Recaros were kept. Though, Ken's skull and crossbones logo will adorn the headrest post-SEMA.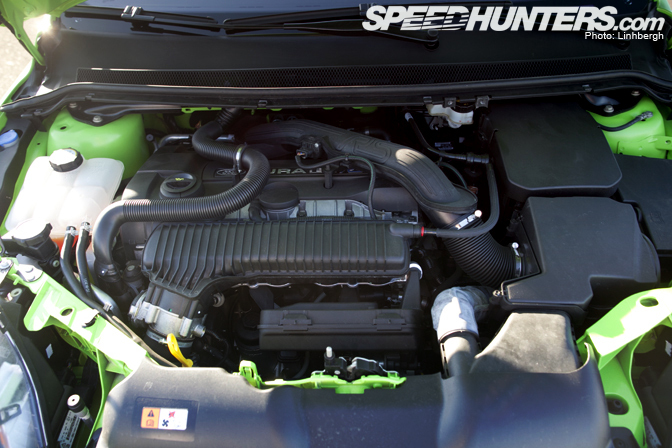 The Focus' 2.5L, 305 horsepower, turbocharged five cylinder engine has also been untouched. But next on the list are some light engine mods that include a new downpipe, exhaust, ECU reflash and bigger injectors which will boost up the car's power to around 390 horses. Remember, it's Ken's daily driver, so it's not going to get TOO wild. Seeing that the Focus RS isn't sold in the states, the research and modding will take a bit longer.
After finishing the shoot, the Crawford Performance owner, Quirt Crawford, opened up the taps on the car on the way back to the shop. I was expecting a smooth engine note akin to the North American Volkswagen Rabbit's 2.5L five-cylinder, but the noise that came out of this car sounded more like a beefy V8! It's a nice healthy sound and should sound even better after all the modding is done with.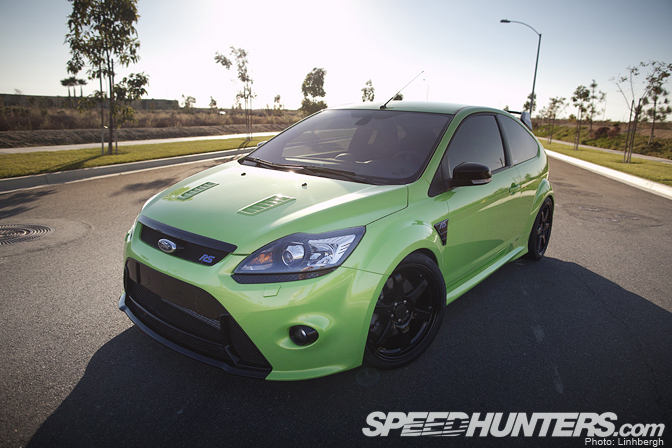 But why would Ken replace a 550 horsepower Mercedes for a Ford? I'll let him explain.
"I've had the matte-black CLS K8 for a couple years now and it was just time to get something the new. Since I first saw Ford reveal the Focus RS at Rally GB two years ago, I have wanted one. I am pretty stoked that Ford was able to make that happen, considering the RS is not for sale here in the States. It's the perfect daily driver for when I am actually home. But I am likely going to keep this one a bit closer to stock than the CLS. I have bigger plans for another project, which I'll fill you all in on soon enough."
The Focus that is currently out in the states is a good cheap-ish car. But this lightly customized RS takes it up a few humble notches. Lowering the car and adding on the set of black Volks makes a huge difference. If Ford was to bring this car over to the states, it could prove to be very popular. Who wouldn't want a hot hatch with good handling, decent power and good looks? 
For those of you that are in attendance at SEMA this week, this car will be at the Pirelli booth. So check it out!
-Linhbergh