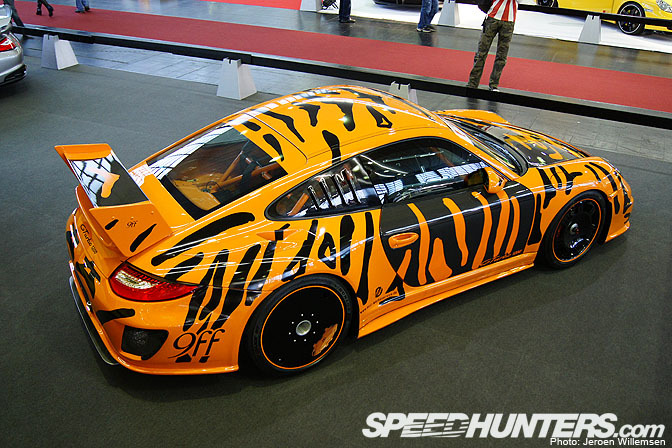 The other 9ff car I found at the My Car Show was this GTurbo 1200. As the name suggest it has 1200BHP making it one of the most powerful Porsches in the world. The car competes in the 0-300-0 km/h challenge organized by Sport Auto and Dunlop. This year 9ff competed with a GTurbo 1000 but for next year they have this new version, the GTurbo 1200.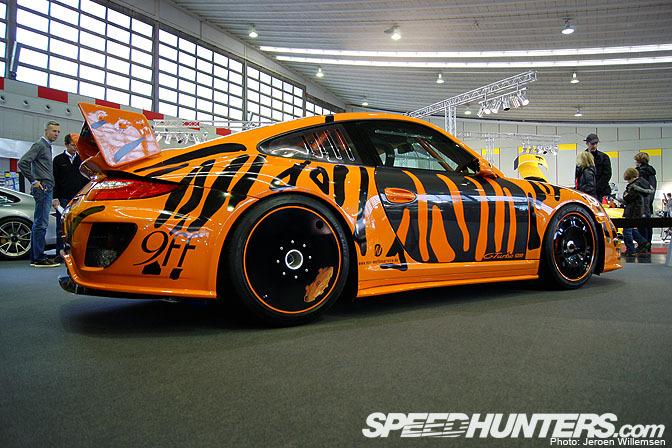 It all starts with a Porsche GT2 that is taken apart and rebuilt with lighter materials. The side and rear windows have been replaced by Macrolon items. You will also find a lot of carbon in and around the car. The item that caught my eye the most was the aluminum cover on the rear wheels. They are used to reduce the drag for high speed runs.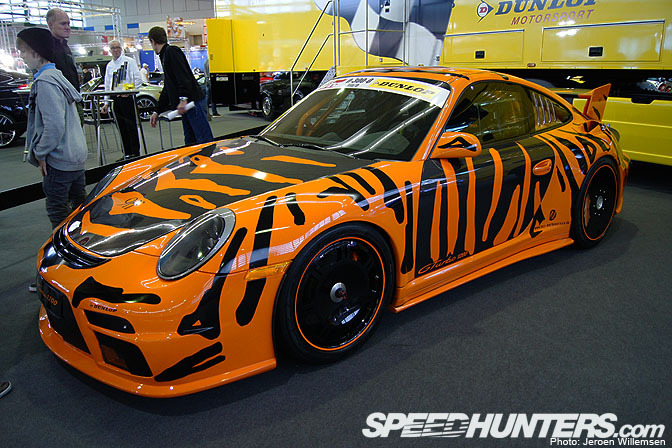 Although it is hard to see but if you look closely you can see an air duct on the rear fender. It's there to direct air towards the engine. I'm not a real big fan of the wheel design but at least they are original. In the front they are 19″ and in the rear they are 20″ with Dunlop Sport Maxx tires wrapped around them.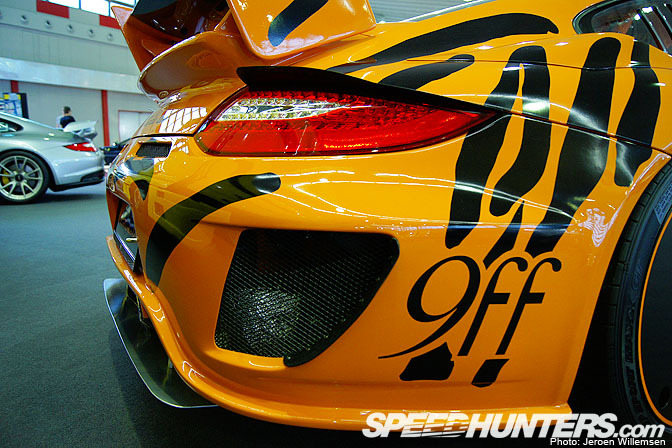 The rear bumper gained these small canards; you can also see one above the rear light. It just shows how much attention has been given to the aerodynamics department.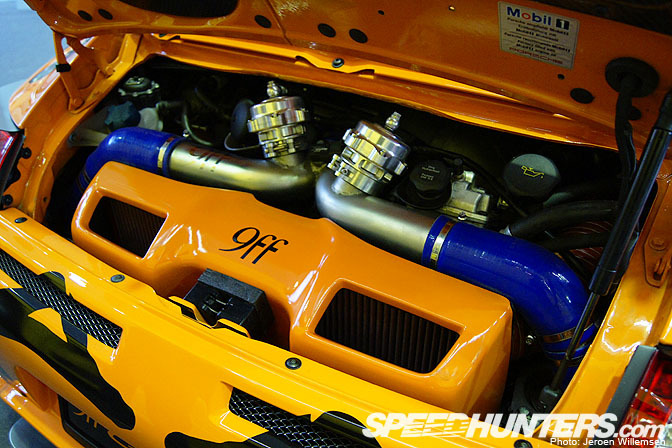 What we are looking at is a twin-turbo, four litre, six cylinder boxer engine that has 1200bhp and 1100Nm. I found it fascinating that they managed to extract so much reliable horsepower from this engine. It can accelerate from 0 to 100 km/h in 2.8 seconds then within 7.1 seconds you've reached 200km/h and it doesn't stop until you reach 414km/h.
The engine has been completely rebuild with parts that have been developed by 9ff themselves. The parts include titanium connecting rods, 9ff cylinder head with bigger valves and ports, 9ff camshafts and 130mm intercoolers.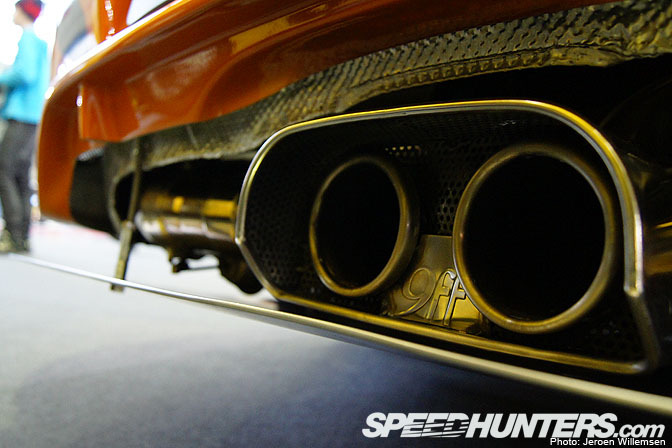 The excess gasses are expelled via this trick titanium exhaust system that has adjustable valves for a quiet or sport sound.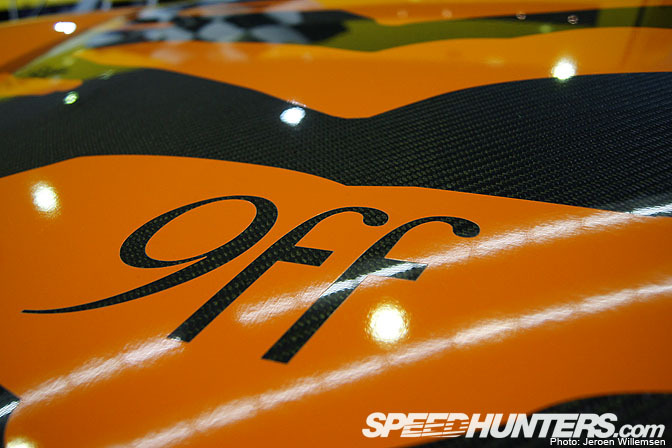 9ff uses a lot of carbon on their cars. You can choose to paint it over but because this was a demo car for 9ff they left most of it exposed.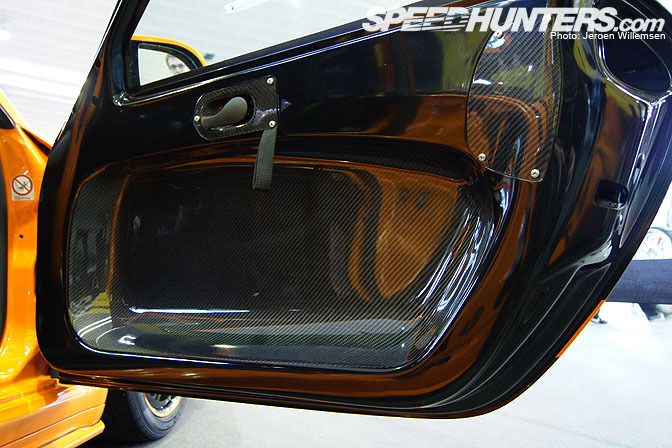 The doors weigh next to nothing. They still have a factory fit and don't feel flimsy at all. The fact you're driving a €339,000 car but still have a leather strap to close your door put a smile of my face.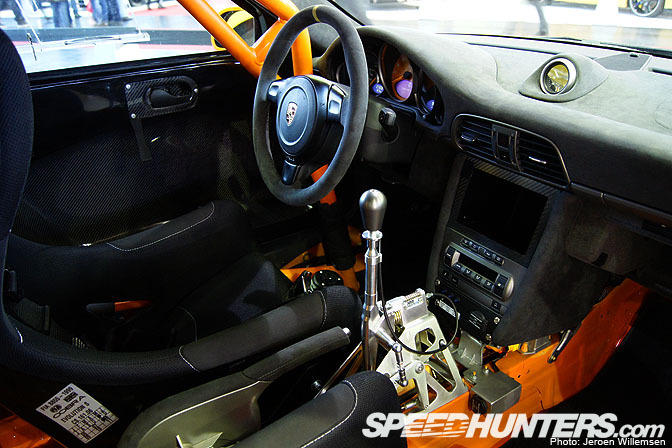 The interior still has a lot of creature comforts. But there is no denying you're in a 1200BHP street legal car that is capable of going 414km/h. That's 257MPH for you Americans.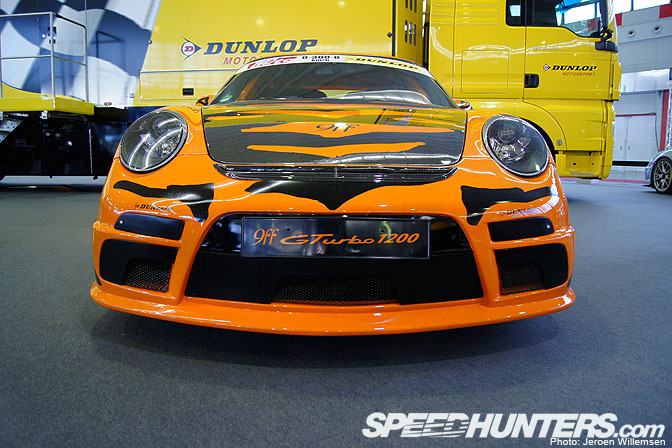 This is what you will see in your rear view mirror just before it passes you on the left lane.
I'm really looking forward to see what 9ff have in store when I take a look in their own kitchen.
-Jeroen Willemsen