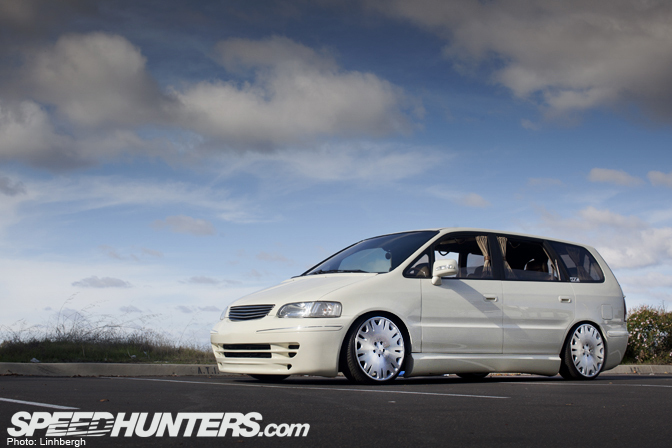 Vanning is a movement that never completely caught on stateside. People went from modding sedans then straight into SUVs. Those individuals that made the switch to vans are die hard van fanatics. They live, breath, and believe in the vanning lifestyle.
When I arrived at Auto Fashion's VIP Festival, I was expecting parking lots full of lowered sedans of all makes and sizes. What I wasn't expecting was this VIP'd out 1997 Honda Odyssey.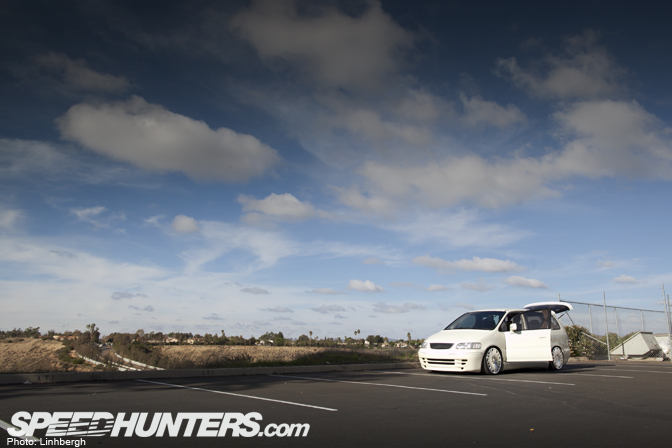 Aside from being a van, the thing that set this apart from the other cars was its choice of body kit. Tra-Kyoto is company that is now synonymous with creating amazing
Rockey Bunny kits for the S-chassis (among others). So it comes to quite a bit of a surprise when I found out that this Odyessy was rocking a VIP version of the Tra-Kyoto of the Number 6 kit!
With the body kit all picked out, the car was then sent to be repainted. The van's owner, James Cherry, chose the Crème Brulee color from a 2007 Ford Edge.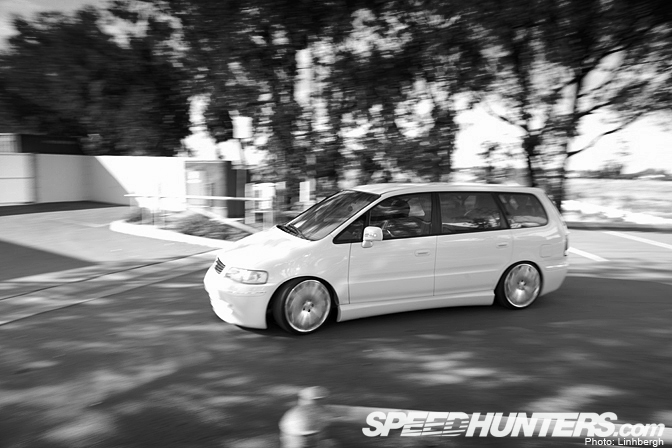 The fact that it does not flare out like most VIP body kit helps set it apart. It just looks amazing.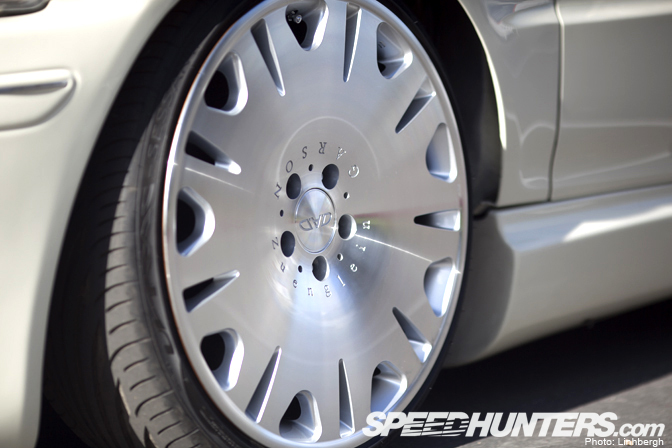 The van quite Garson'd out. It starts with a set of Garson Dolci wheels which are 20×8.5 with an offset +35.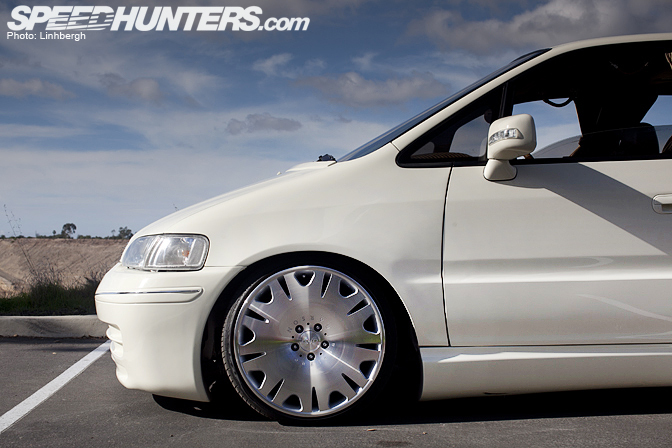 The black rubber bands around the wheels are a set of 225/30/20 Vredestein Sensatrac.
Rather than being on bags, James opted to go hardcore with a set of Tein Basic Wagon coil overs. With such a drastic drop from stock height, the rear camber had to be dialed out. James called on the help from some Cusco rear camber arm and Cusco rear toe adjuster.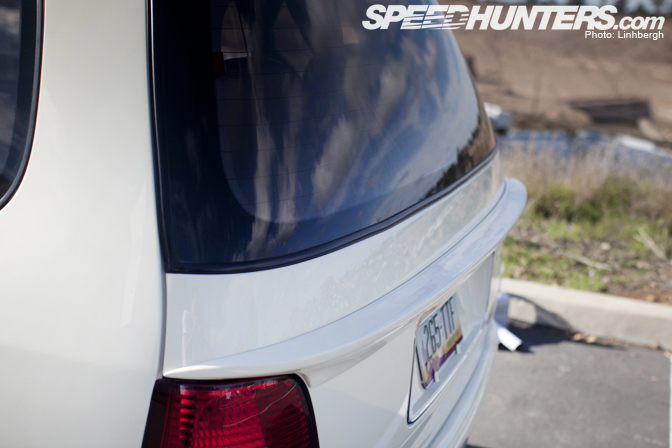 A Garson Premium Edition mid-wing was also added.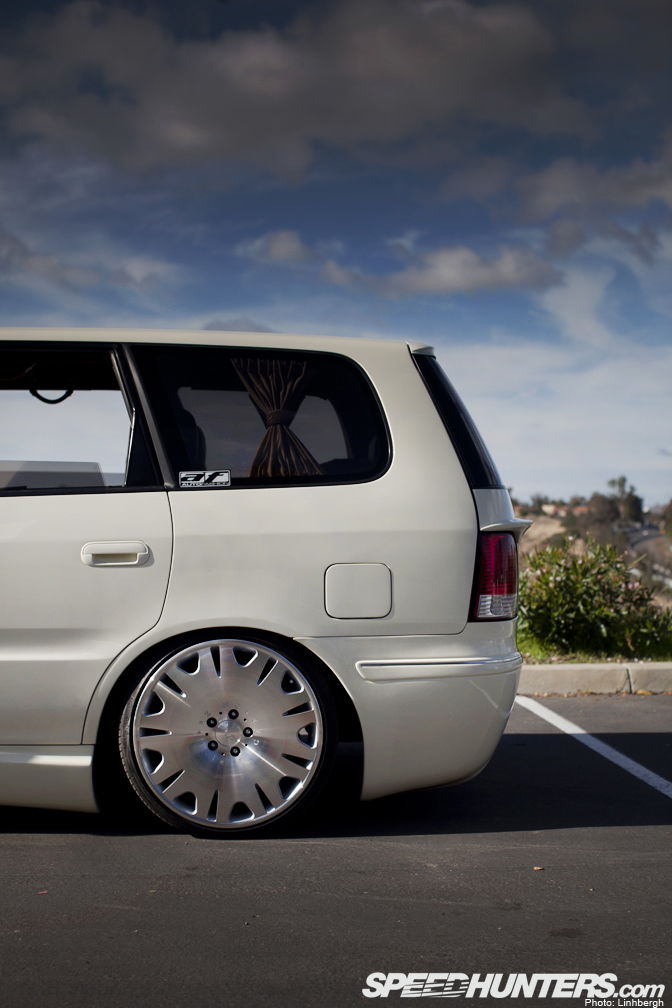 The North American spec tail lights were replaced by a crystal red/clear JDM set. The simple tail light and mid-wing mods make for a good looking butt.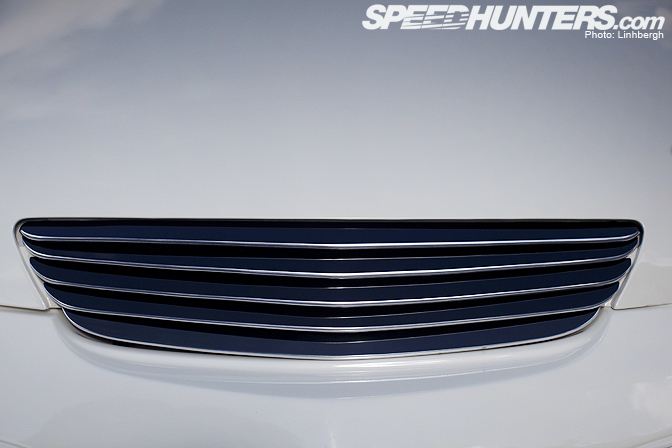 The OEM grill has been replaced by Garson Premium Edition grill.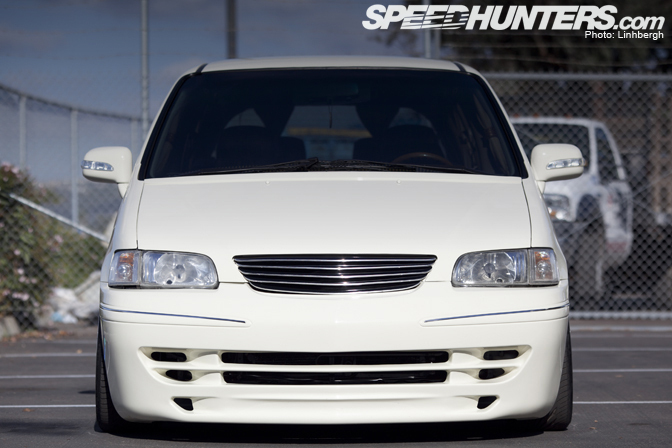 In addition to the Garson grill, an Anceltion Bonnet Spoiler was also added to clean up the area on top of the engine hood. Cleans up the front end considerably.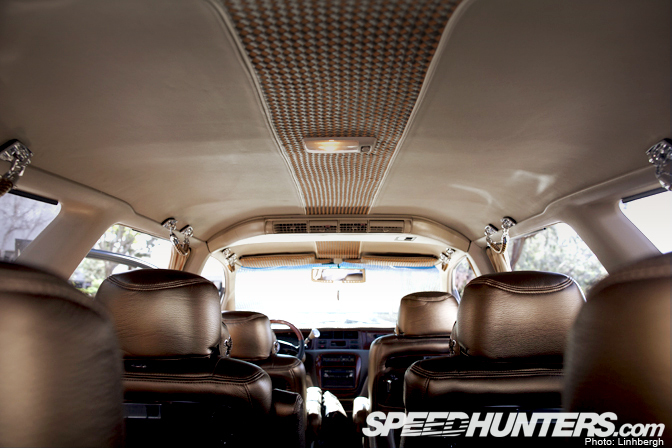 The Garson wheels were just a teaser of the Garsonness is going on in the interior. Check out that headliner!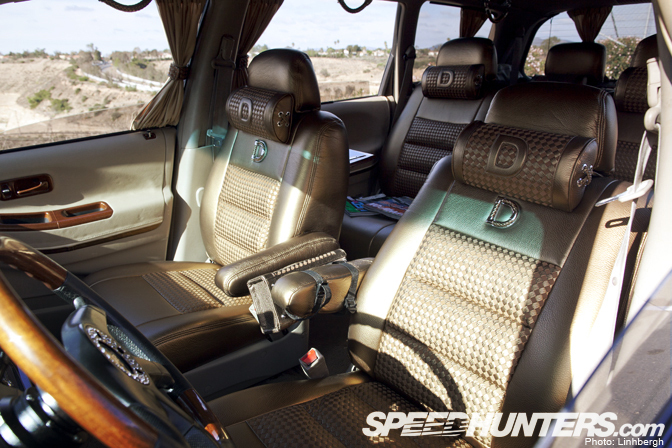 All the seats were covered in Garson Vega Edition seat covers.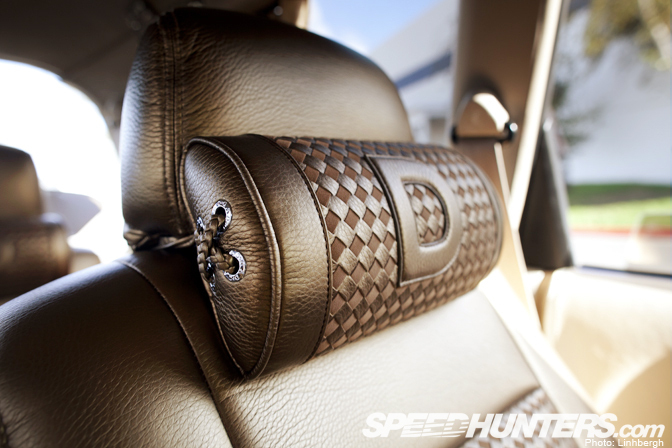 Each seat also had a Garson Vega Edition neck pad.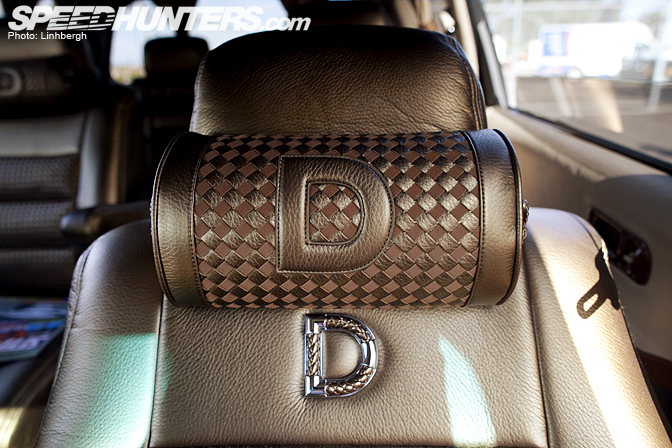 Knowing how dirty I can get when I'm out shooting, I would not want to sit in these seats! Looks like they were made for a royal family.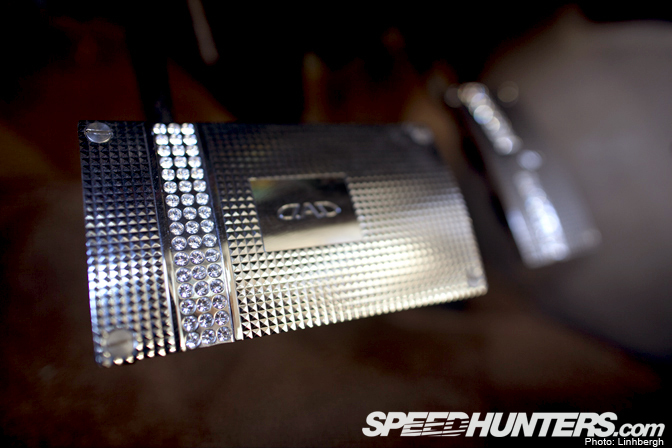 Even the pedals have been replaced with something a bit more luxurious. I would also hate to step on these things with muddied shoes!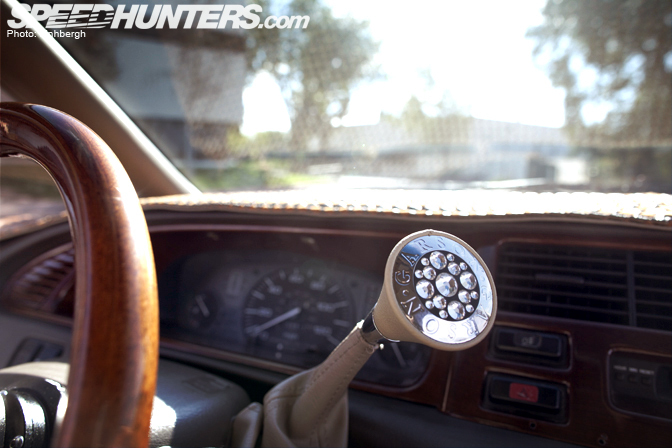 Garson Luxury Shift Knob Type Crystal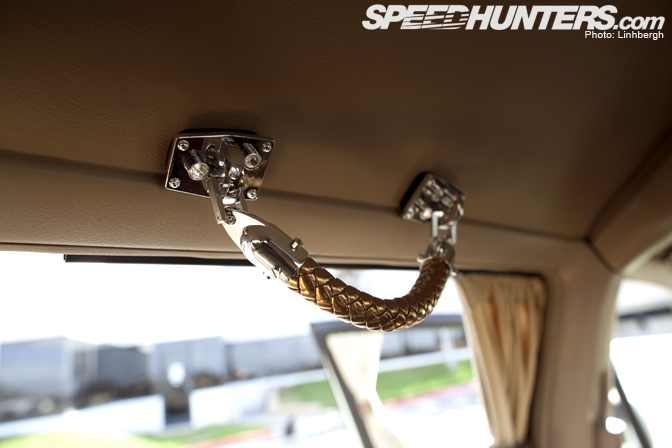 The original "oh crap" bars have been replaced by a set from Garson. The official name Garson has on their catalog is Luxury Assist Grips. Very luxurious indeed….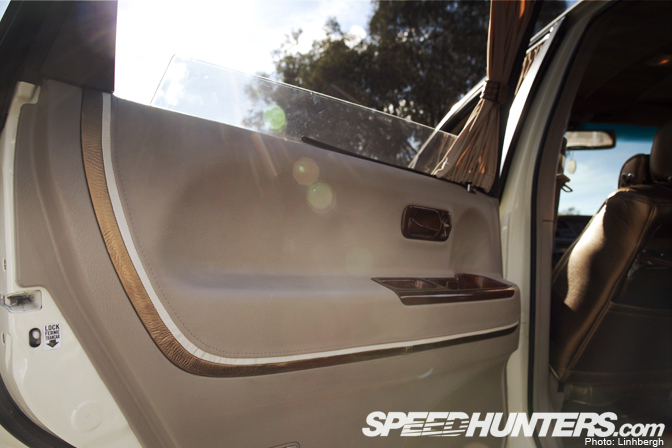 The door panels and Vega accented trim pieces have been made to match the interior with authentic Garson material…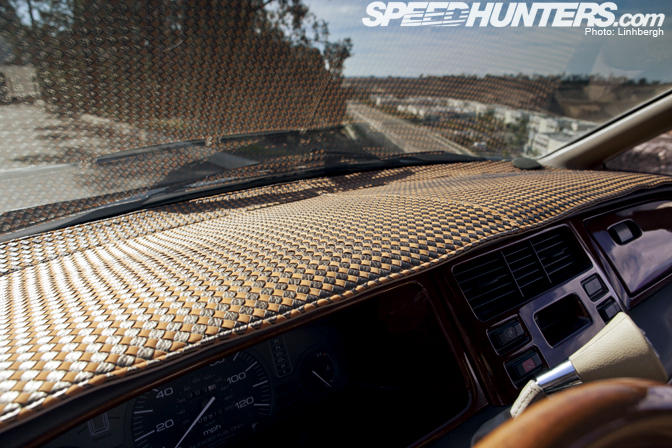 …including the dashboard cover.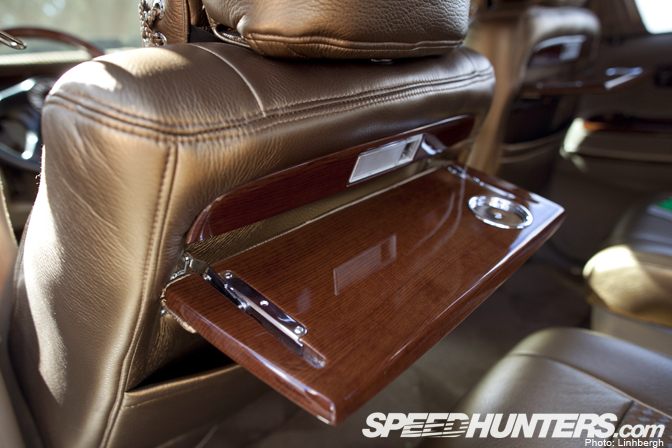 These sweet back seat tables came from a 1993 Jaguar XJR.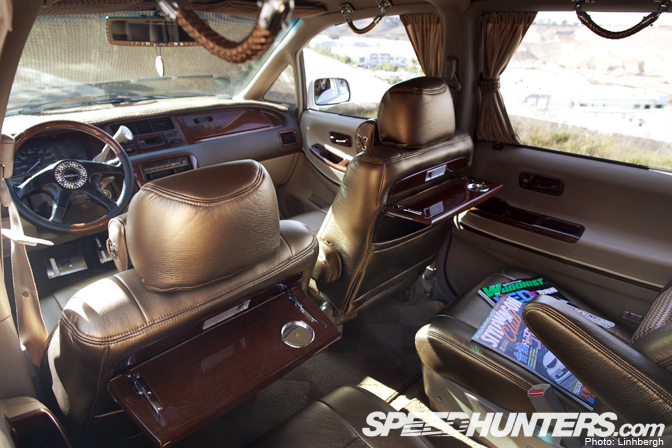 Another shot of the Jaguar XJR tables. As you can see, the interior wood grain all matches and the printing was performed by Real Image Hydro Printing in Phoenix, Arizona.
You can also see the Garson/Italvolanto Steering wheel with luxury crystal ring in this photo.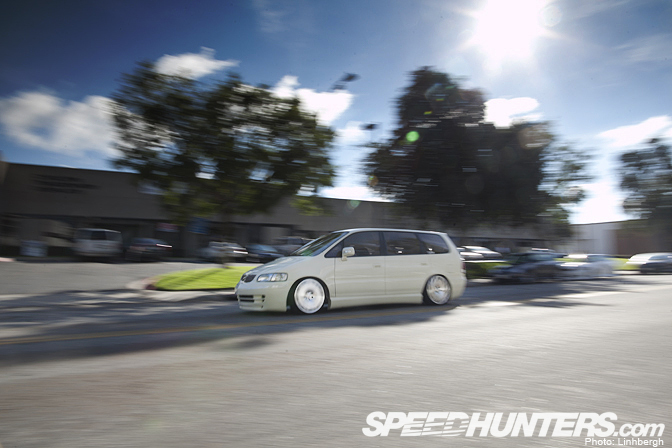 With such attention to detail, the overall package is, well, stunning. When you see it moving at such a extreme ride height, it defies belief.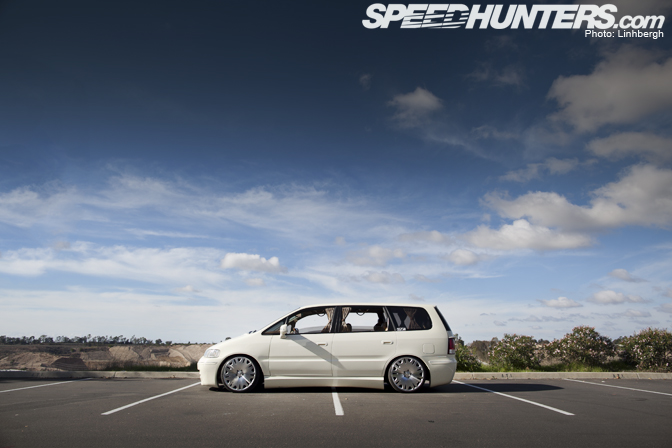 Though not a strong movement, it is great to see vanning still alive in the states and in the hands of people like James Cherry.
Van on, James. Van on!
-Linhbergh
Complete Spec List:
Exterior:
- 1997 Honda Odyssey RA1
– Tra-Kyoto Number 6 Body Kit (VIP Version)
– Garson Premium Edition Grill
– Garson Premium Edition Mid-Wing
– Anceltion Bonnet Spoiler
– JDM Red/Clear Crystal Tail Lights
– Color: Crème Brulee 2007 Ford Edge
Paint and Body work by:
- Innovative Automotive Tempe AZ 
Suspension: 
- Tein Basic Wagon Coilovers
– Cusco Rear Camber Arms
– Cusco Rear Toe Adjuster
– Cusco Engine Mounted Strut Tower Brace
– Cusco Rear Lower Cabin Support?
– Wheels:?Garson Dolci  20×8.5 +35, F&R?
– Vredestein Sensatrac 225/30/20 F&R?

Interior:
?- Garson Vega Edition Mirror
?- Garson Vega Edition Luxury Assist Grips
– Garson Vega Edition Seat Covers
– Garson Vega Edition Tissue Box
– Garson Vega Edition Dust Box
– Garson Vega Edition Cup Holder
– Garson Vega Edition Neck Pads?
– Garson Luxury Pedals Type Crystal
– Garson Luxury Shift Knob Type Crystal
– Garson/Italvolanto Steering Wheel with Luxury Crystal Ring
– Garson Luxury Lock Knobs Type Crystal
– Authentic Garson Material Used On All Vega Accented Trim Pieces
– Honda Cargo Cover
– Seat Back Tables 1993 Jaguar XJR
– Custom Carpet & Floor Mats
Interior Wood Grain Printing performed by:
- Real Image Hydro Printing Phoenix, AZ
Interior Installation Performed by: 
- Marco Custom Upholstery Phoenix, AZ