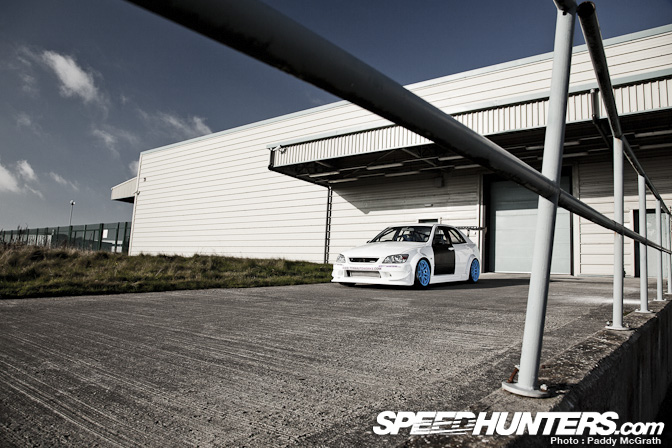 This story and this car mean an awful lot to me.
I hope you can bear with me as I try to convey the full story for you. It won't be easy but I'll try.
Recession is defined as a period of temporary economic decline during which trade and industrial activity are reduced. It's a pretty cold way of looking at what the economies of the world have been experiencing for the last few years and it is especially cold if you've been hit harder than others. I suppose I don't really need to mention the sort of financial mess Ireland is in, no thanks to a small group of society who lived beyond their means for so long with no thought as to where the repayments would come from. Banks freely giving money away and people willingly taking it was a sure fire recipe for an eventual financial meltdown.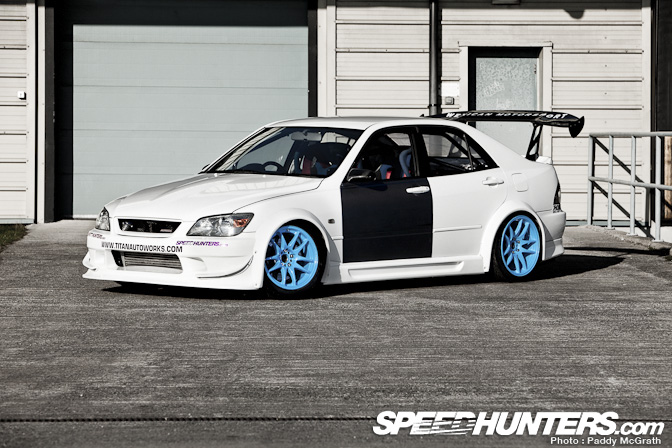 This crisis may have taken hold some two years ago, but it still literally feels yesterday that we woke up and somehow everything had changed. Panic and fear creeped in and people began to face up to the fact they were living in a class beyond their means with no ways of repaying their debt.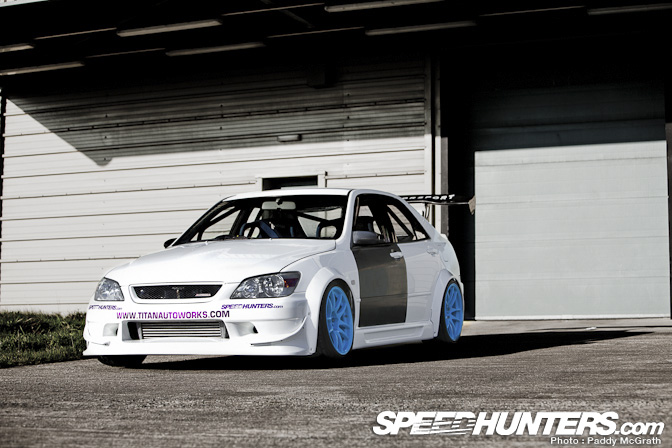 People stopped spending money and in turn businesses stopped making money. Businesses then had to leave people go and those let go had to stop spending and so on, so forth the vicious circle continued.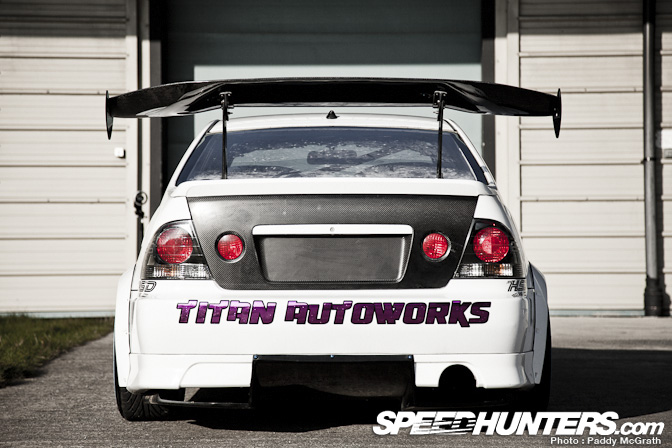 The motoring trade took a particularly hard hit. Where people were once obsessed with keeping up with their neighbors, they soon realized that a car was no longer a statement of social status but had become a utilitarian means of transport.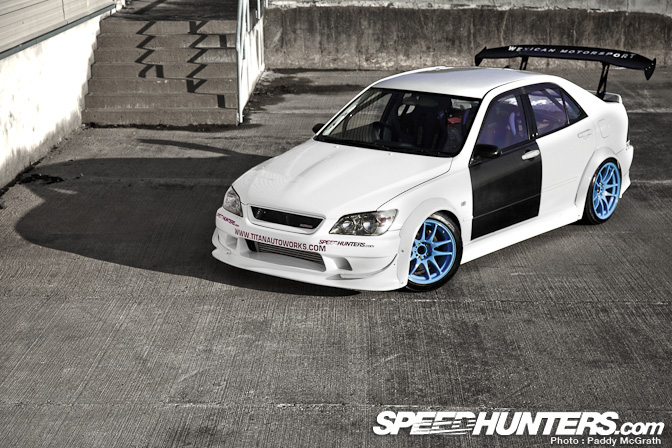 People were literally running their cars into the ground, affording only to pay for the absolute minimum amount of maintenance to keep their cars' on the road. Garages all around this little green island were shutting down by the dozen, with main dealers letting staff go in their droves.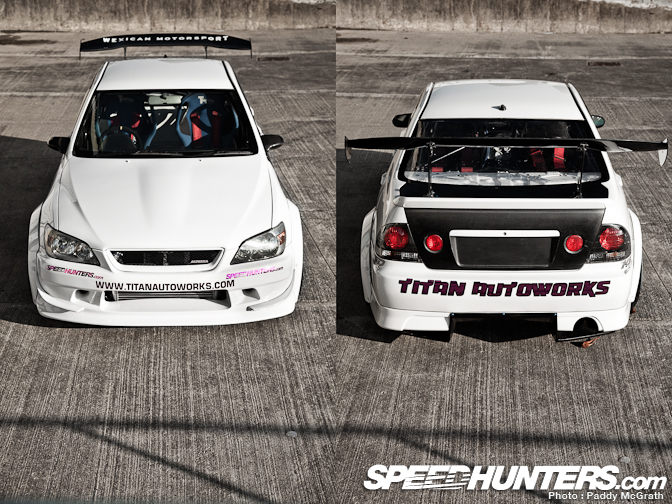 Small operations with big ambitions were forced to abandon their dreams and instead concentrate on survival. Martin Ffrench was one of those small operations.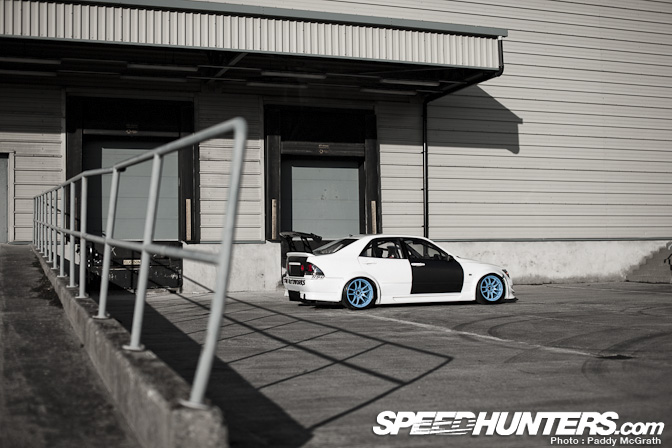 Some of you may know the name or be familiar with it, but for those of you who don't let me introduce him to you. Martin is a very close friend of mine and up to even September 2009, things were going pretty good for him. Plans were afoot to build not one, not two but three separate Toyota Altezzas to contest drifting and time attack events across Ireland and the United Kingdom.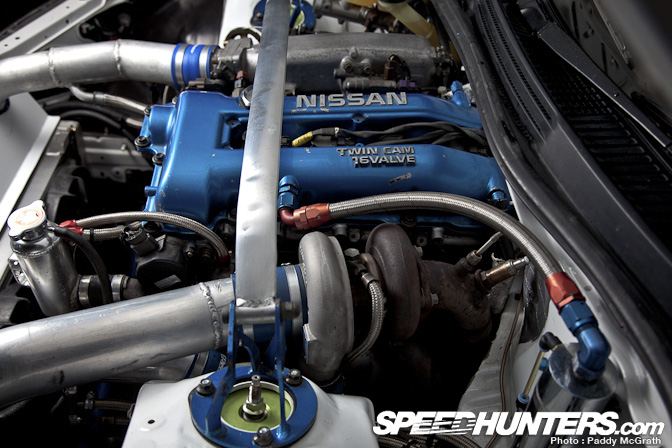 You might think that was ambitious and you'd be right. Only those close to Martin would understand the man's determination to show what could be done by such a small organization. Only those of us close to him had no doubt that he could complete these projects.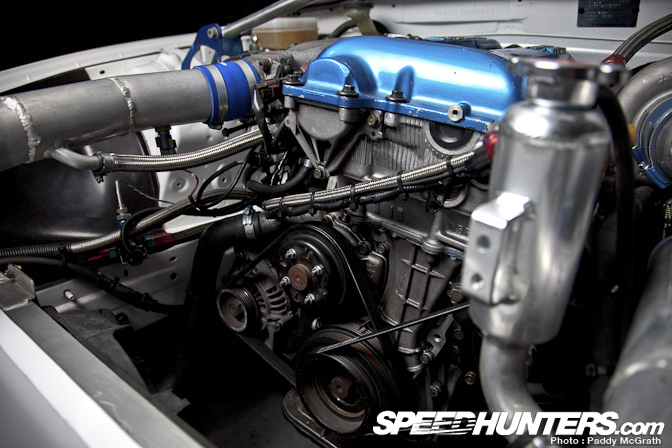 We all knew first hand his dedication and how he was willing to go to any lengths to make things happen. However, shortly after unveiling his full carbon bodied SXE10 Touring Car things hit a downturn and Martin knew that to survive, he had to walk away from his dreams. The three projects were dead.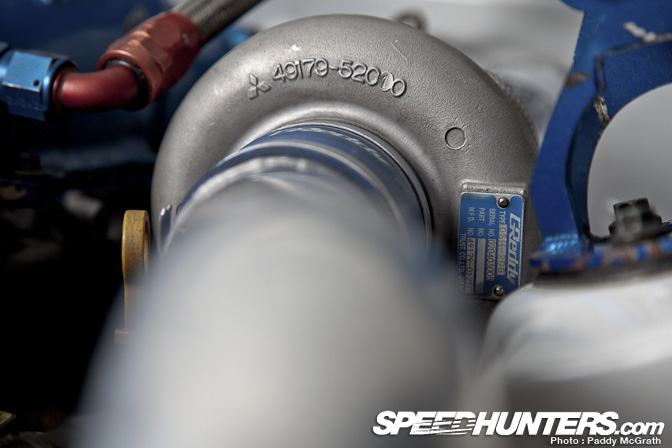 It's one of the hardest things I can remember from the last few years, to be unable to help a friend. I could see the effect the times were having on him and was powerless to help. Through no fault of his own he was struggling to survive and the Ffrench that I knew was slowly starting to disappear.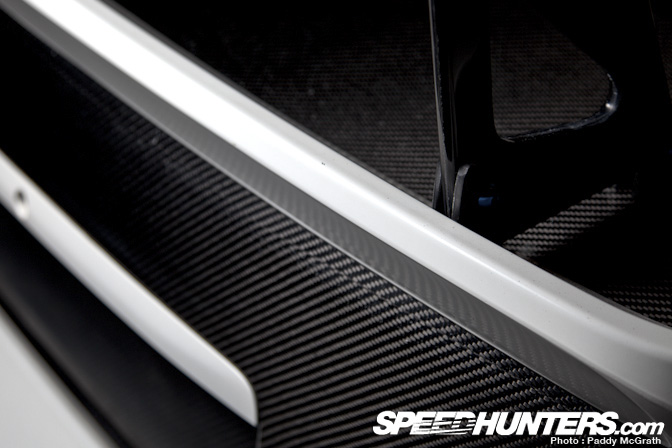 To see a guy with such talent and passion starting to fade away was bad enough but to know that an entire generation of people were suffering the same fate is almost impossible to comprehend. How the f*ck did those with power stand by and let the country drive itself into the ground ?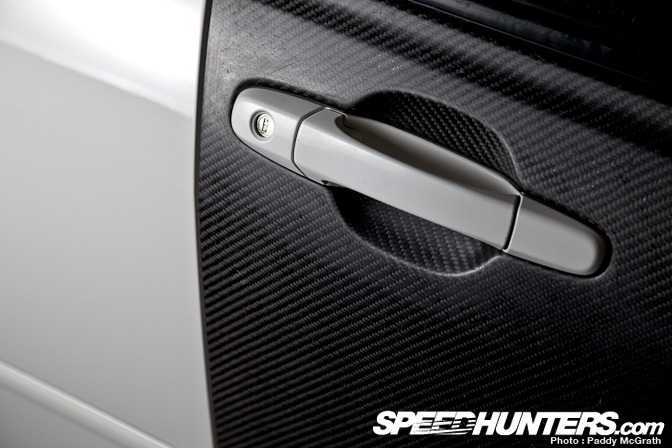 As the weeks rolled by and no further updates on any of the three cars were forthcoming, criticism began to mount and it was something that Martin took to heart. Although powerless to do anything I could see in him, just how upset and angered he was that he had no control over the situation.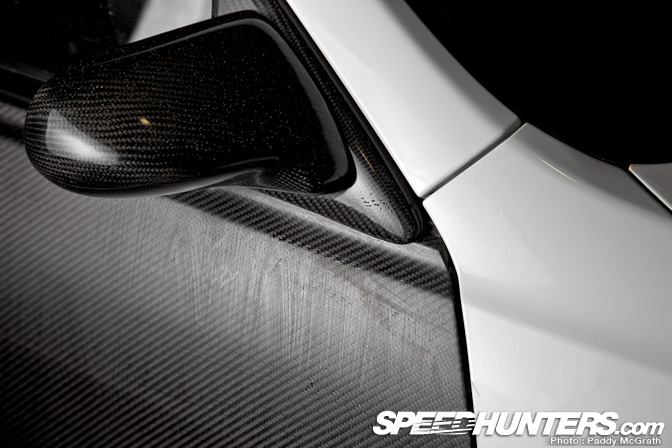 As 2010 progressed,  we had regular chats about how to approach things and I'd quite often get a phone call where he just needed to bounce ideas off of someone before hanging up and ringing back later with a slightly adapted version of his previous idea.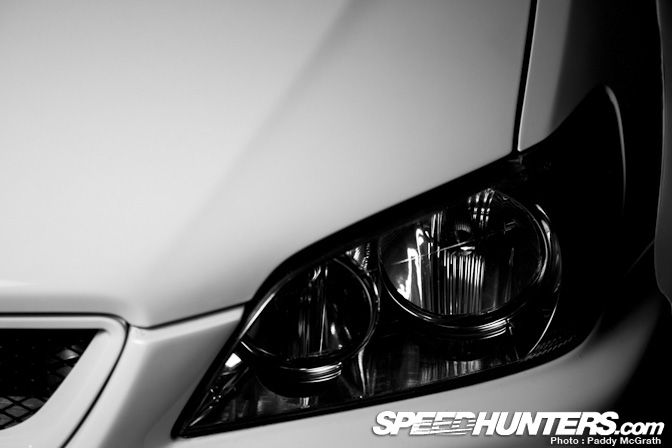 It took a long time for him to drop his dreams but not after fighting tooth and nail in every direction to try and salvage them. Eventually he moved on and inspired by another colleague he excitedly rang me to tell me what they had come up with.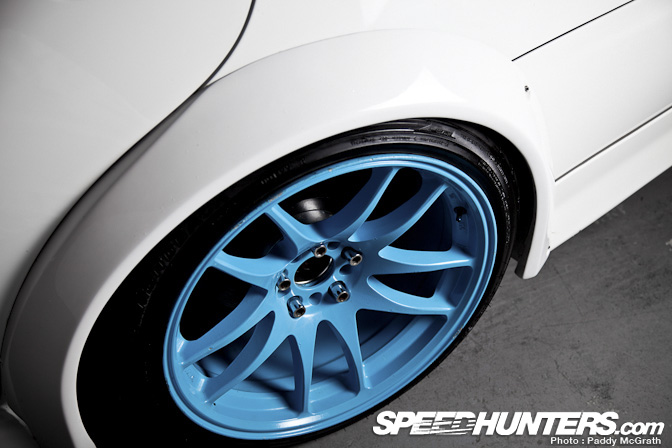 To summarize this idea in the simplest possible terms is this; a quality built drift car that could be re-shelled in a single weekend on a minimum budget.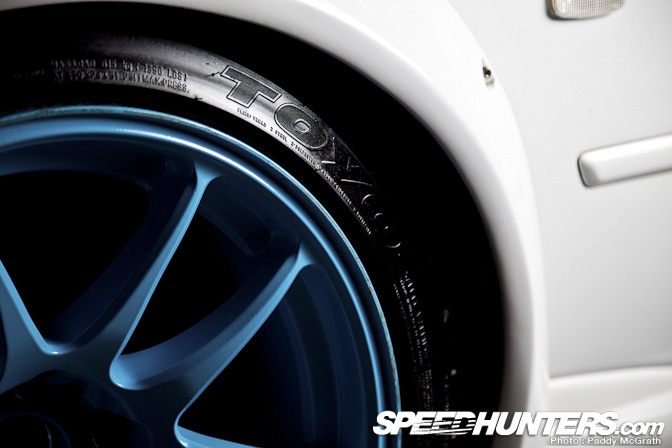 A car built with thought and and skill but that he would have no qualms to bounce it off another car should the need arise.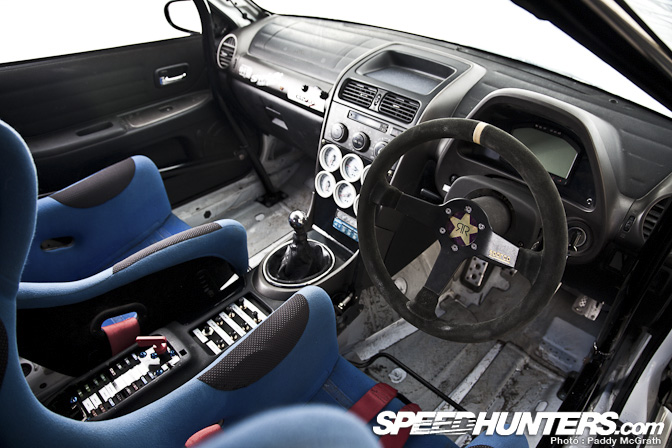 Some two years (and sixteen paragraphs) in the making, it is my absolute pleasure to bring you a Speedhunters world exclusive, the Wexican Motorsport SR20 DET SXE10 Toyota Altezza.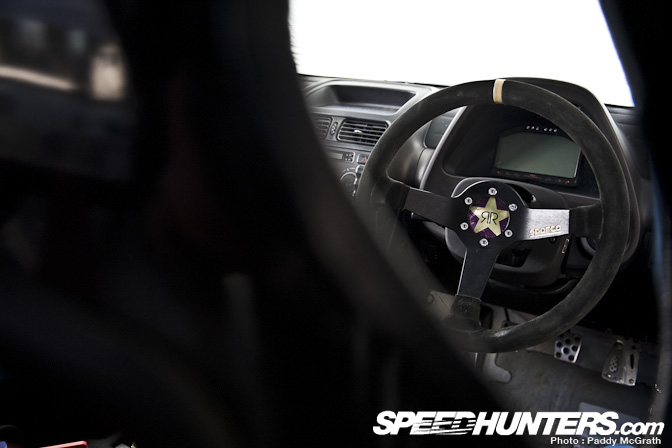 Let me detail some of the highlights of the build : 450BHP SR20 DET, TD06 20G, Works wheels and the best bit, it's all road legal.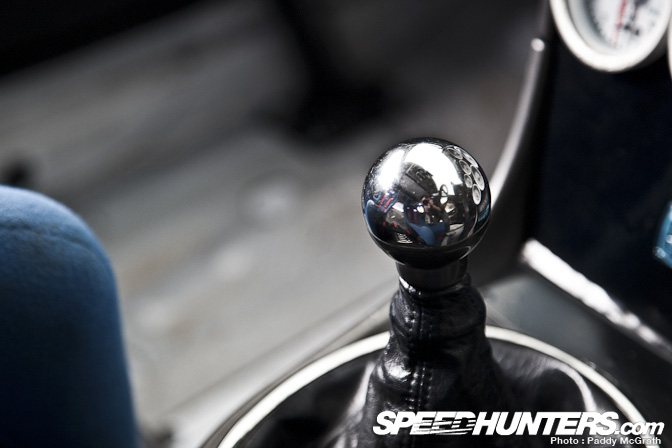 What Martin lacked in the financial means he more than made up for with talent, ingenuity and raw passion.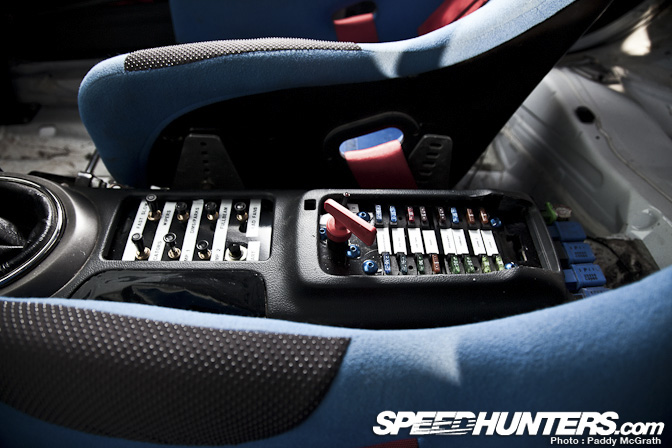 Most would consider a 'budget' build to have as many corners cut as possible but not Martin. Being a bit of a perfectionist, everything had to be done right from the off. No short cuts, no half-assing.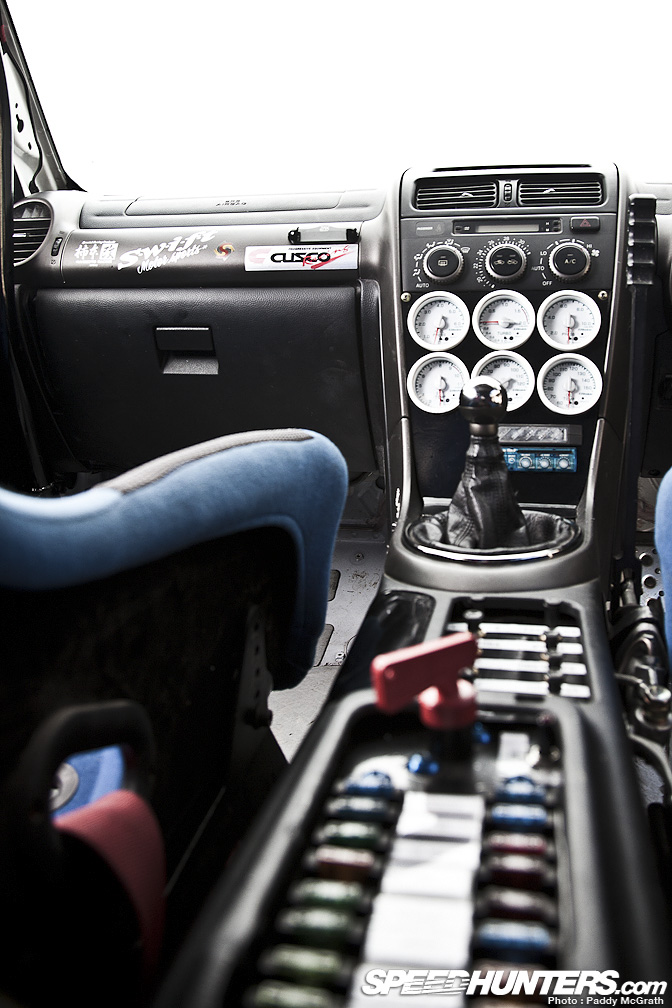 As he often tells me, it's as easy to do something right and tidy than to it rough and wrong.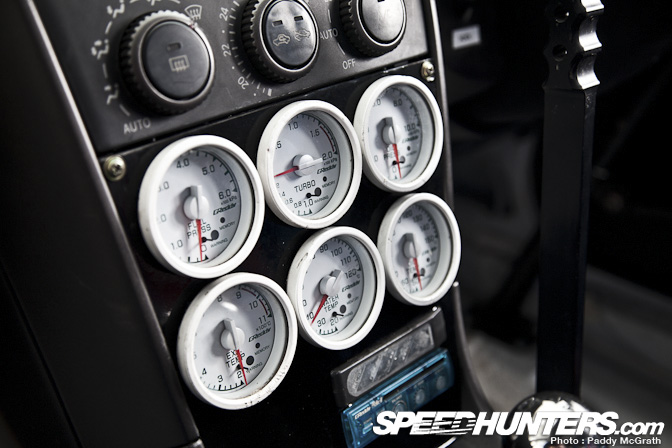 Having stripped the wiring loom completely from the car, the car still features fully working heaters, wipers, indicators, headlights, dips, parking lights and brake lights. It might sound obvious but it's amazing how many competition cars don't have working heaters or anything else except brake lights.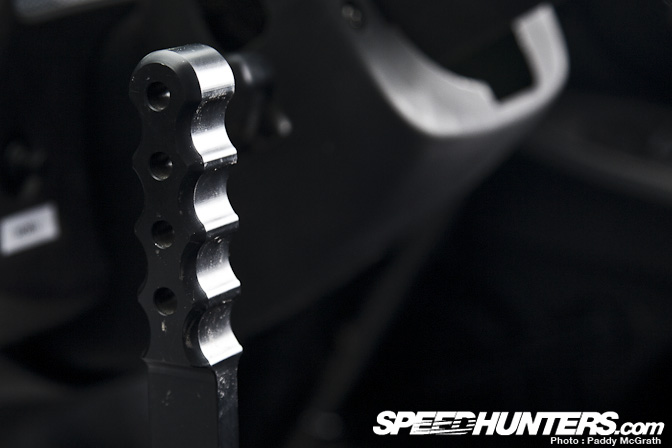 The car still has the performance to keep it competitive, 450BHP is more than enough for any European series and with lots of custom designed and built components the car will have no problems keeping up with the best Europe can offer.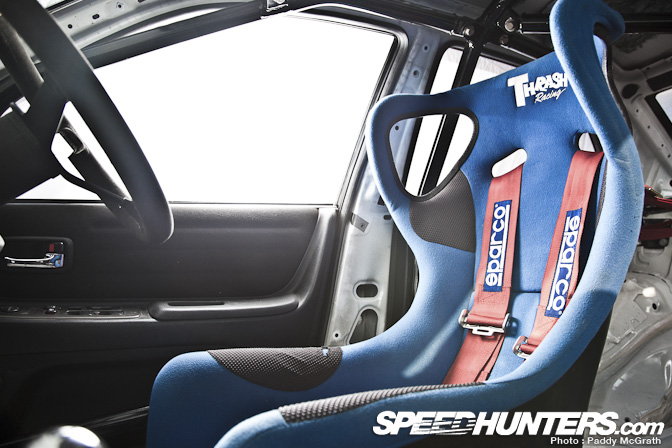 It's small things like retaining a full dash, centre console and door cards that keep things looking civilised on the inside.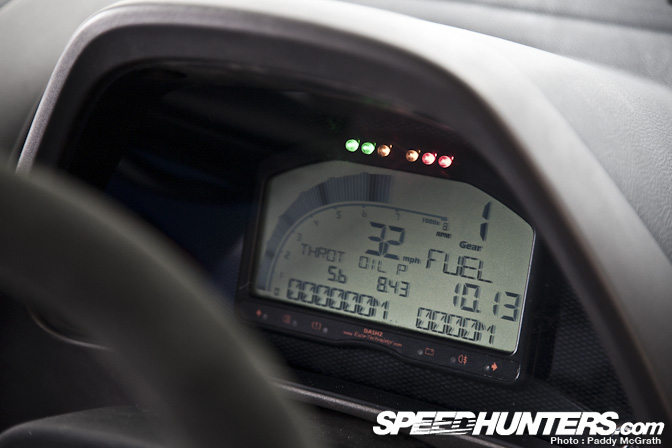 The shell is that of a 1999 Altezza RS200 which was originally to be Martin's road car. The car is currently fitted with a Cusco bolt-in cage which will meet the requirements of most series here.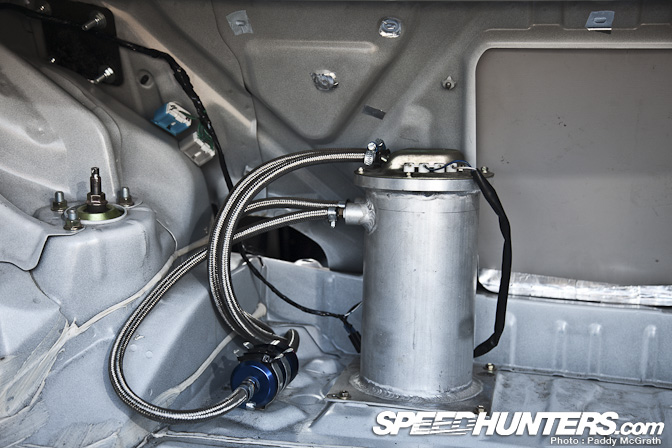 Although not ideal as far as chassis rigidity goes, it does at least
mean the car can be reshelled quickly and easily should the worst
happen. However, a fully prepared shell with a full competition weld-in
cage is almost complete should Martin find the standard chassis is not
up to spec.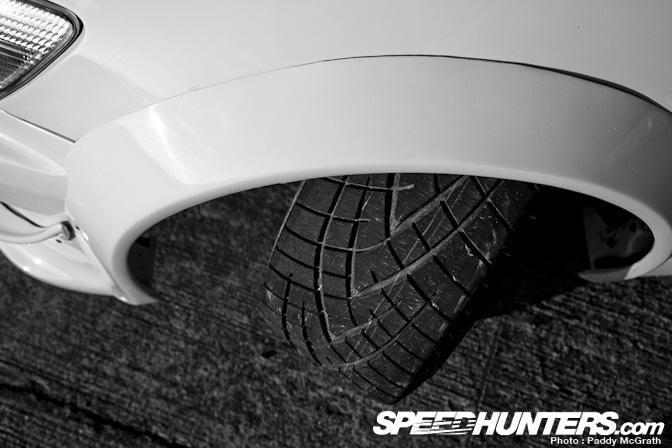 Extra steering lock has been achieved by using his own designs for modified hubs, inner and outer tie rods, lower wishbones, tension rods and Cusco top front camber arms.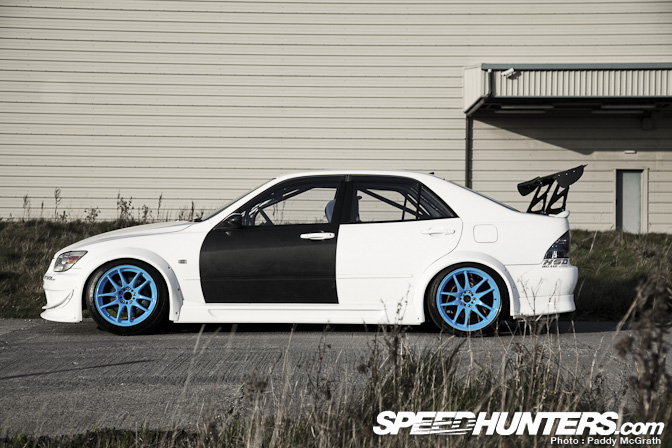 The kit is a bit of a bastardisation; a modified vertex front bumper with modified Hippo Sleek sideskirts, Wexican Motorsport arches and an Origin GT wing. The doors and boot lid are Wexican designed and were created by Carbon Fusion.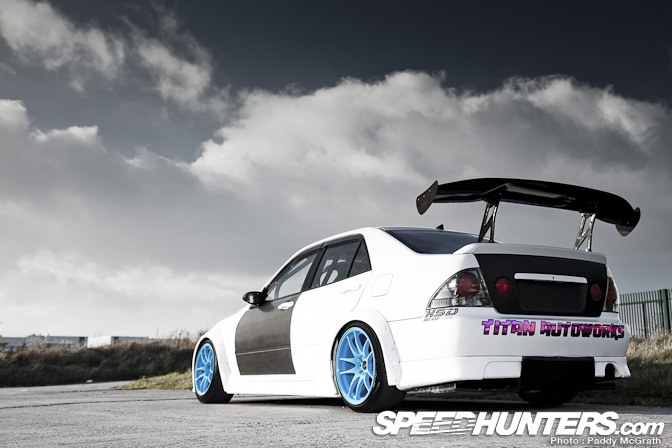 The front wheels are Work CR Kai's in 17×9 ET-5 and the rears are Rota Torques in 18×9.5 ET5 painted in Wexican Motorsport blue. I know the age-old hate of Rota wheels will inevitably pop up in the comments but think of it this way, spend the extra money on wheels that do the same thing or use the same money for more tires and extra seat time? It's pretty simple once you remove brand loyalty.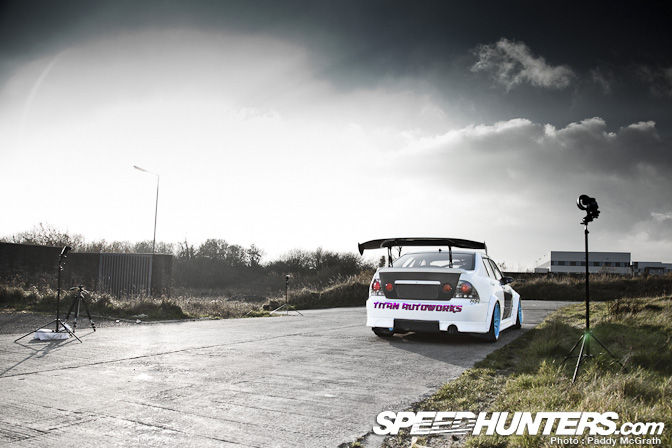 You'll probably have noticed the fact there is no exhaust exiting beside the rear diffuser. This is because the exhaust exits under the car to avoid it being damaged in a rear end in collision.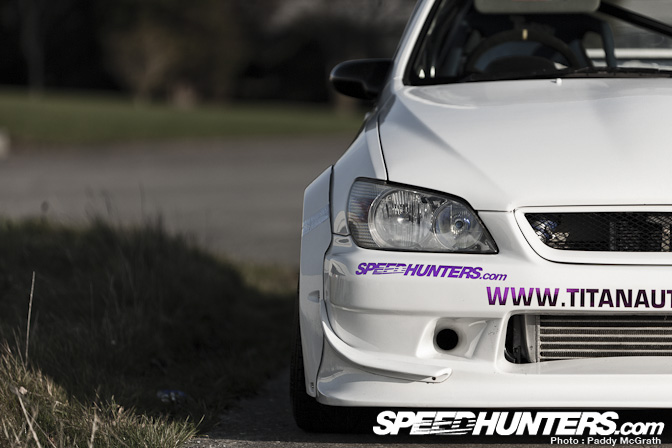 The front canards are also Wexican in design and Martin asked me could I put this question to those of you who've made it this far : Leave them white or re-create them in carbon fibre ?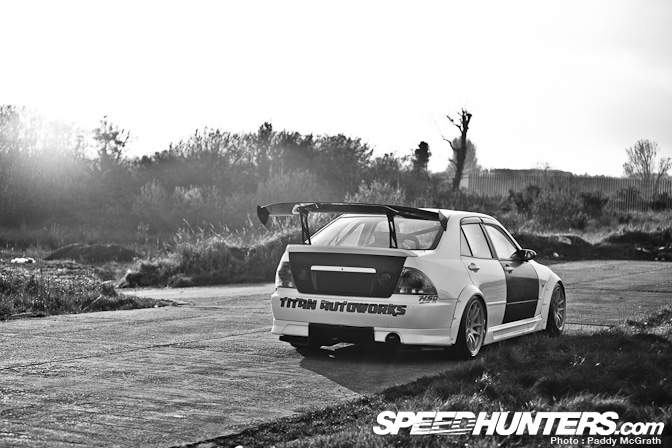 Shooting this car was such a surreal experience for me. I've dreamt about this shoot for so, so long. To see the car moving under it's own power was in it's own way a little bit emotional. Isn't it amazing how big lumps of metal can hold such a place in our hearts' ?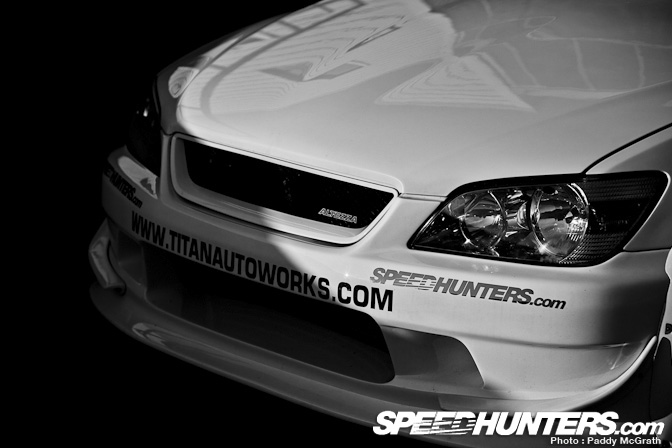 So the journey begins for Martin once more.
Having fought his way back from the brink, it'll be baby steps, just one at a time as the car develops over the course of the next while. I can honestly say that I don't think many people will be as happy as me to see him back on track as he brings an incredible level of natural talent to any event he competes in. Anyone who has seen the guy drive will testify to the fact that the boy has some serious skills.
Ladies and Gentlemen, Martin Ffrench is back.
-
Paddy McGrath
Wexican Motorsport Toyota Altezza with SR20-DET Specification
1999 Toyota Altezza RS200
Wexican Motorsport Arches – made by CarbonFusion.eu
Wexican Motorsport Rear Diffuser – made by CarbonFusion.eu
Standard Rear Altezza Bumper with Lip
Vertex front bumper modified to Wexican Motorsport specification
Hippo Sleek sideskirts modified to Wexican Motorsport specification
Hippo Sleek rear spoiler lip
Wexican Motorsport carbon fibre front door skins – made by CarbonFusion.eu
Wexican Motorsport boot skin – made by CarbonFusion.eu
Origin GT Wing
Wexican Motorsport canards – made by CarbonFusion.eu
Wexican Motorsport tubs – made by CarbonFusion.eu
Universal carbon fibre mirrors
Lexan Marguard windows – made by Plastics4Performance
Late Japanese spec rear lights
Work CR Kai front wheels in 17×9 ET-5
Rota Torque rear wheels in 18×9.5 ET-5
Toyo T1R 225/45/17
Toyota Supra front brakes with Project Mu brake pads
Standard rear brakes with Project Mu pads
Braided brake lines
Wexican Motorsport rear adjustable lower wishbones
Wexican Motorsport rear adjustable traction arms
Wexican Motorsport rear adjustable toe arms
Wexican Motorsport rear modified top wishbones
4.1 final drive with Cusco 2-way LSD
Wexican Motorsport front lower wishbones
Wexican Motorsport inner and outer tie rods
Wexican Motorsport modified front hubs
Wexican Motorsport front tension rods and brackets
Wexican Motorsport front roll centre adjusters
Cusco top front camber arms
Wexican Motorsport modified front subframe
HSD Coilovers supplied by Driftworks
Cusco anti-roll bars (front & rear)
Cusco under-body bracing (front&rear)
Standard fuel tank with uprated Altezza fuel pump feeding swirlpot and Wexican Motorsport fuel return.
Five litre swirl pot in boot
Bosch 044 fuel pump in swirl pot
Braided fuel lines
FSE Bullet fuel filter
SR20-DET
Greddy TD06-20G turbo
87mm Greddy pistons
Uprated rods
Unknown camshafts
Greddy fuel pressure regulator
1.2mm steel head gasket
850cc injectors
Uprated throttle body
OS Giken twin plate clutch
RB25 gearbox
Wexican Motorsport one piece steel propshaft
Wexican Motorsport wiring loom
Cusco bolt-in rollcage
Race Technology digital dash display
Greddy gauges (oil temperature, oil pressure, boost, water temperature, fuel pressure, exhaust temperature) and controller
Greddy boost controller
Sparco steering wheel
Sparco harnesses
Thrash Racing seats
Upright hydraulic handbrake
Factory heaters
Custom switch panel and light controls.
Sponsors
Titan Autoworks
Driftworks
Plastics 4 Performance
CarbonFusion.eu
CleanCar.ie
WKD Imports
PMCGPHOTOS