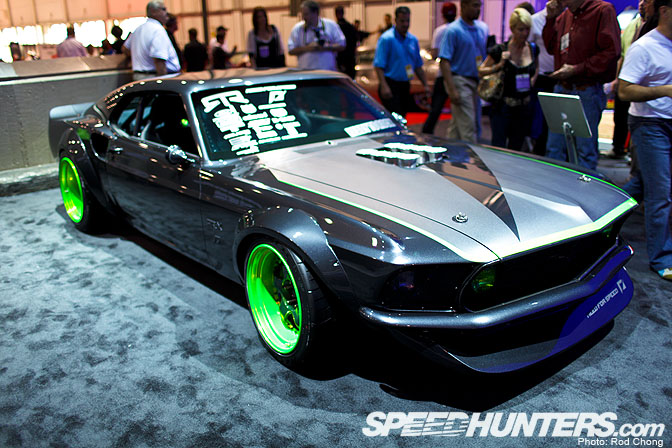 Can I get your attention away from watching the F1 proceedings in Abu Dhabi to take another look at the RTR-X?… I know, I know I've overstating the point, but I just love this car so much!… can't… stop… blogging… about… it… send… help….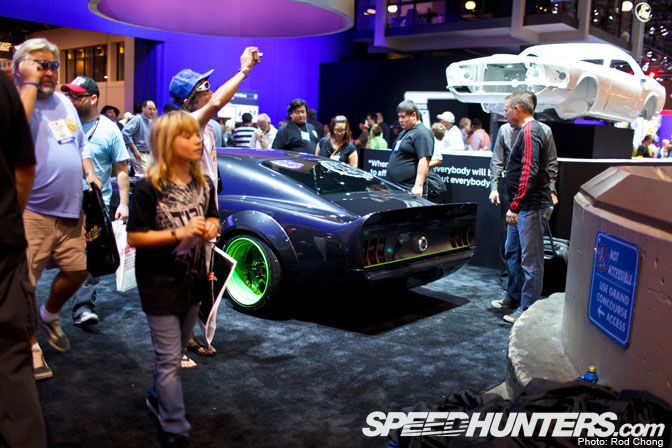 Most of the time at SEMA is was a little hard to get a clear shot of the car.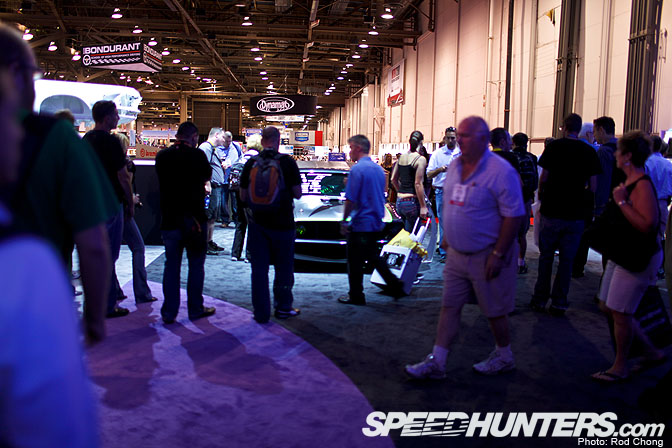 There were just too many people all around the RTR-X all the time!… OK moving on…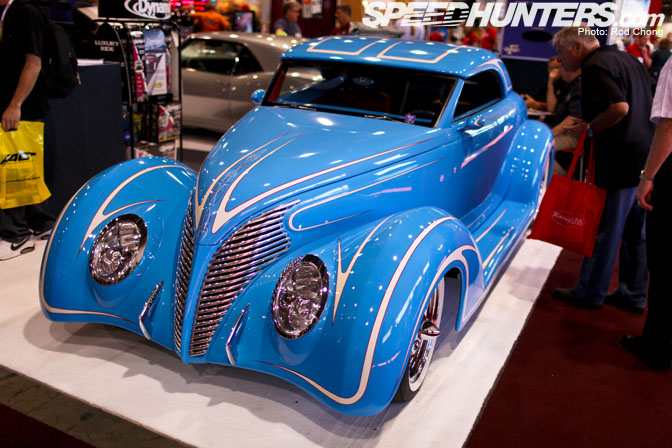 Here's a car I found to be quite intersesting. It mixes of elements of a smoothster '37 Ford look with bits of traditional custom style.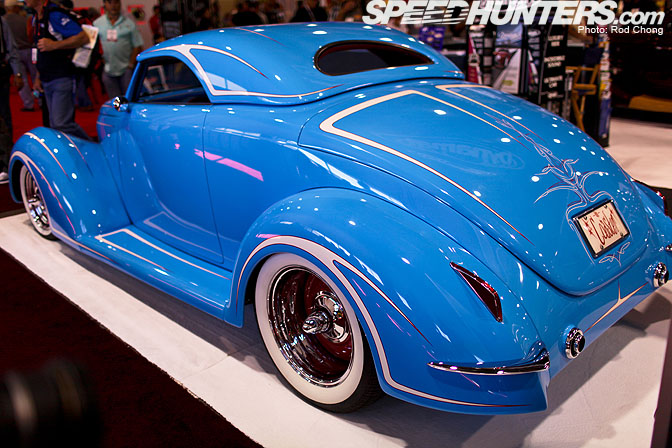 Is it a rod? A custom? Do we care? The wheels are sort of traditional, but they have dish and are slightly low profile… the paint is a nice subtle scallop job… and it all adds up to something that feels a little bit fresh and new.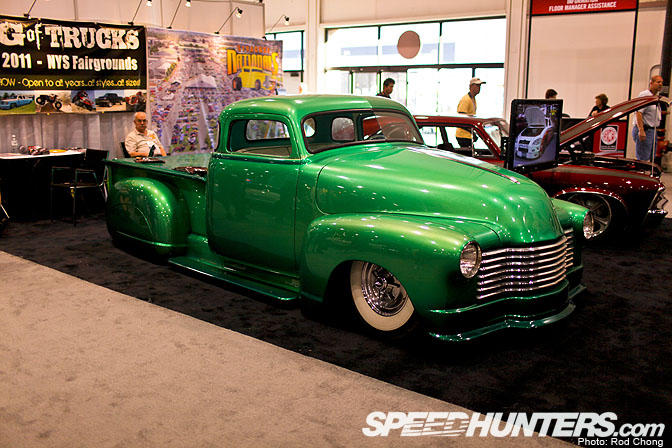 Here's a beautiful machine. What is this… a 1948 Chevrolet pickup? Sure looks like it to me.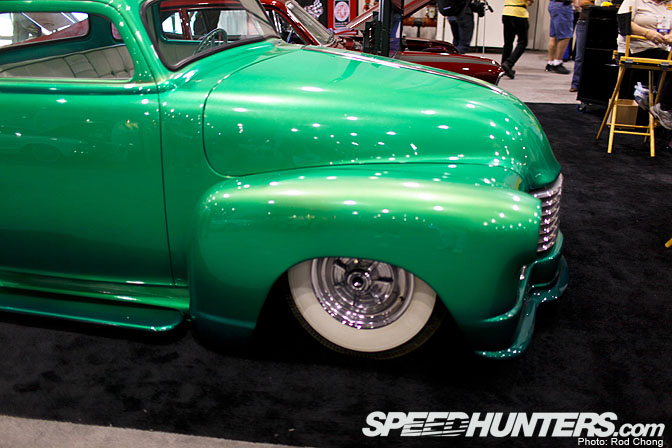 Talking about trends of the year, the whole custom pickup thread is continuing to build momentum. This Chevy is a prime example of this burgeoning scene. Love it!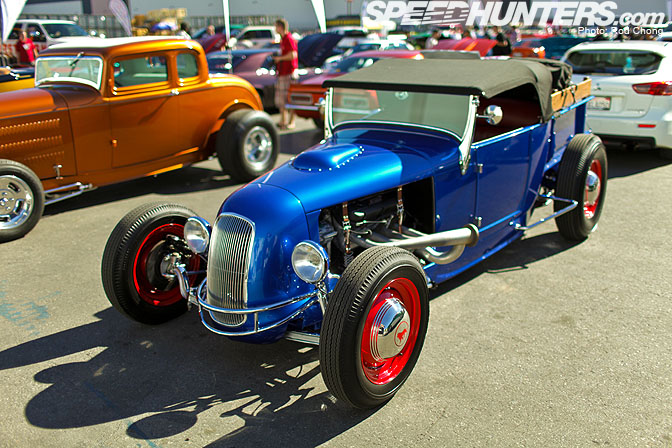 Andy Blackmore already stepped through the cars from the Prime Media exhibition, but he didn't highlight this clean track style pickup roadster. It looks great in electric blue.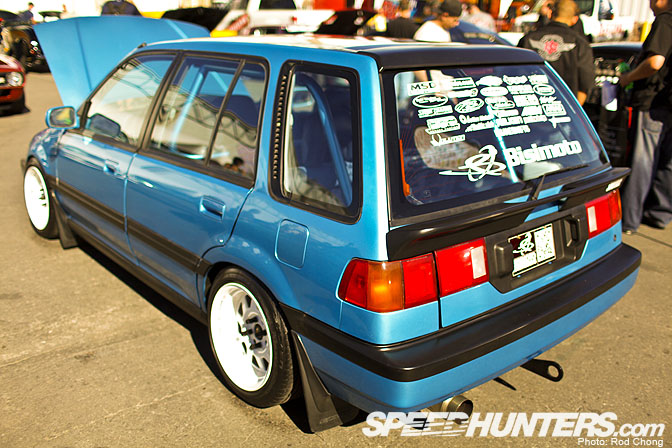 The Bisimoto Civic wagon was on display at the Falken booth at Formula D Irwindale. I did a double-take then, and again at SEMA had to stop to admire it.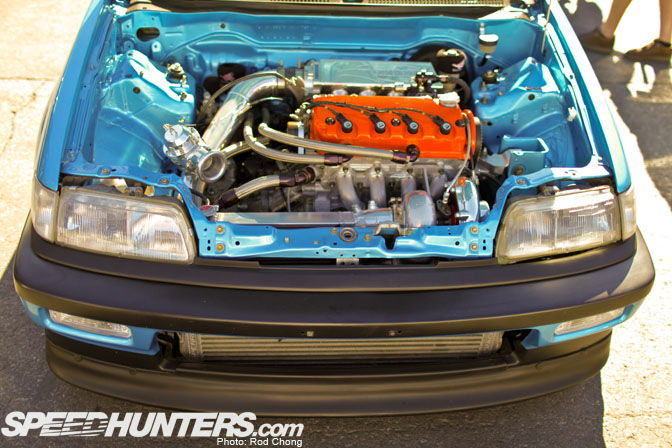 Before you write this off as a show and no go Hella Flush, trend-mobile, a few people mentioned to me that it has over 700 bhp running to the wheels. An inspection of the engine bay confirms this. This is no ordinary build.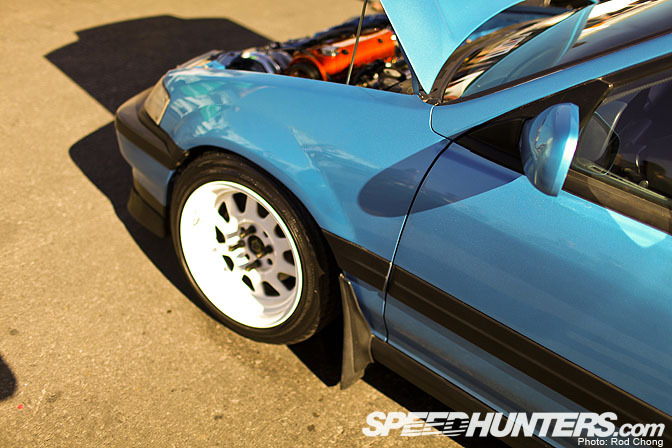 I'll see if I can't get a shoot organized with this car. You reading this Mister Bisi?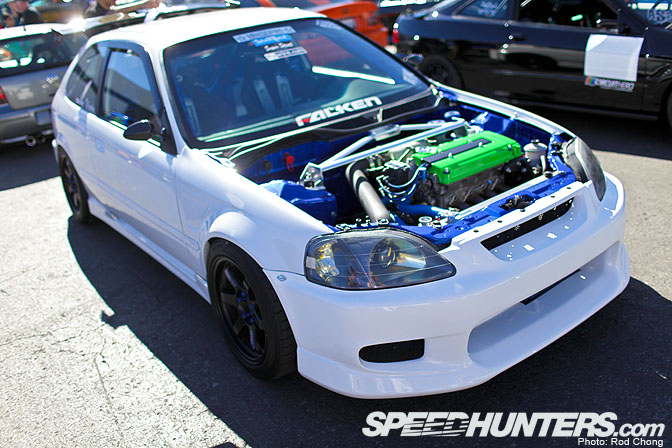 I don't have much to say about this Civic… I just like it, and see that it's looking all rather 2010 with it's tuning presentation. Nice build!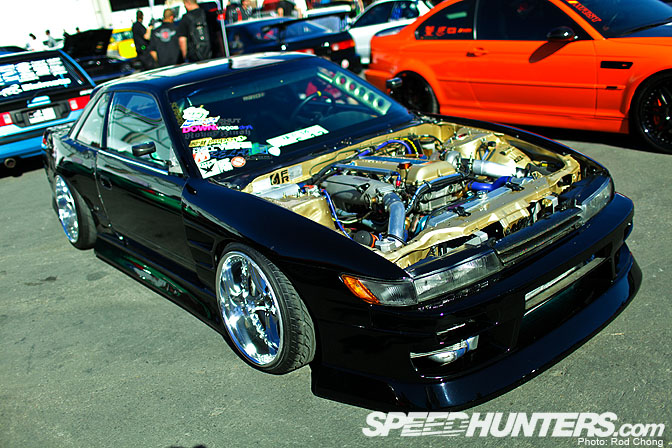 Also looking very 2010 is this LHD S13 Silvia which a few people identified for me as "Josh Herron's room mate's car".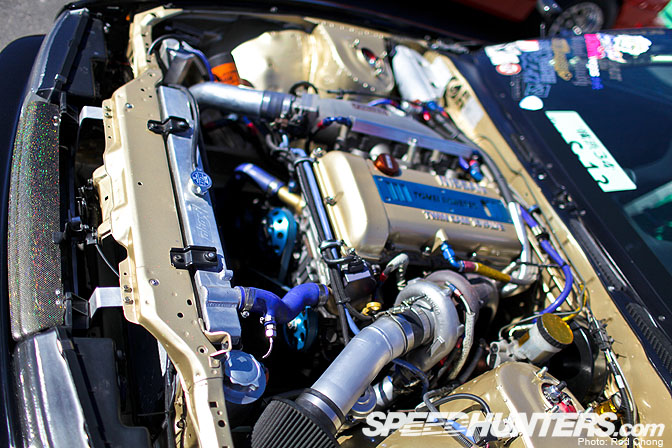 Coloured engine bay: check. Exposed engine: check.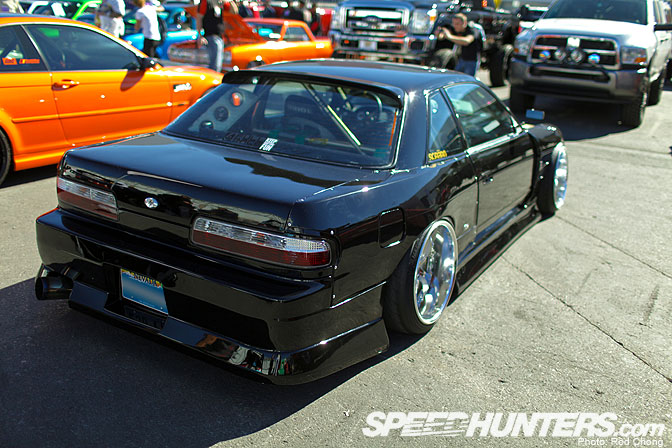 Slammed stance: check. Stretch Tires: check. Boso-mild exhaust: check. Colour matched roll cage: check…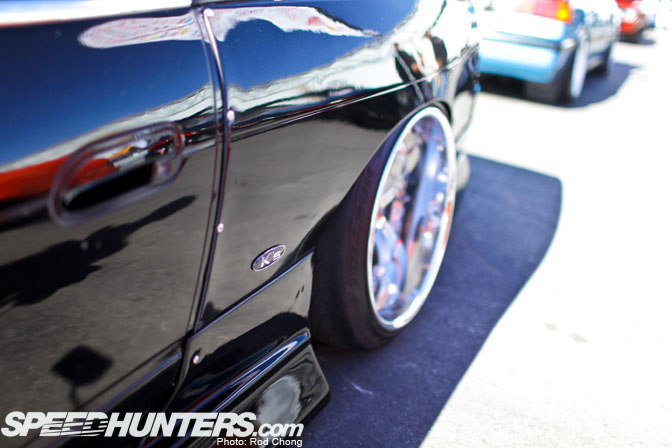 Mega dish rims, check. Exposed overfenders check… Yes this is as good as it gets folks. All S-Chassis owners should take note of this car.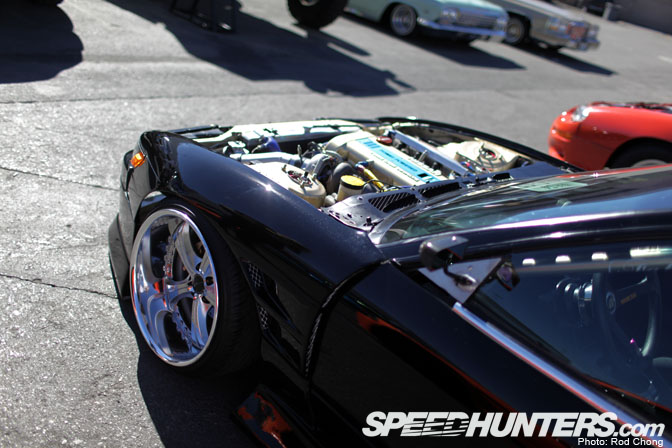 Look at that lip! I think this could be one of the top street S Chassis builds of the year. Stunning stuff.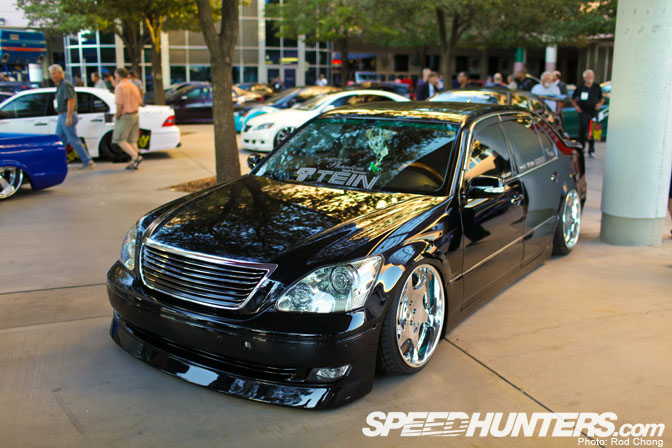 A few years ago I was complaining to people there were no VIP builds on site to speak of. Well SEMA 2010 didn't disappoint. There were plenty of VIP machines kicking around the Las Vegas Convention Center.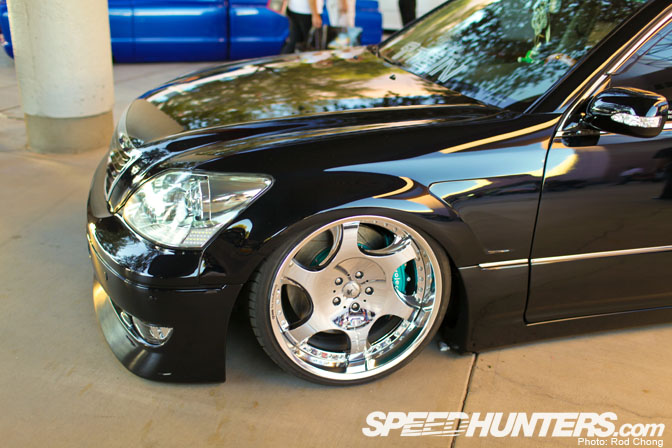 I look at these Weds Kranze rims and I am immediately reminded of Mad Mike's RX8.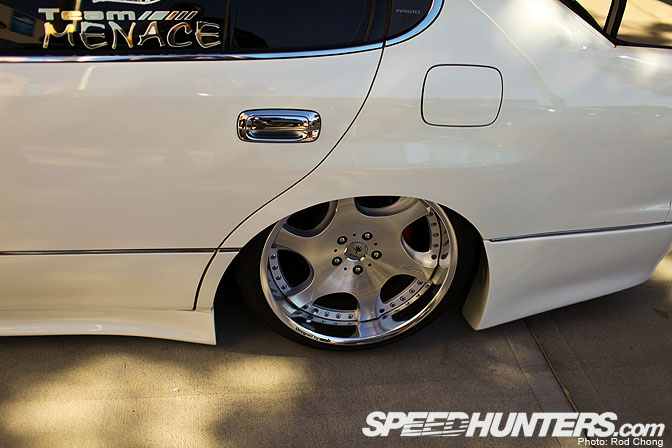 I've been staring at piles of these rims in our Formula D pits all year haha… fantastic design IMO.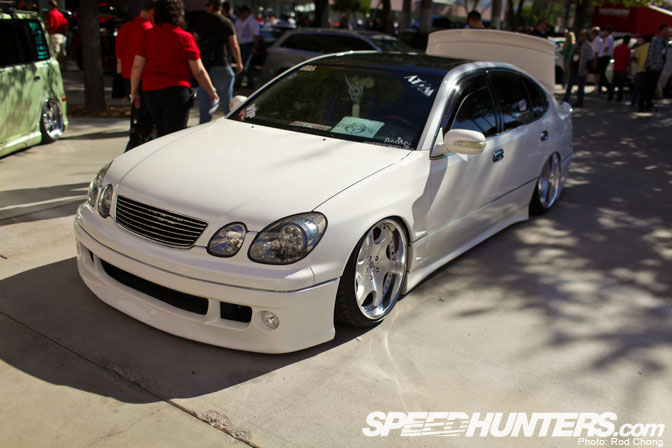 I do wonder why this style of car hasn't picked up in other parts of the West very much. This Aristo is perfection on wheels.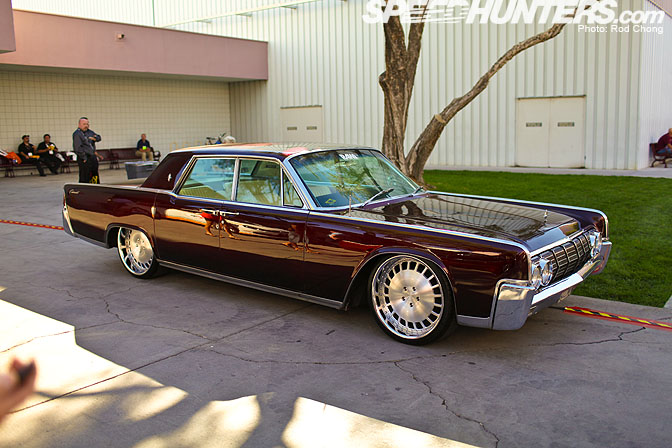 I could also say the same thing about this Continental.  It's the old school equivalent to VIP style.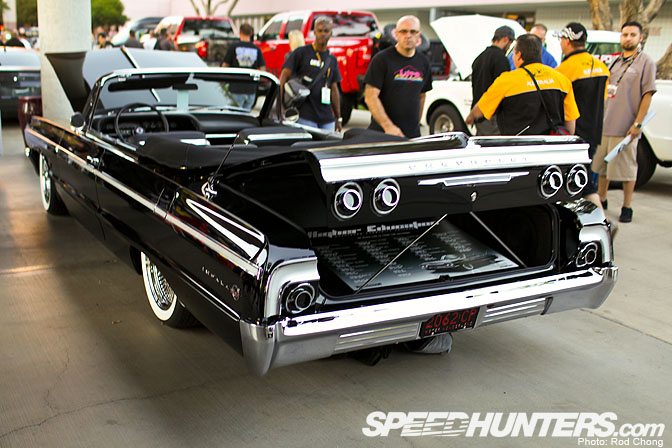 The whole low/clean/big formula is of course something that goes right back to early Lowriders and Customs. It's nothing new, which is why I can admire an Impala as much as an Aristo.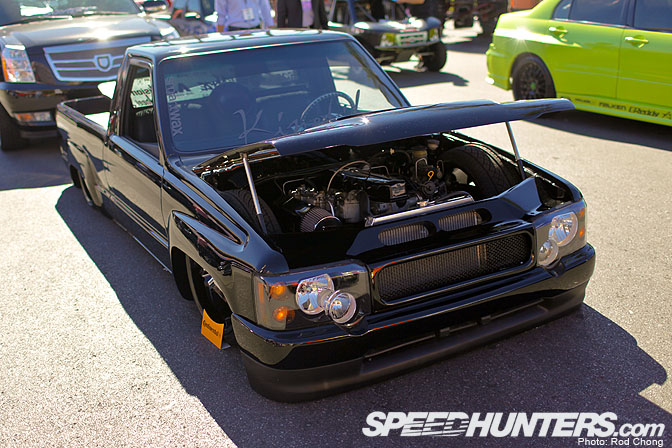 You know, I spent a moment looking at this Minitruck… somehow it felt cool to me.. but I it could also have been the sun.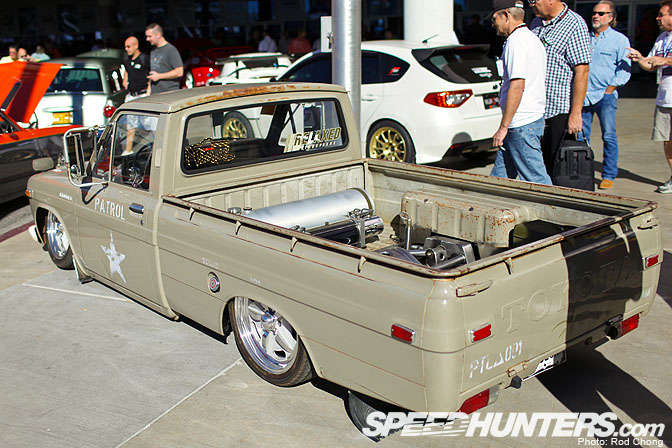 Don't you think this is cool? A Rat-tastic dropped vintage Toyota pickup? There's something happening here isn't there?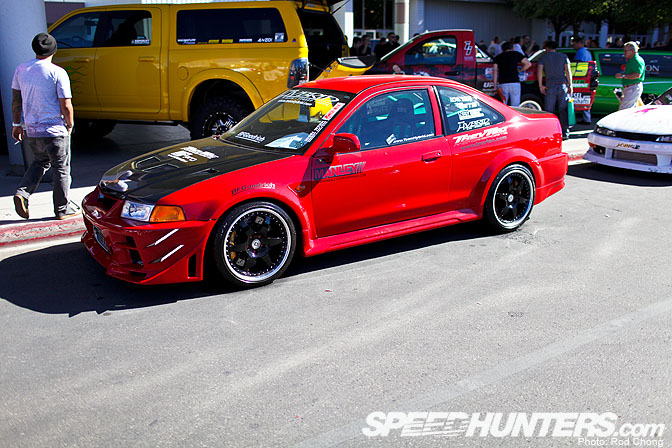 I have a soft spot for old Evo's and quickly snapped this shot as I was rushing past this car on my way to a meeting… It was only looking at the photo just now did I notice that this is not a normal Evo of any sort. It's a coupe!… What's going on here?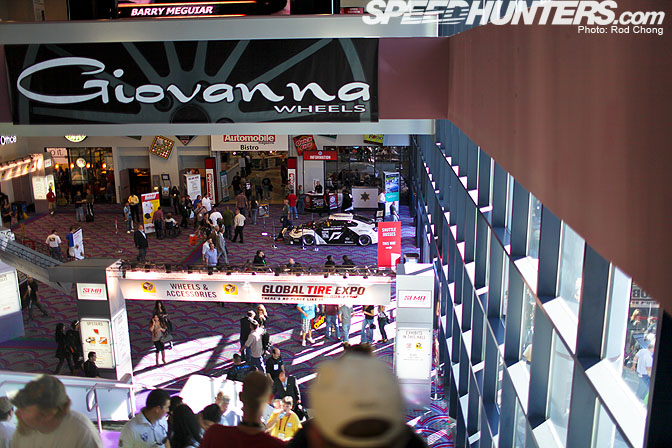 Spot the billion horsepower Scion!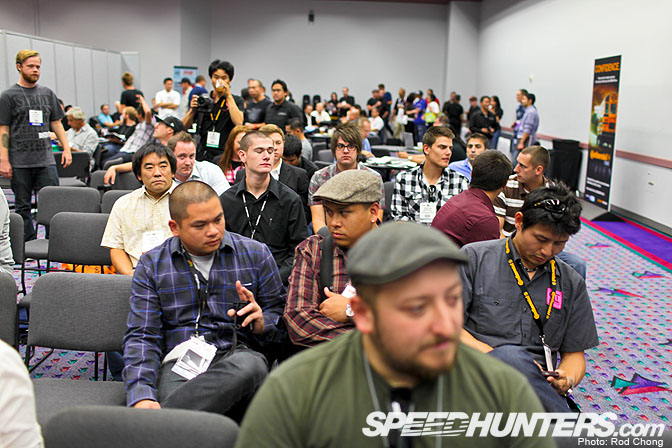 Here's a photo from the assembled crowd a few minutes before the Formula D press conference was about to start. Spot any one you know?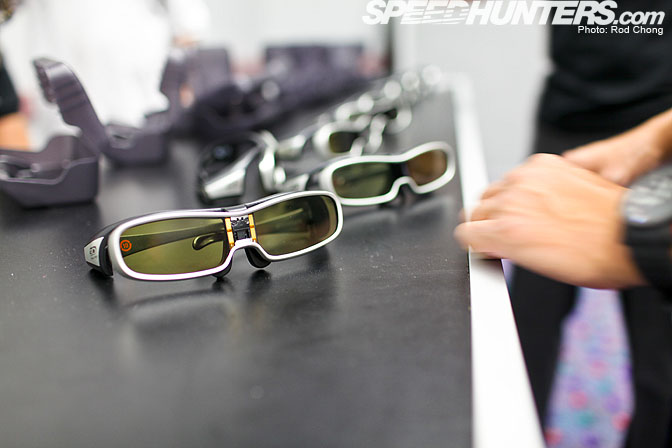 The FD crew were excited to show off their new HD 3D programming.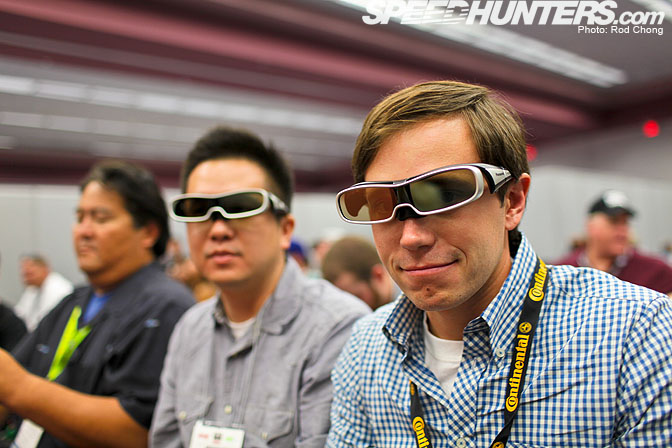 So a few of us media types in the front row got to check out a preview of the 3D Irwindale show which was quite impressive. That's Peter from Modified and Jonathan from Super Street in the shot.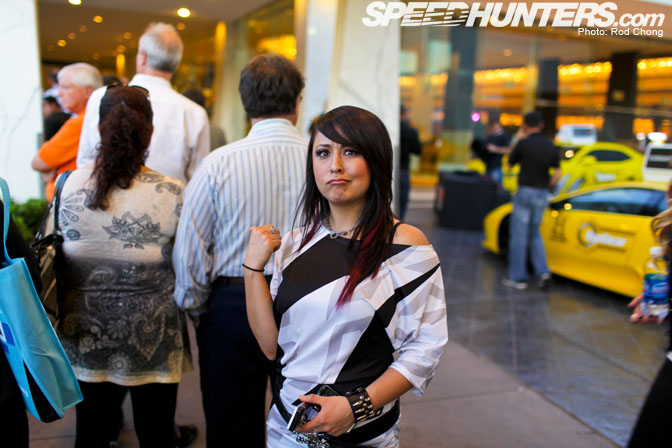 One big factor of attending SEMA is the problem of leaving… you often have to wait over an hour in a cab line up which can tax one's patience.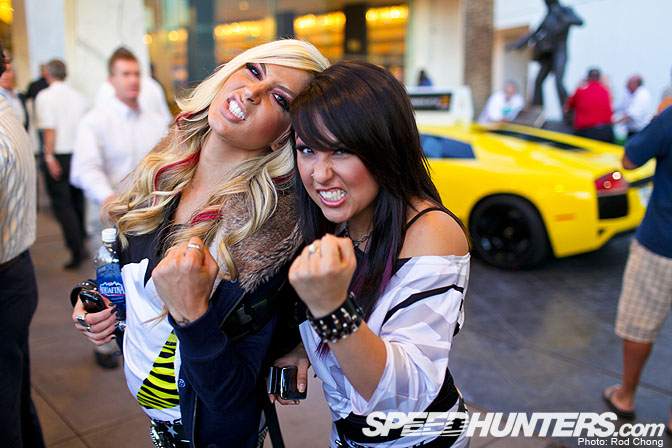 The NFS Girls were starting to get restless…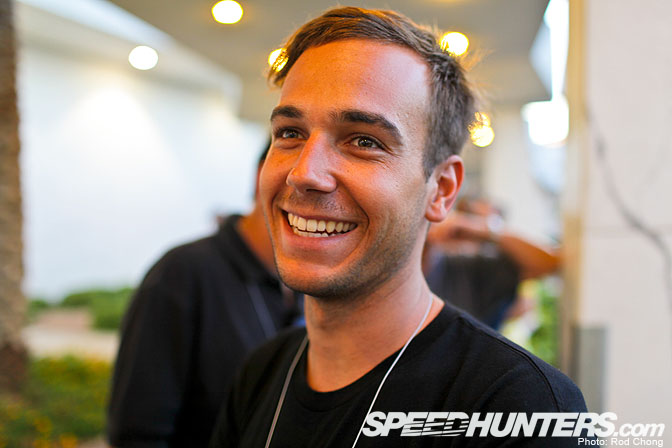 While Matt Powers didn't seem to mind…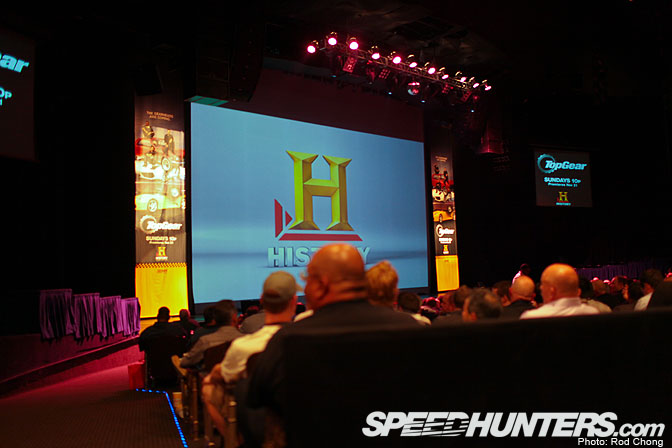 Personally, I have the attention span of a 5 year old, so we cut out of the line to catch the premiere of the new Top Gear USA series. although I'm a diehard fan of the OG UK show and remained a little critical of the final product, I felt quite proud of Tanner Foust for his achievement with this new venture.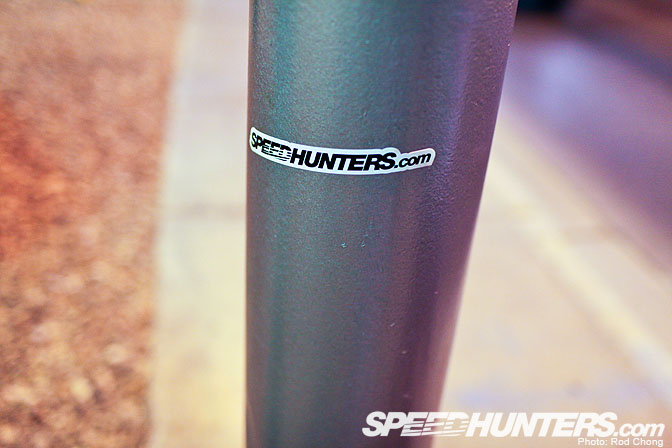 Unfortunately even after the showing was over we still faced a massive wait for a taxi… so we decided to WALK to the next casino. Perhaps this was a bad idea, but along the way I saw this sticker attached to a random Las Vegas light pole… and that made my whole week!
:R