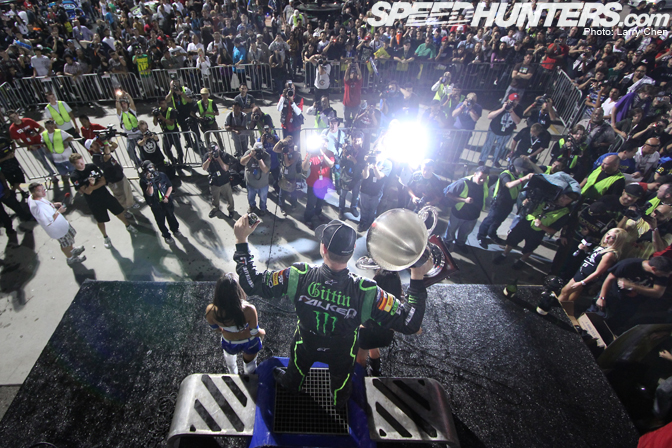 I don't have to save any energy for the long haul back across the country in a stuffy trailer, because I live within walking distance from Irwindale Speedway. I made it a point to push my physical limits and shoot as much as my aching arms and legs will let me. I ended up averaging one photo every 12 seconds for three days straight. I figured if there was any race worth this much effort, it would be the Formula Drift finals at Irwindale. It may have taken seven years for Falken to win a championship but I know it won't be another seven for them to achieve glory once again.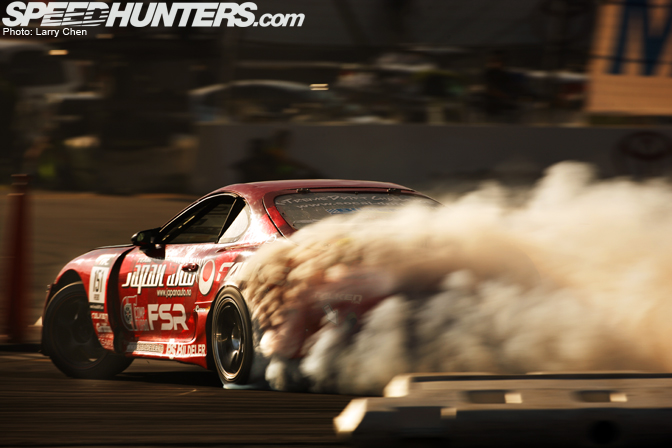 Fredric Aasbo ended up with rookie of the year. If there was an award for "Most likely to lose parts while drifting" Fredric would win for sure.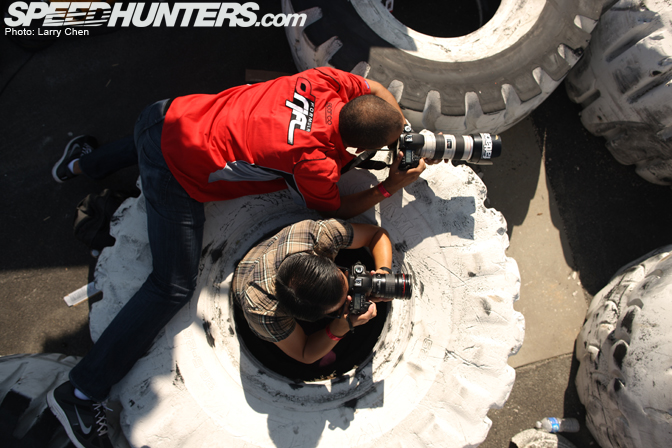 Linhbergh and FD staff photographer, Jose Martinez, are two photographers that push the envelope every time we go trackside. Jose is the only one I know who can get sharp pans on blur.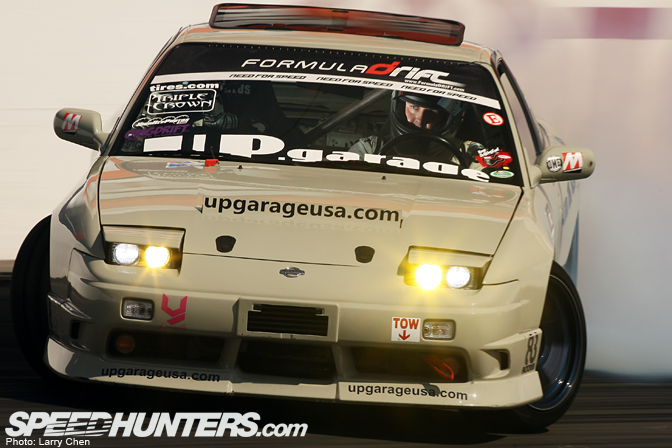 Nikolay Konstantinov was the last person Vaughn Gittin Jr. had to crush in order to lock down the championship. Unfortunately Nikolay crashed during practice. He fixed his car before top 32 but the chassis was tweaked beyond an overnight repair.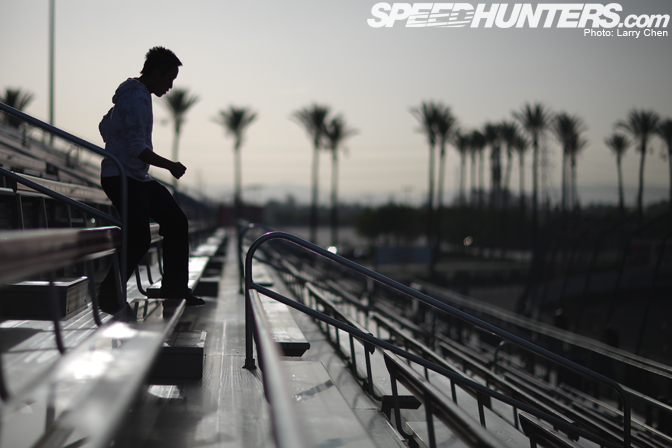 Joon Maeng was starting his day with morning exercises as always. He even convinced me to run the bleachers once. Of course, he beat me.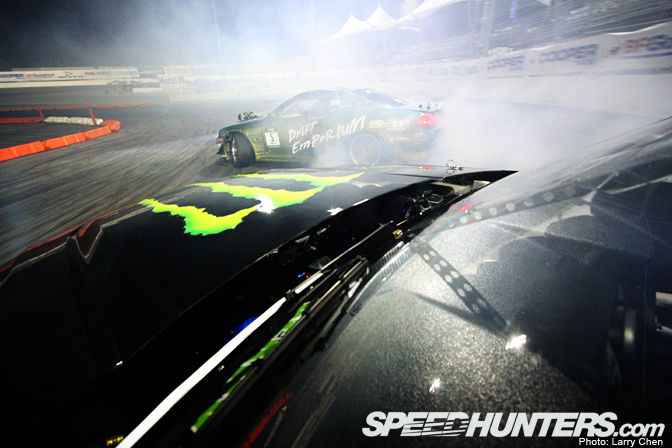 It was good to see Michihiro Takatori do so well in the final round. I hope to see him next year as a championship contender since it was his first year in this V8 powered S15.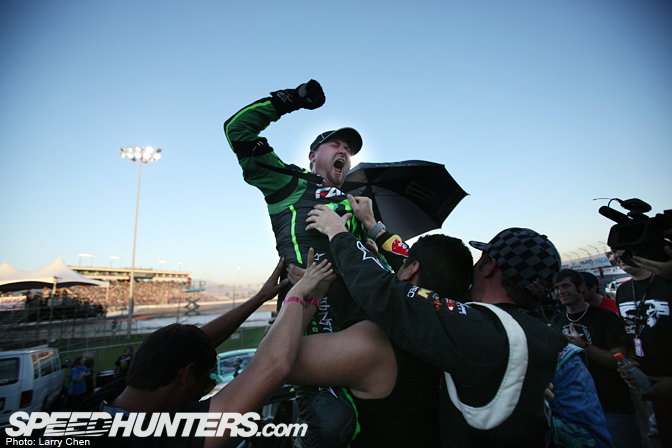 It's great to see back to back drivers who came from a drifting background win the championship.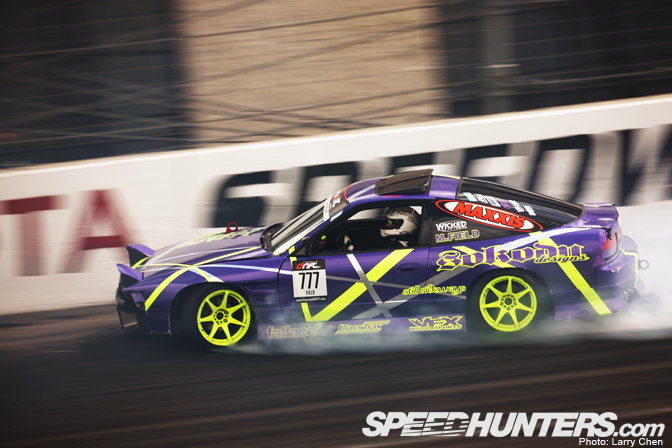 Matt field wrecked his ride fairly bad during practice but he got his car back together before qualifying and ended up getting a lucky break when Daijiro Yoshihara knocked himself out.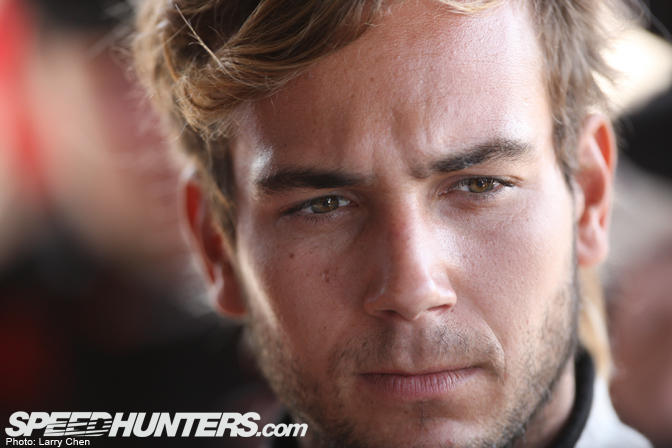 Matt Powers drives his heart out and ended up with a top 8 finish. The house of drift has been good to Matt. At least this time he didn't have to flat tow his car to the track.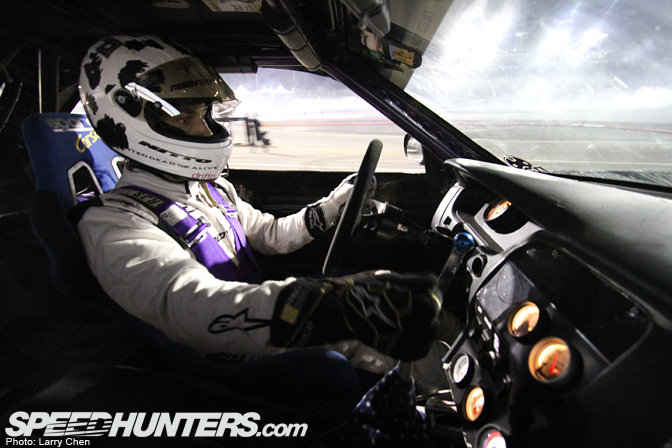 Ever since Matt Powers got his new transmission he hasn't had a shift knob. Instead, he wrapped the gear shift with electrical tape. Someone sponsor him a shift knob!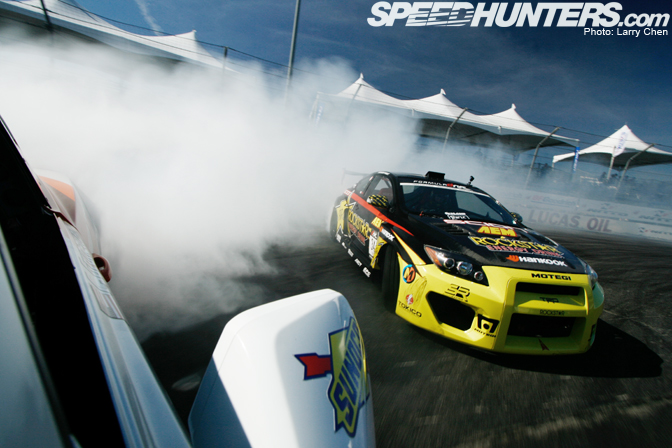 During practice Tanner Foust went up against Conrad Grunewald. Tanner ended up spinning but when the two met in the top 16 he did not make that same mistake.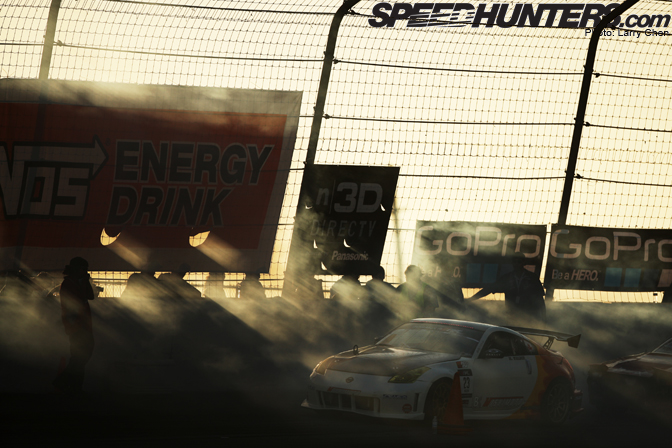 Matt Waldin came out to party. He ended up qualifying a very respectable 15t. Unfortunately, he wrecked his 350z beyond repair during top 32 practice.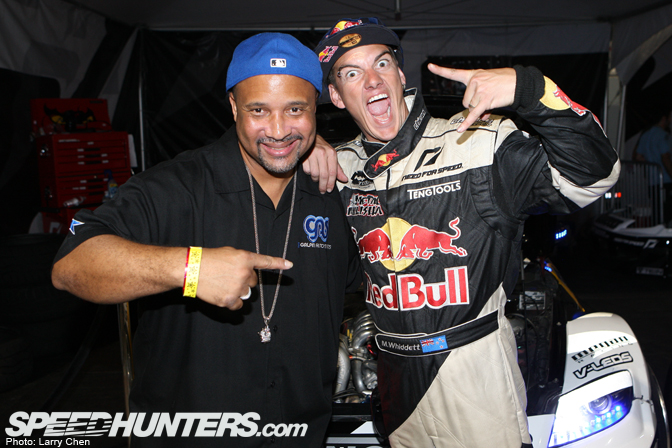 I'm seeing double here!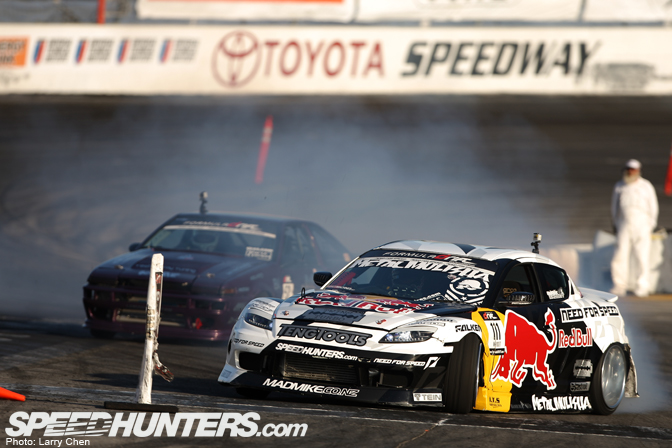 Mad Mike Whiddett won the award for "best looking car" and "most improved driver". I also think he should win "least windshield visibility award"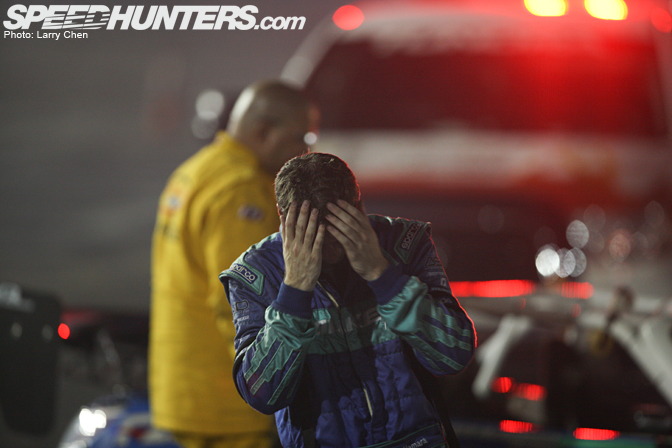 Darren McNamara was on point all weekend until he made all the media run for their very lives by crashing into a k-rail.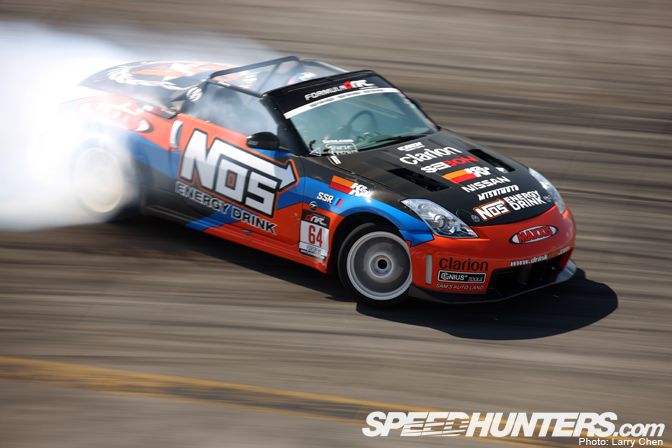 Chris Forsberg was his normal consistent self.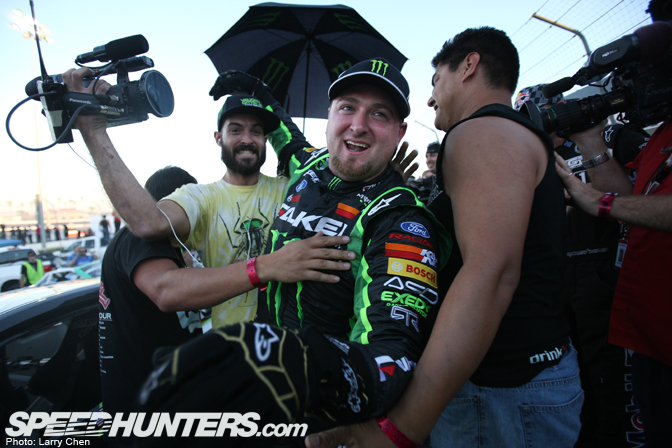 Video guy, Andy Laputka, following Vaughn Gittin Jr. around as usual. Andy has a key role in the no music movement in drift videos. I look forward to seeing his video from Irwindale.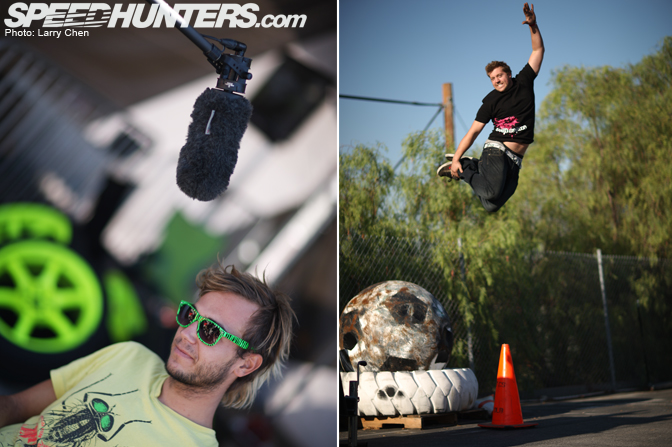 The jump shot is my version of a video interview. But I only ask one question. Would you like to do a jump shot?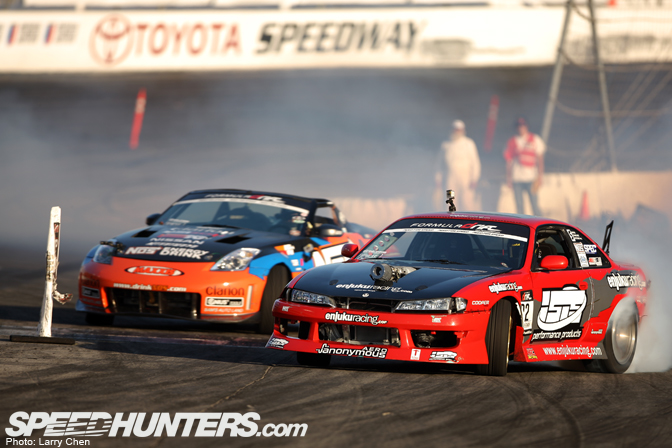 I really like Bill Sherman's driving style. He is always about "go big or go home" which is the complete opposite of Chris "Consistent" Forsberg.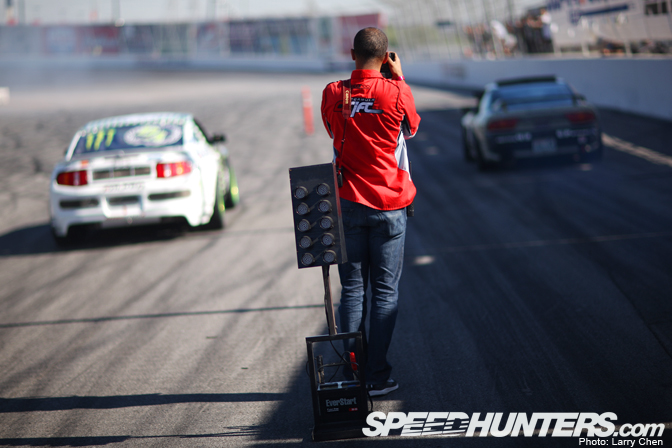 Nikolay Konstantinov ran Vaughn Gittin Jr. before they met for their top 32 battle. It did not go to well since Nikolay's RB26 powered S13 was leaking all kinds of fluids. I mounted my camera on his car for this run and it ended up getting soaked with coolant!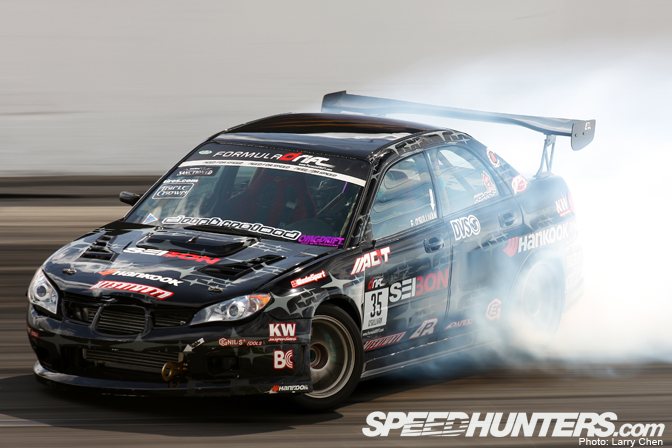 Eric O'Sullivan has had a string of bad luck all year and he went out with a bang by wrecking in the top 32 battle versus Rhys Millen.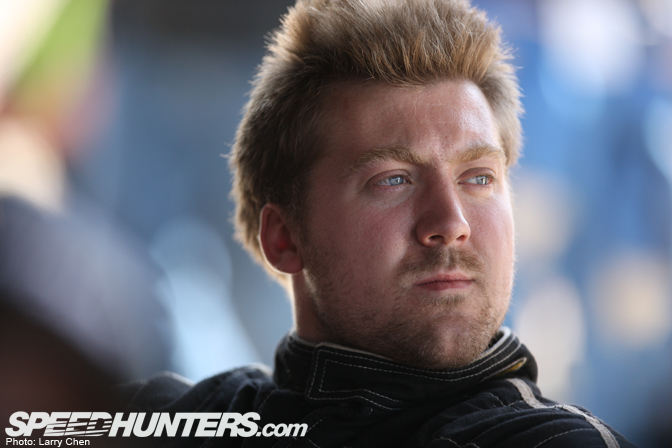 Ian Fournier finished in the top 8. He had some a good amount of luck after getting into the top 16 with a by run after Samuel Hubinette's car went up in flames during practice.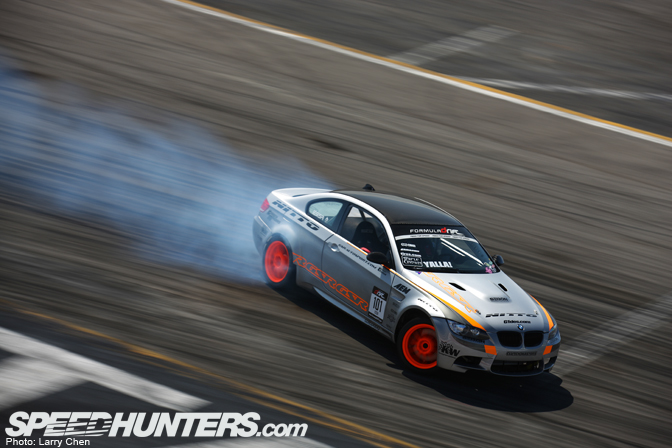 I was hoping to see a comeback from my favorite BMW driver, Michael Essa, after having major engine troubles in Sonoma. Michael did qualify for the top 32, so he just watched and enjoyed the show.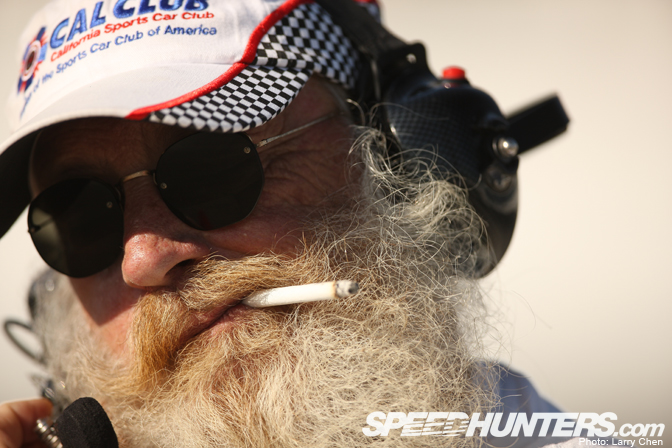 I didn't know SCCA had a North Pole chapter.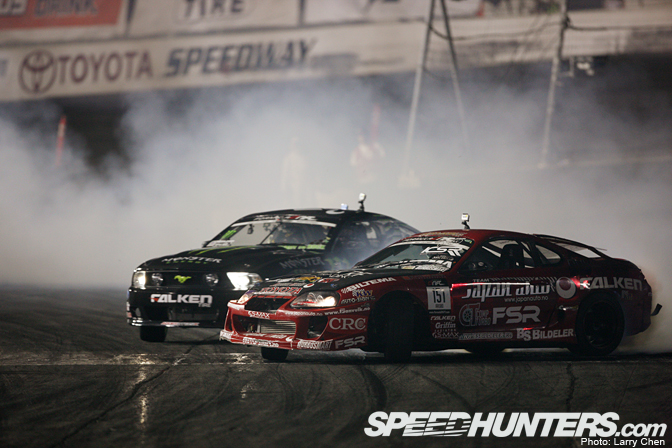 Fredric Aasbo in the classic David vs. Goliath battle. Except this time Goliath drifted his chariot to victory.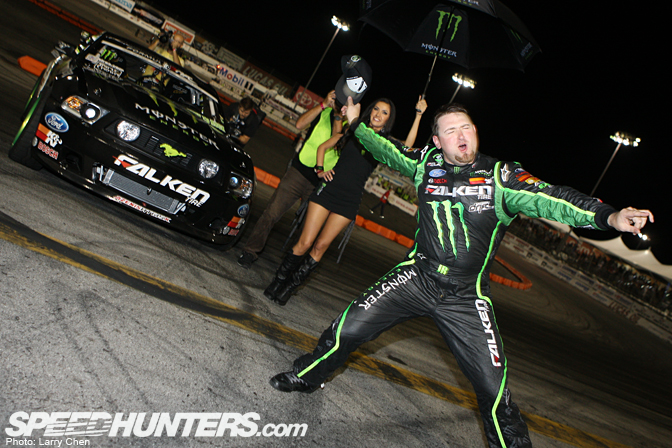 At this point JR already locked in his championship so it looks like he was out to have fun.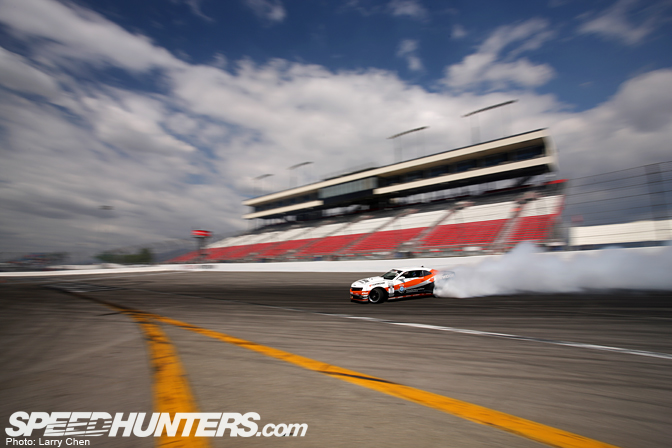 Conrad Grunewald broke a driveshaft during practice right before the top 32 battles. So he asked Jarod DeAnda, the voice of Formula D, to announce if anyone in the stands is willing to volunteer their Camaro SS as a parts car.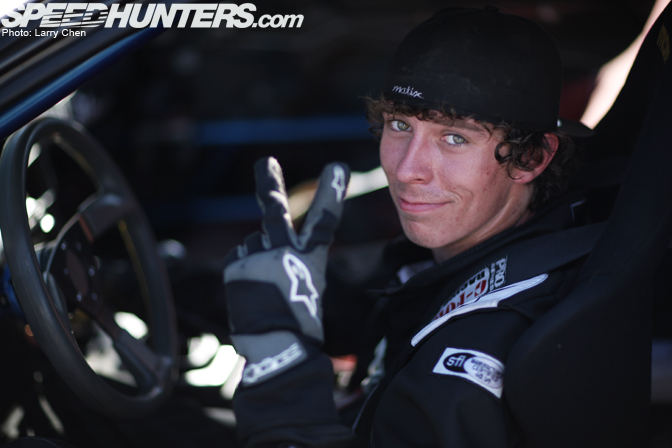 Mike "Buckey" Laing, from Las Vegas, competed in the Pro-am Finals. I don't know anyone else who is more in love with drifting. Buckey has a strict diet of instant noodles for breakfast, lunch, and dinner. He ended up qualifying 9th overall but got knocked out of the top 16 by Walker Wilkerson. Buckey did not earn his pro license but I know he will be back next year for another shot at his dream.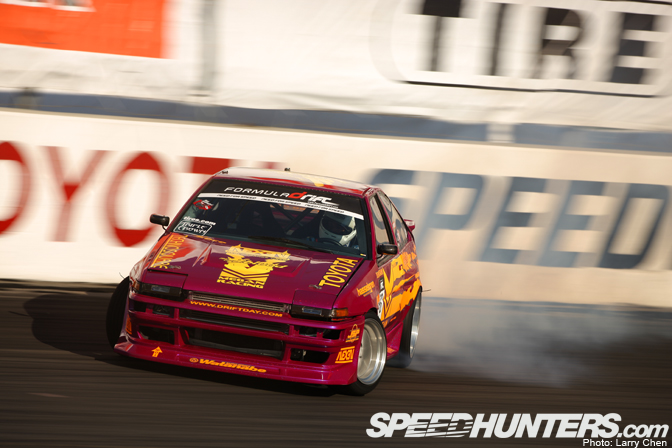 Taka Aono ended up winning "The Spirit of Formula Drift" award. It was much deserved after breaking his leg in Seattle and coming back to drive the next round in Las Vegas!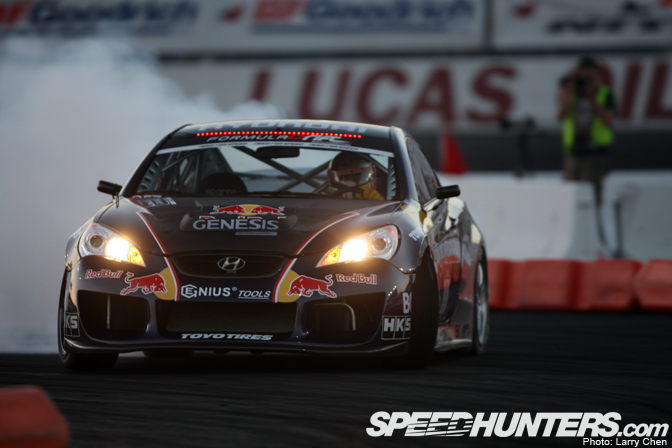 Rhys Millen was doing well only to get knocked out by the number one qualifier. But he finished solid in the top 8 which puts him at 7th place for the Championship which is a big improvement from his 19th place finish in 2009.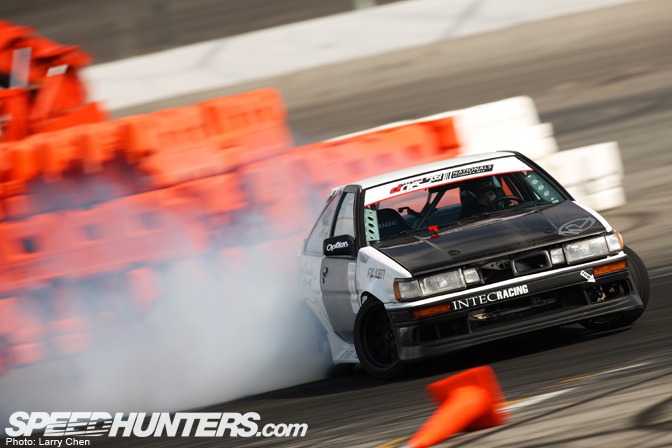 Kyle Pollard drove a very clean Levin faced Corolla in Pro-am Finals. He ended up qualifying 3rd and making it into the top 8. Kyle was awarded his pro license so expect to see more of him in 2011.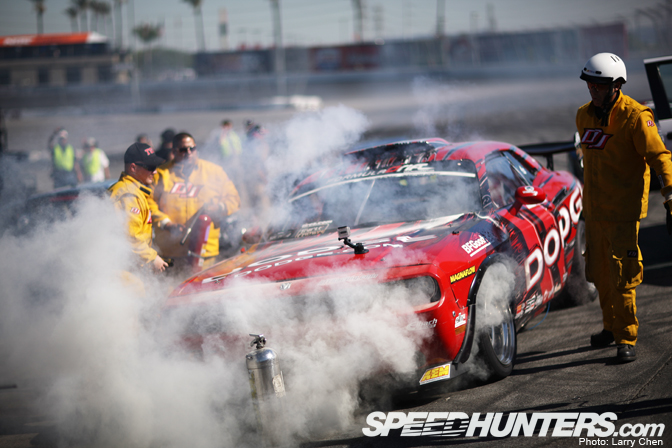 The invisible killer. All I saw were heat waves coming off the Charger being engulfed by a methanol fire.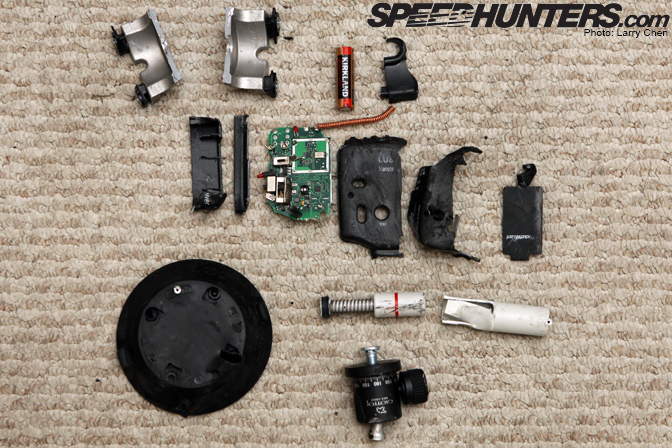 It was bound to happen to me eventually. This is what's left of my remote triggering setup for my on-board cameras. It fell off of Charles Ng's car at full speed during initiation.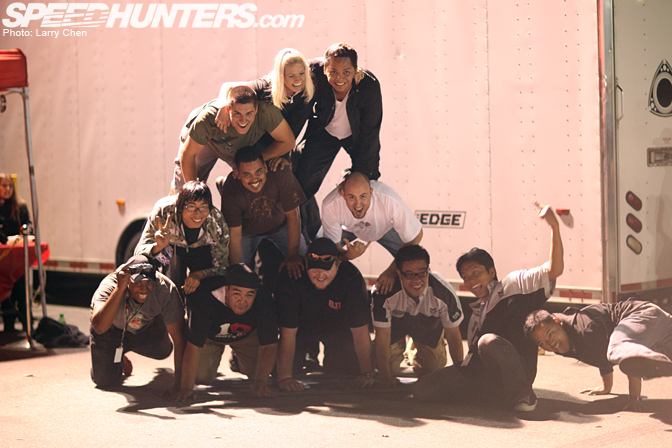 Formula Drift is just as much about building human pyramids as it is about drifting. Looks like we have a strong Megan Racing base with a CX racing middle and a BMI racing top.
-Larry