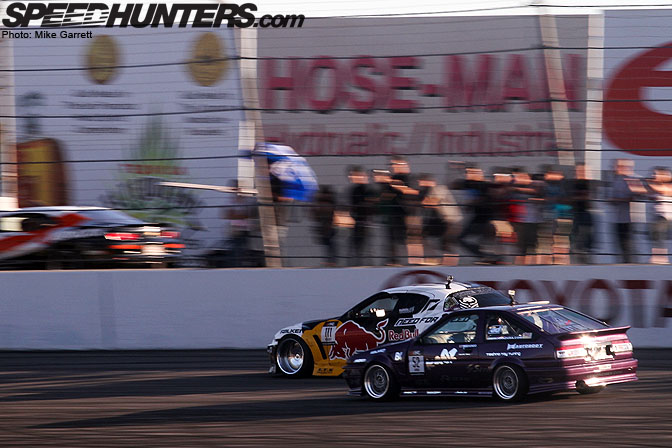 Alright, let's jump right into a look at the Top 32 at the Formula Drift season finale at Irwindale.
There were lots of crashes, tight battles, and one man looking to secure a championship. In other words, pro drifting at its very best.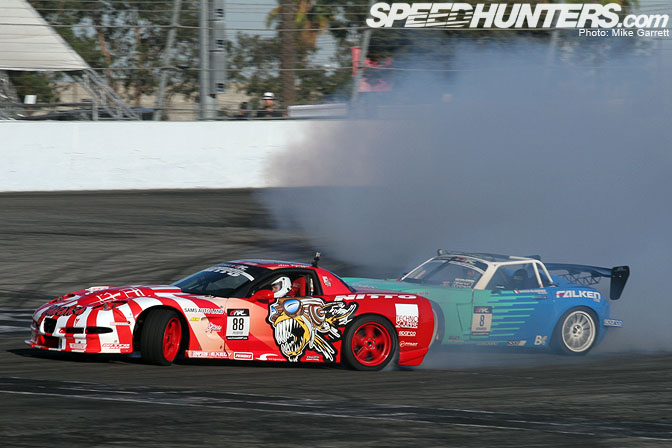 The first battle of the day was the V8 on V8 matchup of No.1 qualifier Darren McNamara and No.32 qualifier Alex Pfeiffer.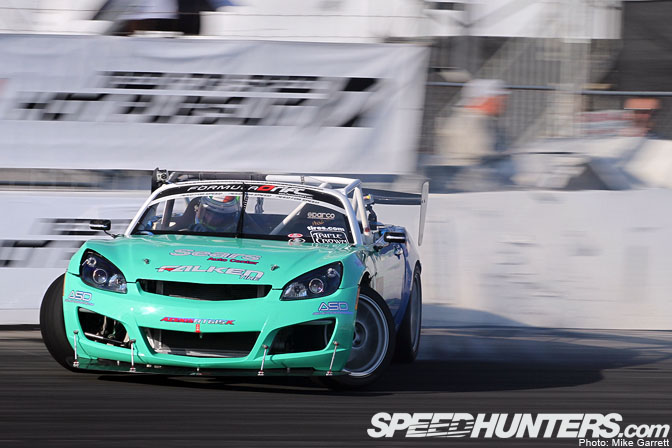 Alex drove well, but in the end the speed of DMac's Saturn just couldn't be matched. DMac gets the ticket to the Top 16.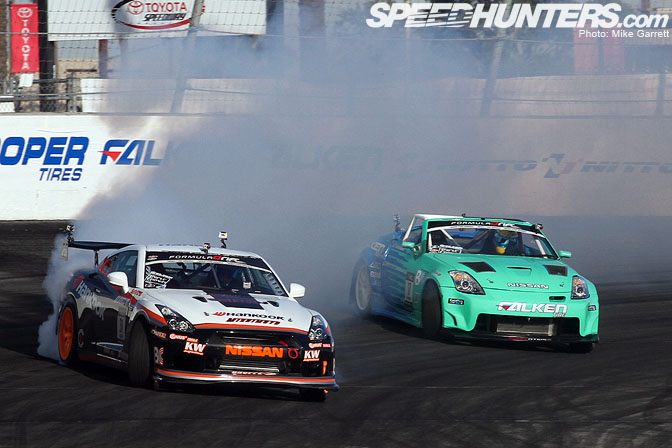 A pair of Nissans came out next as Robbie Nishida faced Tyler McQuarrie.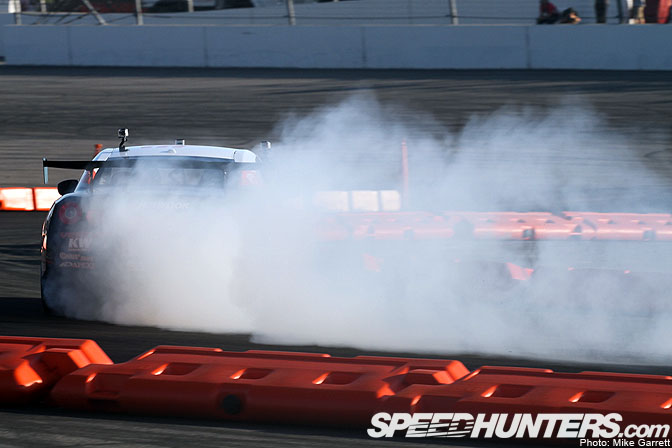 Again it was the ASD car that came out on top here, with McQuarrie taking the win and bringing the Hankook GTR's first season to an end.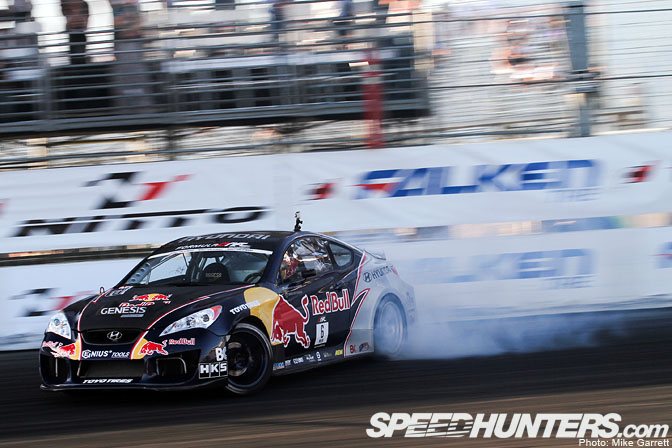 Rhys Millen would take an easy win in the next match after Eric O'Sullivan crunched the wall and lost drift a few times – seemingly out of frustration.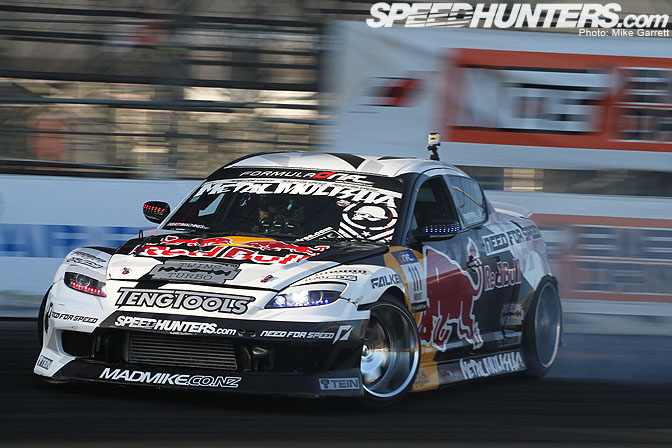 Mad Mike would head out next, facing the AE86 of Yasu Kondo.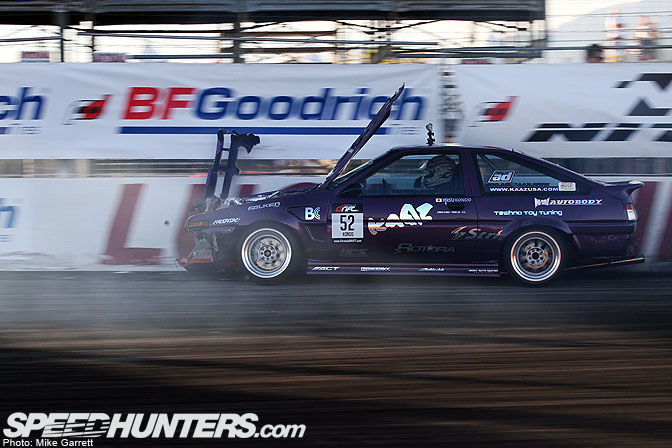 Kondo would end up taking himself out, hitting the inner bank wall and heavily damaging his 86. Mad Mike would be advancing to the Top 16 for the second time this season.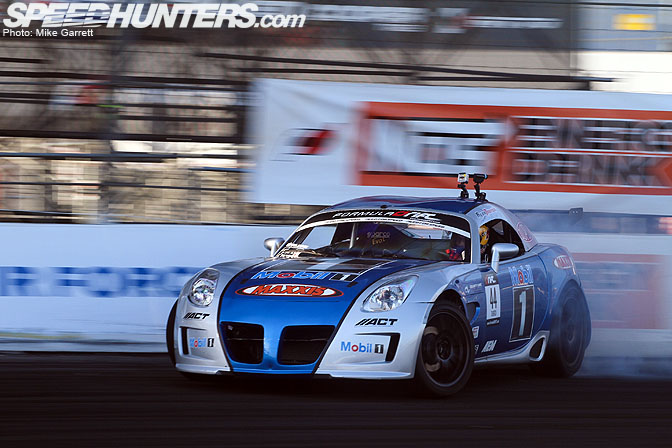 Ryan Tuerck would easily advance from the next match after a pair of textbook runs to defeat Ryuji Miki's Lexus.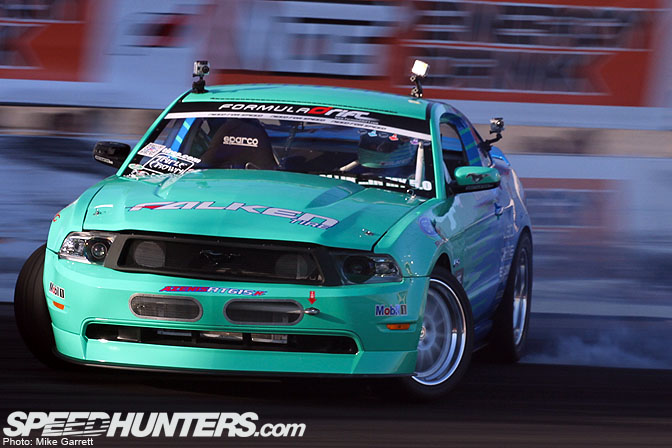 Team Falken's good fortune continued in the next match when Justin Pawlak earned the win over Ken Gushi's Scion.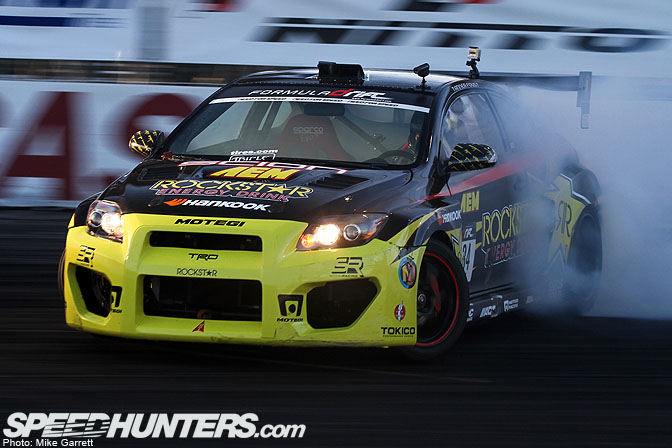 The Scion fans would have something to cheer about in the next match though, when Tanner Foust defeated Jodin LeJeune. Jodin would become the latest victim as he backed his G35 into the wall.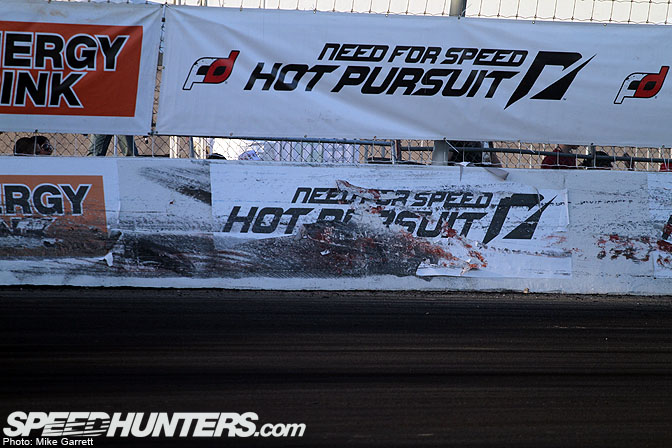 By this point I was actually starting to feel a little sorry for that wall…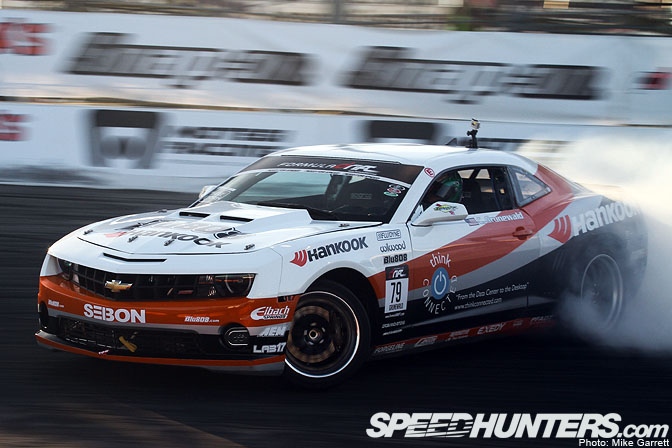 Next up, Conrad Grunewald defeats Stephan Verdier rather easily. At this point, we had yet to see a real close battle…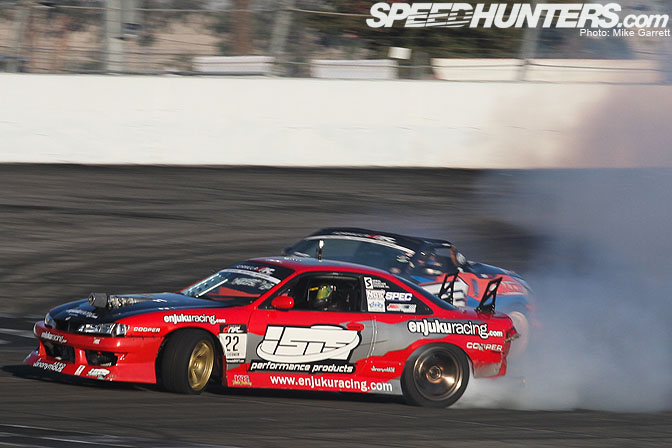 Next up, Bill Serman vs. Chris Forsberg.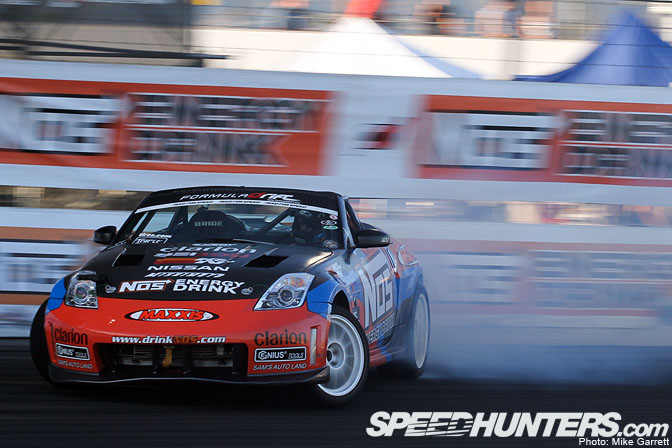 Things were a bit closer this time, but it'd be Forsberg who won this battle of V8-powered Nissans.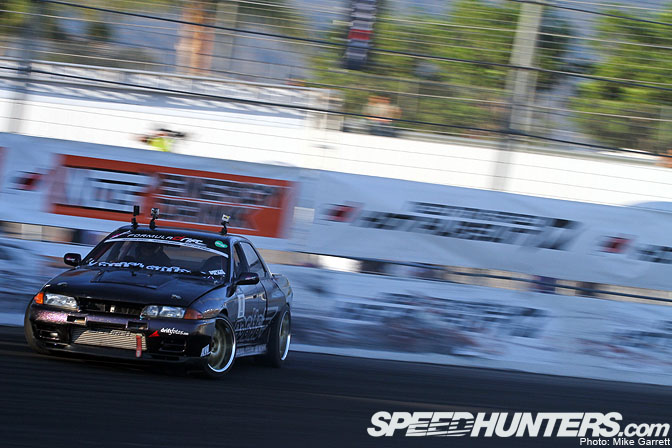 A pair of solo runs would follow next as both Michihiro Takatori and Ian Fournier's opponents had retired due to prior car damage. Doesn't get much easier than that.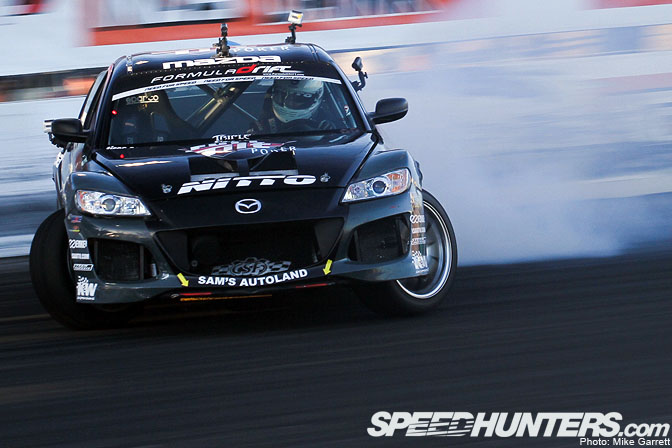 The next battle would make up for the lack of excitement as Joon Maeng battled James Deane. Check out Joon's insane angle on the inner bank!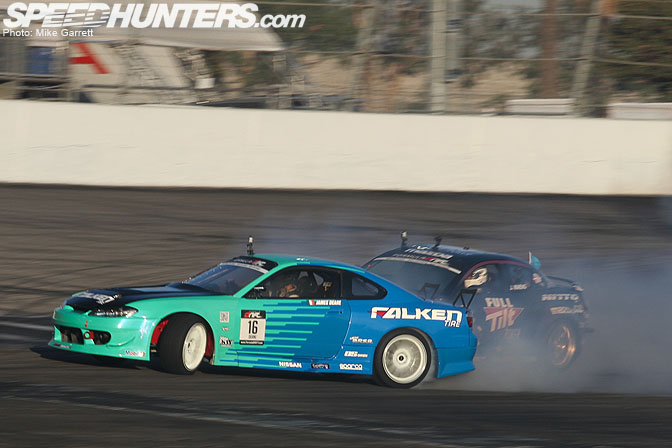 Awesome driving from both of these guys would lead to an OMT before Deane finally earned the victory.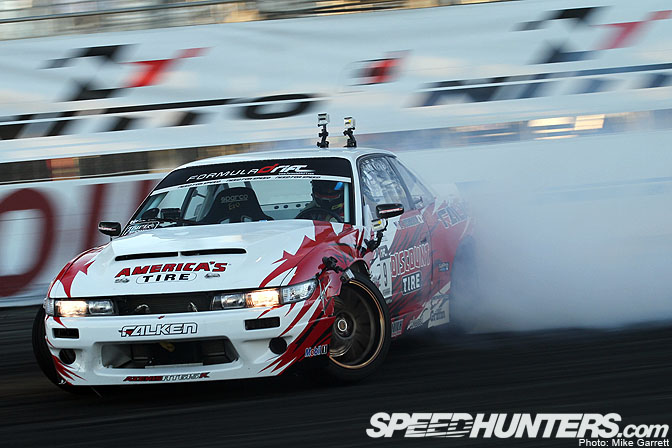 Next up were Matt Field and Dai Yoshihara, who still had a glimmer of hope at taking the season championship.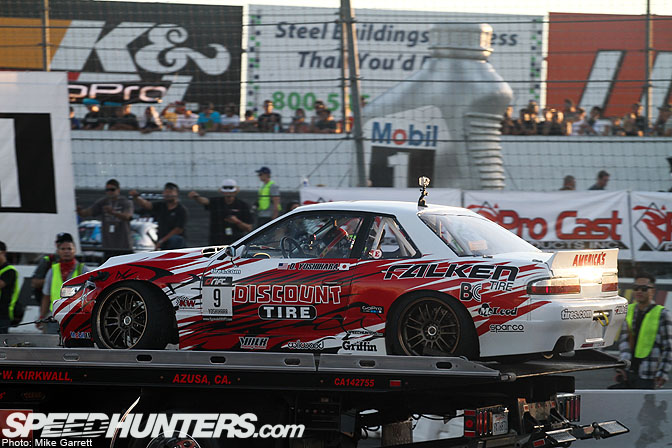 It wasn't to be though. Shockingly, Dai ended up crashing, with the resulting damage enough to put him out of the event. His fantastic season had come to an end, and not on a particularly high note.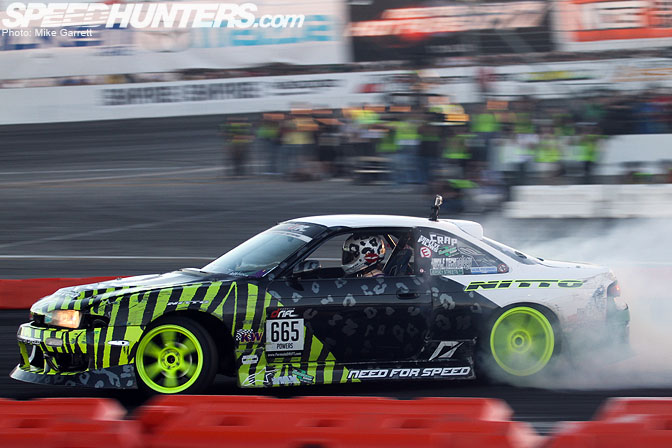 Matt Powers and Kyle Mohan would be the next two drivers to come off the line.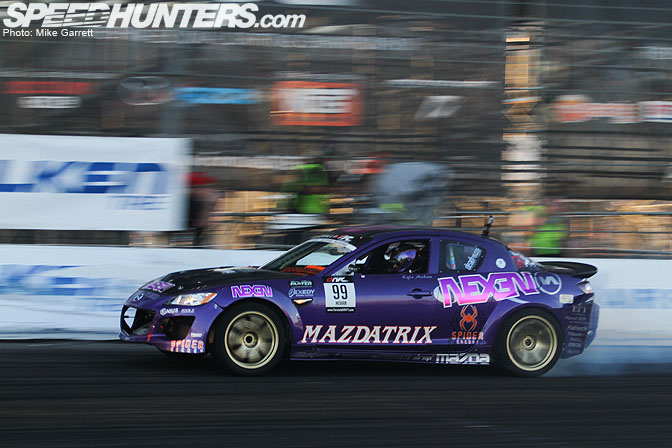 Mohan would end up bobbling a bit on the inner bank, allowing to Matt to join his teammate Mad Mike in the Top 16.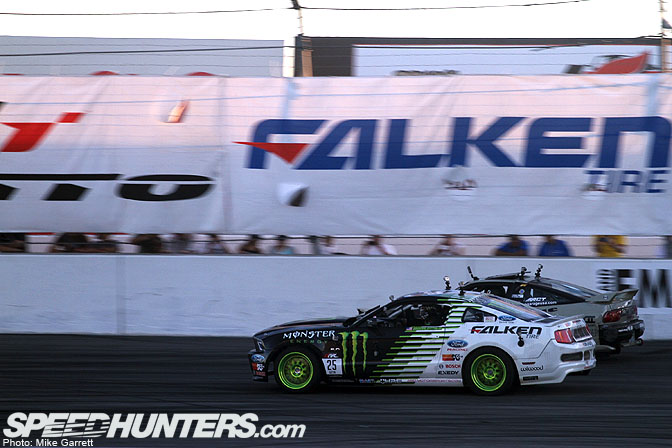 Now, all eyes were on Vaughn Gittin Jr. as he faced Nikolay Konstantinov. If Vaughn wins here, the championship is his.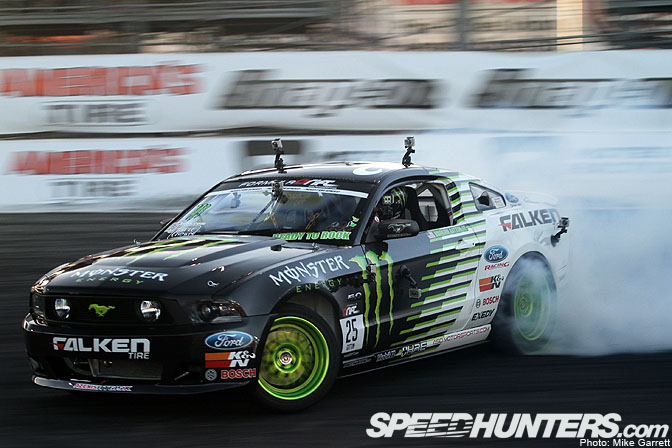 After Vaughn opened up a big lead on the first run, Nikolay shut down early on the second run, apparently because of mechanical trouble. It might not have been ultra dramatic, but Vaughn Gittin Jr. had become the 2010 Formula Drift Champion!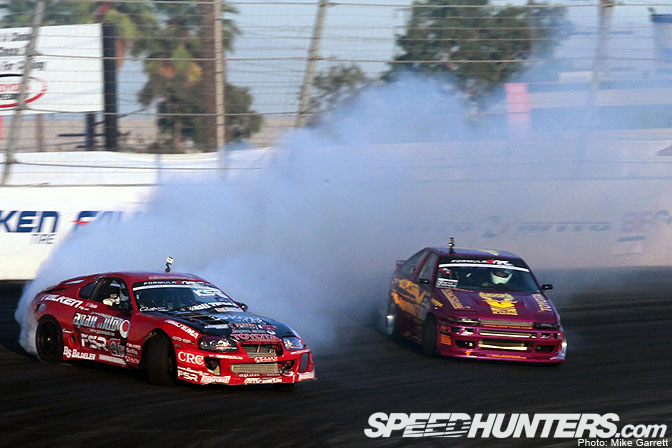 While Vaughn and company celebrated, Fredric Aasbo and Taka Aono went out for the final battle of the Top 32.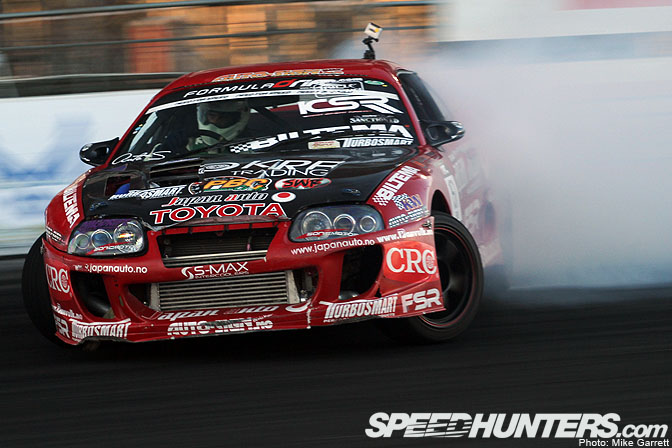 Taka drove his heart out, but it just wasn't enough to match Fredric's crazy angle and speed. Aasbo advances.
And so the final Top 16 of 2010 had been settled. That's what we'll look at that tomorrow.
-Mike Garrett