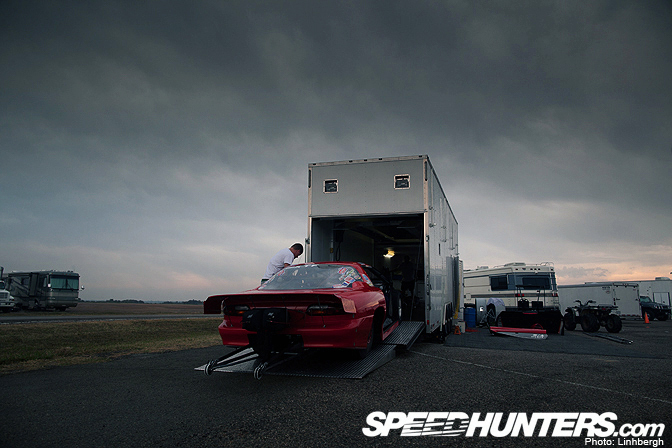 It's a bit strange that all year I've been wishing for rain to soak an event I was attending. You see, rain makes for some very dramatic photographs. And sometimes, wishing too much can lead to some unwanted wishes. This was the case when I attended ADRL World Drag Racing Finals at Texas Motorplex this past weekend.
ADRL (American Drag Racing League) is the sanctioning body for the sport of 1/8th mile drag racing as well as a nationwide series. ARDL races feature classes like Extreme Pro Stock, Extreme 10.5, Pro Nitrous and Pro Extreme. All of these are, quite literally, the quickest full-bodied class in all of drag racing.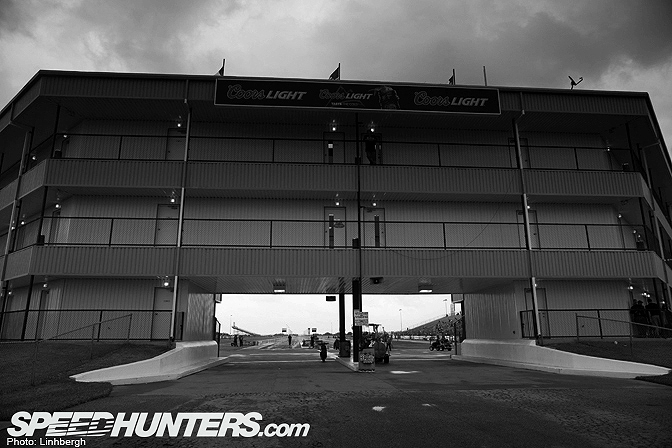 Like NASCAR, if there's the slightest bit of moister on track is very dangerous for drag cars with a million billion horse powers on drag slicks.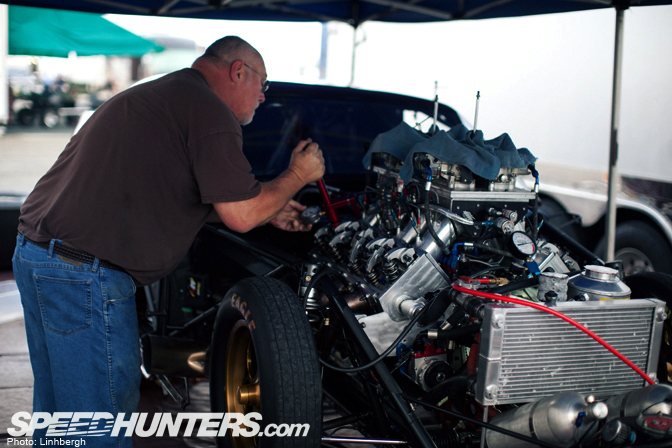 It rained on and off for most of the day. Teams, and event organizers did what they could while they waited for Mother Nature to finish.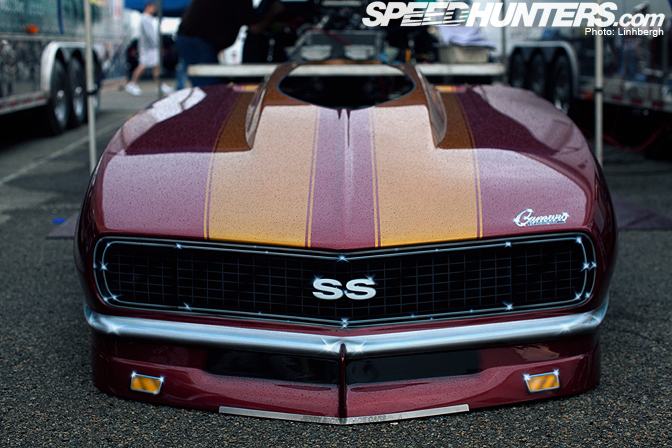 Like the teams, drivers, throngs of spectators and event organizers, the only thing to do was to walk the paddock and take in the sights. This was the first every professional drag race event that I've attended and, I must say, the shear variety of cars, and the quality of the builds is amazing.
Just look at the paint quality of the nose of this door slammer Camaro SS. Beautiful, isn't it? I just love the airbrushed in twinkles.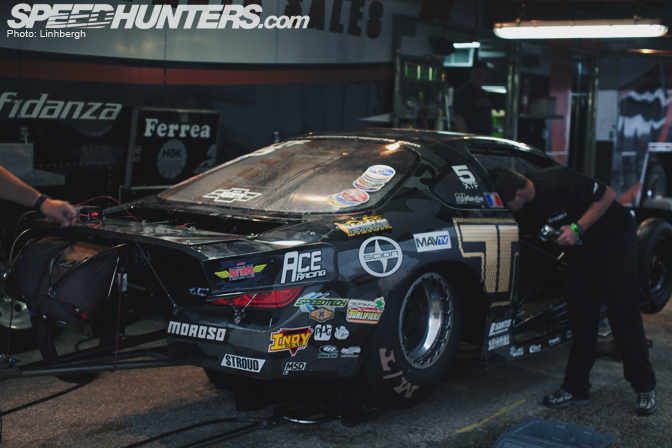 The guys from Titan Motorsports made it out to the event with their ADRL spec Camo Scion.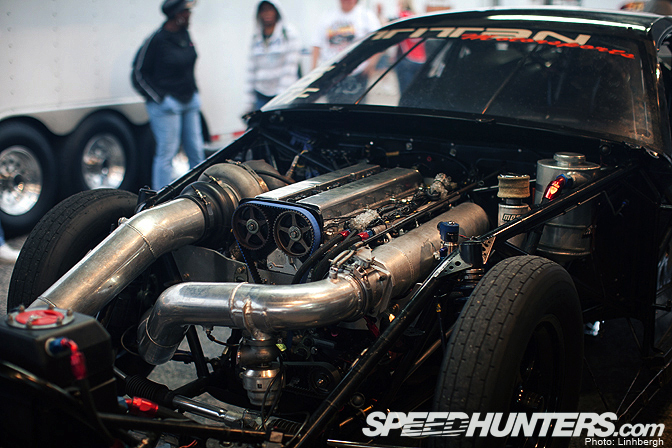 The previous day, the car ran a 3.954 at 187mph! Sadly, I miss out on the previous day's action because of my day in the air traveling.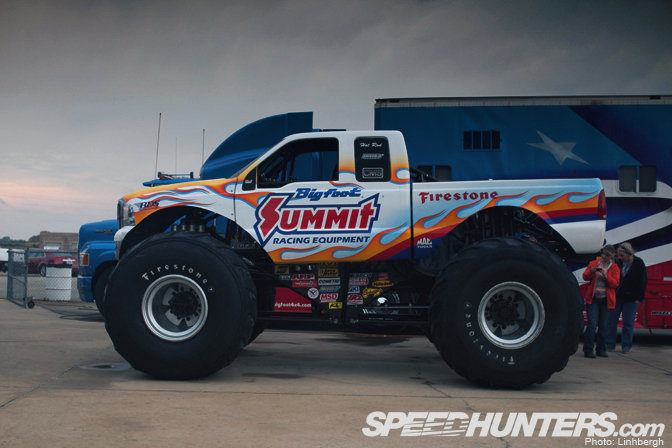 While walking the vendor area, I came across this monster truck. It was suppose to put on an exhibition run later that evening in addition to some some jet cars. Sadly, it wasn't to be.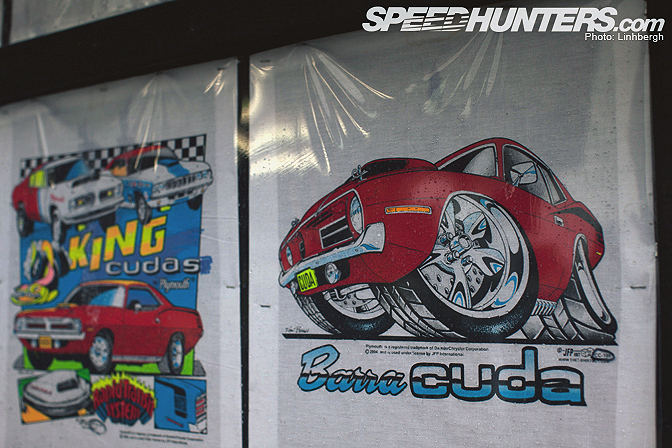 I just love how American these T-shirts are. I want them all. Formula D should make shirts like these.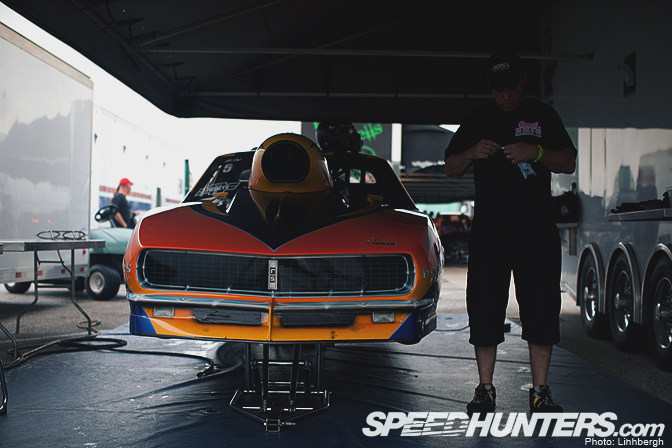 Another beautiful door slammer Camaro.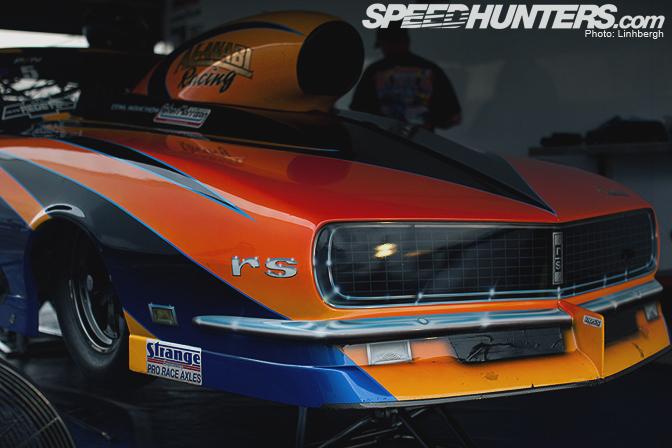 The livery on these cars are just stunning.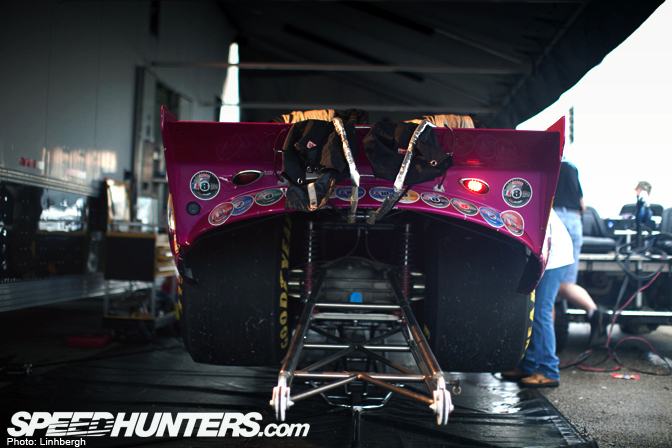 100% all American beef.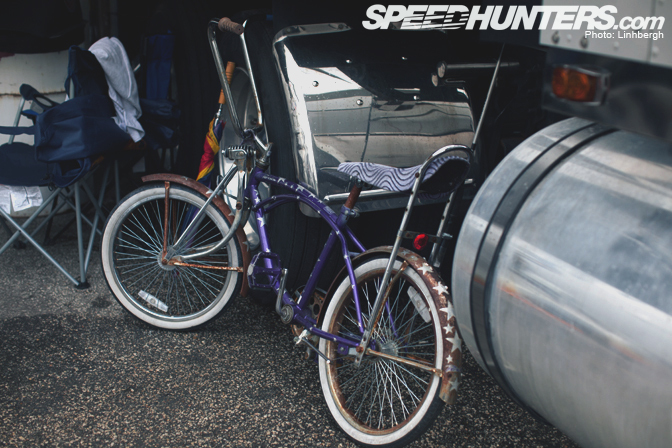 I was surprised to see one of these around the paddock! I'd expect to see these at some sort of stance related car show, but not at an all American drag race! Love the rust.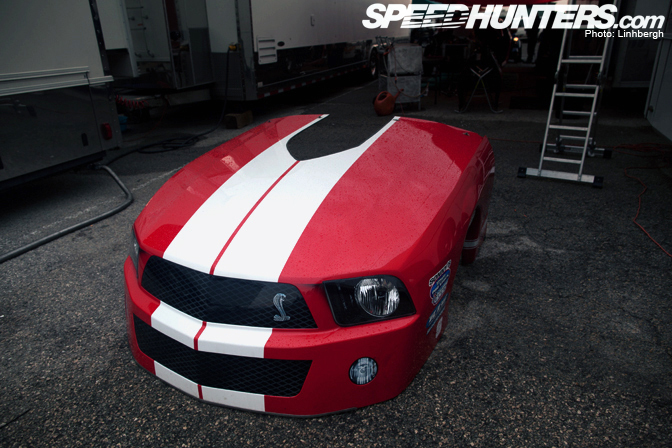 It's great to see all these hoods laying about. Gives you time to inspect the build quality of these things.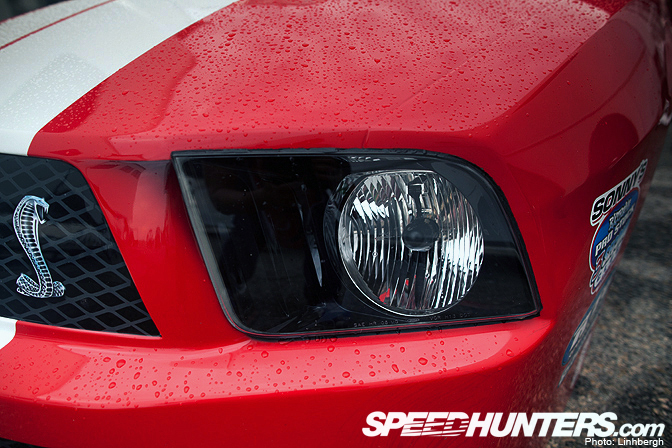 Look Ma, real headlights!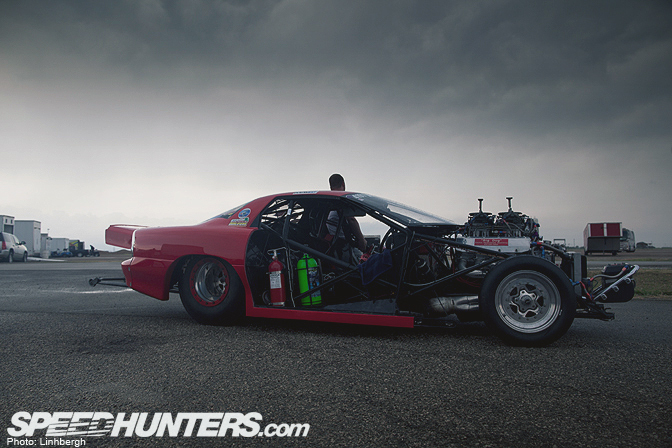 There's a whole lot of Camaros out and about. This fourth gen was being rolled out of the trailer just as the clouds started to darken….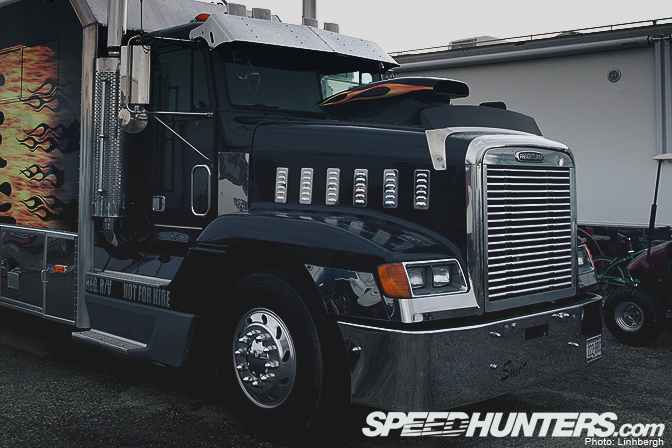 Check out the hood scoop on this semi truck! Murcuh.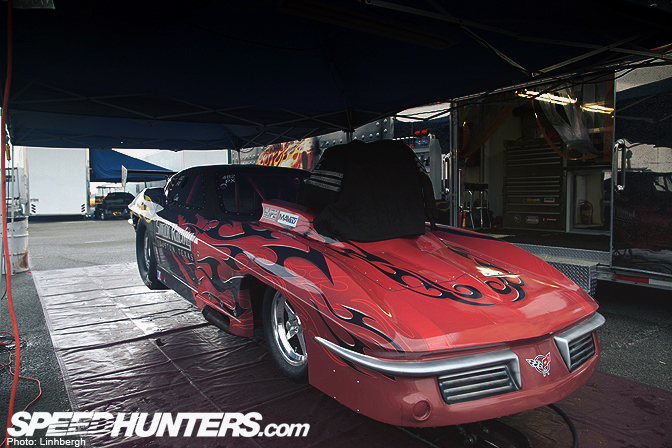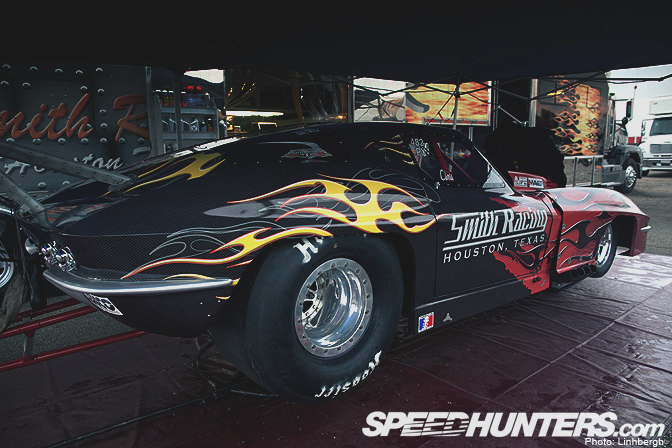 Sadly, that's not a real carbon fiber body but a wrap. Car looks amazing otherwise.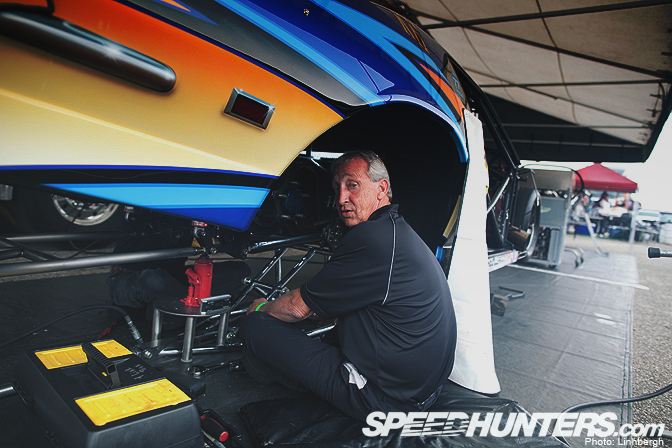 It must be pretty easy to work on these cars when you can fit a whole grown man in side its wheel well.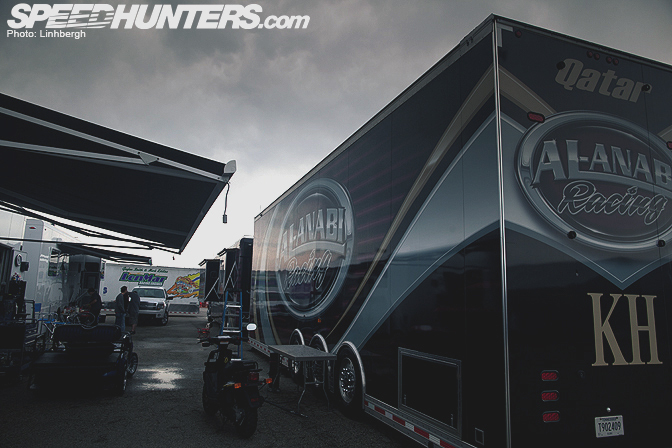 Al-Anabi Racing has the biggest presence on the grid. They have countless rigs and trailers for almost every class on for ADRL.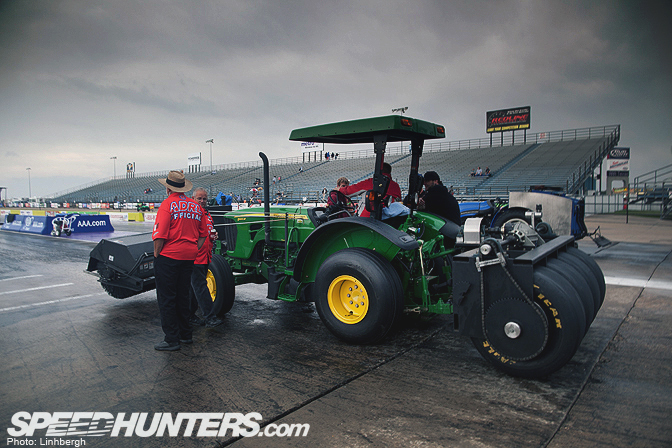 The track workers put in a whole ton of hours trying to keep the track dry even when it was drizzling. The contraption on the rear of this John Deere is quite amazing for the drying of track purposes. There's a motor and a gear on amove the 4 wheels which spin the wheels in reverse as the tractor goes about drying with the giant brush up front. The heat of the reversing tires quickly dries up the track while putting on fresh rubber! Amazing.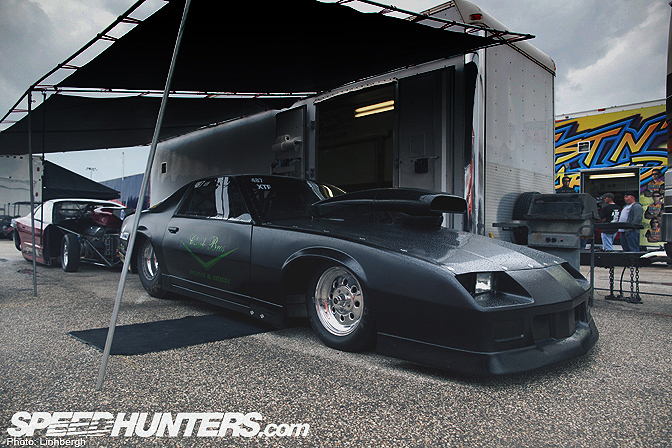 This very mean looking 3rd generation Camaro struck out on the grid the most for me. There's a full feature on this car coming!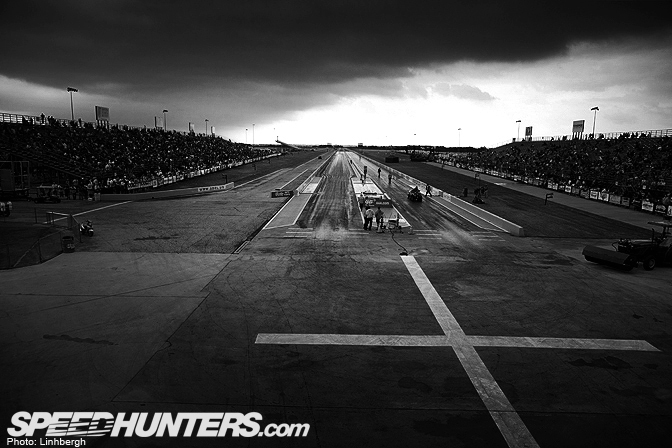 Dark skies loomed over Texas Motorplex all day long. The rain came on and off.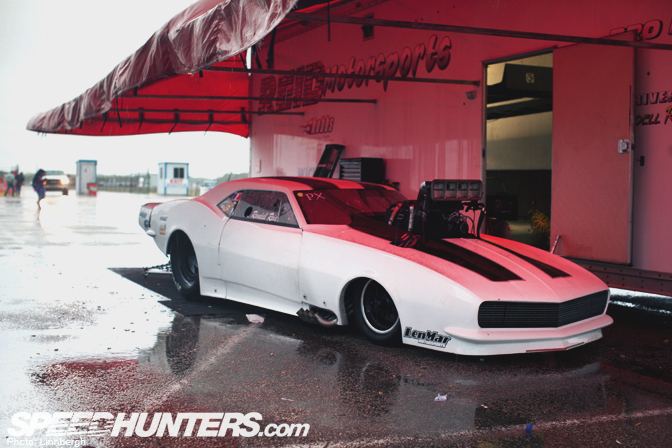 But when the rain came, it really came down hard.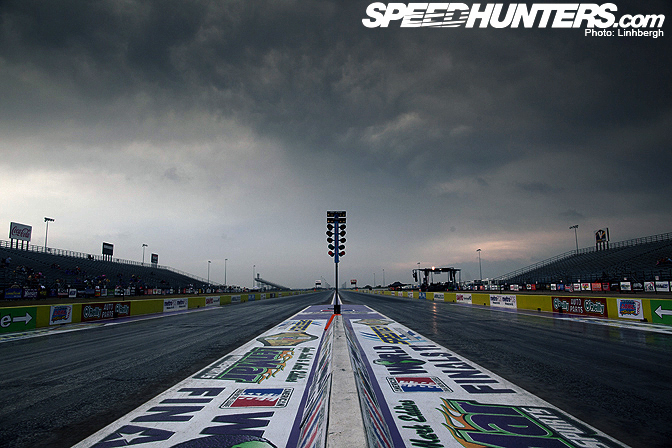 It was a bit disheartening to know that I wouldn't be able to experience all these amazing cars blasting down this racetrack. But being able to walk the paddock and experience the atmosphere and culture of ADRL was amazing. 
More from my very wet 
paddock walks coming soon.
-Linhbergh