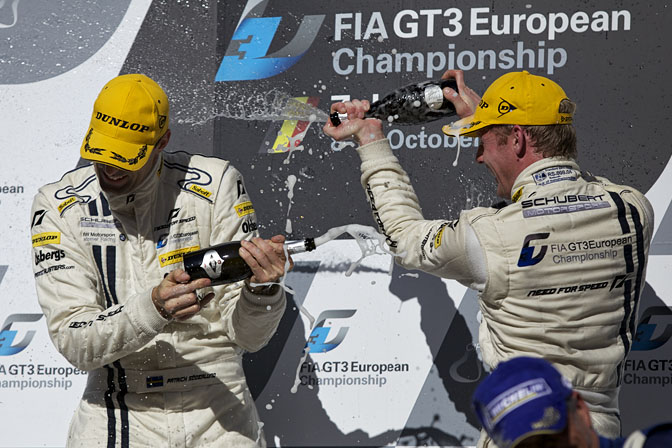 The sweet taste of champagne! Victory for Patrick Soderlund and Edward Sandstrom in the #76 Team Need For Speed BMW Z4 Coupé in the penultimate race of the 2010 GT3 European Championship after a hard-fought hour of racing here at Zolder in Belgium. And the win is even sweeter after the challenges the team faced.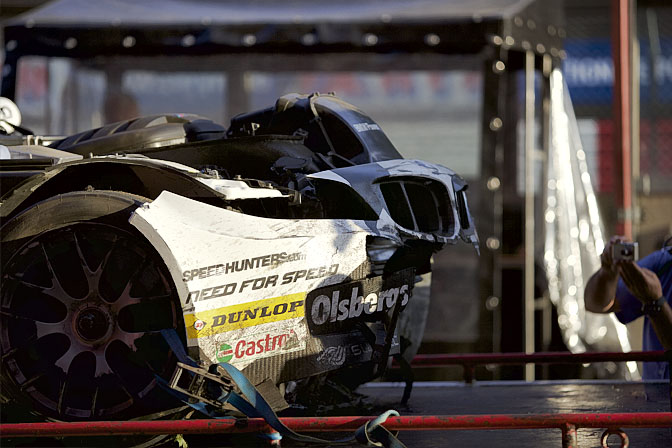 Yesterday evening things looked rather different. There was a much shorter BMW for a start: just after setting the fourth-fastest time in his qualifying segment Patrick was caught out on his slowing down tour by an Audi on a hot lap: the two cars came together and Patrick was turned hard left into the barriers. Things didn't look good, despite their time ending up sixth fastest when the session ended: the car had suffered serious front-end damage and was stretchered back to the garage on a flat-bed recovery truck. The team got to work. Patrick received a picture message at 4.30am from the team, who had worked through the night to get the car fixed. "Ready to race" and a picture of the car.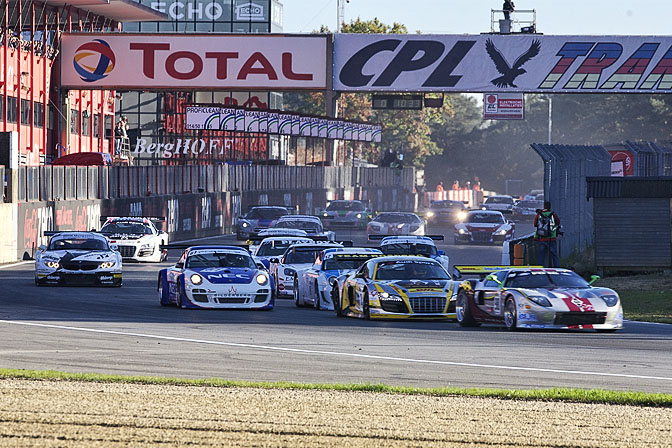 And ready to race it was. Patrick and Edward were understandably concerned about what state the car would be in, as there was no chance to shake it down before heading out to take the start of the morning race. But from the green lights Patrick was able to stay with the leading pack: the team had done an incredible job!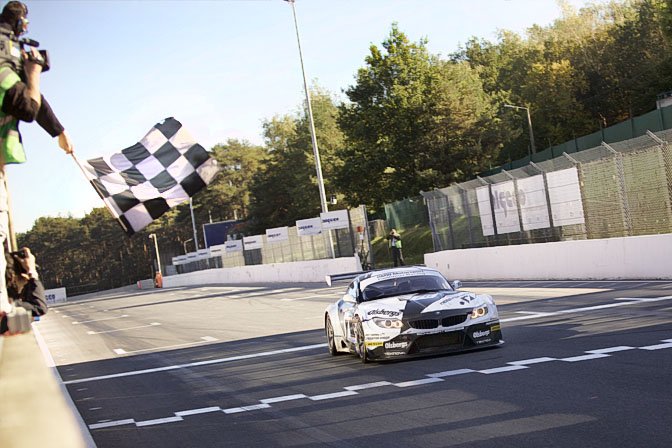 After taking over at the pitstop, Edward was charging – just as he had done at Portimao. This time not only was the car on his side, but so was luck: the leading Muelhner and Prospeed Porsches came together heading into the first turn: both overshot the corner and ploughed in the gravel! Somehow they both struggled back onto the track before Edward swept through the first corner a couple of seconds later, but he soon hunted down the wounded cars and with four laps to go took the lead! They were backed up by their sister car of Claudia Hurtgen and Walter Csaba (winners in Jarama of course) coming home in fourth place. The second race will be tougher, as they'll be starting from the back, but anything could happen!
Jonathan Moore