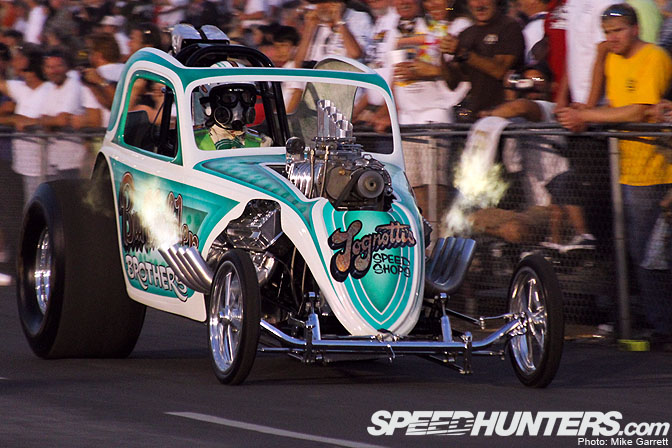 Every fall, drag racing nuts venture to the dusty, smelly nothingness of Famoso, California by the thousands for a weekend long celebration of the quarter-mile known as the California Hot Rod Reunion.
It's no coincidence that Speedhunters Drag month happened to scheduled around this yearly spectacle of American drag racing history.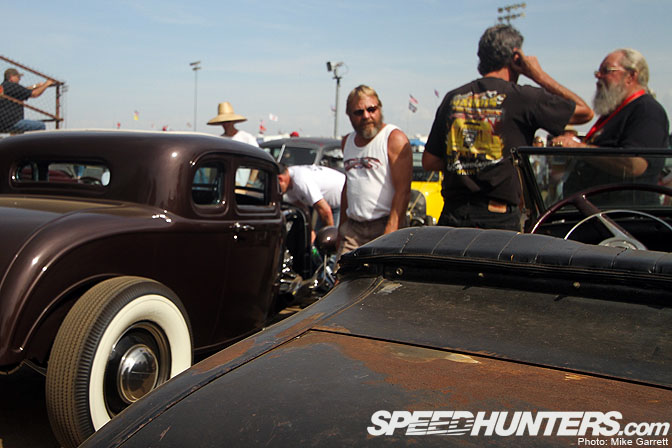 In the past, this event always seemed to be held on the same weekend as the Formula Drift finale, but this year it was the week after. This allowed more time to really experience it.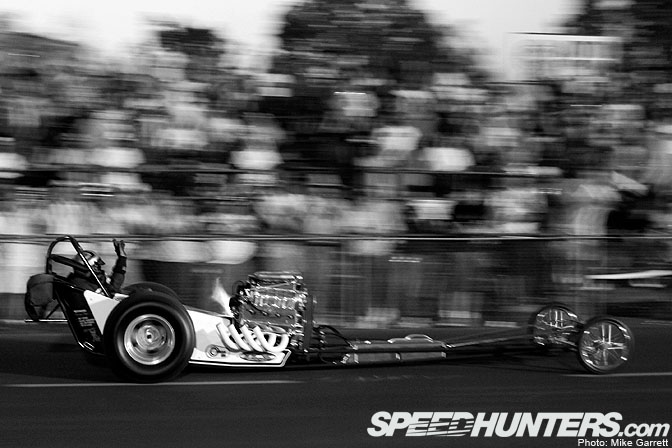 One thing that I got to witness this year for the first time was the Saturday Night Cacklefest. If you've never seen (or heard) a cacklefest before, then you need to get on it. I've never before wished so much that my photos could include sound effects…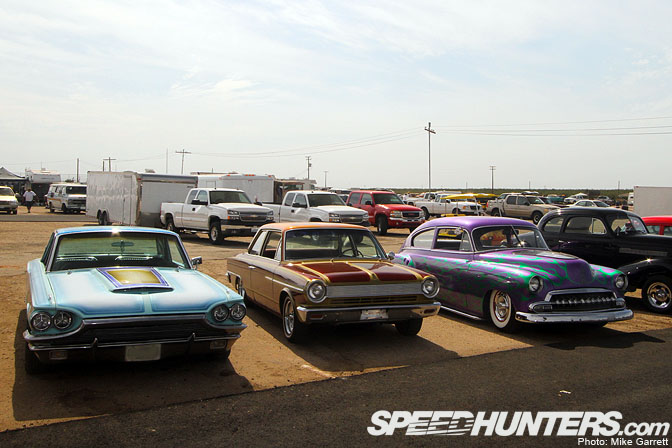 With so much to see both on and off the dragstrip, it can be tough for one person to cover everything,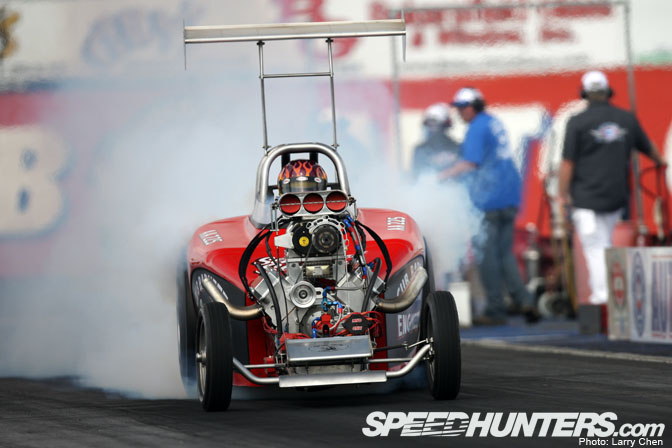 Luckily sharpshooter Larry Chen came up to lend us a hand with this. This was Larry's first time shooting drag racing, and he'll be along soon with his own observations from the event.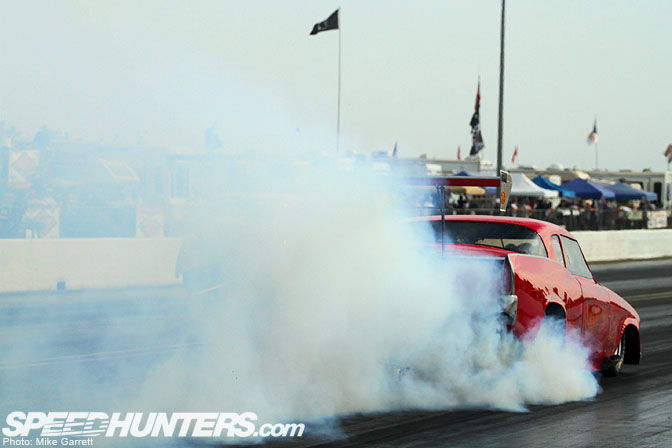 As for me, I've shot a few big drag events now, and properly capturing is still a challenge. You have to give it up to the guys that shoot NHRA events regularly.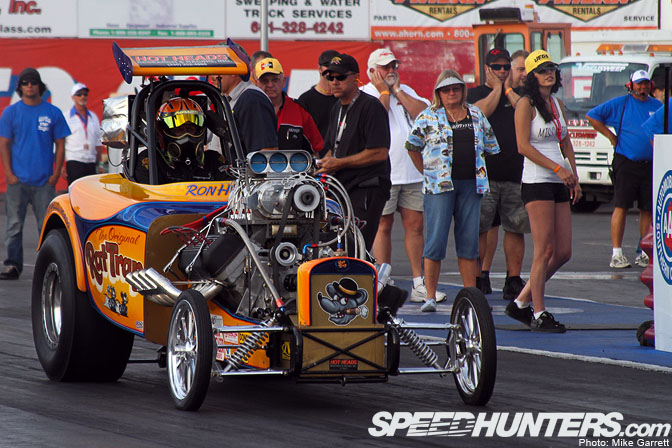 At times, the vibration from cars is enough to throw off autofocus completely. Not sure if there's another motorsport out there that's this intense…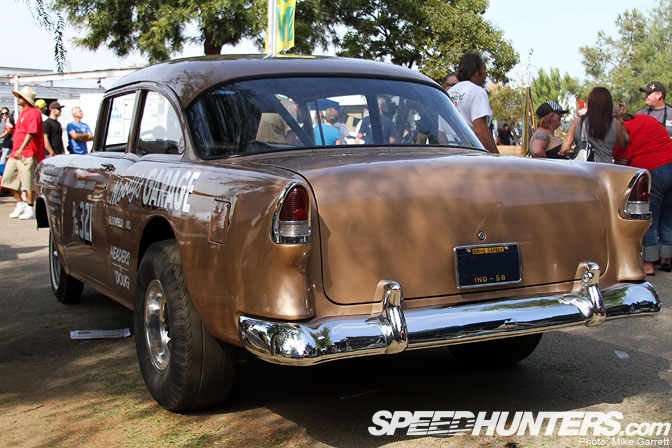 When your eardrums needed a rest, there was plenty of drag history to be found elsewhere. Ah yes, you can never go wrong with a '55 Chevy with radiused rear fenders.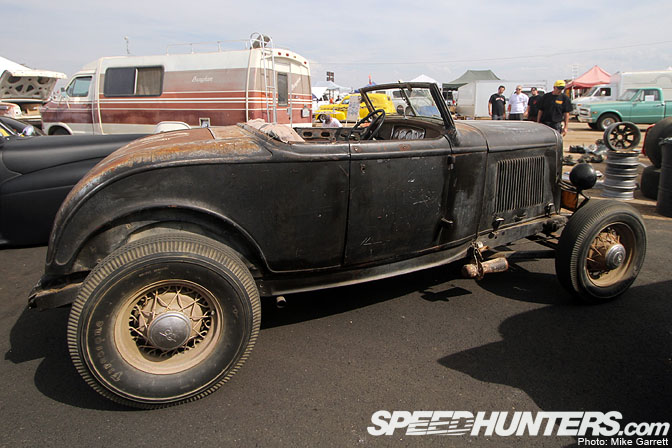 Hot Rod Reunion in the most literal sense. The guy that drove this car to Bakersfield is my hero.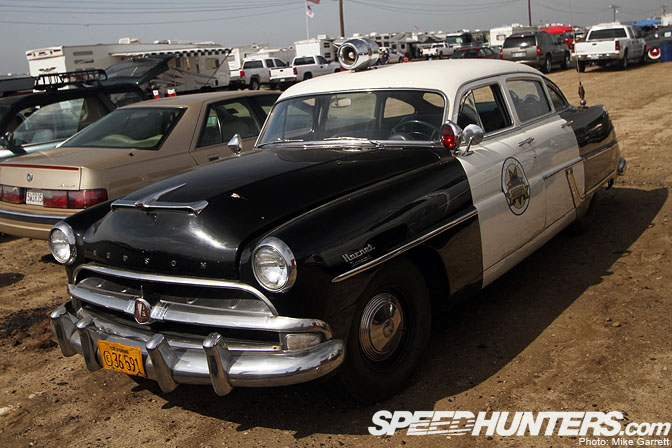 Gotta avoid the heat though. This old Hudson Police car is just too cool.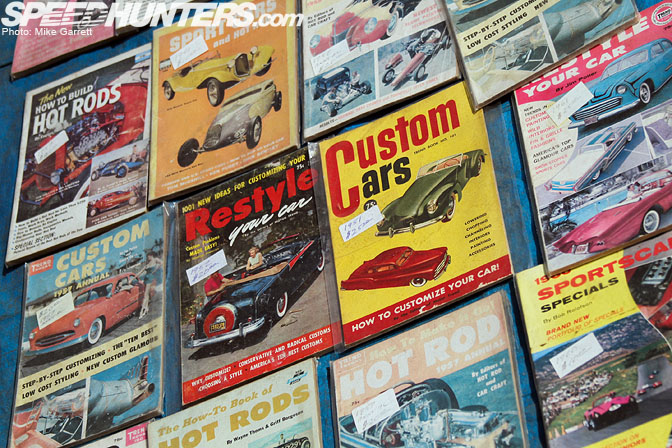 As usual, the swap meet offered more temptation than a wallet can handle. Whether it was things like old magazines, stickers, and artwork…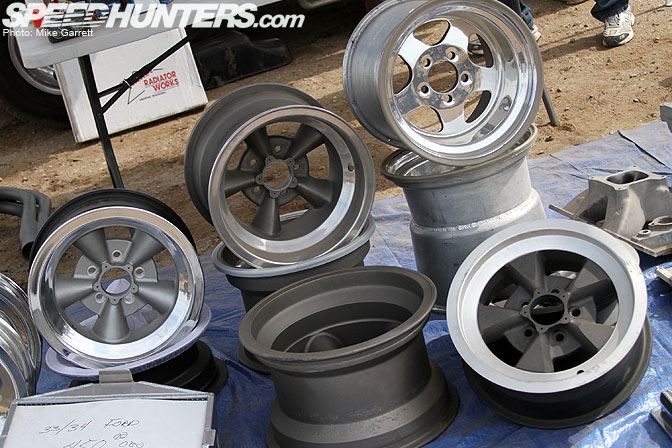 Or mag wheels and racing slicks…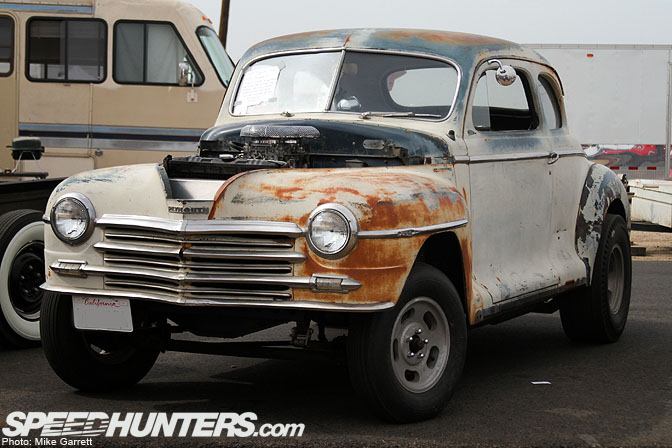 It wasn't just parts that were on sale either. If so inclined, you could pick up an awesome project car. This Plymouth was ready to go with a straight axle, and a 327 Chevy with a four on the floor.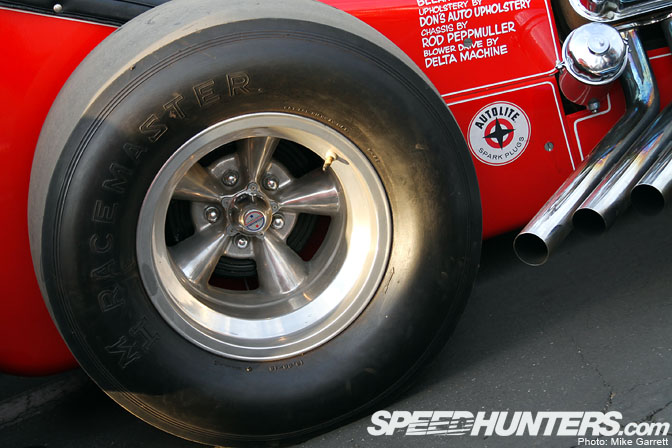 Is it strange that even when looking at a rail dragster, the wheels make or break the car for me? These five-spoke Americans look spot-on wrapped in Racemaster slicks.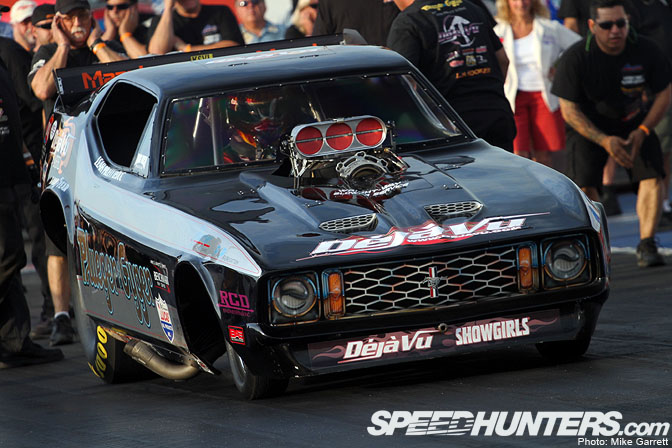 Funny Cars were huge at the Hot Rod Reunion this year. Way more than I've ever seen in one place for sure.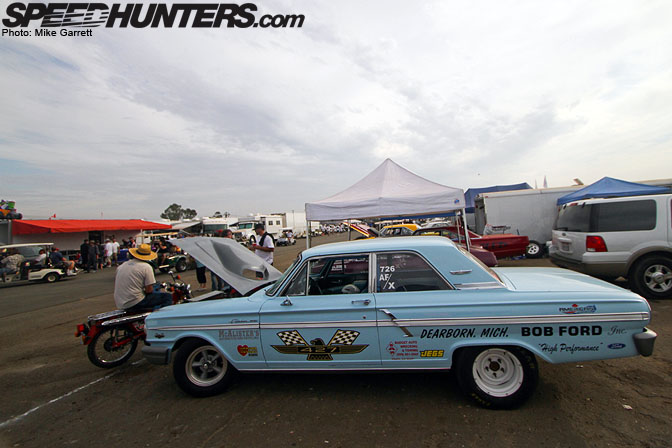 Personally, my favorite class of historic drag cars has to be AF/X. At the Hot Rod Reunion, these cars take a bit of a backseat to the top fuel and funny cars tough.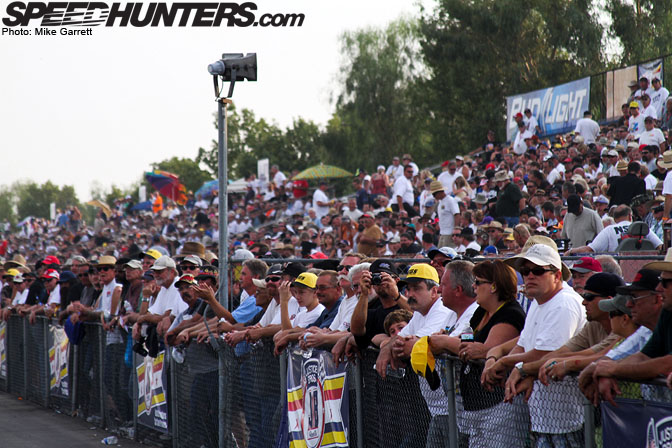 Saturday evening after the racing had wrapped up, fans packed into the bleachers for the push-start Cacklefest.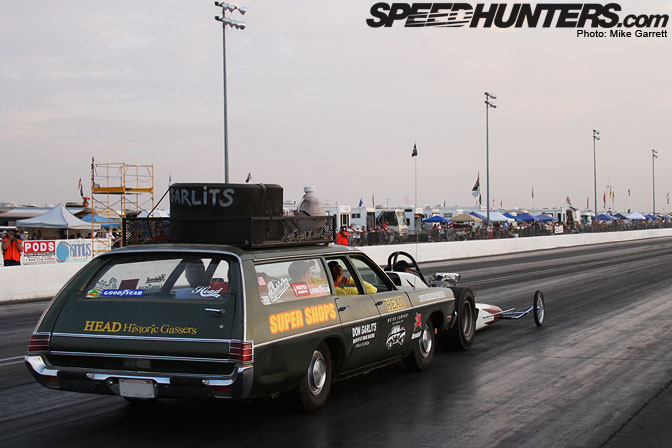 First, about 70 dragsters were pushed down the quarter mile with authentic support vehicles.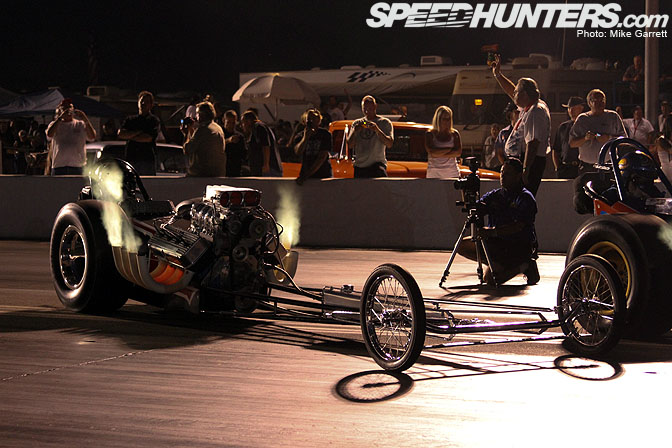 Then each and every one of them was fired up before driving down the return road and onto the track. Seeing and hearing dozens of vintage dragsters spitting flame into the night sky is just one of those must-see automotive moments.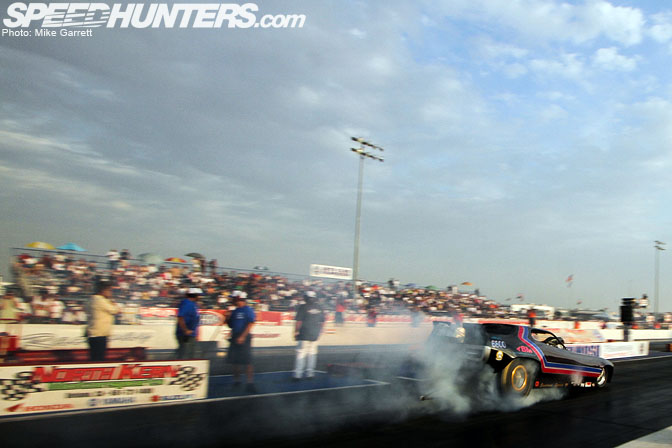 And the entire Hot Rod Reunion is filled with moments like that.
More to come from Famoso soon!
-Mike Garrett