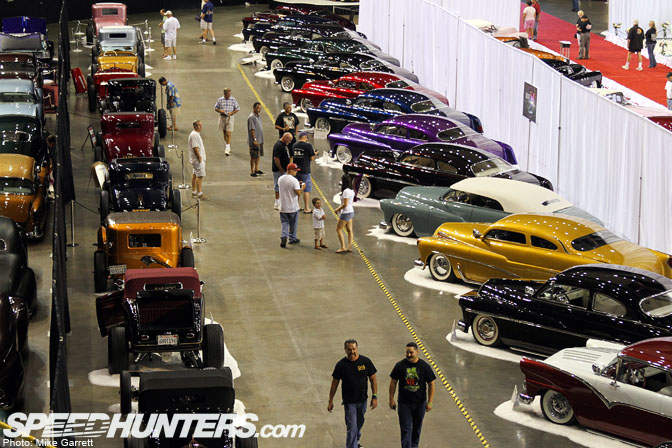 With scenes like the one in the photo, it's pretty obvious that the Long Beach Motorama is fast on its way to becoming one of America's "must see" automotive events.
Let's jump back in the time machine for another look at the LB Motorama and the "Showcase of Kustoms".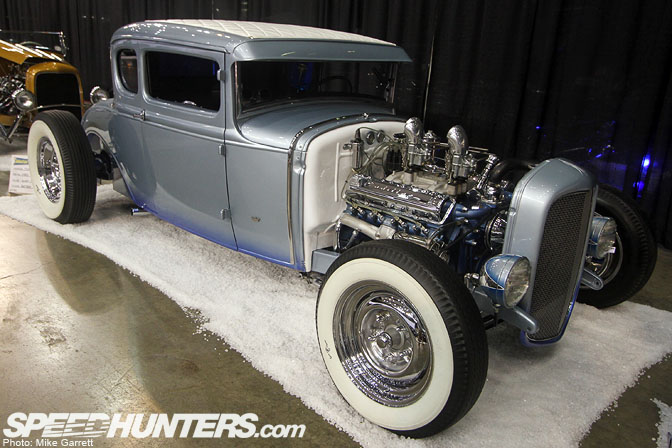 I'll start off with this cherry '31 Model A sporting a 331 cubic inch Cadillac motor. That's one of the things I love about traditional rods – the wide variety of powerplants you find in them.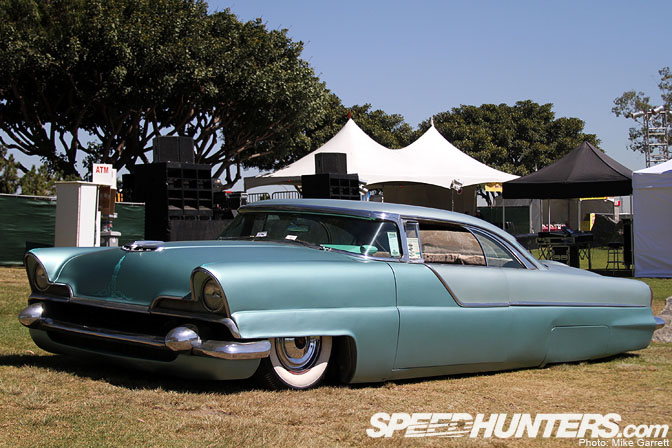 The finish on this chopped and slammed Lincoln might not have been as nice as the cars inside the arena, but it was still incredibly cool looking. Looks like something from an alternate future…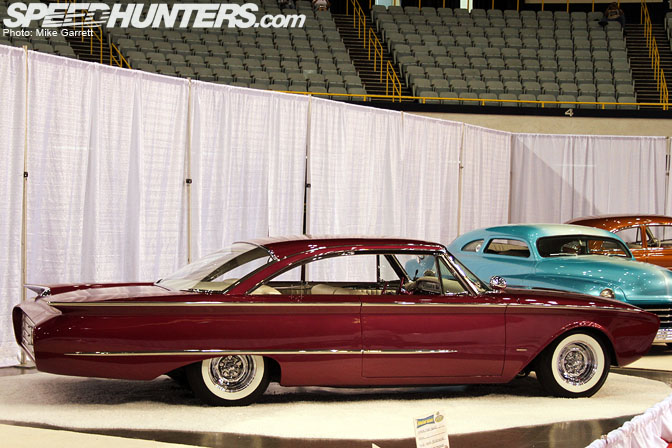 It wasn't just the cars, but the displays themselves seemed to come straight out of the golden era. This photo may as well have been taken back in 1962.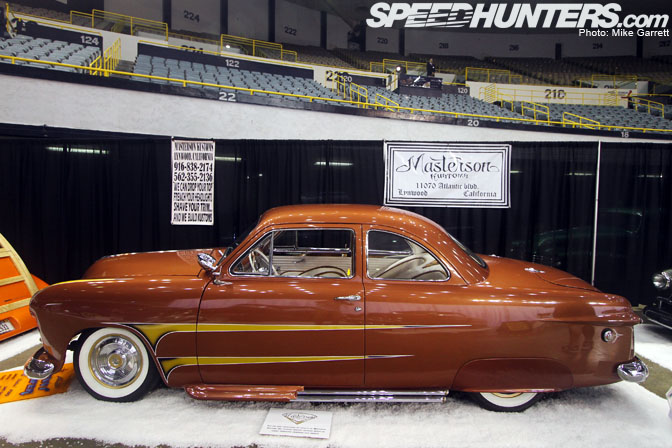 If you want to talk about period correct, look no further than this Shoebox Ford from Masterson Kustoms.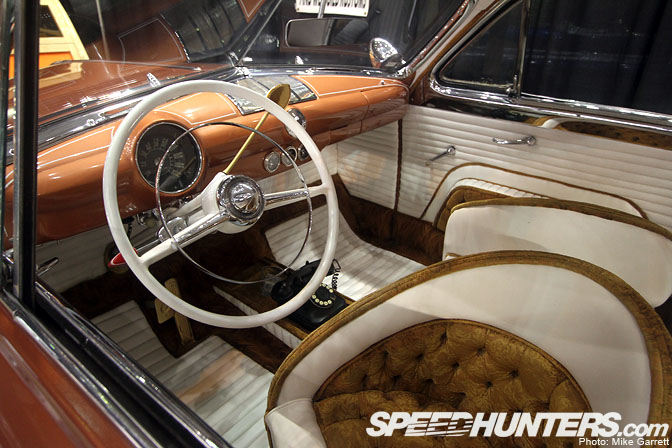 Check the swivel seats and custom rotary phone install. Awesome!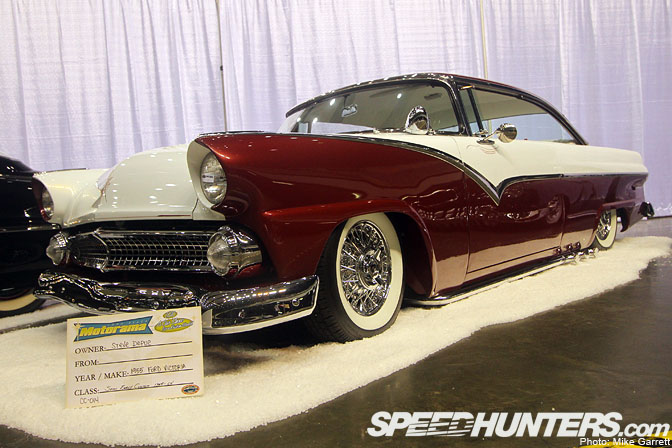 Another Ford of a slightly newer vintage. Typically I'm not a big fan of wire wheels, but they fit perfectly on this '55 Victoria.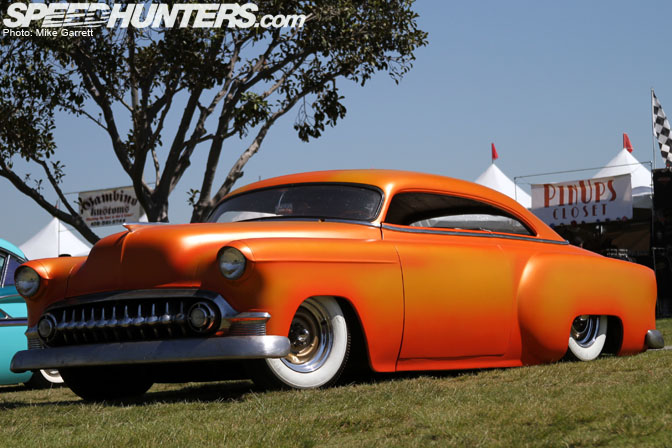 This orange Chevy definitely gets around. It was also out at Viva Las Vegas in April and at Billetproof a few weeks ago. If I had a car this cool I'd want to take it everywhere too…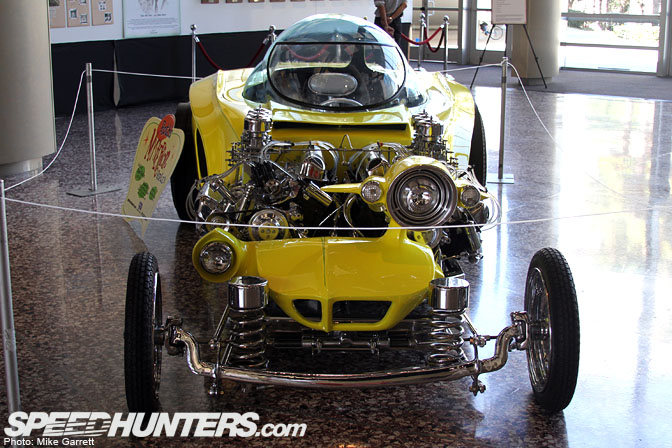 The lobby area included a few elaborate show cars, like this perfect replica of Ed Roth's twin-engined Mysterion.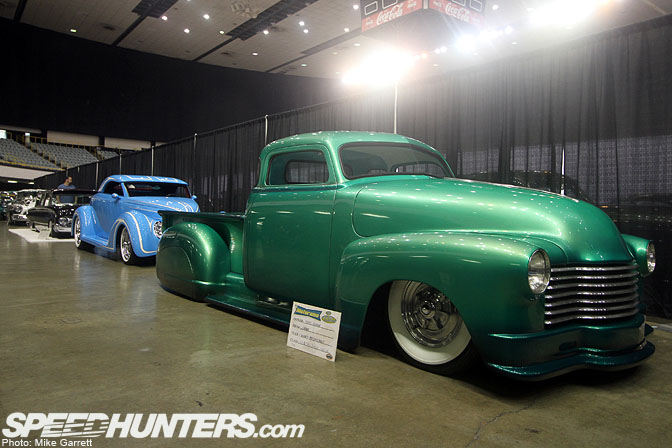 This '53 Chevy Pickup is owned by Kyohei from a shop called Wheels Unlimited out of Aichi, Japan. Nice to see Japan's kustom guys getting recognized at the international level.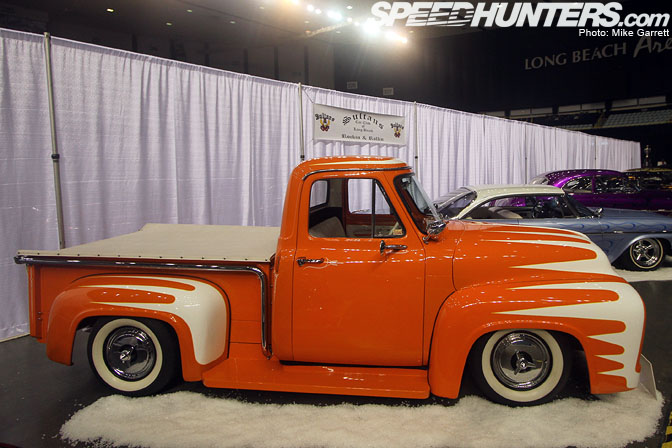 More kustom trucking, this time of the blue oval variety.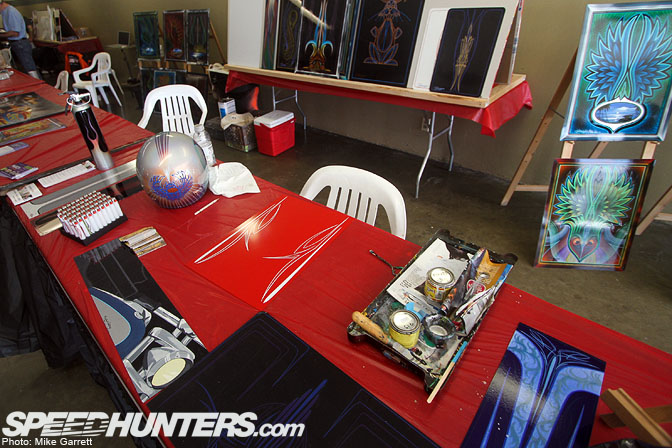 An event like this wouldn't be complete with a gathering of pinstripers.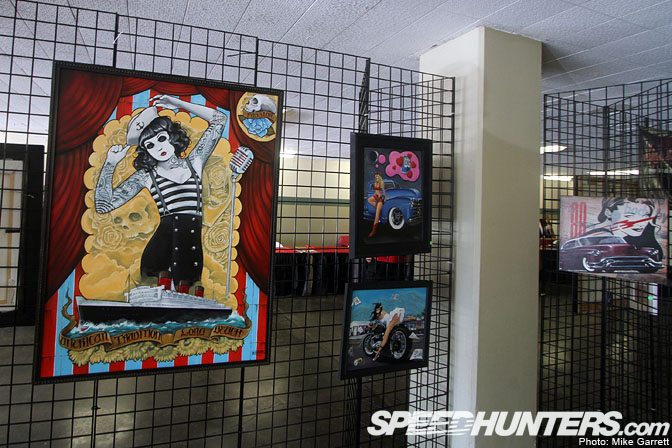 Or art displays…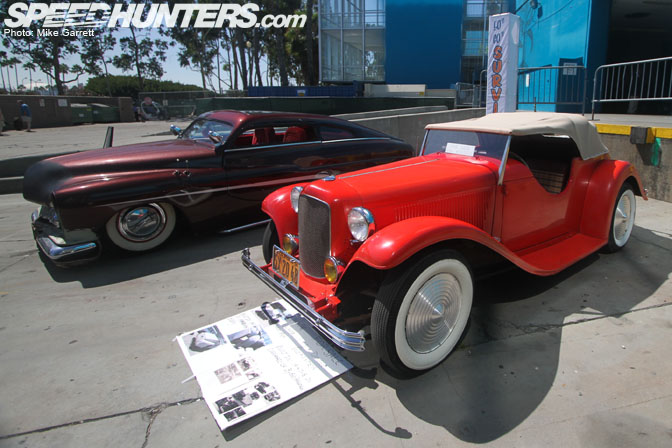 There was a small area outside of the arena for "survivor" cars. Original builds that have been untouched since the '50s and '60s.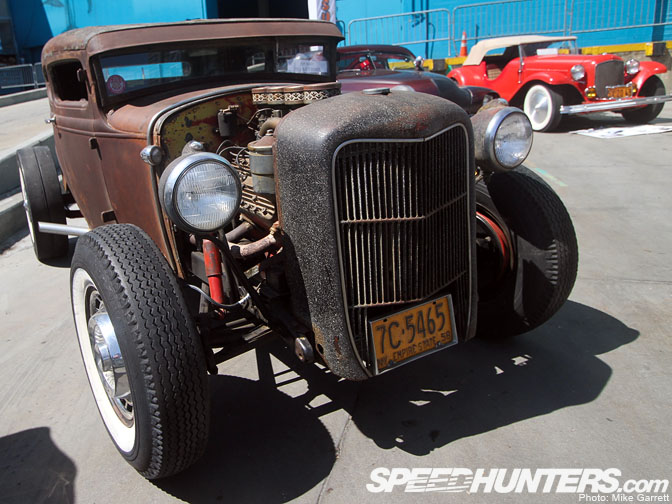 Again, it was this history element that made this such a special event.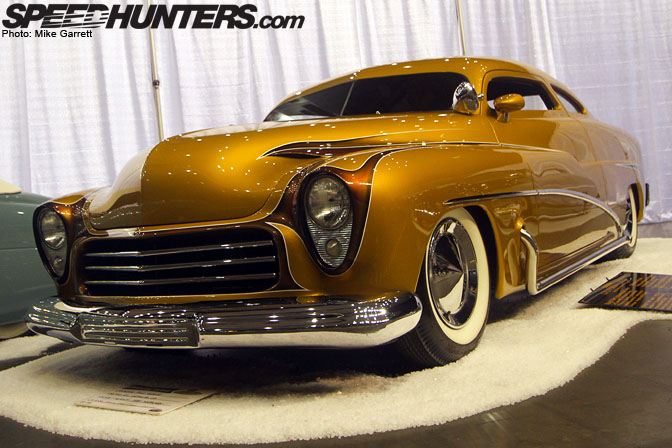 Another one of the dozens of Mercs in the show. Love the headlights!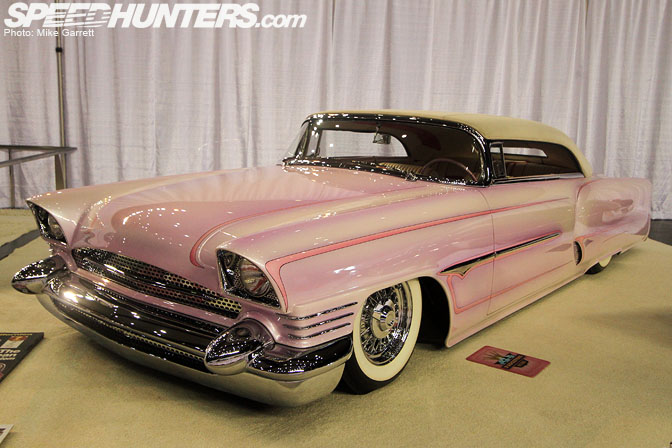 A heavily customized '56 Packard, better known as the "Caribbean".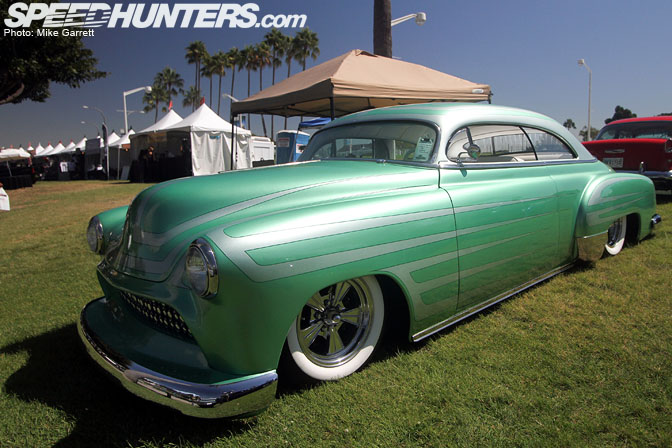 The '49-'54 Chevy is one of the most popular cars in this scene, but this one definitely stands out from the crowd.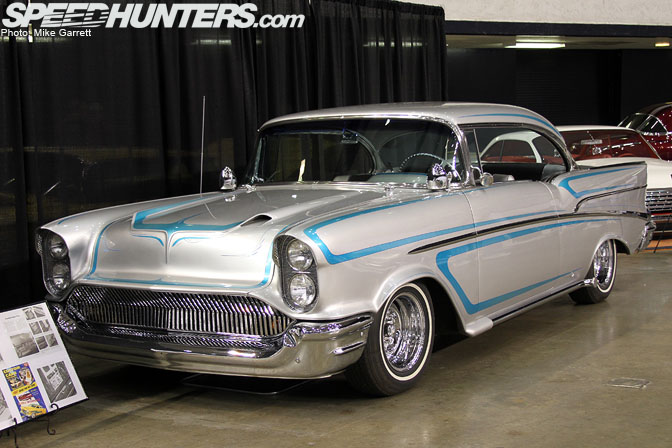 How about this '57 Chevy, wearing what looks to be a Pontiac headlight conversion.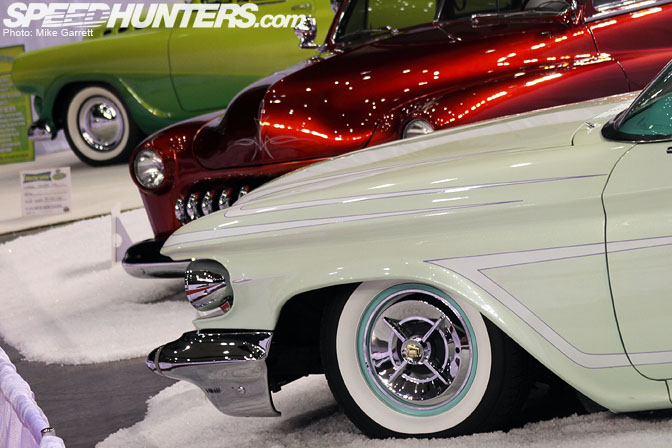 Are you enjoying this? I know I am.
More from Long Beach tomorrow!
-Mike Garrett