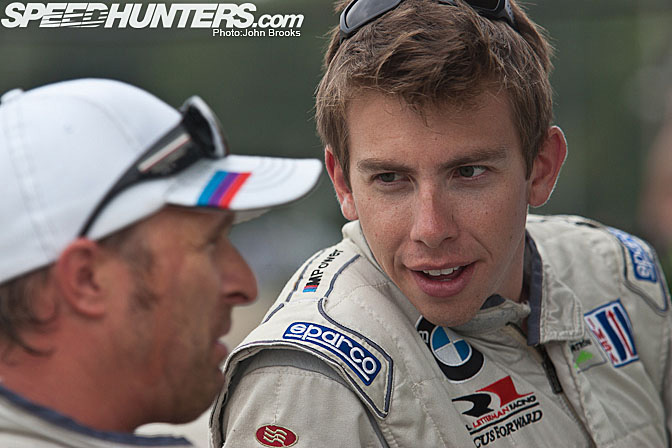 What's up guys – It's my last ALMS blog for 2010. Thanks for reading this year. I hope they've been entertaining or interesting at the least. I've had a lot of fun writing them and meeting some of you guys at the ALMS races this year. It's always cool to hear from you guys whether you like these or not.
This year the ALMS swapped a few races around so that the Petit Le Mans from Road Atlanta would be the last race of the season. The big factory Audi and Peugot teams came over from Europe to battle it out at the race that started it all over here in the US for Le Mans style racing eleven years ago. It's turned into one of the biggest sports car races in the world.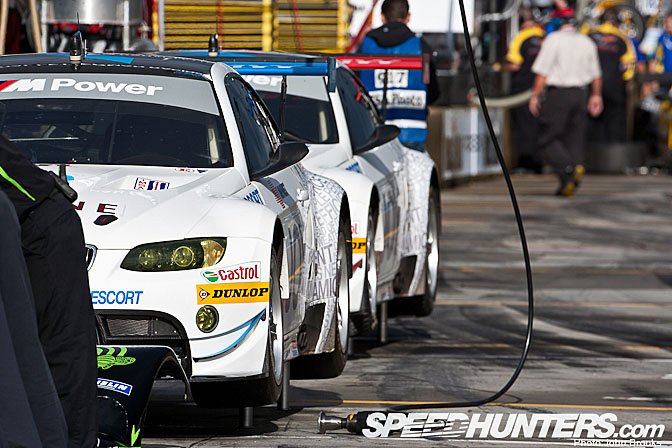 Just to sum up where we've come this season, we started the season off at the Sebring 12 hour with a 2nd and 3rd place finish. From that race on Bill and I would finish on the podium five more times and the two times we didn't land on the podium, because we didn't finish the race, our teammates Joey Hand and Dirk Mueller found themselves on the podium. The entire BMW Rahal Letterman Racing Team routinely made awesome pit calls to always put us in position to finish on the podium and gave us great cars to race to the front. We arrived at Petit Le Mans ONE point behind Porsche and 6 points ahead of Ferrari in the Manufacturer's Championship. Petit would have to be another race that everyone on the team was on their "A" game.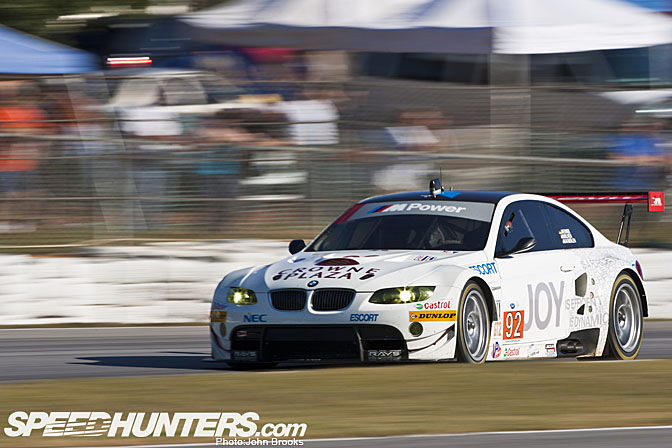 We had tested already once in the summer at Road Atlanta and I arrived on the Wednesday, a week and a half earlier, in Greenville, South Carolina for a Michelin event in Downtown Greenville and some fun at the BMW Performance Center in Spartanburg near BMW's plant. I left straight from there and headed to the track for some testing the weekend before Petit on that Saturday and Sunday. Both tests we had went very well. We had some new tires from Dunlop to test, both for this year and for next year, and just to reassure ourselves that the cars we had in testing in June were the same ones we had now for the biggest race of the season. Everything went well and we were ready for the race.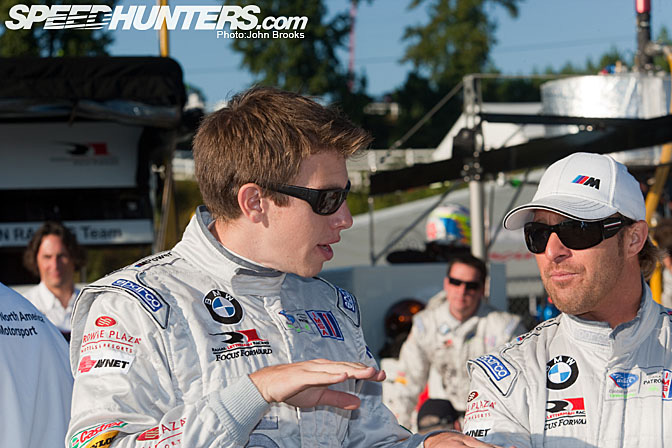 If you remember Petit from last year, the whole week was plagued by a ton of rain and in the end the rain that came on race day was so strong they had to call the race halfway through because the rain wasn't letting up and the rivers that were running across the track would make it impossible to race. This year fortunately the weather looked much better. Despite some rain on Wednesday and Thursday, race day was looking like a perfect day. Since I did a lot of the testing on Saturday and Sunday along with our third driver, Dirk Werner, Bill would get most of the seat time in the car. In fact, the last time I would drive a lap at speed before the race would be that Sunday test day. That wasn't by design but just the way things worked out with the weather and getting Bill seat time.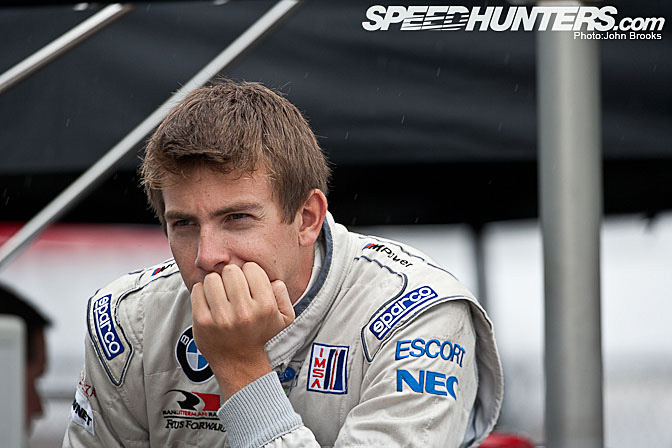 So, my Petit week was in fact that, petit. Lots of thinking and watching going on and supporting the team however I could. I'd of loved to have done more driving during the practices but it was more important to get Bill time in the car. Bill would qualify the car for us on the Friday and we had a tough session. He ended up in 10th and our teammates in 5th. In a long race like this, the qualifying position doesn't matter as much but you always want to be up towards the front no matter what.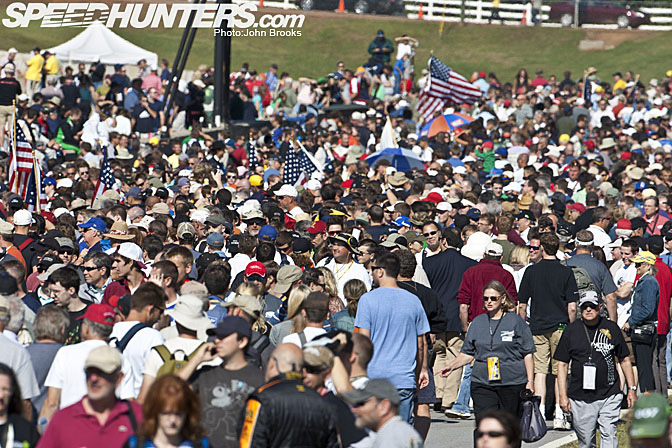 Race day. The 124,000 fans that came out on Saturday would be treated to another huge race and, this time, nice weather. This is one place where you really feel the fans at the track. They line the track completely with their motorhomes, tents, E-Z Up's, banners, and flags. As you rip down the back straight headed down the hill to 10a and 10b, where the drift course is, everyone with their setup just outside the track actually gives you a stronger sense of speed.
Bill would start the race, I would hop in the car second, and then Dirk Werner would get in next. We would just keep that rotation throughout the race doing single stints mostly. Bill had a good first stint, moving up a few spots, and Dirk Mueller in the 90 car held strong in 5th. We survived the start of the race and now we could settle in and just go to work.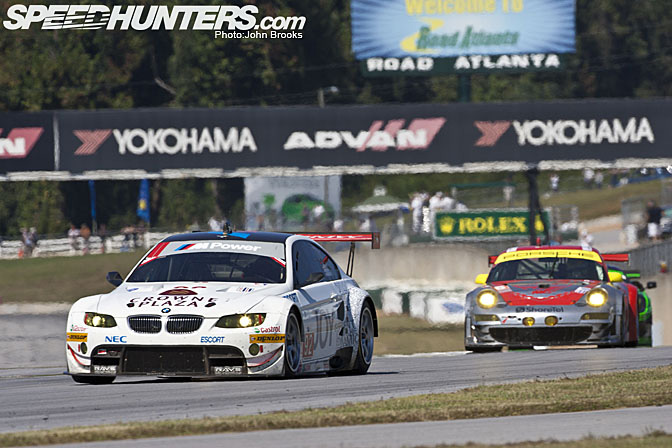 Goal number one was stay ahead of the Porsche. We had that covered pretty much all race and all weekend really. The pace of our M3's were strong in comparison to the Porsche but didn't have much for the Ferrari's this time. They've must have had an engine update for Mosport and for here because they were quite a bit quicker in a straight line now than they had been and were the quickest car in a straight line now. In order to win the Manufacturer's championship we had to beat the Porsche and if Ferrari won the race, one of our BMW's had to finish in 3rd place. Corvette was also fast again here so winning this thing wouldn't be easy.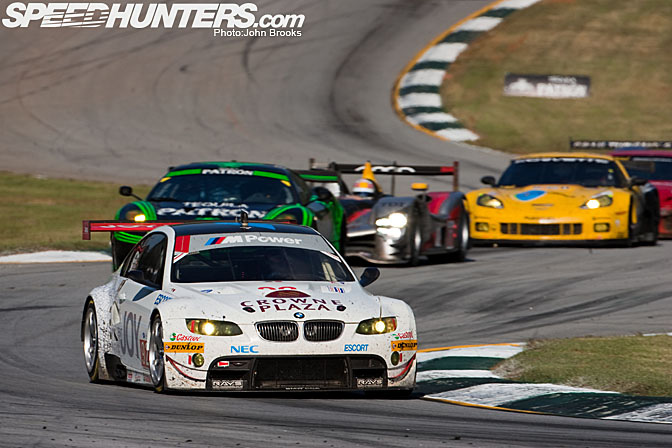 My first stint in the car was generally uneventful. We pitted Bill a bit early because we were having a little tire issue and didn't want to risk it too much. We wanted to try and run the softer of the compounds we had available to us since the track temp was showing that we should be able to run them. Unfortunately, halfway through my stint, we had the same issue that Bill had in his first stint and so, as I was catching the lead Corvette at the time, I had to nurse the tires a bit so that I could go the full distance of my stint. Things were going OK for us but not so well unfortunately for the #90 car.
We pound the curb in turn 3 every lap, just like every other car does in our class, and sometimes land pretty hard on the floor of the car. Something happened this time with the starter of their car and it required a long fix in the tent to get it to start again. It was all up to us in #92 to bring this home for BMW and for Rahal Letterman Racing.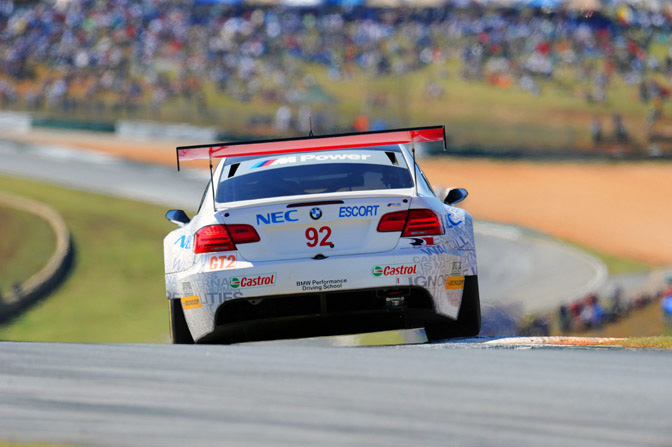 Bill handed the car over to me, in what would be my final stint in the car this year. I had an idea that it might be my last stint in the car and actually got chills as I stood on the pitwall, waiting for Bill to stop in our pit box. I got in during a yellow flag and at this stage in the race, which was about ¾ of the way through the race, we were in 4th place. #62 Ferrari from #4 Corvette from #45 Porsche. I worked really hard to get a lot of heat in the tires so I would be ready to go when it went green. On the start, I made short work of the 45 Porsche and set off after the Corvette and Ferrari. We were in good position at this point since we would win the manufacturer's championship if it ended like this, but I wanted more and the car had more. As I chased down the Ferrari and Corvette who were battling pretty hard, the Corvette took a shot at the Ferrari down into 10a and pushed both cars just a bit wide of the racing line. I was close enough at this point to take advantage and got inside the Corvette and now set my sights on the Ferrari.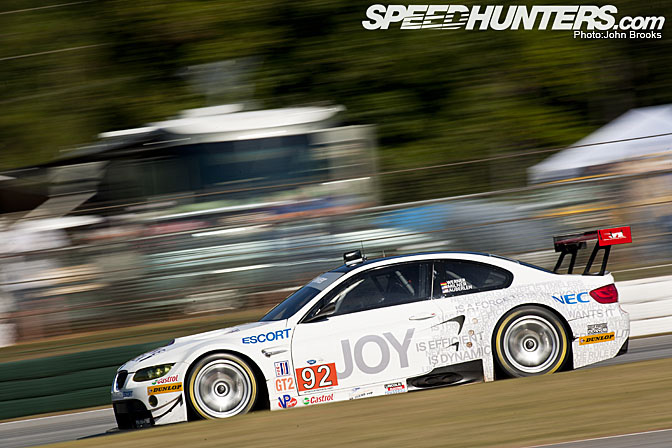 The Ferrari and I had actually started to pull a gap on the Corvette now and I was matching the pace of the Ferrari which we weren't able to do all race. I continued to hound the Ferrari until a yellow came out. The Ferrari pitted and we stayed out. We weren't in our pit window to make it to the end so we decided to stay out. After the restart, my tires just weren't the same. It took bit to get the heat back into them and the Corvette was all over me. Instead of risking an incident I let him go as I was content to be in 2nd at this point and ride it out. I was still pushing hard every lap but didn't take any big risks in traffic or with my driving. I needed to hand the car off in good shape to Dirk who would probably go to the end.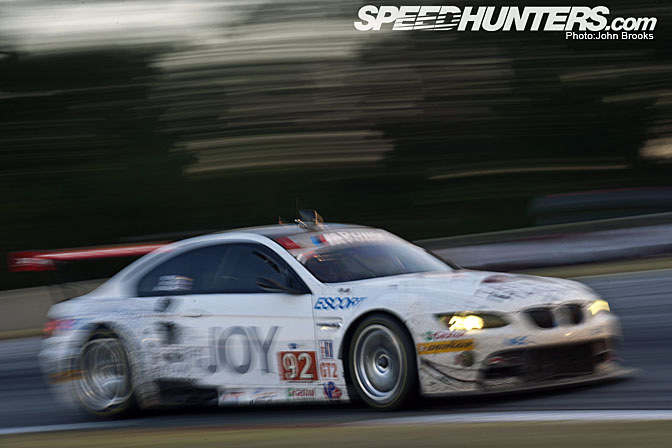 It went yellow again just before our pit window and the window of pretty much every other GT car. We took it anyways because it was really close to be able to make it to the end on just one more stop. If it would go green the rest of the way we'd have to do a splash of fuel at the end. I drove down pit lane and began loosening my belts as always, unplugged my radio, and turned into the pit box one last time this year. A year that to this point has been a really good year for me. A year I felt like I showed a lot of people I could do the job and more significantly, myself, that I could do the job.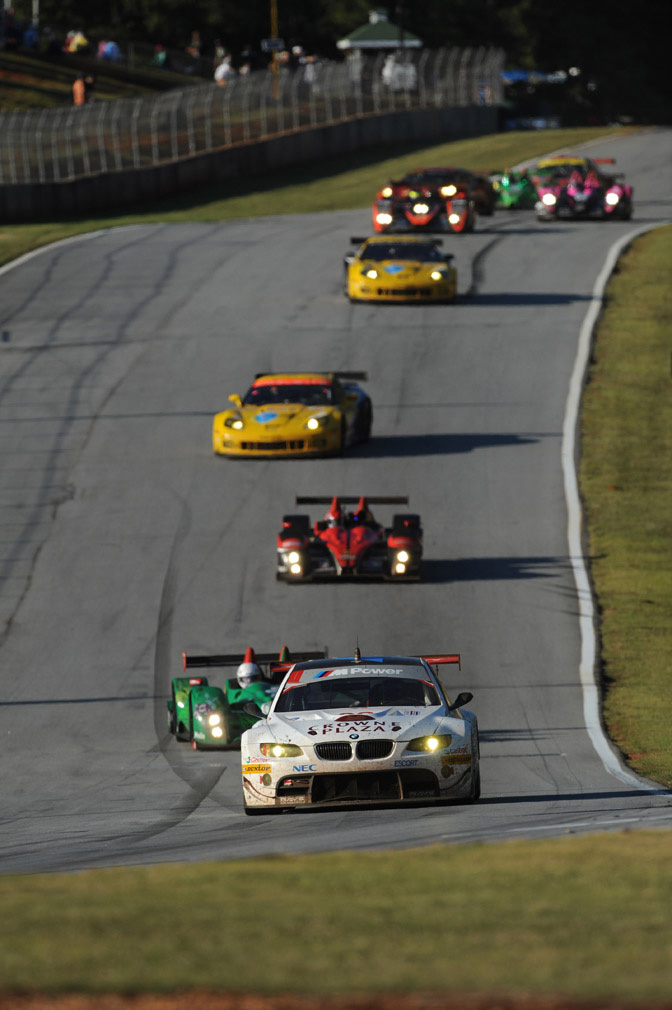 Dirk came back out of the pits in 4th. We had lost some time in the pit because of an LMP car that was pitted just behind us had made it really difficult for me to get the car angled into the pitbox the way we needed. We only lost a few seconds but it was enough for the others to get back out ahead of us. Dirk fell back to 5th at the start and I'm watching the championship unravel a little bit. Ferrari is 1st and 3rd and we were 5th. Not good.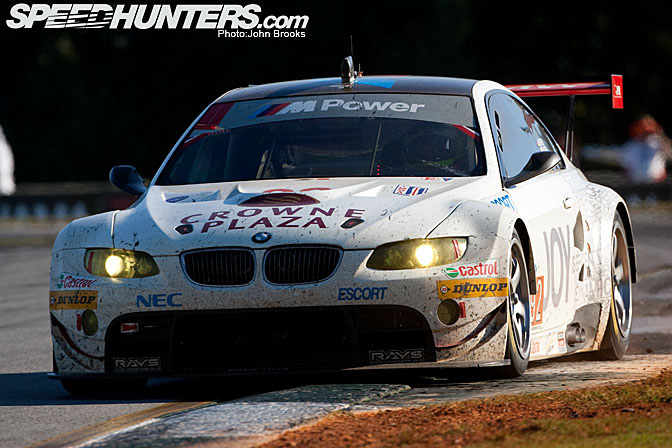 It was slowly become clear we weren't going to be able to race for the win here as we were losing a few tenths a lap to the lead guys. Dirk was putting in some really quick laps but it wasn't quite enough to keep up with the Ferrari's and Corvette's. Dirk got by one of the Corvette's, to put us up to 4th place, but with the Ferrari still in the lead it still wasn't going to be enough to win the manufacturer's championship. I sat on the pit wall hoping for something to go our way but we just didn't have the speed at the end there to keep up with the first three cars. We'd come this far and as the points were at the moment, the team would win the Team Championship but we'd lose the Manufacturer's championship to Ferrari by one point.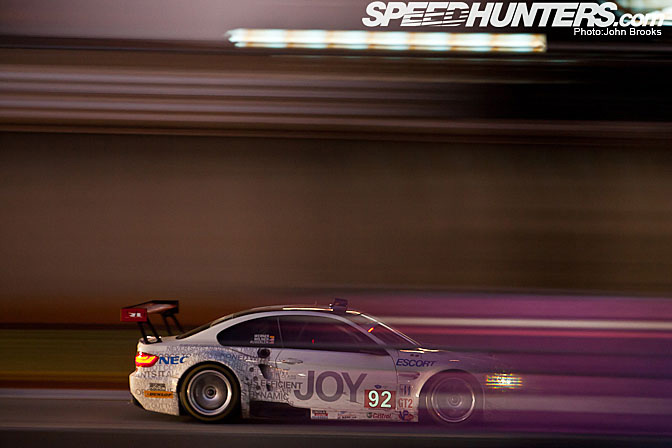 The laps were counting down and things were staying as they were. There was one small twist to come and that was everyone pretty much had to pit for one last splash of fuel and one by one each car in GT started to pit for a quick splash. Everyone rejoined where they left. Ferrari, Corvette, Ferrari, BMW, Corvette, Porsche. All on the same lap after almost 9 hours and almost 1000 miles.
We had had a great season and worked really hard to get to put ourselves in position to win it at the last race. The lead Peugot passed us headed down the back straight on his final lap but wouldn't pass the three GT cars ahead of us so this would be our last lap. We crossed the line in 4th and I stood up from the pit wall, bummed. I shook our engineers hands and said thank for a great season and went to put my headset away. 
And then something happened. The #90 crew, pitted just next to us and about 10 yards away, erupted into cheers…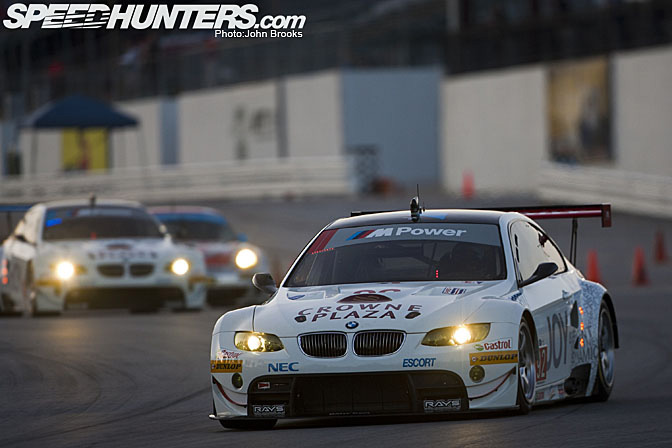 Everyone in our pit turned to the monitors. There was a Ferrari stopped at the bottom of the hill approaching turn 10a. I couldn't tell which one it was. I looked at the timing screen. As I looked, the 62 Ferrari dropped once to 2nd and then again to 3rd. John Hindhaugh from Radio Le Mans could be heard screaming on the loudspeakers around the racetrack. 
It took me a bit to register what was happening but with the Corvette winning the race and Ferrari finishing 2nd and 3rd we'd … win the championship … by a point? Right? My engineer Jay O'Connell looked at the points and, as he always does, makes sure the points were right. Others on the pitstand already had it figured out. YEP! WE WON! UNBELIEVABLE! For five minutes it was just chaos in our pits. Everyone was high-fiving and shaking hands and hugging. It was such a great moment. The Manufacturer's Championship was ours!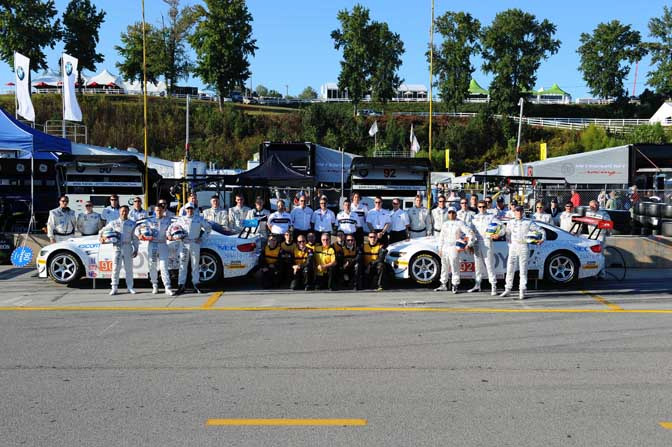 Some people might say we lucked into it with how the race finished but that's discounting all of the effort the whole team has put in this year especially, but also since the start of the program. We earned this one, no doubt in my mind.
There was always one goal this year; Win BMW the Manufacturer's Championship. It felt great. Especially in a year when all of the drivers, Bill, myself, Joey, and Dirk, had such a big part of winning it for BMW. Not one car did it all. Everyone contributed. Everyone did what they had to do and now we had achieved it! It was such an amazing feeling and one I hadn't felt before in all of my racing. Wins feel really good … really good, but this was, and still is, very special. You always race for championships and while race wins are great, the bigger goal is always the championship. I didn't get a race win this year but I'd trade one win for a championship every year.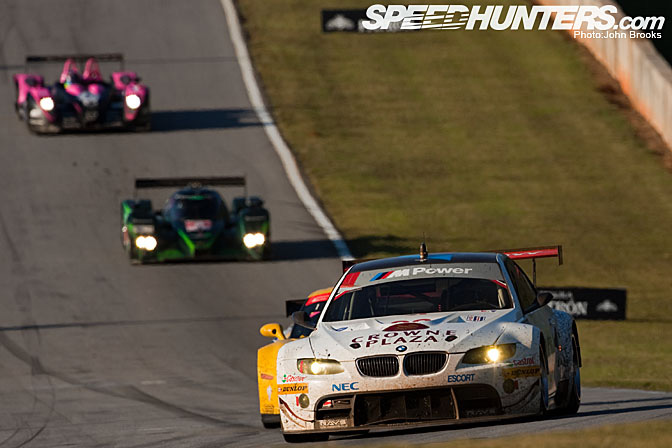 To top it all off, I hadn't even realized that Bill and I had wound up third in the Driver's Championship! 3rd was also my best finish in a championship, with 4th being the best I had done before in 2007 with RLR in a Porsche. I was happy about that for sure but the most rewarding result was 1st for BMW and RLR, no doubt.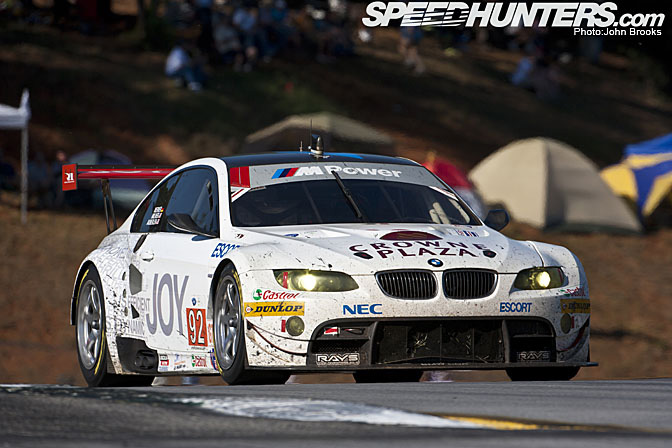 So, a huge thanks to BMW North America, BMW Motorsport, Dunlop, all of the Rahal Letterman Racing Team, my teammate Bill Auberlen, as well as Joey Hand and Dirk Mueller, and Speedhunters, for making 2010 a great season!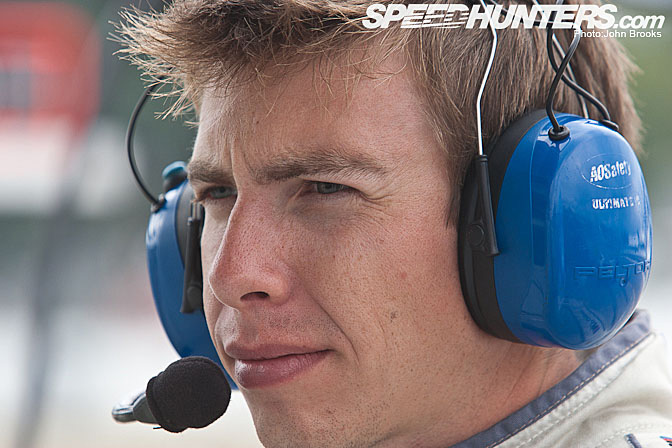 I'll be back next year in the ALMS for sure – hopefully with BMW! – and working on a lot of other exciting things for 2011. Can't wait!
- Tommy