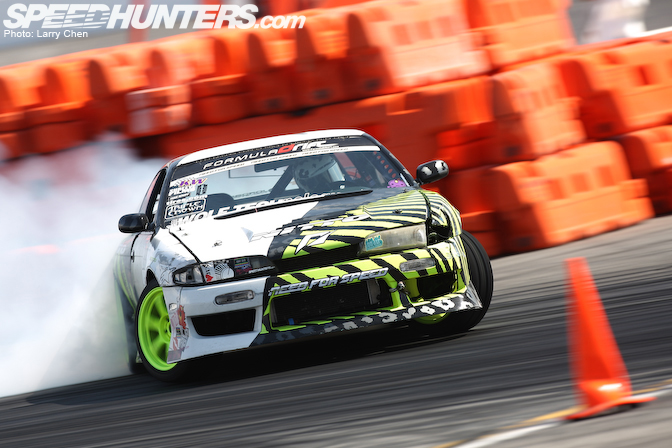 Yo SpeedHunters! The year ended a lot better for me than it had started. Part of me wishes there were still more events and that the season wasn't over. At the same time, I am ready and welcome for the break from Formula D and the "off-season."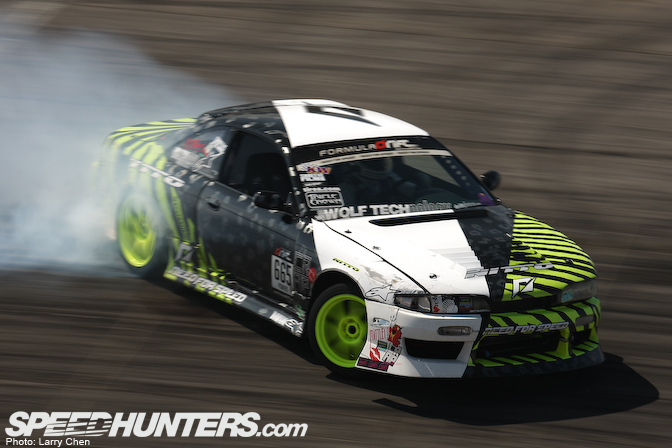 Next year, I want more angle and more smoke! Everybody says it, I don't know if it's to please sponsors but I really mean it when I say this year I learned and grew a lot in many different ways. Overall, I was the second highest rated 4 cylinder turbo, behind Gushi and the second highest rated privateer, behind Aasbo. I'm pretty proud of that as my first serious effort in professional drifting and at Formula D. Next year will be even better!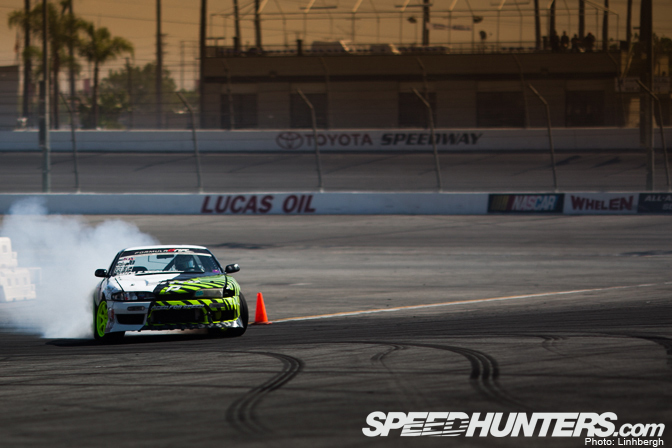 Last year in practice, I would always stop drifting about half way through the last turn to save tires. Now I can mash the gas through the finish line. Thanks Nitto!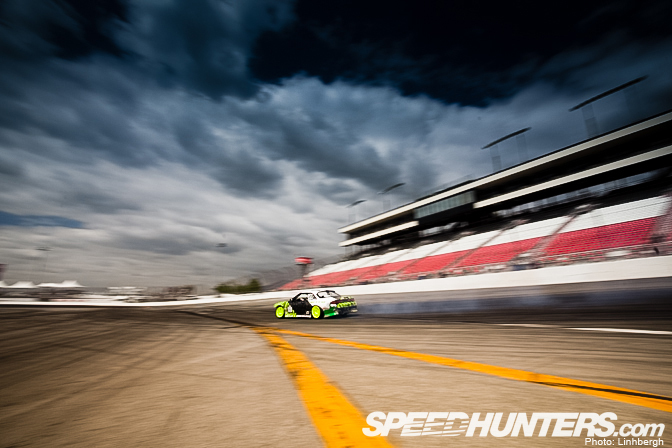 The driving in this photo isn't particularly exciting but the photography is great. The empty stands are a sharp contrast to what they look like Saturday night.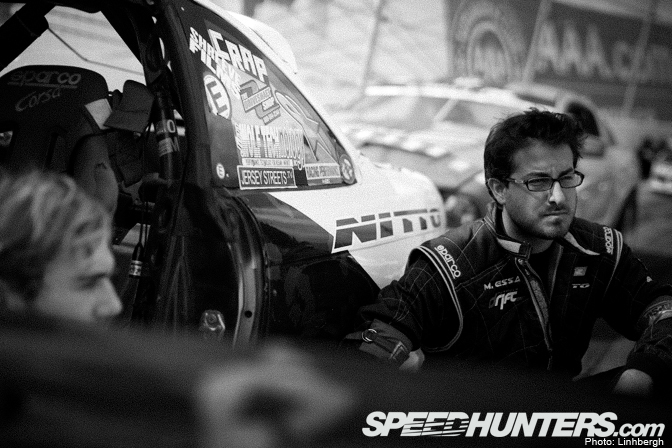 The day before Irwindale Thursday practice, I got back from China for the World Drift Series event with Mike Essa. China was fun. But we both were focused on Irwindale and took it easy out there. I made top 8 in the competition out there. Blew up and wrecked a couple cars, and was well rested; I was already in the zone. Someone pee'd in Mike's bed in China.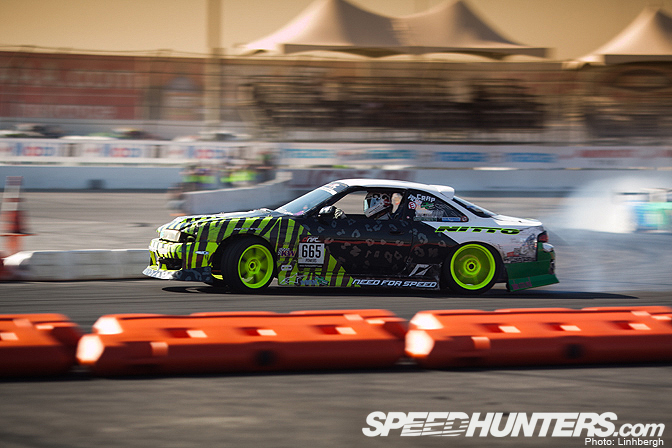 This is the rear suspension with somewhat stiffer settings. You can see how much squat my car gets now with the KW's and a little suspension set up as compared to earlier in the year. Even DMac can't keep up! Though he is not trying to…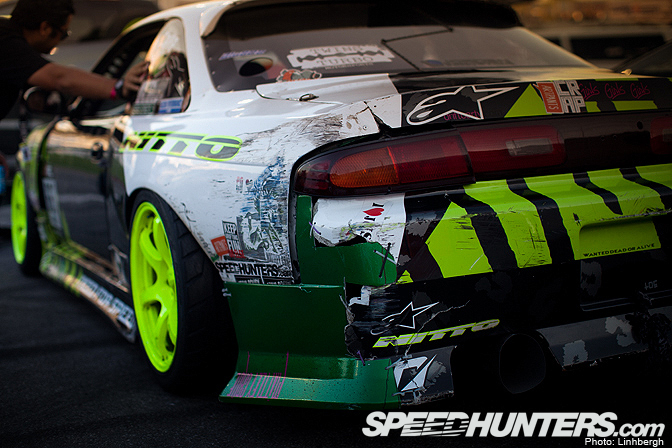 After Sonoma, a piece of my bumper was missing. So I thought it would be cool to Frankenstein something together with my old green bumper. That thing must be good luck at Irwindale.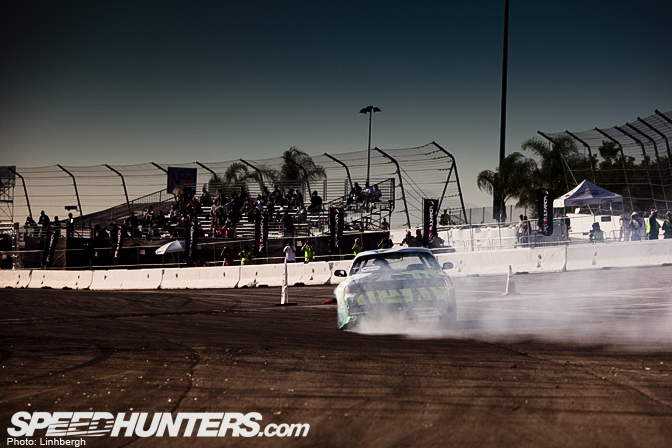 This is a pretty cool angle you don't see too often at Irwindale. It's from the inside area of the outer bank. Aimed at the transition/inner bank wall. You can see why people often crash there while transitioning at a wall. Last year, my car could barely pull third gear from the bank through here, now I can floor it in fourth from the bank all the way past this into my transition into the inner bank. It took a bit of getting used to.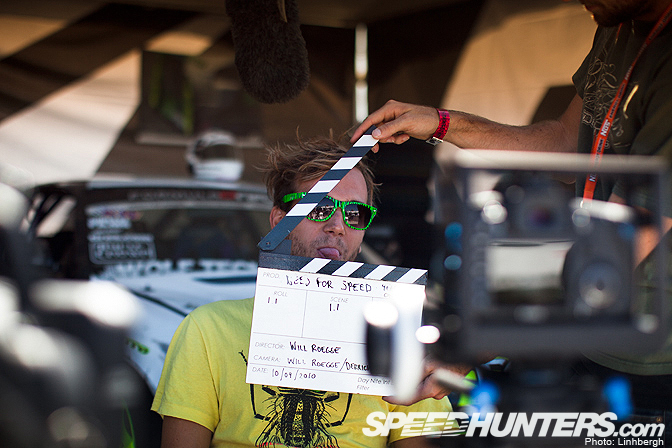 Joon Maeng gave me these glasses (thanks!), Will chopped off my tongue, Linhbergh chopped off Will's head.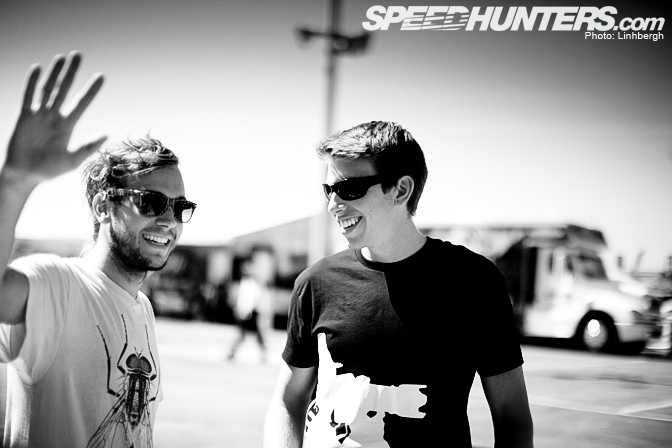 American Le Mans GT2 BMW driver, Tommy Milner, sports the Rodfather T-shirt. I must say the SpeedHunters clan is rather good looking. Zoolander. Tommy mentioned he is interested in drifting. I wonder if he'll soon be blogging as a drifter for SpeedHunters…?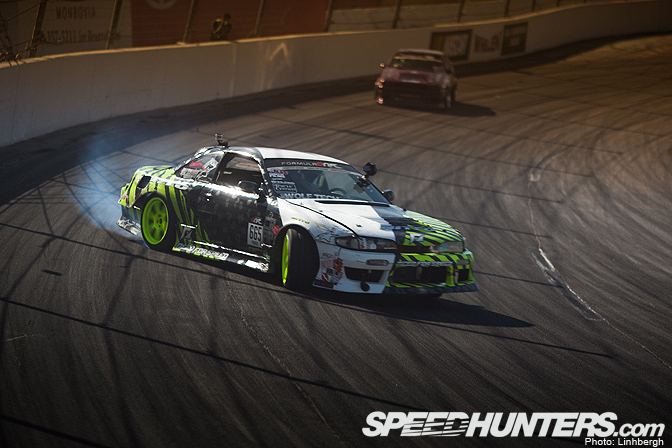 I really wanted to work on the bank this event. Thursday practice, I didn't even complete a full lap on the track. I was just focusing on the bank. I actually had Nate, my spotter, stand on the outer bank wall so he could see really clearly how close I was. I could often see him waving as I drifted by.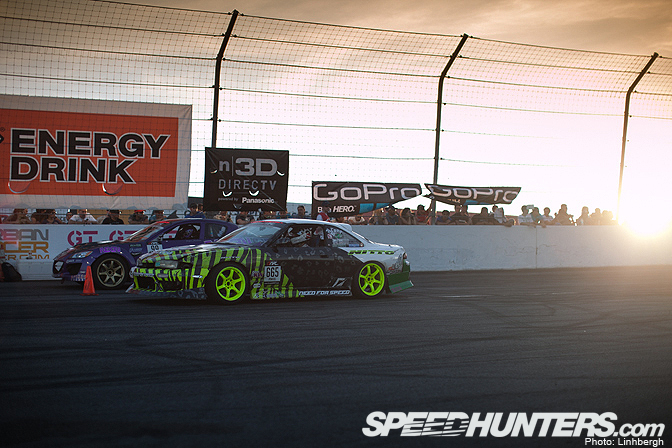 Game Time. Last year, I noticed all the fans and people watching behind the fence a lot more than this year. This year, I was a lot more focused on the track, driving, my car, and what I had to do to move on. I got matched up with Kyle "The Menace" Mohan. I knew he was a bit slower than me on the bank, so my plan was to give him some space and catch up. We got paired up last year as well in the top 8 where I had beaten him. I was sure he was out for revenge. I think Kyle is one of the more underrated drivers in Formula D. I voted for him as most improved driver.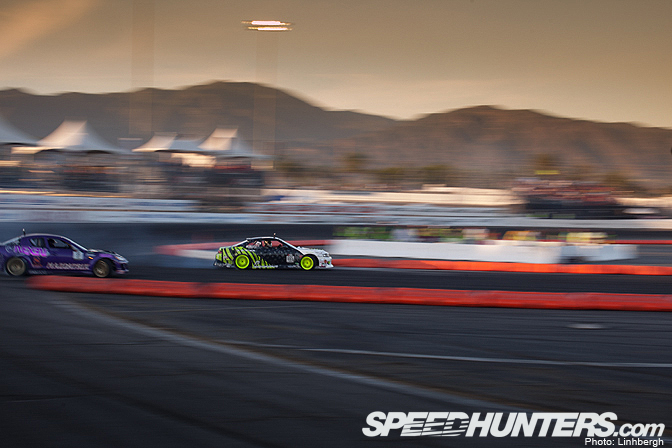 Leading, he had a slight bobble/wall tap on the big bank leading into a major correction when he tapped the inside wall and straightened out. I wasn't sure what to do, so I passed him while drifting. This was actually from my follow lap. You aren't supposed to pass but I thought the situation allowed it and I thought it was kinda fun.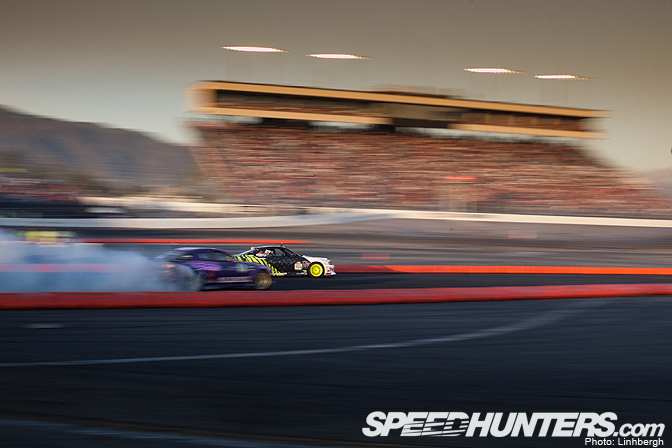 My follow lap finished with Kyle following me. You can see how packed the stands were.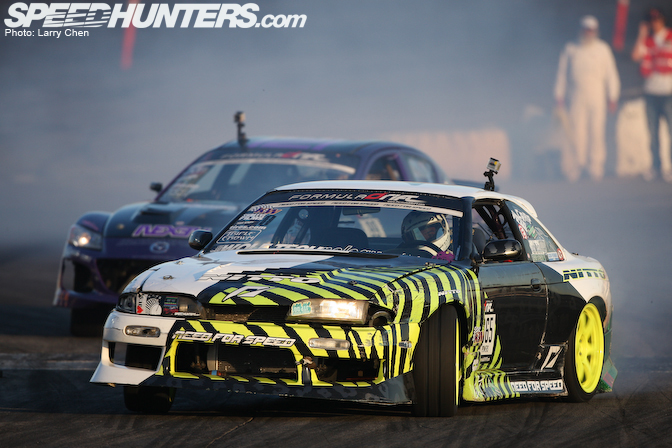 Leading, I knew I had a huge advantage going into the match and decided to focus on being fast and clean. I like the guys posture in the white suit above.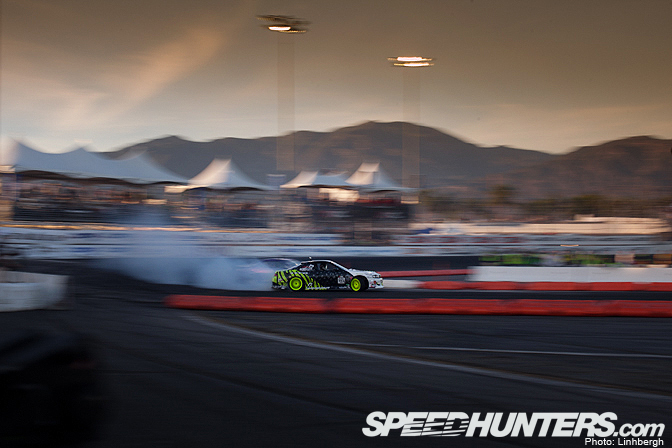 Kyle ran solid and gave a good chase run. I laid down a committed run and did what I had to do to seal the deal.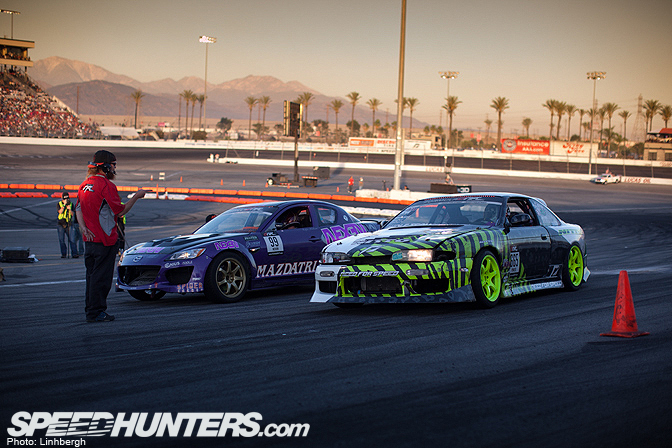 Somehow, Linhbergh captured the exact moment when I got the confirmation that I advanced. I was definitely excited and ready to keep the momentum going.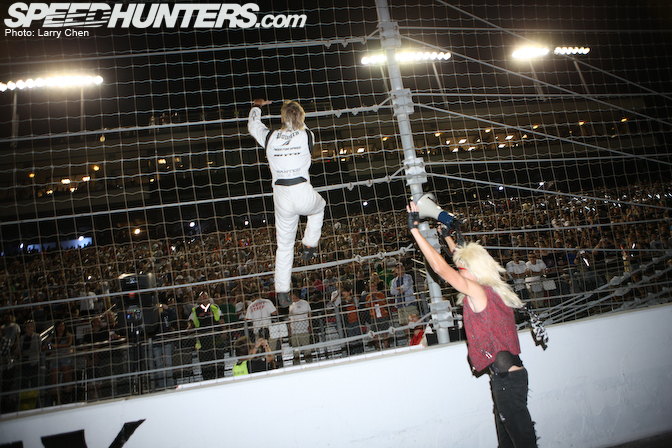 I was pretty pumped going into the top 16. Frothing you might say! I thought everyone climbs the fence? I guess not.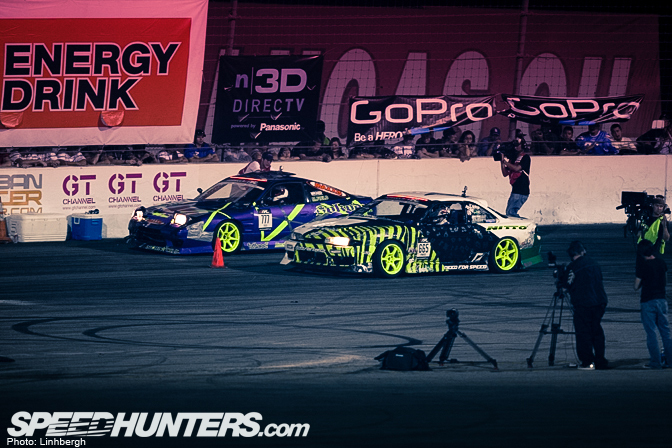 I was pumped when I saw the bracketing. At first I thought, I was going to go against Dai in the top 16, but he spun and Matt Fields took the win over him. I was confident during the break before top 16 about going with Matt. I saw that I would then either meet Aasbo or Gittin in the top 8. I have been hoping to meet up with Jr all year and was ready to make it happen.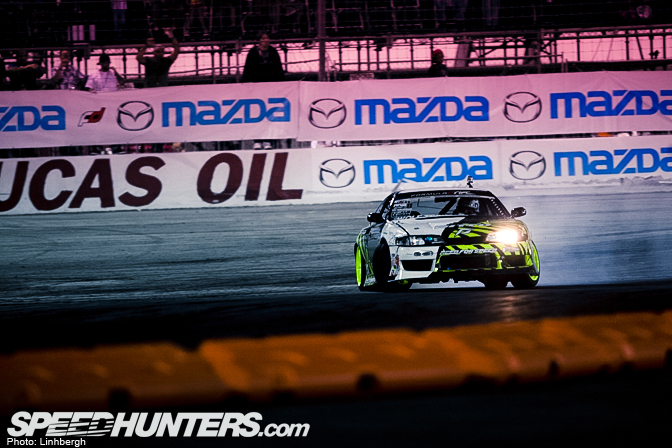 I knew that I was a good amount faster than Fields. So my strategy was to just go as fast as I could on my lead lap and try to keep a solid gap between the cars.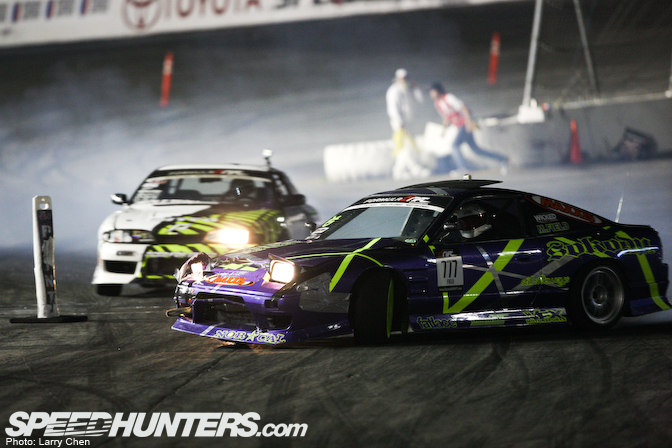 Then on my follow lap my strategy was, however he does-do better. I needed to close the gap around the inner bank. But coming around the transition into the inner bank Fields spun. I almost crashed into him. I was disappointed because I was excited to do some close tandem on the second half of the course with another grassroots driver. But at this moment I knew I had the win and would move into the top 8. It was on!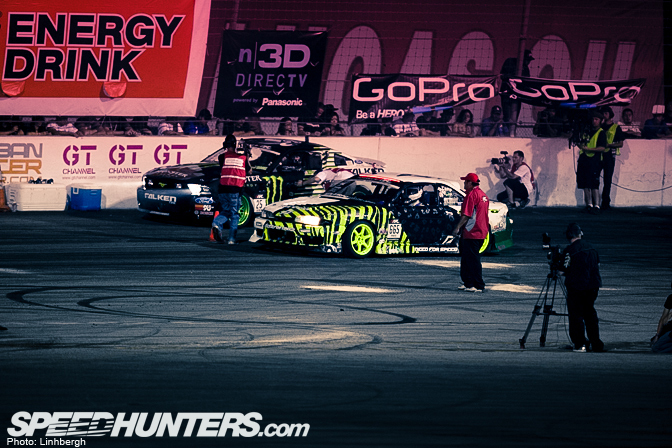 Hell ya, Gittin and Powers! I was so stoked to be able to compete with him since he is a good friend and obviously on fire this year. I wasn't nervous at all and the plan was to just go for it.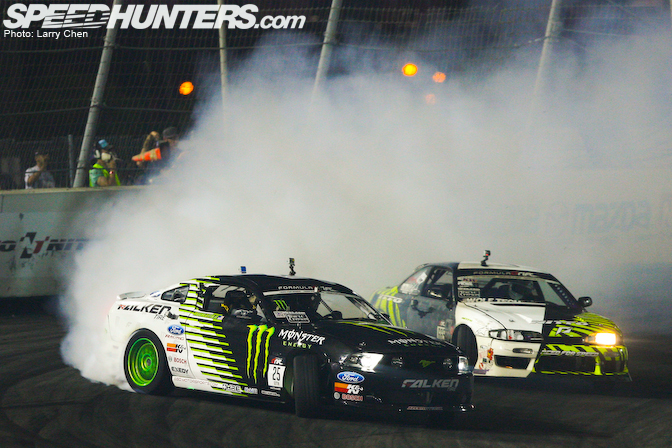 I tried to stay as close as I could. His car was significantly faster than mine though so I tried to run low angle in order to stay with him. I only have one photo of my follow run to show you unfortunately, but it went like this: I had a good amount less angle on the bank, he pulled on me through the transition area, and I was able to close the gap a bit coming into the infield area. It wasn't a good enough follow run to beat what Jr was probably about to do.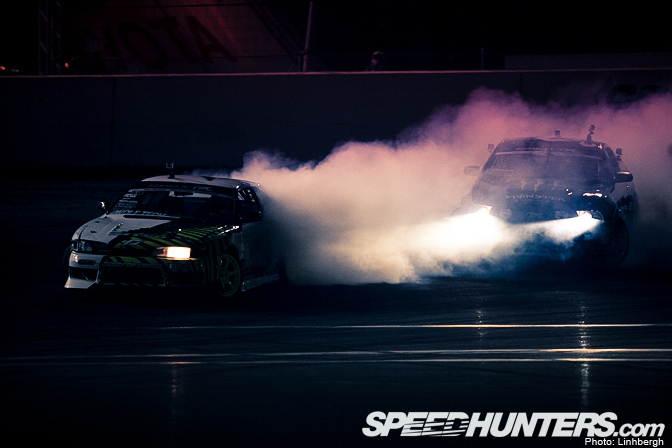 I just decided to run consistent and try to have decent angle coming off the bank and around the transition. My lessons this year made me think doing well involves driving at the limit (obviously), but very important also is strategy and sound execution of your strategy.
It's simpler, but takes longer to figure out, for single runs. Shift points, launching, the line you take down the straight, initiation technique and point or visual reference, familiarity with the course, line in drift, etc. Deciding on a tandem strategy is harder, more analytical, less exact, and more of an educated guess. When to initiate compared to the other person, size of a gap-if any- to leave at first, how hard to go down the straight, when to close in, etc. That's all strategy.
Execution is how well you can stick to your plan, how focused you can remain on your strategy when the lights on the tree turn out and its go time. This is probably the hardest thing I have learned this year as a driver. I started understanding this at Vegas I think. Coming from grassroots drifting, this is something you never do, things you would never think about.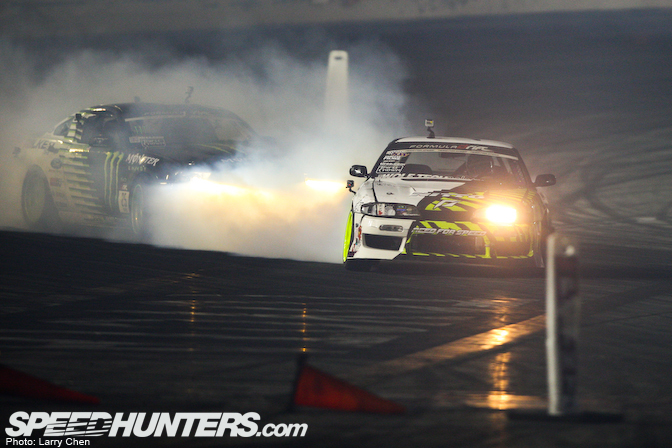 Jr was consistently close to me. Coming through the inside clip into the last infield section, I glanced over, saw how close he was and knew I had lost. 2010 Formula D season for me was now over.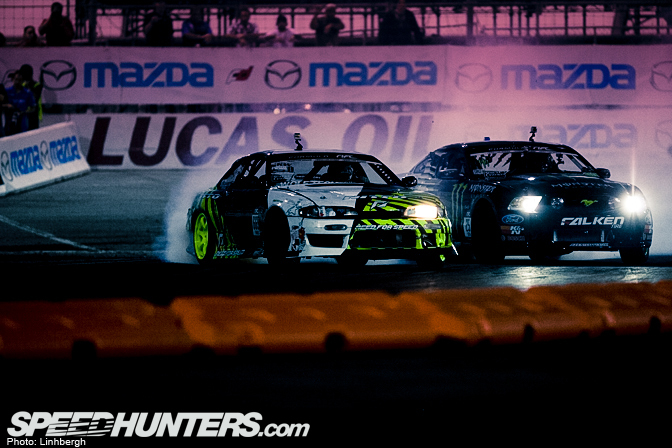 Check out this video from Mark Lenardon here! 
I definitely had a lot of fun at Irwindale. My top 8 finish here put me in 16th place overall for 2010. My goal at the beginning of the year was to finish in the top 16. During the middle of the season I started to question my self-expectations and think that maybe it wasn't a realistic goal based on how my year had gotten started and how I was doing, but it turns out consistency is key and coupled with a few solid results I ended up where I wanted to be. Top 16!
Now, for me? More drifting, working on the car, traveling, surfing, resting, and gaining strength for 2011. I can't wait to bring it!
-Matt