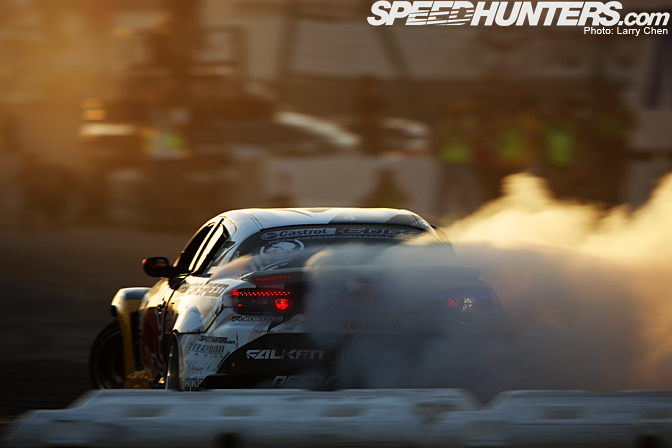 Hey Speedhunters worldwide! Here is my rundown on the Final Round of Formula Drift. I apologies for the delay as I have been busy here in NZ with our prep and Round one of D1NZ.  The course here at Irwindale has been a favourite of mine since I competed here at the D1GP World Allstars in 2007. That was the first and only time I had been on this course and that was in my FD RX7 with a menacing naturally aspirated 3 rotor PP and with a factory 5 speed gearbox.  That one event cemented my name in the drifting world.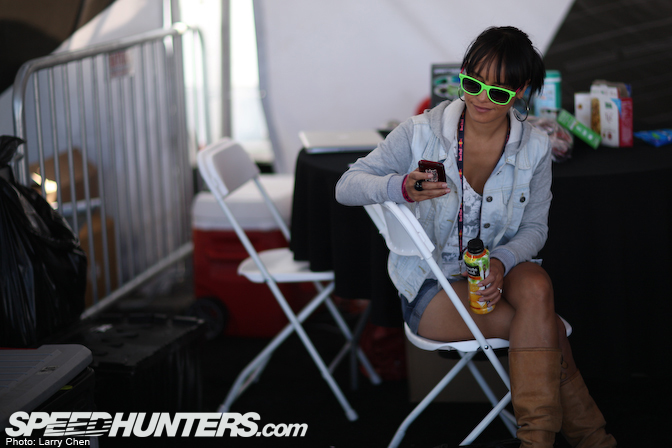 Toni keeps everyone in NZ posted on whats going on. Expensive phone bill. Thanks guys!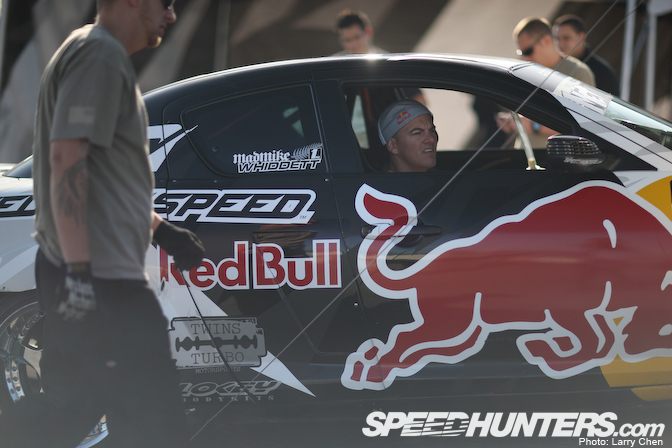 Here I am unloading the BADBUL Thursday morning.  All the issues from Sonoma along with the giant crack in the wastegate manifold had been fixed during the time between rounds thanks to Twins Turbo.  Everything was looking good and we were set for a great weekend ahead.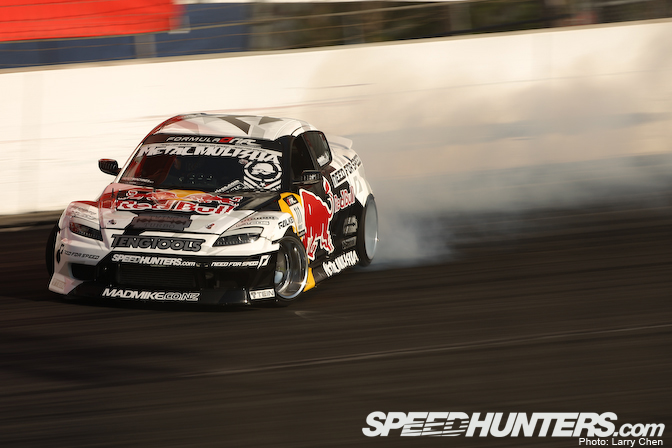 I managed to get in two and half laps testing. On my first lap, I did my usual thing: not drifting but just driving through the course and familiarizing myself with the track layout and clipping points/zones. The second run, I drifted low on the bank as my fourth gear failed to engage.  I did another half lap to see if it was just a once off issue (wishful thinking) but it wasn't. I decided at that point not to destroy the gearbox entirely and instead try to source another transmission. This left the rest of the feild to dial their cars in with 4 hours of track time testing more than I.  Bummer!  
Sarah, from BMI, helped me find a standard RX7 5 speed gearbox from a local shop 5 mins from the track at JRX Rotary.  They had some awesome cars in their shop including RX3's, RX4's and a sick Rotang Miata. Riley, from the Falken team, also hooked me up with the contacts for HKS LA.  So I decided to pick up the box from JRX as a back up and once we had my HKS sequential dropped out of BADBUL. I missioned to HKS to see if they could repair the transmission over night. I left hoping for the best as they wouldn't know what they were in for until they had cracked it open.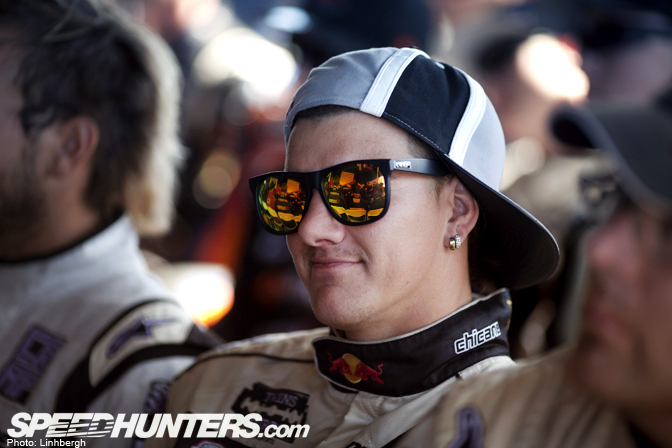 Overnight we had left the RX8 up on stands minus the box, anxiously waiting for the call from HKS. This picture shows me back at the track for drivers briefing at 1pm.  I had managed to leave HKS at 11.45am with a completely rebuilt gearbox.  Katsu of HKS had stayed back all night and replaced the 3rd and 4th dog engagement gears.  The effort these guys had gone to pumped me up even more for the day ahead.   The traffic was on our side (L.A's not known for clear roads!) and we were back at the track with the package for the Twins Turbo team to start putting her back together.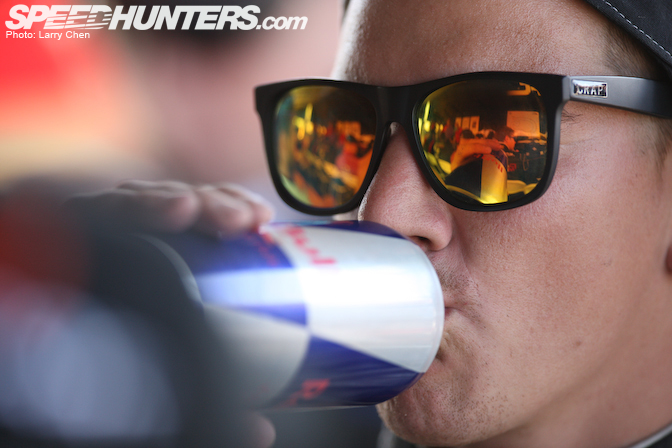 I enjoy the drivers meetings. There's often a lot of joking that goes on but this is also the time when we are given the lines for the day and for me 99% of the tracks have been new so I try to focus in on what the judges want to see.
Matt Powers hooked us up with these sweet CRAP Eyewear sun glasses. "There's nothin' like Crap on yer face!"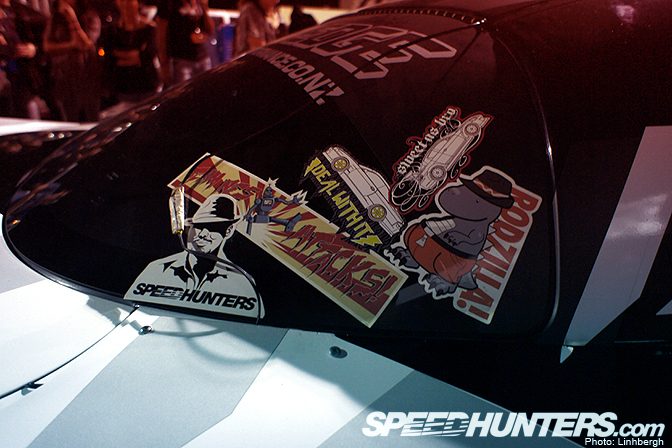 Some of my Team NFS sticker collection.  This seasons stickers have made it all the way down under and also feature on my RX7.  Team NFS worldwide!! Due to the time restrictions and Twins Turbo working on the RX8 transmission we secured a slot in the second practice session before qualifying.  I rolled off the start line and after the first pass the clutch fork had popped off the release bearing and the pedal was rock solid. So I found myself back in the hot pit area to try and get the issue resolved, before I knew it my hour practice session had come to an end and the Twins Turbo guys were still under the RX8 trying to get the clutch issues sorted.
Qualifying had begun and my spot was approaching fast! I jumped in the car and only just made my place in line. This was it! Time for qualifying without any real practice laps….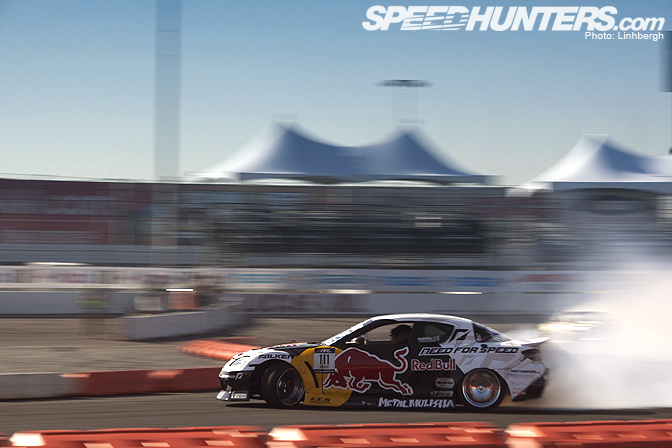 Under extreme pressure, all sorts of things can take over.  I just tried to focus in on the line the judges wanted and tried to calm my nerves not worrying about how little track time we had. For my first pass I was afraid the clutch fork would pop off again so I didn't risk anything by not skidding up my tyres before the run.  It was a good run. However, I came in too close to the wall on the outside zone in front of the judges and lost my back bumper. It was enough to qualify but would see me at the high end of the top 32 drivers.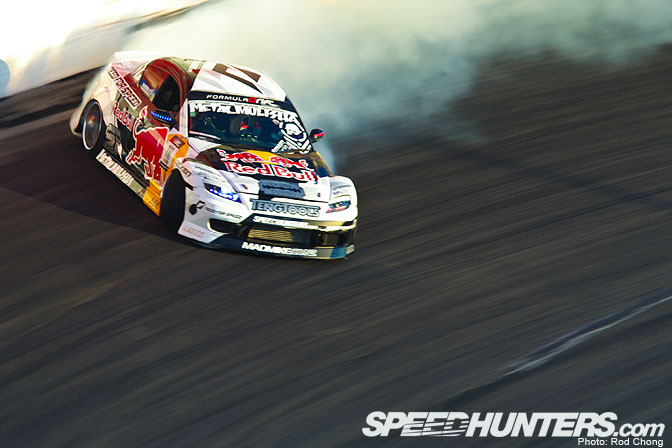 On my second qualifying pass, I took a different approach. Slowing my breathing, thoughts and focusing in on what needed to be done.  I also now knew the transmission and clutch were 100%.  I was so much faster and had a cleaner line, higher on the bank and getting each of the clipping points.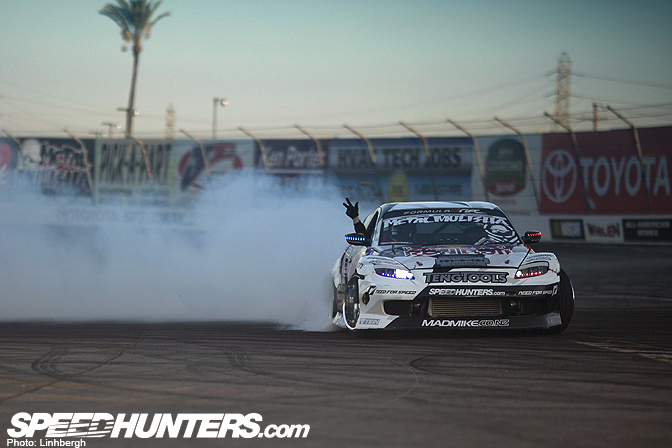 To me this picture speaks volumes about how I felt right at that moment. I had laid down a solid run giving me a 88.4 putting us up in the 9th spot for qualifying.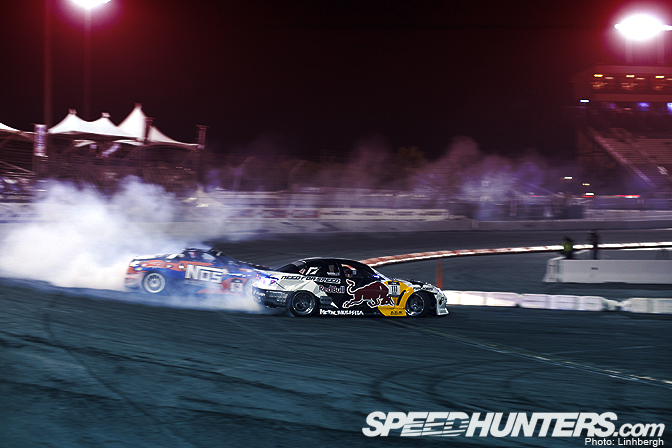 The night practice for the Top 32 drivers is always a bit of fun.  The edge has been taken off and it's often during the practice sessions that you'll witness some of the best driving. Here I lead the 2009 champ Chris Forsberg.  It's feels good to pull off a solid run against someone of this calibre.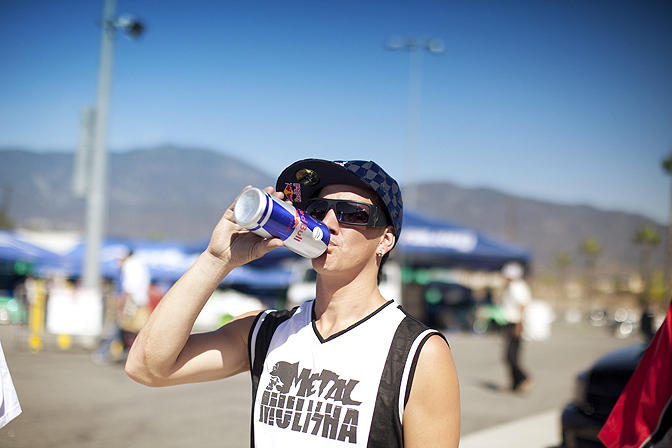 Competition day. I'm always at the track nice n early getting in the zone for the day ahead. Toni says Im always the first at the track and the last to leave, no matter where the event is. I can honestly say I'm guilty as charged.  I would stay at the track if I could! In fact I've done that at most of the events this year and that's one of the things I love most about the FD series!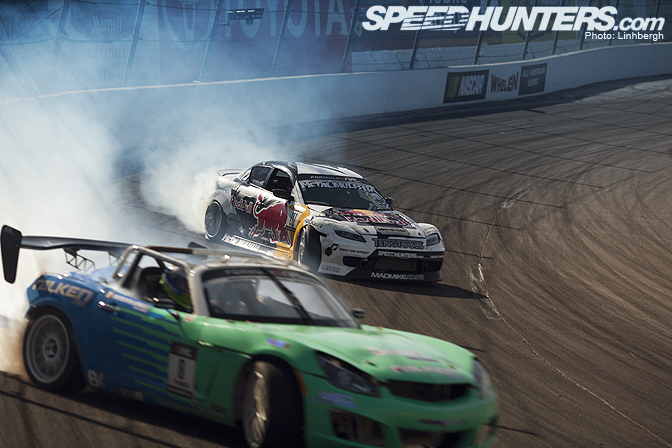 The gates opened to public at 2pm. We had a practice session from 2 til 3pm with the main competition kicking off at 4.  I wanted to get as much chase practice in as I could.  The other drivers had really turned it up at this event. Formula D judge, Tony Angelo, reminded the drivers at the briefing, "this is the Final Round for the season so don't try and save your cars." Haha! Those were my thoughts too, stick it to the wall!  In this pic, I tried to chase DMac in his "bullet" which is so deserving of it's name.  You can see he has already pulled a gap and we have only just initiated.  One thing I would like to achieve is more straight line speed so I'm not getting left behind.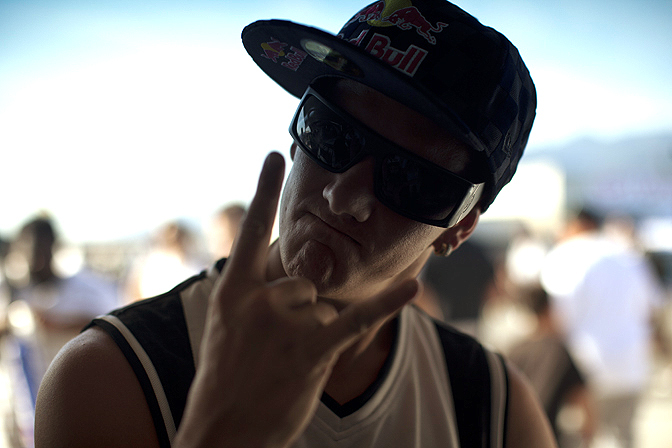 Game face!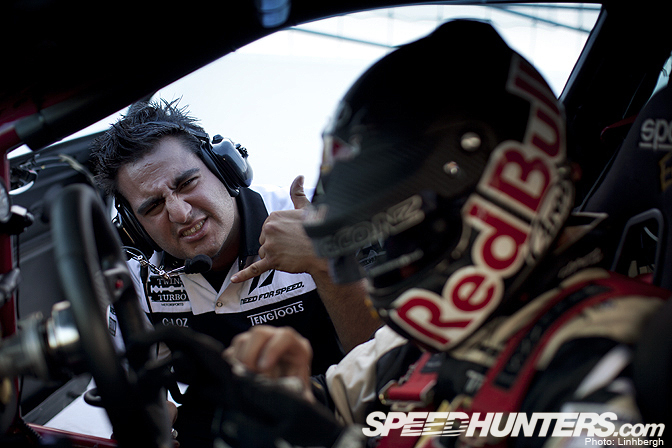 Carlos is the guy in my ear, he gets me pumped up prior to getting on the track.  Since working closer with drifting this year he has also picked up the sickness and has begun his journey in the drift world as a driver, building an FC RX7. I better watch out, one day I might just come up against him!  The guys had worked hard on getting this gear box in for me the day before which got me back on track! I owed it to them to get out there and rip it up!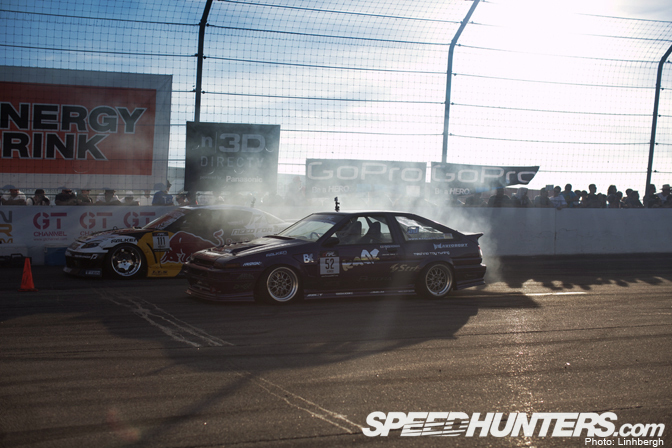 Here I am in the staging lanes for my top 32 battle against Yasu Kondo, who was looking good in the practice sessions just before our battles.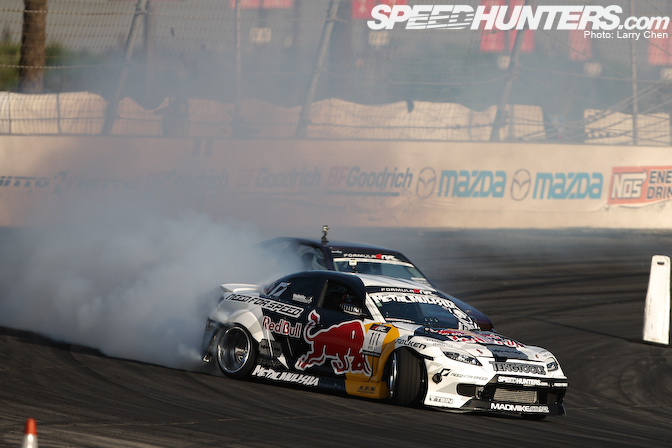 Yasu was putting in a good chase.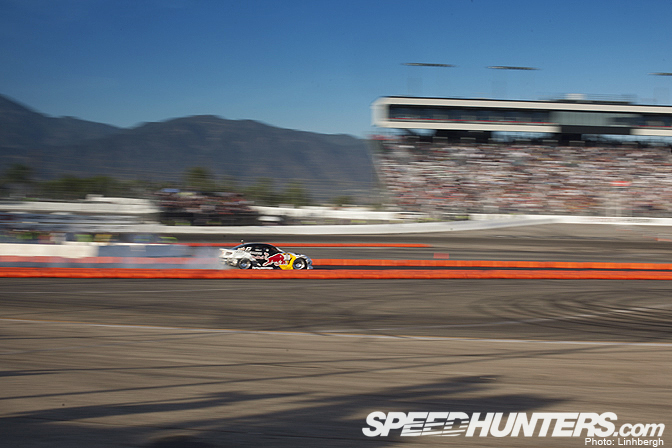 But I managed to pull away. I came into the wall before the judges really fast and sucked Yasu in. He couldn't match the grip of my Falken 615Ks and hit the wall pretty heavy even getting some air!  His team tried their best in the 5 minute time out but they couldn't repair the car for the second battle.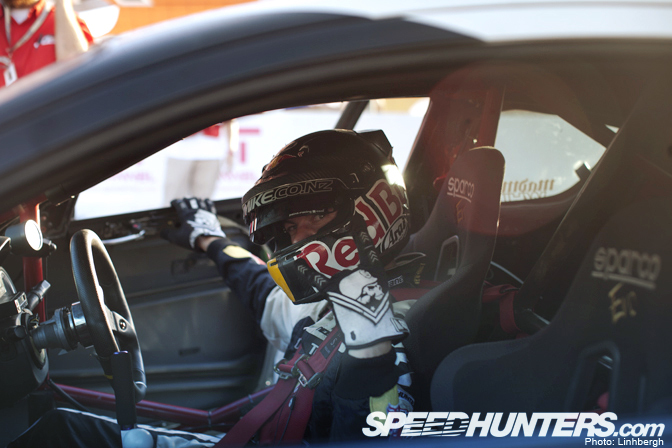 In this pic, you can also see the latest mod on my doorskins: a low budget attempt to try and lighten the car!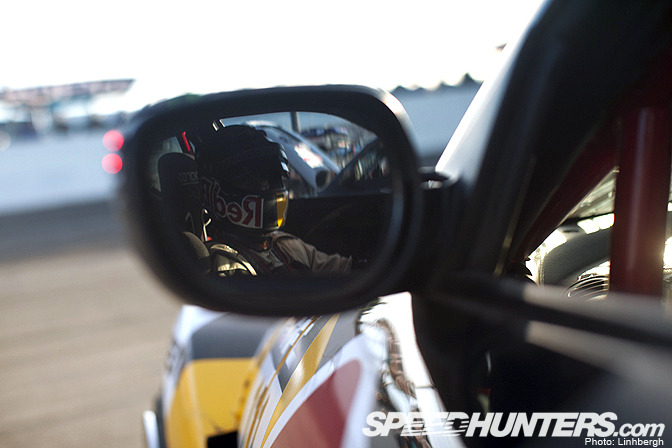 Yes Linhbergh: I see you too.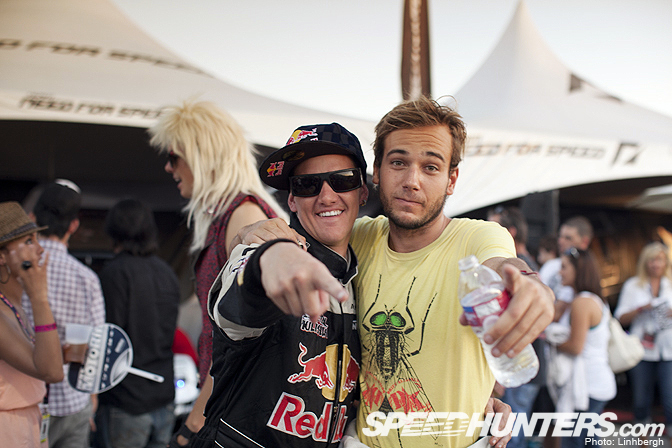 Matt Powers and I congratulate each other on making Top 16 – Team Need For Speed!  Matt has been the best dude to be teamed with this year and his guys Nate, Tommy, Max and CJ, of the Mattley Cru, kick a** every which way!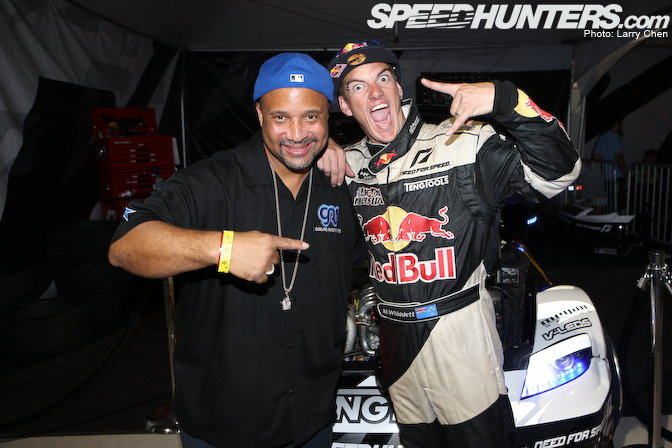 Two of the MADDEST Mikes on the planet. At the same place at the same time! BOOM!!!!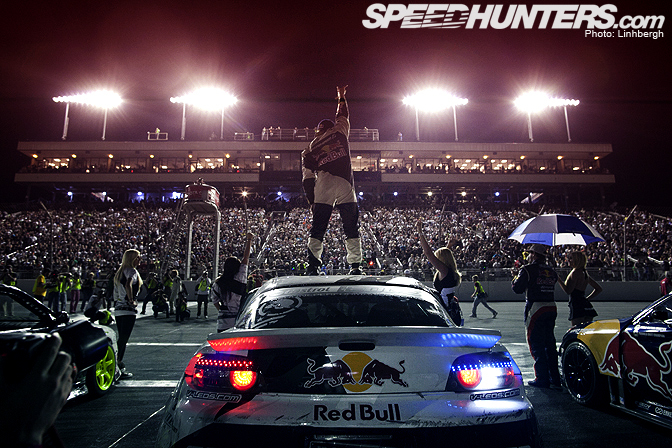 Man, what don't I love about this picture.  Total Rockstar moment!!  Fellow Kiwi, Rhys Millen, to my right, my next battle contender for top 16, and my NFS Teammate, Matt Powers, to my left.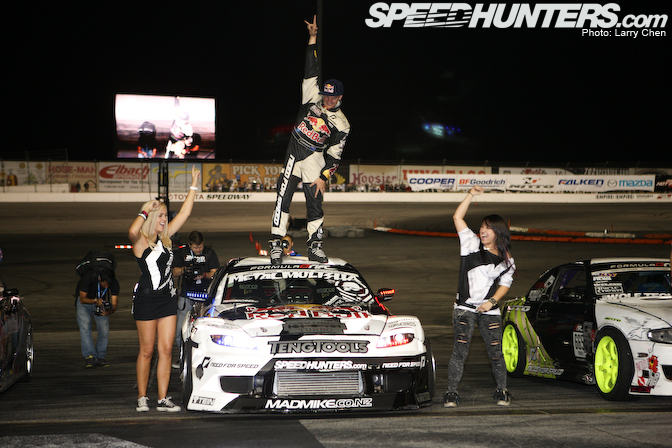 From the front and on the big screen in the rear, you can also see all the pit crews lined along the back fence. Those guys lurking in the shadows make it all come together!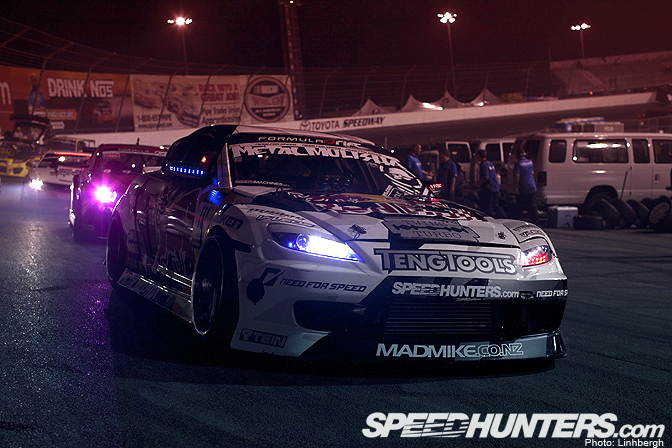 I sit in silence on the grid, nothing but the sound of the clicking LEDs and my thoughts.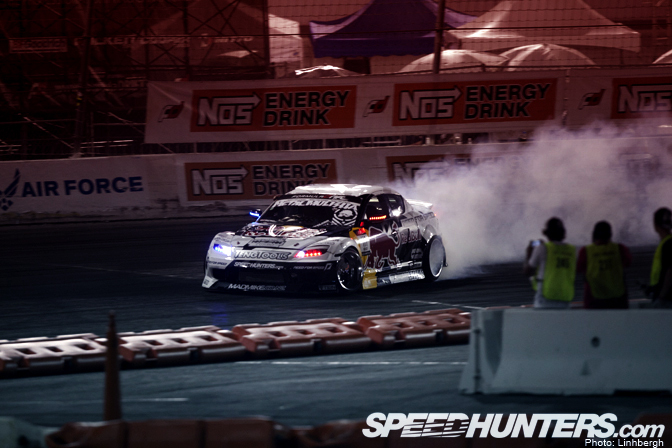 It's time! I warm up my Falken 615-K's ready to battle against Rhys. Off track he's a good mate, but as soon as that helmet goes on and we are paired up against each other the competitor comes out.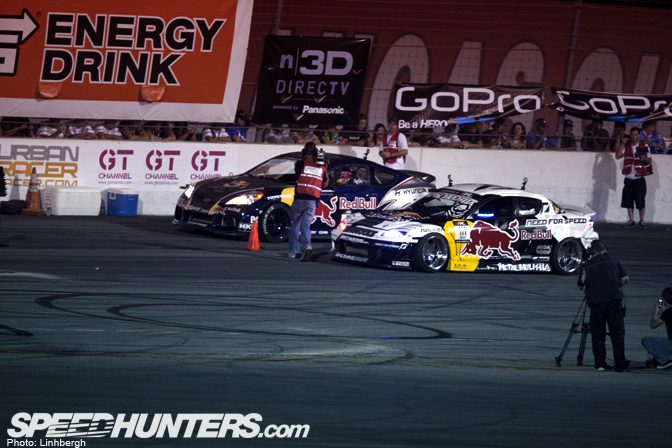 Aside from the fact he's a good friend, it's very intimidating coming up against someone like Rhys.  Im wondering how my RX8 will keep up with Rhys.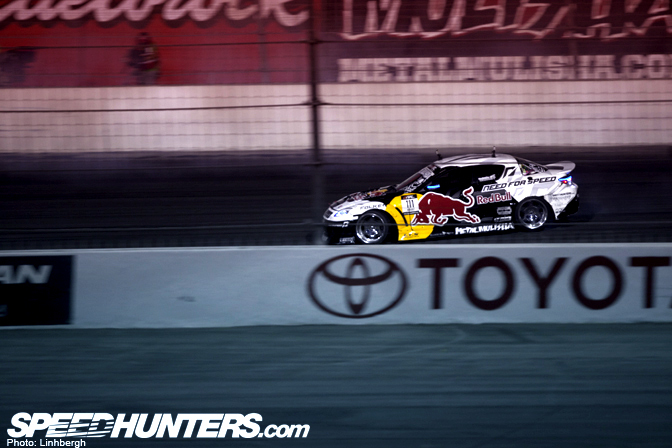 It was almost as though his Hyundai had a fast forward button and he was gone!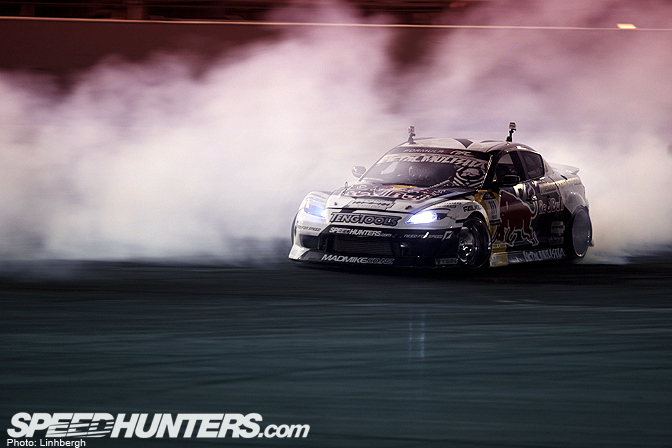 I put in a good run, mirroring his line.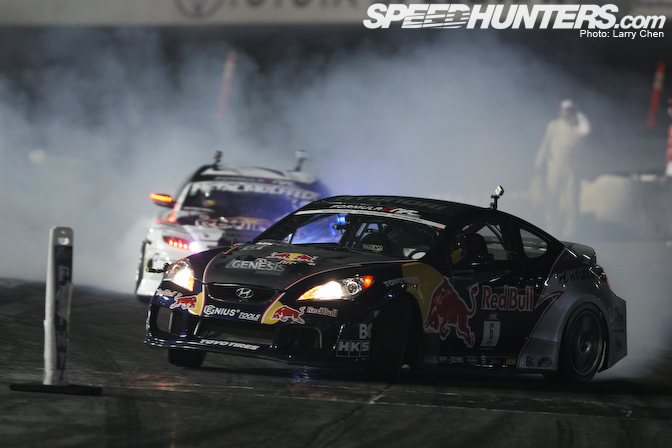 I managed to catch up through the mid section.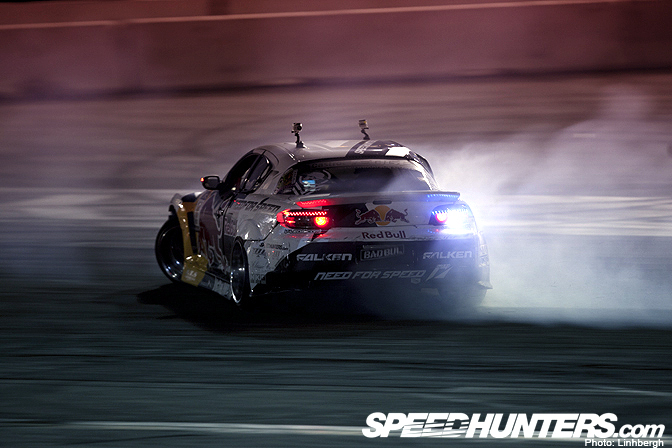 Crossing the line marking the end of the course, I knew the advantage would have gone to Rhys.  One last run to redeem myself  – I thought.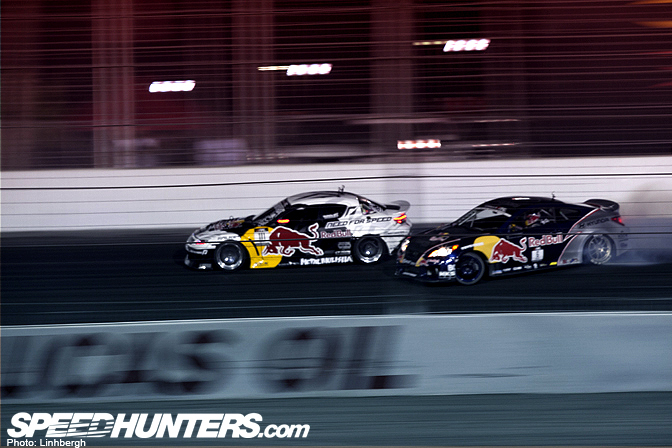 I missed a gear going down the start straight which meant I ended up entering at a slower speed. The slower entry resulted in a low initiation on the bank and the RX8 just didn't have the legs to keep it's drift and this meant I had to clutch kick and e-brake numerous times to try and get it to break loose and drift resulting in a messy entry with many corrections.  I still have a way to go to improve my driving and I will work on this every chance I get.  I would of loved to have the chance of getting more track time this year but having to fly home after each event wasn't making things easier.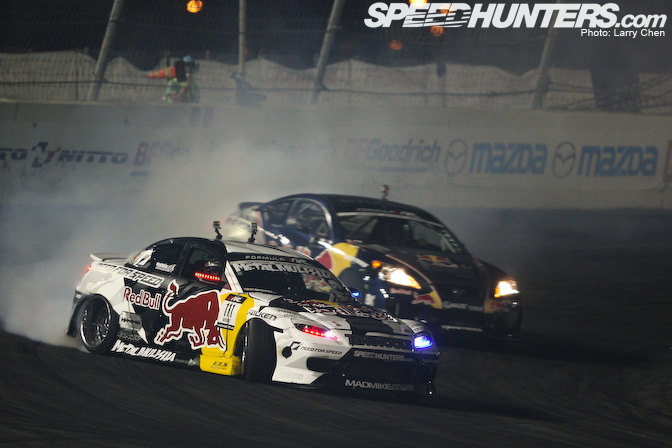 Rhys put down a consistent run.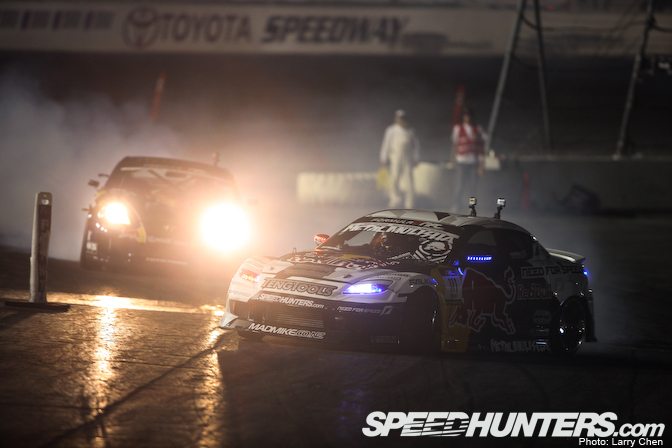 I managed to get a little gap between us but it wasn't enough to get the win.  After crossing the line, Rhys clearly had the win, I went over to congratulate him. He was pissed at my poor driving on the bank thinking that it was a dirty driving tactic. I guess from his perspective it may have seemed that way, but for me, I was only trying to get the BADBUL to drift.  Sometimes as an audience you don't see the panic and drama behind the scenes but the world of drifting is the same as any other sport. We are not immune.  We are only human.  Emotions, thoughts & energy powered by a similar passion.  
This year has been amazing and to have come off with the awards I received: Most Improved Driver & Best looking car. I consider this a hugely successful year.  I was so overjoyed at receiving the most improved driver award as I have really put my heart and soul into making this year come together.
So to begin my thank yous: Twins Turbo Motorsports, Eric and Mark (making the twins) Kev and Carlos for putting me up this year and looking after us, it wasn't always smooth sailing, but sail we did! Even with an old leaky boat.  To the Speedhunters: Rod, Linhbergh, Mike, Larry and of course Will with all their amazing photography and video footage this season.  Team Falken for their support and help all season you rock!
You can check out my other sponsors on my website: www.madmike.co.nz
And lastly, Need For Speed for making this all possible in bringing me over for FD and my year hasnt ended yet! It continues in the D1NZ series.  Stay tuned for more Madness. 
Should I be back in FD next year?  I sure as hell hope so!!
MM