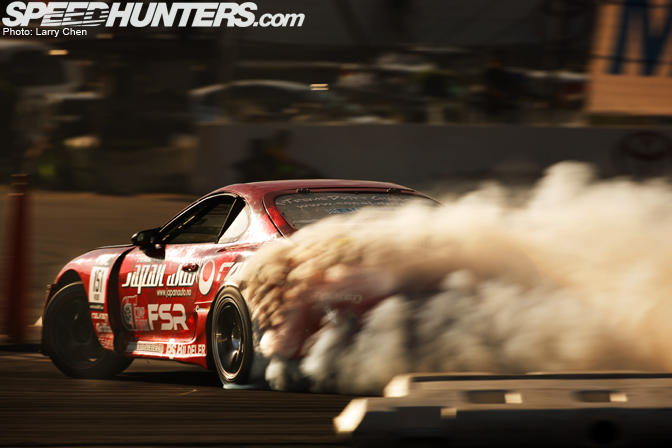 Hi, fellow Speedhunters readers! I am Fredric Aasbo, driver of the Japan Auto FSR #151 Toyota Supra in Formula Drift. Here is my final driver's blog from the season and my recap of the 2010 Formula Drift Finals at Irwindale Speedway.
Exactly one year ago, my parents told me that if I ever got to drive at the Formula Drift Irwindale finals in 2011, they would come over from Norway and cheer on us on from the packed grandstands at 500 Speedway Drive. When it so happened that we finally managed to get there, it turned out that sadly they couldn't afford the trip. Trust me, they really tried, but sometimes things don't work out.
However, they would watch the Driftstream as they always do.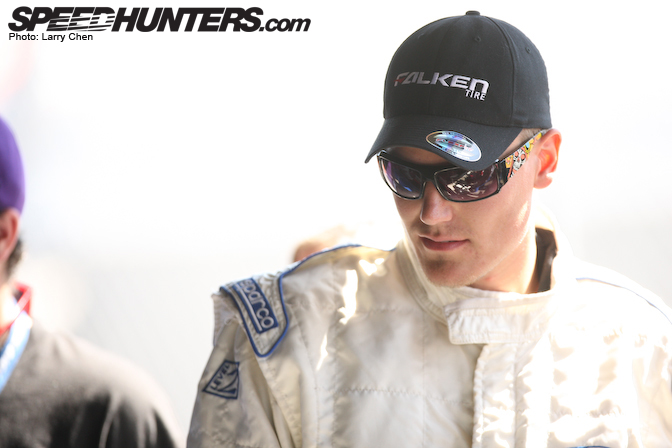 For Japan Auto FSR and me, things did not work out too well either. We had not been able to go testing inbetween Round 6 at Sonoma and Round 7 and the finals at Irwindale, and the fact that we could not even afford replacing a couple of worn out ball joints in the front suspension and tie rods did not leave us with too much confidence.
And then, as we got to the track on Thursday, looking to get some long awaited and important test runs, we blew the front main seal before we even got a single run in. A sloppy crank pulley took out the crank and we needed a new engine. Yes, just like that.
Fortunately we had access to a replacement engine, but we did not know its condition. With all of our fingers crossed, Steffen, the FSR guys and me started the swap that Thursday afternoon. Eventually, the guys kicked me in bed so I had a chance of being sharp the day after, whereas they continued the swap. With several of the SoCal Supra guys chipping in for parts, they eventually got the new engine in. Thanks, guys!
We were trusting good, old Mister Toyota on pulling through with a good engine, and he did not disappoint! We got the car back at the track, ready to go about twenty minutes before the final one hour practice session on Friday.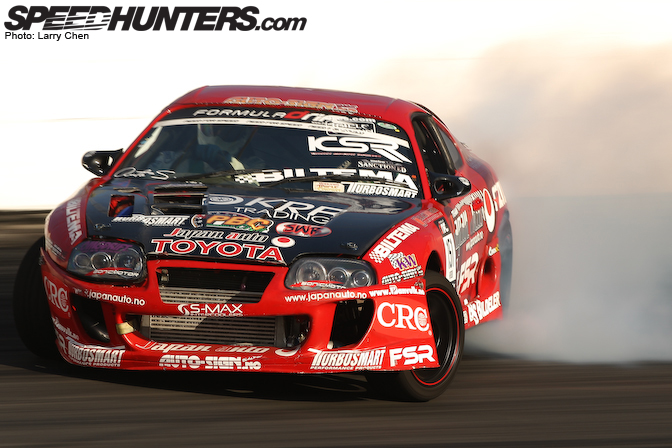 And off I went.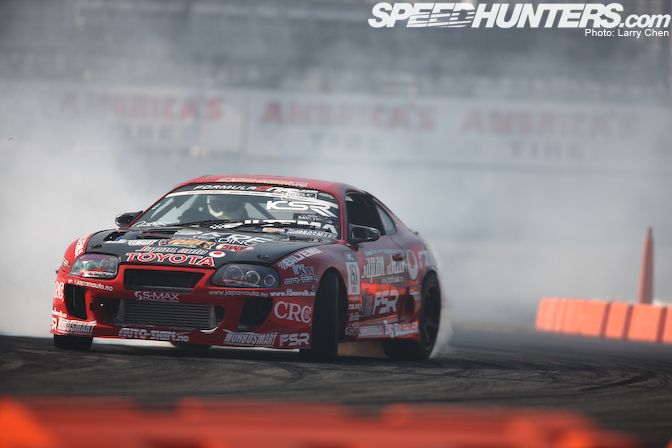 With Steffen at the spotter tower and FSR keeping an eye on the car making sure it held up, we dialed in my driving as good as we could over the few practice laps. Starting off at a careful pace keeping distance to the outer clipping zones, I went in harder for each run.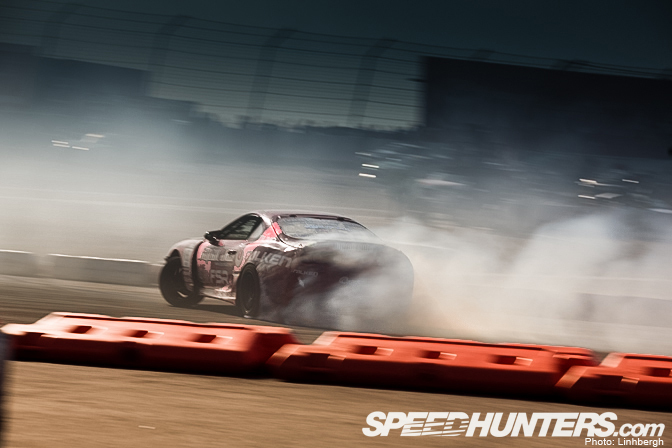 "You can go deeper," Steffen told me, still letting me know he did not want to see a repetition of my all out crash in Las Vegas.
And eventually, after some runs I started tapping the wall. We were having fun. Good old sideways fun, spitting jokes over the radio.
I felt comfortable with the first bank, kissing it gently on the exit. The second bank, however… Let's just say I think that outer clipping zone is one of the toughest sections of the entire Formula Drift schedule. The judges want you to enter that outer wall straight on, "braking with full throttle". I'll try to explain: They want you to throw it in so hard and fast that you are actually going to crash into the wall at a backwards angle. Then, they want you to fool that death wish and pull out by utilizing your grip and full throttle to shoot in from the wall. Thinking about it, it's a very challenging thing to ask for.
And as a drifter, I think it's one of the most inspiring goals to have. If one day I can get to do that outer clipping zone as ballsy as that, I can go out with a bang right after. I would be a happy man.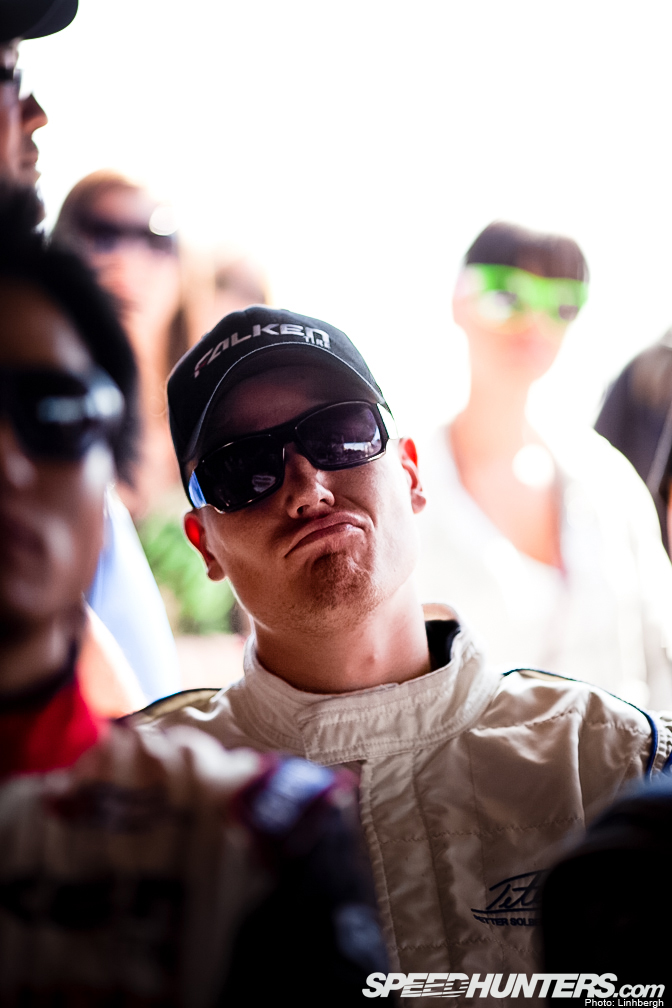 And speaking of judges, I really enjoy the drivers meetings. To me, they are such a big part of drifting; it is where you get your task, brief or mission – whatever you want to call it. There's always a lot of fun too, with all the guys and dudes hanging around. And then there's the occasional newcomer trying a little too hard. Like this guy above!
And that said, it was time for qualifying.
If you look carefully in the picture above, you can spot Ian, Eric and Kent of FSR Motorsport Creations in the far background. Gauging my every move on the track to see if anything happens with the car or me, they are always there to make sure we get back out.
This time, Ian even got new running shoes to quickly travel the hot pit! It's almost like he felt we were having a challenge in front of us or something.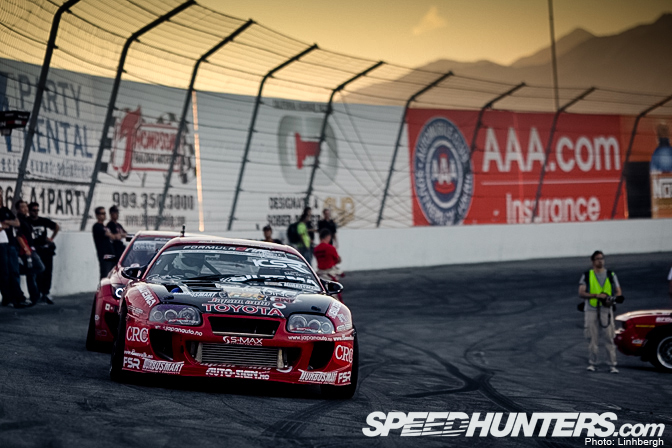 The hot pit is always very calm and collected during the qualification runs. It always seems to be so different from the hectic Saturday twin battles, which always have a mixture of jubilation, discussion and every other thinkable racetrack background noise going on.
The qualification process however, is very sterile and quiet. It leaves you with plenty of  time to get bad thoughts flowing, and as a driver I think the qualification process is very challenging. You see drivers doing all sorts of routines and preparations before going out for their runs, doing their best to not let the devil on their shoulder get the best of them.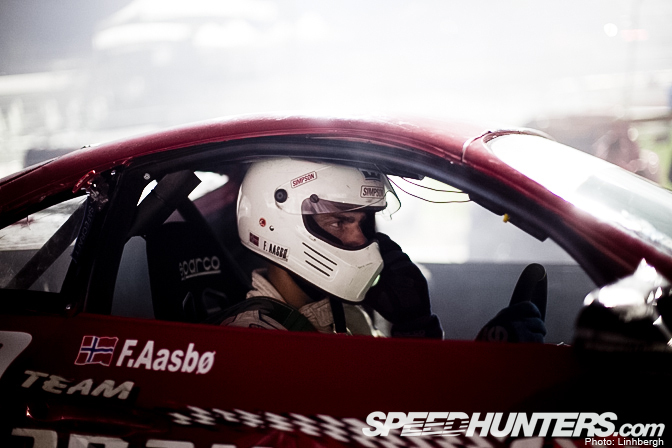 Apparently, my superstition ritual is to be all stone faced inside the car.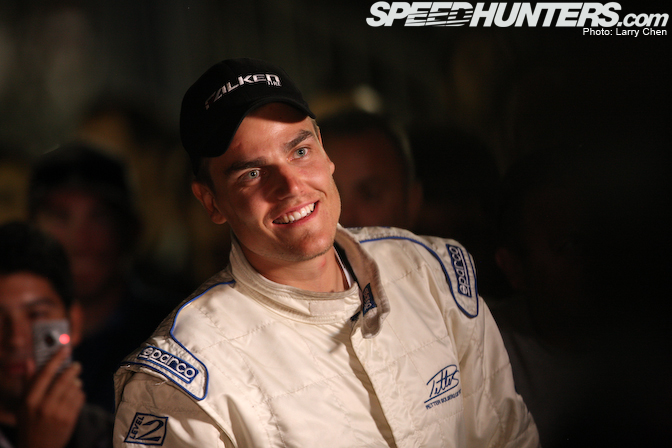 Here's me at the drivers meeting following the qualifying session. Like a kid in a candy store, I am walking up to the judges to get the Insane Entry Award. I couldn't believe it. FD spectators had voted on me to win the competition for the hardest entry!! We had qualified 12th and I were all stoked about being in the top 32 show already, and then I got called up for this award. Thank you all!
I know I am still very rough as a driver and one of my key focuses moving forward is improving speed and line, but it seems like we are getting the angle thing down from time to time! YEAH!!!
One thing I have to mention is that there are two drivers I felt really sorry for at this weekend: The super positive and friendly Dai Yoshihara and Charles Ng. Unfortunately, they did not bring their luck this time. I think the times when things really don't go your way, actually are the times where you grow the most. I know you will both be back, harder, more awesome and with even bigger smiles!!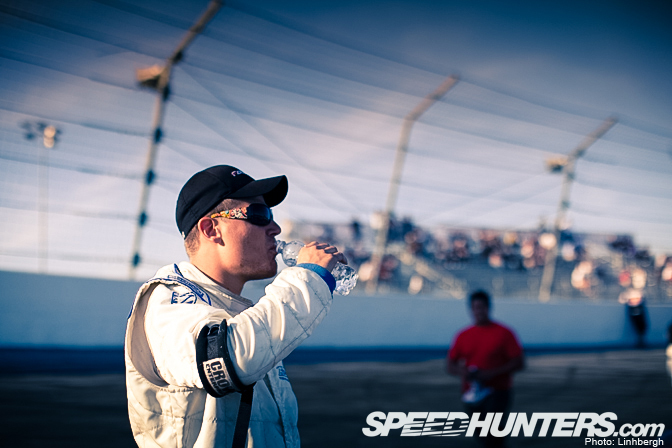 Here's mister trying-to-be-cool again, not really knowing what he's doing.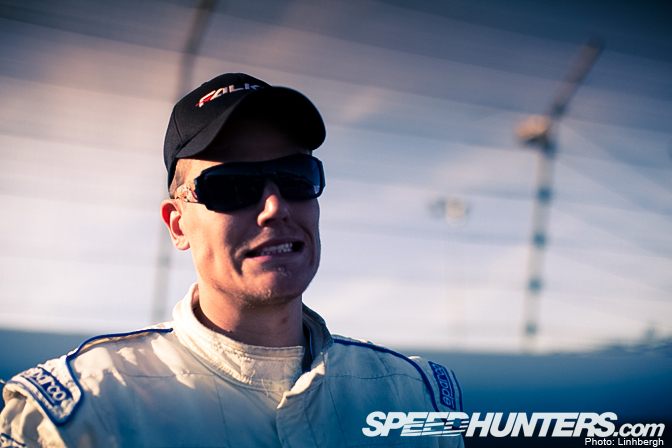 This is more like it! Mister anxiously excited guy more or less ready to go on a date with a concrete wall.
I was up against Taka Aono – the Formula Drift legend that has been here from the start. This was the battle of the Toyotas, at Toyota Speedway, and I couldn't wait! We both agreed to pace each other.
I lead first, and threw it in there with as much throttle, angle and "hold stumt" as I could! We got a slight advantage after the first run, with Taka going a little shallow. My line wasn't perfect either, but judges said we had more flair to it!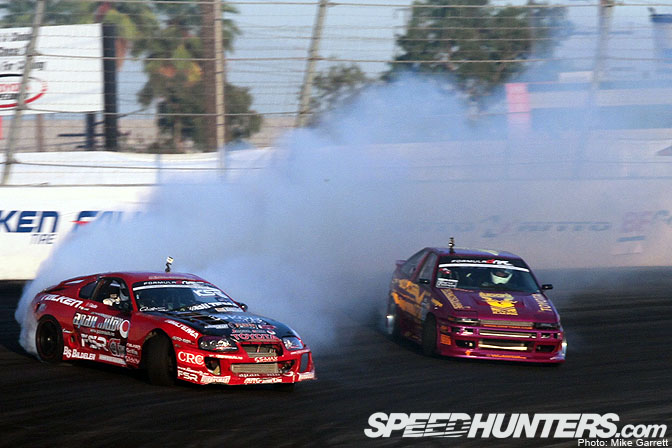 Then, in my second run chasing Taka, I misshifted into third instead of fifth going into the bank. I lost momentum and speed. Pinpointing my problems with misshifts yet again illustrates how much of an issue it is for me. It has been a problem all season, and the number 1 spot on our wish list for next season is a better suited transmission setup.
I got it back in fifth as we entered the bank, and with the distance lost I charged hard to keep up. And in all modesty, I have to admit I am happy with the way I managed to run that second outer clip chasing Taka! Feel free to watch the runs here.
Although I am nowhere near the judges ultimate attack of that outer clipping zone, you can see that in my chase lap, I throw it in hard with good angle. Then, I floor it to shoot out and keep away from  the wall.
I have this idea in my head that it is better to hit the wall backwards at a 90 degree angle than at a sideways angle. That will make you correct less, you are less likely to mess up the wheels and alignment (more chance of driving away from it), and your seat will act as a good cushion for your neck.
It is simply a more comfortable way of crashing.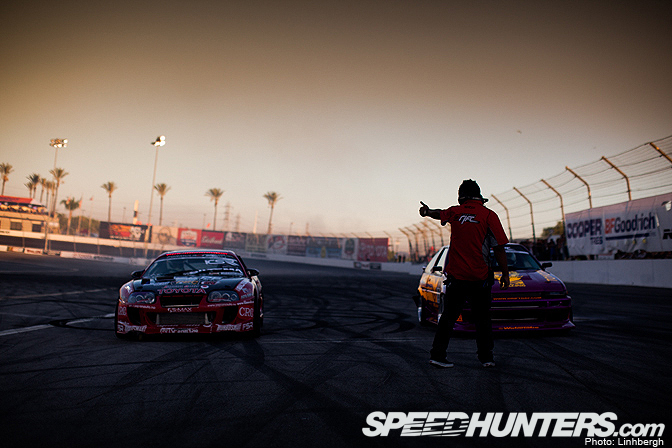 Coming in from the runs, I got the thumbs up. We moved on!! I had been so excited for the Irwindale finals, and we were through to the top 16!
Judge Tony said it was one of the best tandems this far, and that we drove with a lot of intensity! I thanked Taka for two great runs, and got ready for the driver introductions for Top 16.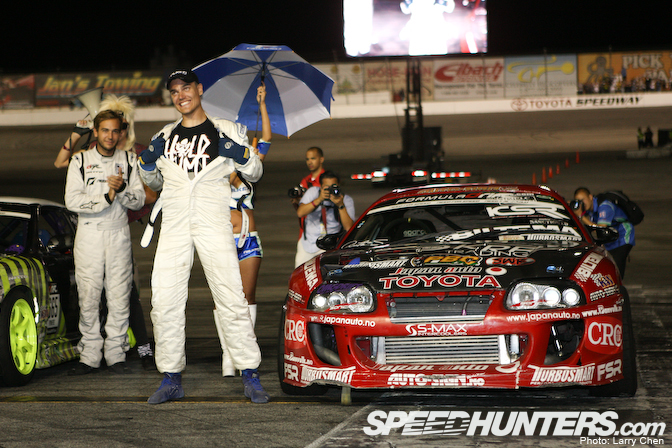 I rolled out with Matt and Mike from Team Need for Speed having Eri from the Falken camp by my side, and I showed off our Jimmy Up Hold Stumt collab support T-shirt. So many people have bought it to help us get to the rounds this year – thank you all!
By the way, I love your royal clapping style, Matt. You clap just like the Norwegian royal family. True story, haha!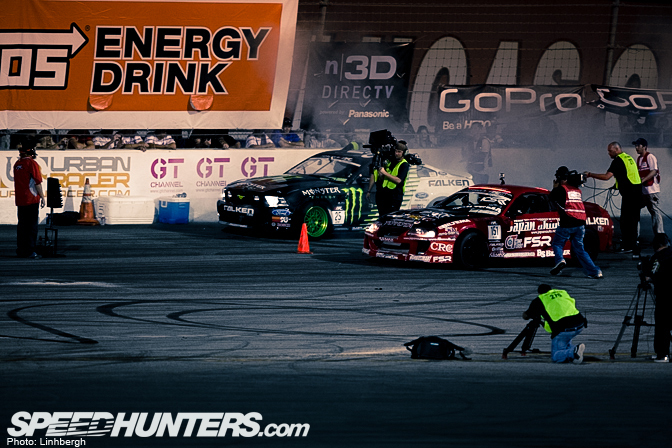 And then, it was time to man up. Literally MAN UP.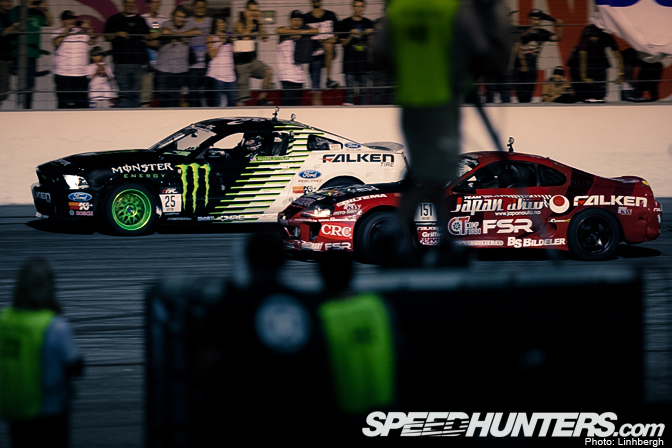 I was up against championship leader Vaughn Gittin Jr., who had podiumed at every event except at Round 5. We were actually the guys prevailing back then in Seattle, and now we met again.
The other two times we had battled it out, Jr had showed us the door. Not without a fight, though! This time I wanted it even more.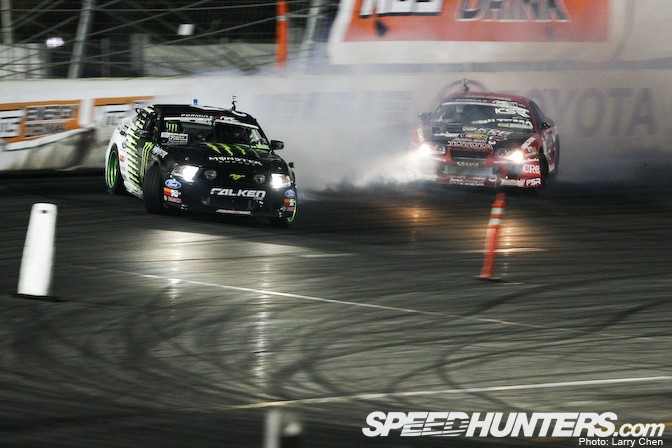 In his no bullshit style, Jr. agreed to pace me down the straight. I took off with him, got a clean launch, and we both flew into the first bank. I managed to stay nice and high, but couldn't keep up through the chicane leading into the second outer clip.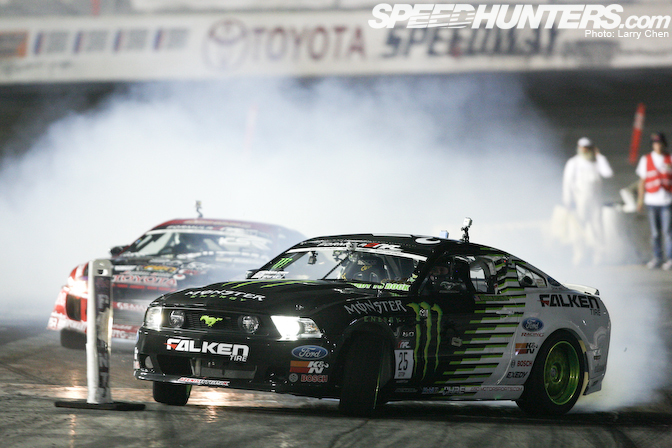 Approaching the second outer clipping zone and the crucial part of the course, I dove in a little too early in a reflexive move to try to keep up with him. With the judges criteria of sticking to the lead cars outer line at all costs, this was the major flaw in my battles against Jr. this time.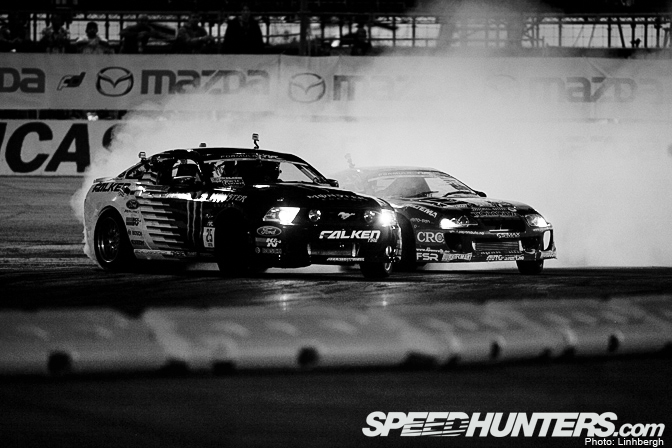 The rest of the run were all done in full throttle style, and I think if we had data logging we would have seen me being on the throttle a fair lot throughout these two runs!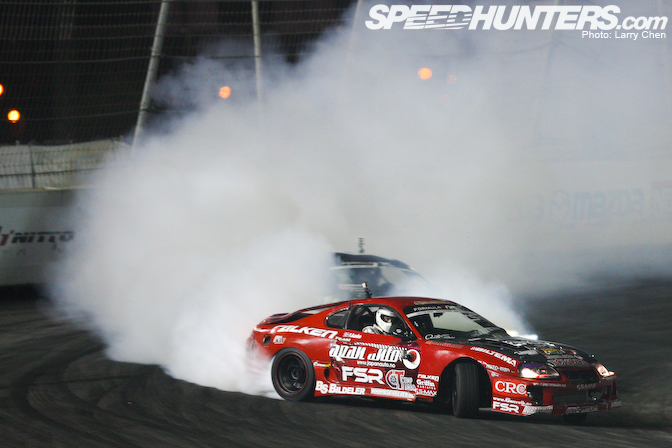 In my lead lap I got to show off what I think is our key strengths; fast transitions and decent angle. However, my line was a touch too shallow throughout the course proving that I still have to adapt to the Formula Drift way of running the outer zones. I think this all comes down to getting more experience. Whereas this was our first FD season, the top guys have competed in FD for five to seven years now.
We will do whatever we have to in order to continue our step by step approach and slowly get more consistent, faster and confident. The Supra is still very stock, so we have a list of several stops to pull out on that end as well.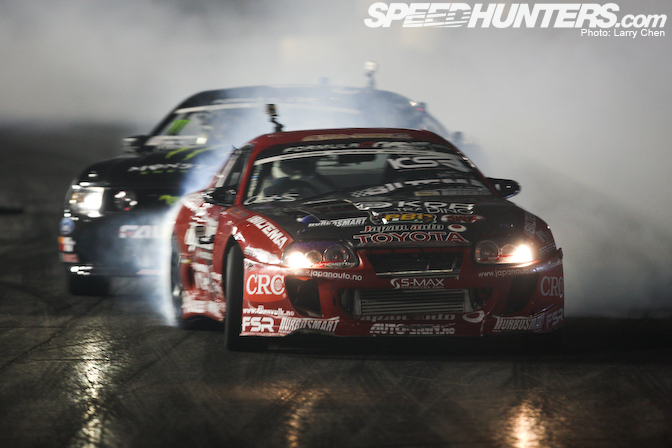 Jr. prevailed from our runs, but I think my spotter Steffen can vouch for me having a lot of fun out there. I was literally screaming of joy in the radio as I came back in! It's such a relief when you feel you are giving it absolutely all you've got!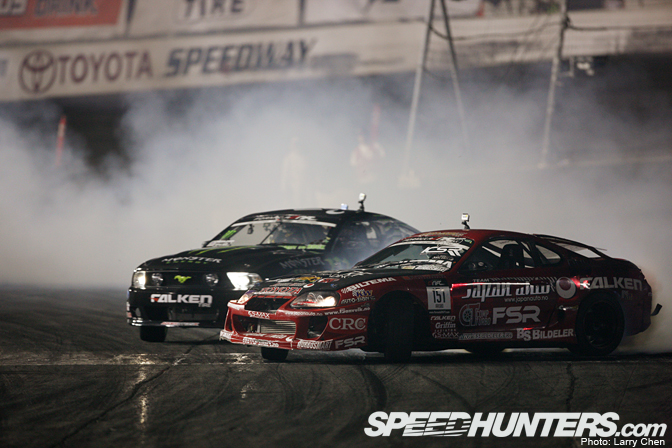 This was the fourth time I met Jr this season. We've been battling it out, time after time, and Jr has been schooling me like a boxing mentor teaches his boys. He has the experience, the skill set, the support and the mindset of a winner to back it all up. And even though we managed to stop his seven round long podium run this season, we have a lot to work on and a very concise list of what to practice and improve.
If you look at most people that accomplishes something in this world, they seem to have one thing in common: They are not afraid of loosing. And even with all the pressure and the high stakes at hand, Jr is a guy that definitely is not afraid of either crashing or loosing.
In my eyes, Jr  is such a straight up, honest and earnest champion of 2010. Congratulations yet again!!
Thanks for being such a great mentor for all of us.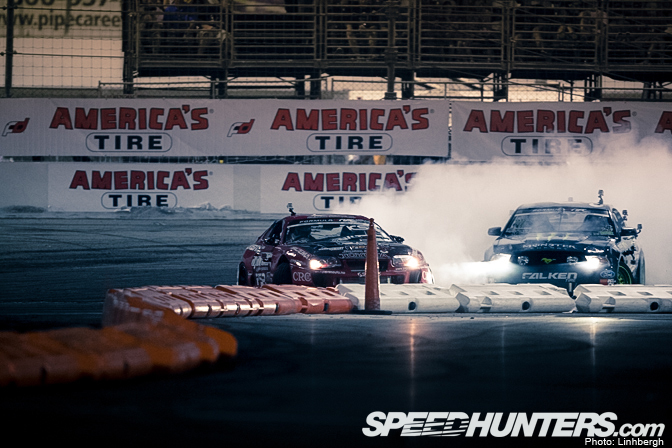 After I got knocked out by Jr, I got the official message that we had won the Rookie of the Year points race. Apparently we were the first FD rookie team to get the award after not having competed in the full series. I walked up in the grandstands to meet my girlfriend, sister and friends, and they kept telling me they had witnessed the best show they had ever seen! We got ready to watch the finals, and as much as I would have loved to drive out there very little in this world beats watching the Formula Drift finals at Irwindale with good friends.
I sat there, thinking to myself that it is strange how cars burning rubber can become such a hardcore, technology driven motorsport. And I had the feeling that as the sport gets more fierce, tense and exciting, the impressions on everyone involved get even stronger.
And then, right there, as I sat down with my people to enjoy the rest of the finals, my parents came walking up the stairs. Just like that, out of nowhere. After telling me they couldn't afford to come, they had sold one of their cars to keep their promise of coming over from Norway to cheer us on. I was speechless. I was like a a kid, far away from home doing what I love, and I was there with the people that mean the most to me.
That right there, was the best moment of my life.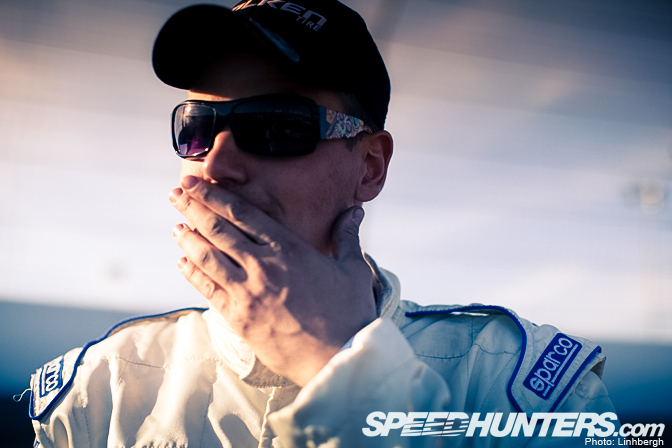 I want to direct a big thank you to my sponsors (check them out at www.fredricaasbo.com), and to all my friends and every single one of you helping us out along the way. A special thanks go out to my right hand and spotter Steffen, Ian, Eric, Kent and Fernando of FSR Motorsport Creations, Tom Ole of Japan Auto, everybody over at Falken Tire and Speedhunters for your pictures and for letting me blog throughout the season. As I said at the Formula Drift banquet after we got the Hard Charging Driver of The Year award and the Rookie of The Year award; we might not always know what we are doing, but we are going for it with all we have!
So as I am typing this, and the season has come to an end with SEMA just around the corner. I know Formula Drift has a lot in store for next year. Formula Drift of 2011 will be faster, more hardcore and even more tense as every team and every driver gear up. I am going back to Norway over the winter and will do an indoor event in Oslo this November and if the stars align we will be back for next season. And as for Chucky, the Supra?
Let's just say we might give him a fresh layer of paint.
On behalf of the entire Japan Auto FSR Team – thanks for a simply awesome 2010. Here's to 2011!!
Keep the faith,
Fredric