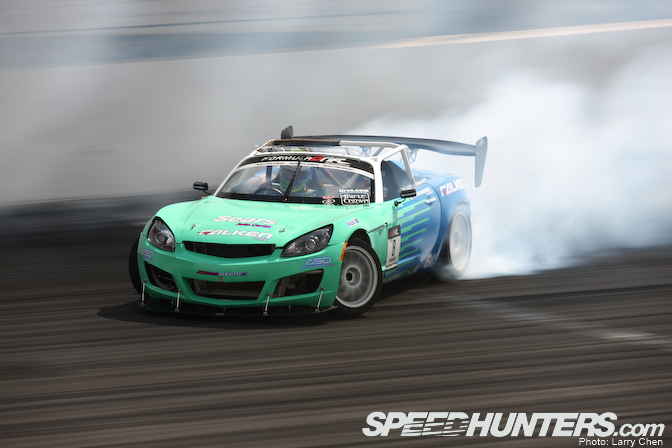 Hello Speedhunters! It's time to take a break from building the Need for Speed D-Mac 86 to re-cap my weekend at Irwindale Speedway. I can't believe this is my final Formula D Blog for the year. This year has gone by so so fast! Or maybe I'm just getting old… Before we start, it must be mentioned that I owe my career to Irwindale Speedway. I first drove here in 2006 with my trusty AE86, did well enough to make my dreams come true and sign for Falken Tire for 2007. But since then I have never been able to get a good result here. I crashed my 86 in 2007 and the Sky in both 08 and last year. Last year was the biggest of my career so far.
So no pressure for 2010 then!
Here is what happened….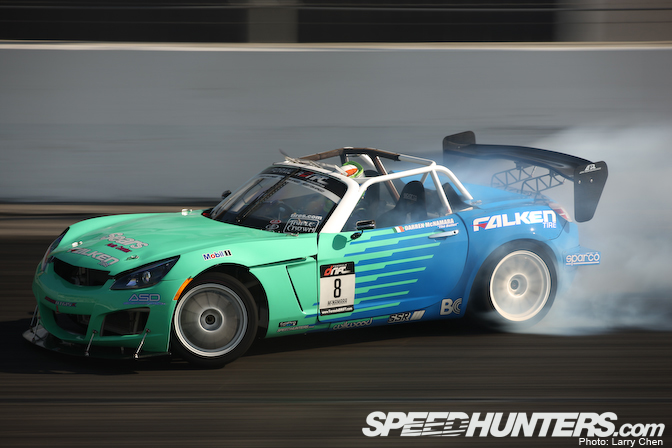 Once again, the Saturn Sky was looking Pristine for what would be its final drift event ever. Its been a good 3 years but its onwards and upwards and time to say goodbye to the old girl.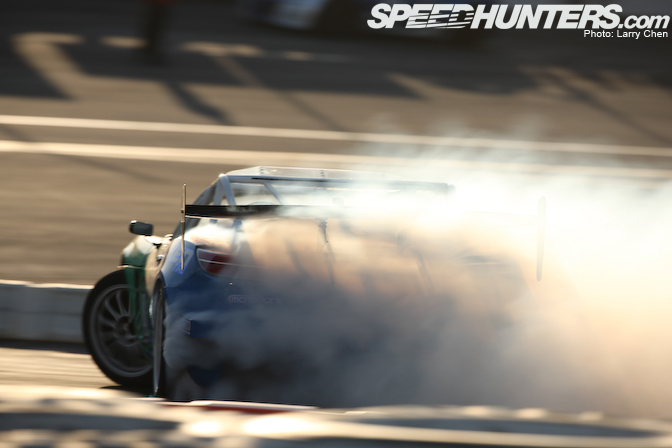 This picture gives you an idea of what it feels like to let 800hp rip the Irwindale track.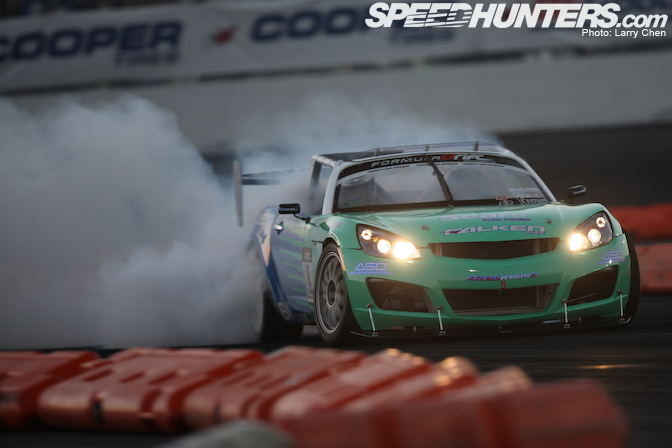 Bye bye 615k's! We were getting only two runs to a pair of 615k's at Irwindale. You can see why from this shot.
Just to give you an idea of whats happening here, I was practicing entering the inside turn in 4th gear which is top gear in our 4 speed dog. At the inside clip, when the car was at its lowest speed, it required a quick clutch kick to bring the V8 "on cam" and then 800hp would accelerate the rear wheels to about 130mph and absolutely destroy my Falken tires. I then use the extra wheel speed to rotate the car for the last corner and have to get heavily on the brakes to keep things under control. Hence, the nosedive in the above pic…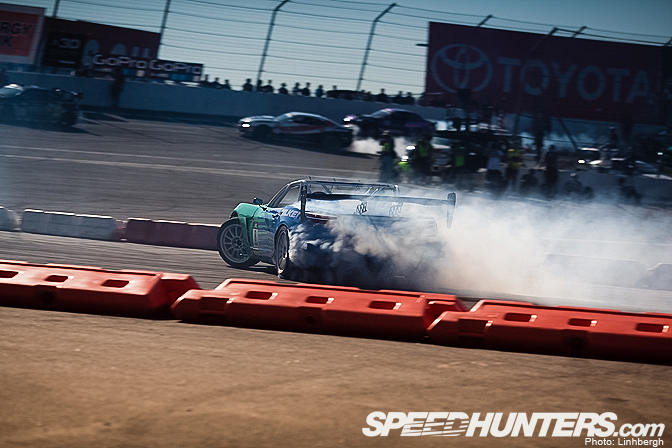 …then get back on the power.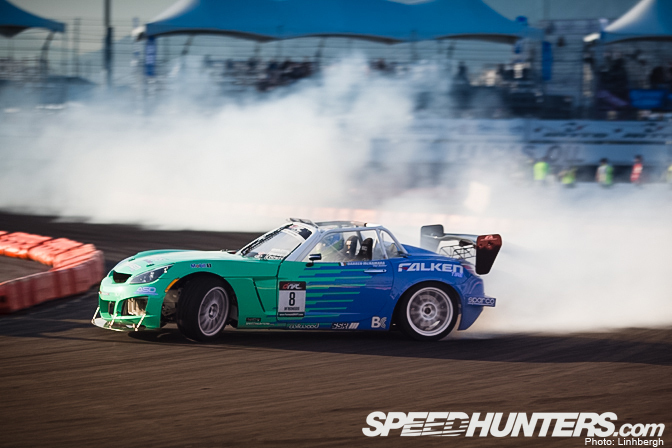 Transfer the weight and lift the nose up again. Another successful flight!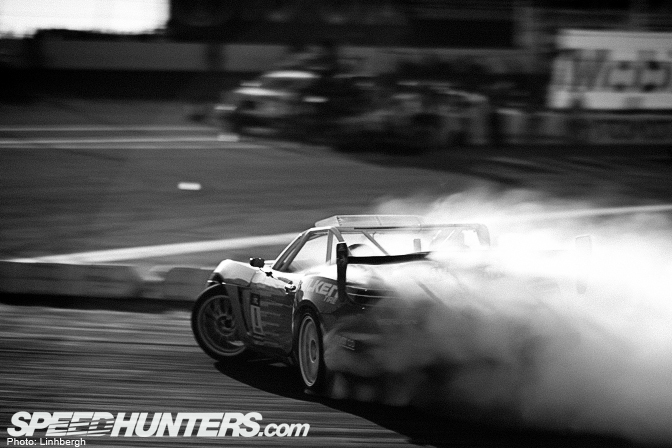 Looks even better in black and white!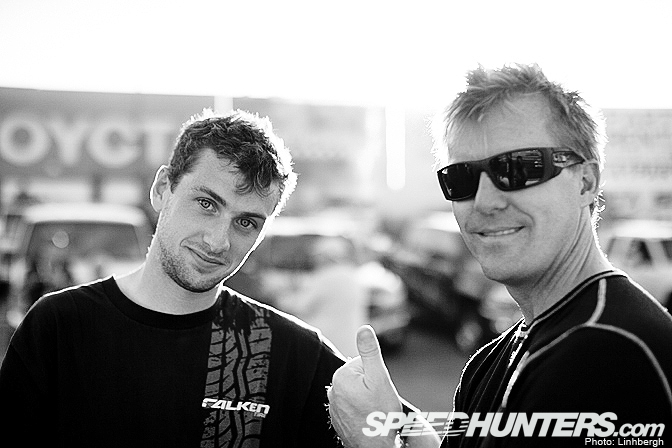 Me and Sam were having a good chat about the season that was. He is such a nice guy. The first European to make an impact in the States. Then it was my turn. Now its Freddy Aasbo's. Go Europe!!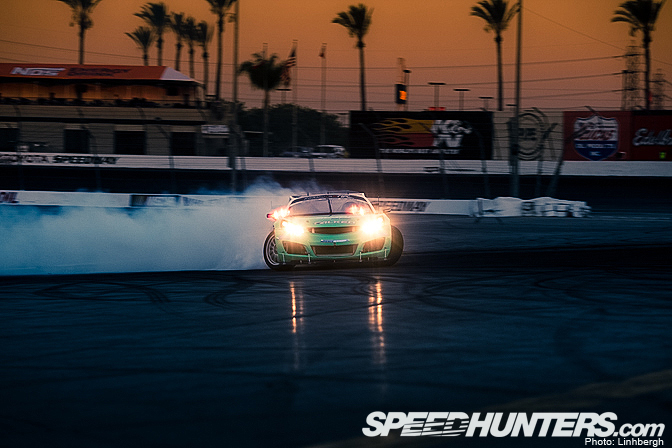 Here is the end of my second Qualifying run. I was extremely happy with it.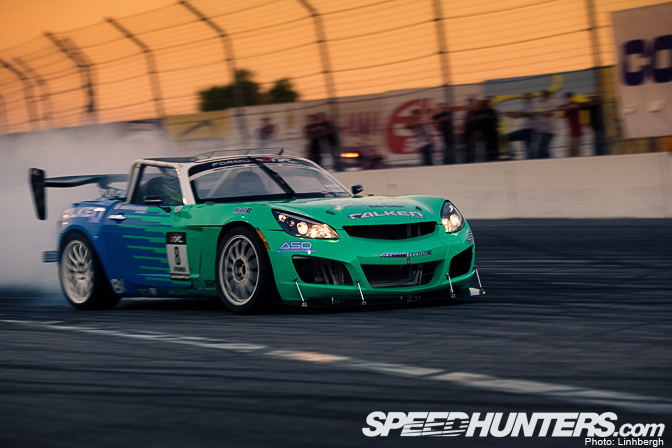 And as I re-entered the hot pit, I waited for my crew chief Clay to give me the result. We went straight to the top of the board with only 4 drivers to run. I rushed to the fence the see the remaining runs desperately wishing we could hold on. To my relief, we did! My first number 1 in qualifying at Formula D. We were happy with that!!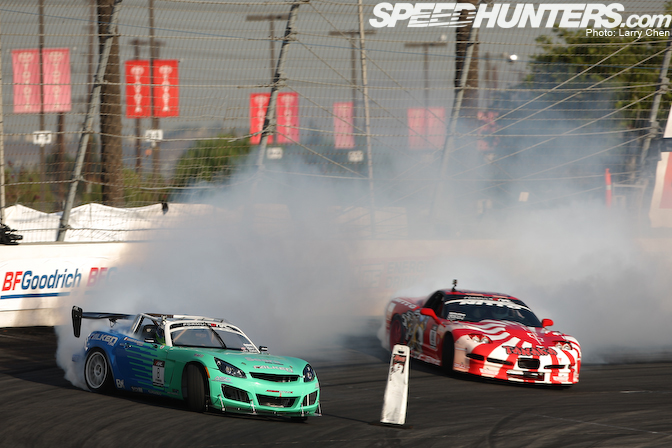 And then it was time for the dreaded Top32. I went up against Alex Pfeiffer, who was capable of putting down some pretty good runs. But I had to focus on leading. So that's what I did.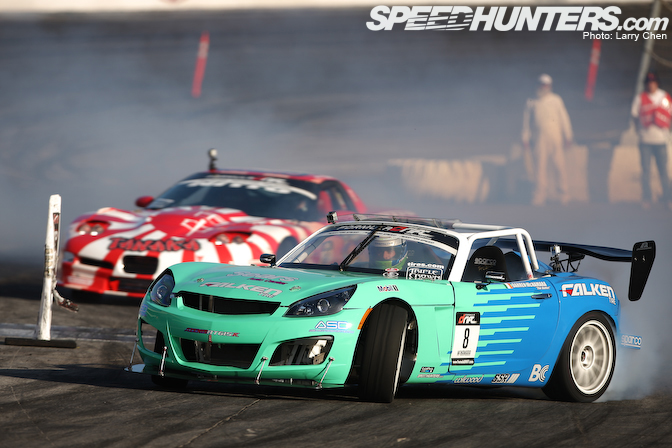 It was slightly weird being the first battle in every round of competition due to our qualifying spot. It gave no time to get in the zone, so to speak. It was straight out of the pits and onto the start line. 
I managed to stay focused and held nice gap in my lead run
I would have to work extremely hard in my chase run but I felt like I did a good enough job…..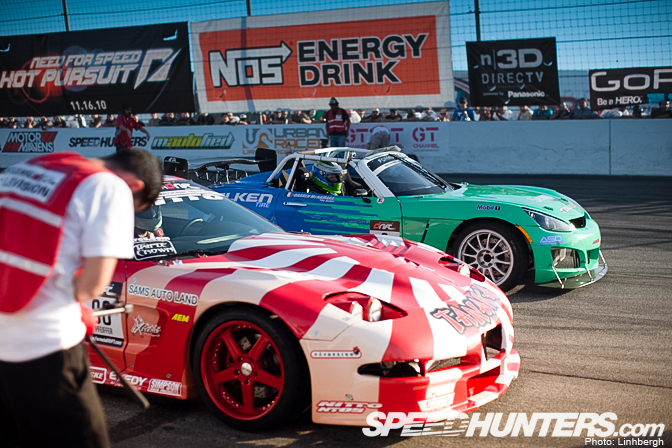 And sure enough, the judges agreed and we moved on to the Top16 and our 7th Opening Ceremony of the season!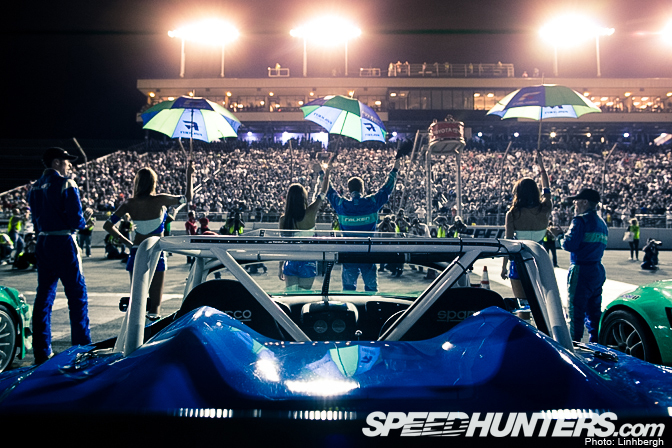 And what a ceremony! The Irwindale crowd is amazing!!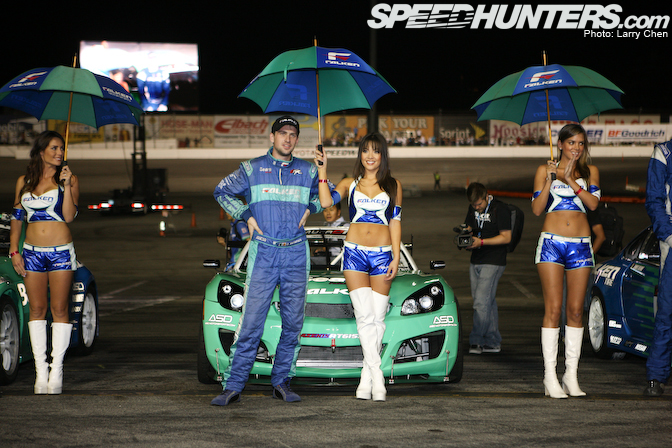 I mentioned our 7th Opening Ceremony of the season, which means we made the Top16 in every round. You may think is completely expected and you would be correct. But as a driver there is so much pressure on you in the Top32 round. Especially when you have an awesome car and an awesome team. No one to blame but yourself if you mess up.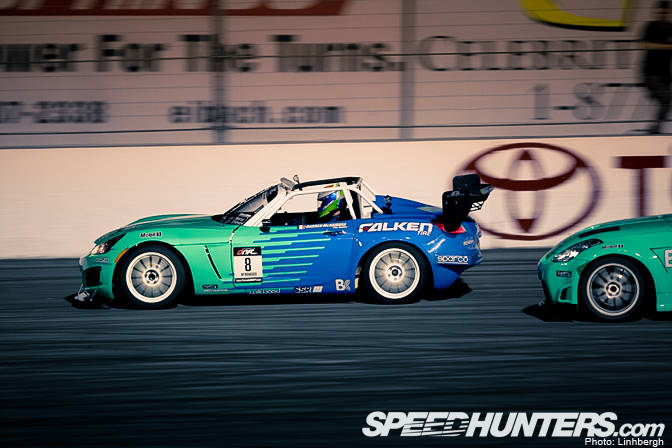 The Opening Ceremony over, and as I said, it's straight onto the start line for the first battle. So scrub but dont kill your 2 run capable tires in the ceremony. But scrub AND kill your opponent in the Top 16!
My opponent was Tyler McQuarrie, who I had a score to settle with after he knocked me out of the Las Vegas round.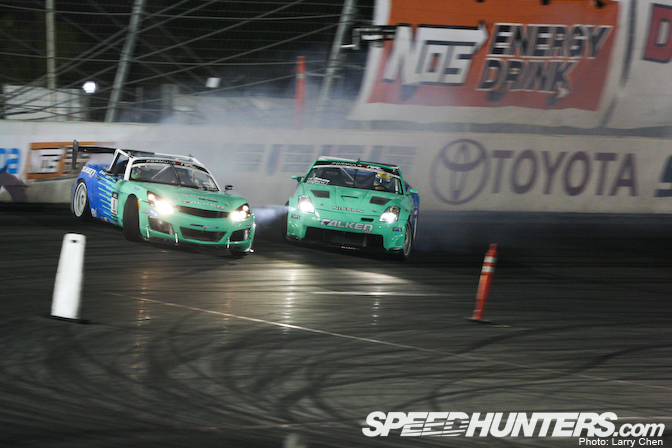 1600hp on track and Blue and Teal tearing it up!!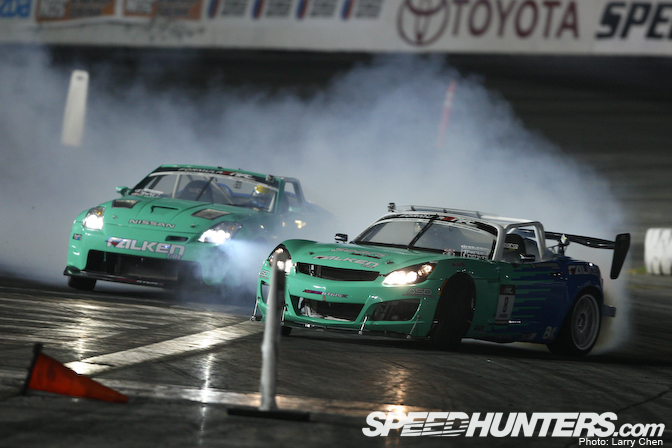 Fortunately for me, just after this transition clipping point, Tyler would straighten up a little.
It gets kinda smokey in that Sky and it's much harder to see at night as the flood lights and headlights make the smoke much brighter.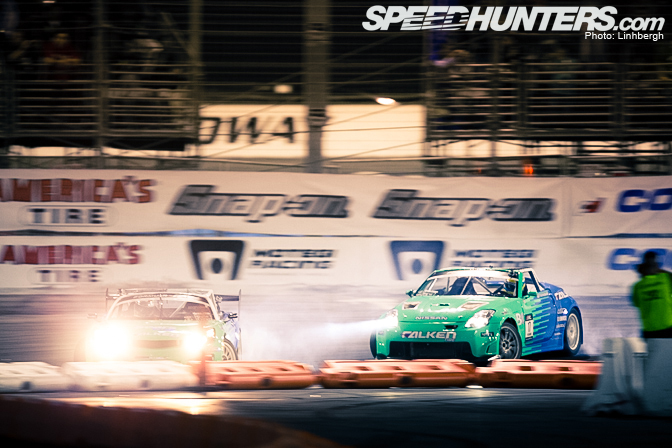 My run was super solid and Tyler made another mistake on the last corner.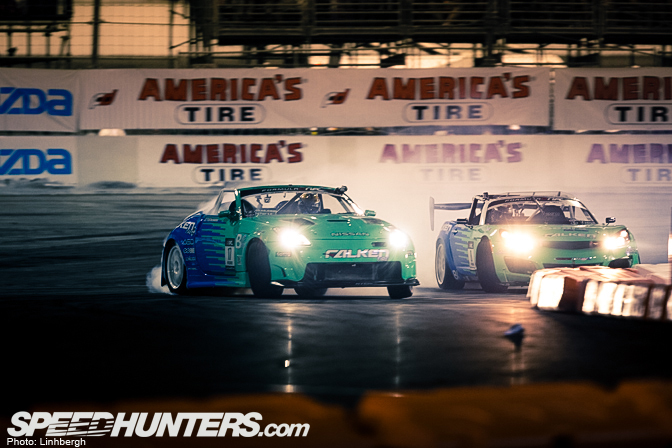 I was not fully aware of the extent of my advantage from the first ru. Perhaps I was a little over aggressive on my chase run, but I am always too aggressive anyway…..
My chase run felt amazing. I entered the final turn right after letting Tyler pull away a little too much for my liking. So I threw it in pretty hard on the lock stops and tore the rear of the car along the wall right in front of the judges for about 10 feet, which they liked. Top8 here we come!
Check it out my run with Tyler here!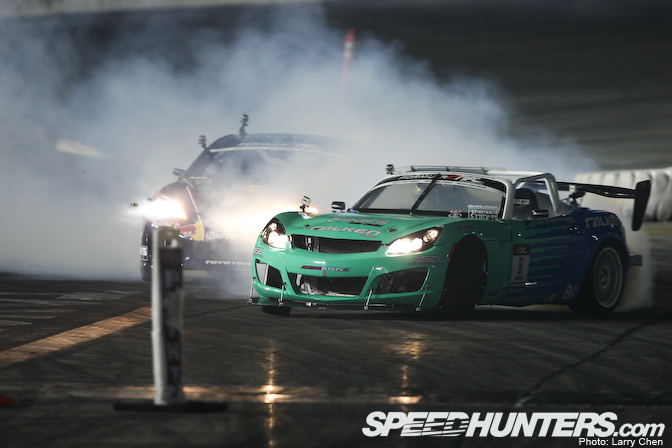 My Top8 battle would be against Mister "Mad Skillz" Millen. I was extremely confident at this stage and felt I was in a bit of a groove. I had met Rhys twice already this year. I get the feeling he hates pulling up to the line against the Sky. I was determined to keep a 100% record aginst the former World Champion in 2010.
My lead run was solid again and my chase run…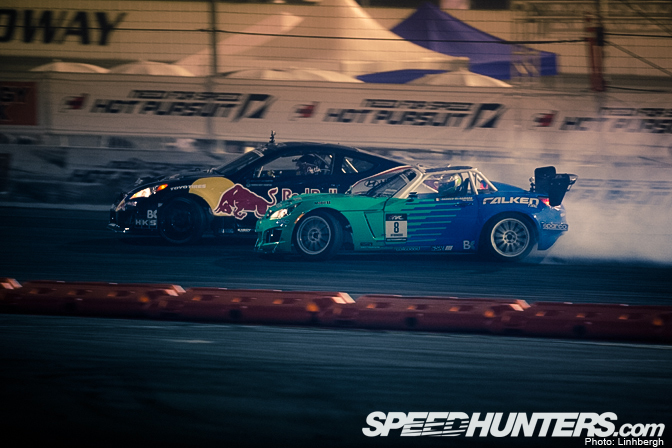 …was awesome!!!!
Well, it felt awesome from where I was sitting. I left Rhys a little bit of a gap until it was time to pounce on the Judges turn. I put my wheel right up to his door and stayed there.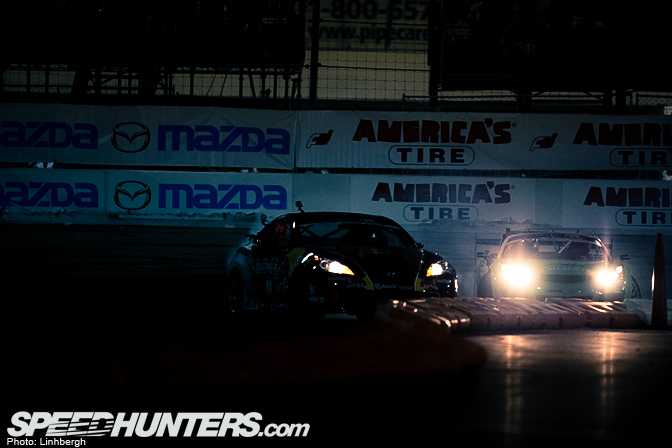 Then pulled back after the inside clip, made sure I had no silly mistakes on the final left hander, and flew through the finish.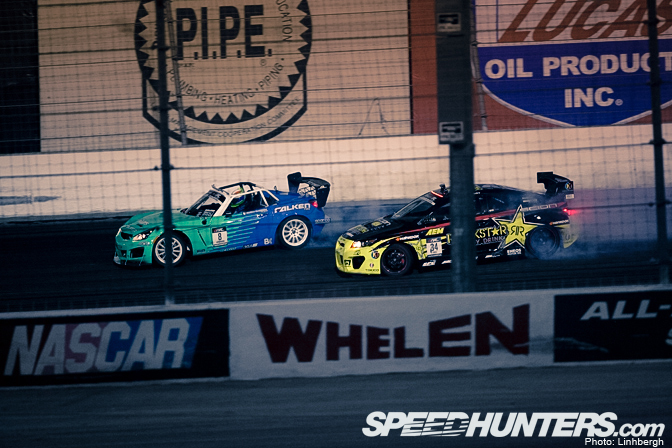 Well, on to the Top4. And surprise, surprise Mr. Tanner Foust!
Me and Tanner have had a ding-dong battle all year and it was time to go again. 
Tanner had the edge on the bank….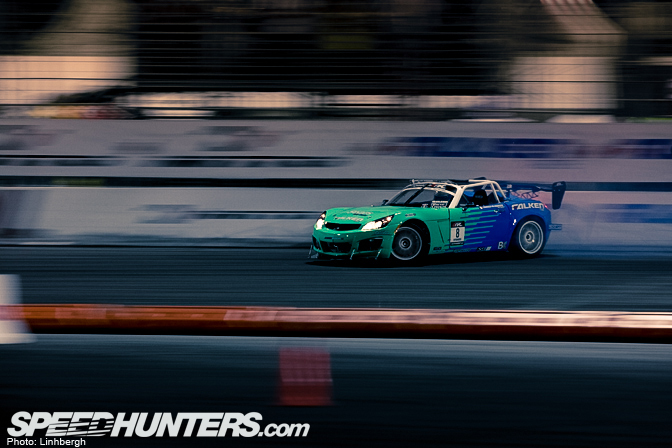 But I was better through the infield. No Tanner in this picture….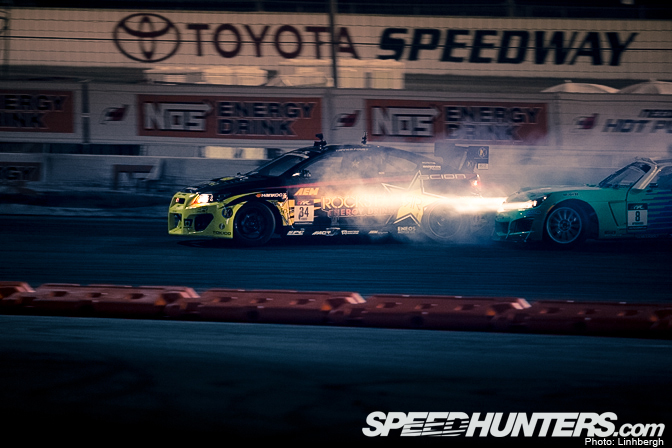 Lots of me in this one!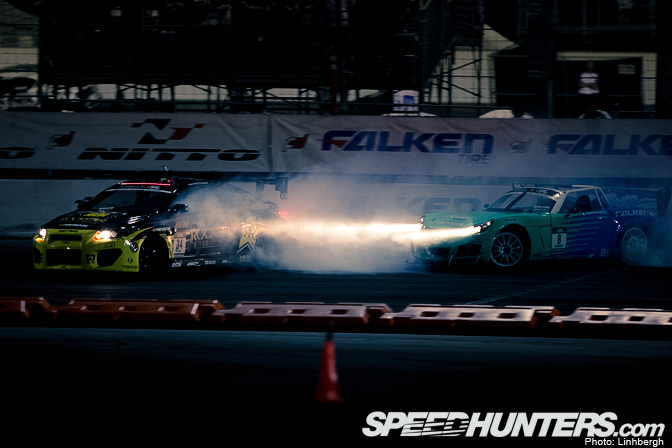 The battles were very close and the crowd were going crazy at this stage. I though maybe I had done enough to edge it but there was always only going to be one decision…
A One More Time….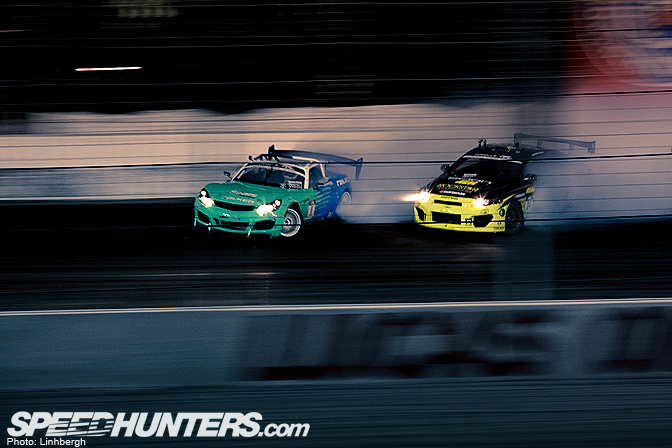 Another pair of 615K's and off we go again. Again, Tanner did an awesome job on the bank.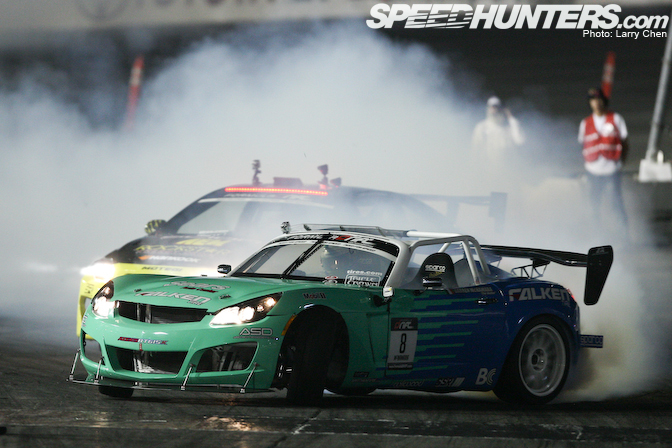 But through the transition and inside turn, the Sky would visually pull away.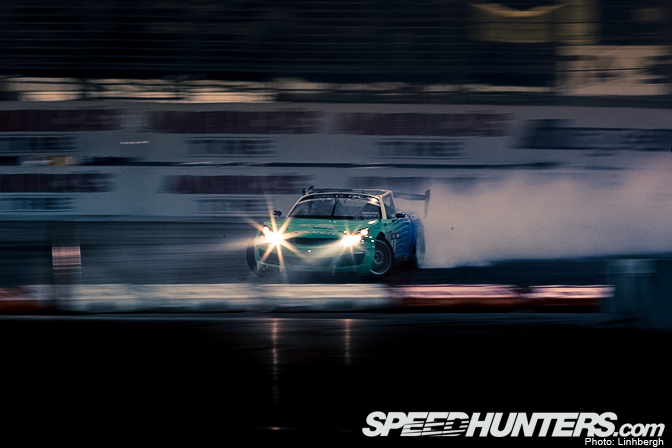 As you can see……
I felt better about my lead run this time around and now it was time to chase again.
I absolutely love to chase. It's why I like drifting so much. Chasing Tanner is a different to a normal chase in a couple of ways. Firstly, he is so fast, which is a good thing. It means I can let the Sky stretch its legs and use all the horsepower available to me. Secondly, to beat him in a battle you must leave no doubt in the judges mind that you are the victor, any doubt and it will go one more time all day long.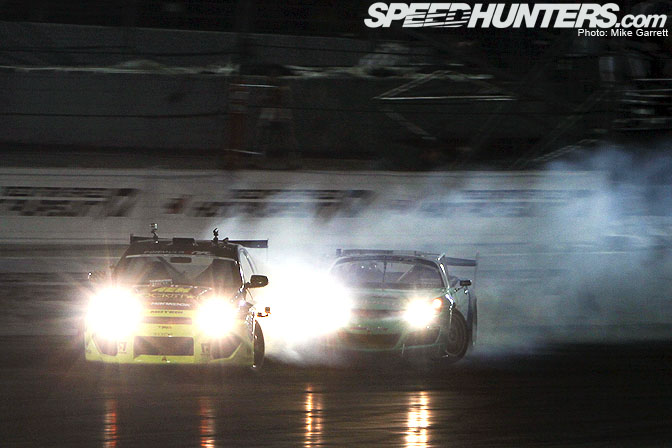 So once again, I set out to destroy him rather than hold back. It's just my style. I get a lot of compliments from the fans for my maximum attack driving. Maybe it's something I need to think about as we now are a real championship contender and more of a "steady Eddie" approach my give us a better chance of the title.
So as you can see from the above shot, I dove in on Tanner so fast that my rear wheel ended up hitting his rear wheel. The contact straightened my car out and I felt like I could catch it.
This would have been the greatest moment in the history of mankind!! (from my point of view anyway)
But………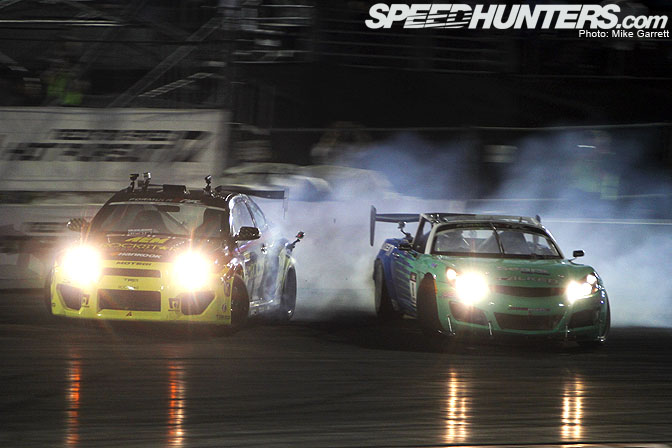 The contact had toe'd my rear wheel out about 2 inches and the moment I came back on the power it spun my car around
I couldn't help thinking afterwards that if I had only hit him with the centre of my rear wheel, the tie rod wouldn't have bent. Maybe I would have caught it, or maybe not. Either way, it was awesome!!
If you have 10 minutes to spare, you can watch the runs with Tanner here.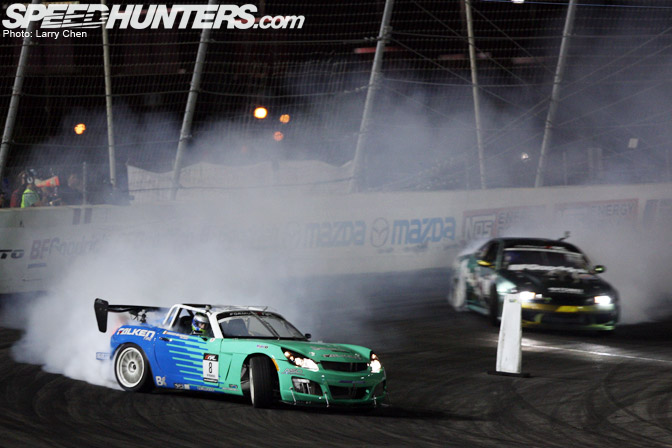 Now moving on to this…..
I had to run Takatori for the 3rd and 4th place
I set off like I had. I don't how many times before and managed to pull a nice gap.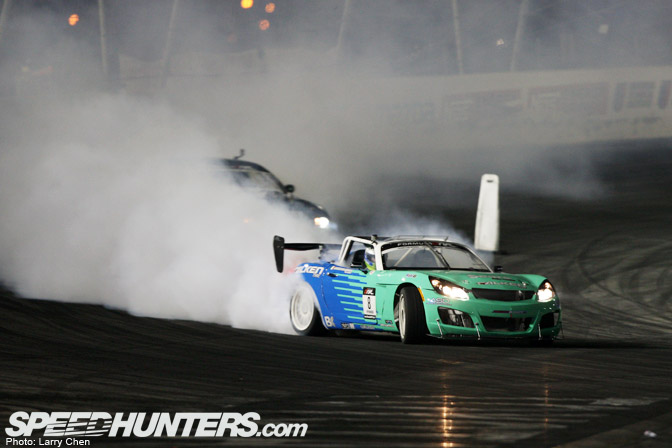 I then rolled into the throttle and lined up my transition…..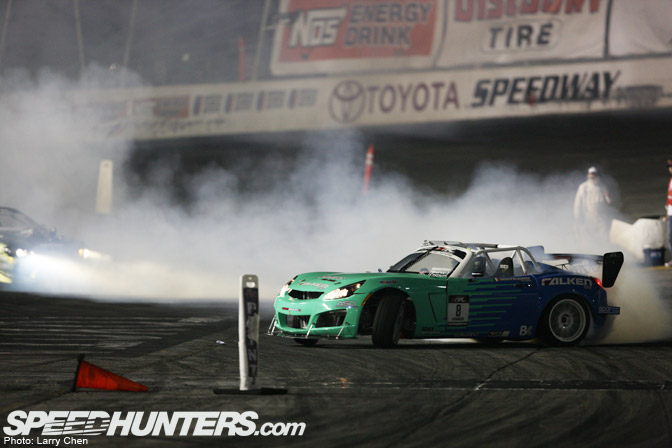 Ummmmmm….
It didnt go so well.
I have no idea what happened.
The car just didnt stick when I transitioned. At that speed, nothing good was going to come from it.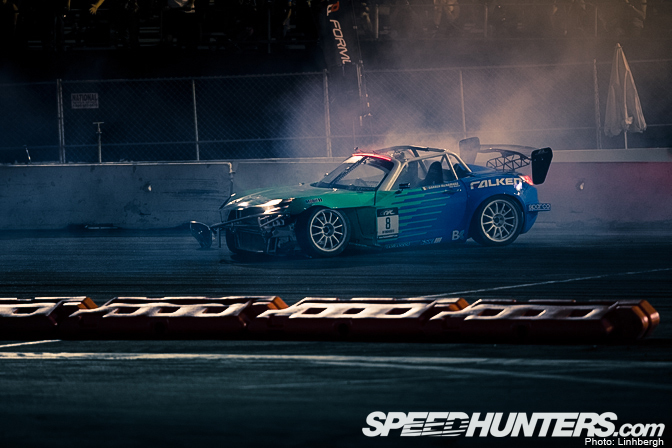 …as you can see.
Maybe the rear end wasn't aligned correctly. What more likely is I just made a terrible mistake, as I have the best pit crew in the world. Maybe ASD can clear that one up??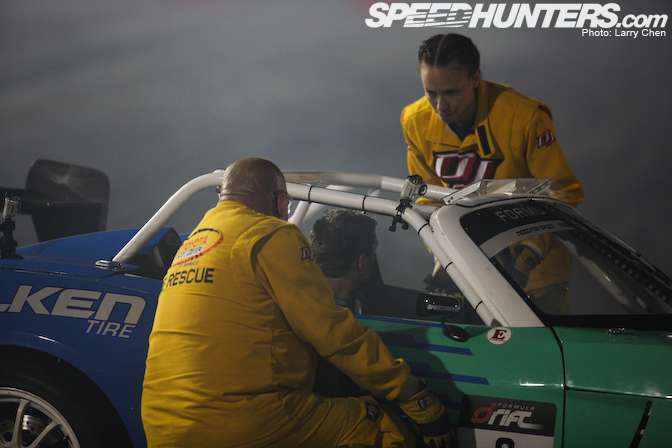 The safety crew were on hand quickly to see if I was OK. I nearly know these guys first names by now! haha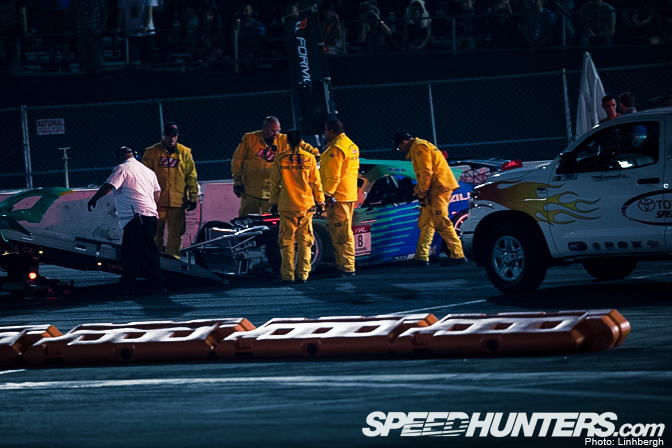 The car looked a lot worse than it was. The only major item broken was a suspension arm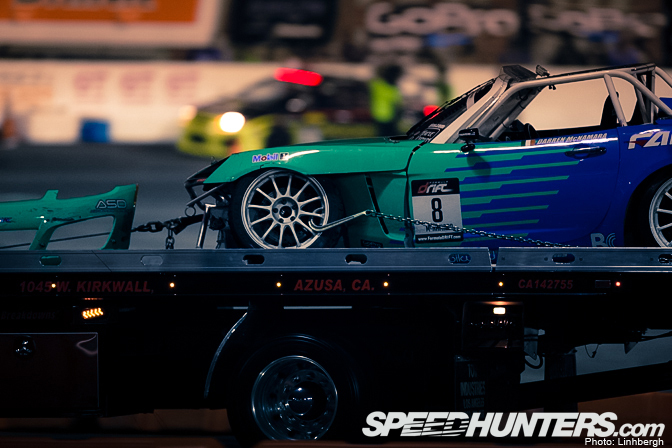 So the Saturn Sky's last run was in anger and it ended up on the flat bed. But hey, it always ends up in the wall at the same time every October so it doesn't know any better!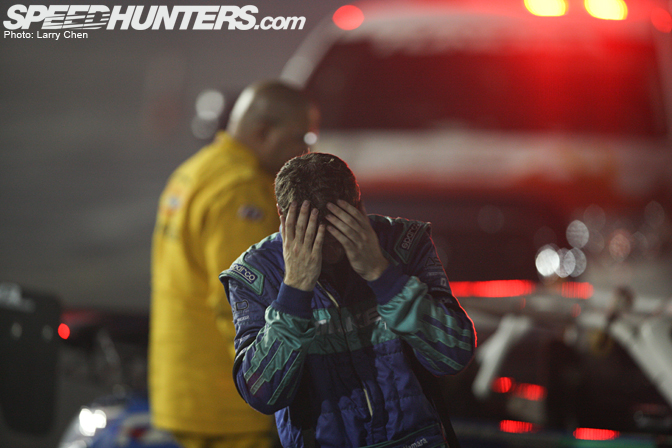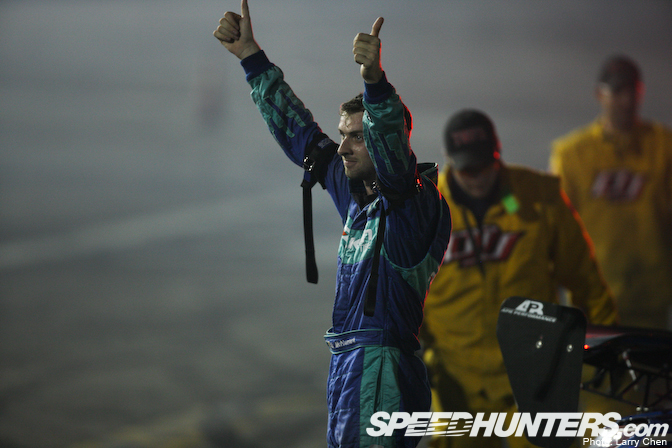 Oops….. Sorry guys, I messed up –for the third time in 3 years…. (Corolla doesnt count as no one cared about my own car haha)
Idiot!!
The crowd gave me a huge reception and that makes all the hard work worthwhile. I'm always pushing hard to be as close as I can in tandem battles. The fans really seem to appreciate it. I hope we provided some entertainment for all you guys in 2010!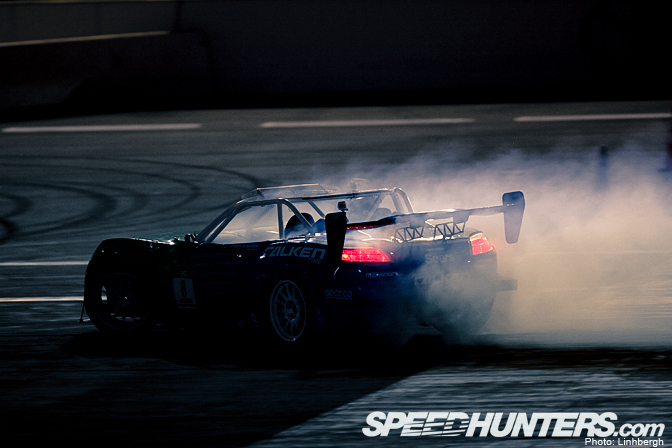 As for the awesome Saturn Sky, she will return to ASD in North Carolina and be retired for good. A brand new Saturn Sky will be built for 2011. To say I am excited is an understatement. ASD blew the drifting world away when this car debuted 3 years ago and now every new car built incorporates some of their ideas, it has become the standard. It really is a testament to their vision and i am very much looking forward to them doing it all over again with our brand new 2011 Falken Tire Saturn Sky
I must say a very big thank you and congratulations to the amazing Falken Tire. The first of many championship titles. I truly believe, hopefully, one for me sometime
Also congrats to my buddy Vaughn Gittin Jr. A well deserved title and an amazing year.
And finally thank you Speedhunters for letting me waffle on every month in the hope that someone actually clicks on my blogs!
If you clicked on here make some noise!!!!!
D-Mac