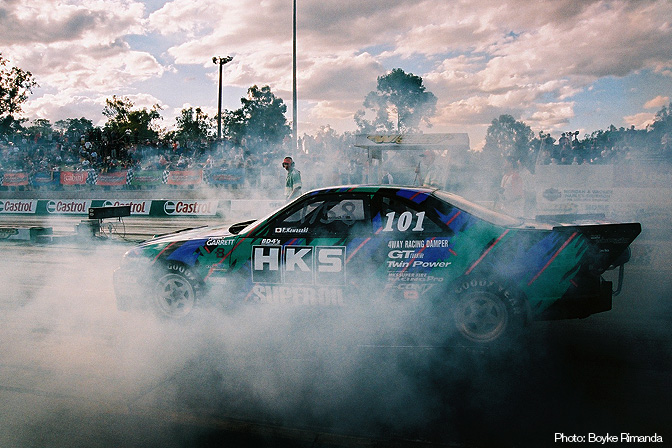 Back in 2002 I witnessed a car that would leave a permanent impression on me. Drag racing was never really 'my thing', but seeing the famous HKS R33 GT-R in person changed all that. Not only was it the long-standing record holder as the fastest GT-R, but it also held the title as the quickest 4WD vehicle in the world. Countless drivers had tried to challenge HKS for the GT-R record, but for five years no one could come close to its 7.67sec run.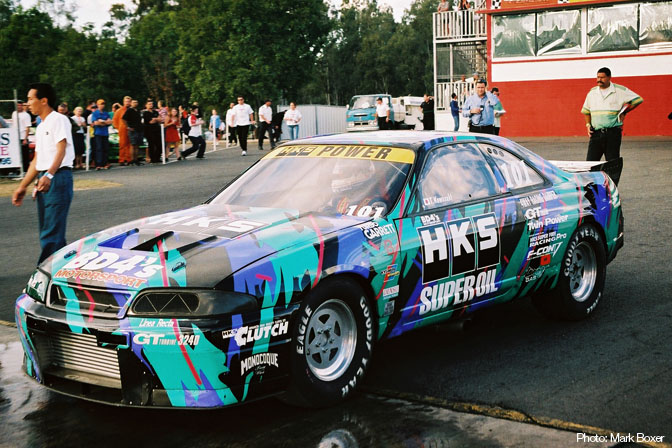 There's an air of mystery that surrounds the HKS R33 GT-R. During its reign, many high profile GT-Rs in various countries were trying to challenge the HKS record. HKS were quite guarded about their GT-R's modifications – before it was shipped to Australia for Drag Combat in 2002 they put padlocks on the hood pins – which has led to plenty of speculation about its hardware and setup. Some believe they've raised the front and rear subframes so the R33 sits lower, while some of the more wilder rumors included suggestions that it was using a hidden Nitrous Oxide system. Having seen the plenum off the car I'm quite confident that this ran all-turbo.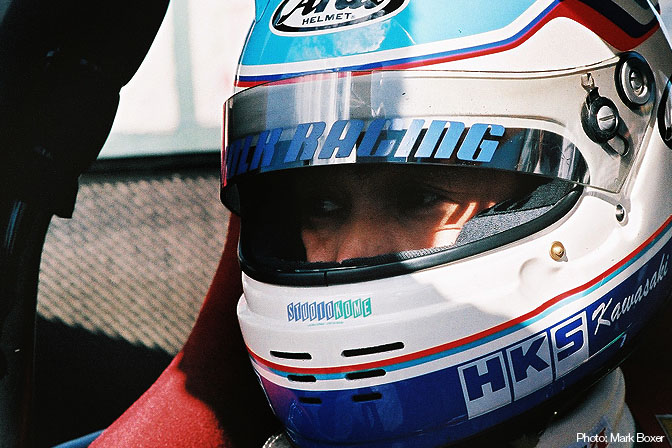 Here's the crazy man who steered the car: Tetsuya Kawasaki. On the track, he's absolutely fearless. Drag cars with this much power are a real handful, and Tetsuya had no qualms with keeping his foot flat on the throttle even if it got loose. Off the track, he's full of character. In spite of the language barrier, he endeared himself to everyone and took the time to autograph each and every thing that was shoved in front of him. And he can also drink most people under the table!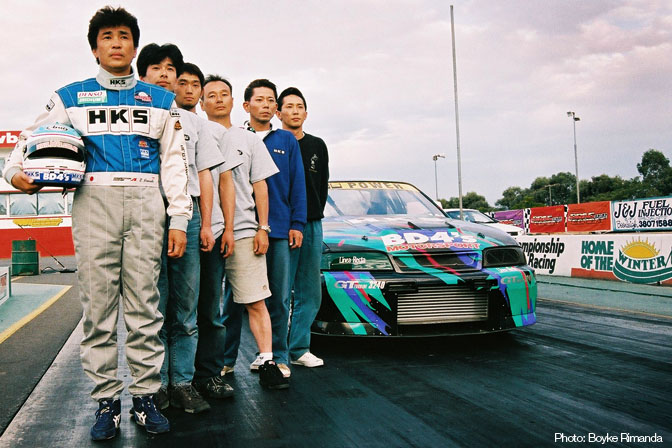 Tetsuya Kawasaki with the HKS team at Willowbank Raceway on the eve of the 2002 Drag Combat event.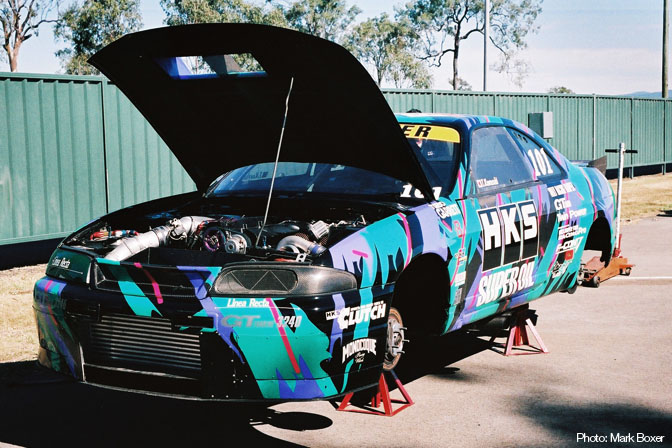 Up close the HKS GT-R is somewhat underwhelming. Having grown up watching it on scratchy VHS tapes, I was expecting it to be brimming with foreign technology and cutting edge aero. If you were to remove its slick tires and graphics scheme it would be rather unremarkable in terms of appearance. But that's probably why it was such a crowd favorite the world over.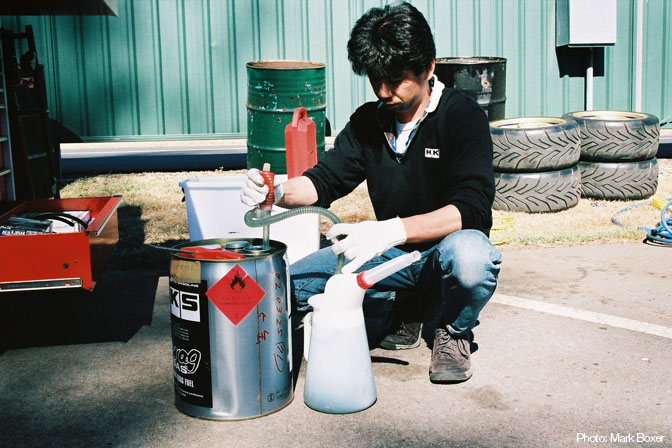 When it raced in Australia, HKS didn't leave anything to chance, bringing their own tires, oil and fuel from Japan. In the background you can see the rolling stock used for shipping: ADVAN RGs and A048 semis.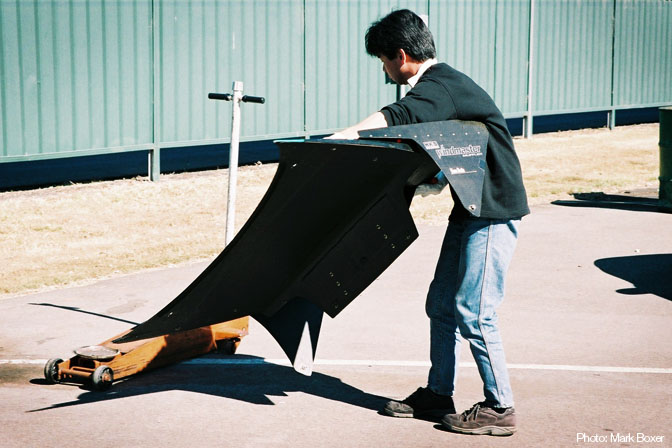 Calling them carbon fiber panels isn't really accurate. The HKS GT-R's body panels were more like carbon skins.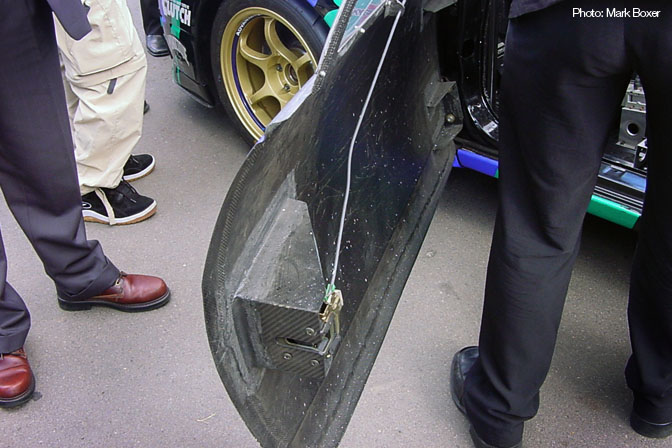 As you can see, weight savings were taken very seriously.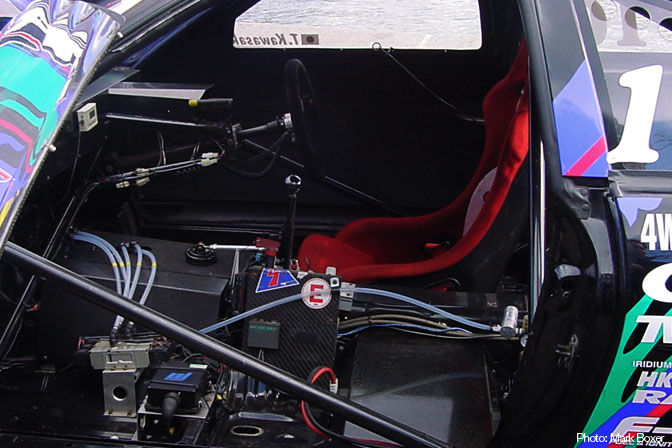 Before the HKS GT-R passed scrutineering in Australia, the bolt-in roll-cage had to be welded according to ANDRA specifications.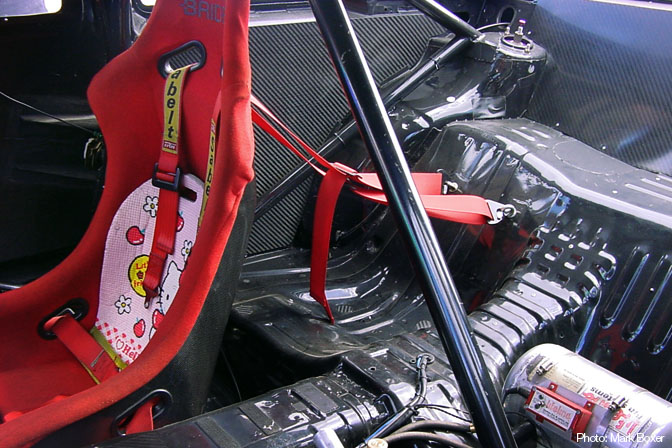 Check out the Hello Kitty seat cushion.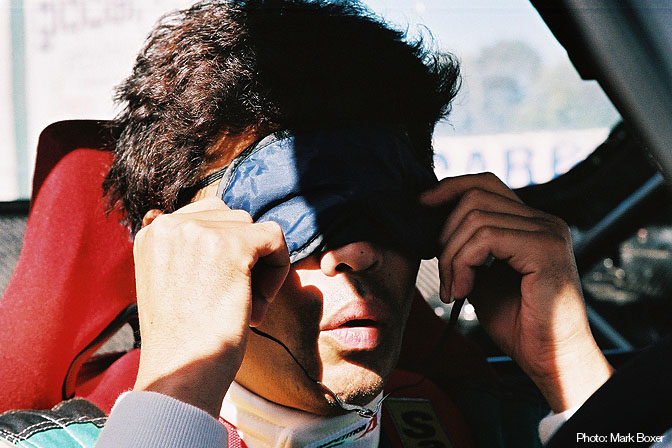 Tetsuya Kawasaki catching some Zs…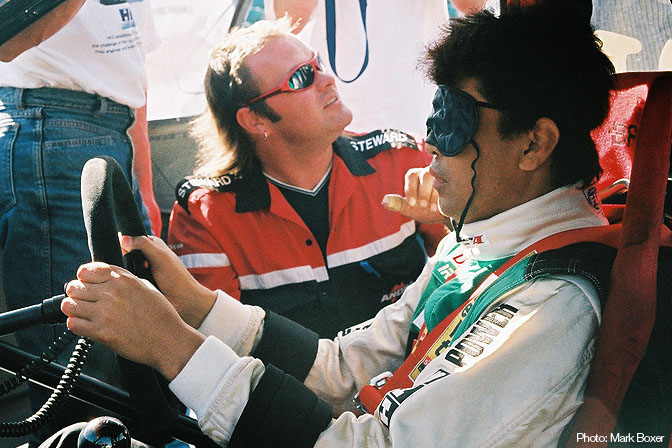 …Actually this is the blind-fold test that was part of his ANDRA licencing process. In this test he must be able to reach all of the controls – in particular the parachute and extinguisher – while blind-folded.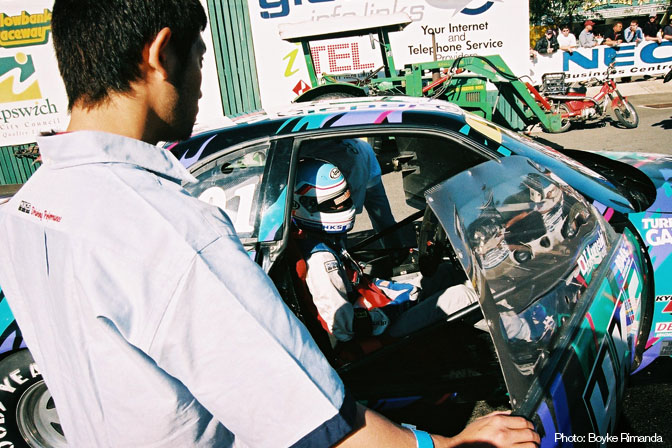 He was then required to perform a half track run before he was given his licence. Perhaps something was lost in translation as Tetsuya Kawasaki did a half-track burnout rather than a half-track run – much to the displeasure of the officials.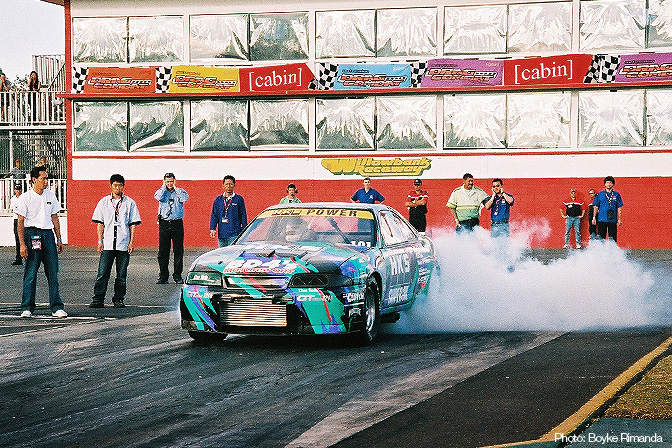 The HKS GT-R can switch to RWD to warm up the rear tires before returning to AWD for the launch. The brakes can also be engaged via two buttons on the steering wheel.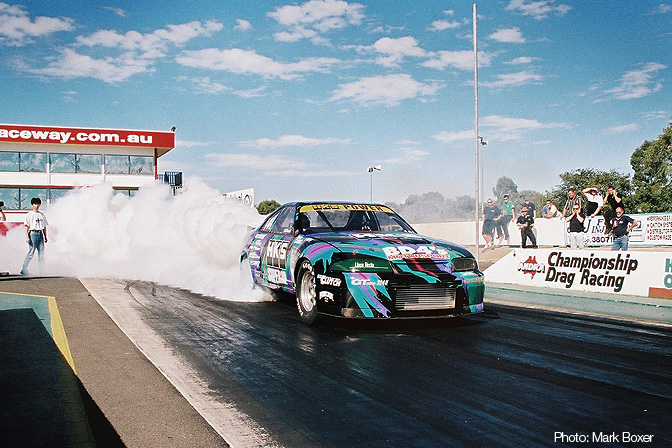 In between runs, Tetsuya performed lurid burnouts that lasted the length of the track, purely to entertain the crowds. In broken English Tetsuya called this a 'dry hopp' (I think this is in reference to drag events at Sendai), which you can see in this awesome video clip. This is one very effective way to kill a set of slicks!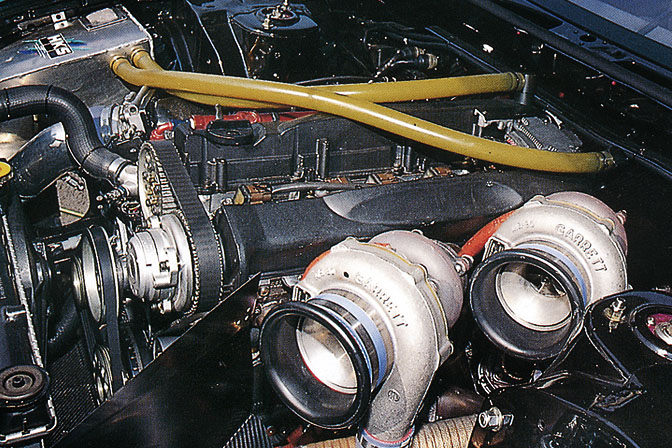 Here is an image of the old engine setup, when it used twin high-mount turbos. No exact power figure has been released, but it was estimated to make 1300PS @ 9000rpm.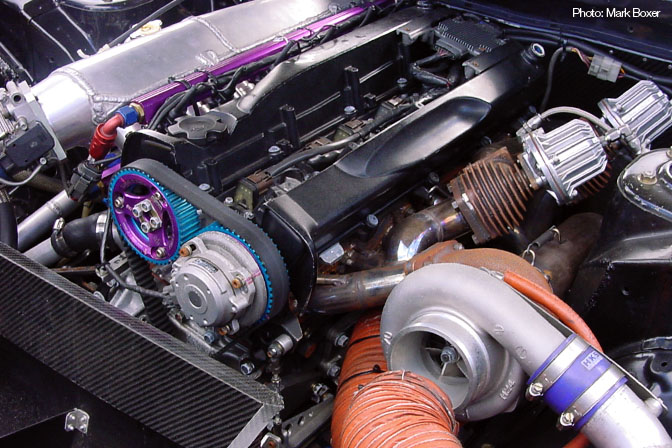 Here's the revised setup that was used in 2002. Notice the welds on the intake plenum; this 2.8l RB made so much boost that it split the plenum at Drag Combat, requiring makeshift welding repairs. They ended up a few tenths shy of their world record as they had issues with the car bogging down off the line.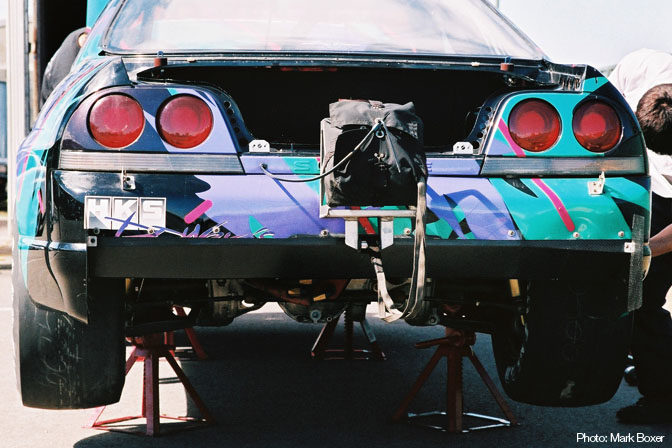 The HKS team weren't expecting Willowbank Raceway to be such a grippy – and flat – drag strip. The drag strips in Japan like Sendai are notoriously slippery and bumpy, whereas Willowbank had been prepared with VHT.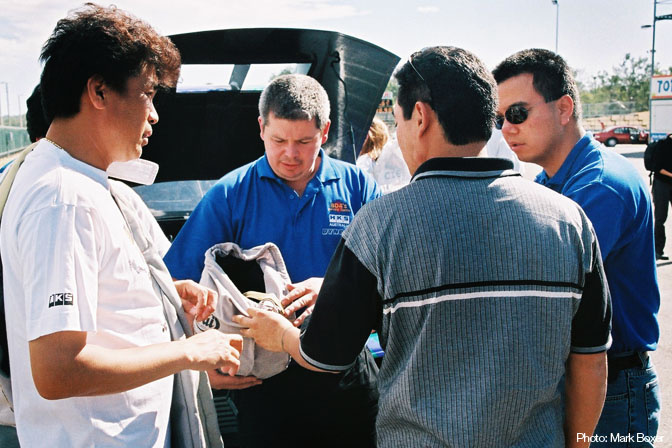 Here's Tetsuya Kawasaki in discussions with Australian tuners BD4s Motorsport. Due to the sticky track, custom springs were made locally in Queensland with more suitable rates.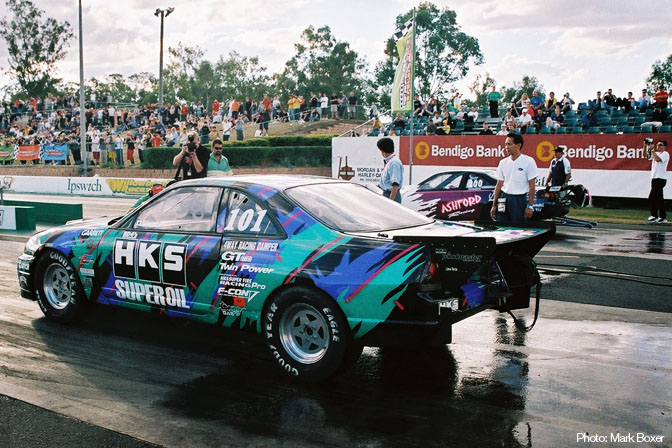 Unlike the other cars in its class, the HKS GT-R drove to the staging lanes under its own power. There was no need for a tow car and nor was there a need for Tetsuya to pull the parachute, even after a 7sec run. He'd simply use the brakes to slow down and then drive it back to the pits.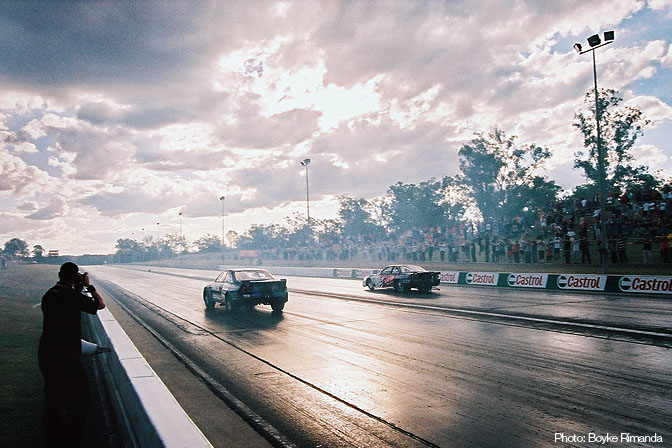 Seeing this car in person – and having its rapid fire exhaust flames lashing at me from just a few yards away – was a truly memorable experience and one that I won't be forgetting any time soon. Sadly Drag Combat 2002 was one of the last times HKS would run the R33 GT-R in competition. Just a few weeks before it was meant to race in New Zealand against the Heat Treatments R32 – the challenger which would eventually break their record – HKS retired the R33, citing that years of drag racing had taken its toll on the fatigued chassis.
A special thanks to Mark Boxer and Boyke Rimanda for the images, many of which have never been seen before. 
- Charles Kha