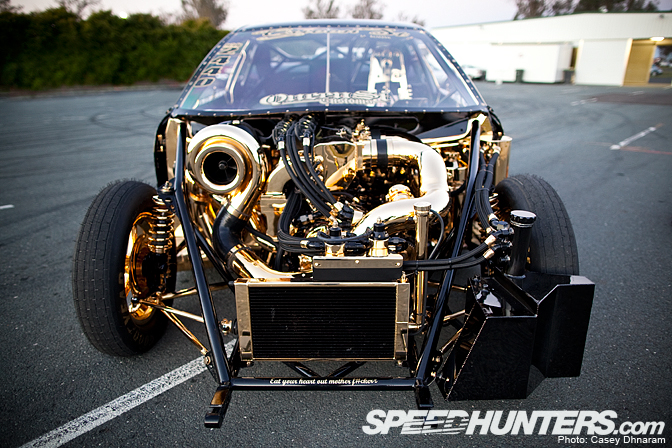 When it comes to cars that divide opinions, I think you'll be hard pressed to top this. Say hello to Queen St's latest creation: a BMW M3 powered by a Mazda four rotor engine. A wicked creation that is half drag car and half show car. And yes, you're eyes aren't deceiving you; that really is a gold-plated motor.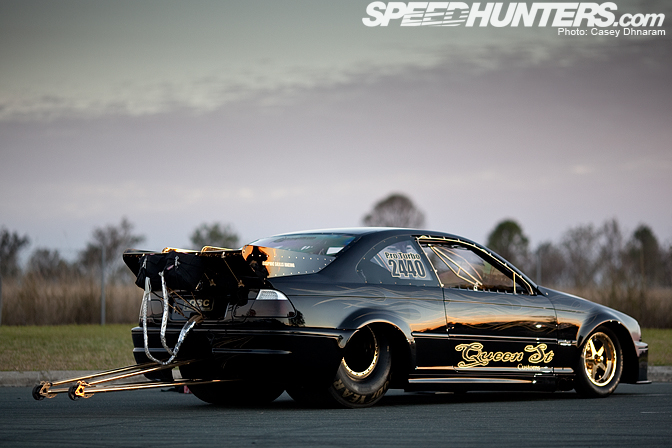 Rod, Casey and I have been discussing this car since it debuted a few months ago, and we agreed it was a fitting inclusion for our Drag-themed month. I mean, it's not every day that you come across a 1600hp BMW M3 built on a chromoly full tube chassis, let alone one featuring nickel and 23 carat gold-plating.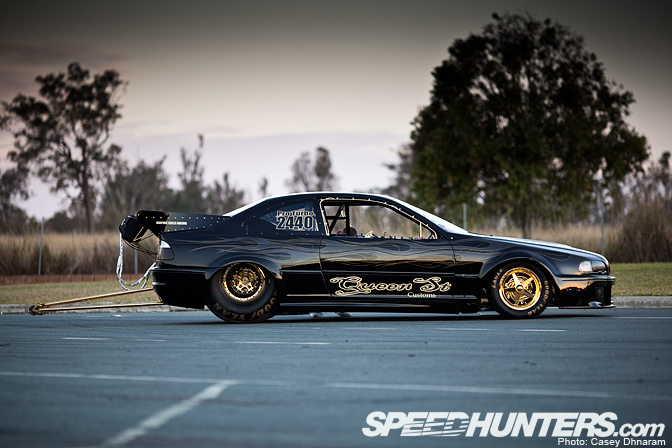 Based in Australia, Queen St are best known for building custom show cars, but their love of drag racing led them to create cars that could do both. This is actually the third BMW drag/show car that they have built. In 2003 they campaigned an E36 before replacing it a few years later with an E46. When the E46 was damaged in New Zealand, it was stripped down and rebuilt into what you see here. While its predecessors both featured bright candy paint, Queen St kept this one ominous, painting it in a House of Kolor black with gold pearl.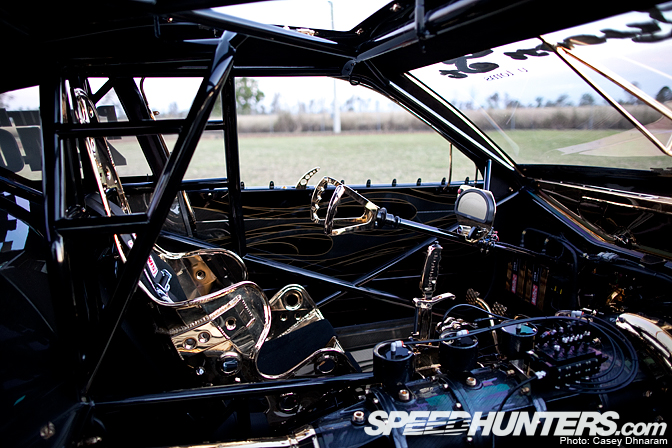 Swallowing up most of the cabin are the carbon rear tubs and the Lenco transmission, which is a five-speed to keep the four rotor in its tight powerband.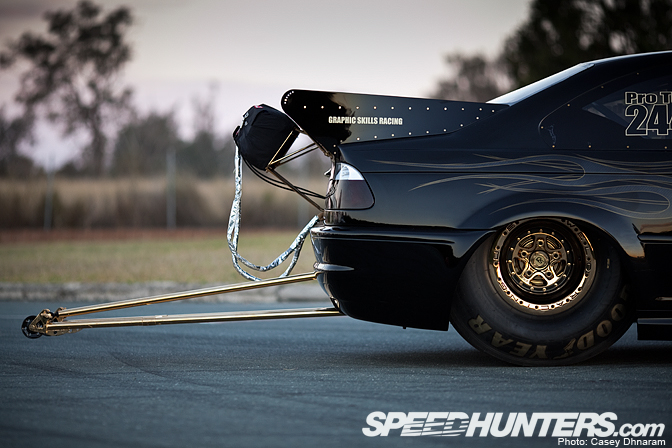 Everywhere you look there's an impressive level of detail, with the parachute brackets and wheelie bars also receiving the gold-plated treatment. As did the rivets and 16×16-inch Weld double bead lock rims.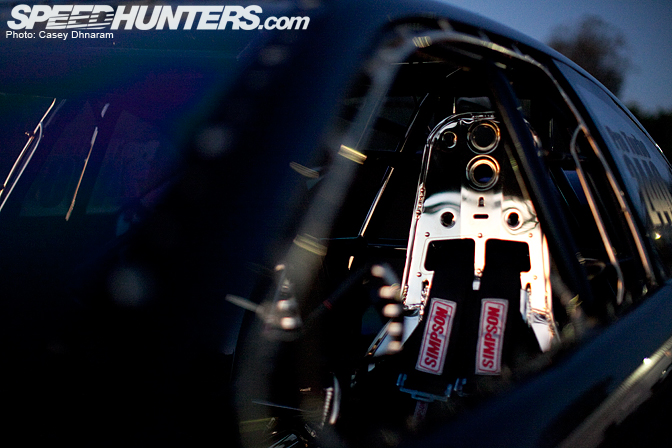 A throne fit for a king… or should I say queen?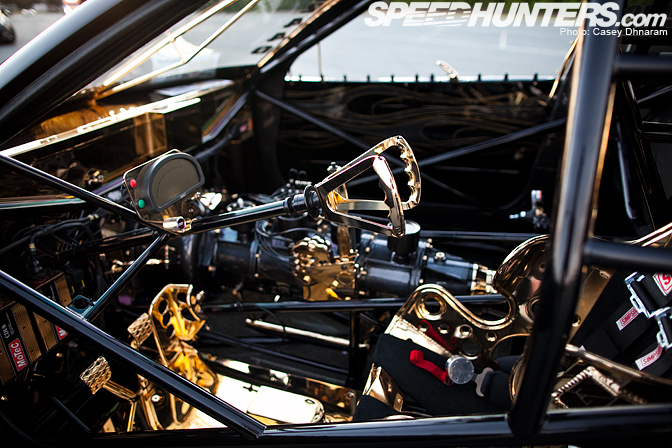 It's hard to imagine that a car like this will ever turn a wheel in anger. Indeed, Queen St received plenty of criticism with their previous BMW drag cars. When owner Moey debuted their first E36 drag car, critics dismissed it as never being able to crank, let alone run down the quarter mile. However, the naysayers were proved well and truly wrong with the E36 setting a personal best of 7.1 @ 197mph. The old version of this E46 holds a PB of 7.2 @ 196mph.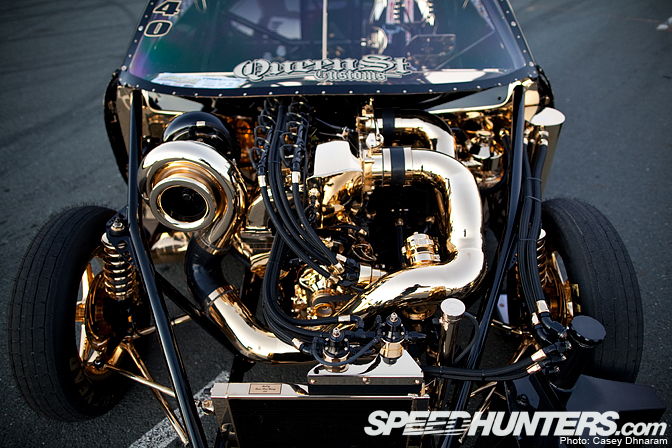 Having learnt a lot from the first two BMW builds, Queen St are confident this will be their fastest yet. And in spite of all that gold, the BMW is actually 200kg (440lb) lighter than the previous version. Before being gold-plated, the quad rotor was assembled and run on an engine dyno, producing a power figure of 1664hp. While quad rotors were developed by Mazda quite some time ago (the first prototype was in the '60s and in the '80s Mazda used them in the legendary 767 race cars), this is a custom bridgeport using a billet eccentric shaft and lightened Series IV rotors.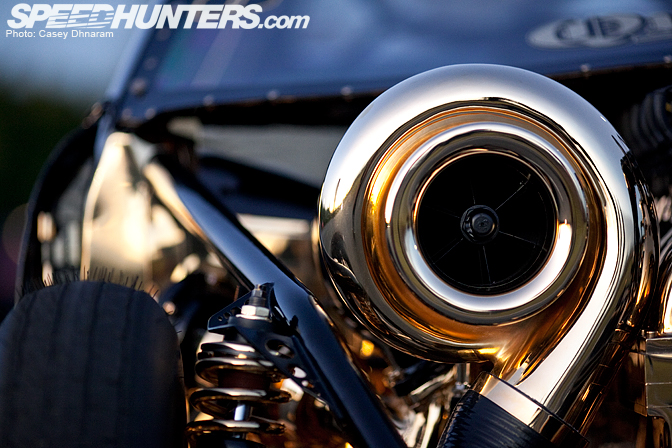 Force feeding the four-rotor is this enormous GT60 turbo. A turbo of this magnitude needs a pretty serious fuel system, so it's hardly surprising to discover 20 1600cc injectors.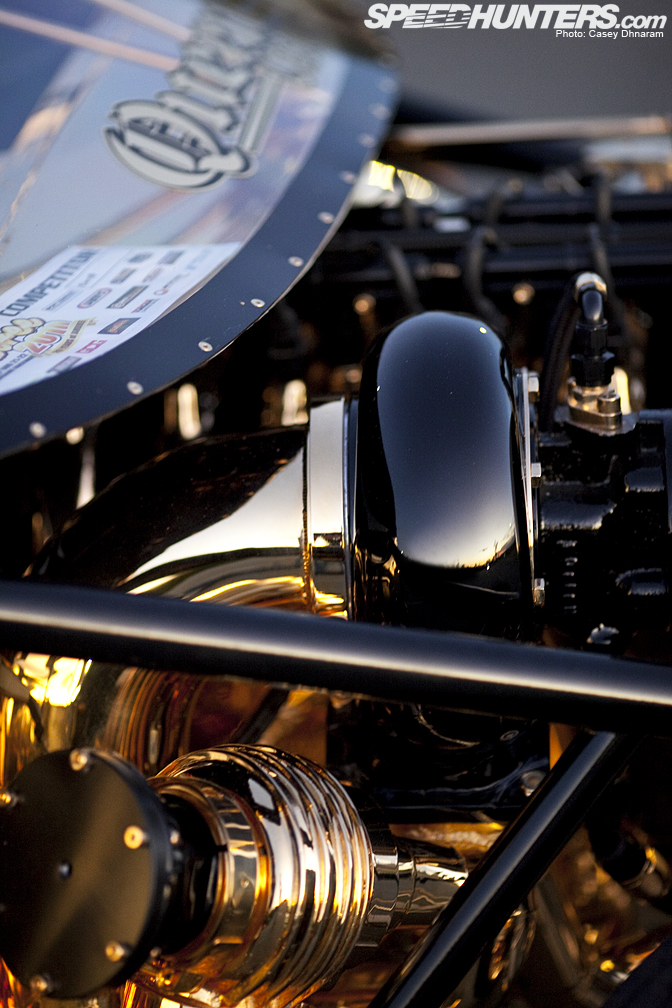 Check out the rear housing which is best described as monstrous. The turbo setup also utilizes an equally large 75mm wastegate and 5-inch dump pipe.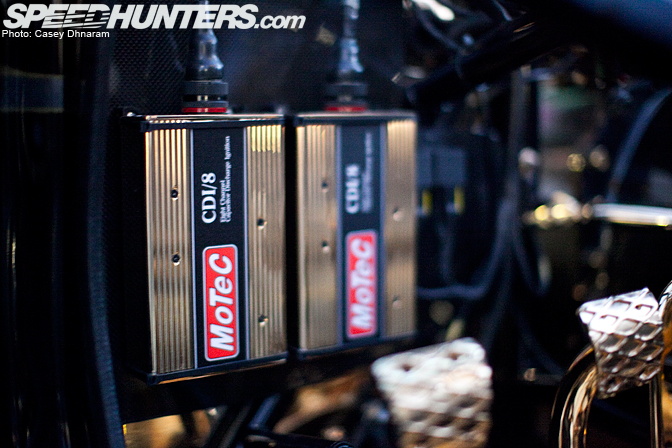 A MoTeC M800 ECU and ignition system are used; the latter is mounted behind the pedal box.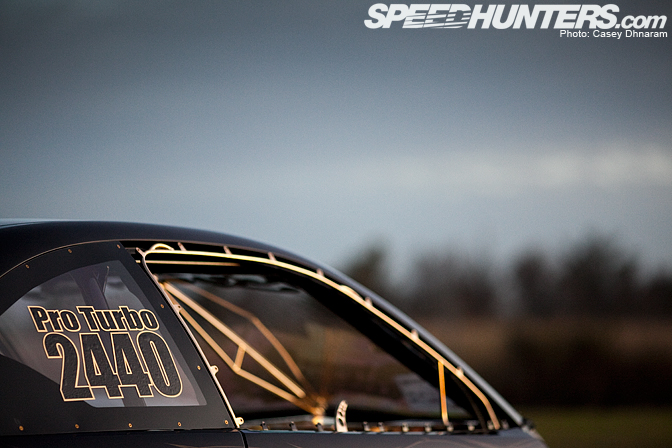 The frames for the Lexan windows have also been gold-plated.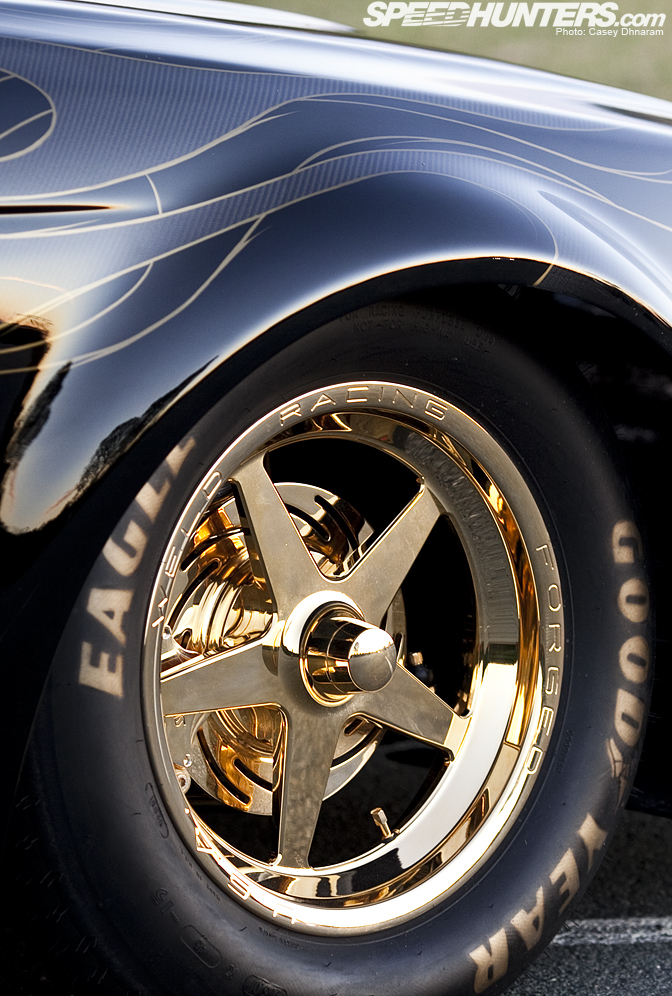 Plenty of carbon fiber has been used for the one piece front-end, doors, rear wheel tubs, interior panels and wing. Here you can see the exposed carbon in the pin-striped flame graphics.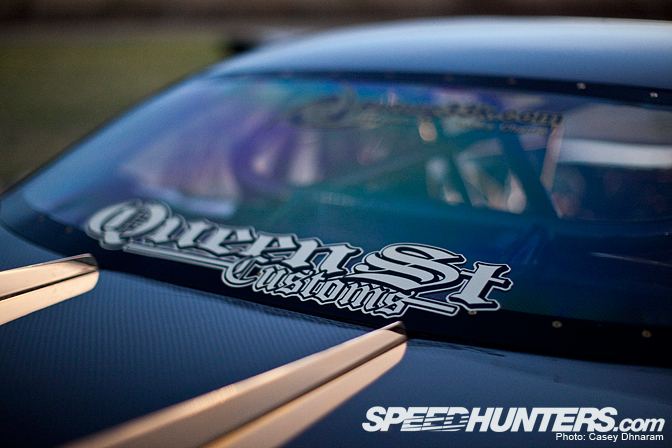 More visible carbon, this time on the rear wing.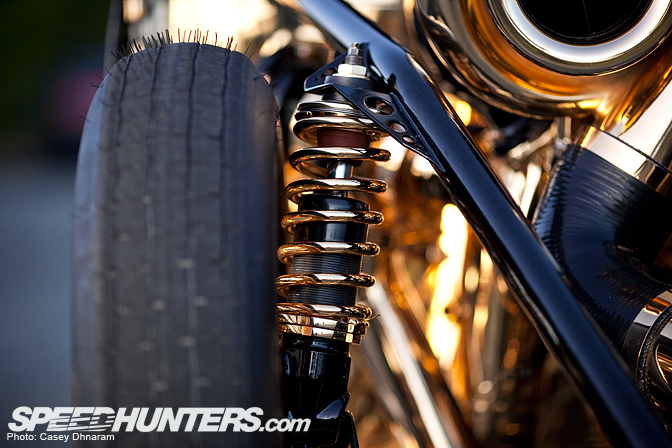 Coilovers are from Strange, with the 300lb springs given the gold treatment.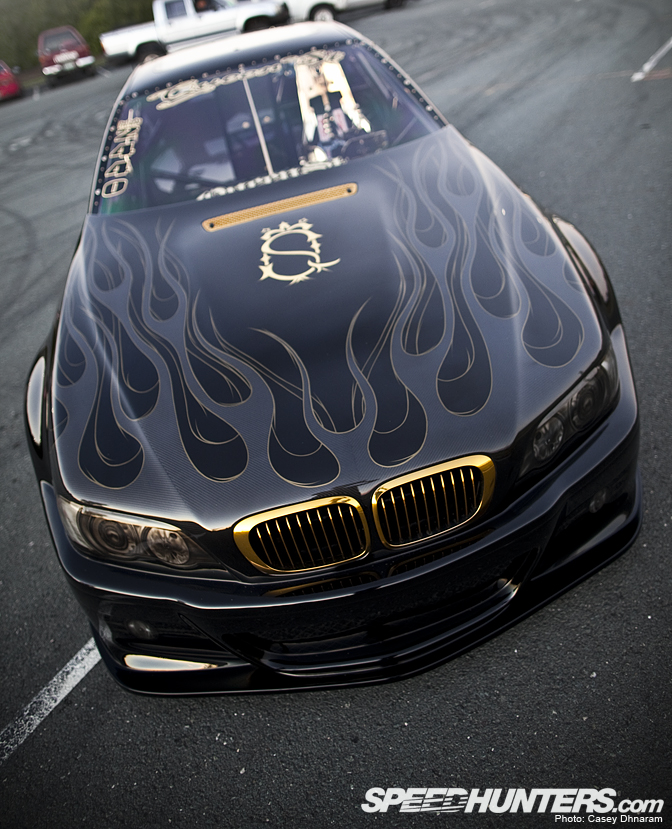 Like the two BMWs before it, this M3 will spend the rest of its first year completing a national tour of car shows. Next year however, it will do what it's been built for: to race down the 1320.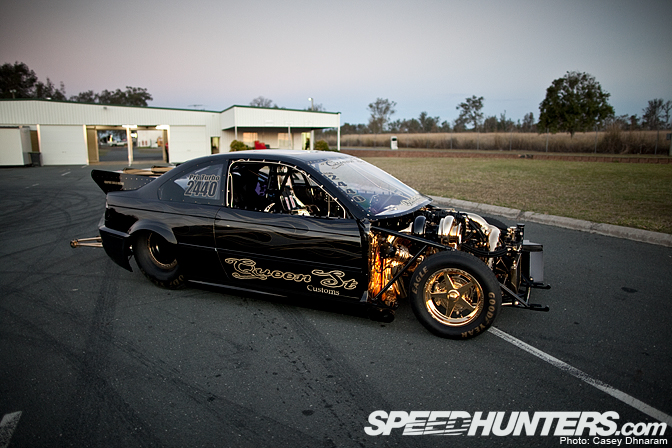 On one hand it has the flawless build quality of a show car, while on the other it has all of the hardware to dominate the drag strip. Kind of like a split personality.
Click here to check out the YouTube clip of its 1664hp engine dyno run.
- Charles Kha
- Photos by Casey Dhnaram