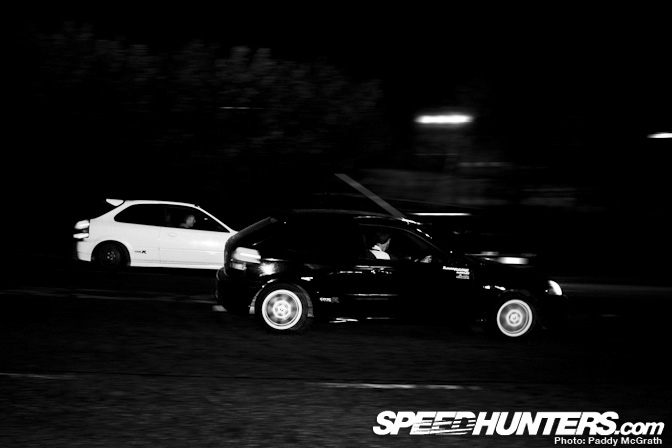 I think it's fair to say that pretty much every form of motorsport can trace it's roots back to the street, but for some reason I always associate drag racing as having the strongest connection. During the economic boom, street racing in Ireland exploded. Young guys could import high powered Japanese cars and put them on the road for not very much money. Add to this that there is only one race track in the republic and you can see why so many guys (and girls) took to the streets to test the limits of their cars.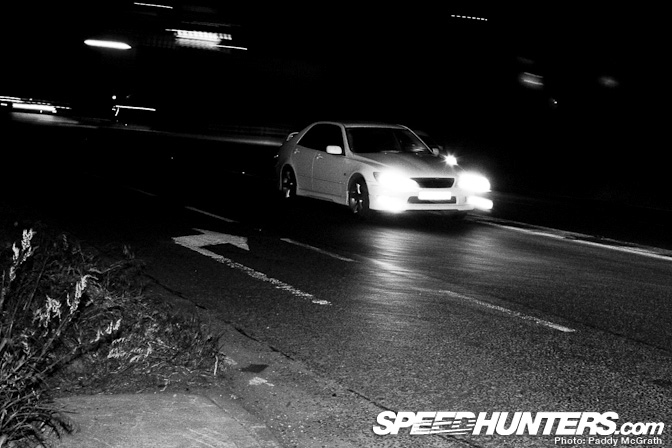 Some of the organised events that took place on the street still live on in motoring folkore here. It wasn't uncommon for several hundred cars to arrive into an area and make it their own for the night. The police force (An Garda Síochána) were all but powerless to stop what was happening around them.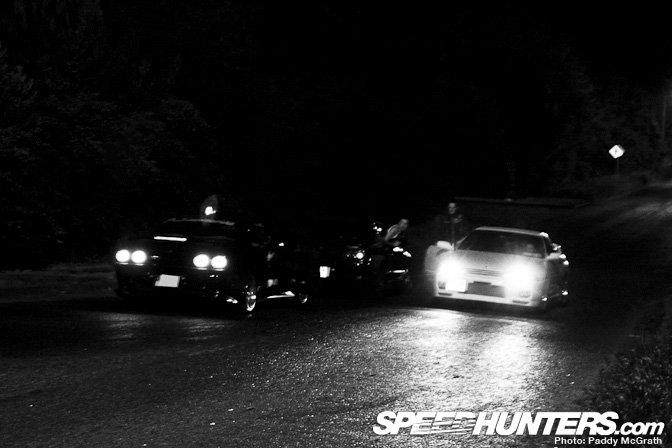 Through private message boards, these meets were organised to almost military precision leaving AGS playing catch up for years.
However, although there were those who played by an unwritten code of sort, you could never say that street racing was 100% safe. Either for the 'competitors' or those who happened upon them.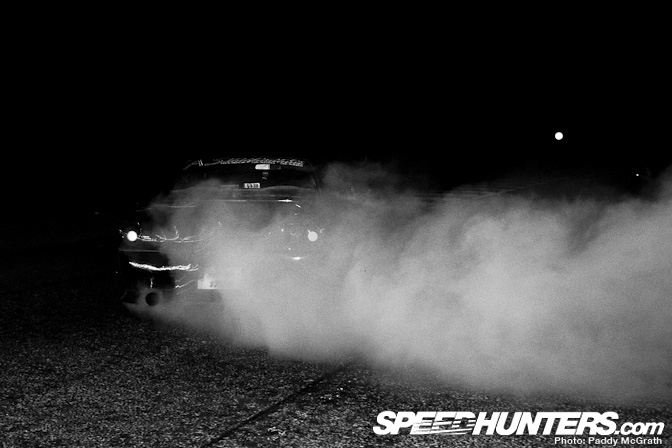 But what option were these people left with ? With no genuine legal alternative (Trackdays are both very expensive and are quite far between) these people really had no other option but to turn to the streets. I'm not condoning it but I can sympathise with this group of people. For some reason, it always seems that once you mention 'motorsport' or 'cars' to those in authority, your argument loses it's credibility almost instantly.
Those outside the automotive scene just don't take us seriously. That's why it took a group of car enthusiasts to create Ireland's first legitimate drag strip.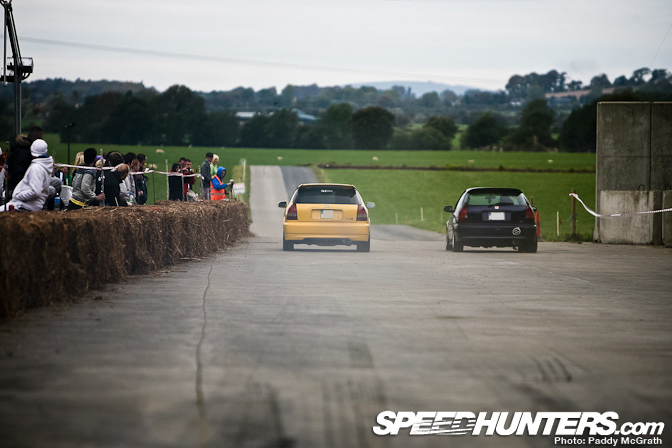 It may not be pretty, but Casey's Yard offers a viable alternative to Irish racers.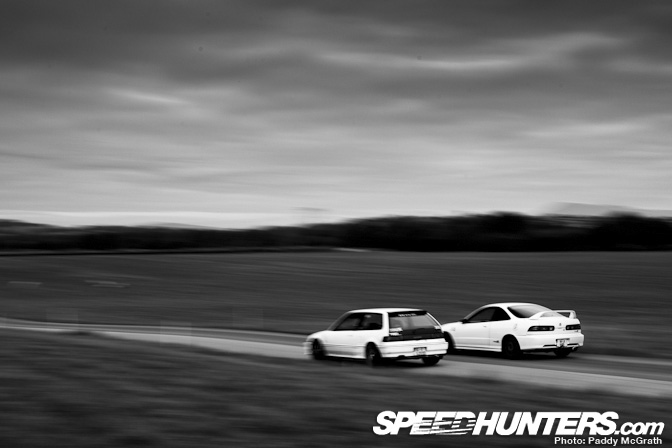 It's not a quarter mile, it undulates, there is no timing equipment and most of the course runs through a field with both lanes using different surfaces.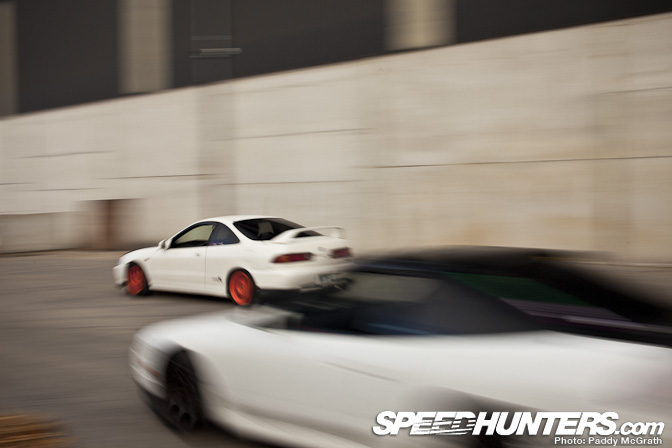 But these details are not important.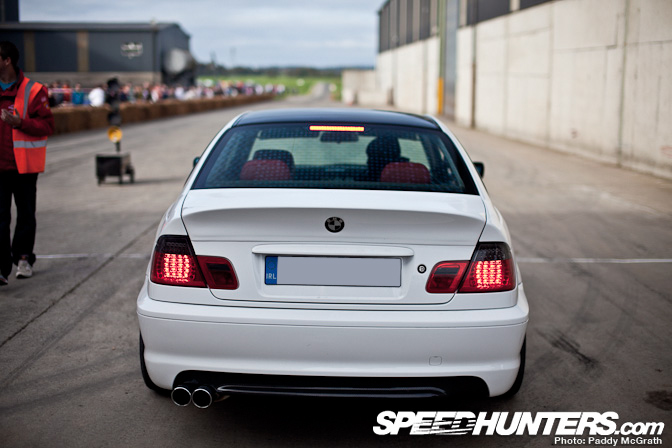 What's important here is there is finally a place for people who want to drive their cars hard, away from the public road.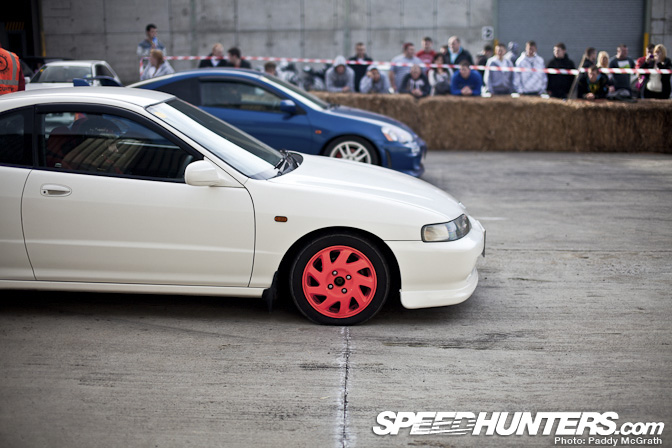 €30 (Around USD$42) allows you as many runs throughout the course of the day.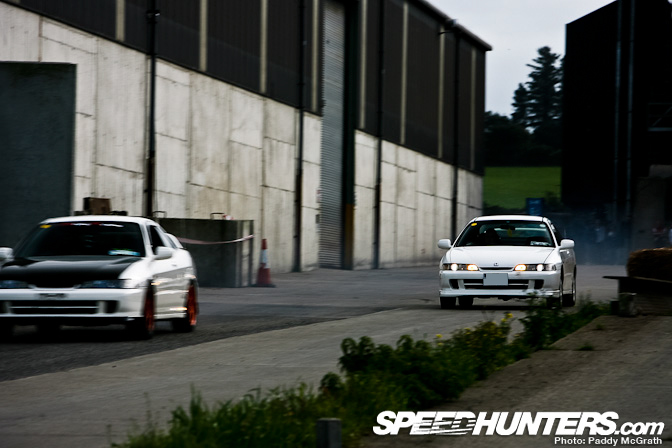 Since Casey's Yard started facilitating drag racing, everyone I spoke to told me how they had no interest in driving on the streets anymore. They value their licenses and their safety so having the yard open to them removes the neccesity of street racing.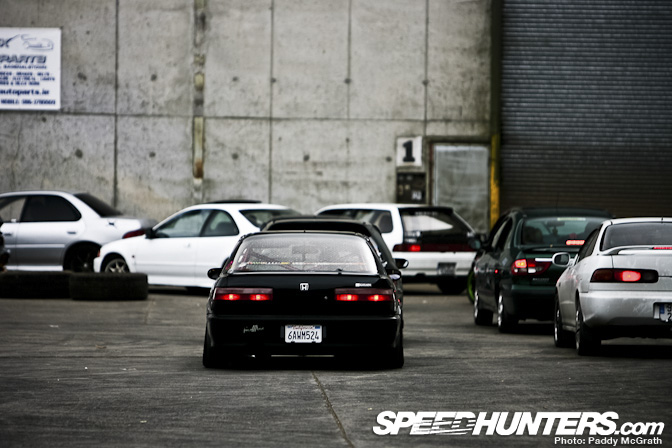 It give's these boys and girls somewhere to legally stretch their right foot.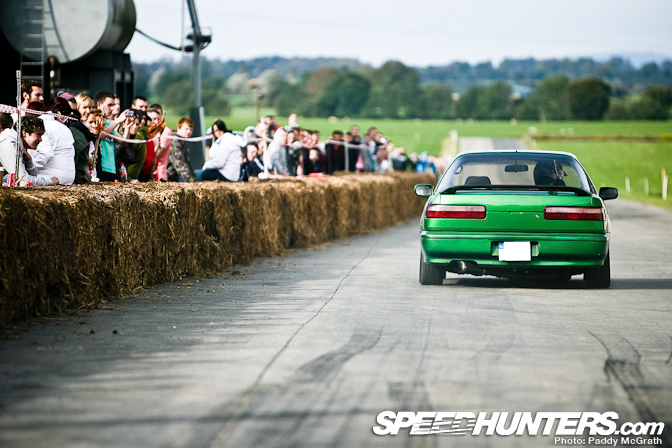 Those of you looking at the bales thinking 'that can't be safe' can rest your worries. Rather than using hay, these bales consist of Miscanthus, more commonly known as elephant grass. They are very, very heavy and do provide adequate safety for those spectating.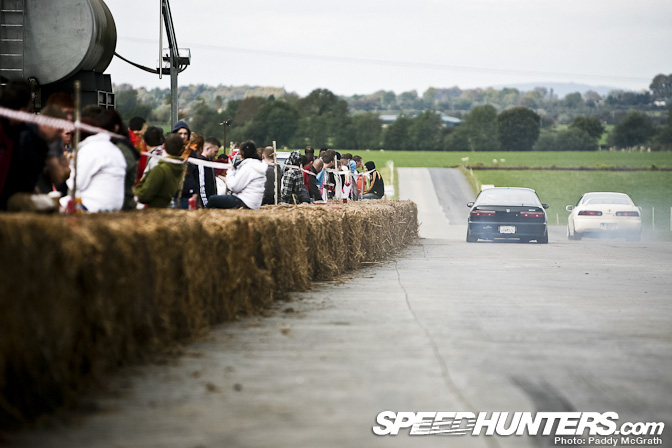 After every event, the organisers take to the message boards to get feedback on the event in a bid to improve the next one.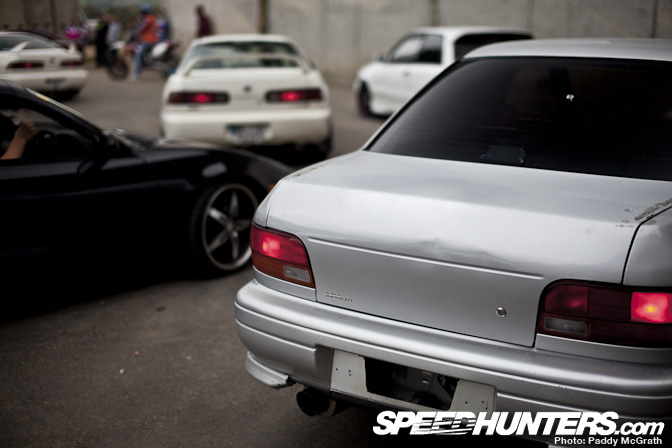 Each event attracts around 60-70 competitors. When you think about it, that's quite a lot of cars showing up on a consistent basis.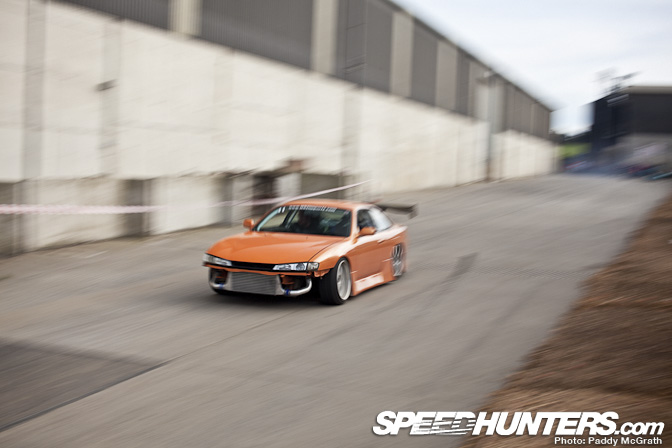 You have the option to run on your own …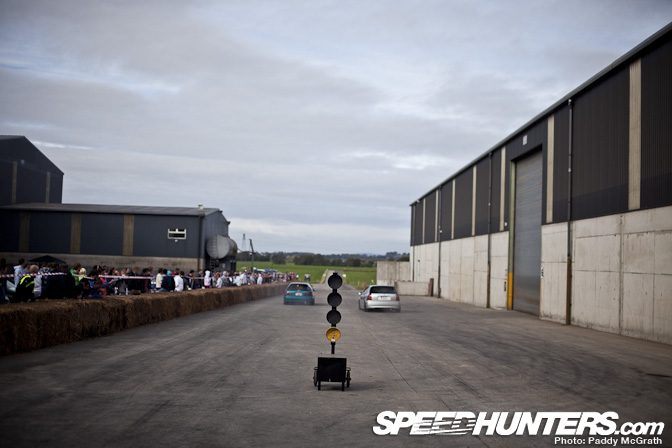 … or race another competitor.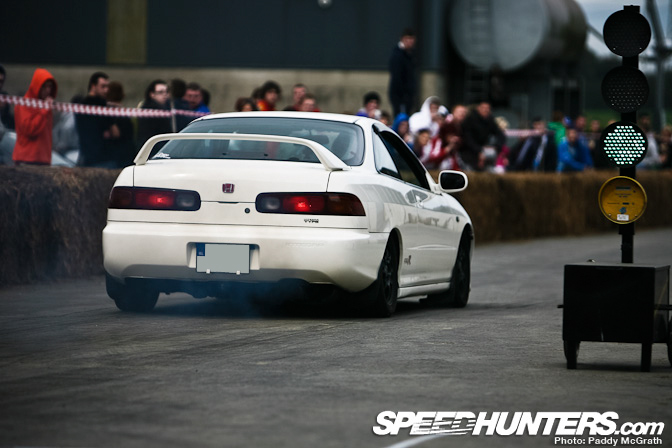 Even over such a short course, the drivers were doing everything to give themselves an advantage. Road legal semi-slick tyres, low tyre pressures etc.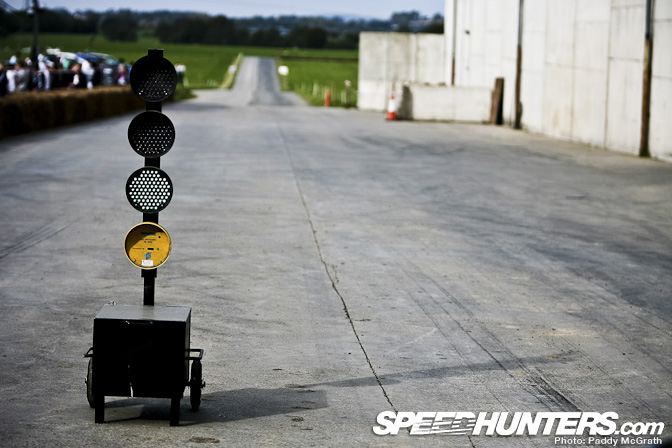 What you're looking at here may not come close to the dedicated drag racing facilities than can be found around the world. To be fair the organisers are doing everything with what they have.
You might scoff, you might criticize, you might hate but you have to respect what these people are doing. They've created something from nothing and have taken countless accidents waiting to happen off the road and into a controlled environment.
If anything, they've created the perfect case study for the Irish Government to get off their arses and build a proper drag racing facility instead of spending millions every year on pointless road safety campaigns and static speed cameras.
It maybe painfully obvious to us that the only way to stop racing on the street is to provide a viable alternative in a controlled environment, but hopefully Casey's Yard will show our politicians and elected representatives the way forward.
-
Paddy McGrath