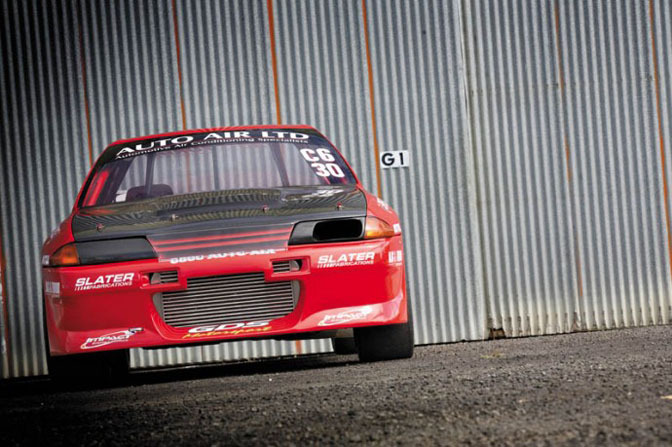 I'm not sure what's in the water on the other side of the hemisphere. But it seems that the New Zealanders and Australians are responsible for some of the fastest Skylines in the world.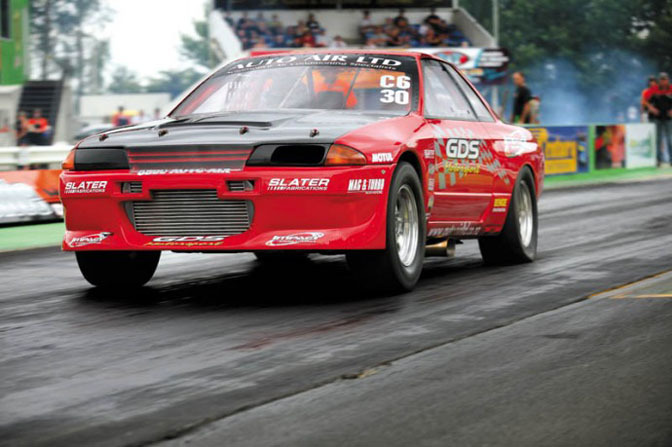 This R32 belongs to Glen Suckling from New Zealand. It is capable of an 8.02 second runs thanks to it's 2.7 litre 1300bhp engine. Judging by this picture it really jumps off the line but I wouldn't expect any less with 1300BHP on tap.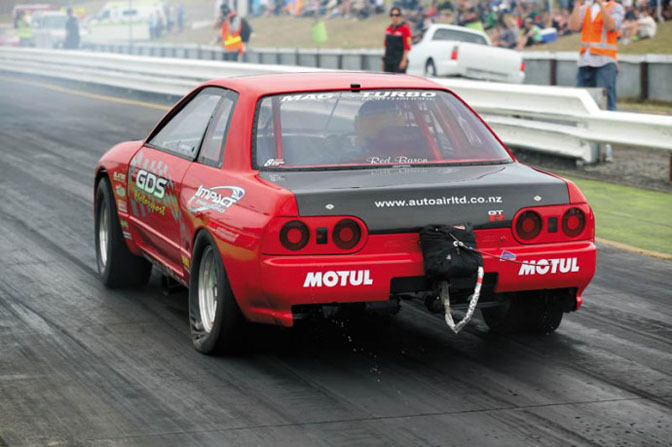 You can't just turn up at a drag strip and think you can pull of an 8 second run. It is always a combination of things that allows you to break records. It all starts with a chassis that has been stripped of all it's unnecessary metal. Other parts are being replaced with lighter items like the hood and the trunk.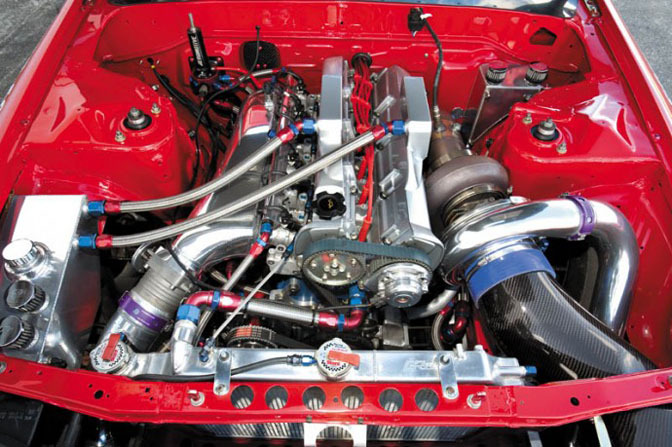 The other major component to be competitive is the engine. In this case, a fully rebuilt RB26 has found its way into the engine bay. The first thing that caught my eye was the huge carbon air intake that gets it's air through the custom headlight housing.
The list of parts is endless, but here goes; Nissan RB27DET 2.7-litre inline-6 DOHC 24V, GDS Motorsport-spec RRR block, Trust stroker crankshaft, Carrillo rods, GDS-spec JE Pistons, GDS-spec cylinder head, GDS-spec camshafts, valve springs, retainers, GDS-spec carbonfiber air intake, modified Top Secret intake plenum, Garrett GT-series turbocharger, HKS 60mm external wastegate, 6-inch Trust drag intercooler, GDS-spec custom exhaust manifold, SX Performance primer pump, SX Performance fuel filters, Aeromotive mechanical fuel pump, Aeromotive fuel pressure regulator, 12x MoTeC Indy 1500cc injectors, fuel cell, MoTeC CD18 ignition system, MSD leads, MoTeC CDI coils, GDS-spec custom 4-inch stainless steel exhaust, 2.5-inch wastegate pipe, Trust alloy radiator, GDS-spec engine cooling system, MoTeC M800 engine management system, MoTeC E888 expander unit, Peterson dry sump system, dry sump breather tank, engine breather tank, radiator overflow tank.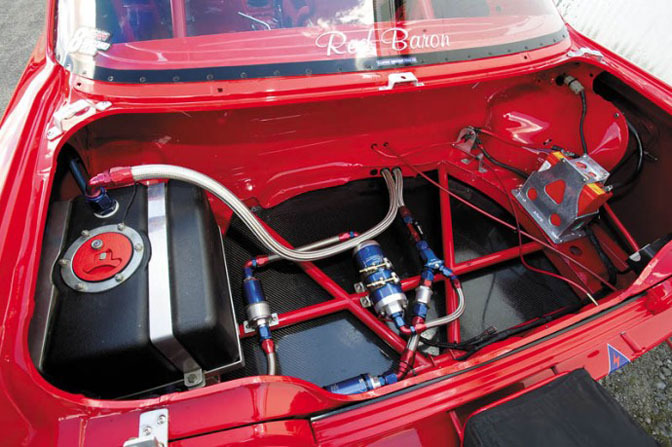 The spare wheel is long gone and in its place is a smaller fuel cell, Aeromotive fuel pump and race battery. The metal floor has been replaced with a carbon item to get rid of some excess weight.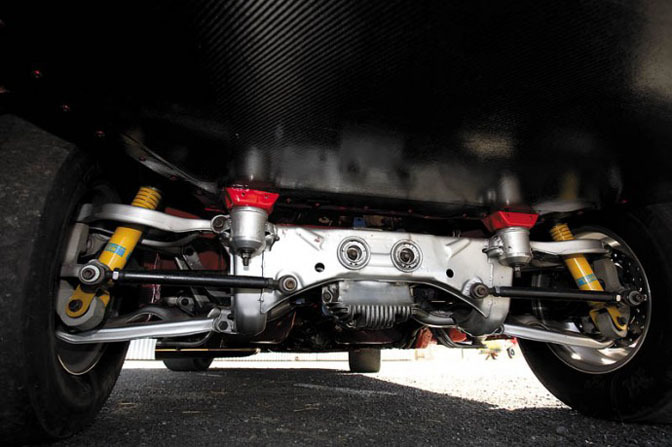 Another look at the carbon floor plan reveals the custom suspension system. It consists of Bilstein shock absorbers and Dobi Sport springs. They are fully adjustable, so getting the setup just right can earn you those precious seconds.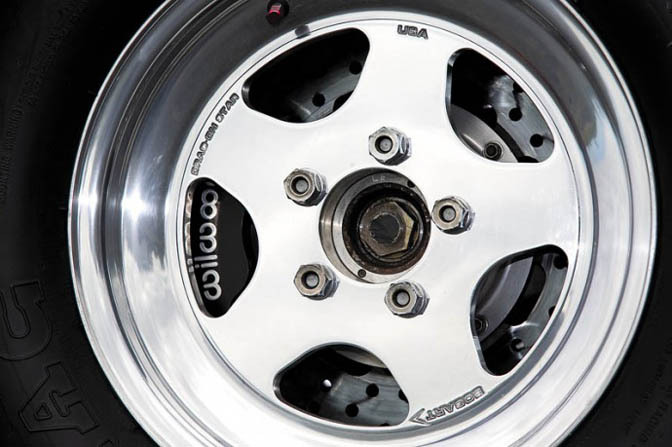 The 15" Bogart drag wheels are wrapped with Mickey Thompson ET drag slicks. At the end of each run you need to come to a standstill with or without a chute so Glen opted for Wilwood rotors and calipers.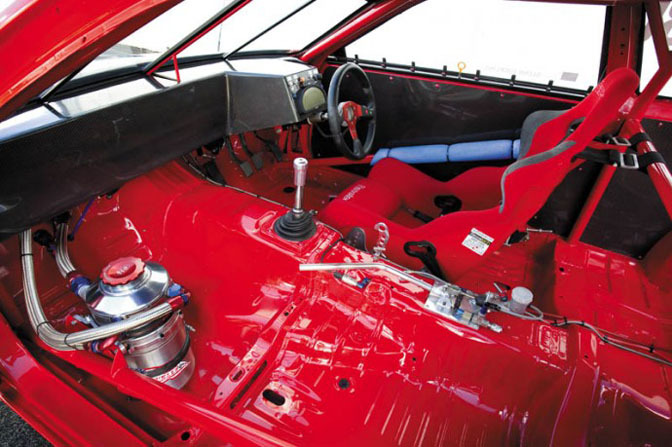 Inside the interior you will only find the bare essentials. When you realize that this car is still operated using a modified Hollinger 6-speed sequential gearbox it is even more special. It has been modified in such a way for drag racing that it has just five forward gears.
The driver can keep an eye on things thanks to the MoTeC ADL dash logger.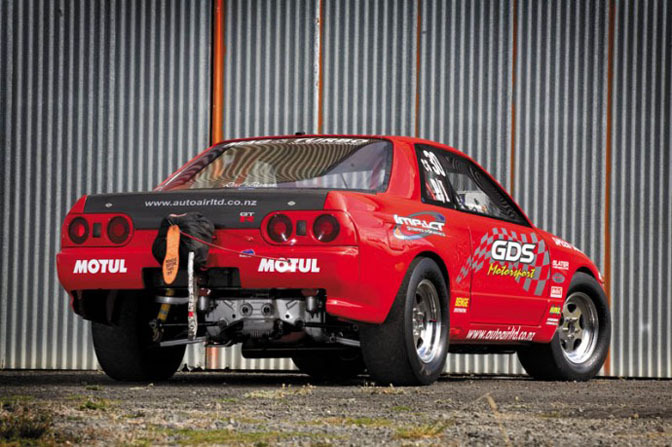 The car still retains its original appearance, just the way I like it. I'm not really into the funny cars which are just shells with a tube frame.
I need to thank NZ Performance Car for the use of these pictures. I'll have another feature from NZPC about a Mitsubishi Galant VR4, a car that is more than capable of fast times.
 -Jeroen Willemsen