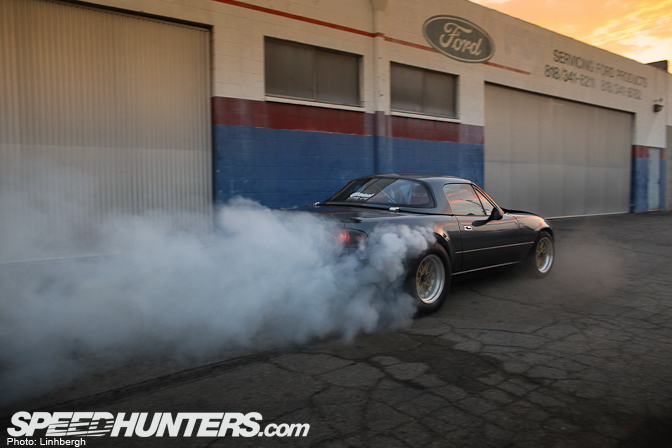 Let's cut to the chase. I've never been in any car that accelerated as hard as this hairdresser's car and I've been in a lot of fast cars in my time as a speedhunter. Most of the really fast cars I've experienced were race cars of some sort. But this Mazda Roadster is born and bred to be a street car, putting down killer times at the drag strip is just a part time job for this little guy. 
I came across this car while perusing the pit lane of the Irwindale Thursday Night drags with fellow Speedhunter, Mike Garrett. At first glance, I thought, "Oh wow a drag spec Miata! Would make for a great spotlight…" But upon further investigation and viewing what was underneath the hood, I knew I had to revisit this car again for a full feature.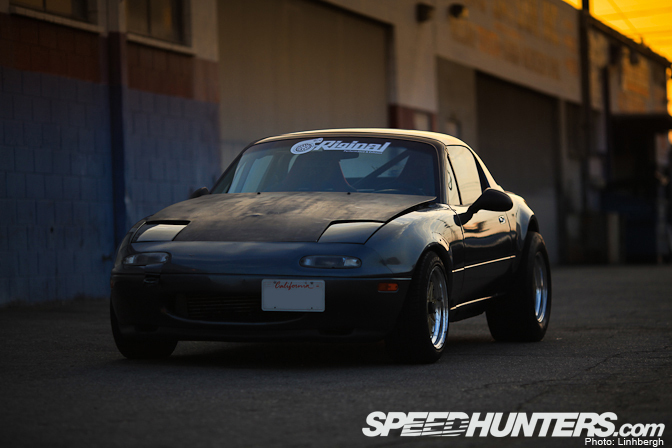 Seven years ago, Cris purchased a completely stock classic red 1990 Mazda Miata. After high school, the car started its journey into the fast the simple addition of a Greddy turbo kit then to a fully built 1.6L motor. But that didn't feed Cris' appetite for horsepower. Luckily, a friend who is also a professional drifter, Chris Kregorian, blew up his RB powered S14 and offered it to Cris.
This month, we've seen some pretty amazing drag racing machines already, but what we haven't really seen yet is a really cool street tuned drag car. This Roadster definitely checks off all the right street car boxes. It is pretty rare to see a car designed to be a groin-pleaser in the corners be built up to do the same, but in a totally different discipline.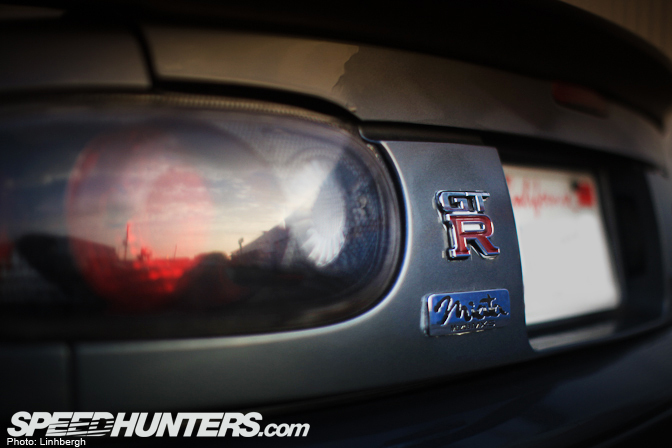 This badge in the rear gives you a glimpse of why this car is as fast as I've proclaimed.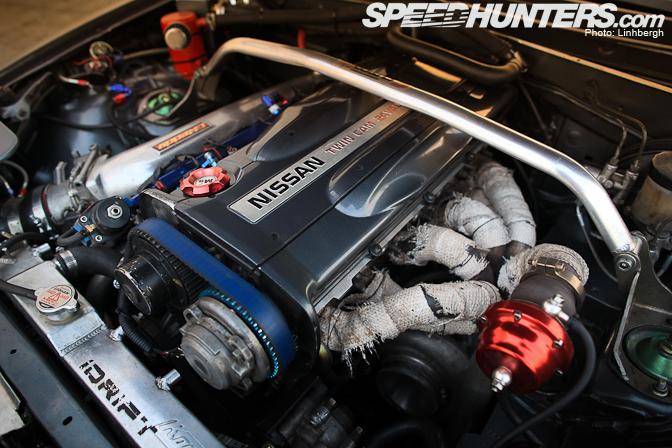 This monstrosity is what lays inside the engine bay. It's an RB25DET from a Nissan R34 NEO Skyline. Imagine 711 horsepower and 581 ft/lbs of torque, on Q16 VP race fuel, in a car that weighs in just around 2500 pounds. A Greddy plenum intake manifold sits to opposite to the custom made turbo manifold. A Greddy fuel rail with 660cc Seimen's Deka injects and Greddy intercooler was also installed. 
Inside the engine is a set of 87mm Supertech 9:1 forged pistons, ARP headstuds, ARP mainstuds, ACL Calico coated race rod bearings, and a ACL Calico coated race main bearings. 
You can't expect to drop in an RB motor hoping it'll fit, so a lot of custom made parts had to be created. It took Cris and his brother two months to create motor mounts, transmission mounts, the drive shaft, the 3" full exhaust system, wiring harness. Lastly, the firewall itself had to be modified for the engine to fit!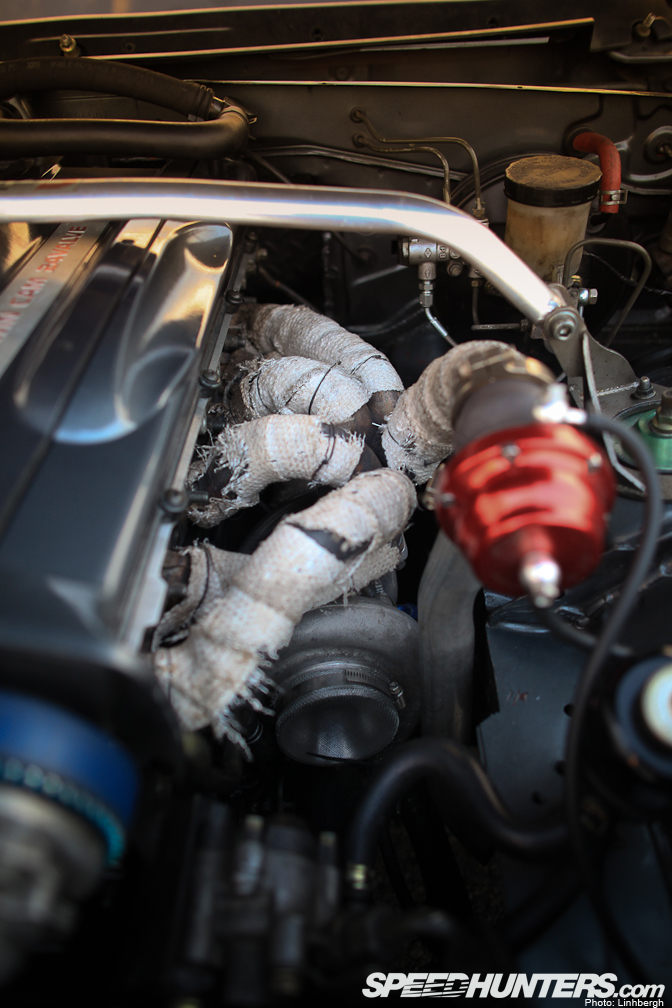 The GT3582R dual ball bearing Garrett turbo is tucked neatly under the custom made manifold. The manifold may not look to be heat wrapped by professionals, but it definitely does the job.
You can listen to me wax beautiful poetry after experiencing the brutality of this car here.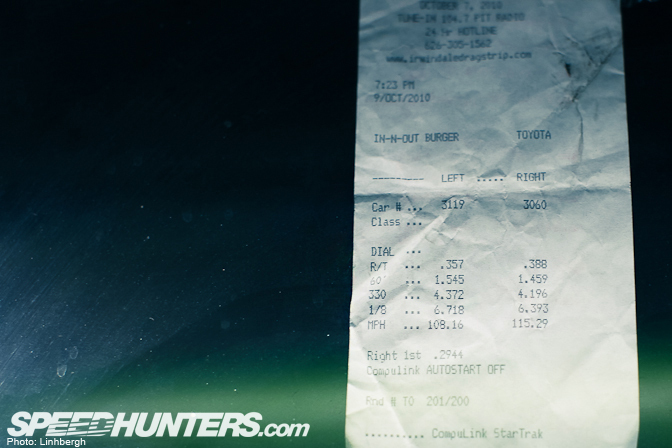 The result of 711hp and 581 ft/lbs (the right lane on the time slip)? An 1/8th mile gone in 6.3 seconds and at 115mph! 
Cris will be tackling the 1/4th mile next month in Fontana at the Battle of the Imports. He's confident that the car can pull a 9.5. We'll see….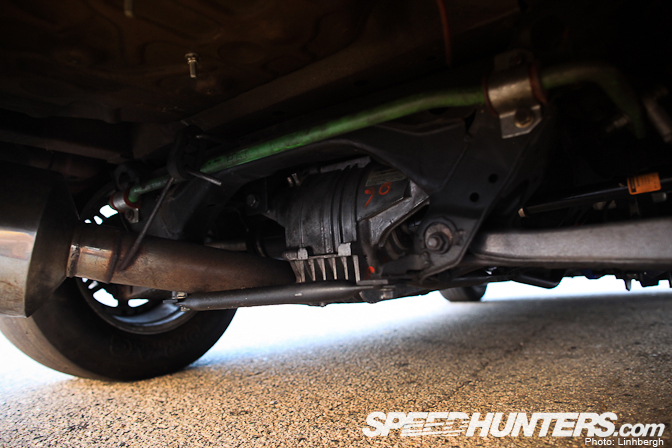 A normal 1.6L Mazda rear end would blow up at such numbers. So it was replaced by a Cadillac CTS pumpkin with a CTS-V LSD inside.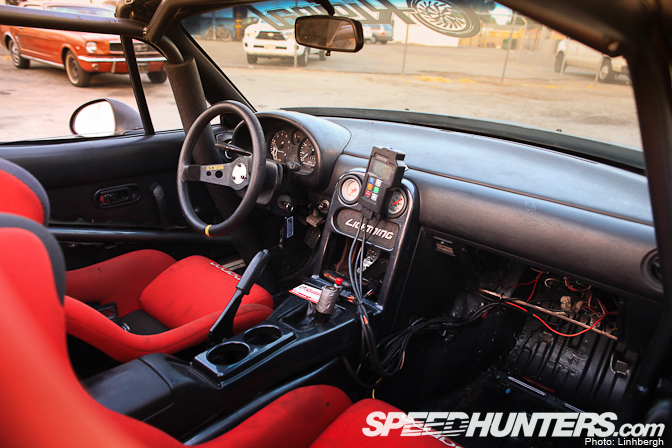 The fully stripped interior houses the usual race car upgrades: Sparco Evo bucket seats, Sparco steering wheel, Sparco Aluminum pedals, Autopower 5 point racing harness and an Innovate Motorsports Wideband.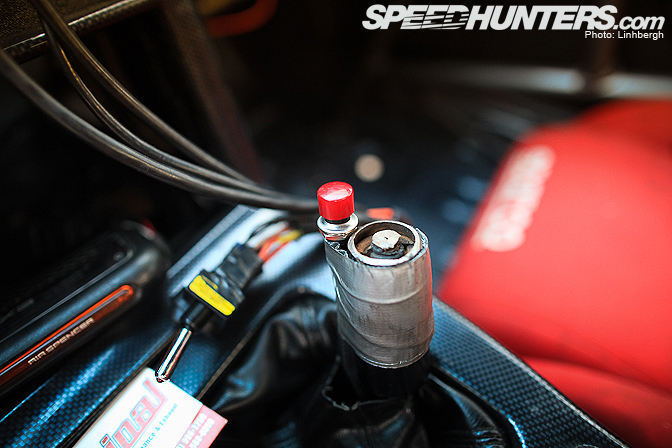 This homemade shift knob with a duct tape wrapped red button is another glimpse to its power….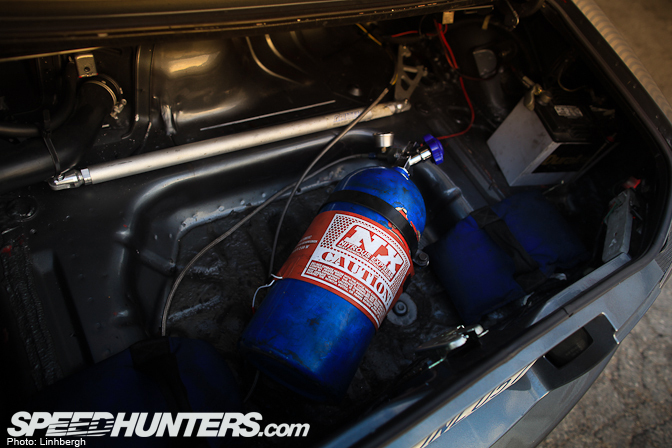 In the trunk sits a 75 shot of NX wet nitrous, giving it an extra 85 horsepower at the top of the power band. A quick squeeze of the red button sends this car from zero to halfway across the globe in the blink of an eye.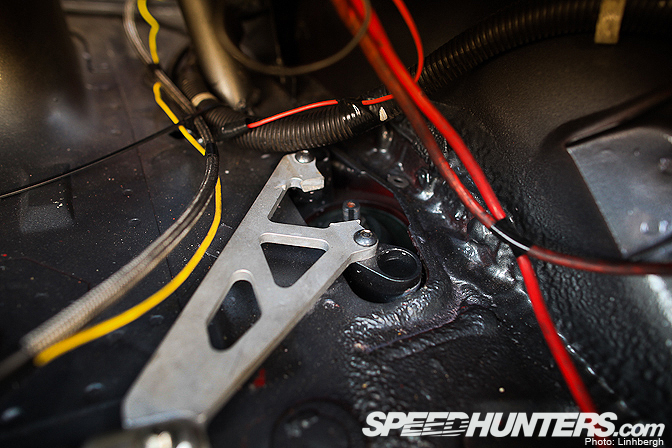 When you do 6.3 @ 115mph, any bit of chassis stiffening to get the power down on the ground helps. So, a Moss Motors rear strut bar helps do just that. A piece of the bar was cut off to its easier to grain access to the rear strut for quick dampening changes. Ghetto, but it works.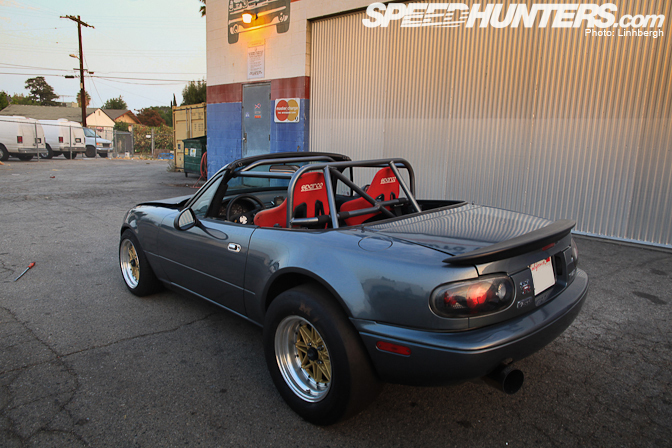 A six point roll cage was also put in for safety and chassis stiffening.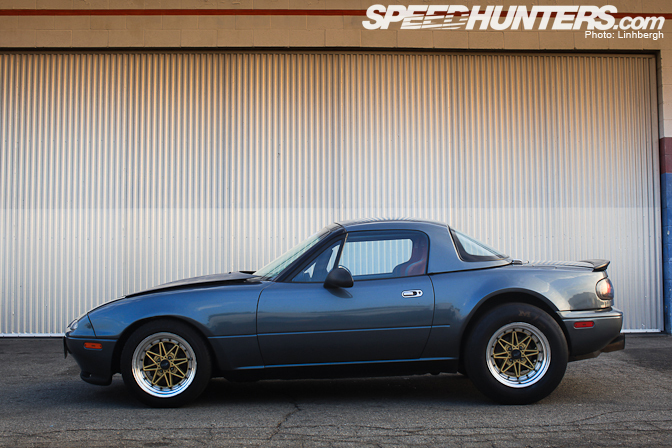 Lately, there's been all this talk of stance. But really good stance doesn't have to be super low with wheels that fit just perfectly. This Roadster has an insanely aggressive stance and its stance is brought to you by Tein Flex.
If it the car wasn't grinning ear-to-ear so much, it would eat school children for breakfast –with Nutella.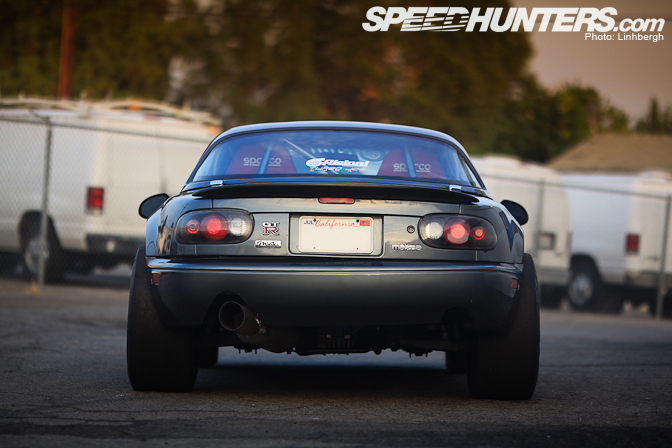 Mmmm… beefy.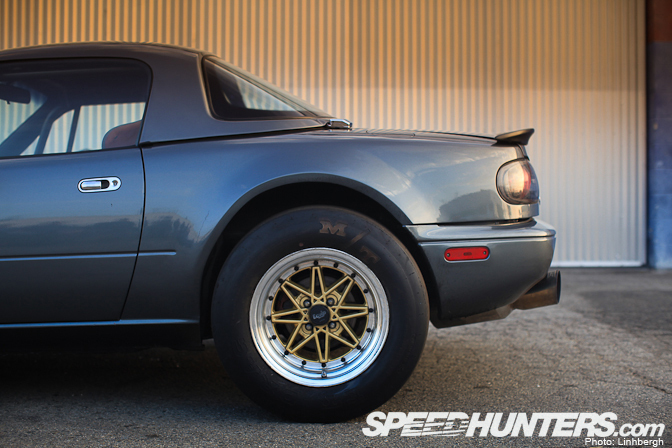 Work Equip 003s top off the car's overall look. The front houses a set of 15x8s where the rears house a set of 15x10s wrapped with Mickey Thompson 26/10 full drag slicks! The rear quarter panel has fender flares molded into the body to give the car an overall cleaner look. Don't want those rear slicks to stick out so much, do we?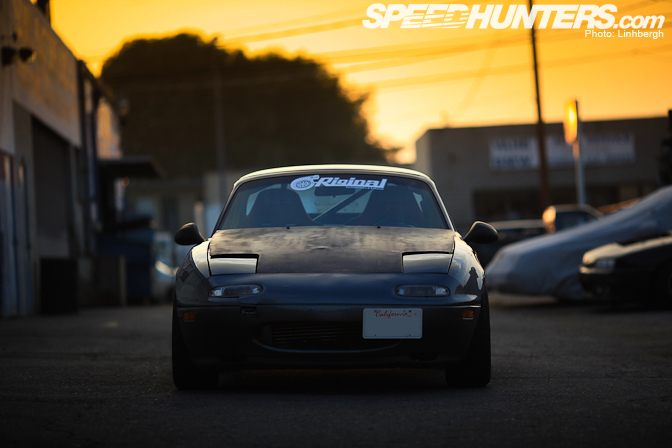 After seeing so many super slammed Mazda Roadsters lately, it a nice change to see something a bit different.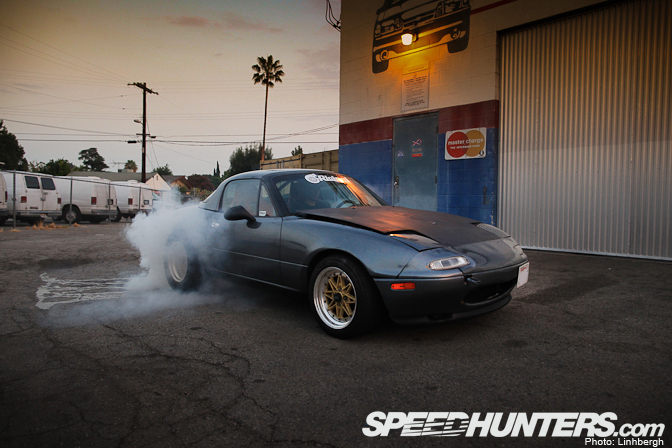 After the photoshoot, Cris and his friends decided to show me just what this car was capable of by demonstrating the art of the burn out with full on drag slicks! Beautiful.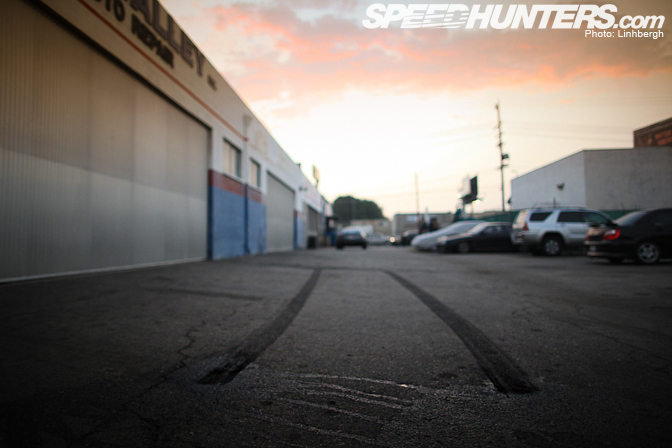 The car was not be built like a top tier racing team. It's a bit ghetto in some places, yes. But the short cuts that Cris and his brother took on this car were nothing that sacrificed this car's main goal: to fling all internal organs as far back into the bucket seat as physically possible on acceleration. Did it achieve that goal? Ask my organs yourselves. They're stuck on the back of that red bucket seat still. 
-Linhbergh
Engine Specs: R34 Rb25det NEO skyline engine
-GT3582R dual ball bearing Garrett turbo
-SPEC Twin plate clutch

-Greddy Intake Plenum manifold

-Greddy Fuel Rail

-Greddy timing belt

-Greedy intercooler

-Greddy radiator cap

-660cc Seimens Deka injectors

-Twin Bosh 044 Fuel pumps

-(8AN) Fuel steel braided lines

-87mm Supertech 9:1 forged pistons

-ARP headstuds

-ARP mainstuds

-ACL calico coated Race Rod bearings

-ACL calico coated Race Main bearings

-87mm Cometic Metal head gasket

-NX Wet nitrous system (single fogger)

-Aeromotive Fuel pressure Regulator

-GM Rear End

-6 point Full Roll cage

-55mm KOYO radiator

-AEM EMS 

-OEM rods

-OEM crankshaft

-OEM cams

-OEM valvetrain

-OEM oil pump

-OEM RB25 Transmission

-ORIGINAL Motor mounts

-ORIGINAL Transmission mount

-ORIGINAL Turbo headers

-ORIGINAL Drive-shaft

-ORIGINAL 3'' Full exhaust System

-ORIGINAL wiring harness

-ORIGINAL headlights
Interior Specs:
-Sparco Evo seats

-Sparco Sterring wheel

-Autometer Oil press, Boost, and Water Temp Gauges

-Autopower 5-point Seat Belt Harness

-Innovate motorsports Wideband

-Sparco Aluminum Pedals
Exterior Specs: 
-Work Equip 15×10 15×8

-Tein Flex coilovers

-M/T full drag Slick 26/10 tires

-Suspension techniques Sway Bars

-Cusco Front strut bar

-Moss Motors Rear strut bar

-GTR Gun metallic Gray paint

-Custom Rear Panel Flares

-50lbs sand bags