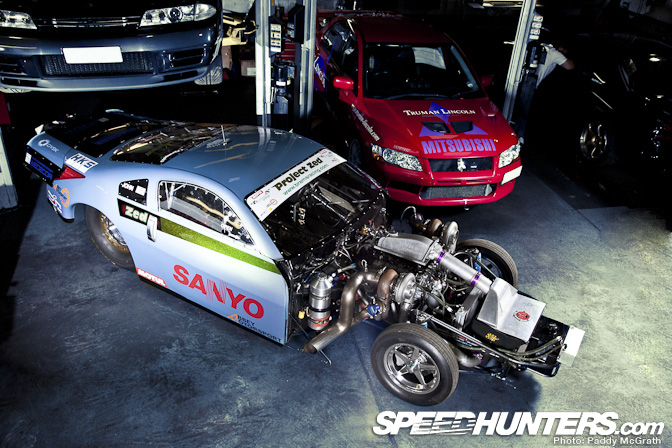 Zero compromise. I think it's probably the only way to describe this 350Z. The original idea was to build the first Japanese car to compete in the FIA Pro Modified Championship and literally no stone has been left unturned in it's development. Those who have read the Project GTST feature will have read about the level of detail John Bradshaw went through to push the car to it's status as the world's fastest Nissan Skyline.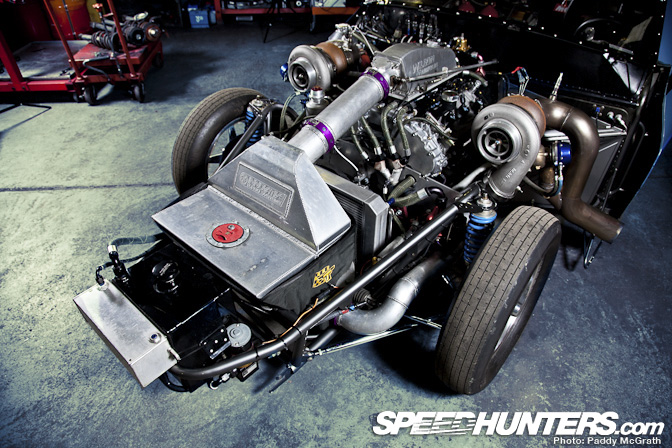 The car is currently running around 1800BHP with plans in place to run 2200BHP in the future. John has made the rather sensible decision to walk before they run, so they can extract the absolute best from this car.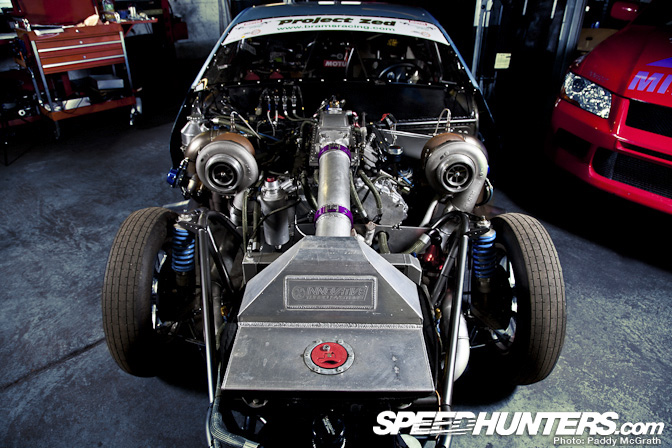 It's sister car built by Performance Motorsports based out of New York, ran several 6.6 second passes at over 215MPH so the car is definitely capable.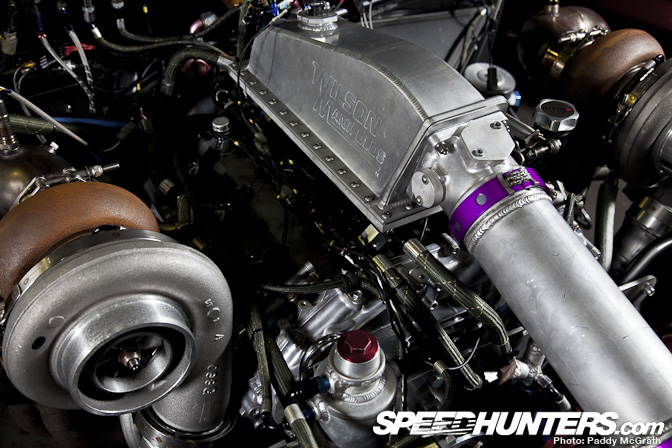 The car retains the 350Z's 3.5 litre VQ block but any resemblance to the standard engine pretty much ends right here.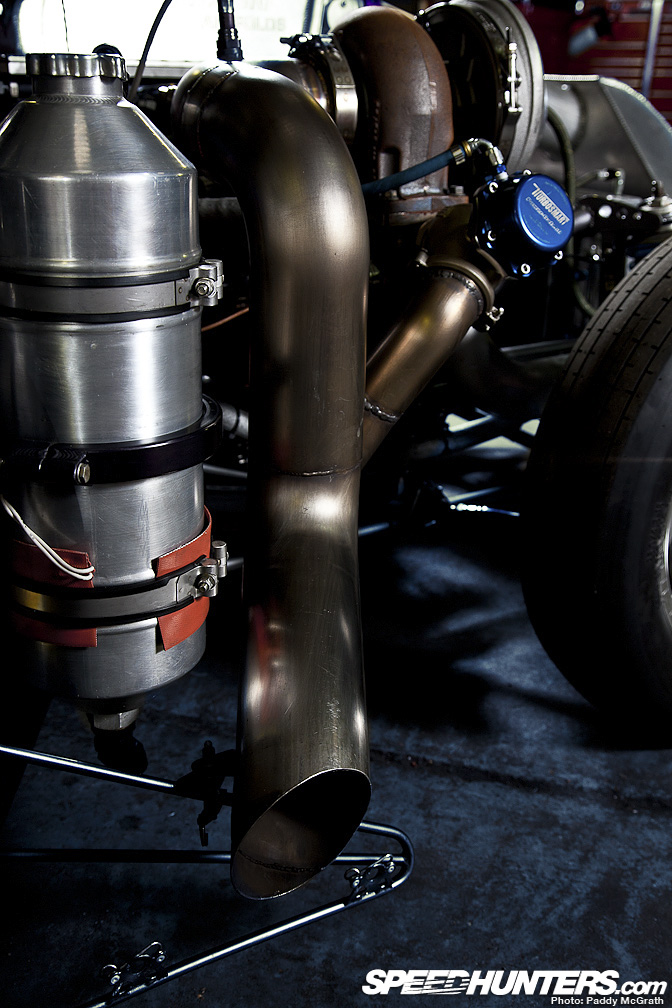 Kooks turbo headers, Borg Warner hybrid turbos and 5" stainless steel downpipes with integrated 2" wastegates are just some of the highlights of the induction / exhaust side of things.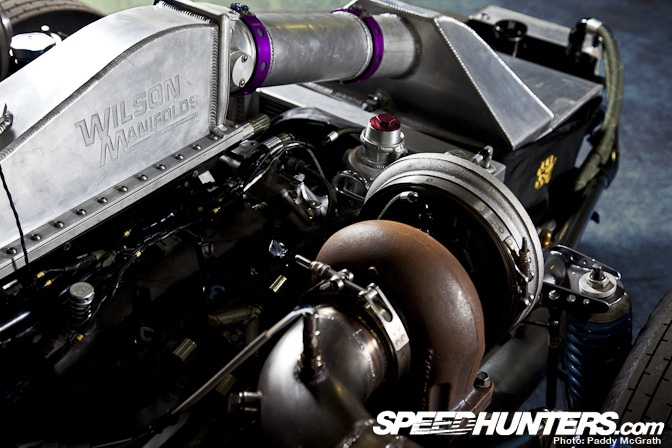 A custom sheet metal intake has been created for the Wilson Maniflod.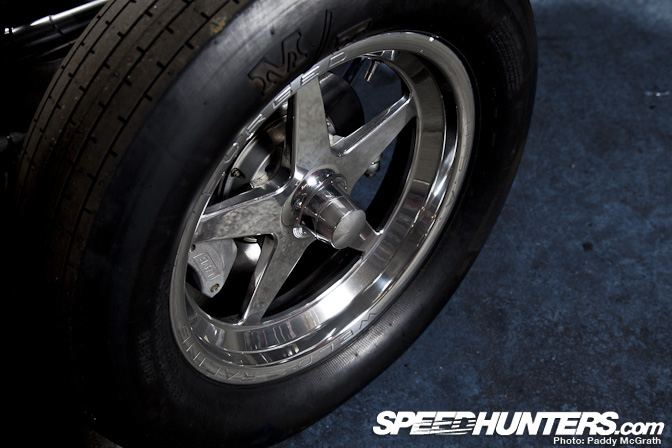 Weld Racing wheels up front with Lamb calipers and carbon/carbon brakes.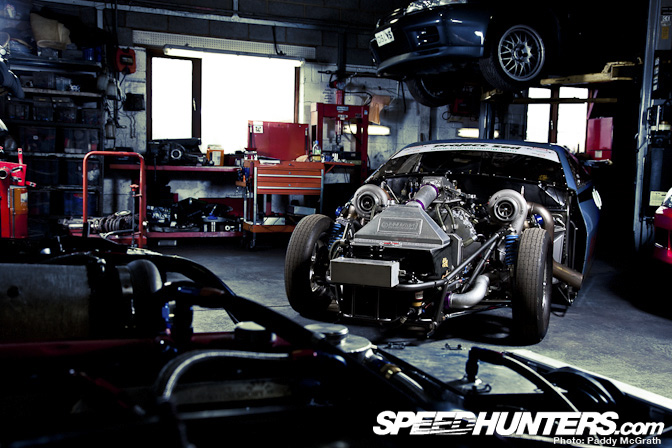 The chassis was built by Vanishing Point and is NHRA certified for PRO ET5.99 and built to conform with SFI 25.1E. 25.1E of the SFI conformity is a full bodied car with tube chassis, capable of 7.49 seconds or faster and no heavier than 2,800lbs.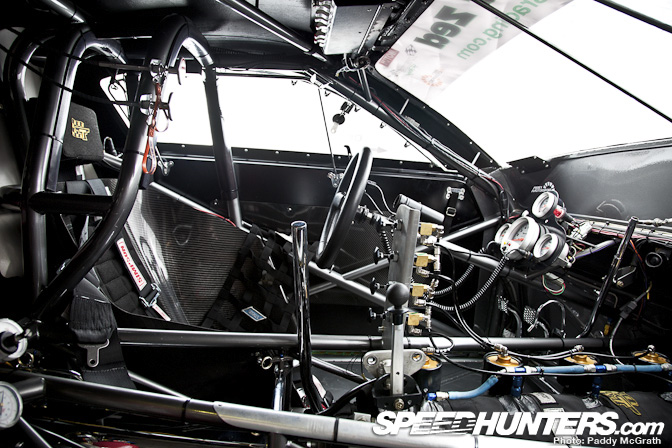 Inside is not quite as scary as Project GTST but all the tea in China would not get me into that seat.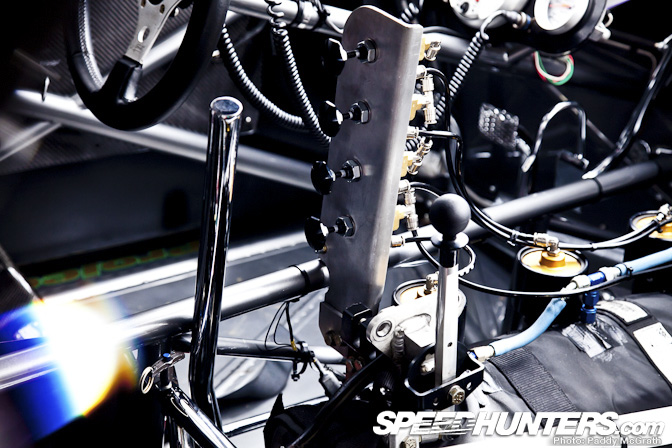 It's only when you look inside these cars it becomes apparent of how serious these cars are. Covering a quarter mile in six seconds is nothing to be taken lightly.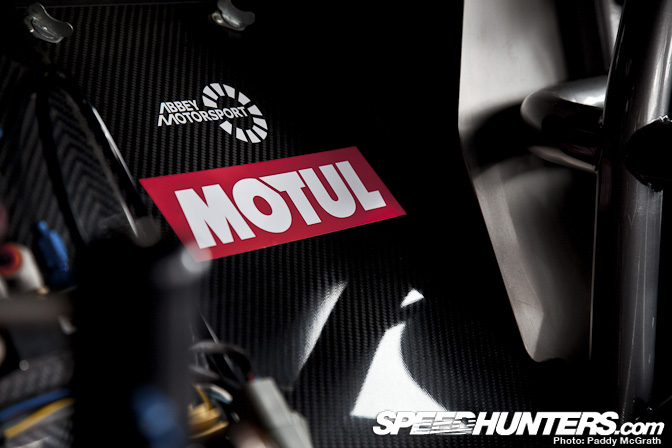 The carbon fibre rear tubs have also been SFI certified.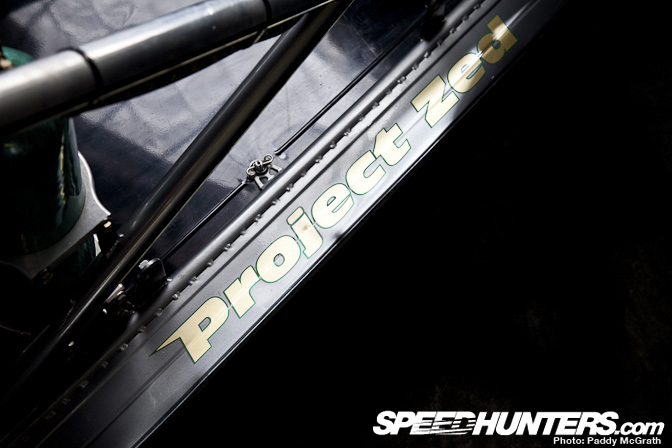 A nice detail on the door sills.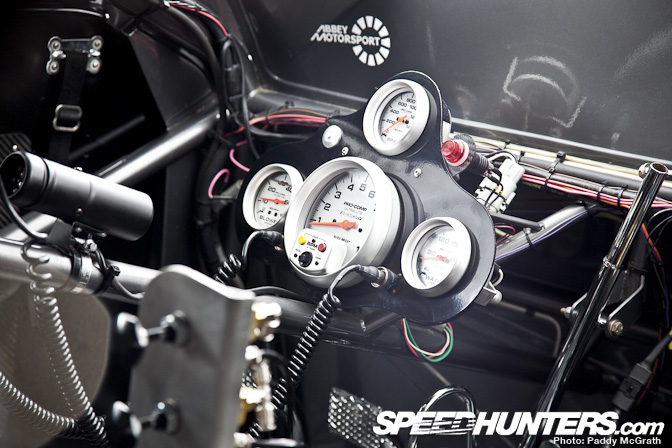 An Auto Meter gauge cluster with a super LED shift light.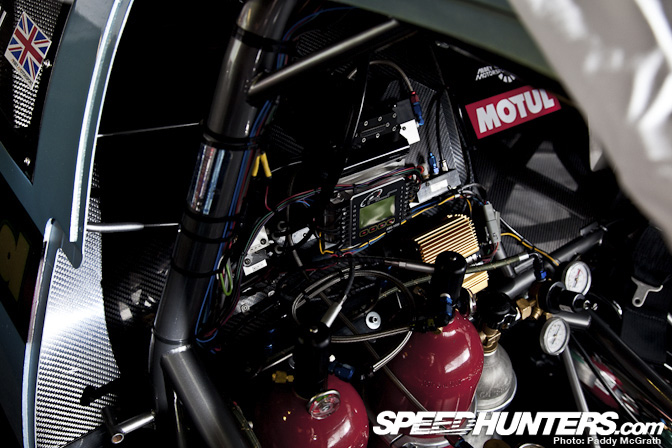 Motec M800 ECU, Racepack V300 datalogger, full Motec racing wiring harness are some of the electrical parts with two 10lbs Halon fire extinguishers as part of an SFI 17.1 on board fire suppression system.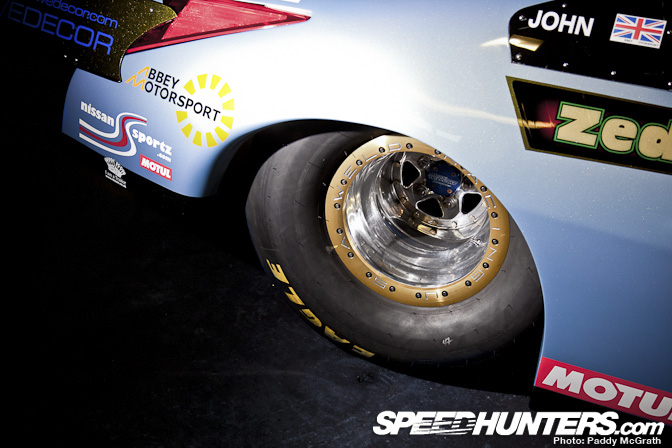 16×16 Weld Racing Alumastar wheels with Goodyear 34.5×17-16 D1022 compound slicks.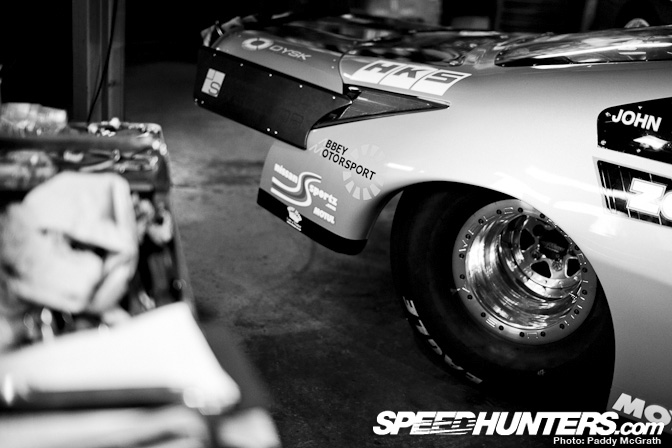 Just another angle of the rear …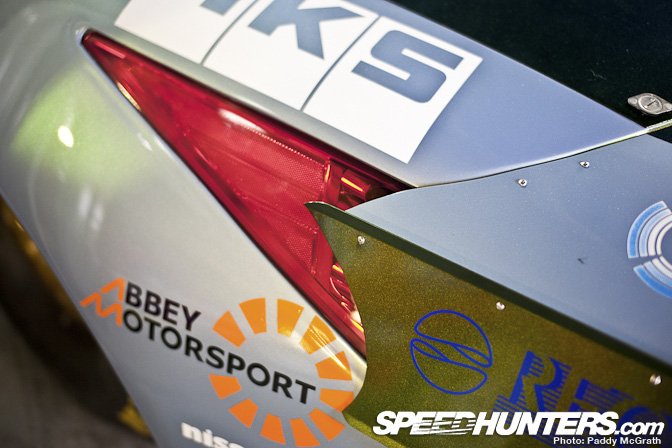 The car does have original 350Z LED brakelights, which along with the engine block is probably the only part of the original car left.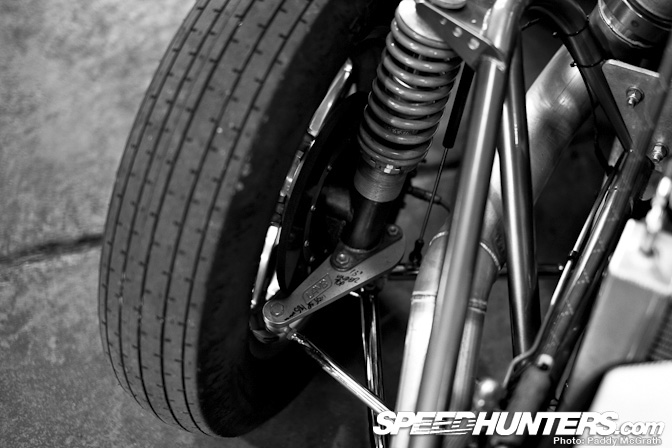 Back at the front, there are Lamb double adjustable billet front struts.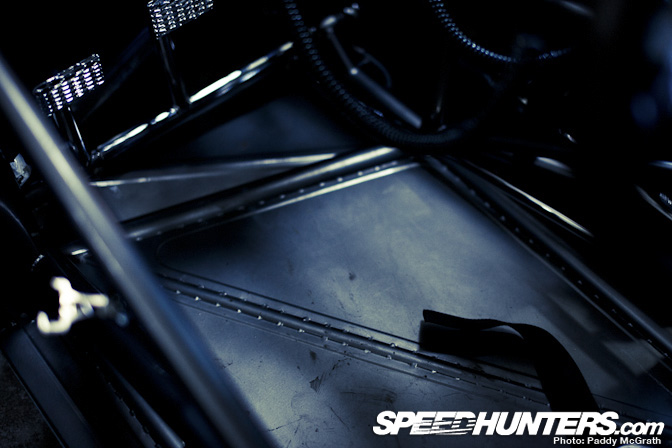 A look at the drivers side floor pan.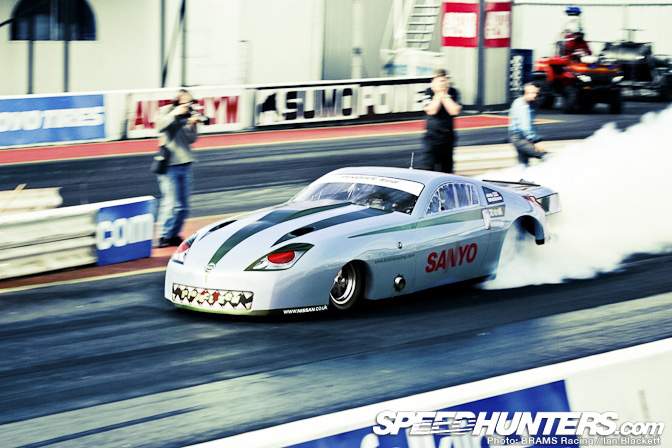 2009 and 2010 have been development years for Project ZED. John Bradshaw is taking no shortcuts with this car, either in it's build and preperation or when it comes down to taming this car over four hundred metres. With a target of consistent sixes for 2011, it's a build we'll be keeping a close eye on for Speedhunters.
-
Paddy McGrath
Specification List
Engine
Nissan 350Z VQ 3.5 Litre Block
Borg Warner Hybrid Turbos
Sonny Bryant Custom Crank
Darton Sleeves
Carillo Rods
Ross Pistons
Special head design with L19 studs
Stainless steel 5" downpipes with 2" integrated wastegate
Kooks Headers Turbo headers
Wilson Manifolds custom sheet metal intake manifold
4" Acuufab throttle body
Stewart Components Electric water pump
C&R Racing custom 2.5" core radiator
Innovative Turbo custom fabricated intercooler
Weldon Fuel Pressure regulator
Waterman Mechanical fuel pump (2500 HP capable on Methanol)
Weldon 2015-A Fuel system priming pump
Vanishing Point fabricated 3.5 gal fuel cell
Dailey Engineering 5 stage dry sump pump
Petersen dry sump breather/overflow can

Gearbox
5 spd Lenco with reverse
Liberty 5 speed sequential shifter (air shifter)
Chassis
Vanishing Point Pro-Import / Pro-Mod chassis , full double frame rail, SFI 25.1 E.
NHRA Certified PRO ET 5.99 and Quicker Max Weight 2800 Lbs
SFI Certified Carbon wheel tubs and full Titanium driver seat shield
Mark Williams 3" chrome moly driveshaft
75" import/ pro mod wheelie bars with ball bearing wheels and racepak pressure sensors
Vanishing Point fabricated Chrome Moly Fab 9" housing fully braced and bracketed with floater ends
Mark Williams Pro Mod 3rd member with 5.00 final drive ratio with 35 spline 1350 series pinion yoke, ball
bearing support, 9 1/2" pro gear, 40 spline billet spool and integrated gear oil pump
Mark Williams gun drilled 40 spline full floating axles with 5×5" wheel bolt pattern
Vanishing Point 4 link with billet brackets and telescoping x brace/ lower wishbone
Koni triple adjustable rear dampers with air controlled low and high speed compression and electronic controlled
rebound (all through Koni controller) with hypercoil springs
Billet 4 pistons Mark Williams calipers with carbon/carbon brakes
Weld Racing Alumastar rear wheels 16×16 double beadlock.
Goodyear 34.5×17-16 D1022 Compound Slicks
Lamb double adjustable billet front struts with Lamb carbon/carbon brakes
Dual Lamb master cylinder
Front, mid, and rear movable ballast tanks
Full lexan windows throughout

Electronics
Motec M800 ECU
Auto Meter Drivers gauge cluster
Koni programmable shock controller with datalogger
Auto Meter Super LED shift light
ALR AMS-1000 fully programmable digital boost controller
Racepak V300 datalogger
Full Motec racing wiring harness
Dual NTK wideband O2 sensors
Hurst line lock w/ datalogged brake pressure

Safety
Taylor SFI 4.1 safety blanket
SFI Certified Carbon wheel tubs and full Titanium driver seat shield
Impact Racing 5 pt rotary cam belts, SFI 16.1
2 Stg Halon 1211 Fire Supression System SFI spec 17.1 with 2 10Lb bottles
Stroud SFI 27.1 window net
2 Impact crossform parachutes with stainless air launchers and pushbutton air deployment w/ manual backup
deployment handle
07 350Z LED working tail lights
Sponsors
Abbey Motorsport
AET
Motul
Gizzmo
HKS Europe
Nissan UK
Sanyo