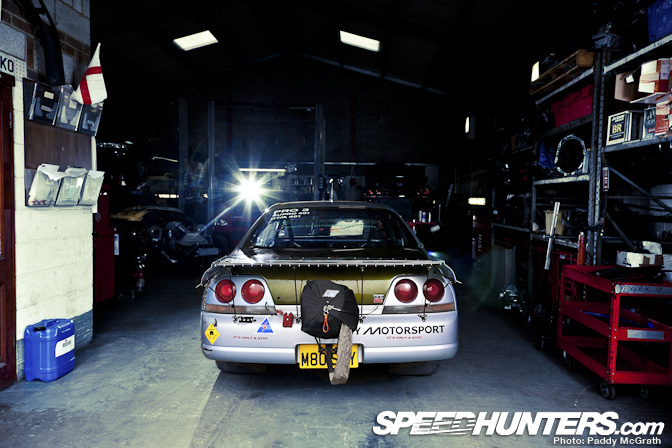 Seven point four-five seconds at one hundred and eighty seven miles per hour. Like it or lump it, this is the world's fastest Nissan Skyline. We can argue all day about it's tubed front end, it's large drag slicks but this is the fastest car to carry the Skyline name over four hundred meters. Reece McGregor's Heat Treatments R32 GT-R maybe the fastest GT-R in the world with a 7.57 @190.7MPH pass and it may be 'full bodied' but it is still over a tenth slower than Project GTST over the quarter mile.
It's a discussion John Bradshaw, owner and driver of Project GTST, and the Heat Treatments crew often have a laugh about, a sure sign of their strangely friendly rivalry. One would be lead to believe that these guys must be arch enemies if the keyboard warriors of the world are to be believed but having spoken to John, nothing could be further from the truth.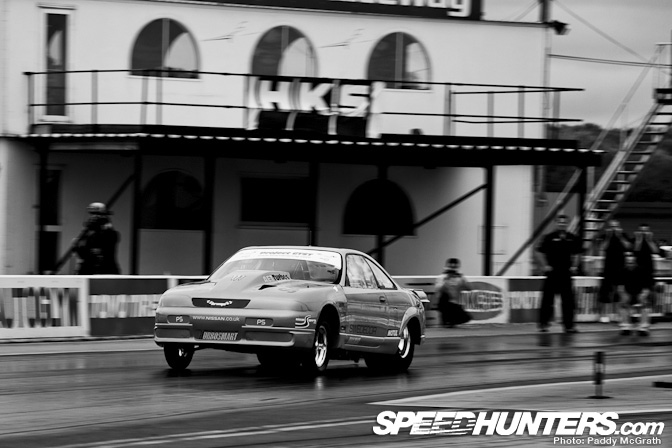 Thankfully, we're not hear to debate the definition of what constitutes a Skyline but rather we are here to explore the merits of what has become something of a legend around the world. Project GTST is not only the worlds fastest Skyline, it also holds the title of Europe's fastest Japanese car in 2008, 2009 and once again in 2010. Not bad for a car that started life as a near standard GTST with an aftermarket set of alloy wheels.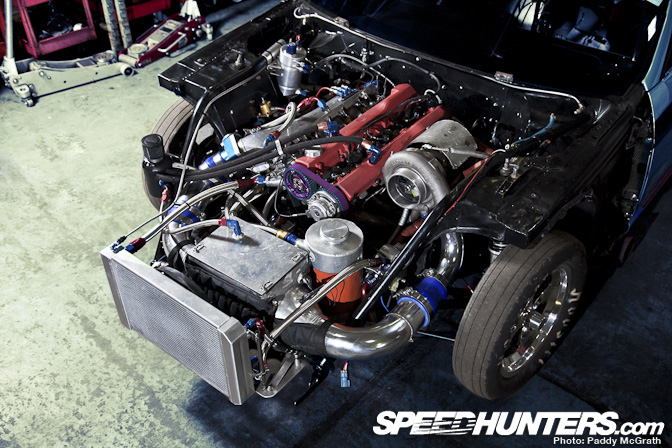 John chose the GTST model over the GT-R as he loved the idea of being the underdog.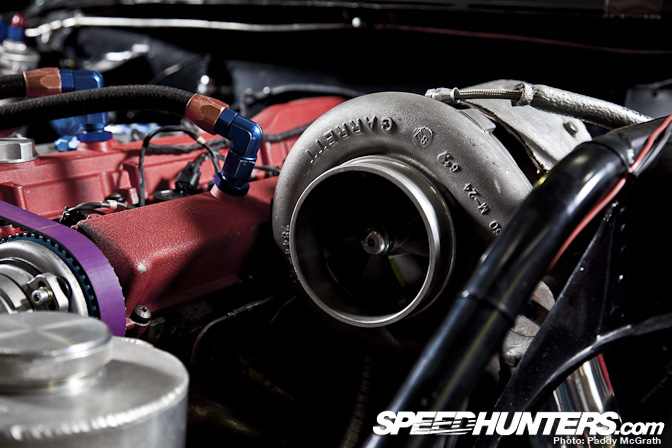 He also knew something that a lifetime of drag racers that came before
him knew, that once you get to a certain stage a rear wheel drive car
will have the edge over it's front and four wheel drive bretheren. You
don't have to look far to the Top Fuelers and Pro Mod cars to see
evidence of this.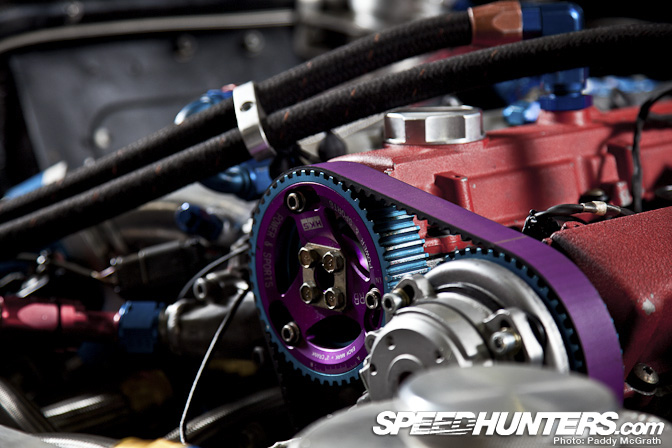 The car went through several stages of tune before arriving at what it has become today. At one stage it was 810BHP RB25 that ran Santa Pod on a stock gearbox. It eventually ran a 9.9 @ 141MPH in this guise.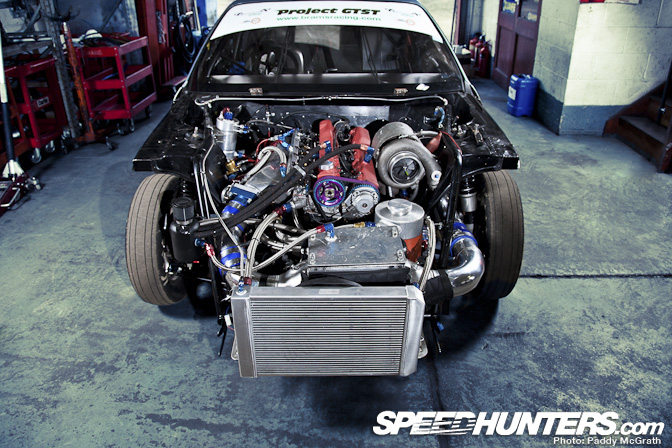 As it stands now, Project GTST is a car that was slowly developed through a methodical and rational thought process.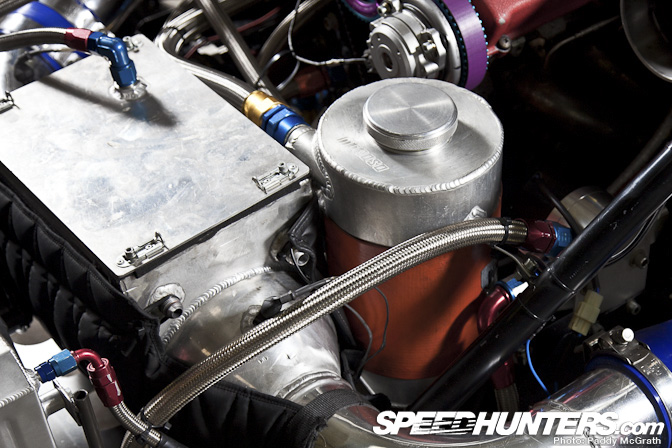 Rather than just throwing more power at the car, John along with the team at Abbey Motorsport studied and analysed every run in-depth through a comprehensive MoTeC data loggging system.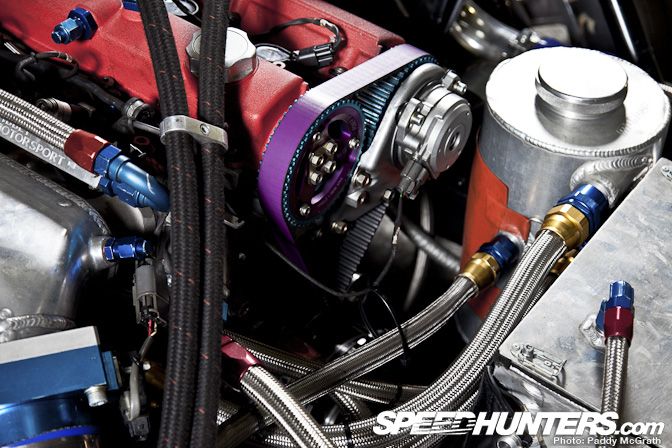 Traction (or lack there of) was the cars biggest issue. It was decided to convert the car to the chassis spec you see before you now in 2007. Tubed front end, flat floor and large rear tubs to accomodate the Mickey Thompson Pro Drag Radial tyres.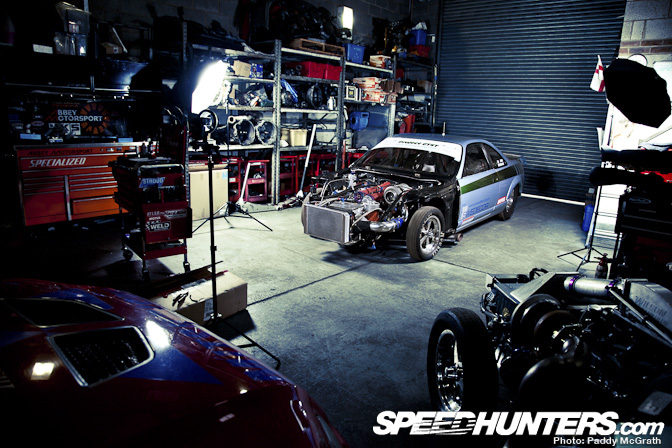 Let's look at the spec of the car as it stands at the end of the 2010 seaosn.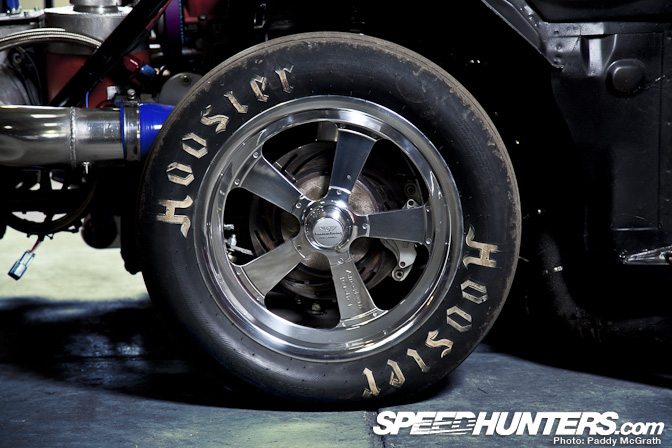 Hoosier drag slicks on American Racing wheels frame the Strange brake setup.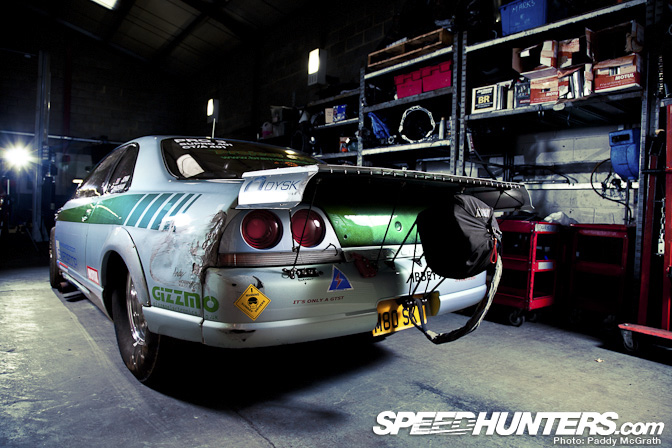 Aiding stopping powers is a Stroud parachute. An ARRC rear spoiler provides downforce for those important seven seconds or so.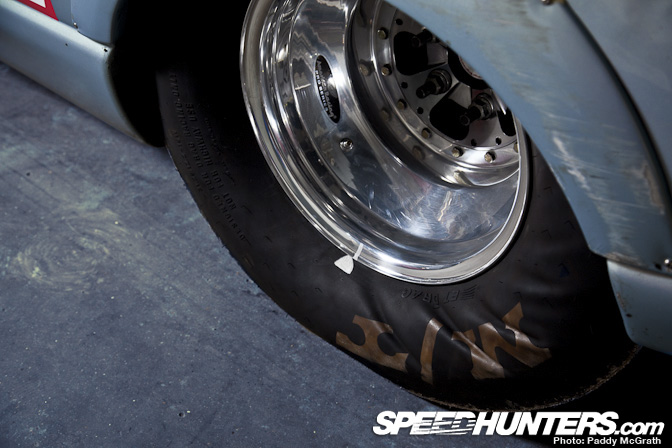 Mickey Thompson tyres on American Racing wheels at the rear.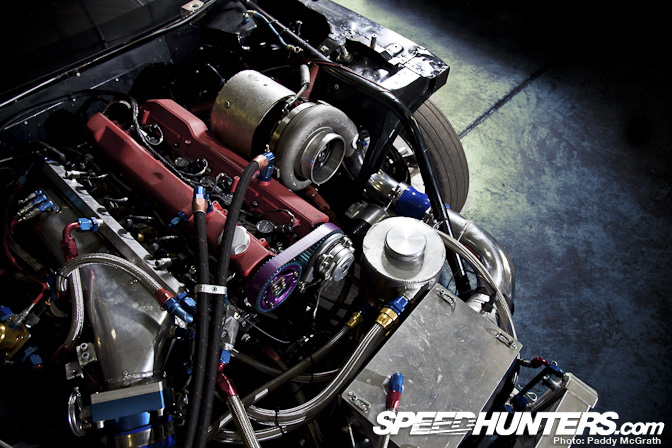 Surprisingly the car doesn't have that much power. Fair enough 1140BHP isn't exactly a small figure by any means but considering it's over five hundred horsepower less the the Heat Treatments GT-R, it gives you an idea of how important and how developed the chassis is in this car. John swapped to an RB26 N1 engine in 2007, around the same time as when the car underwent that major overhaul mentioned previously.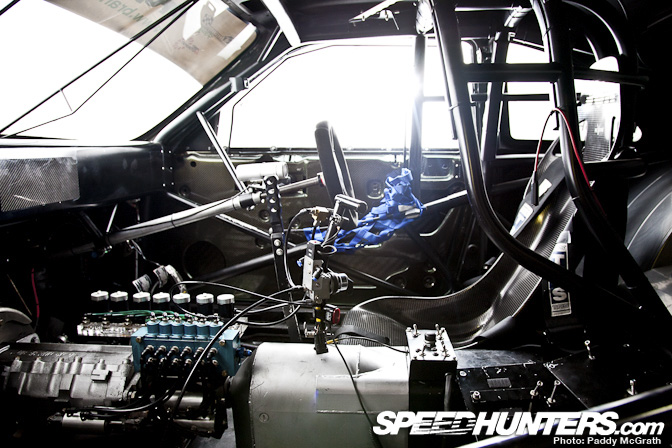 Inside is a slightly terrifying looking place. The cage was built by Webster Race Engineering and is a fully licensed 25.1E rollcage.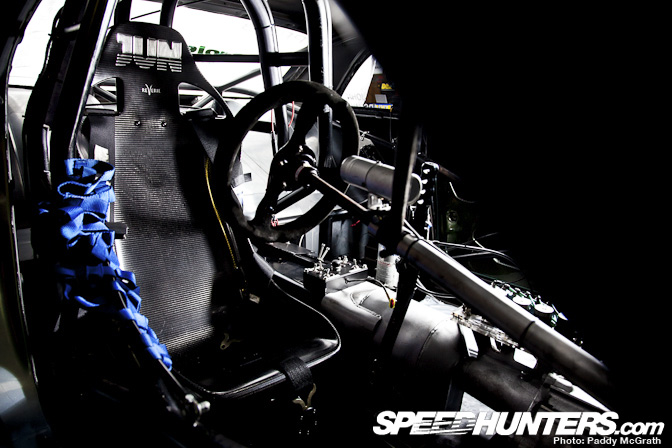 John is held into the car with TRS harnesses in a JUN Reverie carbon seat.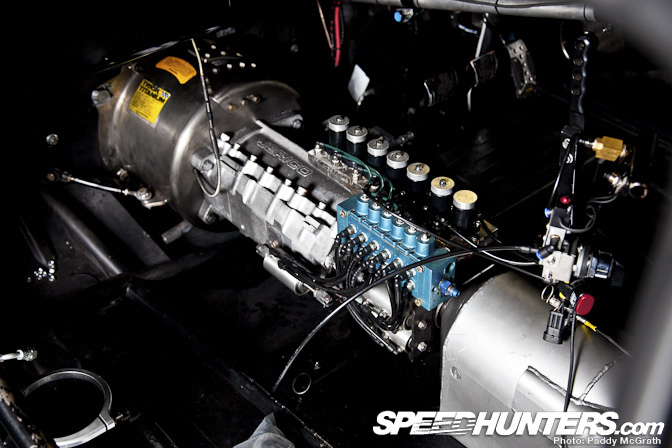 A Jerico five speed gearbox complete with airshifter.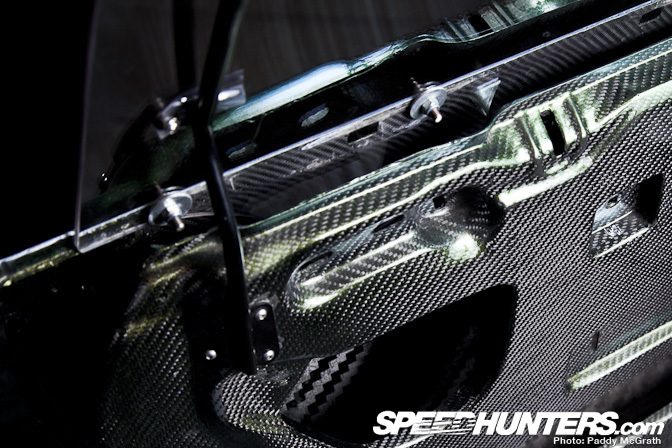 Full carbon doors along with lexan 'glass' all round keep the already low weight down.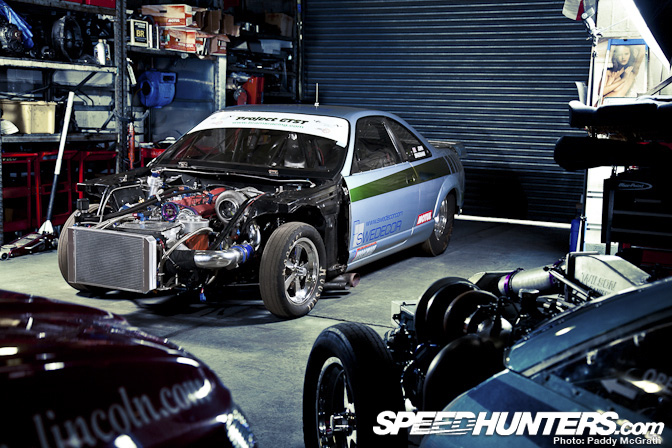 In the foreground, you can just make out John's latest project; Project ZED. A full feature is following …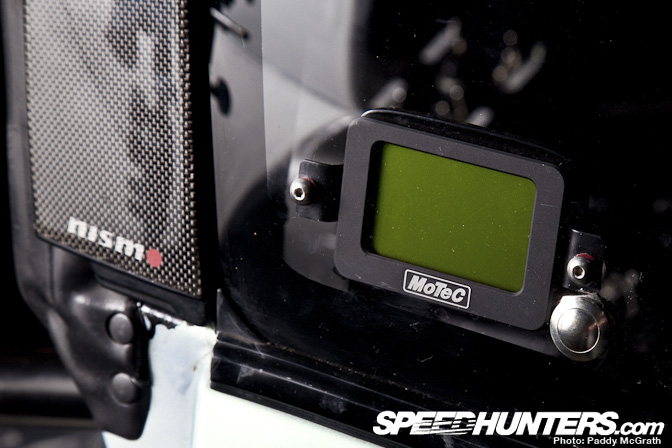 The crew rely on MoTeC for data logging the cars each and every run.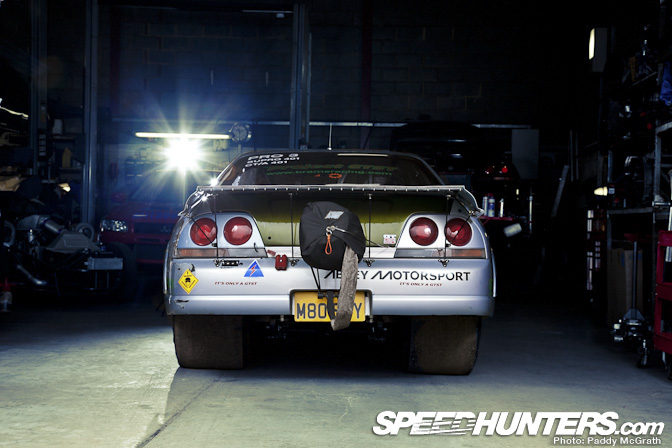 I'm sure the comments to this will be interesting but you can't debate the quality of the build and that no other car carrying the Skyline name has covered the coveted quarter mile as quick.
I'll be bringing you a similar feature on Project ZED later in the week …
-
Paddy McGrath
Specification List
1997 R33 GTST Nissan Skyline

Engine
Nissan Skyline RB26 N1 Engine – bored to 2.8L
HKS Step 2 Pistons
HKS Billet Crank
HKS Forged Rods
AET prototype turbo
Motec M800 ECU
HKS Fuel rail
HKS Manifold/wastegate
Moran Motorsports fuel injectors
HKS Ignition Amplifier
ACL Bearings
JUN Camshafts
JUN Head & Block studs
Gizzmo MSIBC Boost Controller
Abbey Motorsport Head Gasket
Veilside Plenum & Throttle body
Chargecooler System
Abbey Motorsport Prepared Head
Porting/Polishing Abbey Motorsport
Magnafuel Fuel System
ATL Fuel cell
Moroso Dry sump System
One off Abbey Motorsport exhaust system

Chassis & Running Gear
Webster race Engineering fully licenced 25.1E legal cage
Jerico 5 speed gearbox with airshifter
Ace Clutch
Trick Titanium bellhousing
Mark William propshaft
Strange fully adjustable F & R suspension
Strange discs & calipers
ARRC rear axle
American Racing Wheels
Stroud parachute
Interior
Motec Datalogging System
Racepak Display
TRS Harnesses
Reverie carbon fibre seat
OMP Fire System

Exterior
Carbon fibre front splitter
Carbon fibre Doors
Carbon fibre boot lid
GRP Front + rear bumpers
GRP Headlight vent
ARRC Rear soiler arrangement
Lexan F & R screens
Lexan windows allround
Sponsors
Abbey Motorsport
AET
Motul
Gizzmo
HKS Europe
Nissan UK
Sanyo