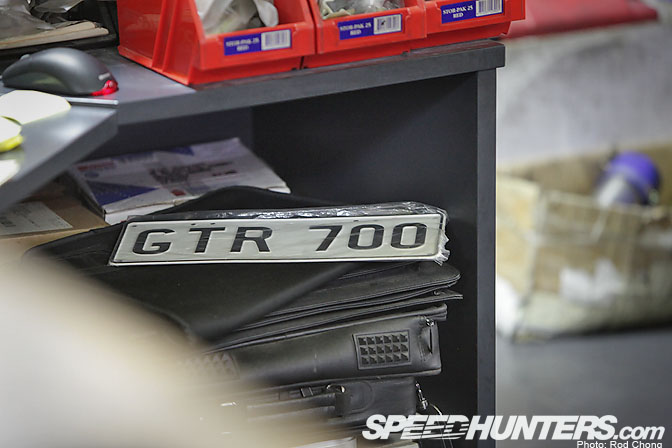 Back in May when Rod and I headed to Australia for the World Time Attack Challenge there were tons of things we actually had to do before the event started later that week. First up I had to get myself over to Nissan to pick up our ride for the week, a fire-red R35 GT-R, and then head back to the airport to pick up Rod who landed a few hours later. It was at that point that our adventure really started as we spent the next few days visiting some of the most renowned tuning shops in the Sydney area, immersing ourselves in the impressive passion for speed and power the Aussies are so well known for.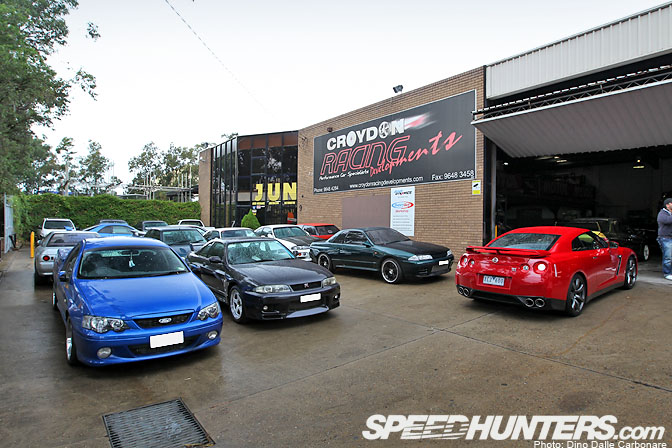 Our first stop was a place I've been wanting to visit since I saw those crazy videos Mario of exvitermini.com (the side no longer exists) put online all those years ago. I am of course talking of Croydon Racing Developments (CRD), the guys responsible for building "GTR 700" among a few famous other cars. As you can see in the opening shot, the GTR 700 number plate is one of the first things I spotted when I entered into the shop!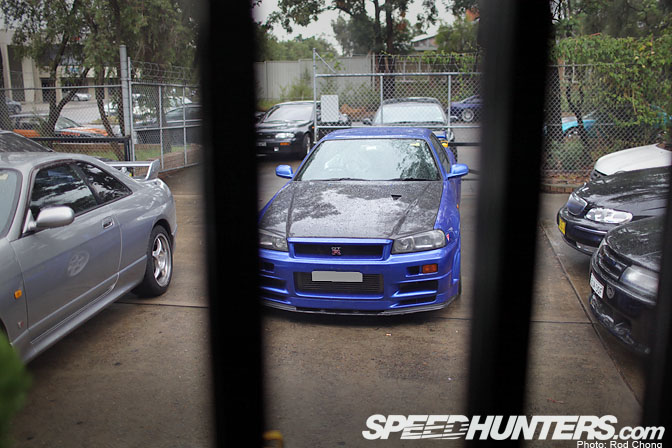 CRD became well known back in the day for building crazy 400+ HP Suzuki Swift GTIs, and over the last two decades has cemented itself as the place to go for owners of the Japanese performance cars, building some of the most powerful street tuned GT-Rs, Imprezas, Silvias and Evos in the country.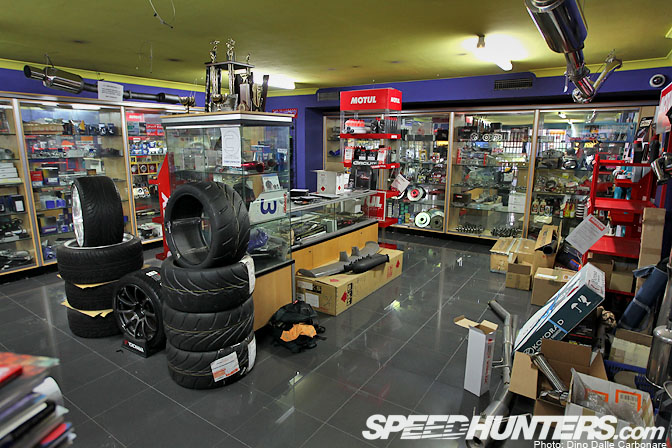 Their shop is brimmed full of performance parts for customers to check out when they drop by for a visit.  CRD has established a strong relationship with JUN in Japan becoming the Australian dealers for their parts.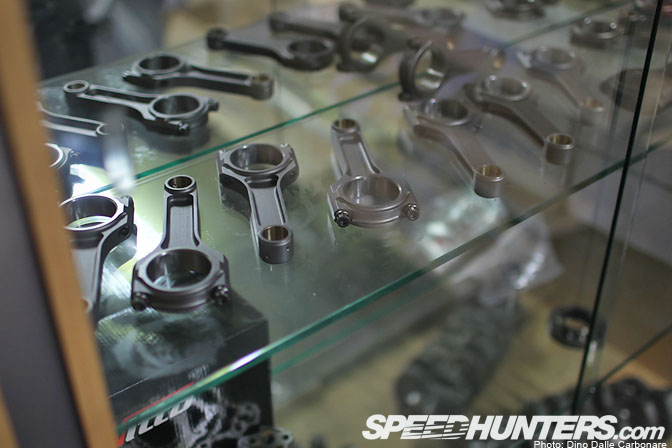 They also stock Nitto Performance Parts, which are often used on some of their high-power builds.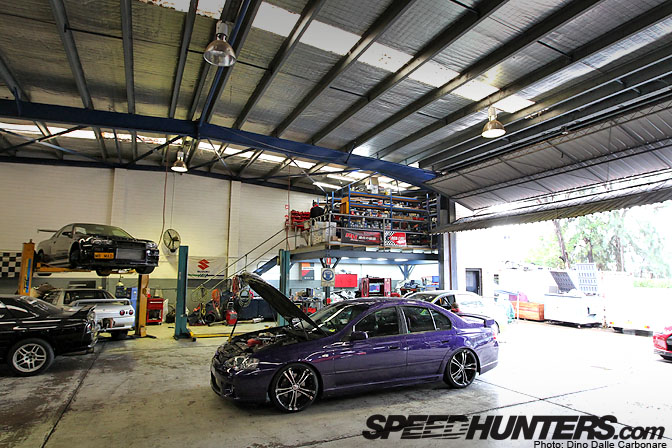 Compared to the cramped shops I've gotten accustomed to seeing in Japan their workshop area was refreshingly big, with multiple lifts and a big space where all the project cars can be kept.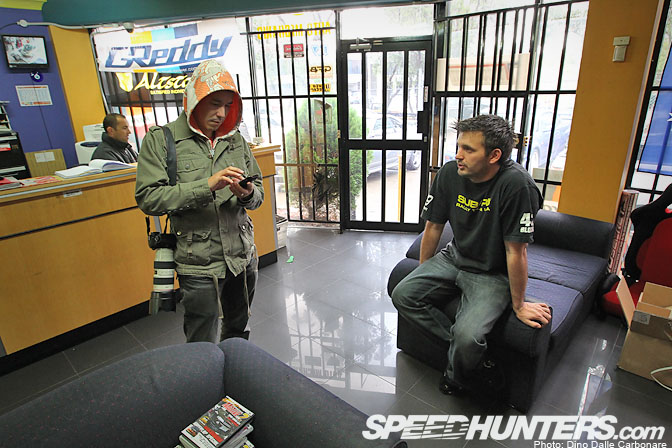 While in the office we met up with Andrew from Jet Multimedia who's is located on the second floor above the CRD office.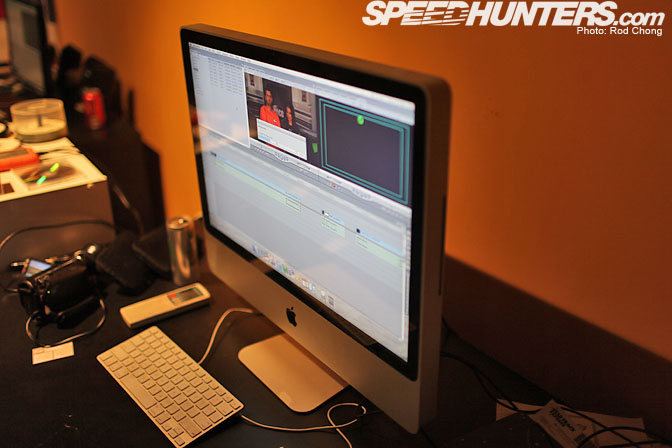 The production guys were busy editing an upcoming DVD on their iMac workstations. They will soon be releasing Motive DVD Edition 009 of which you can see a quick teaser here.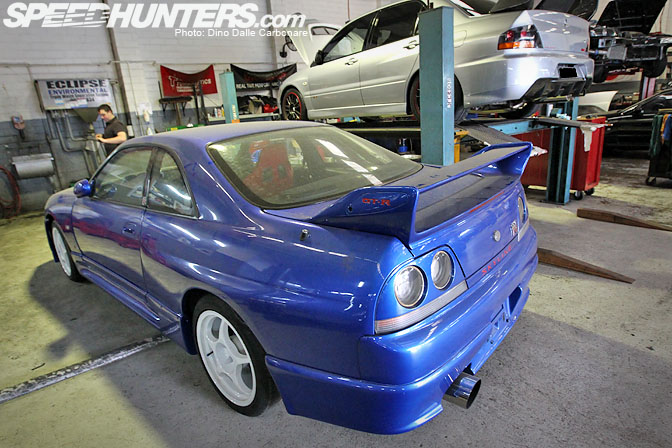 CRD have become so well know around the world that they constantly get cars sent in from overseas, their owners requesting anything from fast road tunes to full-on drag spec builds. This particular blue R33 had made the long journey over from South America!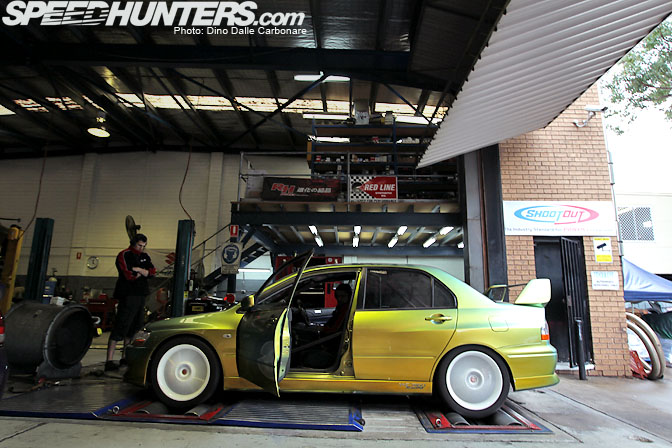 While we were there this Evo was being put through its paces on the Dyno Dynamics 4-wheel drive chassis dyno…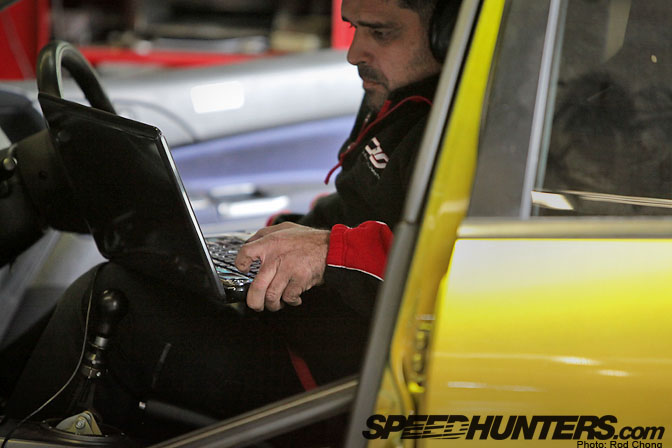 ….with Jim Souvas, CRD manager, working his magic in the mapping department. For those that used to follow the GTR 700 build project this is the same dyno Mario's GT-R always wanted to jump off of. Here is a video where additional ballast was required!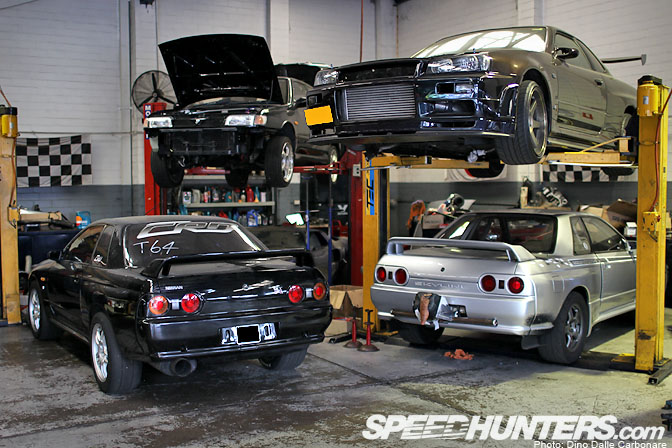 During our time in Australia we hardly ever saw a GT-R on the streets, probably because most of them were in at CRD to get some work done!
Pro driver and CRD staff Andrej Pavicevic kindly took us around the premises stopping initially to show us the car that kicked off his race career back in 1994, the Zepter Suzuki Swift GTI which CRD built for him to compete in the NSW Street Sedan Championship.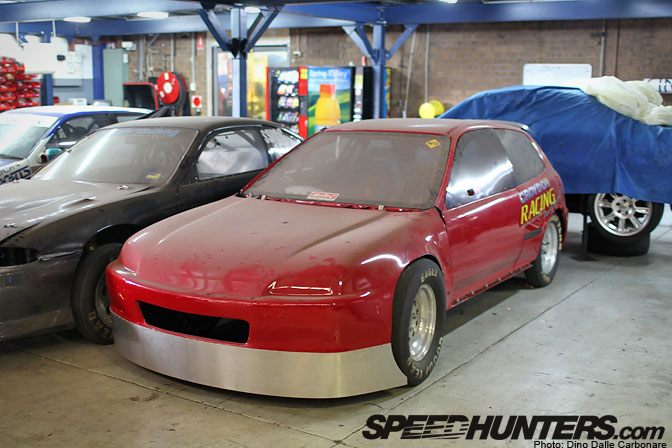 Drag racing is a very big part of the whole Australian car scene and CRD have been at the forefront of it all by building some of the fastest cars out there.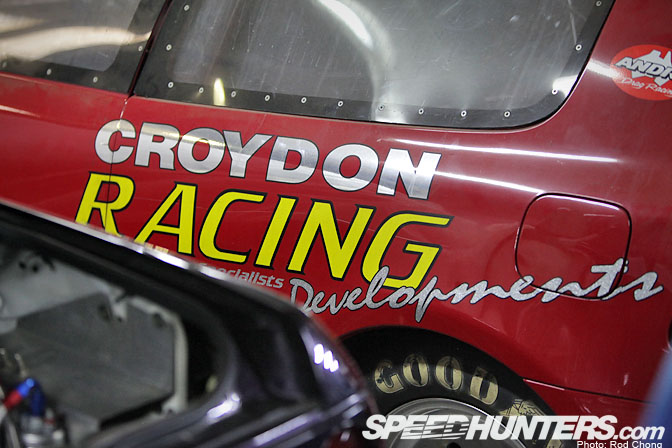 The name everyone in the Australian import scene knows all to well.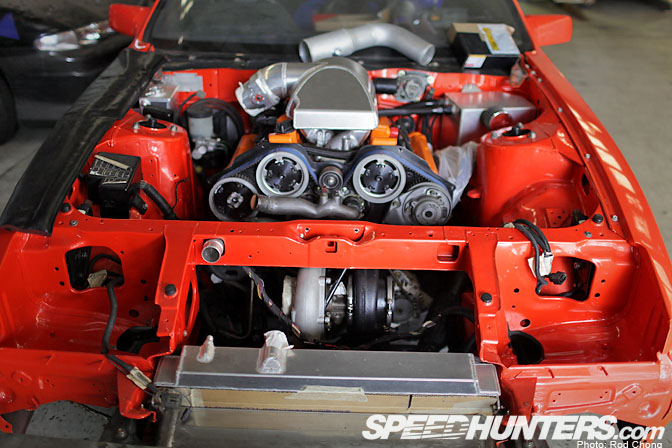 I spotted this curious Z31 300ZX project sitting in the shop with a pretty crazy tuned VG30. Take a look at the custom intake plenum and the low mounted turbine sitting in front of the engine!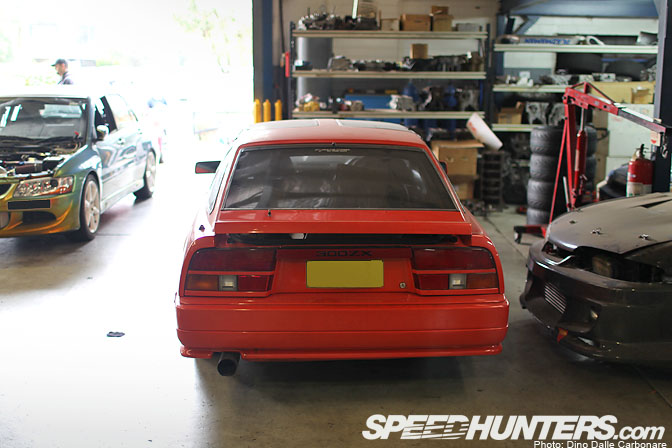 The rest of the car looked pretty stock, although I'm guessing it will need a rather large hood bulge to cleat that plenum!
Parked next to the Civic was DEVLSH, the world's fastest S14, which has managed to go 8.766 sec back in 2004. You can see a video of the run here.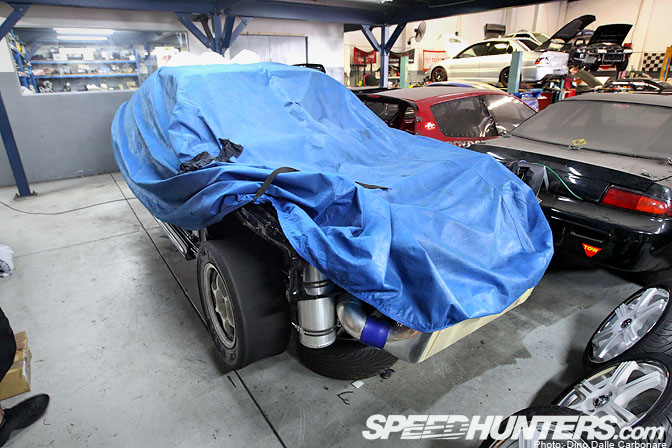 Behind it, under covers, was the legendary GTR 700. We were unable to get any other shots, as there are a few new modifications under the hood as the car is being slowly prepared for another outing. This is the car CRD and Mario of exvitermini.com built to try and set some serious records. The best Andrej ever got out of it was an 8.27 sec pass, making it the third fastest GT-R in the world behind the HKS R33 (7.67 sec) and the Heat Treatments R32 (7.57).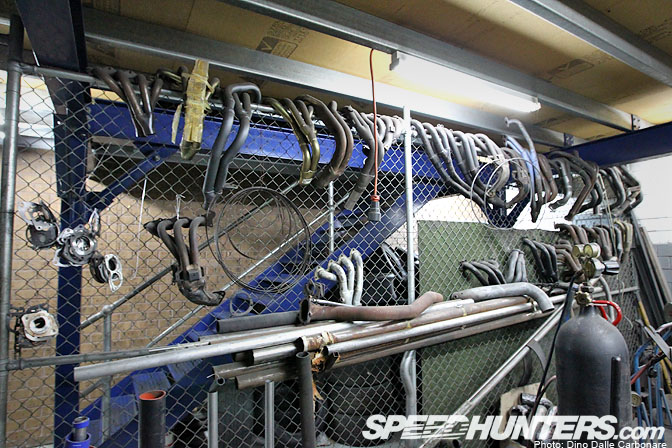 Being deeply interested in the mechanical side of any shop of this caliber I decided to take a look at where all the important bits come together, starting off in the exhaust fabrication area…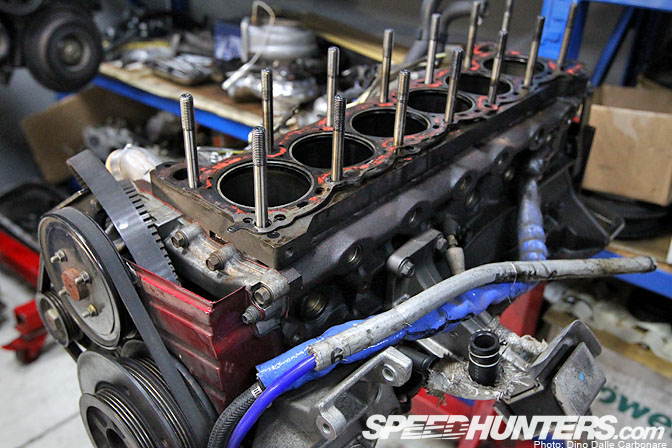 …and slowly making my way into the dedicated engine-build room. There were a couple of interesting engines on the stands like this RB26 fitted with an OS Giken 3L kit in for a rebuild.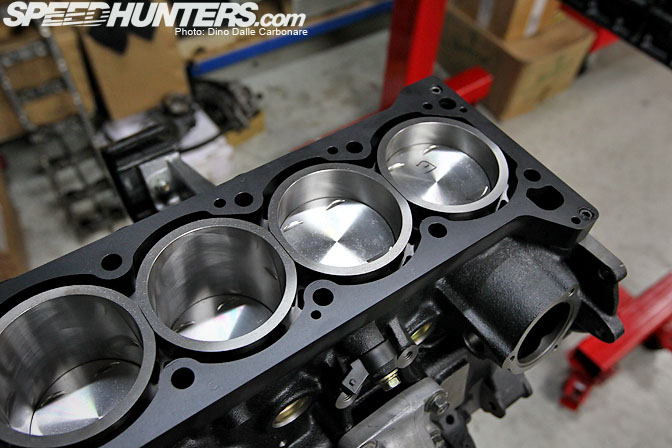 Here is what the OS Giken kit looks like when brand new. It was interesting to see just how more extreme things are taken in Australia, as I very rarely get to see RBs pushed to 3L in Japan, customers preferring to go for a more conservative kind of tuning. I'm not sure if it's because they are upside-down, down there in Australia, but they are all nuts!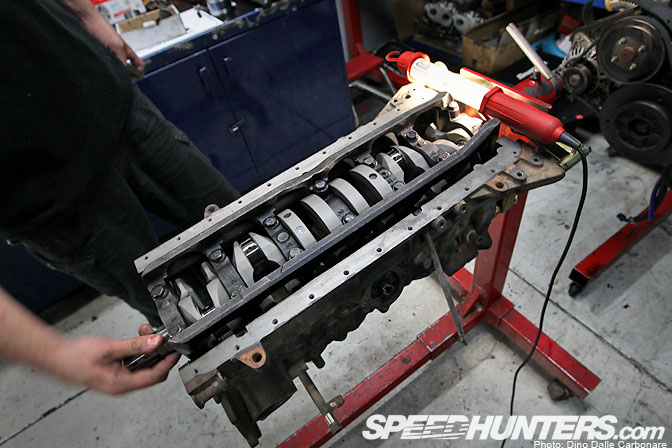 Con, one of the mechanics who took the time to show me the engines they were currently working on, flipped the RB over so I could get a shot of the full counter-balanced crank OS Giken includes in the RB30 and RB315 kits.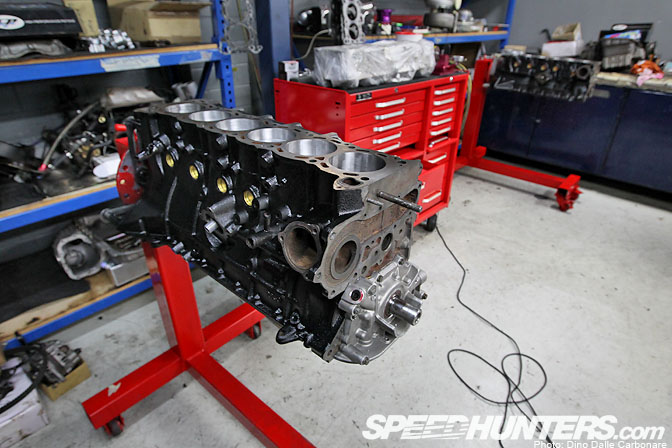 But it was this that I was most interested in, an Australian RB30 block as used on the Holden VL Commodores. There cast iron blocks are very popular in both Australia and New Zealand and can often be found at the heart of big power builds.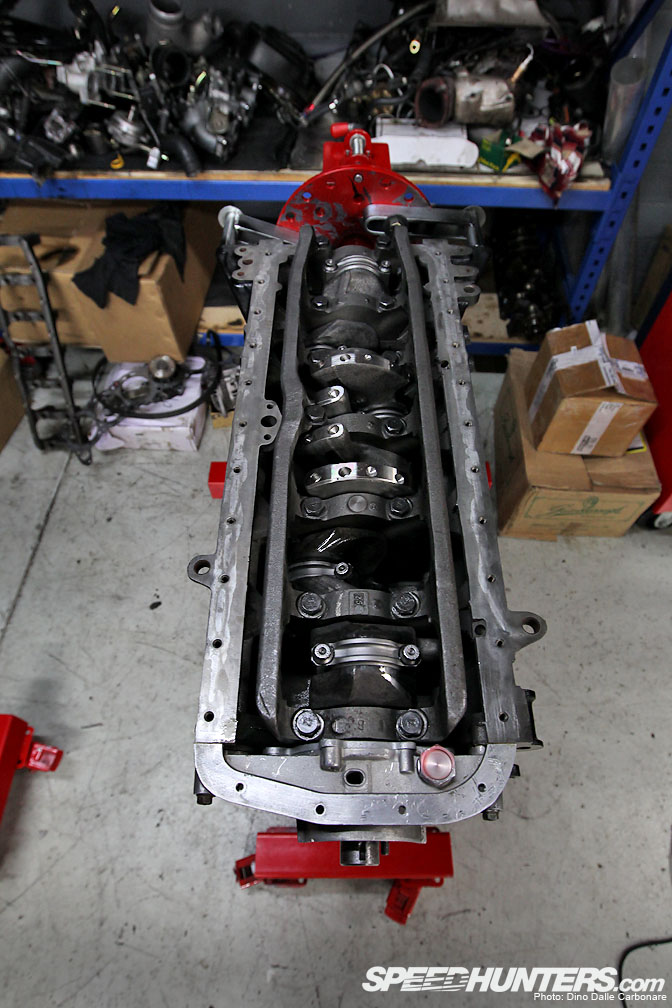 I've only ever seen a few of these motors in Japan so I was in otaku heaven until Rod snapped me out of it!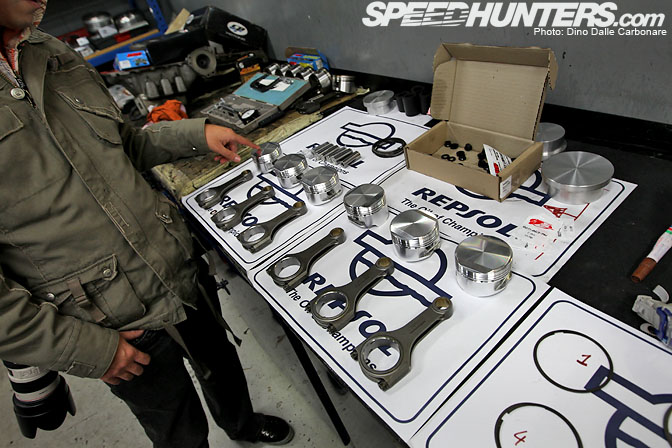 A bottom end that was lined up and ready to be dropped into an RB30.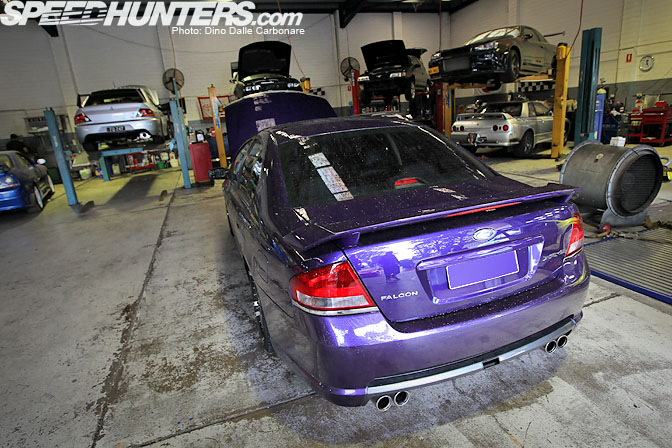 Now this is one car I wish Ford would sell in Japan, and the rest of the world for that matter! The Ford Falcon XR6 Turbo…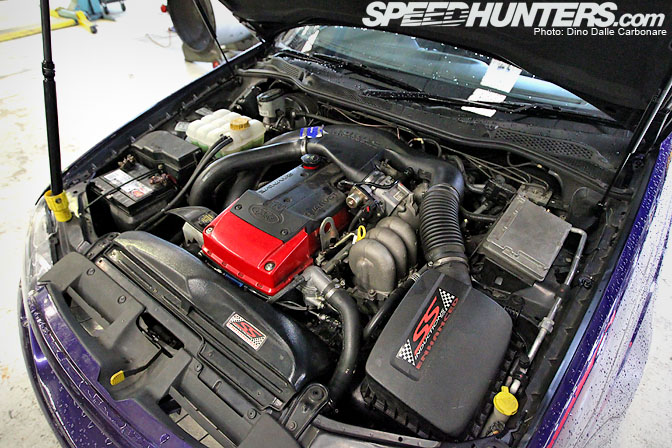 …is powered by a turbocharged 4L straight six, a motor that seems to take to tuning rather well. In stock form it cranks out 362 HP and can easily be persuaded to develop more with a little more boost and some ECU tinkering.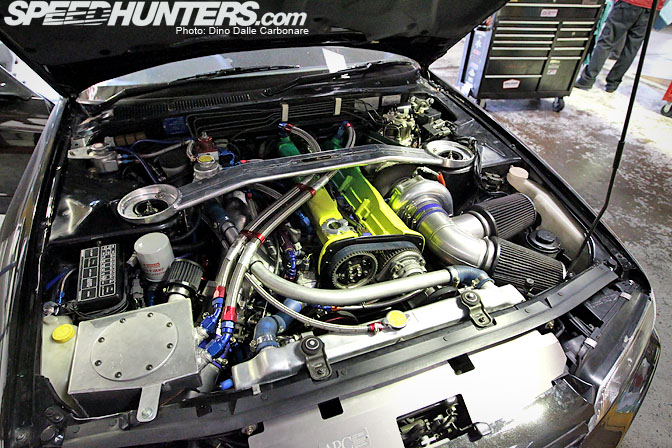 This engine bay belongs to…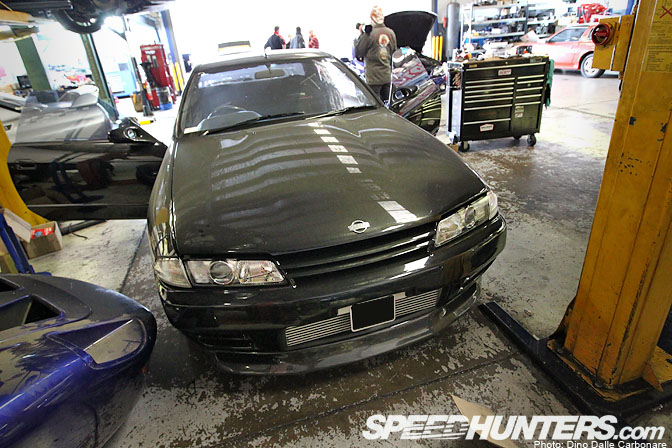 …"JUN" a BNR32 that earlier this year run a 9.282 sec pass at the Sydney Dragway making it the fastest manual, full-weight, street-spec GT-R in the world. You can see an amateur video of the pass right here.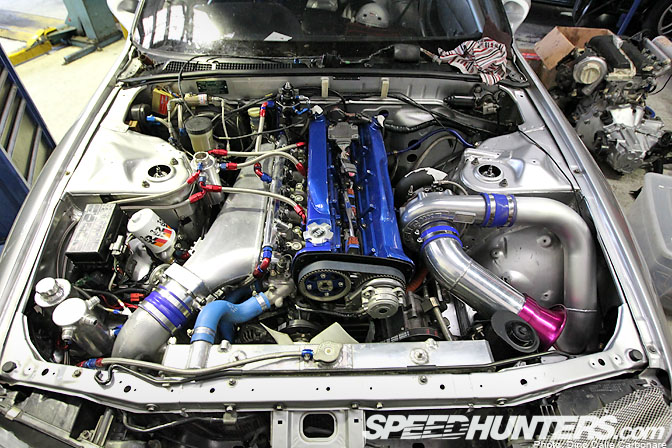 Next to it was this beast, another R32 GT-R this time running even more power thanks to a massive HKS T62R.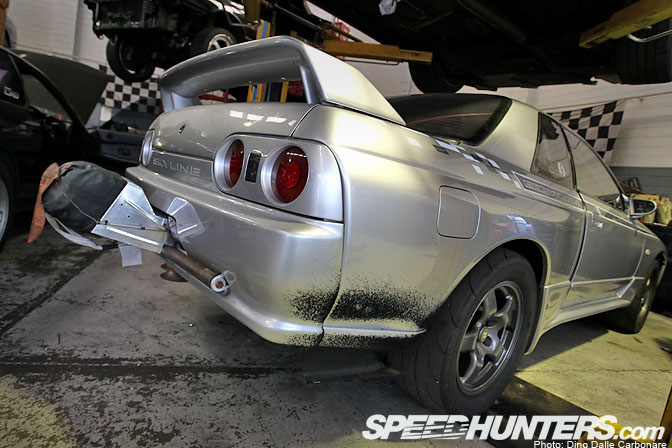 It obviously gets used properly!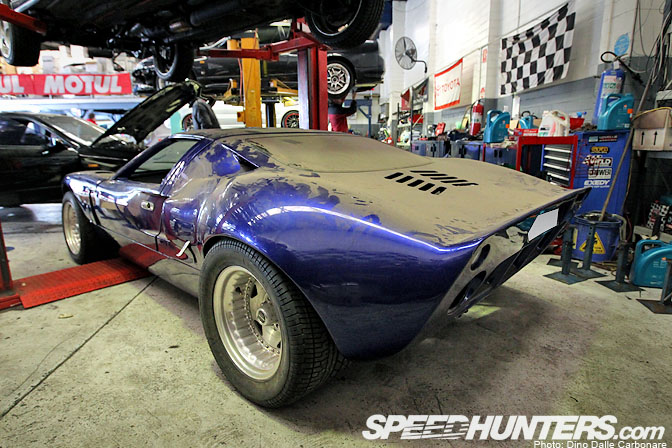 This was quite interesting, a Ford GT40 replica, something a bit out of the norm from all the Japanese machinery in there.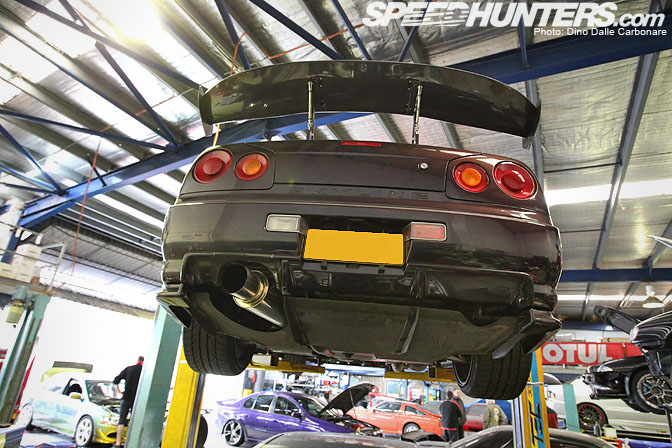 Flying R34!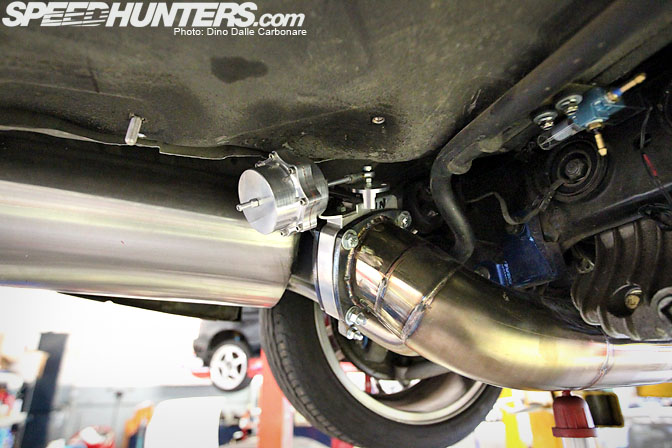 Jim showed me this cool new exhaust modification that they are often asked to do nowadays on customer cars. The bypass valve helps lower exhaust noise helping to stay a little more under the radar.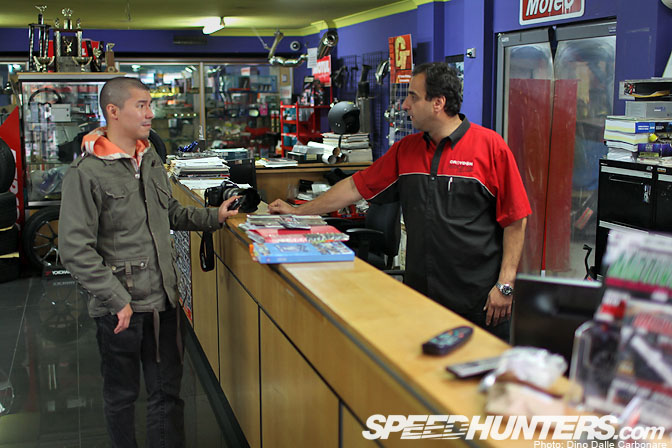 Here is Rod chatting to Theo of CRD about drag racing.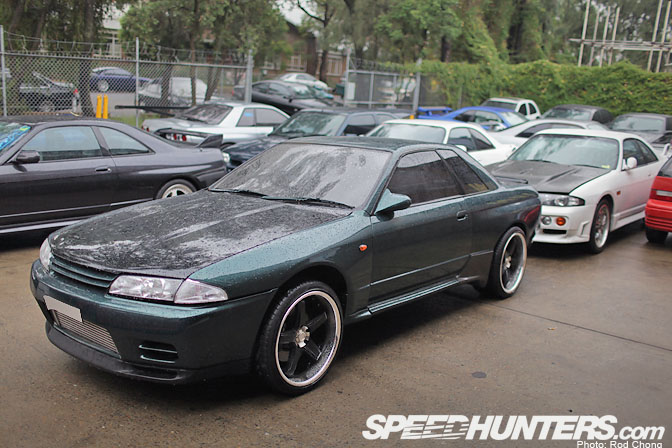 Just take a look at how many Skylines were parked up front!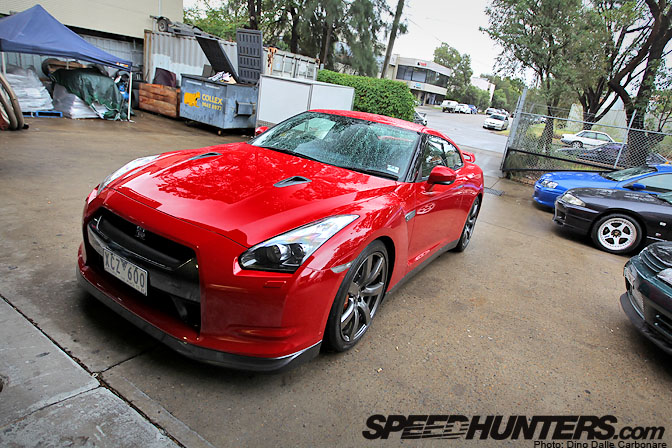 CRD have also done quite a lot of work with the R35 beginning, like most tuners around the world, to push pretty good numbers.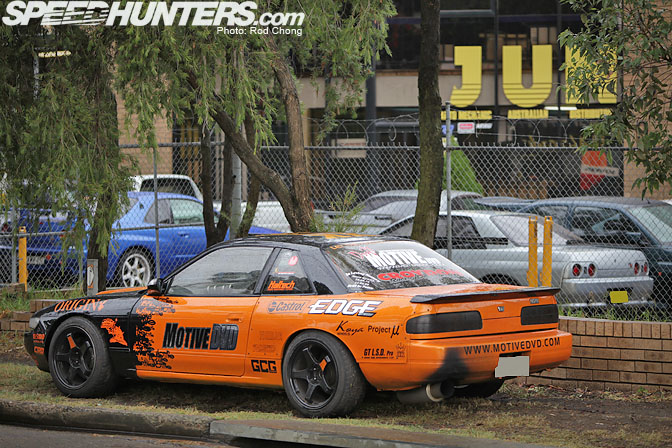 This is what Andrew from Jet Multimedia likes to drift around with! CRD are currently building a very nice time attack S14 for Andrew which I'm sure we will be seeing a lot more of in future Motive DVDs.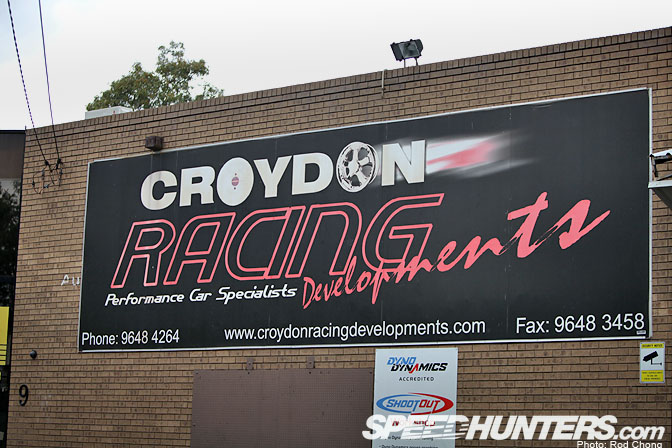 I'd just like to thank Jim, Theo, Andrej and Con for letting Rod and I roam around the workshop and check out all the cool cars they were working on. I'm definitely glad I finally got to see CRD and meet all the cool people behind it!
-Dino Dalle Carbonare