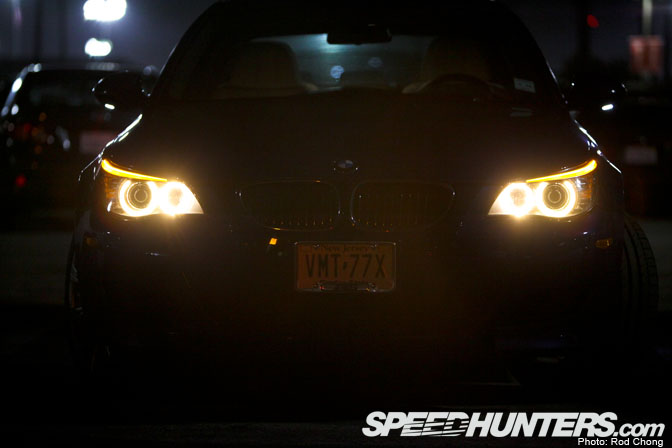 You know, I just love visiting Los Angeles. It's not so much the city itself as I find the place to be too much of a concrete jungle for my taste.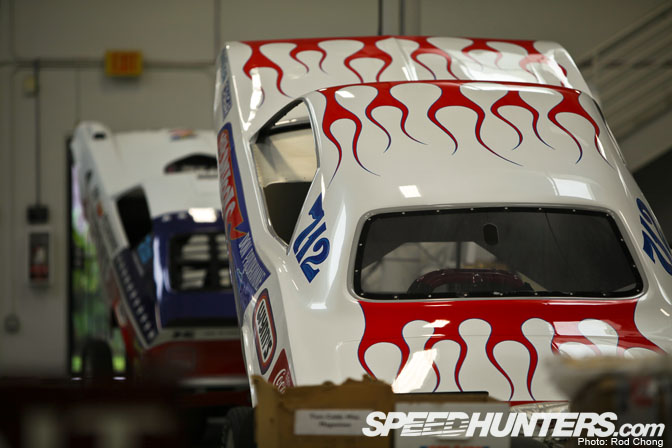 No, it's more the fact that LA is one of the world's hot spots for car culture happenings.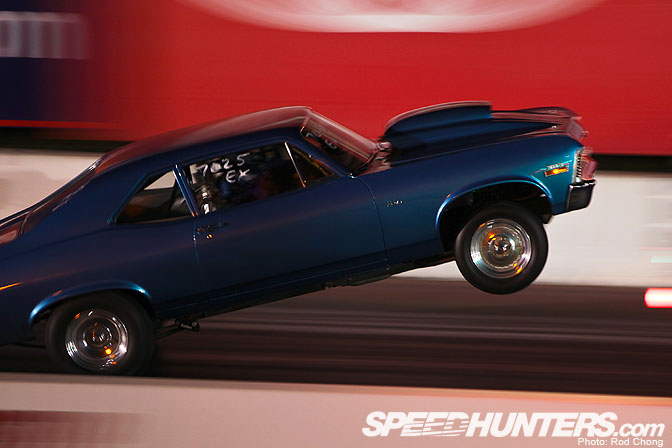 It's quite incredible to think how many different automotive scenes co-exist in the greater Los Angeles area. From drag to drift, this is the place to be for auto enthusiasts and industry folks.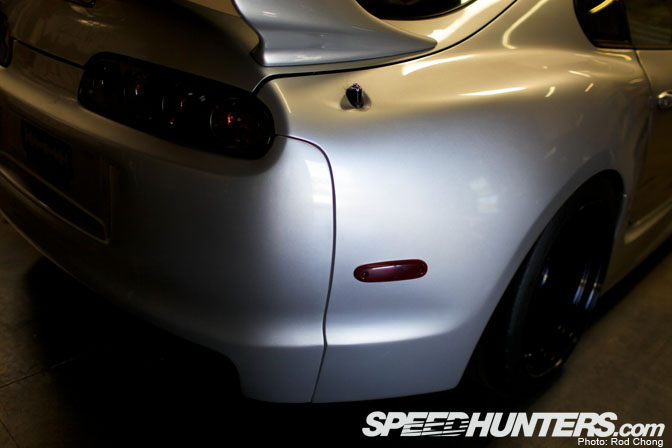 Now I have a set circuit of shops and friends that I tend to visit in LA. This normally includes my pals at Twins Turbo Motorsports.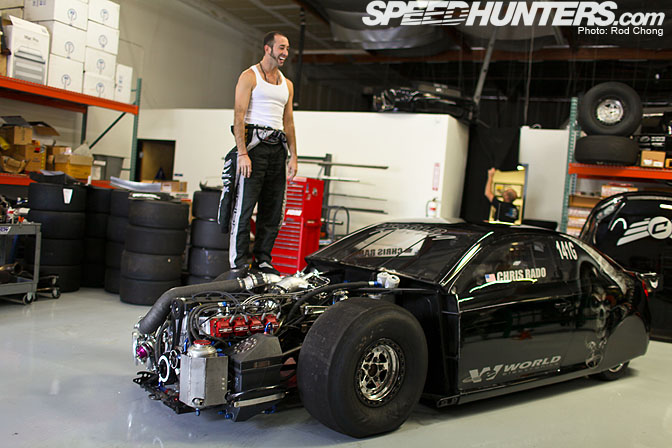 … I also always like to drop in on Chris Rado to see what crazy projects he has on the go.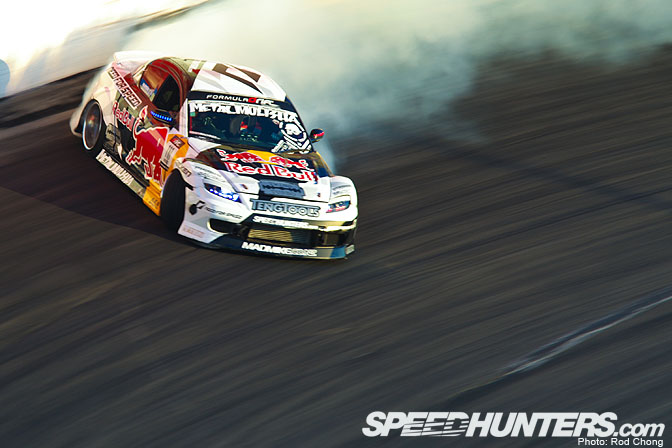 And then there is the whole Irwindale Speedway scene. The House of
Drift is always an absolute pleasure to visit. I just love the place!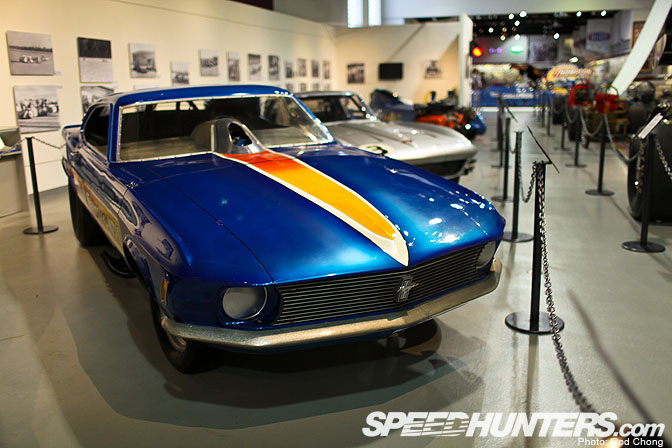 I'd also say the NHRA museum is a must see attraction and I've come to enjoy a collaboration with the folks who run the operation.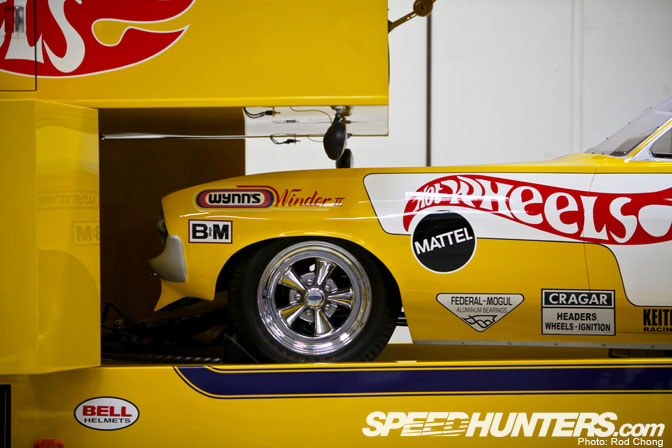 Now before you jump into the comments section to tell me that I need to expand my LA Speedhunting horizons, I also make sure to open at least one new door each time I go to the city of angels.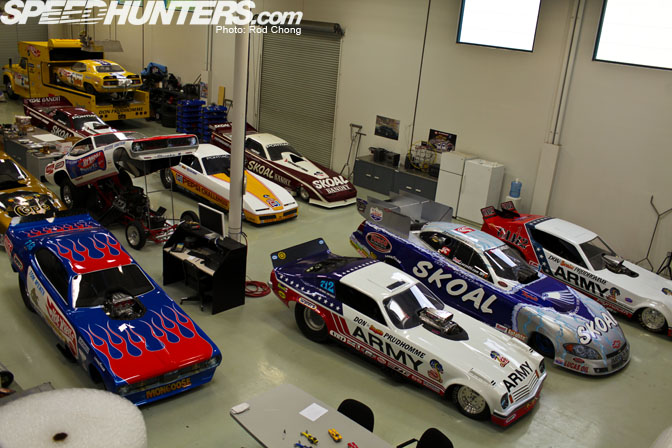 And this was the door that was opened for us care of our friends at the NHRA Museum. A session with the drag racing icon Don "The Snake" Prudhomme and his massive collection of legendary Funny Cars.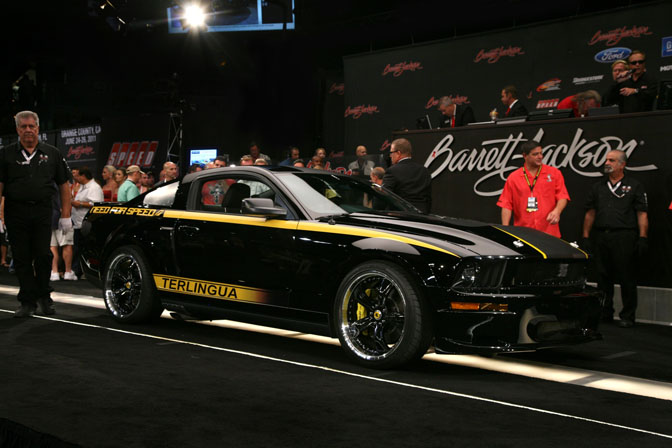 But before we go any further, I want to talk about my LA ride. Those of you who are on the Formula D circuit will know that I normally show up to LA events in this rumbling Shelby Terlingua. I do need to thank Shelby for letting me drive this thundering machine over the past few years, however they decided to auction it off last month at Barrett Jackson… so I faced a week of Speedhunting in Los Angeles with the prospect of only having a boring renta-car for wheels. Hmmm…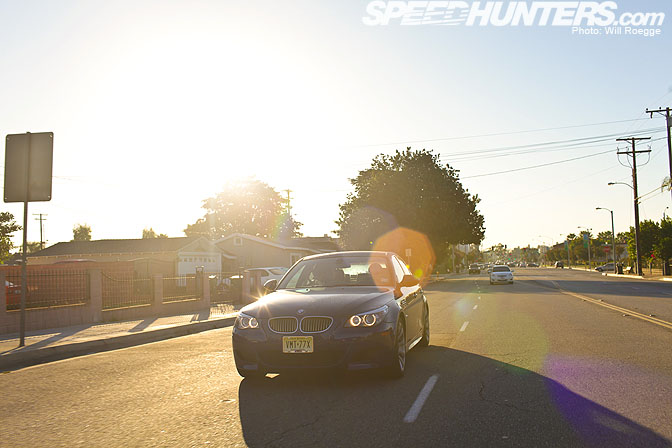 Well, that just wouldn't do, so after firing off a few emails to some collegues at BMW, I secured a M5 press car for the week.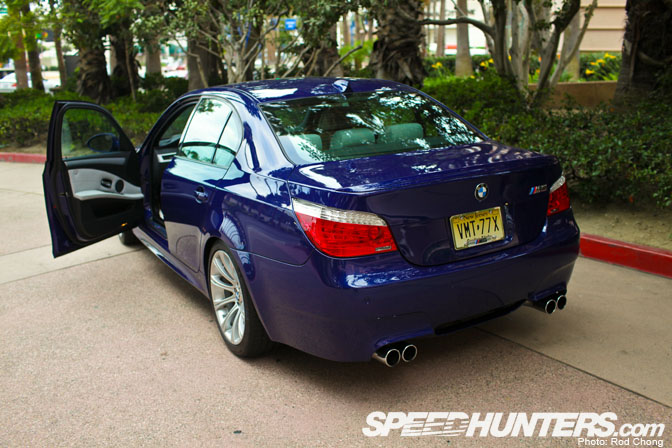 This is the outgoing V10 E60 model and I was looking forward to the chance to say farewell to this monster luxury cruiser.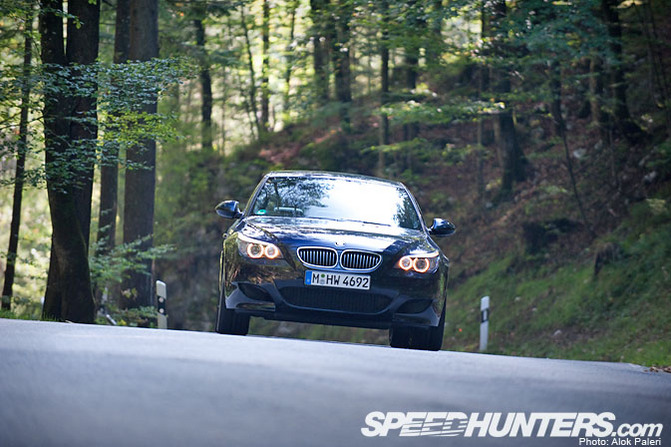 I'd previously sampled a euro spec M5 on the twisty roads of Austria last September but just didn't bond with the car… I think I have some kind of fundamental problem flappy-paddle gear boxes. Dunno, I just feel like I'm disconnected from the real driving experience of the car without a clutch pedal.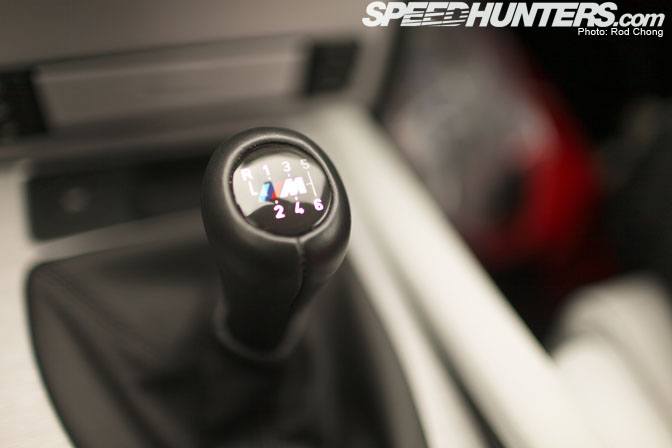 Well never mind that… this USDM machine came outfitted with 6 speed manual gearbox! Kudos to BMW North America for outfitting this trasmission to the car.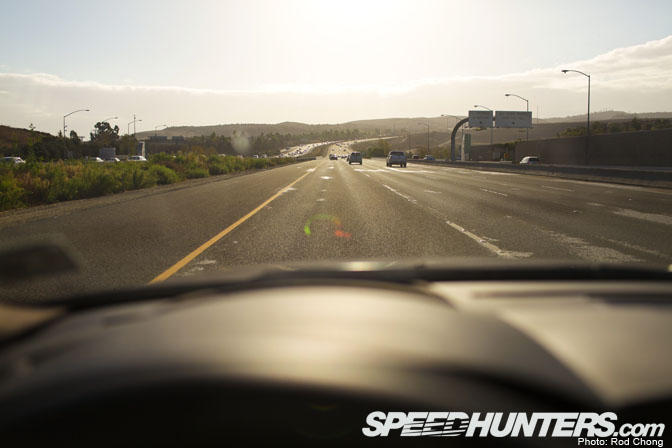 This completely transforms the experience of the M5. Although by definition a bit of an executive limo, having 500 bhp on tap with the rawness of a normal manual transmission means you, as the driver, are an integral part of the operation of the vehicle.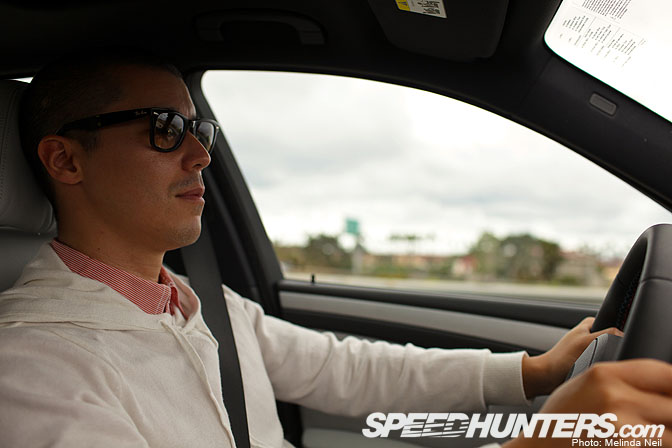 And what pure aggression this car capable of… my goodness. With every depression of the throttle, the rush of acceleration keeps your blood racing and adrenaline flowing. Stop and go traffic was never so much fun.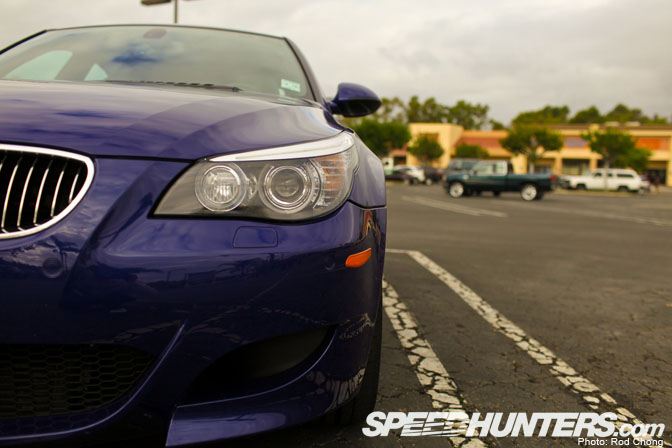 So day one of our LA trip and the new manager of Speedhunters and Team NFS, Melinda Neil, and I hit the road to Vista California. We had a 10AM appointment with The Snake but arrived at our destination a bit early and opted to hang out at a local Starbucks. It was a good chance to prep some interview questions and grab some snaps of the M5.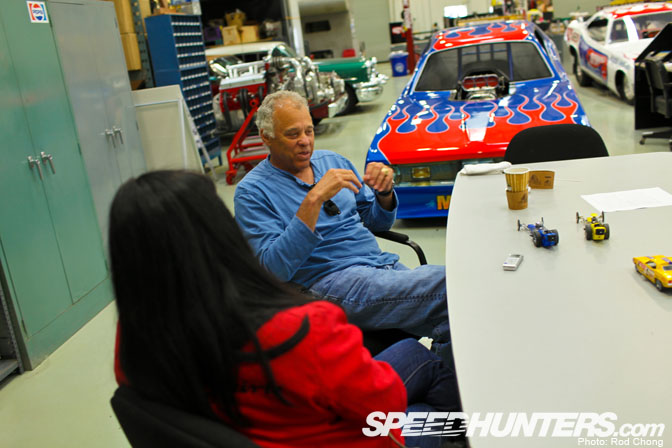 We started our meeting with a rather long interview with Don…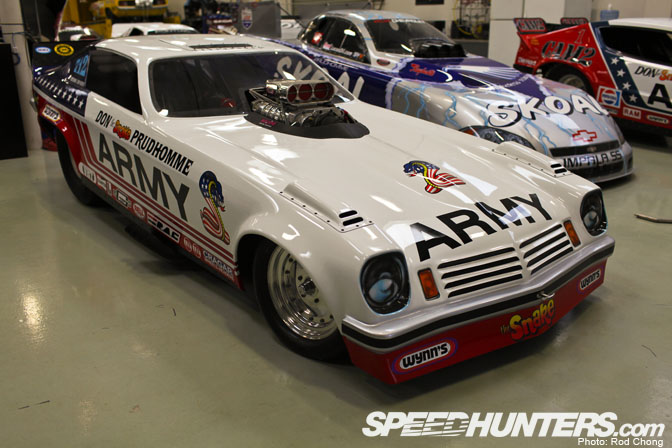 … Before proceeding to photograph the car collection.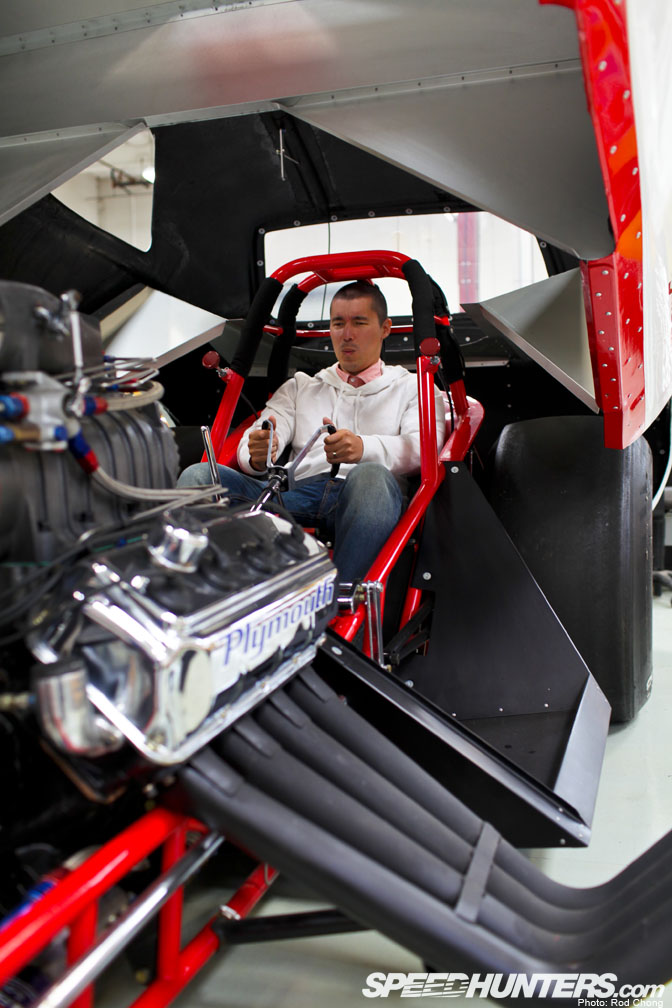 We also got to sit in one of the cars too… I'm trying to control my smile here haha…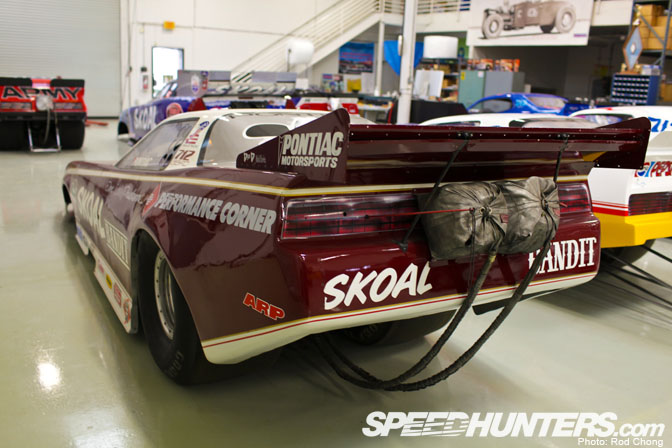 Of course I'll be coming back at you with a full series of articles from the visit!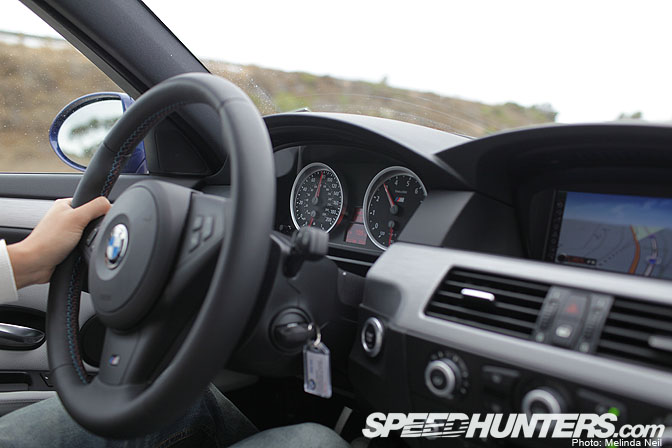 And back to the M5… My daily driver is a 2002 Lexus IS300 so this M5 is a bit of a leap forward in technology for me. I not only had to learn to drive the M5, but also needed to wrap my head around the built-in iDrive computer system too. It's a whole new layer to modern high end cars and I often felt like I was driving around a high powered super computer.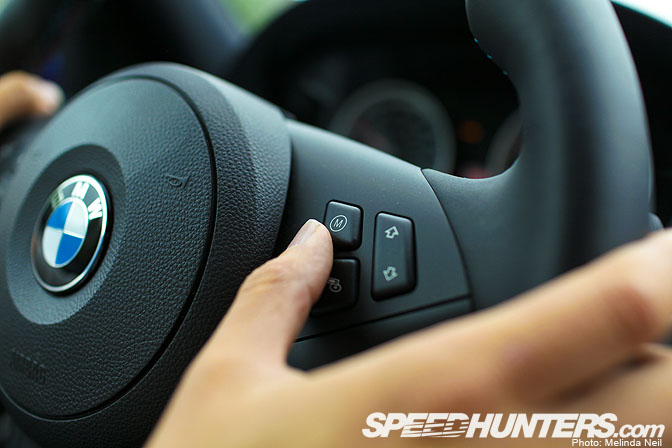 Mmm…. M button…. Must press the M button! Hit this and suddenly you have all 500 bhp the five liter V10 has to offer and sharpened handling to boot. The M5 roars and warp speed is quickly achieved.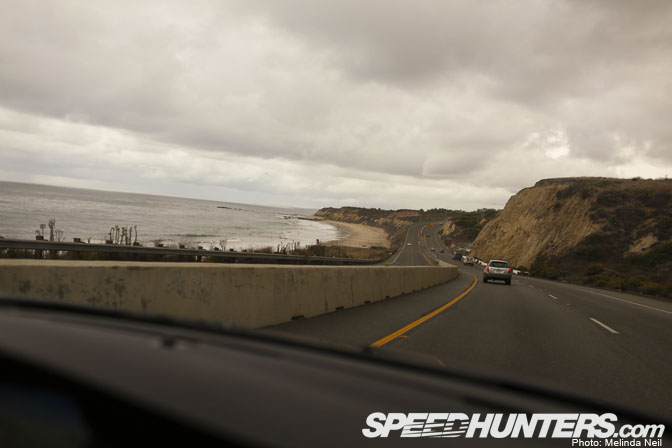 Ah, California. Although the weather was a bit moody, there's never any mistaking the magic of So Cal. Mind you I didn't really have much time to appreciate the scenery. I was too busy trying not to speed too excessively hahaha.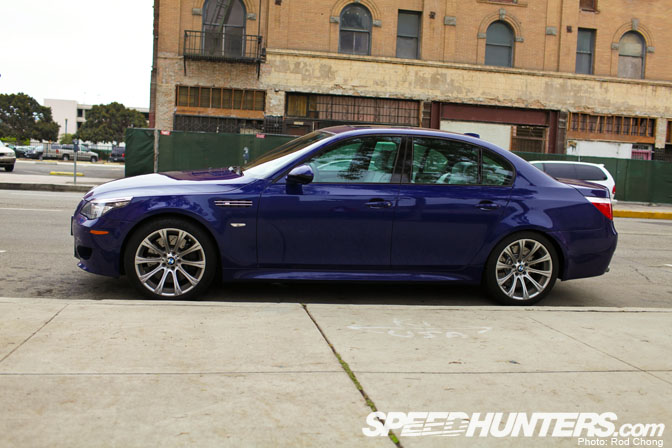 So that was day one with the M5. I snapped this shot of the car in Long Beach as we stopped off to grab some dinner.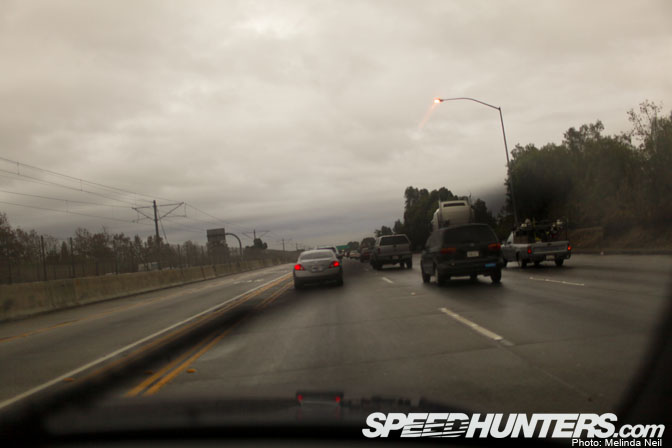 And here was the start of Day Two in LA.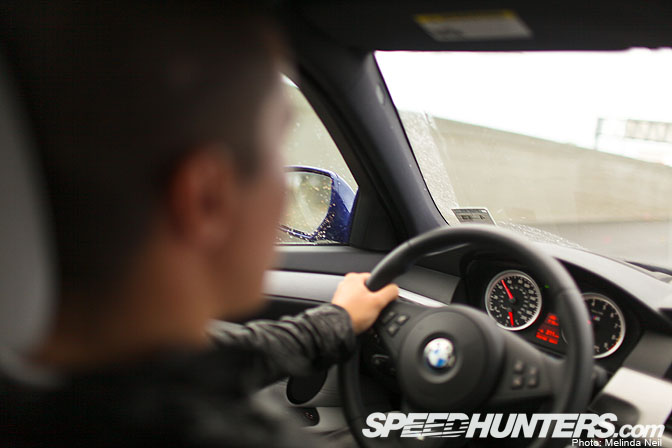 Wetness… Which meant we literally had to crawl for an hour or so between our hotel in Long Beach and our destination…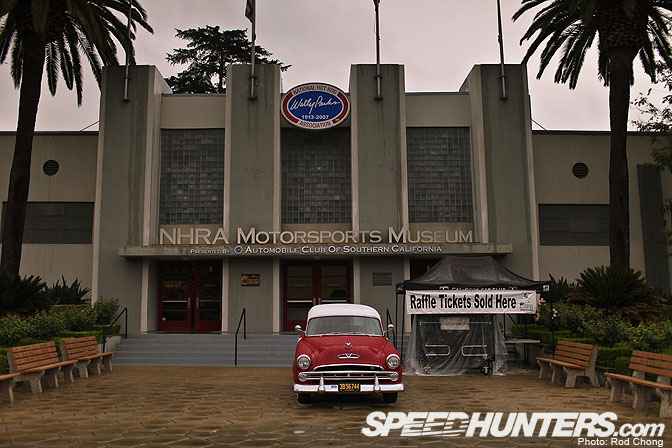 The NHRA Museum in Pomona.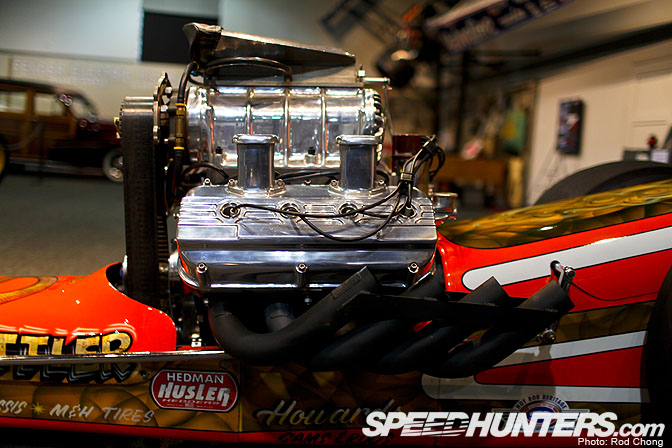 We had an 8:00 AM meeting with the staff so Linhbergh could shoot a few classic dragsters from their collection.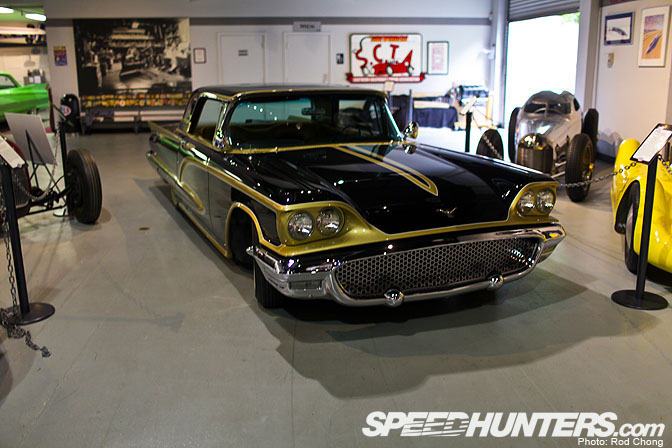 The museum is always showcasing iconic machines and this time around I was greeted by Billy Gibbons' traditional mild custom style Thunderbird. Some of you will recall we saw this car at various stages of it's construction during our visits to the So-Cal Speedshop.
Also notice the Golden Submarine in the background.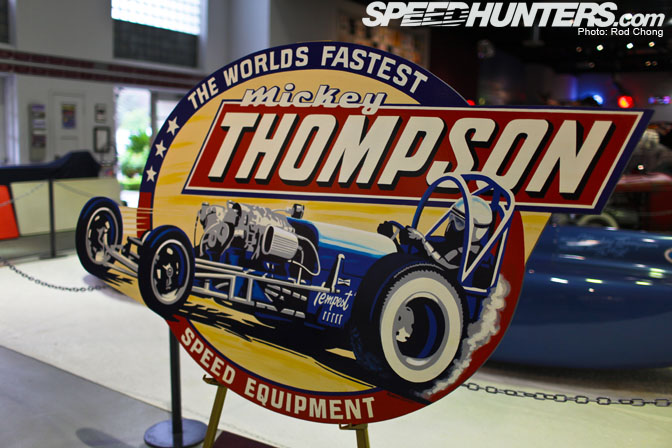 The current display at the NHRA Museum is themed around the career of famed builder, Mickey Thompson.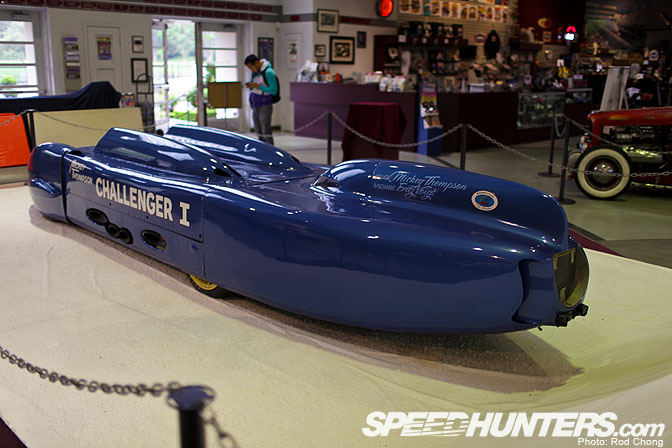 The center piece of the display is his Challenger I land speed car. This four engined, four wheel drive streamliner famously propelled Thompson to 406 mph in 1960, making him the first American to pass the 400 mile per hour barrier. This speed is still a bit of a challenge for modern Bonneville streamliners to hit!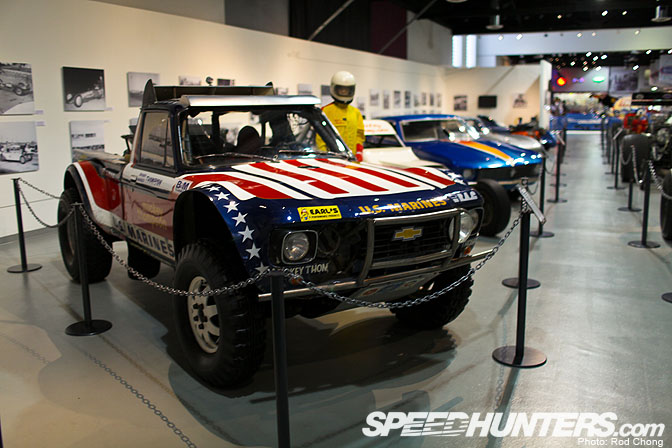 For some reason this old Chevy Luv off road racer caught my eye. As I stood there looking at this little truck I was hit by two realizations. 1) I completely forgot that Chevy Luvs ever existed, and 2) I completely forgot that I used to be into Baja racing when I was a small boy.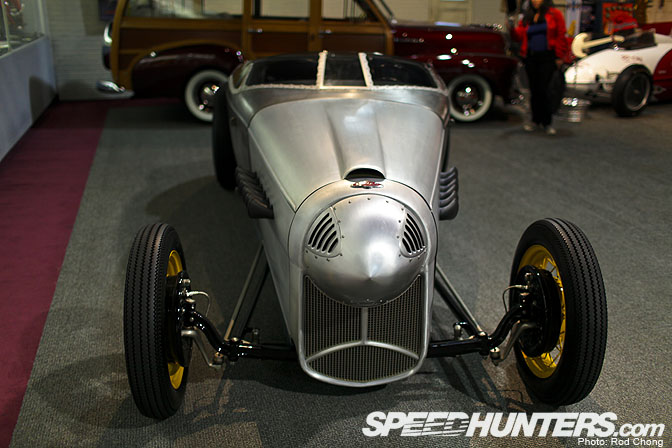 Here's another slightly famous Hot Rod: Chip Foose's P32.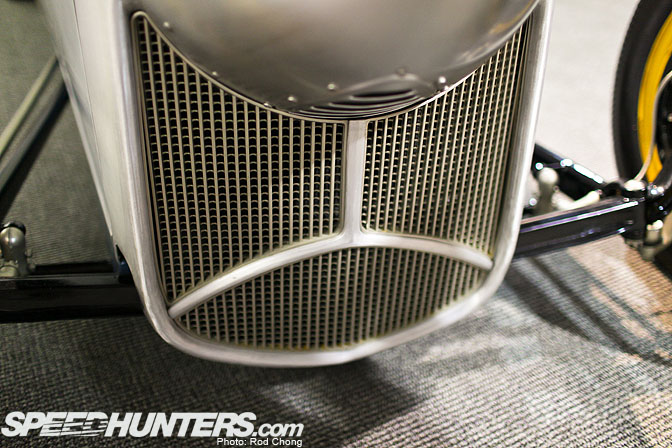 It has some interesting design details….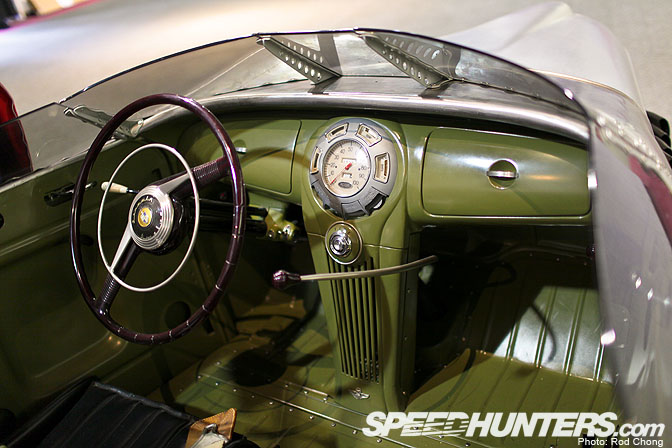 You can spend time appreciating the craftmanship, but I'm not sure I like the completed piece. The concept feels forced to me compared to other military inspired Rods like Little Boy.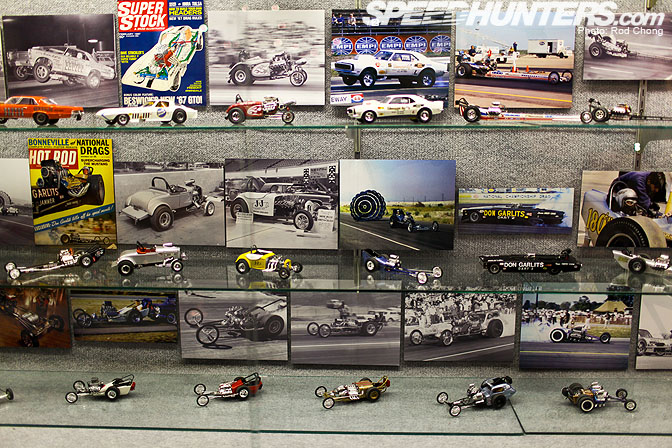 I spent a lot of time at the museum that morning looking through this display of customized vintage drag car models.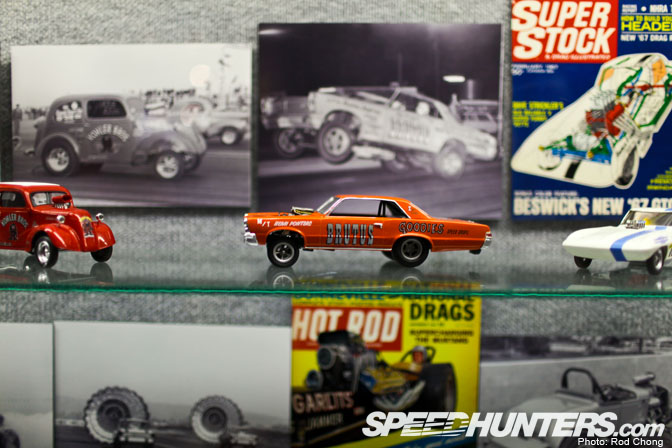 This collection of 75 of the most famous dragsters from the early days of the sport was single handedly created by a Brit named Barry Price. It's quite an impressive body of work.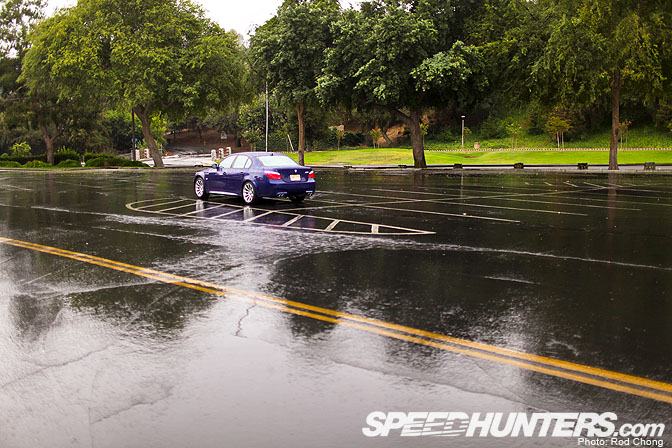 We left Linhbergh shooting in the museum to be greeted by a rather wet M5.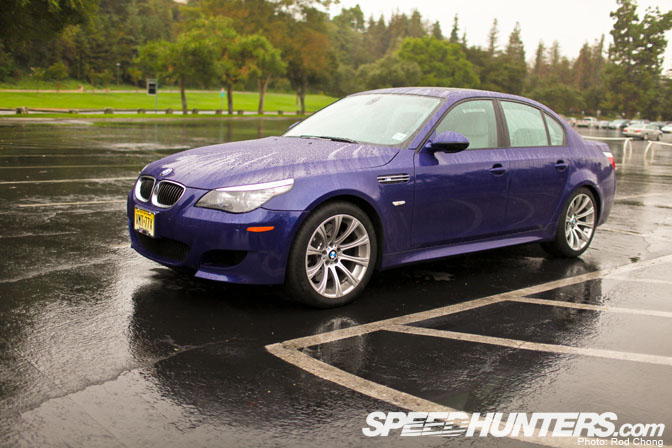 This isn't what I would expect from a visit to California!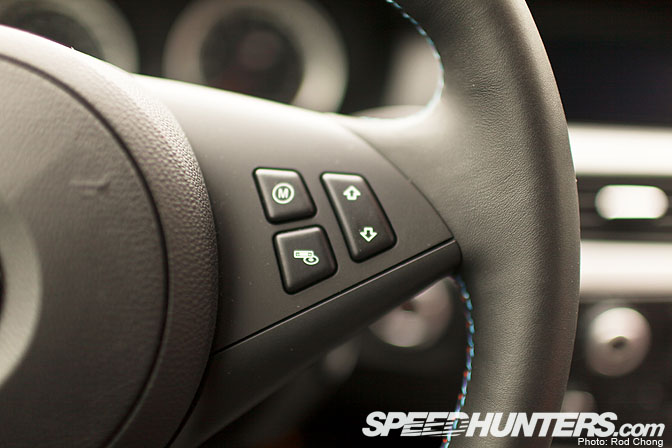 Hmmm… maybe lay off the M button for the time being then.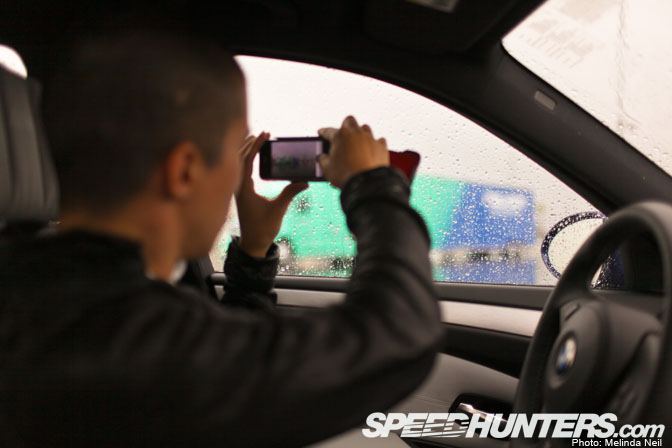 We then splashed our way up to Irwindale Speedway to meet up with Vaughn Gittin JR and Speedhunters Film maker Will Roegge. Our plan was to do some shooting for a new Need for Speed film project, but the weather was just too bad to make this happen.
By the way this is how we do our Speedhunters' Facebook updates. Some of you may remember that I posted this shot live from Irwindale straight to our Facebook stream.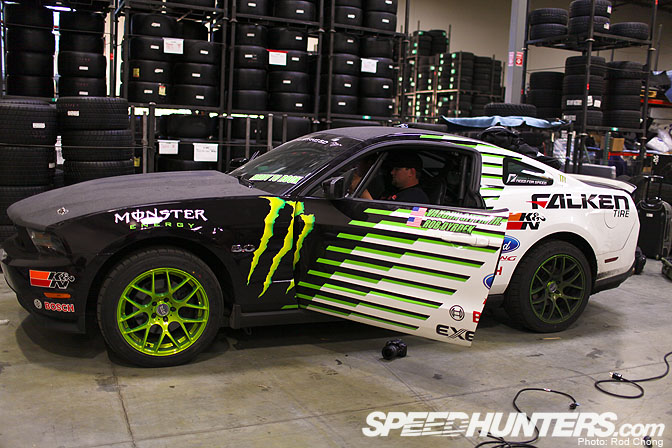 So we had to improvise to find a new filming location. The solution? Blast up the freeway to shoot at the Falken Tire warehouse where I also got to check out Vaughn's Skate car.
OK I'll be back soon with more LA Speedhunting 2010!
:R