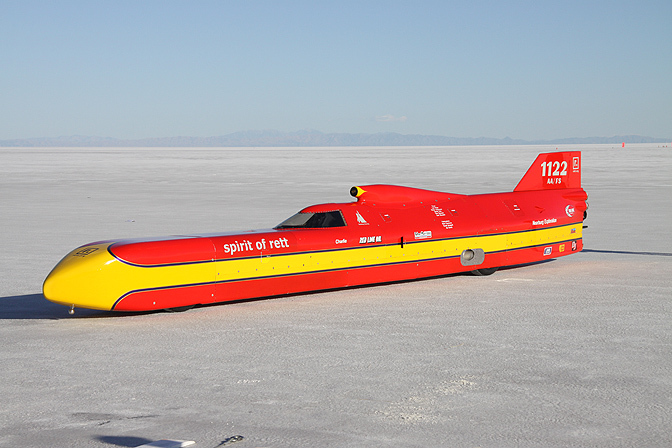 For 45 years, Bill and Bob Summers's land speed record of 409.27 MPH, made possible by four (yes, FOUR) 6.9L fuel injected Chrysler engines which produced a combined 2,400 horse power, had yet to be broken. But this past week, at the FIA regulated, Mike Cook Top Speed Shootout, the wall of 400 fell down –TWICE. 
The Spirit of Rett, a nitrous-injected, gasoline fueled Reher Morrison DRCE2 all-aluminum Chevrolet big block, made back-to-back speed runs over 400mph. The first run averaged 417 mph with an exit speed of 422.6 mph. The car was hauled back in to be serviced so it can prove its speed once again with a second run. The Spirit of Rett's driver, Charles Nearburg, laid down a 411.7 mph with a top speed of 417.65 mph on the second run. The two runs are then averaged as per FIA regulations.
The red and yellow streamliner also set the fastest single-engine car record in history with an average speed of 414.5 mph.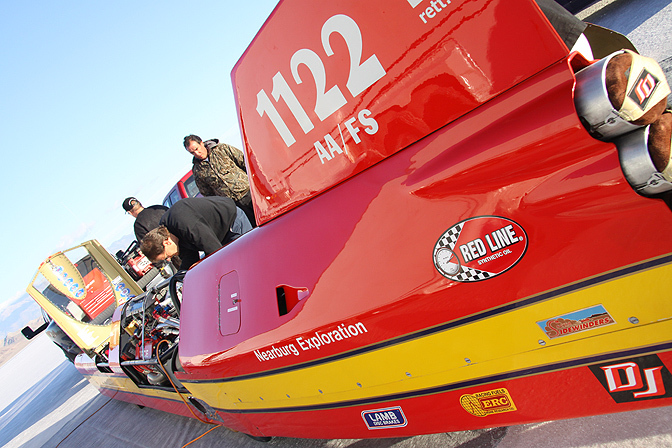 Watch the full record breaking run here. And also check out this video of driver, Charles Nearburg, talking about said run here.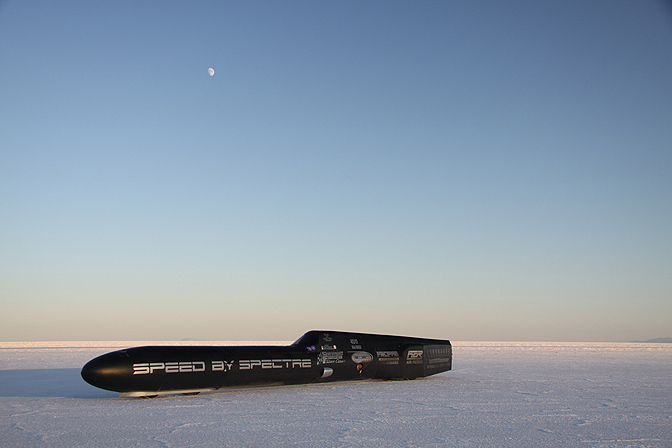 The second car to break 400 was the 8.8L, single Cadillac engined, Spectre Performance streamliner, The Infidel, driven by the Spectre Performance founder, Amir Rosenbaum. The menacing murdered out streamliner plowed to an average speed of 408mph and an exit speed of 415mph!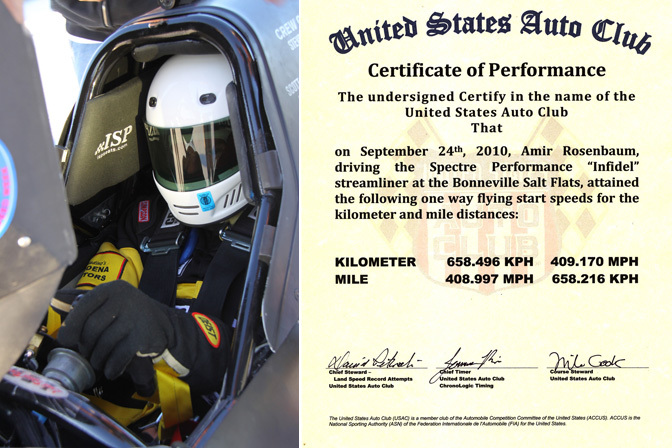 And here's the official FIA certificate to prove it. 
Both the Spirit of Rett, and The Infidel, are now the two fastest cars in the world. If that isn't proper speedhunting, then we don't know what is. Congrats to both teams! 
-Linhbergh