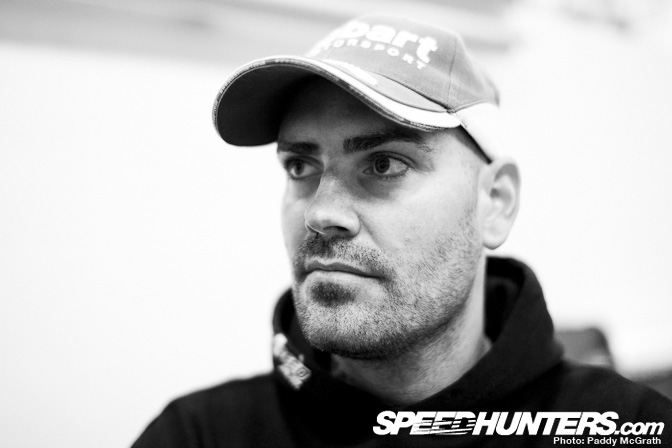 It's been a pretty hectic few weeks here at the Speedhunters Ireland office. It seems I'm just starting to recover from one event before plunging both feet into the next. When travelling around I'm fortunate to have a lot of time to myself to think things out and plan ahead. For interview month, I just knew there was one man I needed to get in touch with. Since he joined the drifting scene several years ago, Shane Lynch has arguably been one of the most talked about competitors both on and off the track in the United Kingdom. People were weary of this popstar turned motorsport competitor.
Joined by Paul 'Fuzzy' McCarthy who would conduct the interview with the questions we had prepared together, we wanted to find out just who this Shane Lynch character really is …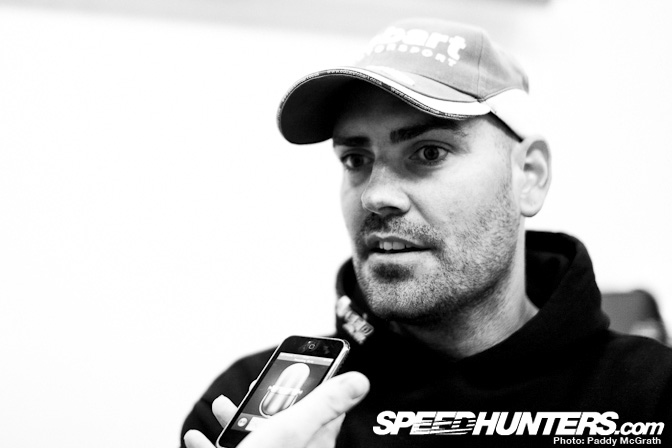 Fuzzy: Let's touch on your pop career first. Do you think that it has given you the opportunity to do what you love the most, which is play around in cars?
Shane Lynch: Without a doubt. My first drive ever came about because of being Shane Lynch from Boyzone. It so happened that I wasn't that bad at driving and I had some potential that I continued into motorsport.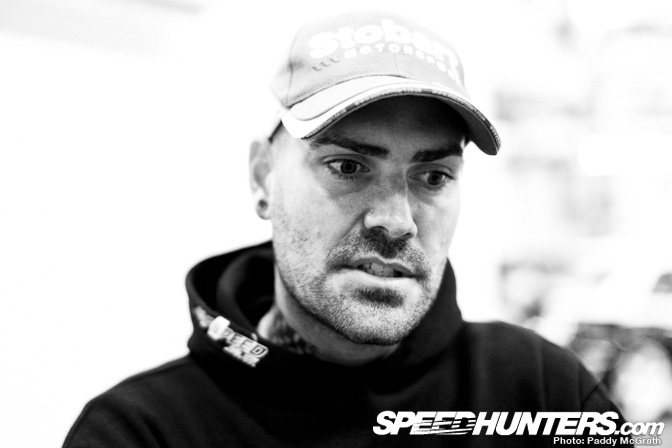 Fuzzy: Is it any different than having groupies when you are in the band to nowadays when you attend some of the bigger (motorsport) events?
Shane Lynch: Most of the groupies from the band actually come to the motorsport event ! I do bring a certain amount of crossover of people who would normally not come to any sort of motorsport event to these events, which is really good to see as they bring their families with them and personally I think that motorsport is a family event.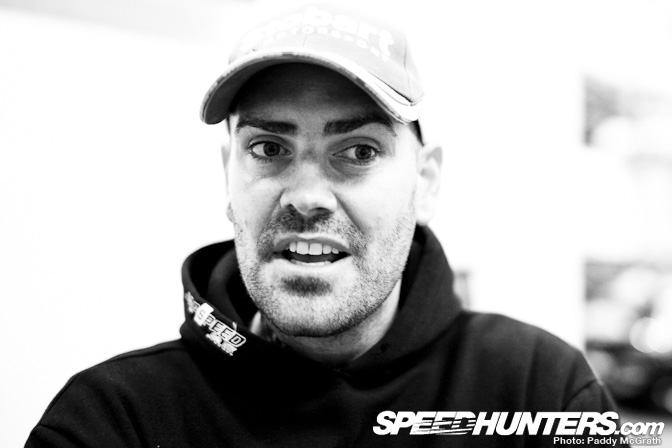 Fuzzy: You have had a long career in car racing that some people may not know about. Can you tell us about some of your other racing experiences?
Shane Lynch: I pretty much started with Ford Motorsport in the Ka when they first brought it out. It was a one make championship which I won the novice in but rallying was really never my forté. It wasn't what I had set out to do. To be truthful, I was too scared. I didn't like cliffs, I didn't like the trees and I didn't like it too close. I had a couple of fifth gear offs and it frightened the *** out of me, it properly did. I then had the opportunity to drive Ginettas which I won the novice title in and from there I moved into GTs. I spent three years in GT, from a Marcos Mantis to a TVR Tuscan R for two years. I never had any interest in open wheel racing, it was tin tops all the day.
Fuzzy: You also picked up a few prestigous trophies along the way, can you tell us more about that?
Shane Lynch: Yeah, I've done alright. I picked up a few podiums in the GTs and was heading for the British title in 2003 when I had a massive off in Brands Hatch and ended up finishing third. I won another trophy called the Empire Trophy which has the name of some Formula One legends on it and now has little old me's name is on it which is pretty amazing stuff.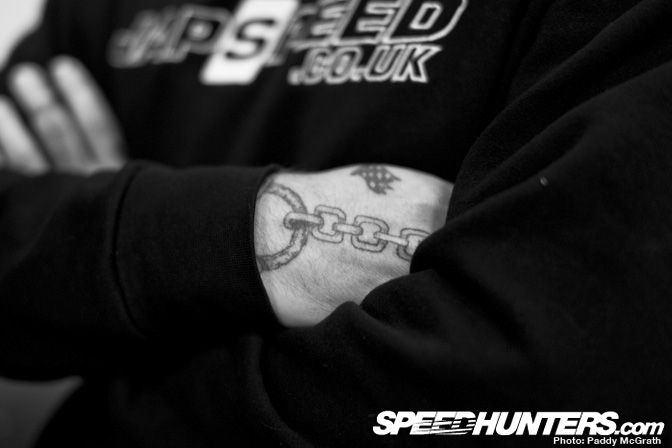 Fuzzy: What attracted you to drifting?
Shane Lynch: Drifting is something I find that no matter how you get on, I always get out of the car just buzzing. The first time I ever sat into a drift car I just couldn't believe that a car could do the things it could do. It's such an andrenaline rush, it's just the buzz. When I went to my first event and actually saw the guys sliding and transitioning I just thought fucking hell, this is amazing ! Now, anyone can powerslide a car but to transfer the car requires a much deeper skillset.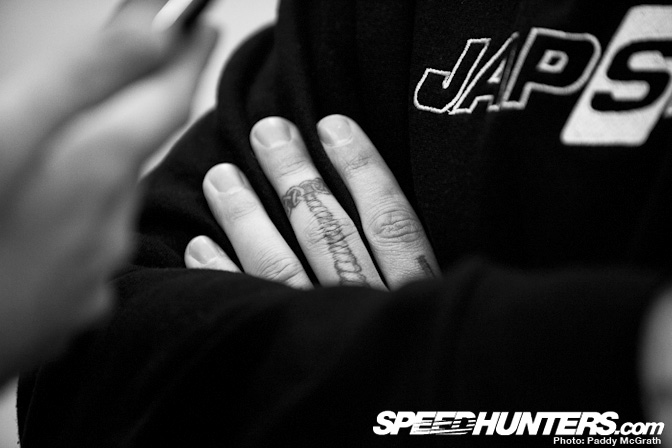 Fuzzy: How did you come to meet Paul and the Japspeed team?
Shane Lynch: Paul had a similar background to me where he arrived in drifting not really knowing too much. Back in the early days our paths crossed and Paul decided he didn't want to drive and asked me to drive his car. I got on really well with Paul, I liked his ideas of what Japspeed was about and we just started to bolt things onto our Skyline to improve it. Every round I'd arrive and there'd be something new on the car : More lock, different diff, this, that and the other things. The car was just being developed all the time and I think that was what brought me to Japspeed. They wanted to go somewhere and were willing to put in the time and the effort to get there.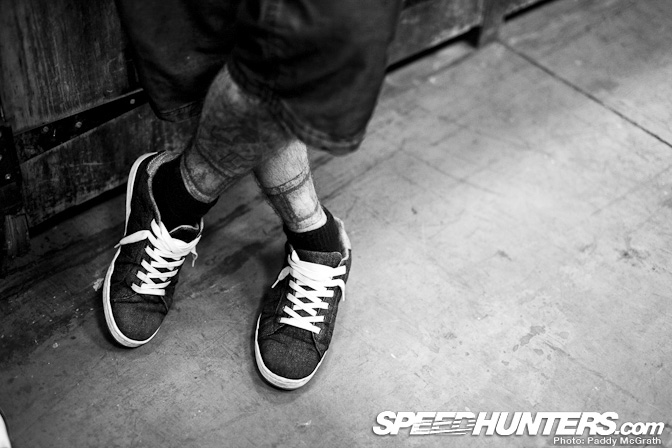 Fuzzy: Did you find that people didn't take you seriously when you started to compete as you had come from being a popstar background?
Shane Lynch: Without a doubt, from the beginning I was always seen as just another popstar going racing. That's how they all saw me. I'd like to believe that I'll establish myself eventually but that just comes from taking podiums and getting good results. I don't think there is any other way. When you start taking home the trophies, clearly your not all that bad at it. I've been competeing for at least ten years, so it's not something I'm just chancing my arm at, I bloody love it. I love to do it. I spend a lot of time on my time racing. When I cam into drifting I could hear the 'Oh here he comes wanting to be a drifter' but when I arrived at the event, the guys were so nice. Everyone was so helpful, it wasn't cut throat like the track racing. It's another reason why I wanted to come drifting.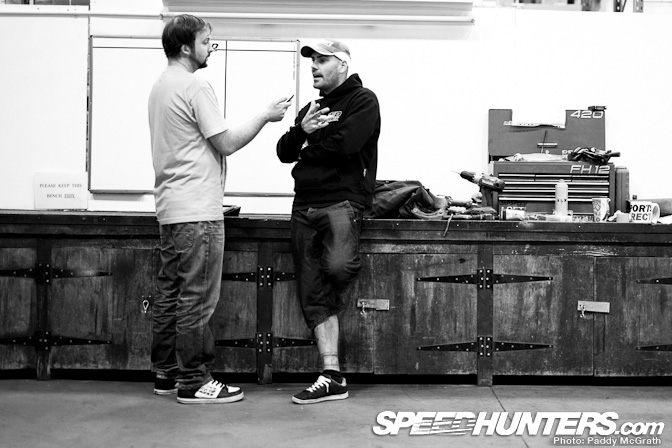 Fuzzy: You started in semi-pro and your way up to pro quickly. Do you think that the experience you gained on the way has made you a better driver now and showed other competitors that you were serious about your driving and drifting?
Shane Lynch: I'd say I only worked my way up to pro quickly was because I started early. Looking back now at my driving skills when I got my first semi-pro license, I just scraped in. I reckon if I was to go for the license again today with that skillset I'd never see a license such is the calibre of the drivers today. In that progession, I was lucky I think. Some guys though are sitting in cars five years and not really progressing. I think that's because they don't have the belief. Even if you're up against a guy with seven hundred horsepower and you only have three hundred horsepower, you got to run up behind him and what he's doing and how's he doing it. You have to push yourself. When I first went over to Prodrift, it was a big deal for me. The Irish guys are aggressive, they're fast and I was scared to be honest. But when I started running with them, the amount I learned was phenomenal. It was after that when I came back to the UK scene that I felt I had stepped up a notch, just because of running with the Irish boys.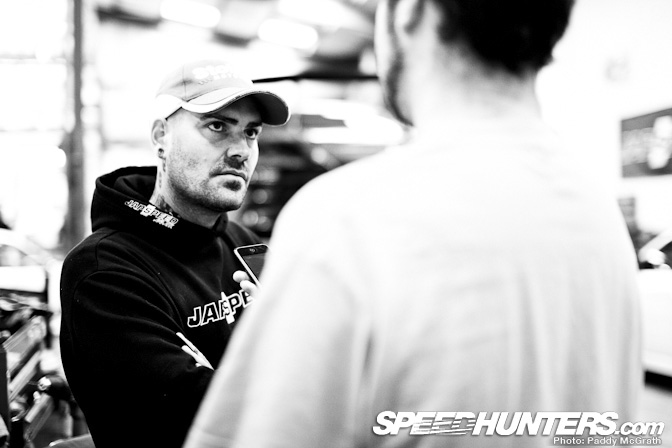 Fuzzy: In 2008 you had a massive crash with your team mate Danny Eyles, it must have been a big blow for the team. How did you guys rebuild from that?
Shane Lynch: When I look back at the footage all the time, I still have no idea how it happened. It snapped, I went into the wall and we hit hard. Two cars wrote off immediately. I think the team had a big moment of where do we go now from here. Do we call it a day is our drifting over ? Thats where the heart of Japspeed came in and Paul said 'No, we're going to build two new cars. Two of the best cars the UK will have seen' And thats what he does done. It took a while for me personally to be confident to run with Danny again. Especially when we drawn together I hated it, I think I definitely took a step back and just let Danny drive away. But I think I've gotten over that now. In the last round I got drawn against Danny but the points were very important for me and I was leading the championship at the time and I had to beat him. So I went on and pushed it in his door and I think I've finally brushed those cobwebs aside.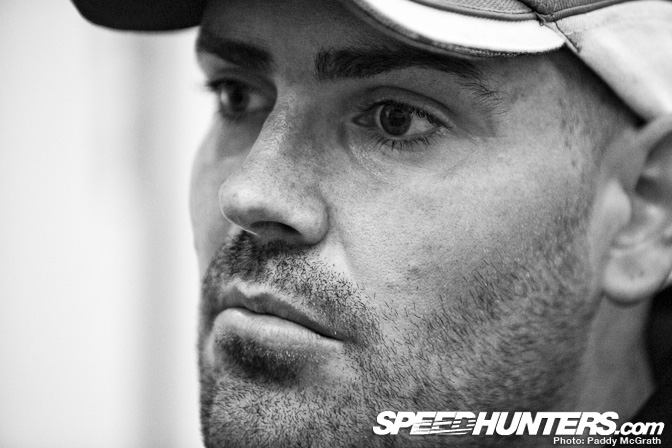 Fuzzy: The new S15s look the part but with your car you have taken a leaf out of the americans book and gone V8, do you think this is the future of drifting in the UK?
Shane Lynch: It's the future of drifting for me, I can't speak for any other drivers or their choice in cars but for me it is yes. I come from a background of big power, torquey engines in race cars. Feathering the throttle and trying to be as smooth as possible on the track. I was never a fan of turbo engines, waiting for the engines to come on boost and dealing with lag was just not my style. I talked about it with Paul and I wanted something with lots of torque that I could just put in gear and not have to worry about it again for the rest of the run.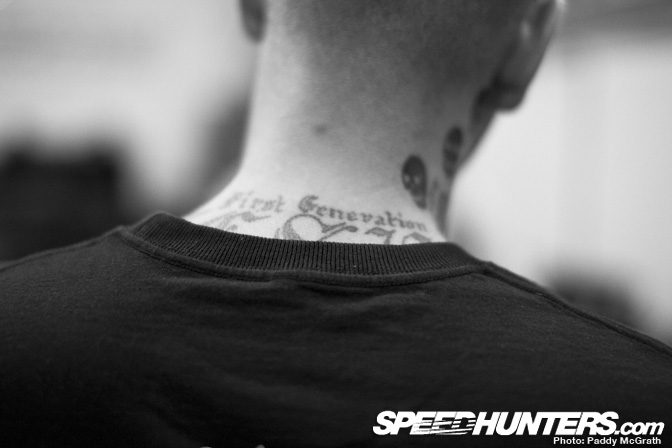 Fuzzy: In the last few years your focus has seemed to be more driven in becoming a better driver. In the drift community drivers seem to be more open about lines, skills and setups. Do you think speaking to other drivers has helped you progress?

Shane Lynch: Yes, without a doubt. From the beginning of when I got into drifting, I always spoke to the other drivers to listen to their thoughs on different setups. I think you really need to get out there and try different setups to get the best. Knowledge is the key to moving forward.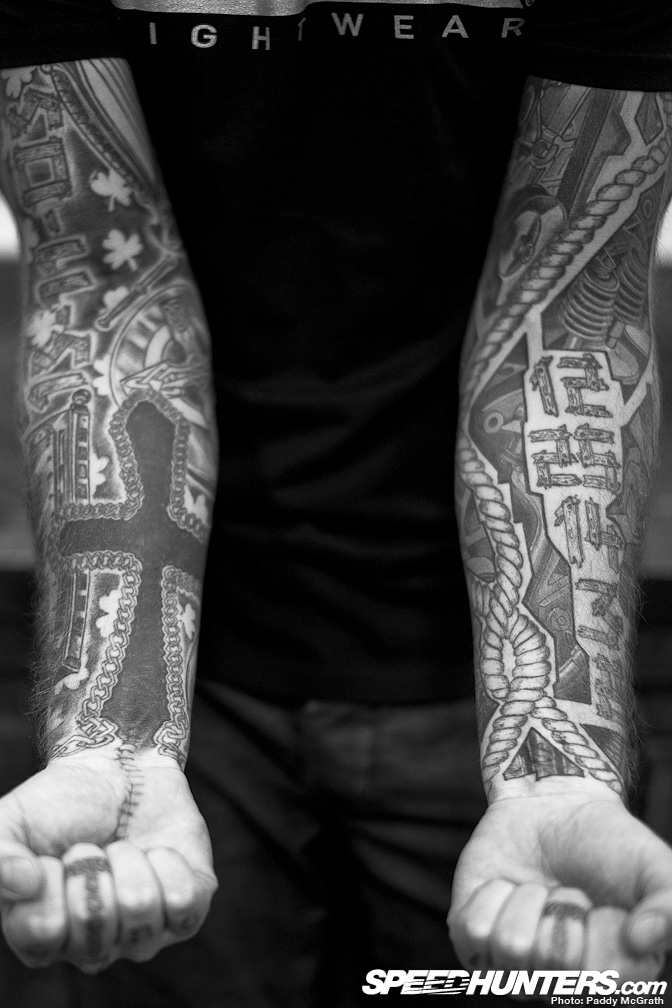 Fuzzy: Let's talk about your daily life for a minute off track. I've noticed your tattoo collection and I once read an article that each one has a meaning about a moment in your life. Care to explain some of them?
Shane Lynch: I think more than just specific moments, it's a journey, a story. I like having tattoos as a canvas, not just for the sake of them. I got my first tattoo when I was fifteen years old. I always had a vision and it was just a collection of moments and times and just things that I like. My left side of my chest and arm is dedicated to motorsport, I've got the internals of an engine and on my right side is music. Tattoos are important to the individual and you have to be a little bit clever in how you do it.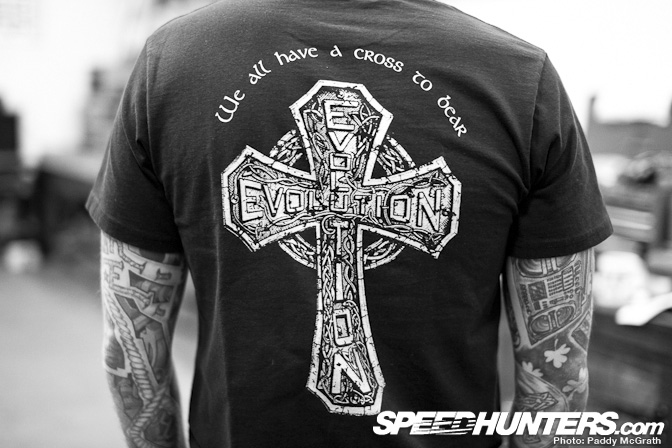 Fuzzy: Finally the 2010 season is coming to and end. What does 2011 hold for Shane Lynch and the V8 powered S15?
Shane Lynch: More power, more power, more power ! That's the way forward. I'm currently fourth in the BDC championship and I really want to make it into the top three this year. It doesn't have to be a win, I just don't want to finish fourth. I'm hungry to improve and move up the standings. The winter will bring some further development on the S15 but I'd also like to get out to the states to do some Formula D events. I want to see America and I want to run with the FD guys because I want to improve and get better. Whether it'll happen or not I don't know. But I do want to be out there and then bring it back home to the BDC.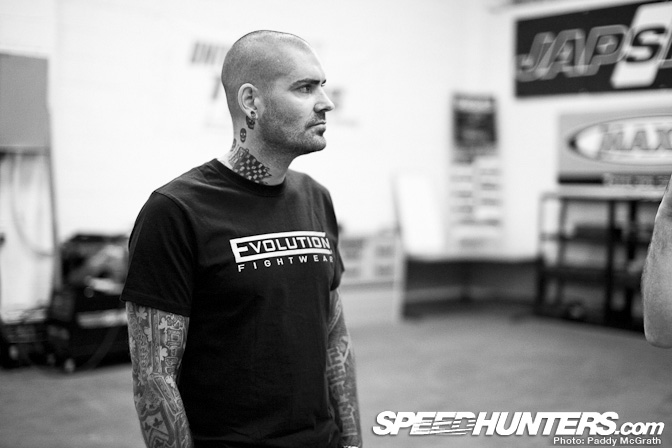 A big thanks to Shane for his time and to Fuzzy for helping out with the interview. We'll have more on the Japspeed crew in the coming weeks.
Paddy