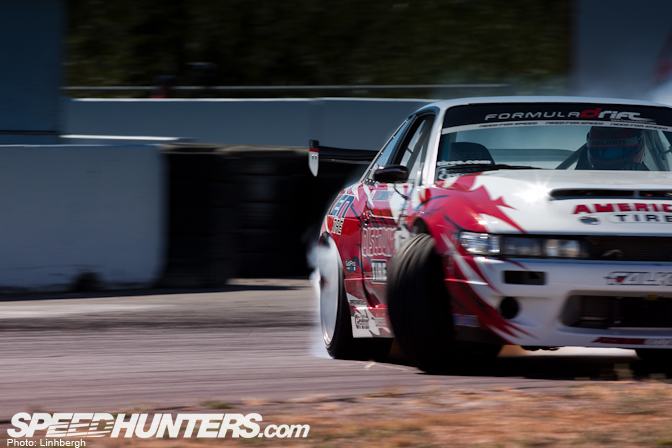 Daijiro Yoshihara and the Discount Tire Rocket Bunny'd out S13 has had quite the season this year. Dai is going into the last round of the 2010 Formula D season sitting 2nd on the driver's championship. So as we start gearing up for Irwindale, we thought it be great to sit down and talk to one of its engineers and get the scoop on the car in detail. And no one is better for this job than major auto-otaku, car setup-king, true believer of hellafunctional and MotoIQ contributer, Mike Kojima.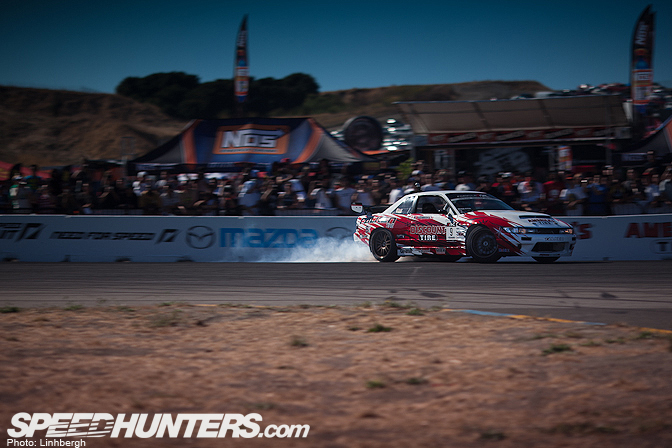 Speedhunters: Let's start off with the history of this S13. Where did you guys get it? What was it before it become a Falken car?
Mike Kojima: The car was originally purchased in street form from ex Falken driver Hubert Young to be used as a demo vehicle. The direction changed after the decision was made to build Ross Petty a new car in 2008. Scott at SPD Metal Works originally did the prep and the cage build and the car was built by Garage Boso with a stroked 2.4L SR in it. The car was campaigned in 2008 and sat collecting dust until it was thrown back into action again after the Lexus was wrecked in 2009.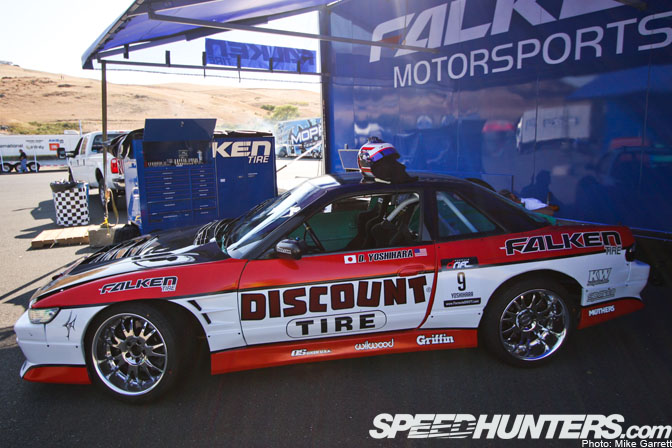 Speedhunters: Discuss the build up of the car post-Seattle crash in 2009. How much time did you guys have before its unveiling at the next event at Sonoma? 
Mike Kojima: The car was built in 8 days.  Fortunately I was on vacation in Hawaii for 5 of those days but Scott and Steve Sprage worked around the clock to finish it.  I only had a couple of torturous days in it.  The SR20DET was pulled out and an LS2 engine originally in the first generation Saturn Sky piloted by Ben Schwartz which was coincidentally totaled in 2007.  A lot of the Lexus parts were salvaged and reused on the S13.  Chris Marion of KW built up some 3-way motorsports dampers for the car in just a few days.  It was a struggle just to get the car to the track and we were lucky just to have a running car.  We didn't have time to get tricky.  The motor was pretty silly, it was basically a bone stock LS2 with some off the shelf CNC ported heads from Summit and a medium cam.  It only had low 400's for power.  We worked on the car until about 4 in the morning the day of Sonoma, I went home took a shower and went straight to the airport.  Owen, Scott, Dai and Steve drove with zero sleep for days before the event. The hard work paid off as other teams cheered for us as we rolled into the paddock in Sonoma.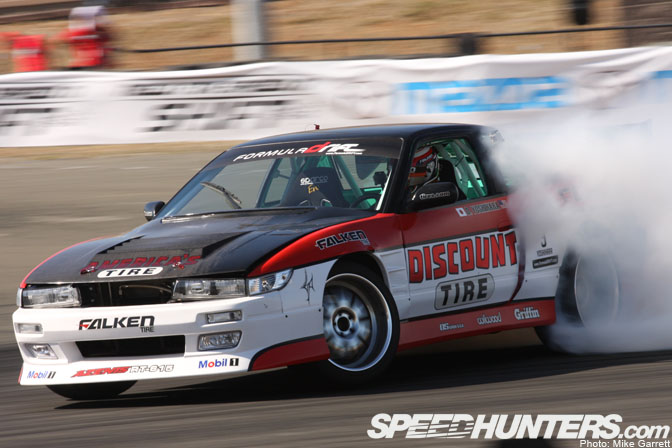 For Irwindale we were in a little better shape, we analyzed our problems at Sonoma which was mostly a lack of forward bite and did several steps to address it.  We also refined and redid many of the cars systems that were rushed and not done to our standards.  We also refined the engine with a new intake manifold and throttle body as well as more tuning and found a little more power.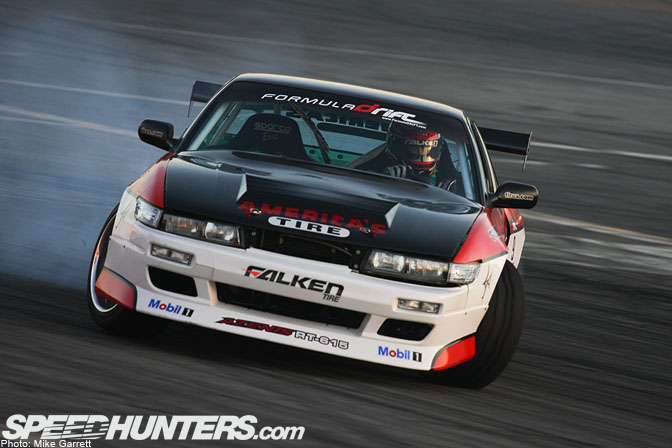 Speedhunters: During the off season between 2009 and the pre-2010 season, what went into the development into the car? Did you guys have a vision to get the car in terms of setup, power, and also visual aesthetics?
Mike Kojima: We knew we needed more power so that was the focus. We added about 80 more hp in off season development.  We also knew we needed to work on the handling, we had good forward bite but we had to work on how the car handled in drift.  A drift car needs to be able to go fast with a lot of forward traction when leading but it also has to be very stable in drift and not tend to straighten up when following, even if the car has to be braked hard or the direction changed drastically. A lot of what we did in 2009 was just to make the car fast when leading.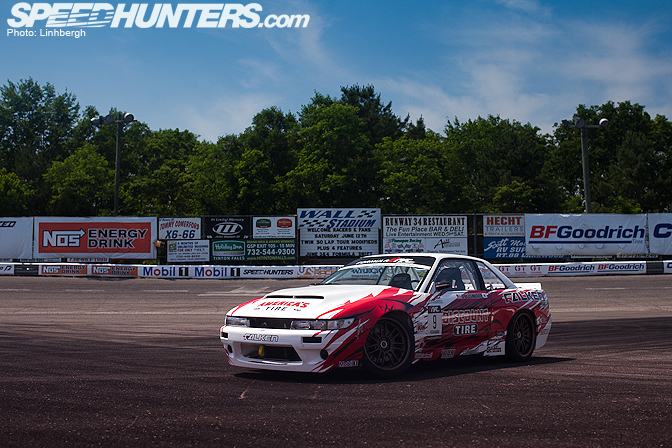 The development in 2010 was in two stages, first to make the car follow well and to be maneuverable and predictable going slow, second to get even more forward bite and then make the car even faster without giving up the ability to drift slowly.  A lot of the reason that the car works so well is because of its handling.  We probably have one of the lowest power ratings of the top V8 cars but we can really put it to the ground, the car is easy to drive and Dai is a great driver.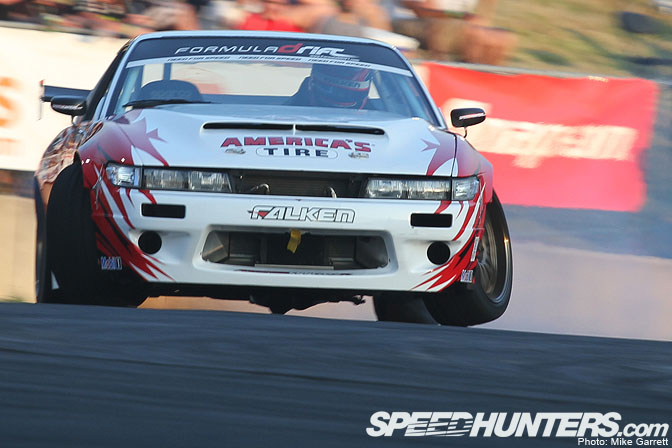 If you look at some photos of the car, you can see that it can almost wheelie in drift, lifting one wheel completely off the ground with the other just skimming. Our data logging shows that the car can drift at over 1 lateral G which is phenomenal.  We did poorly at Long Beach because it rained on all of our pre-season test days and we did not come to terms with the car until testing post Long Beach.  The rainy winter is coming back to bite us in the ass now that the final points are so close.  We do have a killer rain setup so watch out if we ever have a rain event!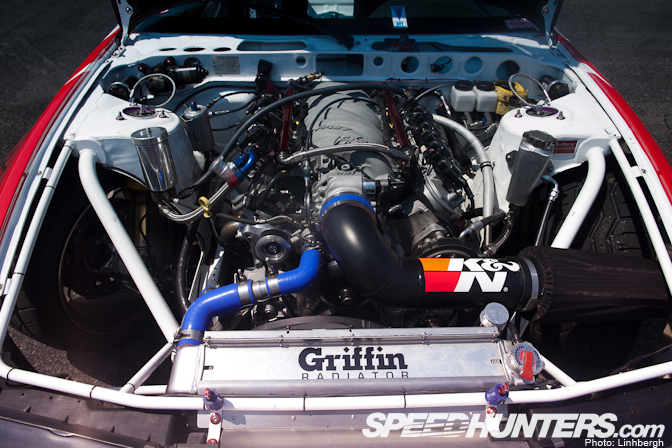 Speedhunters: Dicuss the engine. What engine is in it? What went into it as it was built? Any special parts you guys use for the engine? Also what fabrication work went into building the motor? 
Mike Kojima: The engine is a Chevy LS2.  It is bored 0.030 over and uses billet rods and a mild stroker crank.  It uses JE forged pistons at 12.5:1 compression. It has CNC ported L98 truck heads and a pretty aggressive cam with tight lobe centers for good midrange. It has a FAST intake manifold and throttle body.  It uses Motec for engine management.  It displaces 417 cubic inches and puts out about 520 hp.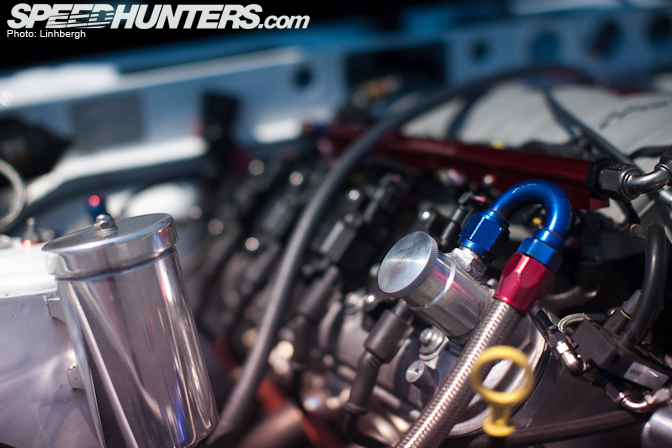 Its really a pretty mild motor compared to what a lot of the other V8 powered cars that typically make the top 16 have.  Really the engine has no special fabrication, it is all bolt on sort of parts that anyone can get from the Summit and Jegs catalog for not that much money compared to what a lot of our competitors are doing.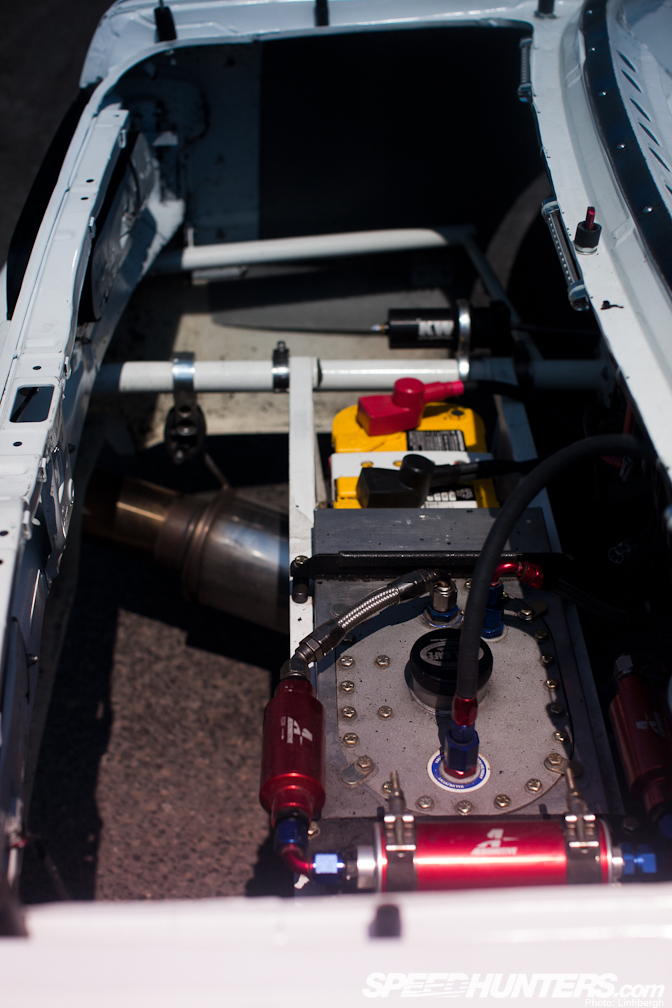 Speedhunters: What sort of transmission are you guys using for the motor? What sort of differential?
Mike Kojima: We are using a G-Force GSR 4 speed dog engagement constant mesh racing transmission.  It is robust and durable.  It can also do lightening fast clutchess shifts.  We use a Winters Quick Change rear differential with a spool. The Winters unit is good because it is near bulletproof.  It is essential for Formula D cars to be really reliable because it helps make a good show for the fans.  Breaking cars spoil the show.  The quick change helps us dial in our gear ratios so Dai does not have to shift or clutch kick as much.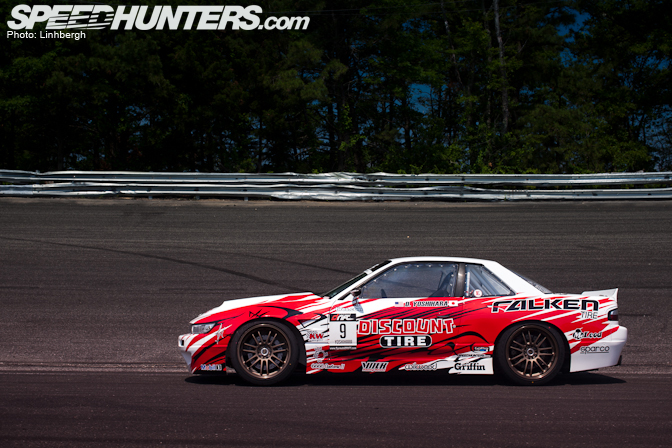 Speedhunters: Let's discuss the car's suspension. What coil over system are you guys using? Is it easy to use and setup? What special bits of suspension are you guys using (arms/tie rod ends/etc)?
Mike Kojima: We use KW Motorsport 3-way dampers which we feel are the best in the world.  They have tremendous flexibility in damping adjustment range and have very good flow control at low shaft speeds which enables us to do a lot of set up changes quickly with the dampers as opposed to switching springs.  We can use the shocks for "Platform Control" which is a common term used in grip driving and road racing but works really well in drifting.  In normal language you use the shocks to hydraulically tune the cars balance and response instead of springs and bars.  It takes a sophisticated shock to do this well.  The best thing about the KW's is that they use a combination of metering valves as well as deflecting dicks.  This gives the shocks a lot of frequency sensitivity. This allows us to really lock down with the shocks if we have to to control how the car sets and balances but the shocks still respond to ripple bumps which helps the tires find traction.  Chris Marion of KW really helps us with special valving and other tricks when we need it.  We can request a certain shape damping curve and he can valve the shocks to get what we need.  That sort of support really helps.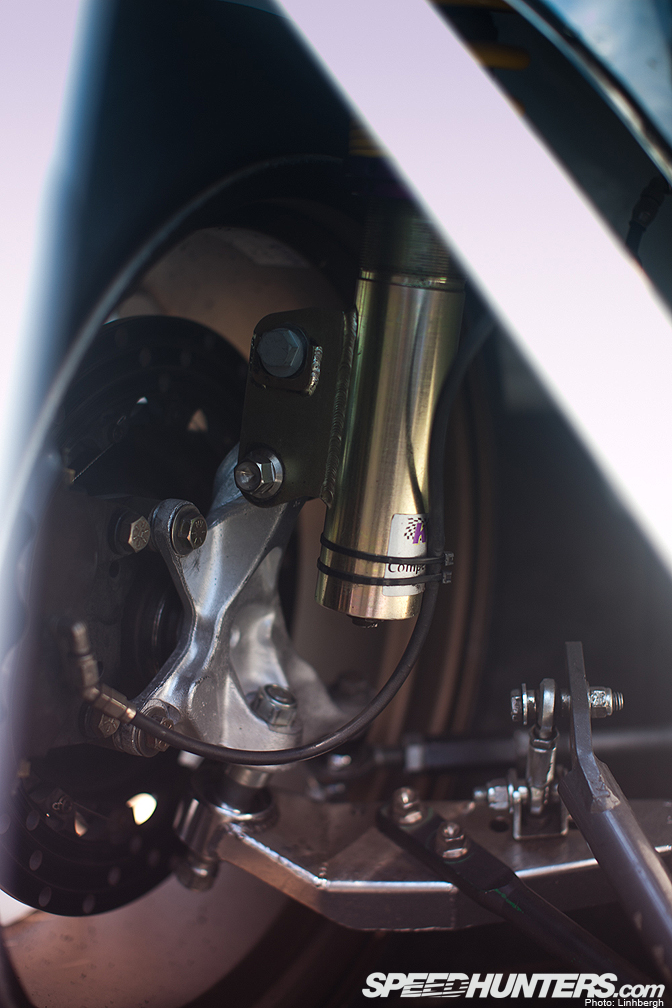 A lot of the suspension arms we use are made by SPL which anyone can buy.  They use American QA-1 bearings which are decent quality.  A lot of the cars magic centers around controlling torque reaction, frequency balancing, friction reduction, proper application of geometric anti roll, friction reduction and a few other tricks.  Drift cars since they have low traction spinning tires are very sensitive to tire shock and the answer isn't just soft rear shocks and springs like so many people think. Its making the tires contact patch happy while still having a well balanced easy to drive car.  A good drift car will actually handle well and could do well for grip driving with a few minor changes!  A lot of what we do gives us a big advantage has to remain a secret as we need to keep that competitive edge. This should serve as a great starting point for someone looking to build a VERY competitive car using off the shelf parts.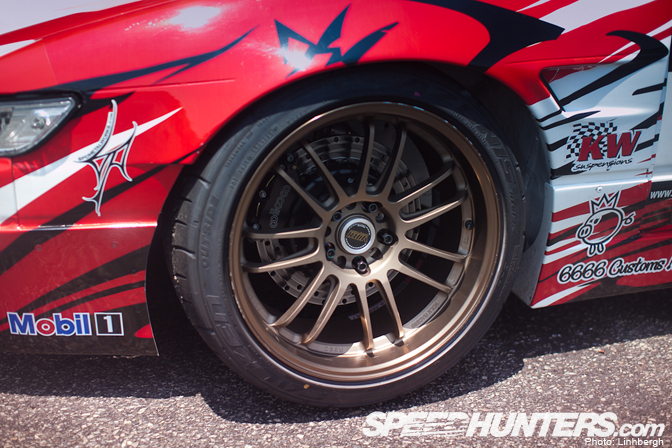 Speedhunters: What're the wheel specs? Tire specs?
Mike Kojima: 18 x 9.5 front with a 18mm offset and 25mm spacer (we adjust the spacer to adjust srub radius and track width)  and 18x 10.5 rear with a 15mm offset. Volk forged RE30 wheels.  The front tire is a 245/40-18 Falken 615K and the rear is a 275/35-18 Falken 615K.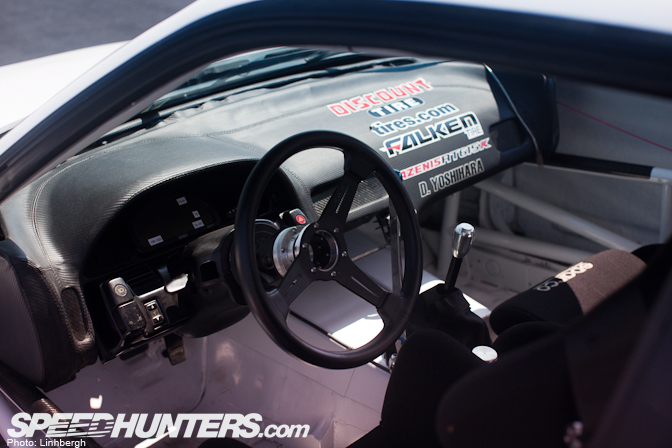 Speedhunters: The interior of the car is very typical race-car. What seats did you guys use? What sort of e-brake/steering wheel
Mike Kojima: The seats are Sparco as is the steering wheel.  The turning brake is a Willwood ultra lite caliper with its own independent hydraulic system operated by a driver controlled lever.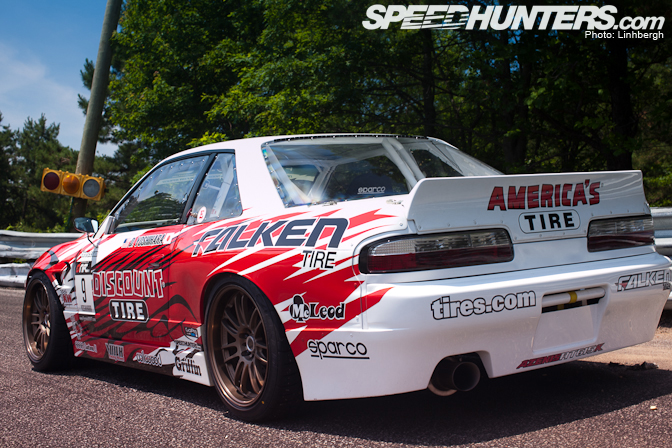 Speedhunters: Why did you guys choose the rocket bunny body kit? How hard was it for you guys to obtain such a rare kit?
Mike Kojima: Since I am an engineer I am the wrong person to ask about styling.  I think Owen Orrego, the cars Falken team manager decided on the aesthetics.  I didn't even know what a Rocket Bunny kit was, I thought it was some sort of joke.  I am not into the JDM worshiping thing, just building bad ass cars!  I did go to Rocket Bunny's web sight to find that they have naked girls.  Scott and I would have just put cheapo fiberglass overfenders and wide fenders on so they could be replaced without impacting budget as much.  I guess though that many fans really like how the car looks.  Thats why I don't make those sorts of decisions.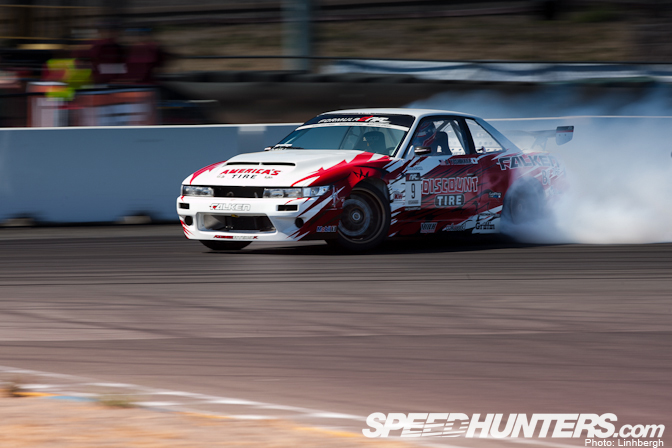 Speedhunters: What's your favorite thing about the build of the S13 overall?
Mike Kojima: The car is capable of beating anyone on any given day, with Dai's great driving and our tight teamwork, we manage to do well despite being a relatively low budget car.  We are all pretty proud of that actually.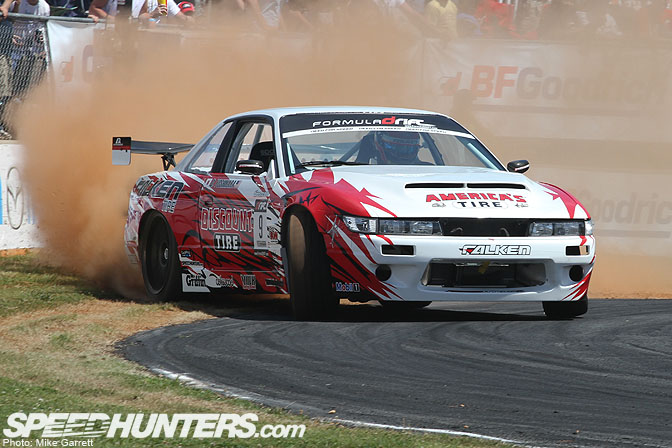 Speedhunters: The car is now a 2010 podium winning car. What steps did you and the team take to be where you guys are now this season? 
Mike Kojima: We are always trying to learn new things and to continuously improve through the season.  Dai is really a great driver and it took awhile for everything to gell and fall into place where he feels confident and we communicate with him and give him the car he wants.  Perhaps the best thing for this year was improved teamwork and communication with each other.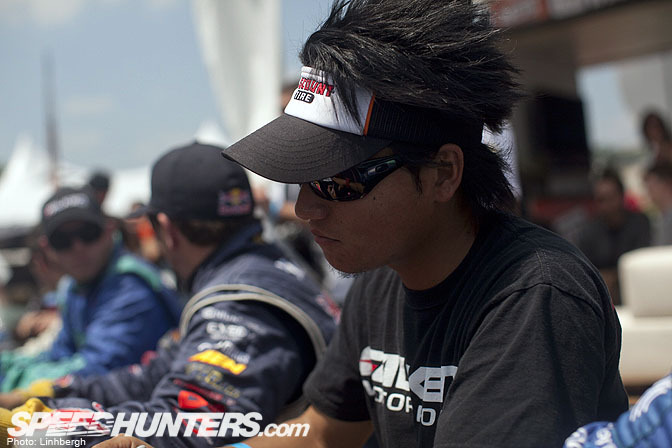 Speedhunters: How is it to work with Dai? Does his hair get in the way of important discussions? 
Mike Kojima: Dai is the best, he doesn't mind staying up all night with the team and to suffer with us when the chips are down, we always have to tell him to go rest, don't risk getting hurt by helping us, get sleep etc.  He feels bad if he is not helping us but we want him to be on top of his game when it comes to driving.  He is very humble and unselfish.  He puts others first. He really is a goodhearted person to the core.  He also happens to be one of the best drivers in pro drifting.
One of the bad things about his hair is that its care is very dangerous.  Dai almost got taken out of the Vegas round when he cut off the end of his finger grooming himself (this is not a joke, it was pretty gross).  He was bandaged up and in a lot of pain.  We now assign a crew member just to take care of his hair.
Dai also has some very unusual secret training techniques that we cannot publicly discuss.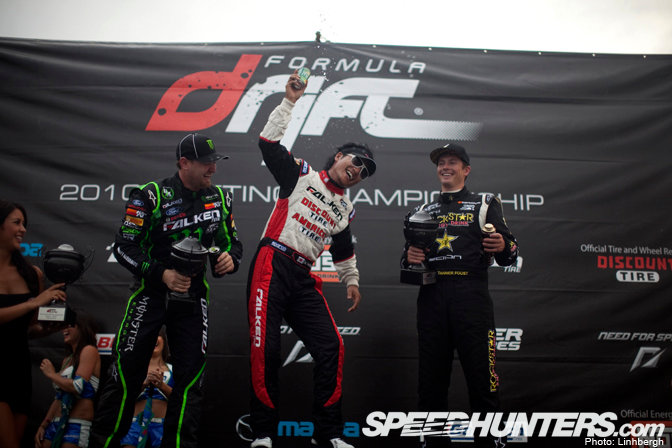 Speedhunters: Is Dai secretly sponsored by Sierra Mist or Lipton Ice Tea?
Mike Kojima: Sierra Mist makes him Leddy to Lock!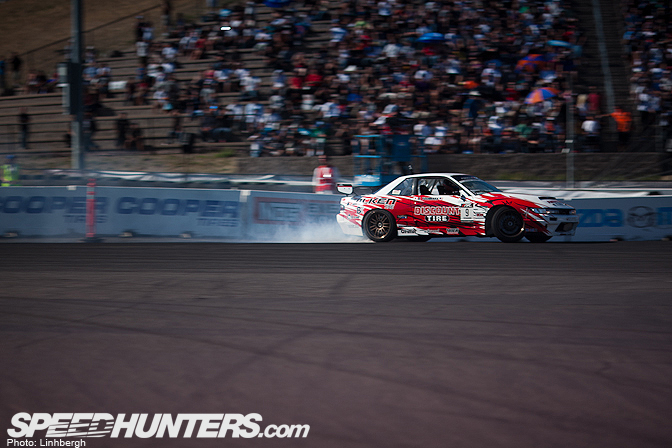 Speedhunters: What went into the setup of the car for Sonoma? How was that track different from the rest of the FD rounds? 
Mike Kojima: Sonoma is a difficult track to set up for because of the unusual long entry.  It is also flat and lacks traction. We set up the car up stable so Dai could throw it hard into the first turn and to be speedy in the slow stuff. Our Sonoma set up is pretty close to our Atlanta setup.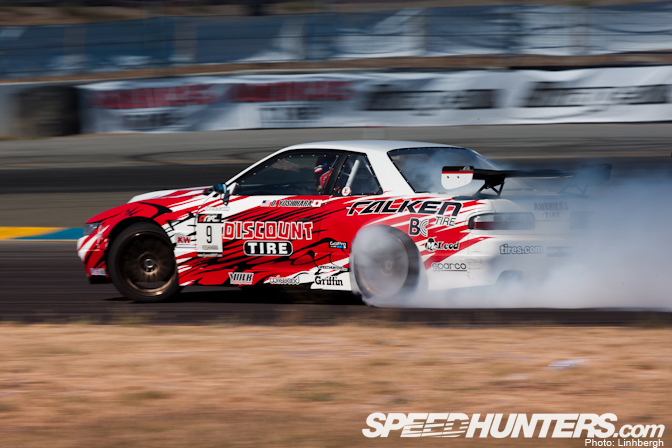 Speedhunters: Any changes going into the car before the final round at Irwindale?
Mike Kojima: Our relative lack of power makes us not have the ideal setup for places like Seattle and Irwindale.  We don't have the power to generate ideal wheel speed.  We are setting the car up to be loose for Irwindale so Dai can set the car high on the bank.  Dai also loves Irwindale and drives the track well so I think we will be strong contenders.  We will still be one of the fastest, highest angle cars off the bank onward.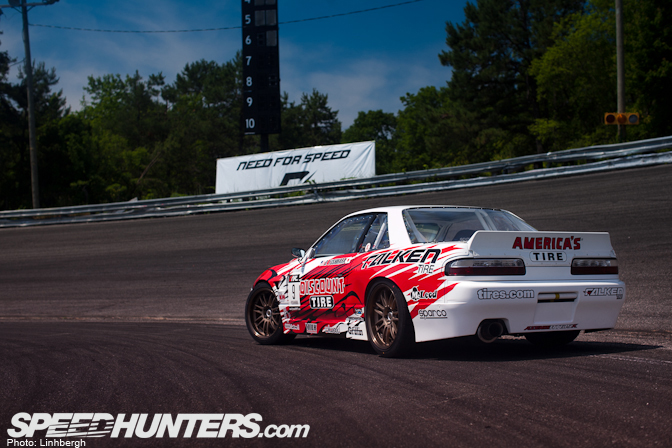 Speedhunters: What's the future of the car looking like next year? Anything you can tease us on? 
Mike Kojima: Look for us to come with close to parity power when compared to the other team Falken cars.  Watch what happens when one of  the best handling car in Formula D comes with a big boost in power.  We are going to work on drivable power so our peak power might not be quite as good but we will be packing about 60 more than we currently have over a wide range.  Of course we will continue to innovate and improve our suspension, KW has some secret tricks up their sleeve that we will be incorporating in 2011.  We will also work to make the car easier to maintain and repair in the field to make it more robust.  We will also work on improving cooling and fuel handling.
Speedhunters: Thanks for your time, Mike. Best of luck at Irwindale from all of us at Speedhunters!