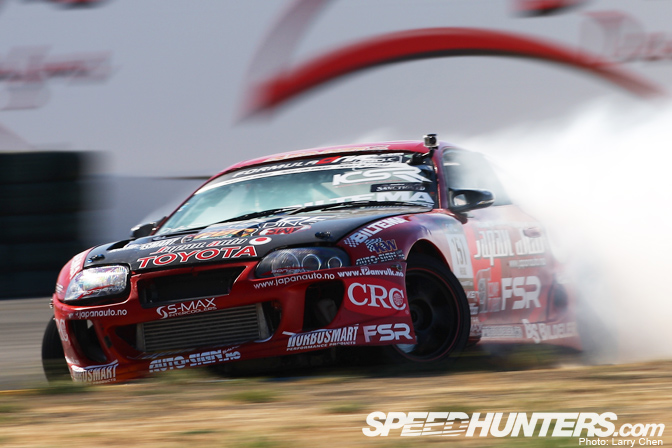 Fredric Aasabo is a person that has captured the collective imagination of the drifting community as a whole. I had a chance to sit down and talk with him about his drifting career, how it got started, and also his battle at the penultimate round of the 2010 FD season in Sonoma, California.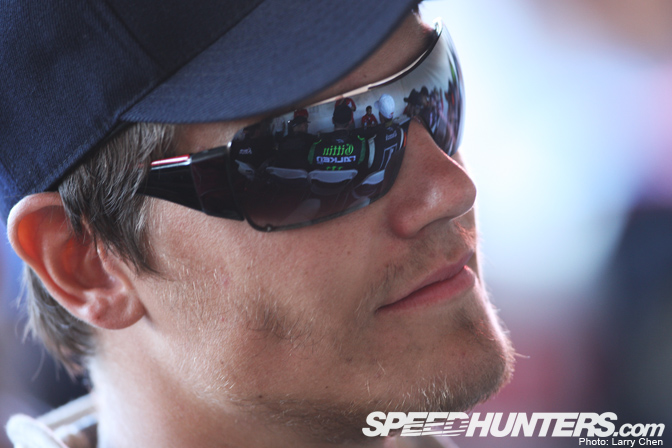 Speedhunters: Hey Fredric! It's good to be able to sit down for a chat with you. You're now a pretty well known person to the avid, Speedhunters reader, or drifting fan. But introduce let's yourself to those that may not know you at all.
Fredric: Hi Speedhunters! I am Fredric Aasbo, a 25 year old drift driver from Norway representing Team Japan Auto FSR in Formula Drift.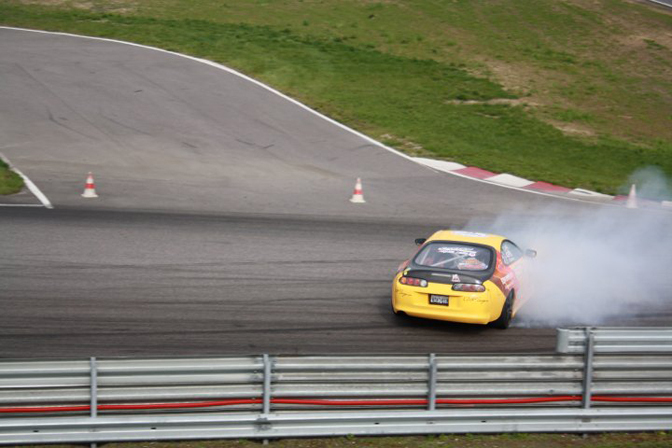 Speedhunters: How did you first find out about drifting?
Fredric: My dad was into RWD rally and rallycross when I was kid, and when I got a little older I got the chance to compete with gokarts. At a gokart practice at my home track in Norway, Rudskogen, I saw an old, rallycross tuned Volvo 142 actually drifting at the big track. I was about 15 years old, and this was just before Gatebil took off in the North European car scene. I was standing there with my jaw hanging, watching this guy ripping up the course! I remember the announcer nicknamed him "El Desperado". I will never forget what I saw that day.
A year or so later, I came by one of the now classic online videos of Ueo drifting his Hachi. I was hooked.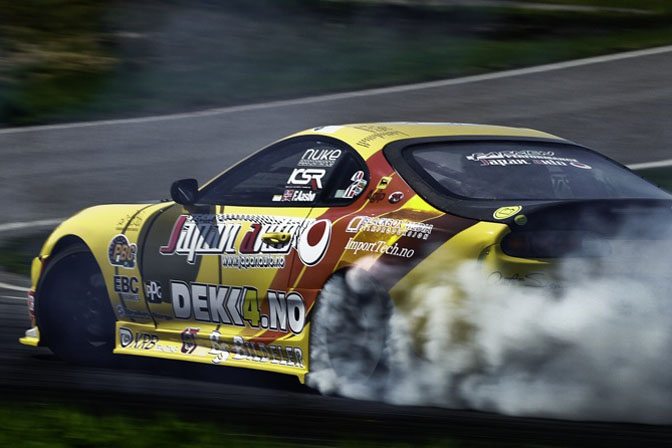 Speedhunters: How did you get started in drifting?
Fredric: After more or less destroying a handful of old BMWs and Volvos under various circumstances, I finished High School and got into College. Together with my closest friends, we made a team called "Heckschlaude", which means tail slider. We picked up the word from a german car magazine report on the BMW E28 M5. I spent all my money and a little extra on building my first proper car; a BMW E30 with a euro E36 M3 powerplant. At college, I basically scraped through in accounting, micro economics and such, but I did a lot better when it came down to what really mattered to me: International courses. I haven't really told this to too many people, but at that time I started to want to travel, and I took as many international culture courses and American business oriented courses I could. In '06 I almost left Norway as an exchange student headed for Hawaii, and my plan was to try to get into the Drift Session community out there. I ended up staying in Norway. My friends helped me get the BMW running, and in '07 I won the first Nordic Drifting Series with the E30.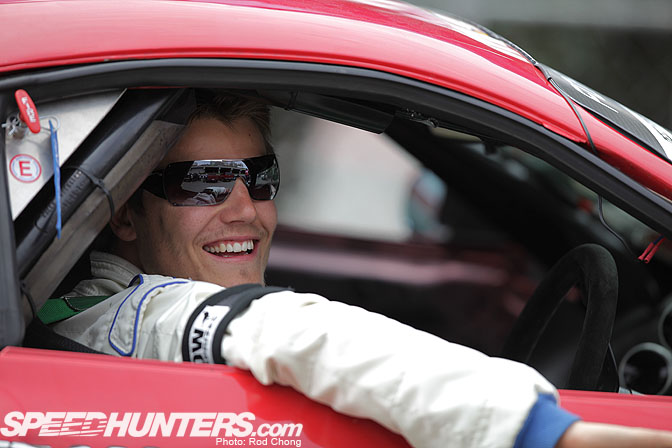 Speedhunters: Why did it appeal to you so much that you wanted to actually do it?
Fredric: There are many things about drifting that had me hooked completely. First, it's the fact that it's one of the most diverse motorsports out there – drivers come from all sorts of backgrounds and the cars range from crazy US V8 builds to tiny classic coupes. Since we are not competing for outright speed, but for a set of criteria set by a panel of judges, the formula for what is the perfect car platform and setup is not set in stone. Honestly, I don't think there will ever be a 100% perfect car and engine formula as long as the judging criteria and regulations are continually developed to make it an even playing field. To me, the judged part is the beauty of drifting and what allows David to sometimes bring down Goliath in competition.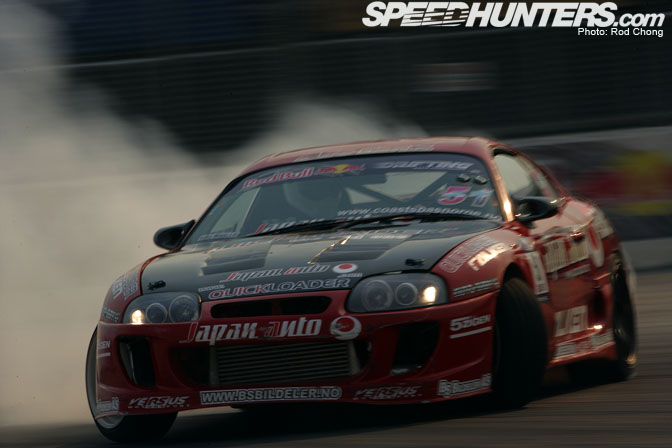 Speedhunters: Now, let's discuss your involvement at the amateur level. What did you learn as you progressed from amateur to pro-amateur? 
Fredric: I have learnt alot of things moving from an amateur into the ranks of Formula Drift, however still as an amateur. I think the most important is that I have become better at getting to know what I can do myself and what I basically suck at, which would be the things that is better taken care of by others. Today, I feel very fortunate to have some very close friends running our small program with me and we are very clear on doing this as a team. I trust my right hand and spotter Steffen to the fullest extent, and Ian and Eric at FSR Motorsport Creations, our partner shop in Montclair, CA, have been instrumental in guiding us and having us give it all we've got in Formula Drift this year. Then it's Tom Ole Svendsen of Japan Auto and all of our friends back home and in the US. I have become more of a team player the last two years, and I think working closely with others is what ultimately gets you there. It's the classic 1+1=3 formula.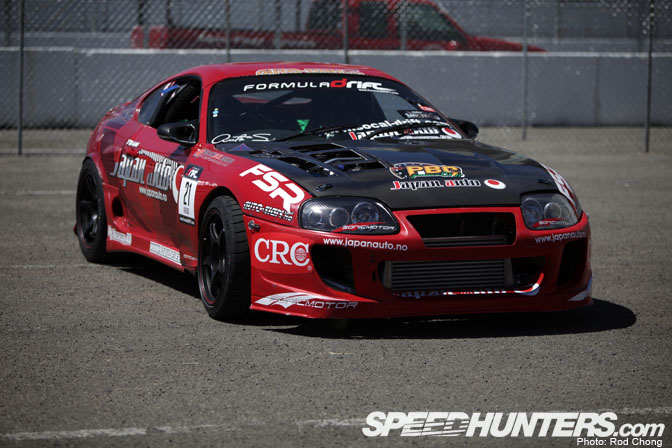 Speedhunters: How did you get involved in the professional level of Formula D? 
Fredric: After we won the Nordic Drifting Series for the second time in '08, I heard about the Red Bull Drifting World Championship and started looking into what it would take for us to get an invite. I remember we got the formal invite in the middle of the night at a Gatebil event back home in Norway. I was half asleep in the back of a van, checking emails on my phone when I opened an email from Jim Liaw of Formula Drift. It said: – Fredric, pack your bags. See you in Long Beach!
I have never before (or after) got out of bed that fast, and my friends who was all partying it up didn't know much when I came running straight into them and started throwing high fives left and right. I even threw my friend Espen up in the air, and he is a grown man! I was so happy – we were set to go drifting with all of our idols!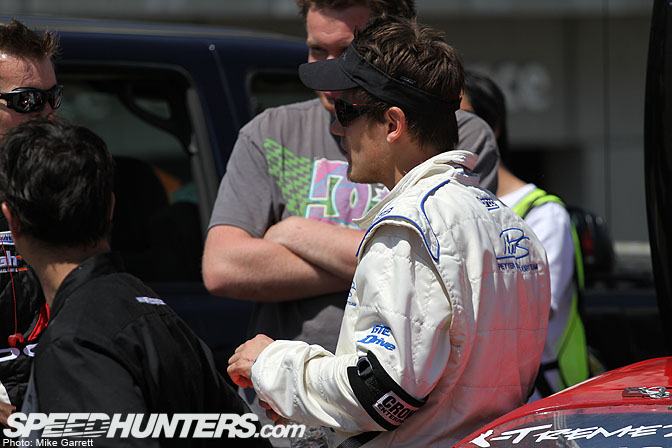 Speedhunters: What do you like most about Formula D?
Fredric: I like it all! The people I get to meet an their friendliness, the long treks on the US highways, and we have yet to do get to the East Coast, the cars, the California sunsets, and generally the whole atmosphere. However, what I like the most is the level of competition. Nothing compares to the feeling of seeing the start lights drop as you are up for battle with the FD guys. You have two runs of about 20 seconds each to do your very best, and what you did in practice that morning or last week does not really matter anymore. One slight miss or hesitation, and you sit halfway through a concrete wall. Which happens!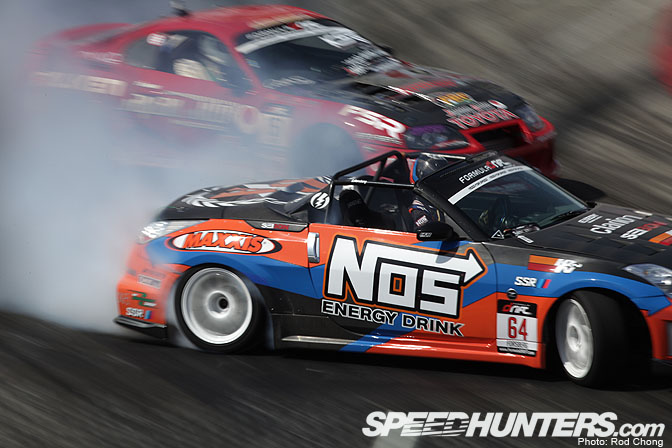 Speedhunters: Is there anyone on the FD grid that sticks out to you the most as a person, driver, contributor, manager, fan of the sport?
Fredric: To me, Chris Forsberg is the perfect drifter. His '09 Championship title and the story behind it is an extreme inspiration to everybody wanting to follow in his footsteps. I have been following the FD series from an outside point of view for several years, and when I see Forsberg, I see the following: A driver that never does any tricks, but goes out there a 110% time after time. I see a team owner that is set on the motto that less is more. Combined with Kevin and Sergio, he represent the die hard drift team that has everything to loose, still he goes out there full throttle style, like he has nothing to loose. I would not be surprised if it turns out that Chris Forsberg is the reincarnated Chuck Norris – compare pictures and you will see!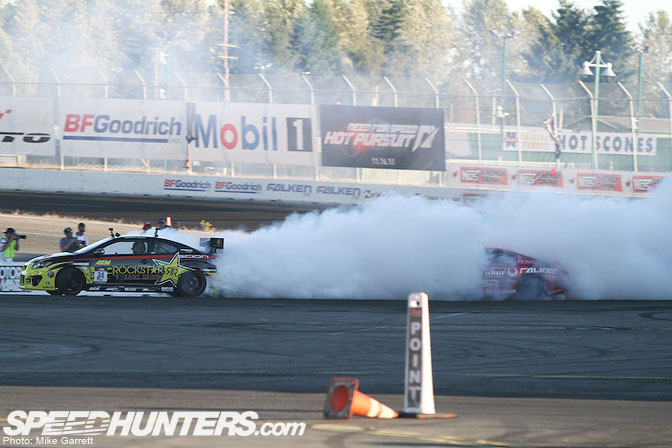 Speedhunters: What was the hardest thing you've ever had to do in your drifting career?
Fredric: When we shipped the Japan Auto Supra to the US for the Red Bull Drifting World Championship, I pretty much organised the shipping, the registration, the trip and everything myself, all while working long hours in an IT job and competing in the Powerdrift Norwegian Drifting Series, the Nordic Drifting Series and the Gatebil events. I got used to night travels through the dark North European forrests with my good friends Thomas, Espen and Steffen. I think we ran close to 25 events, shows and competitions that year, and I was juggling work, my girlfriend that I never saw and our participation at everything drift related for the sake of seat time and fun. That was my life at the time, but when 10 tired Norwegians and I got into L.A. that fall and ended up at a Compton backroad just prior to the Red Bull event, not knowing having a clue about where the Supra was, without any tires for the event and with very limited money, I was not really sure what I had put us into.
However, we got it all together thanks to old and new friends, and at the inaugural Red Bull Drifting World Championship we managed to get a one more time against my all time idol Katsuhiro Ueo! That, right there, was the time of my life.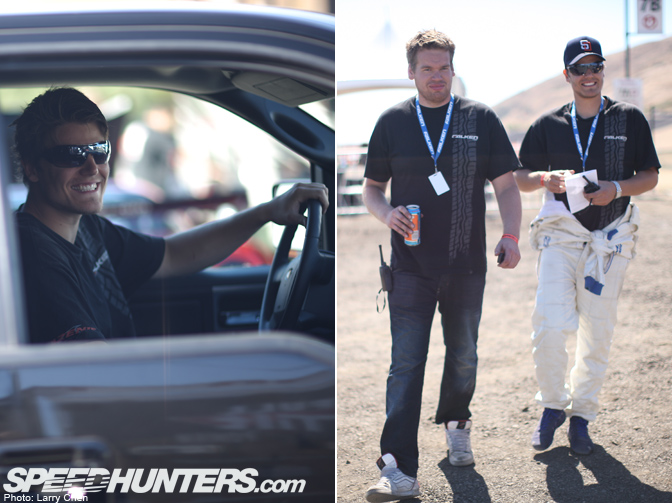 Speedhunters: What do you dislike the most about Formula D?
Fredric: This has not to do with Formula D so much, but more with the nature of drifting: What I see as the beauty of the sport, with judges calling the results, also sometimes makes it less transparent and hard for spectators to see the reasoning behind the judge calls. That said, from all the runs and judged outcomes I have seen in Formula D over the years, I can't remember disagreeing with any of them. I think the challenge for the organisers is to continually improve the communication towards the spectators to help the crowd understand why runs get judged the way they do. This is more an observation of drifting in general, and my opinion is that Formula D, their judges and all of the personell onboard have done a simply astonishing job to develop the sport and the series to what it currently is.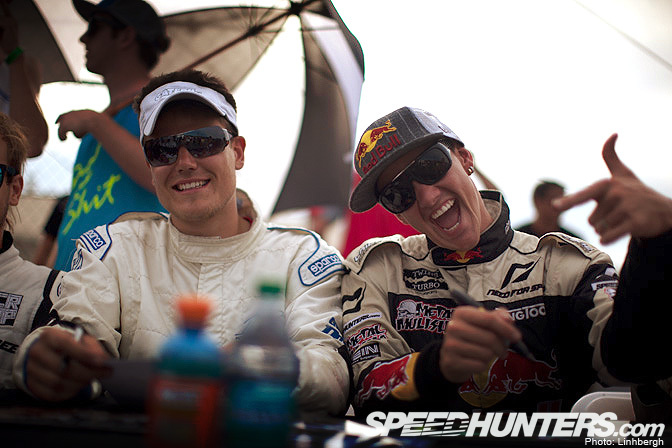 Speedhunters: Do you have any rivals on the 2010 grid?
Fredric: Haha, well – about 40 or 50 at each event! However, I think one of the good things about drifting is that we are for the most looking at each other as friends. That said, I think the biggest rival out there is probably myself. I think any drifter will agree when I say the the best moments are when you get through that run or battle knowing you pushed your own limits a little further.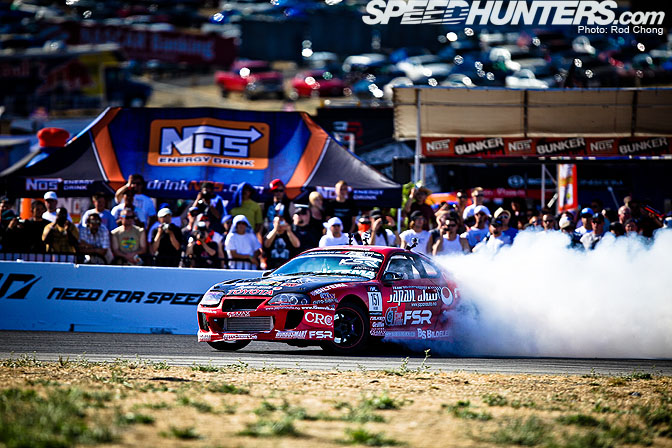 Speedhunters: How do you like the Sonoma round of Formula D?
Fredric: This round was my first time at Infineon Raceway, and the road course style and elevation changes of Sonoma really reminds me of the tracks back home in Scandinavia. As for the course layout, I like the sweeping entry as it really pushes your braking skills. Then it's the long left hander power section, where you clutch it up and aim for the tightest line that allows you to keep it flat all the way through. Then, it's the outer wall at the exit where I for once managed to just kiss the wall without destroying the rear quarter of the car.
The whole event was a huge relief, as we basically hit the road to Sonoma with a car that was barely stitched together, and we finalized the repairs in the pits just prior to the practice runs. Beeing a privateer team is certainly tough at times, but it really bonds us together.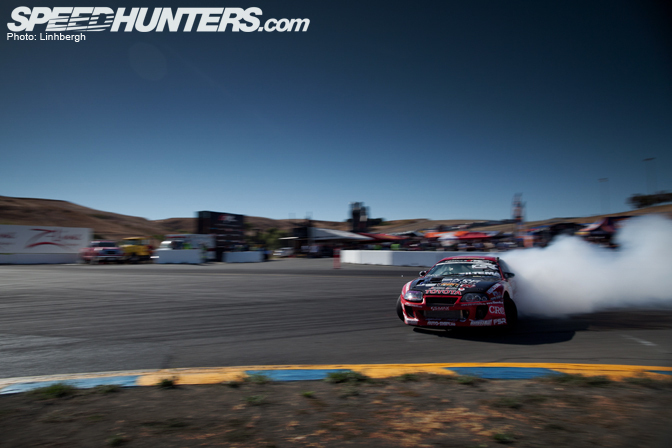 Speedhunters: Discuss your qualifying runs.
Fredric: As we had only an hour practice or so before qualifying, we knew we had to make the most of it. Adjusting a little bit for each run, we got to a point where we felt we had the line and the speed dialed in fairly good. Then, qualifying kicked off and the familiar racetrack background buzz calmed down as everybody got focused at the single cars flying down the track. Then, my turn came up. I launched as hard as I could, coasted down the hill, whipped it out just past the wall, and I braked as hard as I felt I could without locking up too much. My first score was a little over 80 points, and the second one gave me a 79. Based off of the first run, that put me as the number 6 qualifier out of the little over forty drivers. Yeah, we were all up there, and in for the Top 32 with a margin!!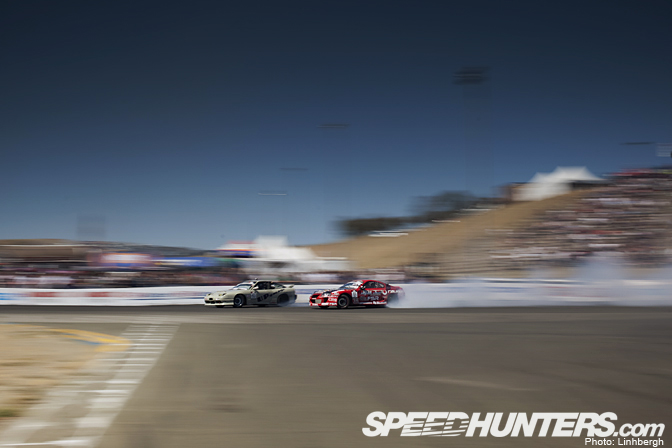 Speedhunters: Discuss your Top 32 battle.
Fredric: My first battle had me paired against Nikolay "The Molotov" Konstantinov, who I got to know in Seattle this year. He reps hard in his JDM MSC looking U.P. Garage 180sx, and runs clean, consistent lines every single time. And he does it with a smile!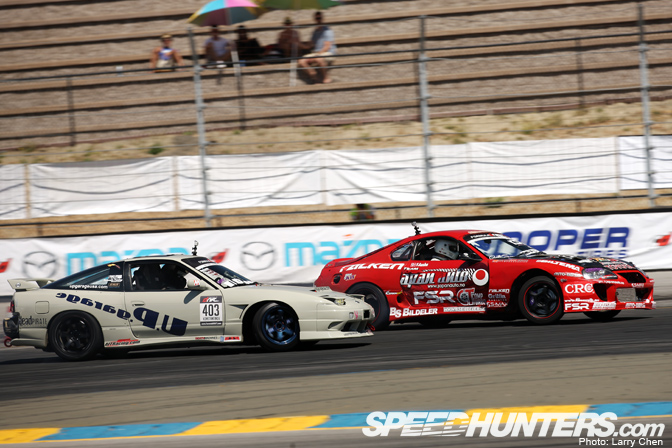 He asked for a pace, and we took off together. I found a good line and held it down during my lead run and managed to create a gap. In Nikolay's lead run, I did my best to match his two first outer clips, and then held it flat to sneak just in on the inside of him through the final double left hander. It worked out. As much as I wanted to see Nikolay move on in the competition, we had to give it all, and we were through!!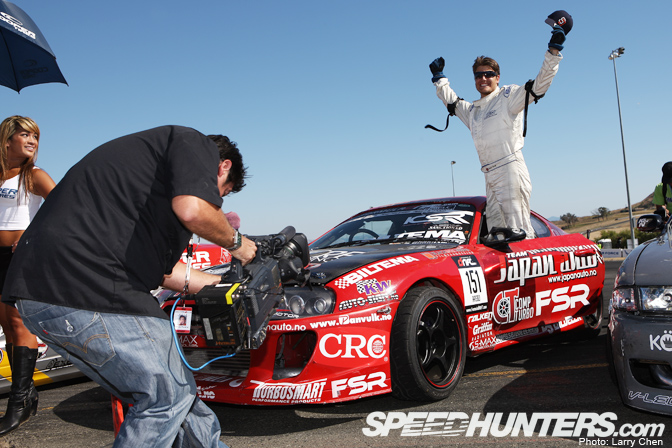 I was so happy. After our struggles in Vegas where I wrecked hard and then tried to drive through Charles Ng in Top 32, we had a rough time even making it to Sonoma. Now I had the feeling we were on form!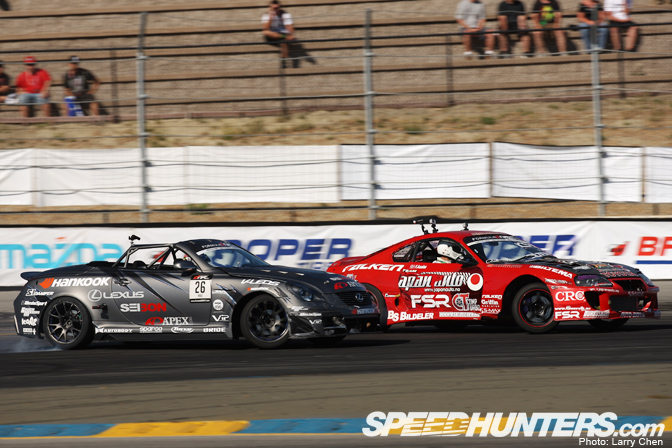 Speedhunters: Discuss your Top 16 battle.
Fredric: Next up was Ryuji Miki in the new Dynamic Autosports Lexus SC. The 2005 D1GP Champion and accomplished Formula Drift driver Miki was looking good throughout the weekend, and being a Toyota guy I must admit I really like the look of that car. In my lead run, I initiated about a foot away from the imaginary wall at the first outer clip. I managed to put down a strong run. At Sonoma, I focused on applying throttle as early as I could going out of the second outer clip. The idea was to carry a little too much speed and shoot in on the inner clip at the correct apex. It worked out well, and I pulled a gap on Miki!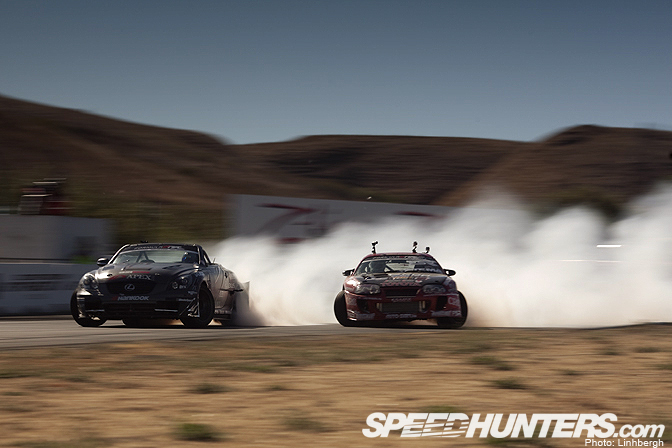 In his lead run, Miki overshot the entry a touch and cleaned away a couple of the outer cones with his rear wheel, and I managed to stay fairly close to him throughout the course. Waiting for the judges decision by the infield had me all shivering from anticipation. The judges had it coming – WE GOT THROUGH TO THE TOP 8!!
And that was when we knew we had to really step it up.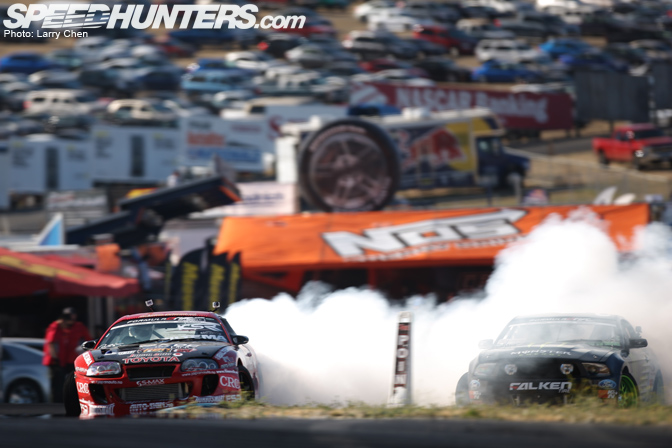 Speedhunters: Discuss your Top 8 battle.
Fredric: In hindsight, looking at footage from the event, I think it's very interesting to see how much more on throttle I was during the Top 8 battles against Championship Leader Vaughn Gittin Jr. Entry speeds went up, and in short, it's easy to tell I went out there full throttle. Jr pulled away from me on his lead run, and it's incredibble to see the competitive level Team Falken has reached during their seven years in Formula Drift.
As I qualified higher I was to lead the first battle, and I think it was a very even battle. Jr chased close, but maybe a touch less aggression. Our second run had him pull a gap on me and he put down yet another super consistent, fast lap that weekend. Jr took the win, but we had one judge voting for a one more time, and one more judge voting for the same would have seen us go at it again. From what I gather, we were the single team that came closest to a one more time with Jr this weekend. To me, that is a huge testament to the Japan Auto FSR Team!!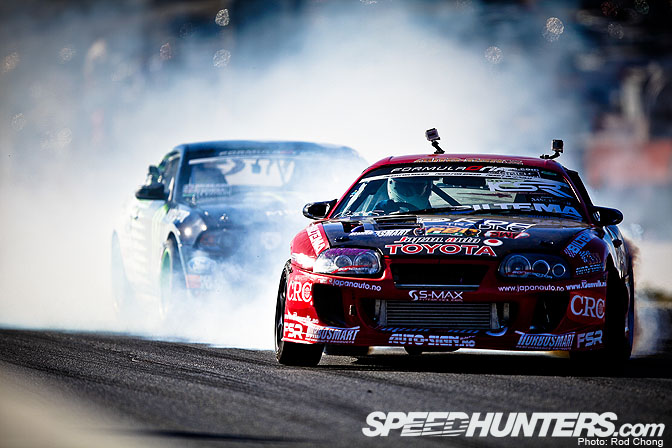 I am very, very appreciate of getting to battle Jr. in the Top 8 in Sonoma. I am very sure that those two by twenty second runs teaches you more than a million laps of seat time or a million hours of preparation. In the finals, paired up and during the actual battles, is when it matters, and you can only improve based on how you do at that time. That is what makes me feel so alive during the tandem battles – those moments are the peaks of my life.
After we got knocked out, I went over to Jr and thanked him for a great battle. He looked at me and said: – I really like driving with you. After the race, he has been saying saying a lot of nice words about us and our ventures this year, and Jr – I really, really appreciate this. I wish you best of luck at Irwindale, and congratulate you and Team Falken on your incredible results this year. You are a great spokesperson for the sport; a visible, honest, focused, hard working American.
Whereas Alex Pfeiffer would be the Snoop Dogg Grandfather of US drifting, you would be the equivalent of Toby Keith. And I like Toby Keith's music!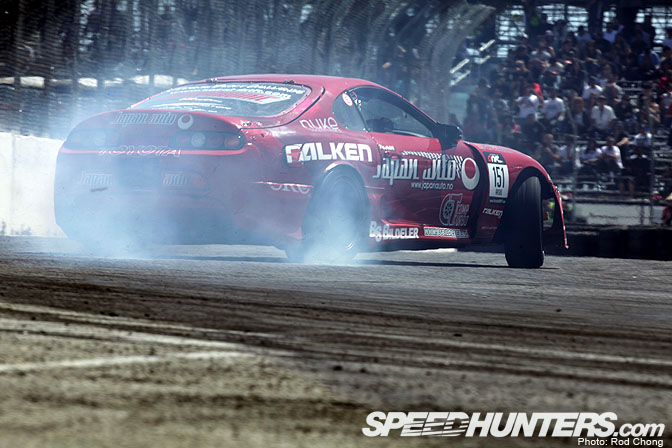 Speedhunters: We're now coming into the final round of the 2010 season, what preparations are you doing mentally and to your car for Irwindale?
Fredric: Mentally, we are all set on going out there to have fun. Thinking about the finals and the fact that Irwindale is coming up gives me that tickling feeling because the track and the track layout makes for a really ballsy show. We ran the Irwindale finals last year, and after being knocked out by Sam Hübinette in the 32 I got to watch the finals from the grandstands. That was simply a WOW experience for me! I mean, come on, the track is located at 500 Speedway Drive and it's the first and original drifting track in the United States. Plenty of drifting history went down scraping along the Irwindale walls. It's the "House of Drift"! For a drift fanatic like myself, that's the definition of epic right there, and I can't wait to go back out there in just under two weeks.
We are doing very few changes to the car, just some maintenance and we are looking at minor changes to dial in some more grip. We are making some more room in the rear wheel wells as we are rubbing right now. We are at a deficit on more than one level, but we will stick with what we have, and we learnt several things in Sonoma that I think will be key for our performance moving forward.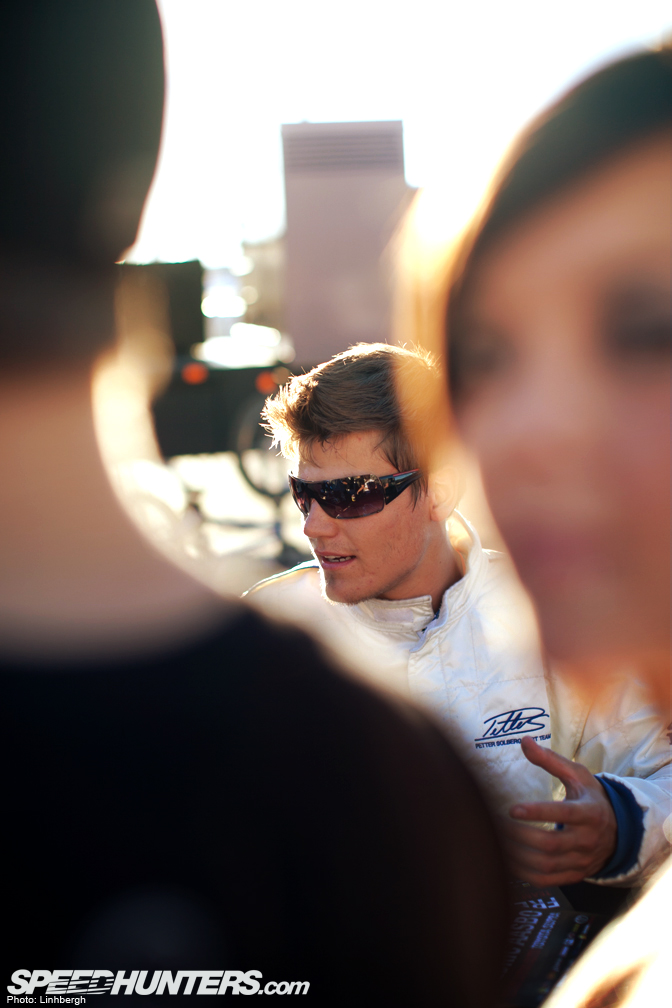 Speedhunters: Where do you see yourself next year and in the years to follow?
Fredric: I want to continue on the path we have taken. I want to go small, incremental steps in Formula Drift and get beaten by the best to learn from it!
Some day, a podium would be such an accomplishment for everybody involved, and I believe in a podium finish when we get good enough. The margins are very small, and in all modesty I think there are certain areas where we have some key strengths. For instance, despite operating on a very limited budget, I honestly think we have a pretty good car!
That said, we obviously have a lot to learn when it comes down to how to improve my driving, limit driving errors and generally develop the team and the car. The top teams are just that, top teams, for a reason, and they truly deserve it. I think we have proven that we will go for it with all we have got, but we have to be a little smarter in how we go around it and more structured moving forward. We have a set plan for car improvements, which comes down to funding. We have made some good progress for next year and this year has been a learning progress on the sponsorship and funding side of a motorsports as well as the competitive side of it.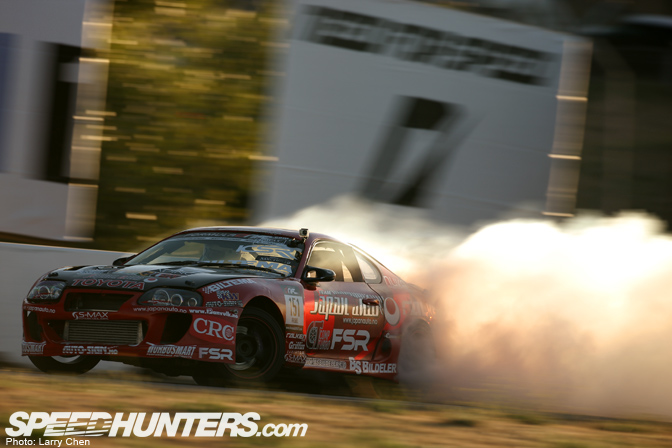 Speedhunters: Closing thoughts?
Fredric: Having been in California for a few months and still being here till after Irwindale, there are times where I sit outside the FSR Motorsports shop east of L.A. watching the sun go down. I think about how everybody I know have stepped up for us, cheering us on and buying our T-shirts to help us out. Despite us scraping through financially, we have a huge security in people believing in us. At this point we don't really have the funding to get through Irwindale the way we want. Still, I feel calm and I believe we will get there.
This has been such an awesome year, and it would not have happened if it was not for a lot of people around the world believing in us and helping us out – I don't think I can thank you enough. Now Irwindale Speedway is literally just a short drive away. It has been such a journey to get to the point where I can say this: We are going into the Formula Drift finals knowing we have done everything in our power to go all out in Formula Drift this season. And knowing that this is in no way a guarantee for anything in the future, I am very proud of the accomplishments by the random group of guys making up Team Japan Auto FSR. We might not always know what we are doing, but we are having a whole lot of fun doing it!
I have been drifting around for some years now, but I think I have finally found my spot. This is where I want to be, and this is what I want to do.
Thanks for your time!