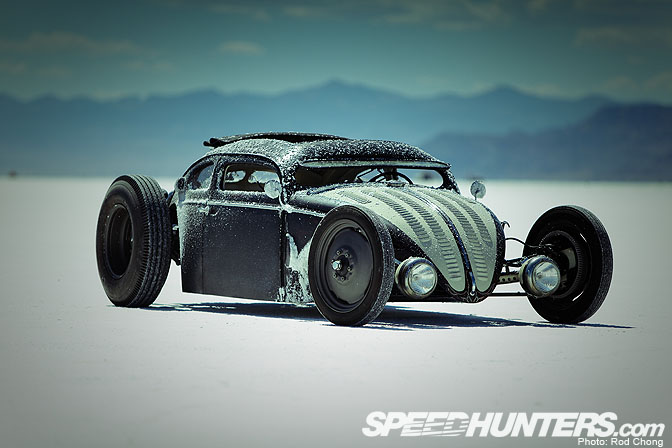 Speedhunters: So tell us a bit about yourself. Who you are, what you do and where you live?
Drew Strunk, 34 years old, Cincinnati Ohio.  I work for my dad at a shop in Cincinnati called Dropped Axle Productions. I am a welder/ fabricator. We build mostly traditional hot rods but also work on classic trucks and gassers.

Speedhunters: How did you learn to build cars?
I have been around old cars and the car hobby since I was born. My dad always was working on something and there I was by his side. I had a car before I had my driver's license! I learned to weld when I was 7 years old.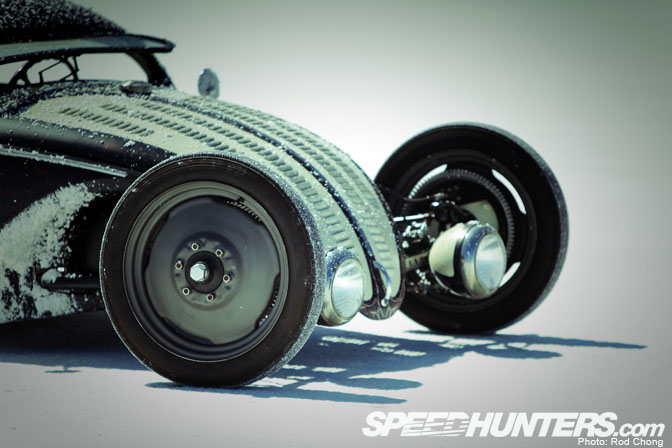 Speedhunters: What kind of cars have you had in the past?
I like all kinds of cars. I have had a 69 Camaro, 67 VW beetle, 64 VW type3, Toyota mini truck (that I put a Toyota supra rear IRS suspension on), Honda CRX, Honda Accord, Acura Integra, 67 Chevy truck, 32 ford 3 window coupe with a early Cadillac engine and a Halibrand quick change rear end, 28 ford model a truck I drove from cincy to California to the LA roadster show in 2006. That's just a few I have had.

Speedhunters: How did the Volksrod style develop?
It has been around for a while. It started in the 60's with kits to use a VW drive train and front axle in a t bucket, but the more modern style has to go to Fred Hadilgo. He built one back in the late 90's and it really took off from there.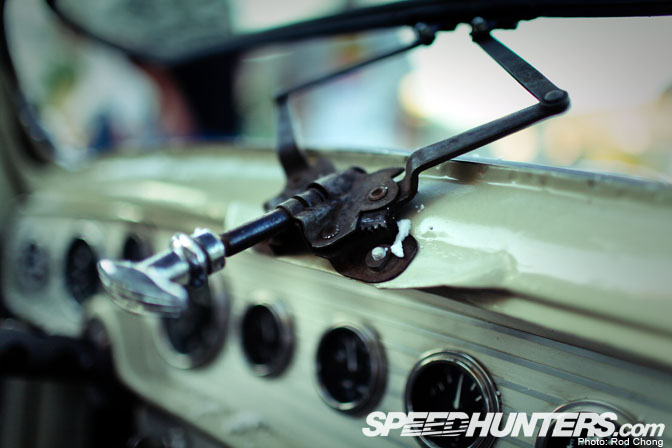 Speedhunters: Tell us about the KdF Mangler: first off what does the name mean?
The name is funny. KdF really is the original name for the VW. Actually it was KdF wagen. It stood for Kraft durch Freude witch is "strength through joy" in German. So when I was building the car I joined the volksrod forum and I needed a name. So I thought than since I was cutting up an early VW why not KdF Mangler. So it kinda stuck with the car.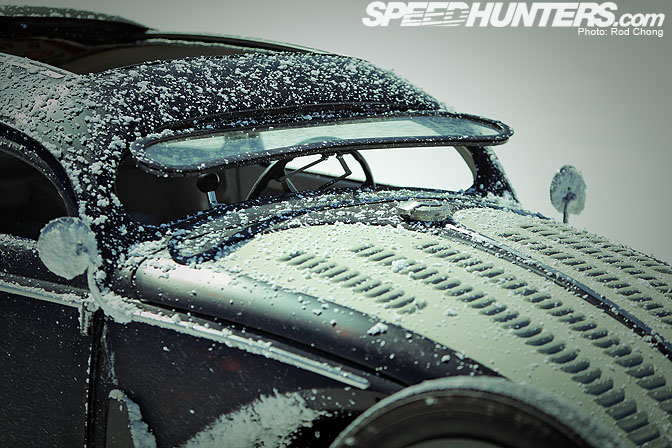 Speedhunters: Where did the original idea for the KdF Mangler come from?
I had built another Volksrod in 2003 but I didn't like some things on it. I thought that when I built this car I had a whole lot of new and fresh ideas for this one that I had been collecting in my brain for a few years now.
Speedhunters: What were your plans and goals for the build?
I just wanted to build and crazy car kinda like Ed Roth would build sorta . I wanted to see how much I could build and or fabricate. I didn't want to throw a lot of money in it. All I bought new were the tires, gauges, and a few misc things like battery, fuses, hoses, etc.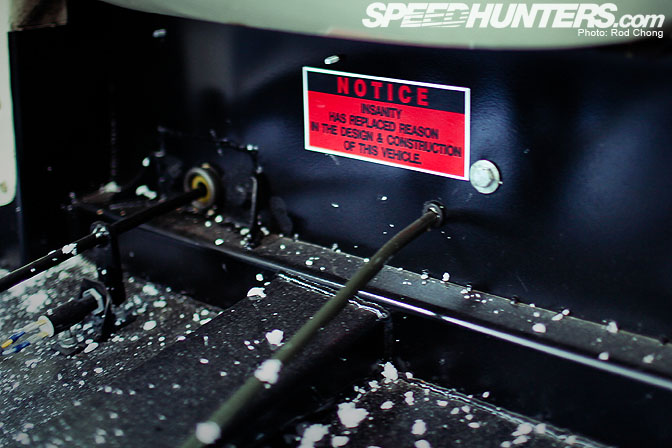 Speedhunters: What were some inspirations for the car? It seems like one of the most extreme Volksrods builds yet.
I just wanted to be over the top. Take all the ideas I had, along with all the metal working skills I have learned to this point and but put it all together. Also I just like some of Ed Roth's old cars.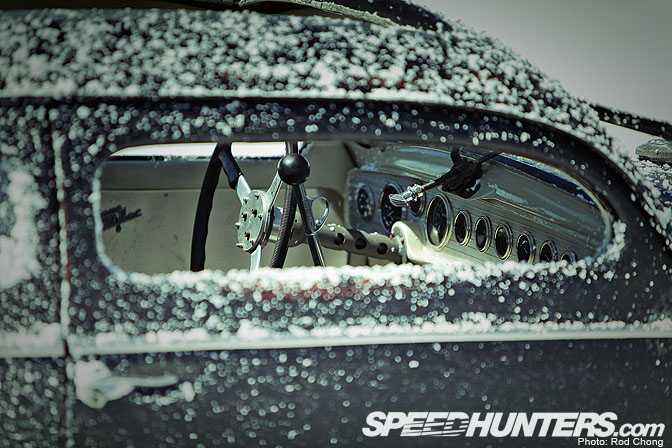 Speedhunters: Can you talk us through the built itself and the process you went through constructing the car. How long did you work on it?
It took 12 months to build. Most people can't believe this but it's true. I just had some many ideas and I had been thinking about them for so long the car kind of fell together. The first thing I did was to cut out the rust from the bottom. Then I chopped the car before I had a chassis built. I had to do this because I didn't stretch the top like most chops. I didn't know how much I wanted to chop it either. So I had to chop it first. Then once the body was chopped I mocked up the ride height with wood on the shop floor. Next I mocked up the rims and tires. Once I had them where I wanted them, I got out the tape measure to know where to place the axles. I took measurements off the inside of the body for the frame. I plotted all this out in the shop floor. I then started cutting metal for the chassis.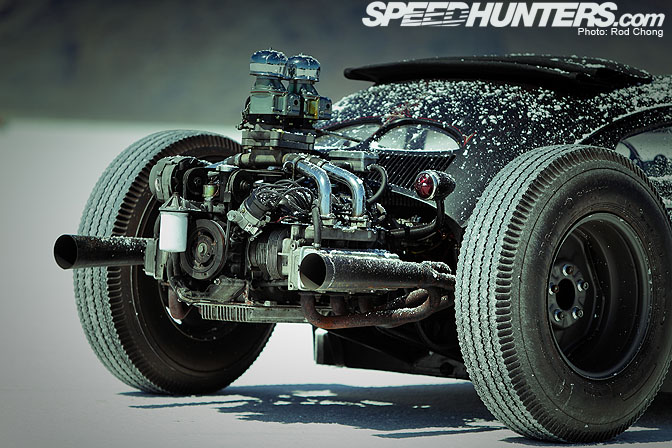 Once I had the frame welded up I built a sub floor channels for the body to weld to. I placed the body on the chassis and welded the body to the subfloor so that the body would come back off. I have had other VWs in the past and I have had problems with the clutch and throttle cables breaking and I thought how about heim joints… So I got this idea to have all of it exposed and be very mechanical.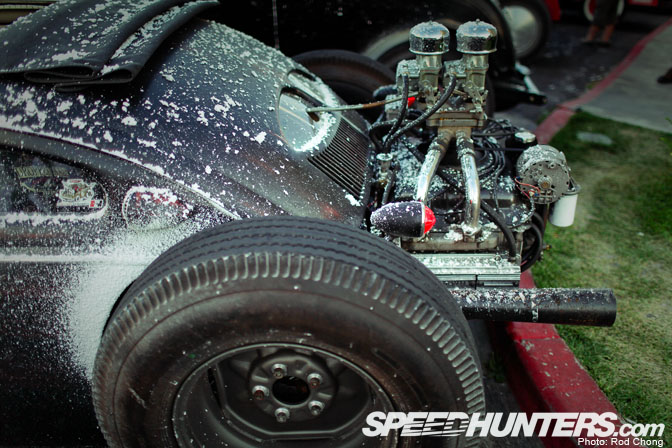 Also I got a lot of flak for cutting up and early VW but people never really looked at the before pics of the car. It was very bad.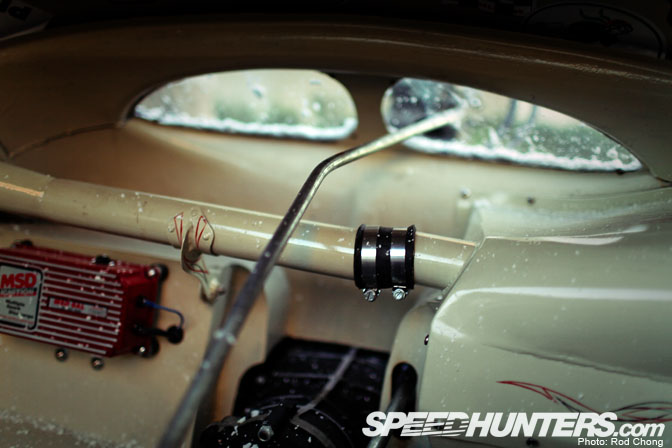 So I decided to run the throttle linkage through the rear window to make them keep hating on it.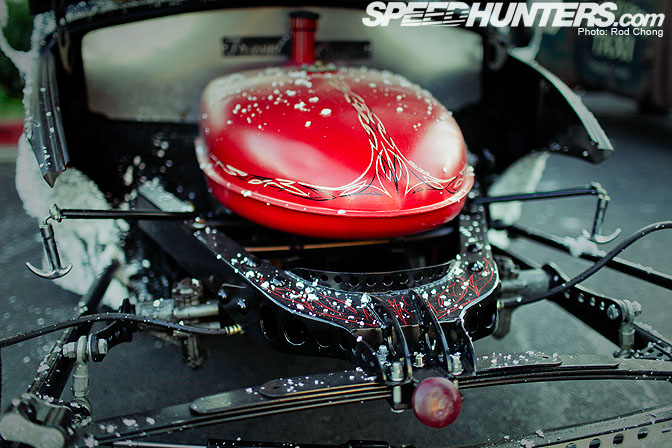 I needed a fuel tank and I happened to be at a local antique tractor show and saw a cool fuel tank. I thought it was very fitting for the VW hood shape. I like looking at all kinds for mechanical things for shapes or inspiration.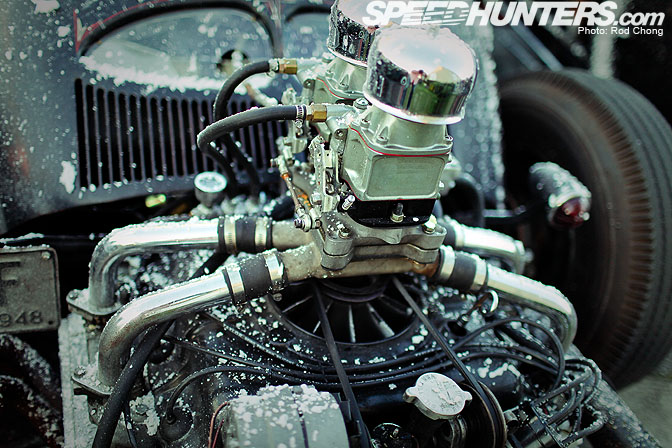 Speedhunters: When did the Corvair engine come into play?
I had mocked up a VW engine but I just didn't like it. It looked too small. I started looking around and I had seen a Corvair engine in a dune buggy. I thought it looked big and meaty. I looked around on the craigslist for a Corvair engine. I really scored. This engine was built for a Porsche in the 70s for road racing. The guy who built it was not happy with the power so he went back to Porsche power. He dynoed the engine at 220hp and then just put it on the shelf.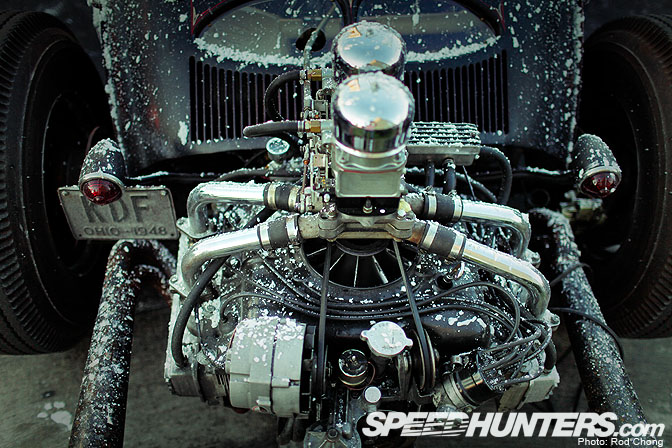 I feel very lucky to have this engine. It was built with the best money
could buy in the 70s. Salih pistons, head work, reverse cam, Ieco
intake, Offenhauser oil pan, crown adapter, Mallory ignition.
Speedhunters: Any other features on the car we should look at?
Old Volkswagens had semiphores as turn signals in the b pillars. Well this car had them in it but they can be hard to get to work right so I just used the original holes in the body but I made them work as beer bottle openers. Gets me free beer when I go to shows.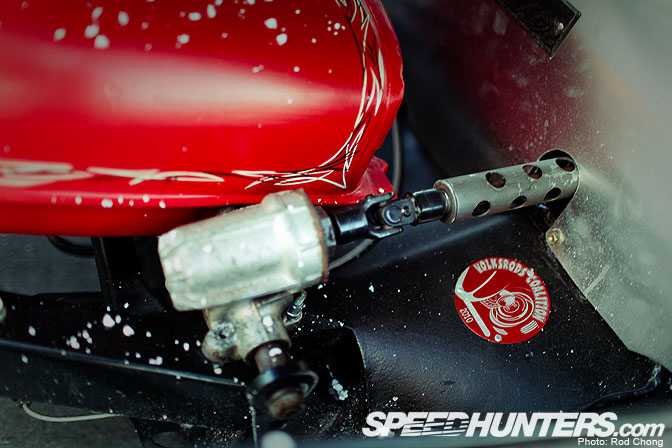 Speedhunters: Can you tell us about the chassis construction. It looks heavily channeled.
It is hard to say how much it is channeled. It's around 6", the car is sectioned over 1 1/2". The chassis is mostly 2"x4" 1/88 wall tubing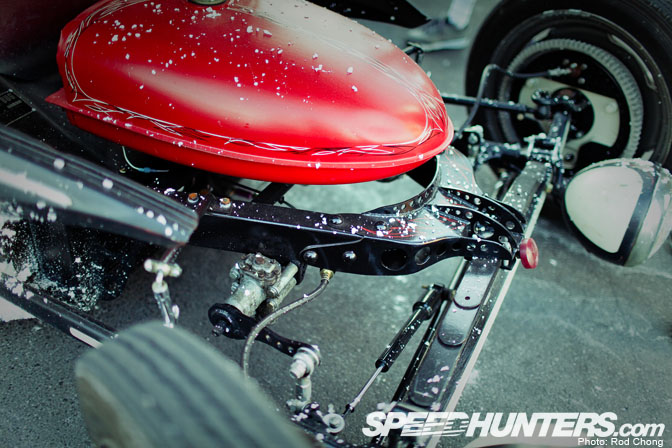 Speedhunters: What about the front chassis? It looks like you've done a lot of custom fabrication there.
Yes the front end is 36 ford axle, radius rods, 40' ford brakes with 67 Buick wildcat aluminum drums. The whole chassis is all custom built. Nothing store bought.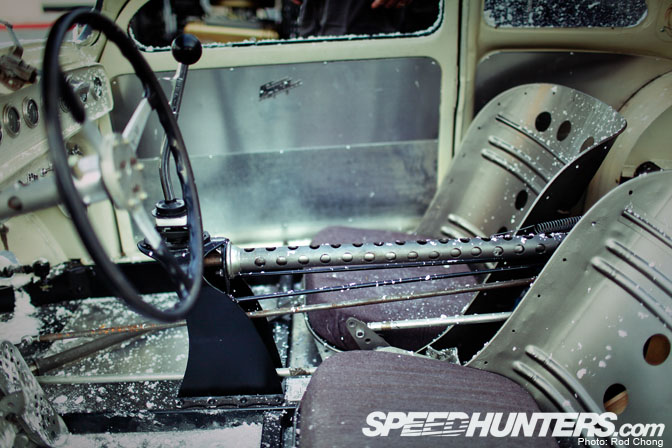 Speedhunters: Can you tell us now about the interior. It looks pretty raw in there.
I wanted the car to have a Bonneville race car look. I have always liked the front cover for SoCal speed shops catalogues with Axel in the 34 ford coupe from back in the day. The seats in my car look like old bomber seats but they came out of 35-39 Chevy sedans. I just took all the seat covers off them. I didn't feel like this car should have any cloth interior. Just aluminum panels and all mechanical looking…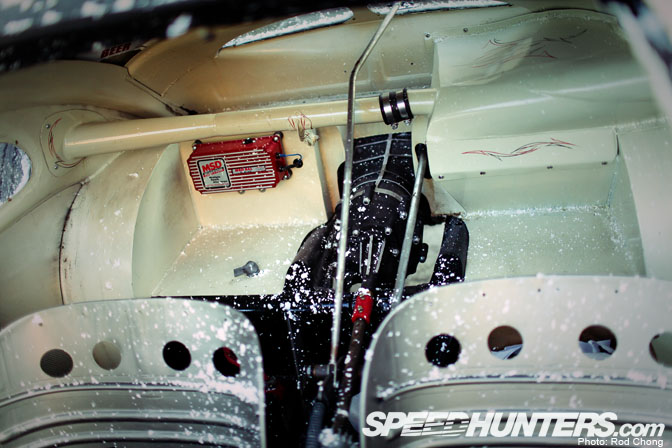 Speedhunters: The throttle and gear linkage set up you've created is pretty wild looking!
I really like all the mechanical linkage. I also bought out a guys shop and he had 1000's of heims , so I had them and I thought they would be great to see everything moving and working.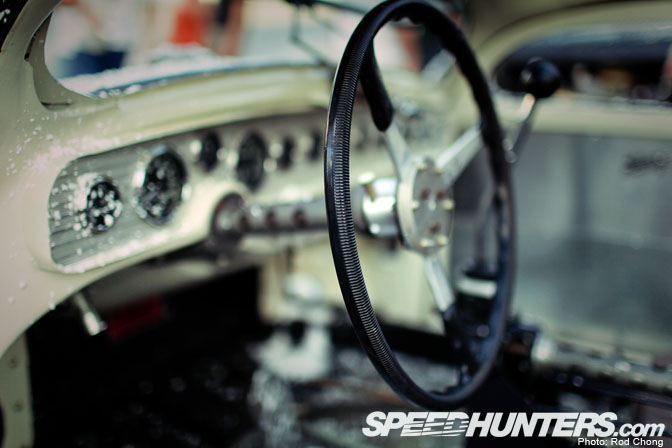 Speedhunters: What is the car like to drive? Do you drive it very much?
It is like driving a big go-kart. You can see three tires at all times. It drives very good.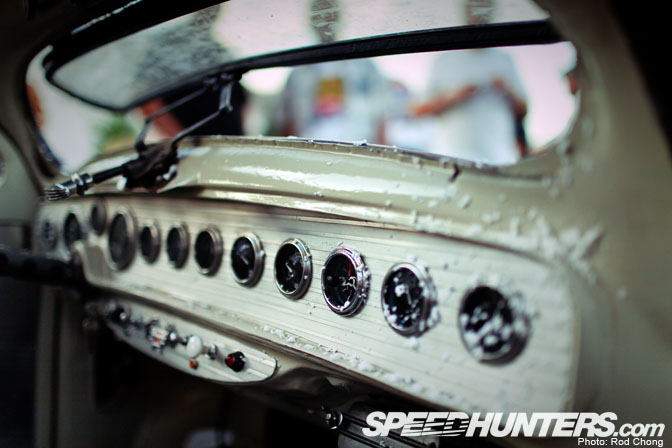 I drive it to work, and the local cruisins. I will be taking it to some shows coming up.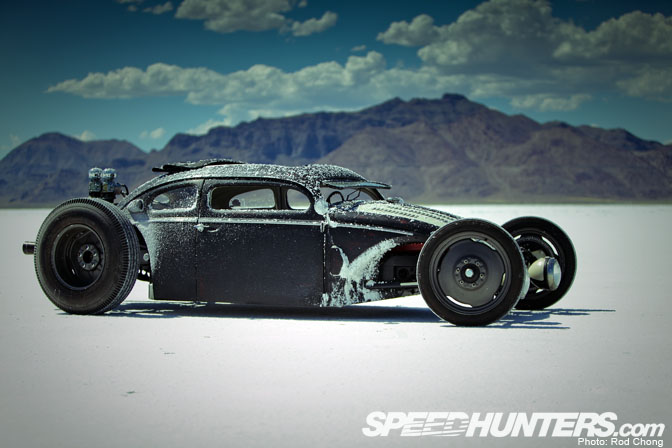 Speedhunters: How was the Bonneville trip for you?
Awesome. I have been bitten by the salt bug. I will try to go back every year. This was my second time. I went out in 2008 with a little model a truck I built. It was all patina-ed up with the original Texaco logo on the side. I was driving it around out there and a guy kept hounding me to sell it. One day I finally met up with him. He was buying it for lord march of the Goodwood speed festival. That was cool. I got to meet Lord March. That was way cool.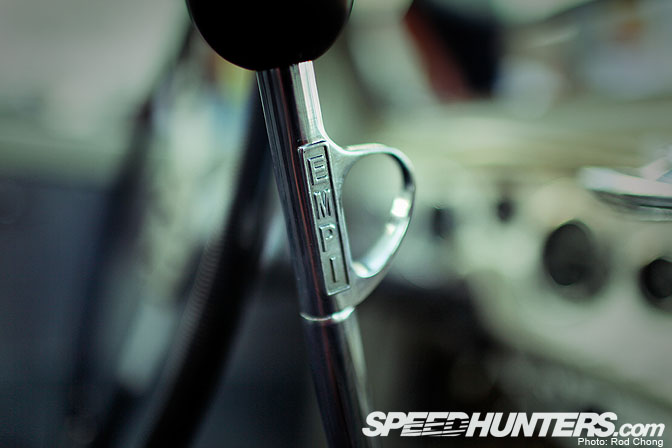 Speedhunters: What did the traditional Hot Rod people at Bonneville think of the KDF Mangler?
I didn't think there would be as much interest in it but the traditional people really like it.
Speedhunters: Do you consider yourself a hot rodder? Or are you more
aligned to the VW scene? I am more a hot roder by definition (old light
body car with a big engine). I guess I am really just a fabricator/
welder.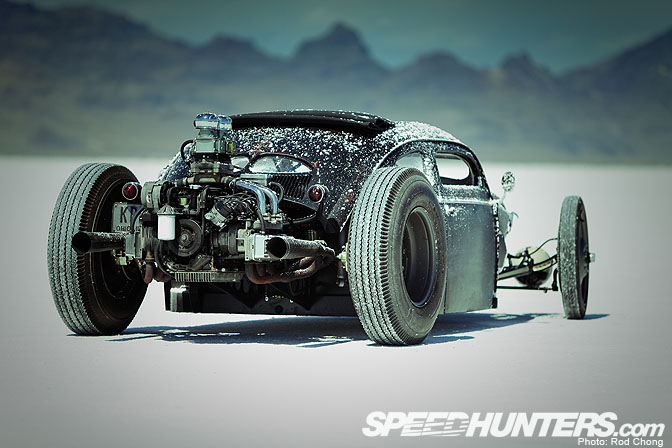 Speedhunters: What's next?
I will be building a Renault Dauphine for a customer soon; I am also building a 32 ford coupe that should be about as high as the KdF Mangler. It will be chopped 7" channeled 6" powered by a Buick Nailhead with the radiator in the back. I have many other ideas I am working on for future projects. I have always wanted to build a Datsun bullet side truck.
Stay tuned to see what's up next.