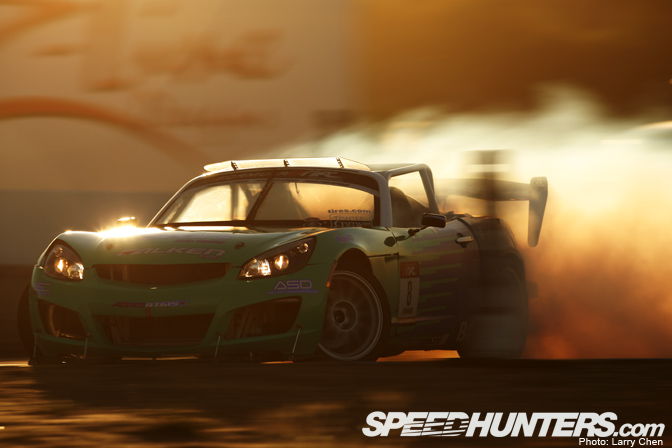 Darren McNamarra is one of the few drivers on the FD grid that if he gets angry, he's not afraid to show it. His anger was really apparent after his battle with Tanner Foust in New Jersey. He's a driver that is always who he is at all times. 
So, let's see what this unpredictable Irishmen has to say about how he got started and also about his FD Sonoma experience….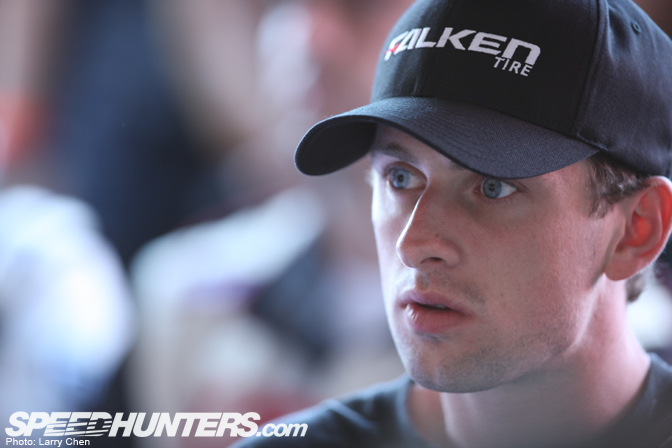 Speedhunters: Are you the Lucky Charm's guy? If not, then who the heck are you?!
DMac: Hello. My name is Darren McNamara, driver of the Falken Tire Saturn Sky and owner of MCNSPORT.com where we build the worlds most amazingM AE86 Corollas :-), like the currently under construction Need for Speed D-Mac 86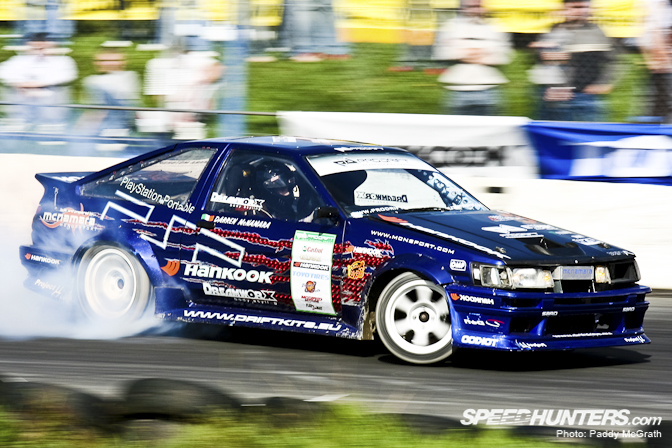 Speedhunters: How did you first find out about drifting?
DMac: Well me and my brother Graham, who runs the Prodrift Series back home, started getting into high power RWD Japanese imports. I had my AE86. He had an FC Turbo 2 and a 300zx Twin Turbo, which were serious cars at the time! He imported some Japanese drift Tengoku DVD's off eBay. I couldn't believe what those guys were doing in the same car I had parked outside my front door. I knew from then that's what I wanted to do and the famous Purple SR86 build began.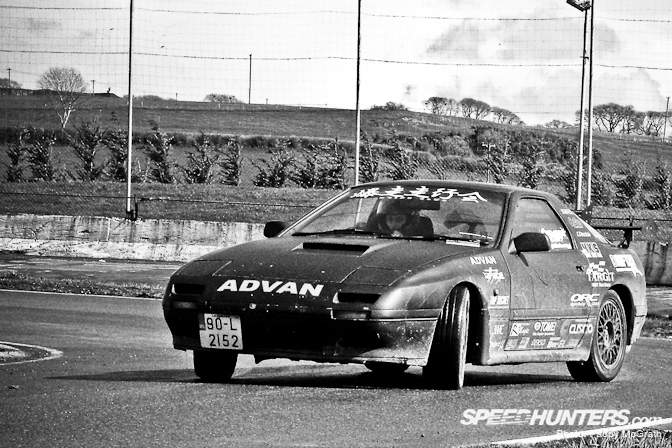 How did you get started in drifting?
DMac: After we got hold of the Japanese DVDs, my brother decided to organize some events as there was nothing like it happening at the time. So I entered in his FC RX7. At first, I wasn't good at all. But after a couple of events, I really started to get the hang of it and got good results.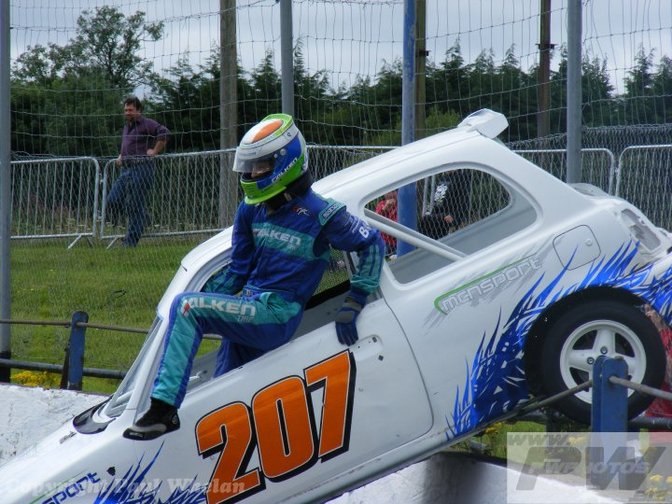 Speedhunters: Why did it appeal to you so much that you wanted to actually do it?
DMac: Well, as some people may know, Rallying is really big in Ireland and we were always watching rear wheel drive cars getting sideways. My Dad was a big MK2 Escort man back then and competed in both grass tracks and quarter mile ovals with them. Drifting just came along at the perfect time for me. After wanting to buy a MK2 Escort for the road, I settled on an AE86. It was the best thing I have ever done.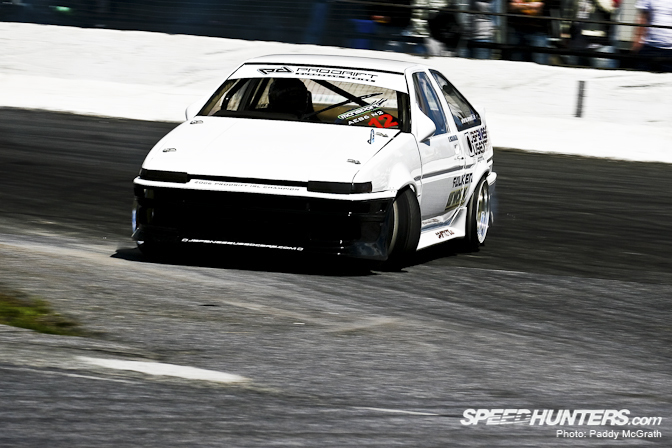 Speedhunters: Discuss your amateur level involvement. What did you learn as you progressed from amateur to pro-amateur? 
DMac: Back when I started in Ireland, there was no such thing as Amateur or Pro-am. A few other guys and I started to get good and we really pushed the sport in both Ireland and the UK. I drove the FC which the motor blew and I took a break and returned with a KE70 with a 4age. Nobody knew what it was at the time, but it really helped me perfect my driving because it was so under powered. You had to be fully committed or it was all over. The KE was then sold and funded the last stage of the SR86 project and that's when things got really serious…..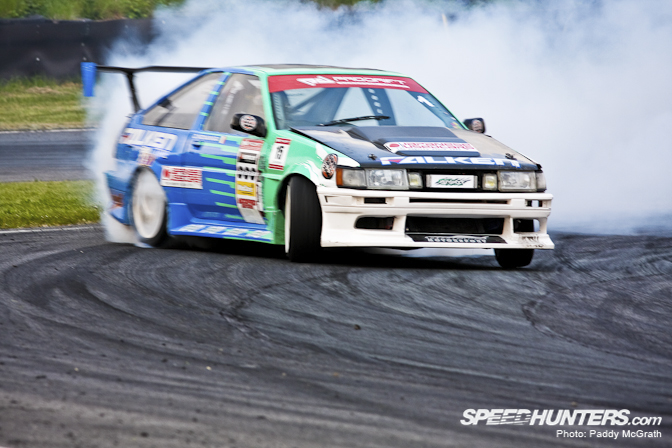 Speedhunters: How did you get involved in the professional level of Formula D? 
DMac: Well, my road to being a professional went from Prodrift to D1 to Formula D. I won the Prodrift Irish championship in 2006 and had also battled quite successfully against the D1GP drivers at Silverstone in the UK. It was on the back of my performances against the D1GP drivers that I got an invite to Irwindale for the last round of The Japanese D1 Championship and The D1 All-Star battle. That was my first ever time in the USA and I was having the time of my life. I will never forget my battles against Ken Nomura and the reception I got from the drivers and fans alike, it was a dream come true. It was after the event, I started to talk with Falken Tire about the possibility of running the 2007 Formula D Championship and the rest is, well, history.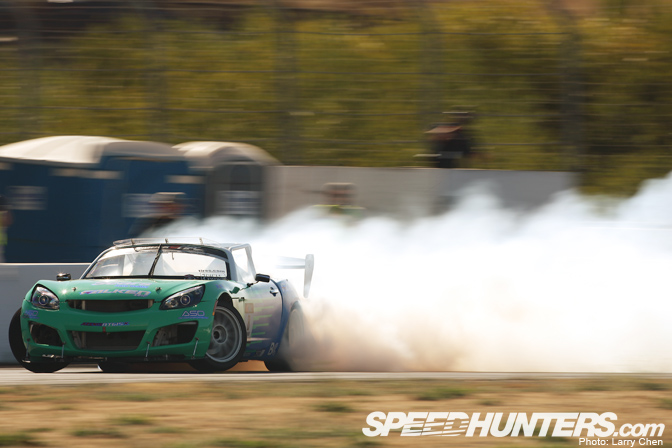 Speedhunters: What do you like most about Formula D?
DMac: I guess what I like the most about Formula D is the fantasy factor of it. The cars that are being built for Formula D are the ultimate in drift cars and you couldn't possibly build them any better. Most people I speak to can't believe how awesome the cars are. Another thing I have to mention, is the people I've met along the way. Being involved with Falken Tire has lead me to meet some amazing people and some great friends this are very important to me.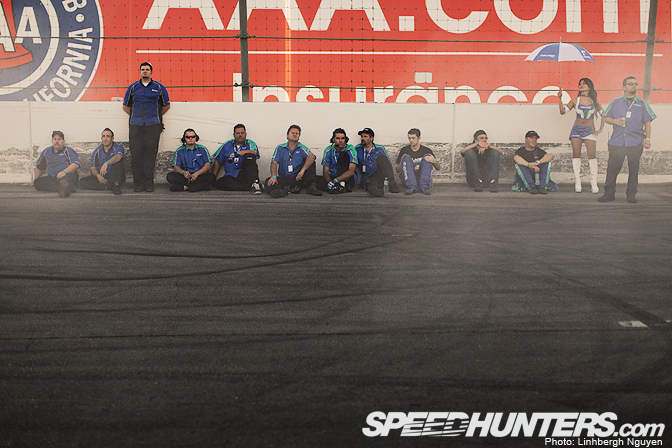 Speedhunters: Is there anyone on the FD grid that sticks out to you the most as a person, driver, contributor, manager, fan of the sport?
DMac: There is a lot of people I admire on the grid. The likes of Tanner Foust and Rhys Millen are guys I've watched before I came to Formula D. It's nice for me now to regard them as rivals. It shows I've come a long way. But really, the people I admire the most are my team. They're hard work and dedication make my job so easy. Nick Fousekis is a man who stays in the background and doesn't get enough credit. Without him I don't think there would be a Falken drift team. It's nice to see his baby kicking every ones ass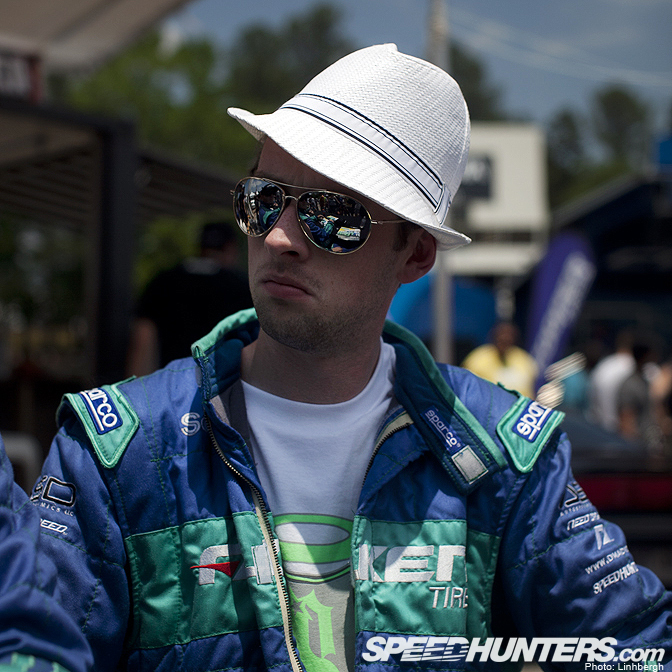 Speedhunters: What was the hardest thing you've ever had to do in your drifting career?
DMac: Good question. There's a couple of things that stick out in my mind. The first would be developing a new platform in 2008. It was very frustrating and hard to accept being uncompetitive for the first time in my life but in the long run it has made a better driver and engineer out of me. The second is my DNF in Vegas last year. We were leading the championship by 30points and to have it taken away like that was very tough on me and the team after all our hard work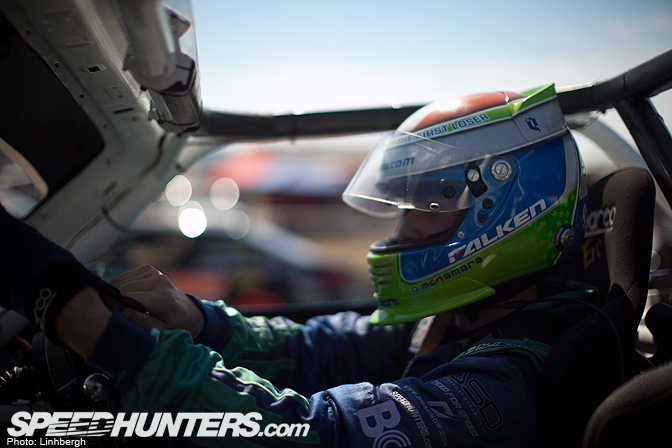 Speedhunters: What do you dislike the most about Formula D?
DMac: I'm gonna have to say the Top 32. Some people might love it, but I hate it. Its the toughest battle of the day at any event and can be really hard from both a driving and a setup point of view. After charging hard for practice and qualifying it's very difficult to run behind a car that's slower than you and make no mistakes. It's always a relief when it's over. Luckily, I have never lost a Top32 battle yet. Thank God.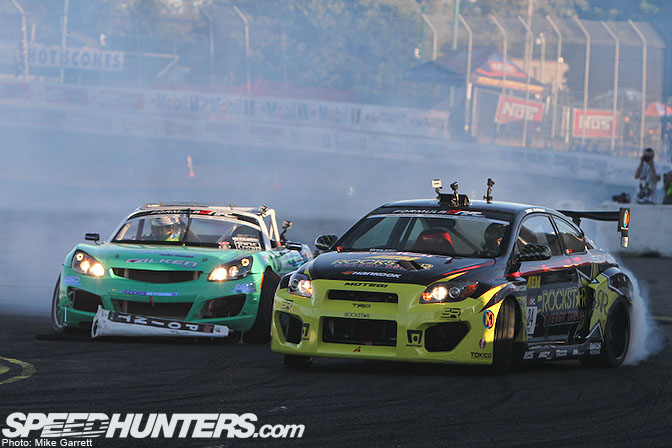 Speedhunters: Do you have any rivals on the 2010 grid?
DMac: It seems like me and Tanner have formed a pretty good rivalry this year. With two of the fastest cars on the grid, it seems to be always fireworks when we get paired up. After our rubbing-is-racing incident in Wall Speedway, I didn't think it could get any more dramatic but our battle in Seattle (that rhymes!!) will go down as one of the hardest ever fought. We were both completely wrecked after it. I have a lot of respect for Tanner. He's a cool guy and a great driver but I hate him when I have my helmet on! haha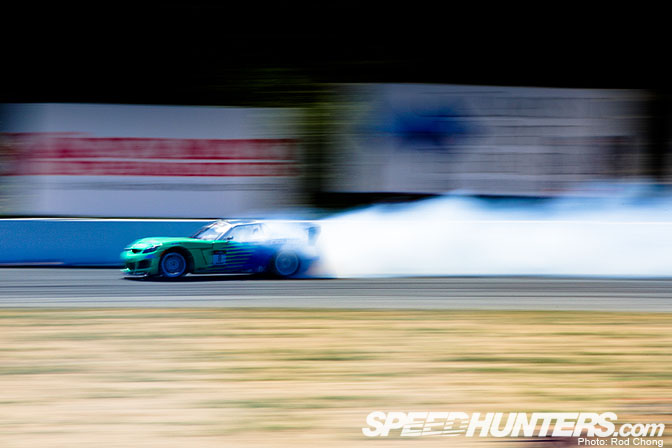 Speedhunters: How do you like the Sonoma round of Formula D?
DMac: To be honest its my least favourite track. I've ran well there but never got a good result. And in my opinion it's not a real drift track. It's an anti-climax. The cars blast down the hill then stop and drive away. Two thumbs down from me.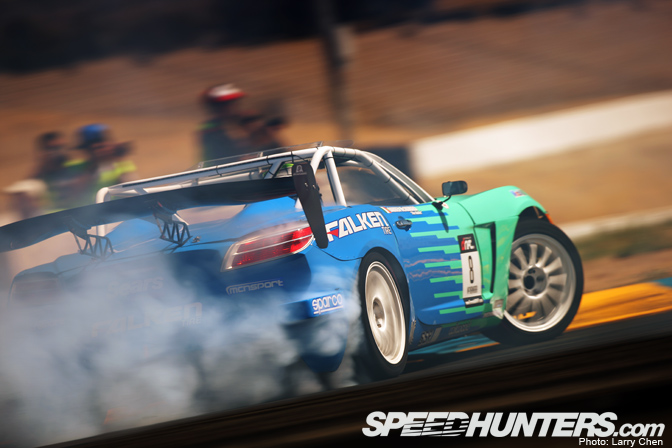 Speedhunters: Discuss your qualifying runs.
DMac: I personally thought qualifying went well for me. On my first run, I played it very safe. I really didn't want a repeat of Las Vegas where I spun on my first lap and put a load of pressure on myself for run 2. On my second run, I thought I nailed the track and deserved a good score. But the judges marked me very low. It was one of the weirdest qualifying sessions I've ever seen. People you would expect score high not even making it into the top 10 or 15. I really couldn't get my head around what was going on! So, I just forgot about it and went to focus on the tandem battles.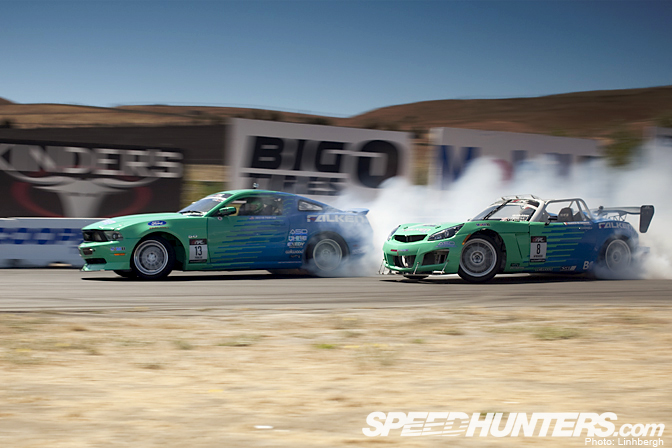 Speedhunters: Discuss your Top 32 battle.
DMac: Because of the weird qualifying results, I got paired up with JTP in Top32. I never want to meet my team mates until the end and never want to meet JTP at any time. He's a spectacular driver and the judges like that! Unbelievably, my accelerator pedal broke on the way to the pre-grid. The ever amazing ASD crew fashioned a makeshift pedal out of a wrench, some cable ties and safety wire!! It felt really weird but we did enough to win the battle.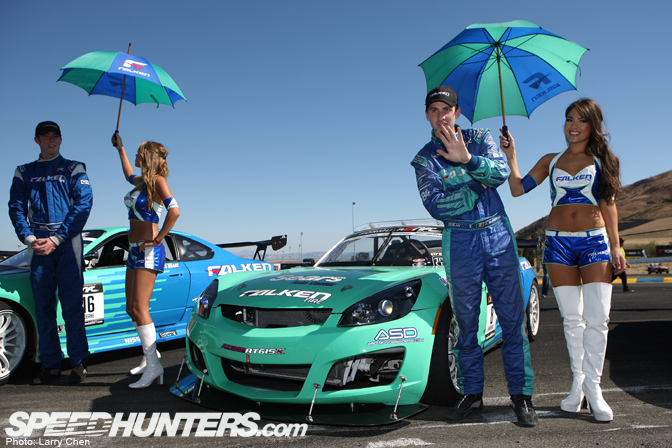 Afterwards, JTP asked me was I pushing as hard as I could, to which I replied "Naaahh… I was only going at fifteen-sixteenths" which was the size of the wrench we used. Sorry JTP I couldn't resist that.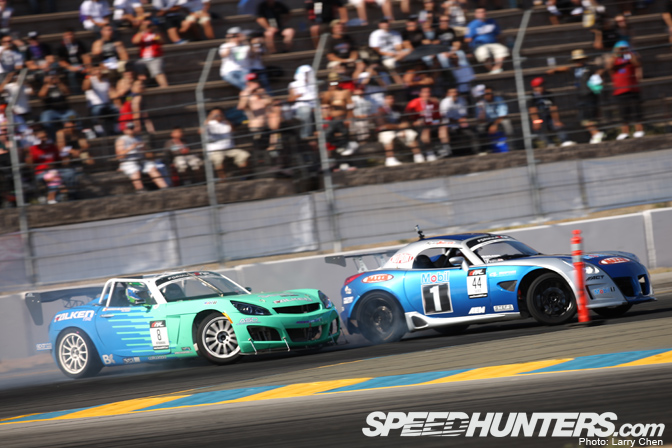 Speedhunters: Discuss your Top 16 battle.
DMac: In the Top 16, I faced Ryan Tuerck. Ryan is a tough competitor and great driver but I really handed this one to him. His car is normally very fast but when I followed him in the first run I didn't expect him to be so slow. I felt like we were on the handbrake for ages and was going to run into him so I checked up. On the second run, I pulled away but the damage was done on the first. Another disappointing Sonoma result for me.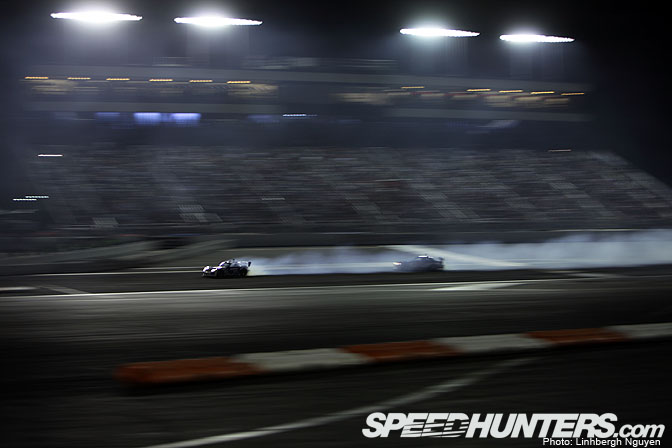 Speedhunters: We're now coming into the final round of the 2010 season, what preparations are you doing mentally and to your car for Irwindale?
DMac: Well I never prepare mentally really. I'm a very calm and confident person when it comes to what I do. I really want to re-live the glory of my D1 Irwindale experience in 2006. A podium result would be perfect to cement my 5th place in the series or move up to 4th would be nice. It's also important to collect some good data for 2011 for our push for the title. The Falken Tire Saturn Sky is in the very capable hands of ASD in North Carolina. The will be giving it the once over and setting up the gearing etc so the car is on the money straight out of the trailer.
Speedhunters: Where do you see yourself next year and in the years to follow?
DMac: Well my objective still remains to win the Formula D title but I would very much like to compete in a different non-drift series also. I've been itching to get back to my racing roots recently and it's definitely something that will happen before too long. Also next year, I will be campaigning the Need for Speed D-Mac 86 across Europe and I cant wait! For me it's the ultimate AE86 and I have put all my knowledge into it. I'm really excited about 2011 and beyond….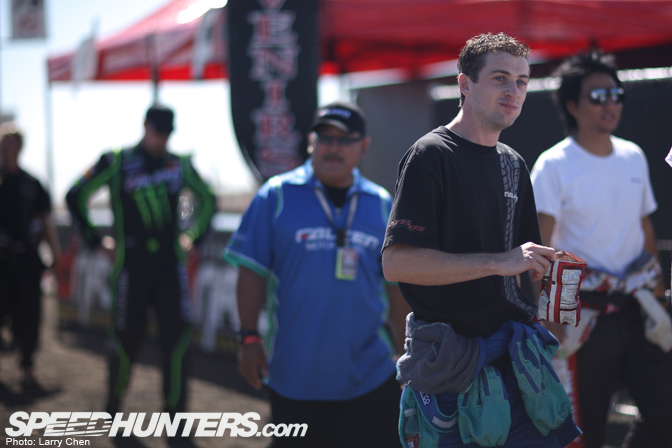 Speedhunters: Closing thoughts?
DMac: Best of luck to JR and Dai in Irwindale. I hope everyone comes out to cheer on Falken Tire as they take they're first of many Formula D Championships!