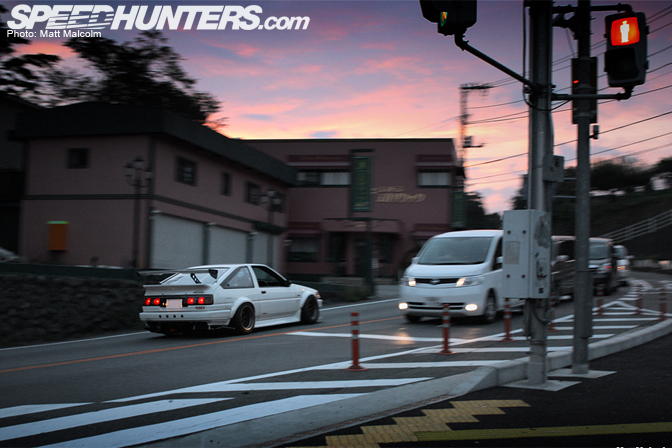 Occasionally, certain situations conspire against you and put an end to even the best made plans.
No matter your great intentions, everything you do to prevent the preventable and avoid the avoidable. It seems that there is always some other force at play, some even go as far to say it's a law, governed by a man named Murphy.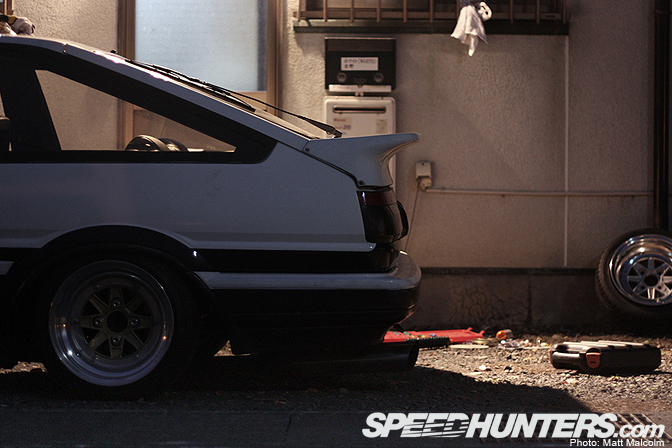 I arrived at my good friend Brad's place in Fujieda, Japan a few days ago. I had timed my arrival there so that I would be able to roll along to the HachiRock festival together with him in his AE86. However the car, like many AE86's needed a few minor repairs and modifications prior to the trip.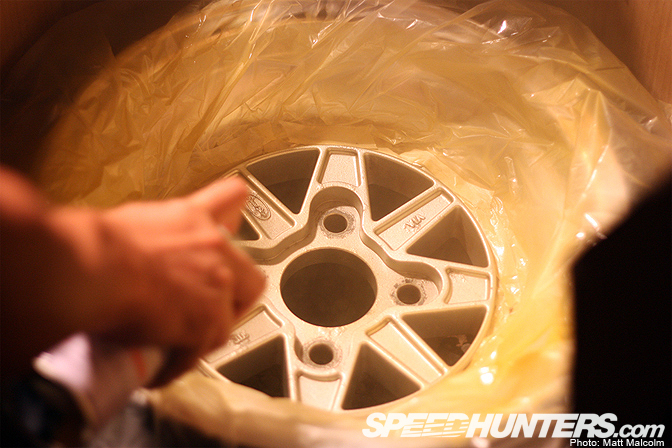 We spent 7 hours under the car, working well into the night we were aligning suspension, adjusting panhard rods, repairing wheel bearings, fitting aero and even painting wheels. All was going well, a couple of minor setbacks delayed the re-assembly of the front wheel bearings, but nothing that would stop us from reaching our destination in the morning.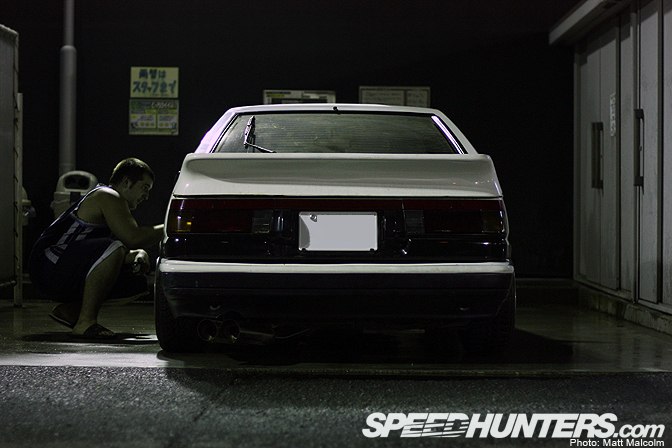 It was done, back on the ground and sitting poised ready for our 200km road trip. All that was needed was to scrub clean the patchwork of dirty hand marks, wash the windows and crush the remaining cobwebs. We pulled out of the car park at Brads and other than a small trail of smoke following the car from a rubbing rear tire , there were no instant knocks, clangs or explosions. 
We had it in the bag.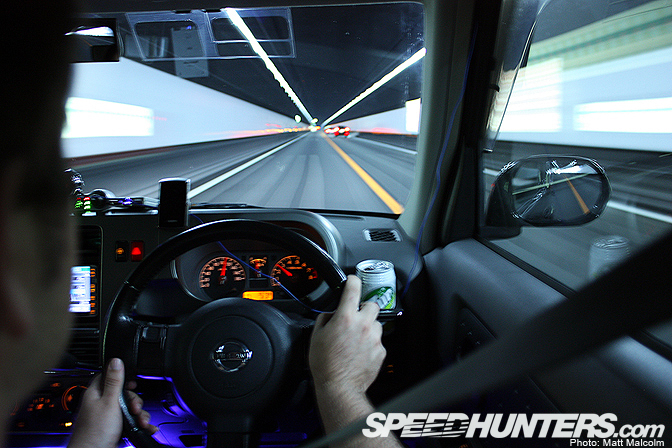 Our test drive took us to a local wash station where we got out with the intention of cleaning the car. Unfortunately, in our blind excitement to test drive the car, we had left a couple of pieces of crucial washing equipment behind. That is to say a bucket and sponge. So we backed out of our wash bay and began our return home to collect the vital pieces.
It was then, pulling out of the wash station that Murphy decided to say hello. And with the sound similar to blending a dinosaur the rear end of the car exploded into a beautiful symphony of grinding metal and agonizing vibrations. Tonight it seemed, Murphy preferred immobile Toyota's and exploding axles.
We managed to limp the wounded AE86 back to Brad's but there was no way we would be driving to the festival in this Toyota. By then it was 3AM, we gave it a good crack but it was time for bed.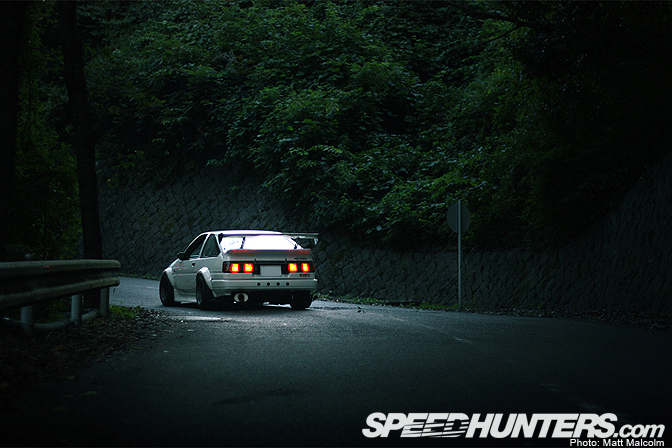 Morning came, and went.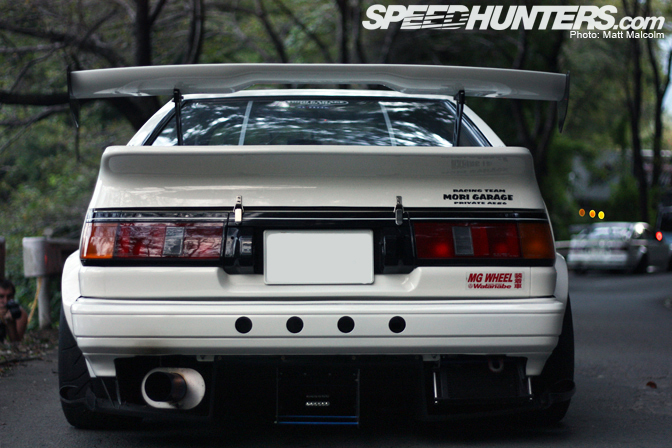 We left Fujieda around mid day, bound for Sagamiko Resort where the event was being held, waving goodbye to Brad's new 1980's Toyota garden ornament as we left. An uneventful Japanese traffic jam then followed and bottles of Coke were ceremoniously consumed as the traffic eased and we picked up speed.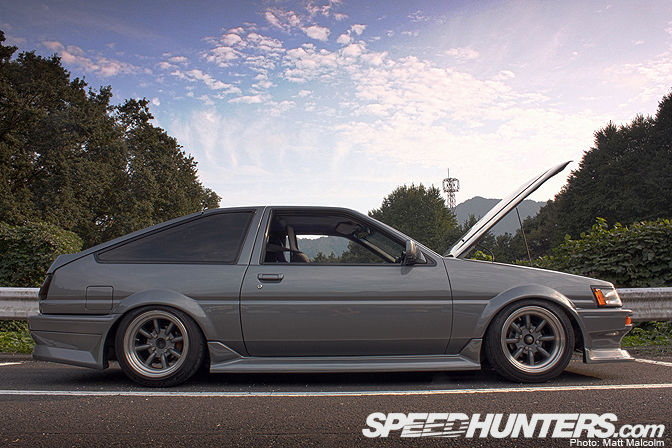 Arriving at the Sagamiko Resort picnic park, we handed over our 1500yen and crossed our fingers we had arrived at the right place. Turning right under the big ticket gates we began to climb a winding, narrow roadway connecting 3 main parking lots.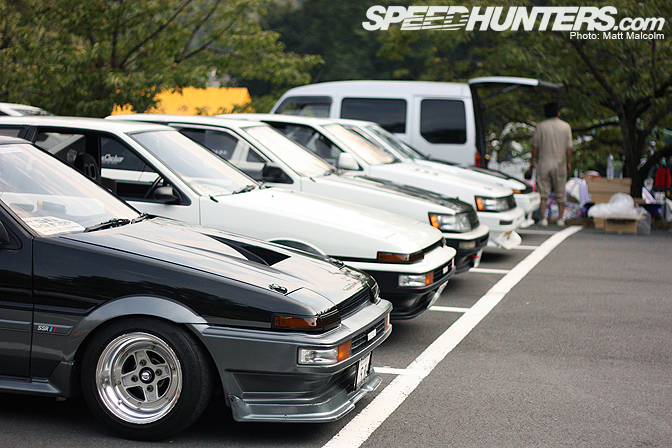 After what seemed like an age of passing vans and dreadfully boring station wagons we arrived at the 3rd and final parking lot.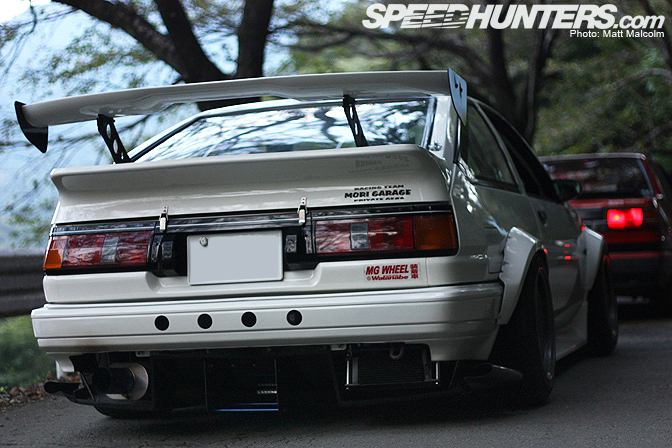 We were greeted by a sea of 1980's Toyotas, all seemingly poised to deliver tofu on the grandest of scales.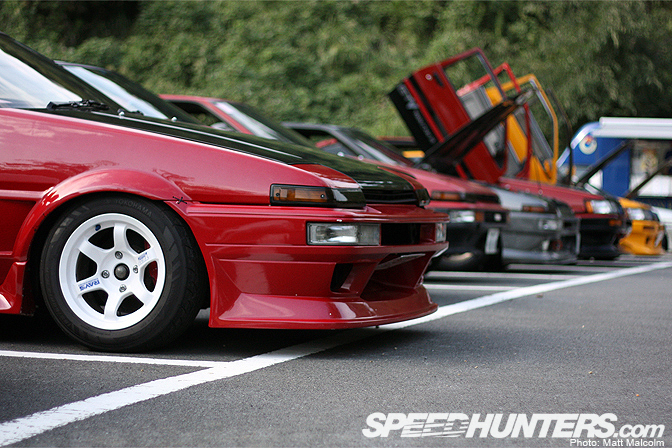 Before the our car even stopped, I had launched myself out of the back seat…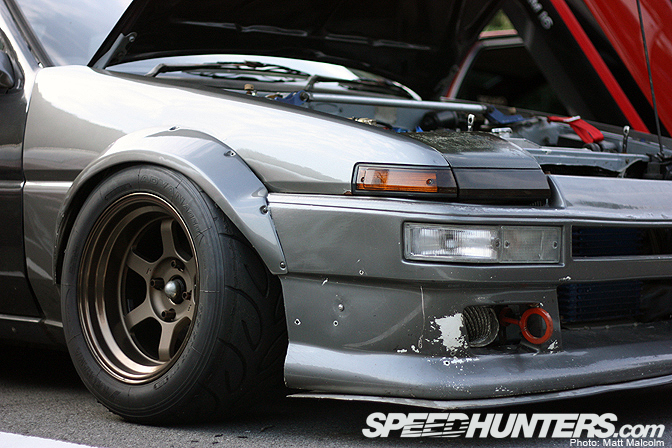 …camera in hand and had begun a systematic inspection of every car.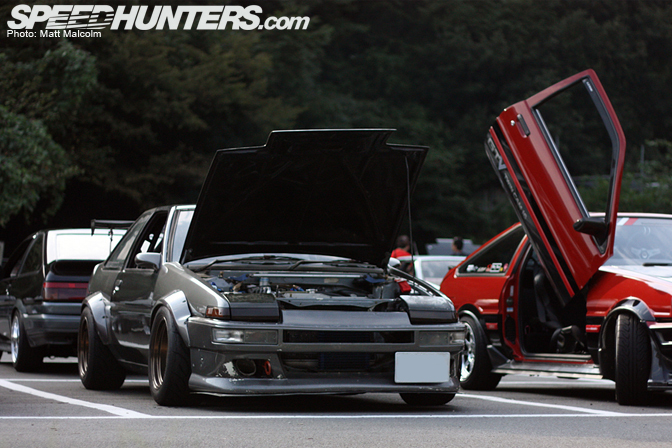 Walking through the car park was, and cue cliché here, an '86 fans dream.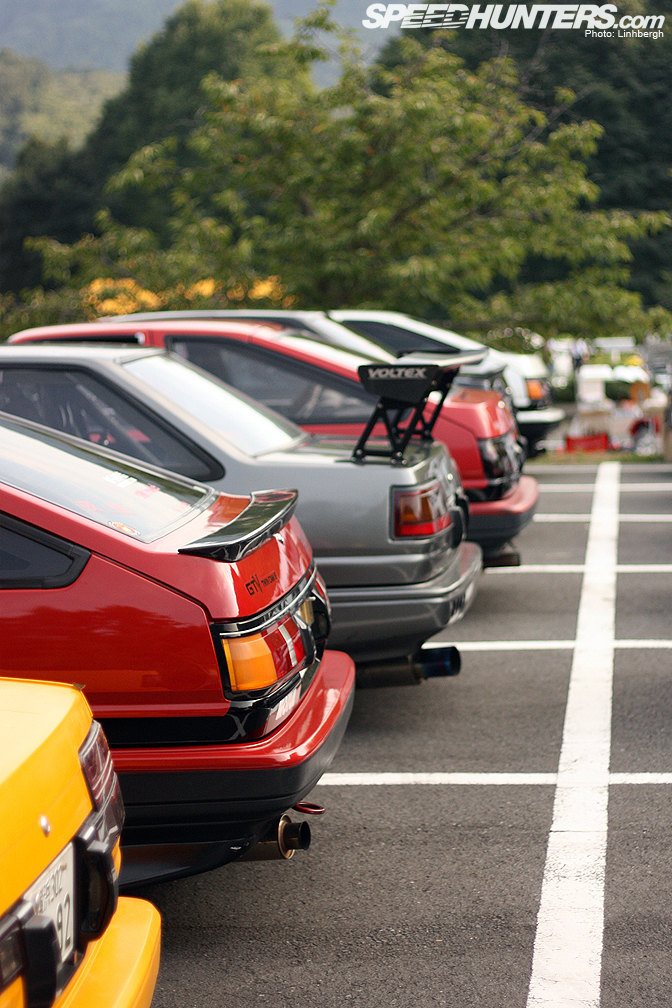 Two-hundred and fifty odd AE86's littered every square inch of the car park.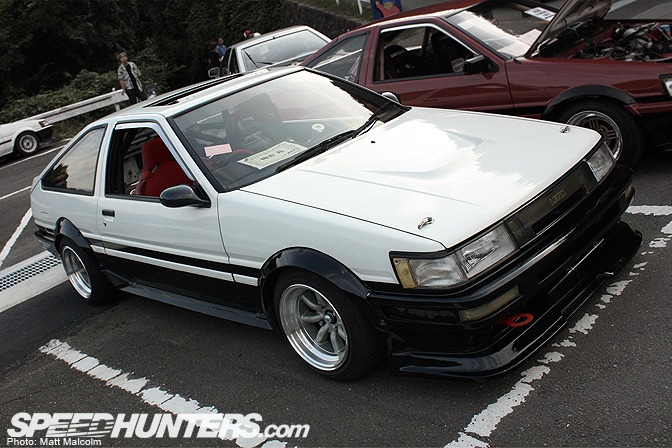 Large tents covered infamous names like Tec Arts and Running Free, and even the friendly event staff smiled and waved as we parked up.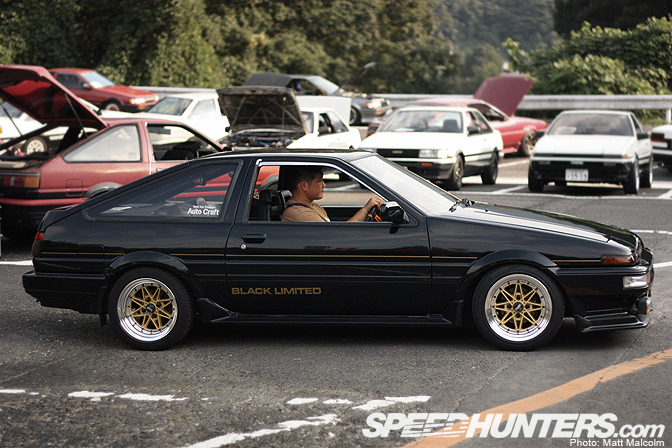 It was an amazing sight to behold, and then, without warning a genuine "Black Limited" AE86 crept past me. I stopped dead in my tracks and almost grenade with excitement . The Black Limited was one of only 400 limited edition AE86's that Toyota made, initially made to help boost sales on the Trueno model the Black Limited is now and forever a beautiful piece of Toyota motoring history.
The ultimate '86 fans collector's item.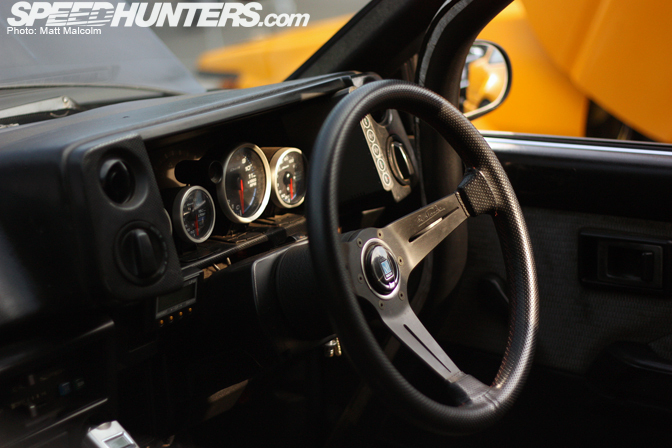 Unfortunately, because we arrived late in the afternoon, it wasn't very long before people were announcing their goodbyes, packing their gear and hitting the road.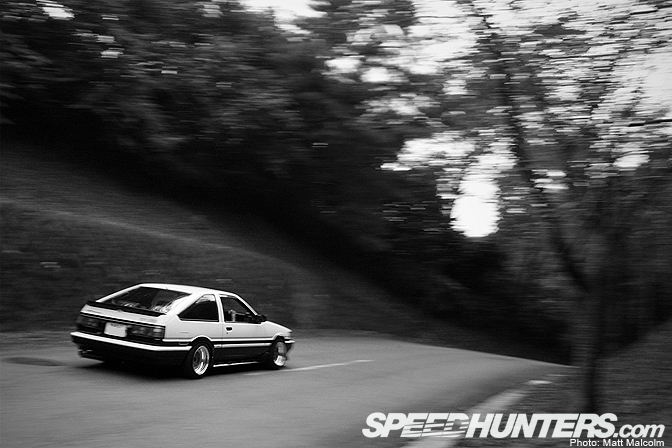 So, I quickly dashed up the road and shot a bunch of cars leaving the parking lot.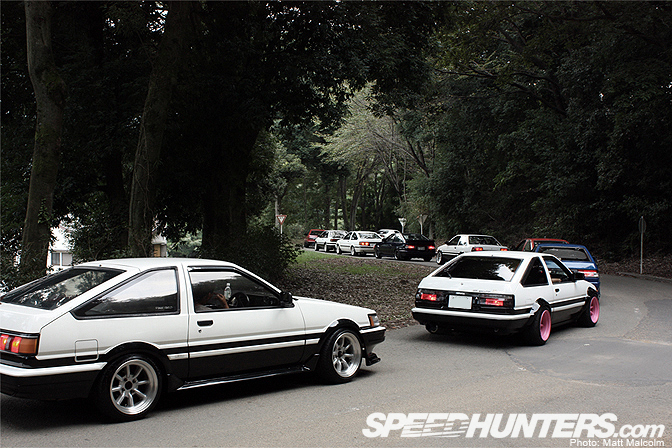 It was then that something unforgettable happened, something that would make the whole journey worthwhile. I witnessed my first AE86 traffic jam.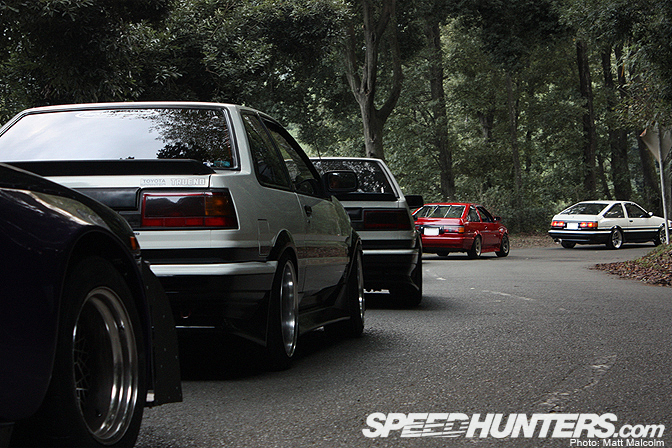 The long snake of Toyotas's stretched the entire length of the narrow winding roads. From the gates to the 3rd car park, dotting the route like the LED's in a Audi headlight.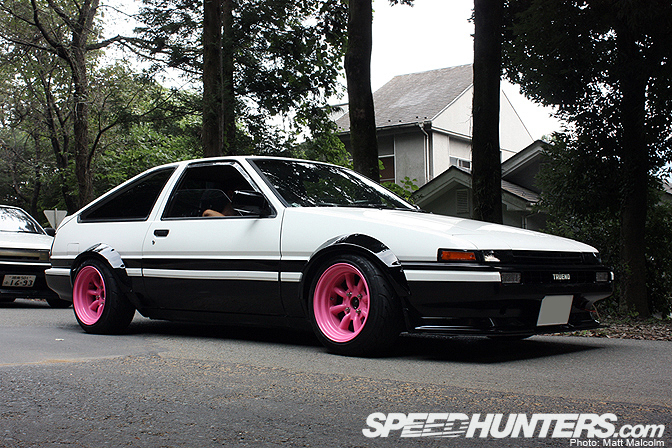 A couple of days have since passed since the HachiRock Festival and as I type this out on Shinkansen hurtling towards my hotel in Osaka, I can't help but think about that night trying to get Brad's '86 ready.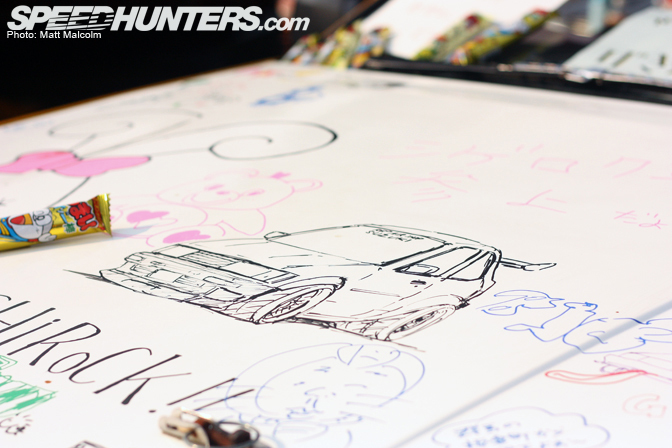 I can't help think about how lucky we actually were, for had the axle exploded 200km's away from his house, we would have had quite the problem on our hands.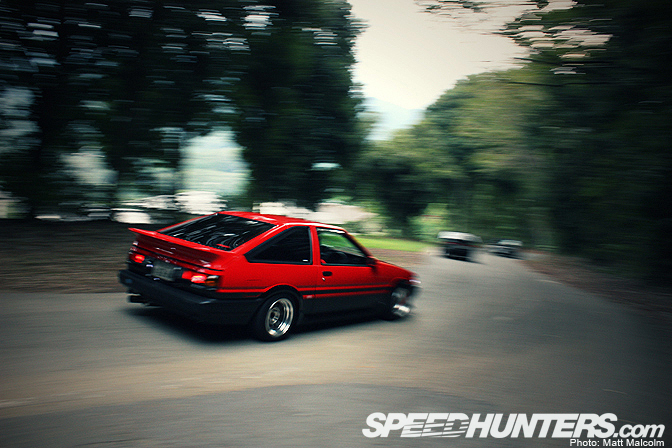 I guess sometimes that Murphy guy and his "anything that can go wrong, will go wrong" adage, comes in handy. And I guess sometimes Murphy saves you a very long walk home.
Matt