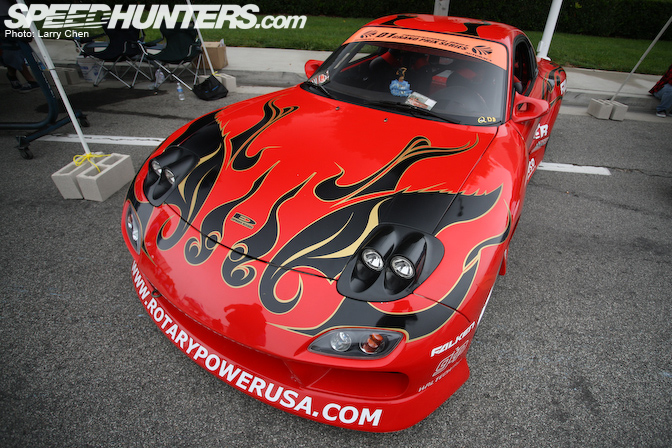 One of the reasons I like Seven Stock is you won't find many cars that are "all show and no go". It's because of the mentality rotary enthusiasts have in the first place. They are all about performance, efficiency and lots of power. Good looks are a byproduct and because the motors are complex you are more likely to find cars that are "all show and all go". 
At first glance you would think this RX-7 FD is a show queen, but it's far from it. The first time I shot this Rotary Power USA FD3S was in China back in 06'. Ryan Hampton was driving it for a drift demonstration.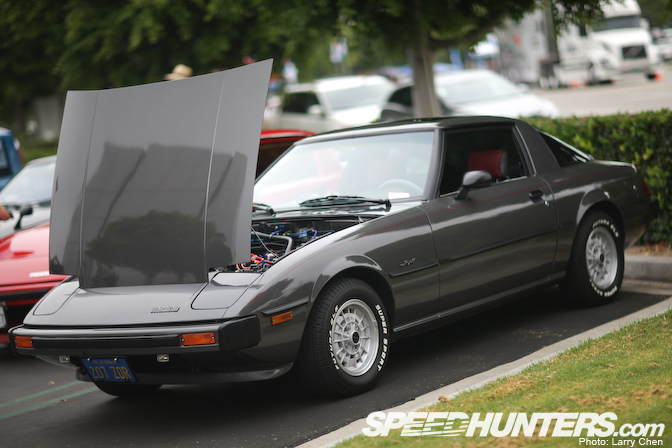 This has got to be one of the cleanest RX-7 FB's I have ever seen. When I see these on the street they almost always have very faded paint.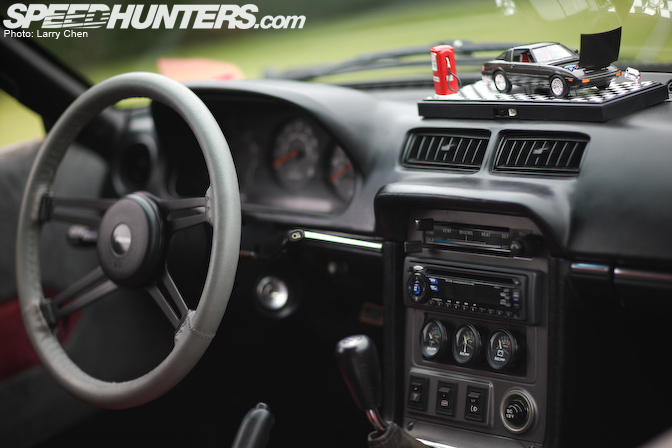 The interior was equally clean. There's an Xibit joke in this picture somewhere.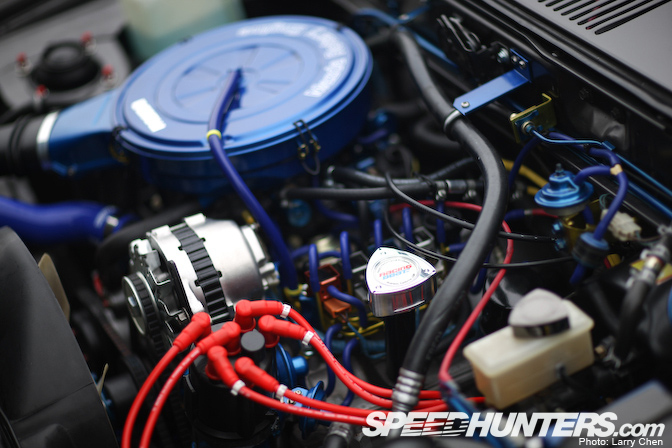 The engine bay was spotless as to be expected.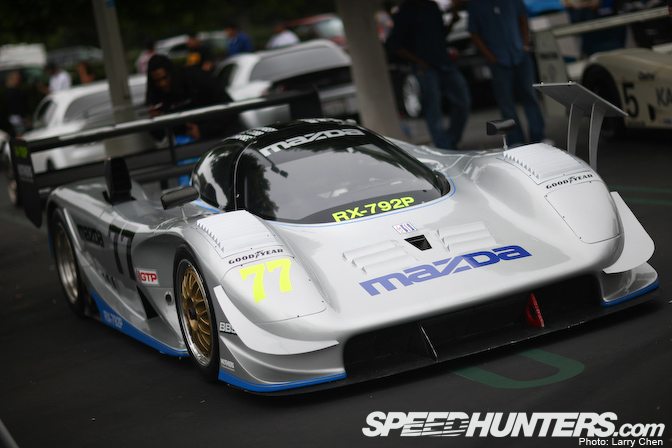 This RX-792P has a R26B 4-rotor. Only three were built for the GTP class in IMSA GT Championships.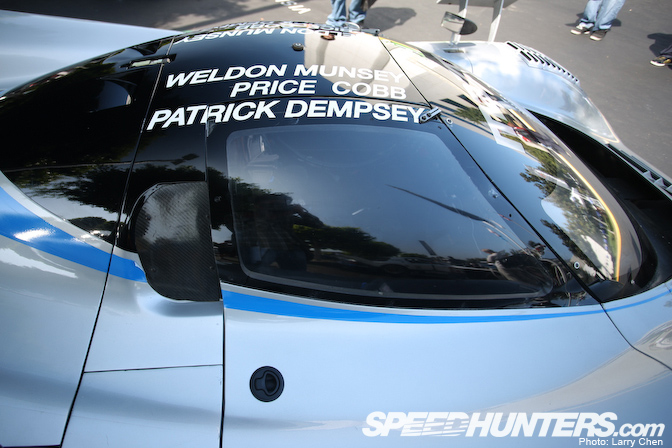 It looks like McDreamy himself got his hands on this race car at one point.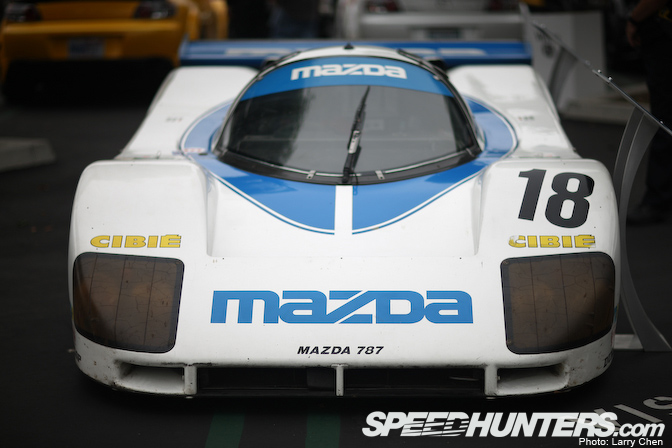 The 787B (the one with the cool orange and green graphics) which was built in 91' one year after the 787(the one shown here) is seriously my favorite car to drive in video games. It always has that mean high pitched R26B 4-rotor sound.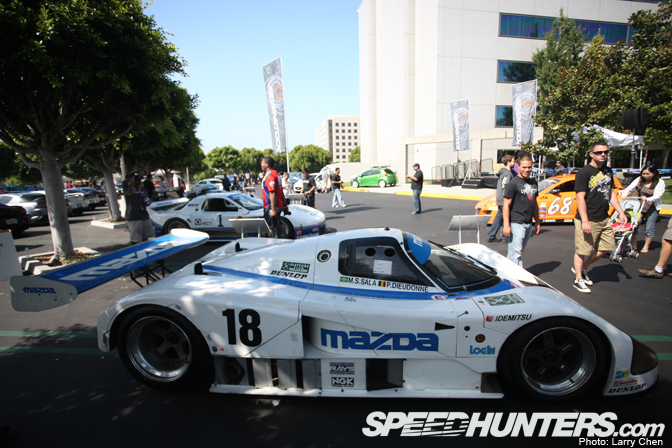 Till this day Mazda is the only Japanese manufacture to win the 24 hours of Le Mans. After Mazda won with the 787B they banned rotary's from Le Mans.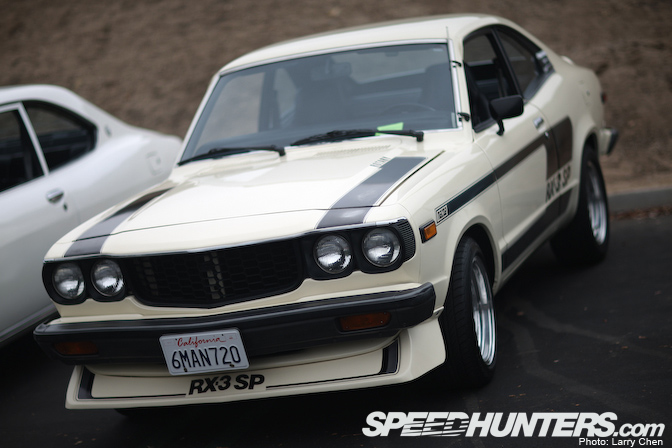 Anywhere else this "off the show room floor" RX-3 SP would be turning heads, but I found it all alone in the back of the lot!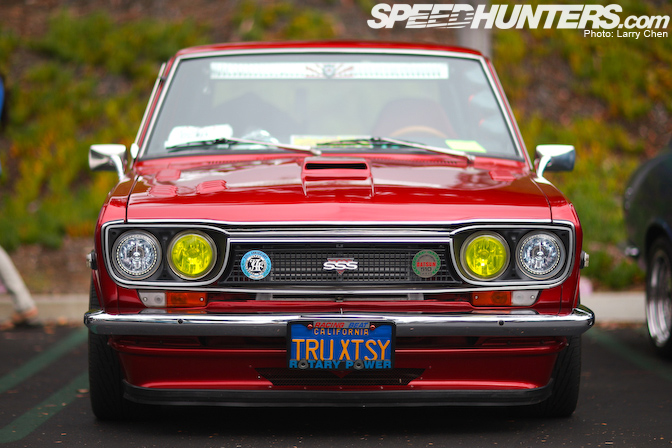 Another Datsun 510 with a Mazda heart.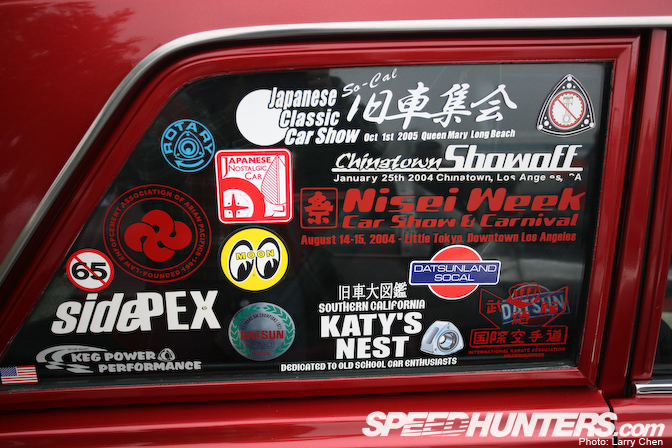 I was feeling special that I got to photograph a car that I'm sure rarely gets driven. Until I saw this.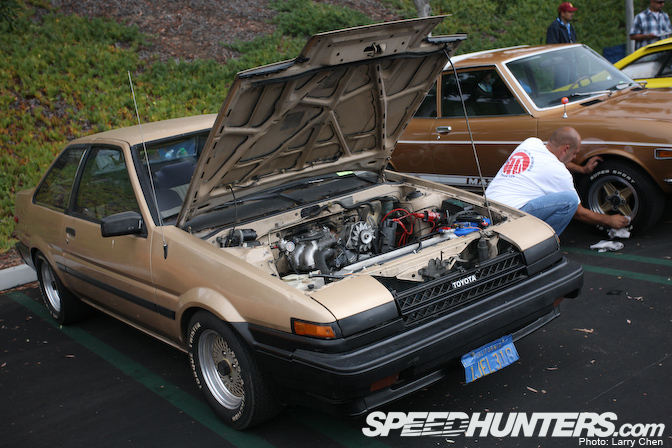 It's not a car show until you included an AE86 corolla without the 4AG power plant. In most cases they have a motor that was shoehorned in, but in this case the 13b looks at home. 
This is my kind of RX-7. Minus the GIANT rotary heart on the hood. This guy was driving on the street with R-compound tires so you know he's not kidding around.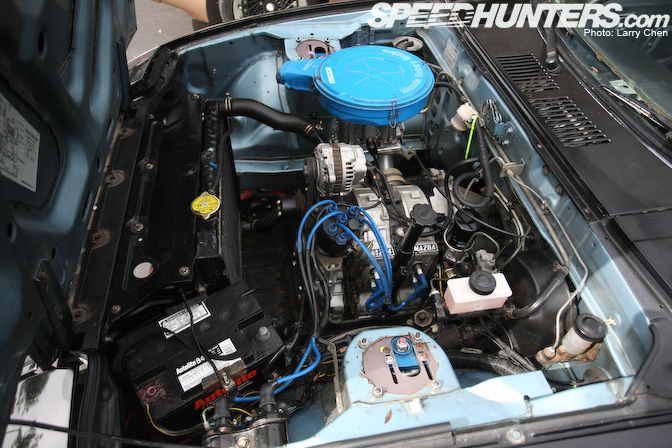 It looks like he used some sort of cutting disk to cut out the holes out of the shock towers for his camber plates. He didn't even bother to spray on a coat of anti rust paint of some sort. Awesome.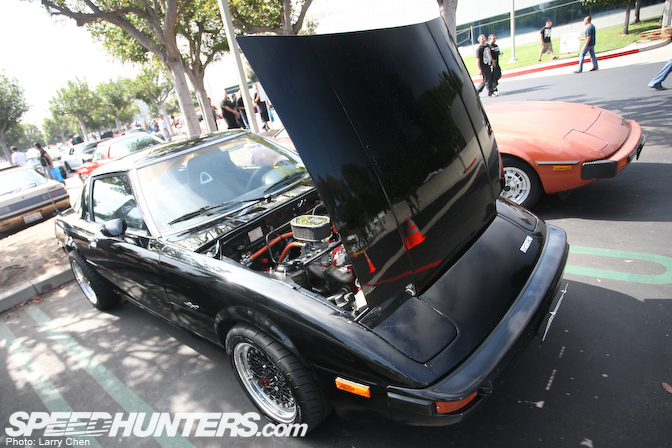 Another clean RX-7 FB. I've honestly never seen so many great looking ones in one parking lot. There are always a few at the local auto-x events but they are never just one solid color.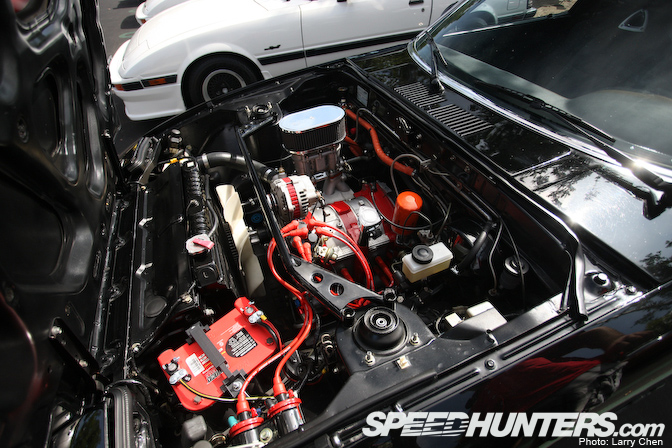 I'm such a sucker for cars with carburetors. There's nothing like hearing your girlfriend complain about the smell as you roll on the throttle to drown out the yapping.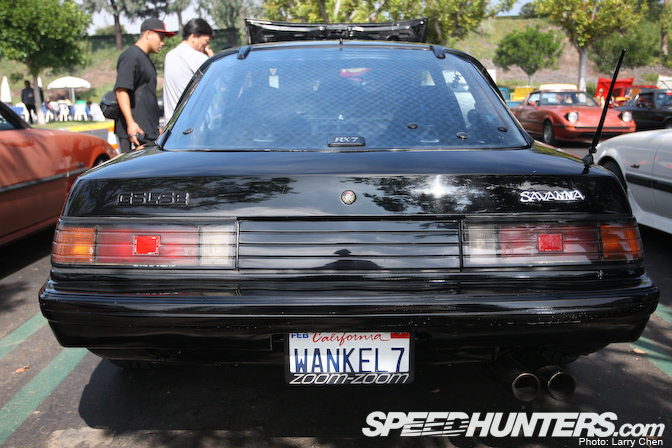 I never knew the FB was the Savanna in Japan. I always thought it was interesting that the Japanese tuners put USDM badging on their cars and how they "orange" out their cornering lights to stand out. Outside of Japan it's all about JDM YO!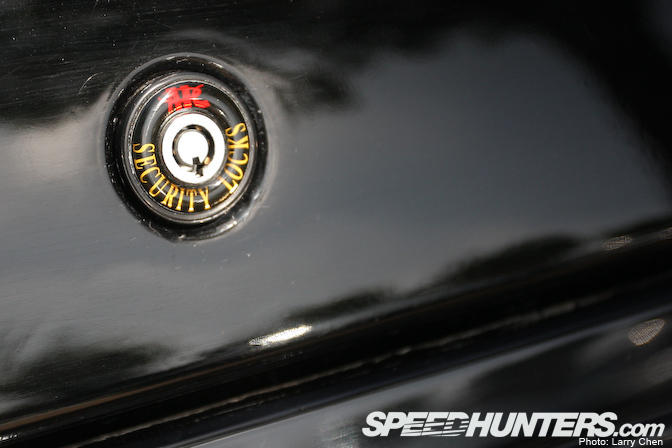 Good thing not every thief has a BIC pen.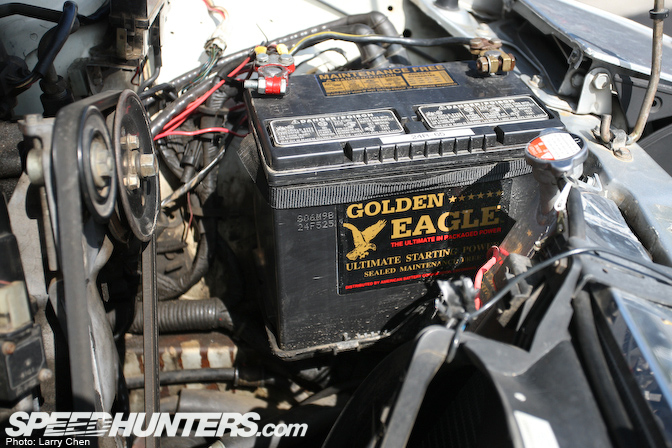 If you're going to be showing your car I would suggest you at least make sure your battery is secure. I know this was not a SCCA tech inspection meet but this Golden Eagle will definitely fly once this car hits a speed bump. The ultimate in packaged power? I'm sold.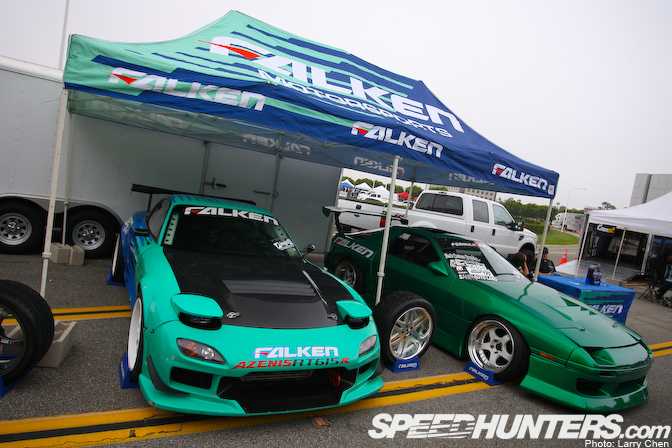 As always Falken was out in force supporting the drift/rotary scene. They brought out the famous blue and teal FD previously driven by Formula D Judge Tony Angelo.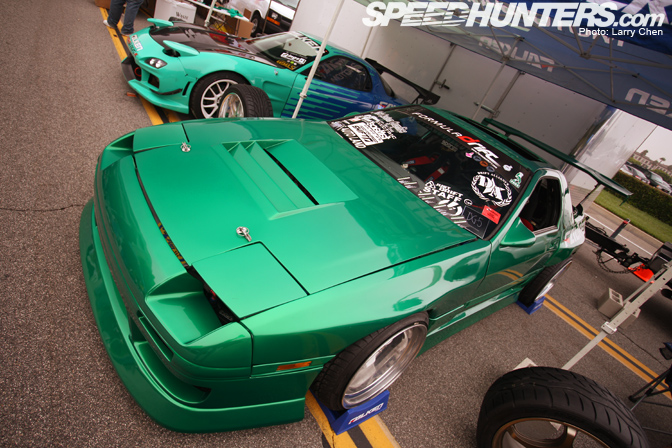 Falken Mustang driver Justin Pawlak brought out his personal drift RX-7 FC built by his shop "Hot Line" in Gardena California. They specialize in building race cars. I love the color of the paint and how perfect it is. The crazy lip on those 18×11-9, 18×12-9 wheels and huge garage bb wing just make this car look fast just sitting there.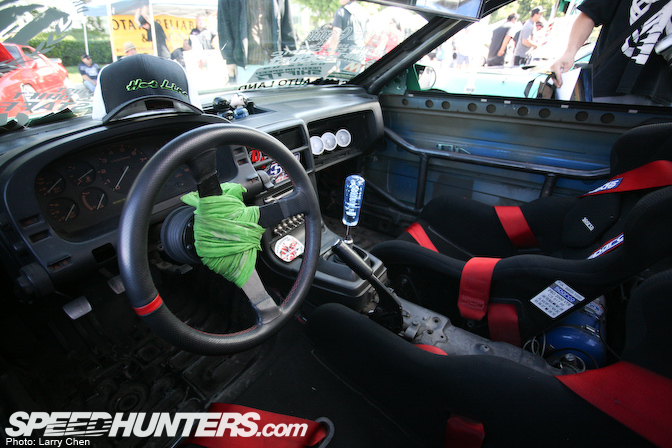 This is without a doubt my favorite FC3S. The interior is very simple and straight to the point like how a proper race car should be. Under the hood is a S-5 motor that is ported for the street with a Borg Warner turbo. It puts down 460hp to the wheels.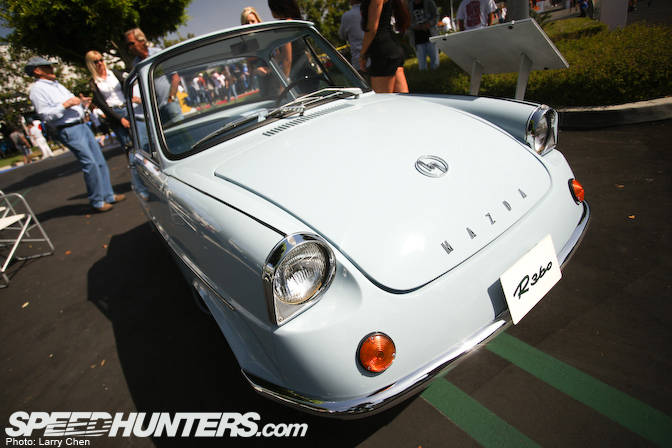 This tiny car is the 1960 R360 Coupe. It's Mazda's first four wheeled production car.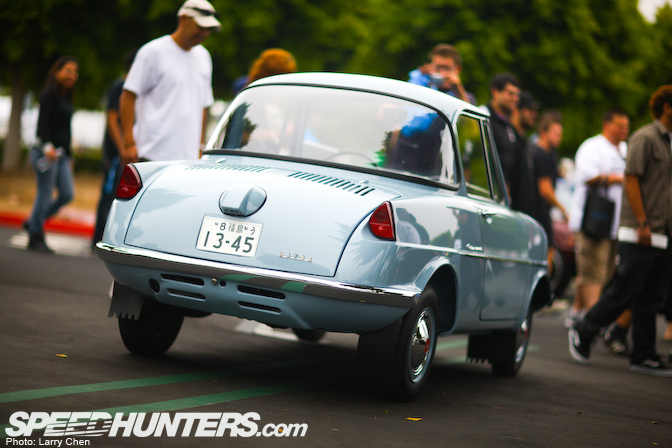 It puts down an earth shattering 16hp and 16ft lbs of torque from its 356cc V-twin engine.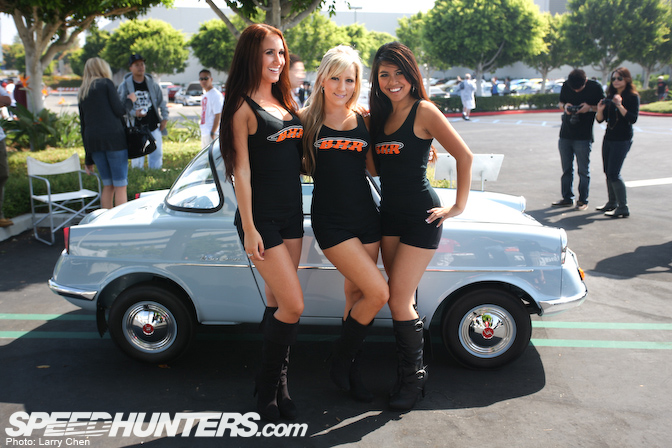 It also had a top speed of 52 mph. But I doubt it would reach that with these three girls packed inside.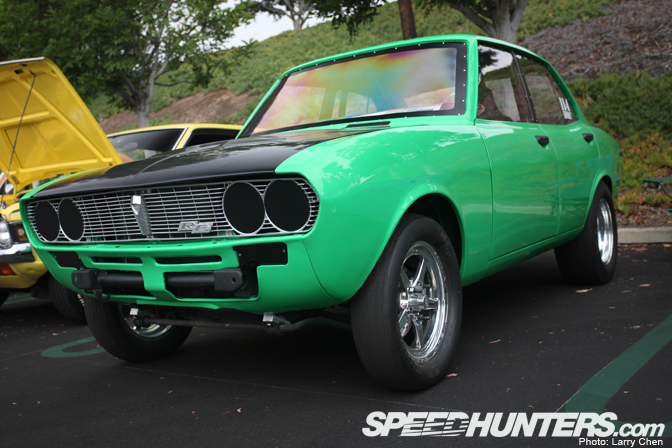 This all motor RX-2 Sedan just looks like it's ready to hit the drag strip as soon as the show is over.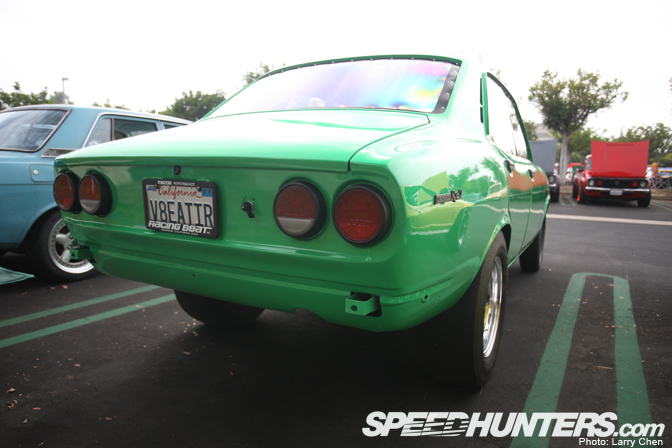 With those Lexan windows I don't doubt the license plate one bit. I've actually seen a video of this green grocery getter doing a 7.66 @ 87.37mph in the 1/8th mile on Youtube.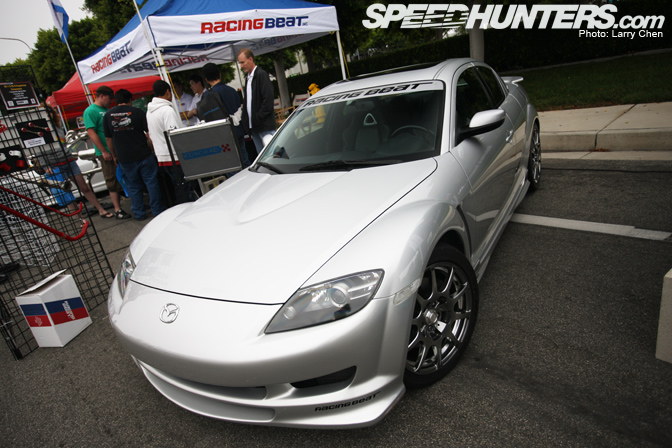 Racing Beat brought out a very clean looking RX-8 that has a very Miata looking front end.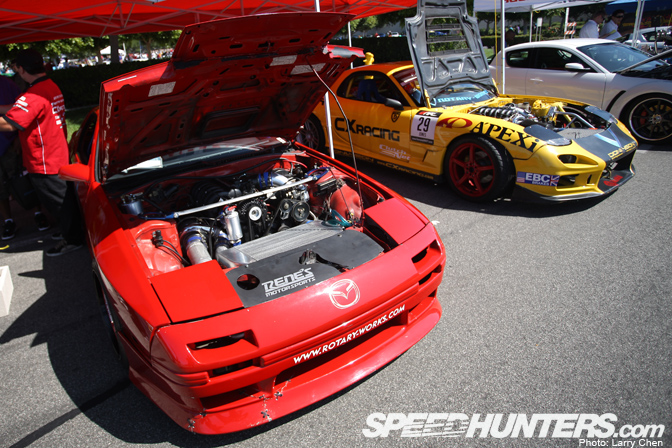 This FC and FD were built by Rotary Works. They are a local rotary specialty shop in Los Angeles. They also built the 3 rotor Datsun 510 in part 1 of my Seven Stock coverage.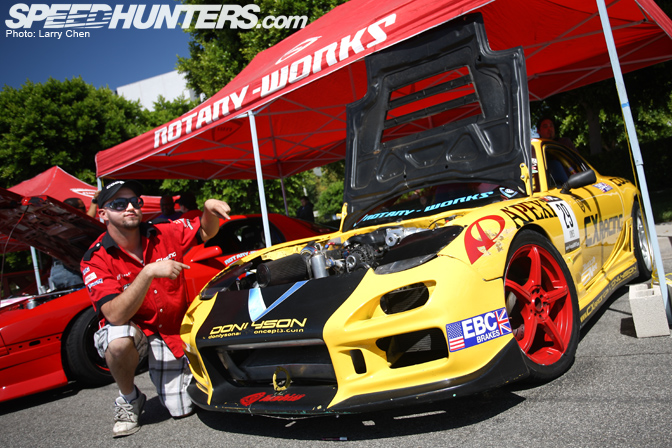 Rotary Works also built the motor in this CX-Racing RX-7 FD driven by Jeff Jones in Formula D. This 20B is putting out over 650hp to the wheels. This may not be the prettiest looking car at Seven Stock but I respect what its gone through and the battle scars that it has acquired.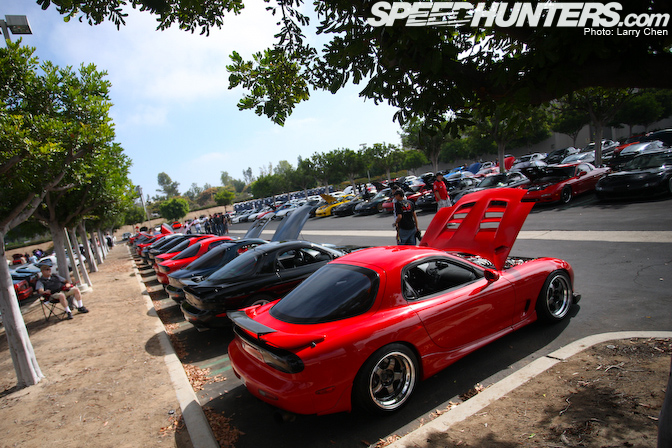 Well that's all for my Seven Stock '10 coverage. I will be back next year to provide you with more corny commentary and weird rotary powered creations.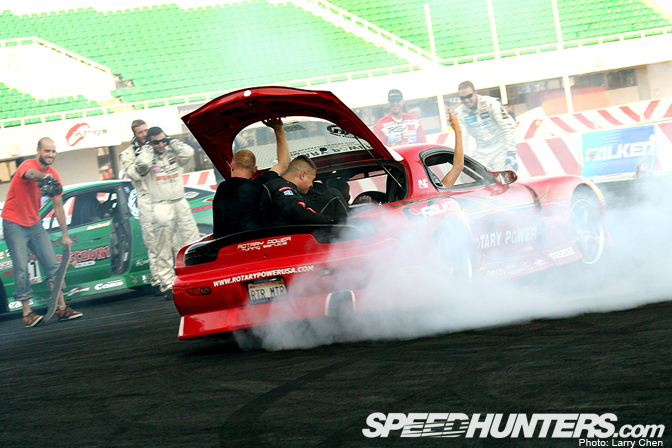 I leave you with a disclaimer and one of my favorite photos that I've shot of the Rotary Power USA RX-7 FD. This car was definitely not built for hard parking. Please don't try to do donuts with four guys in an FDS3. These were professional drivers on a closed course in Beijing China. 
-Larry