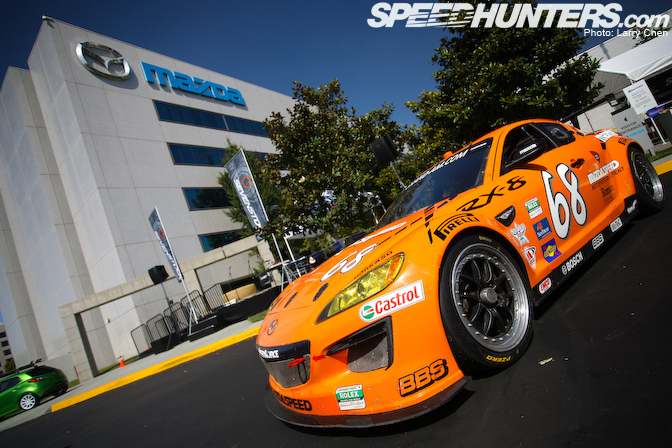 Seven Stock is the largest Rotary enthusiast meet in the world. Hundreds of cars and thousands of fans from as far as Japan come to Mazda USA headquarters to celebrate the Wankel lifestyle. 
I don't know if it's true or not, but I heard of a little thing RX-7 enthusiast do to kind of poke fun at their love for the rotary. When you see another RX-7 owner driving on the street, you hold up your fingers to indicate how many motors have you gone though on that particular car. I asked CX-Racing Formula D driver, Jeff Jones, if that was true since he drives an FD RX-7. Jokingly, he said he would have to let go of the steering wheel all together because he needs all his fingers to indicate the correct amount of motors he has gone through. But he said he's never heard of such a thing. I don't think I will ever be able to understand the loyalty of a rotary head.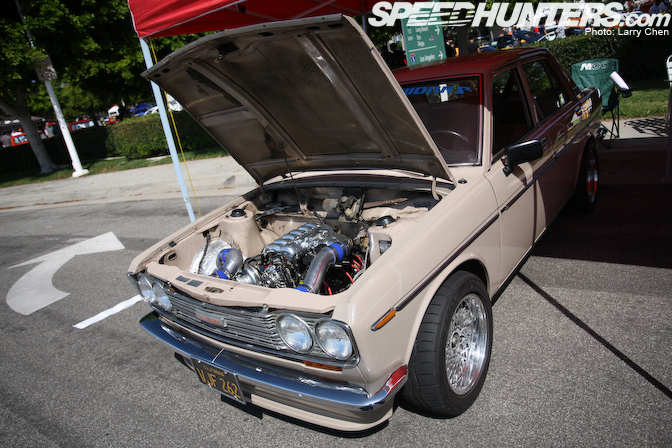 I know what you're thinking. No big deal. Anyone can put a rotary in a Datsun 510.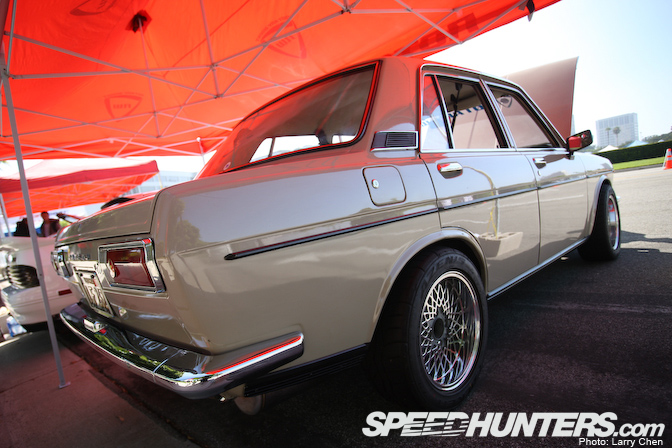 This one is special. It only has 205 width Falken Azenis in the rear.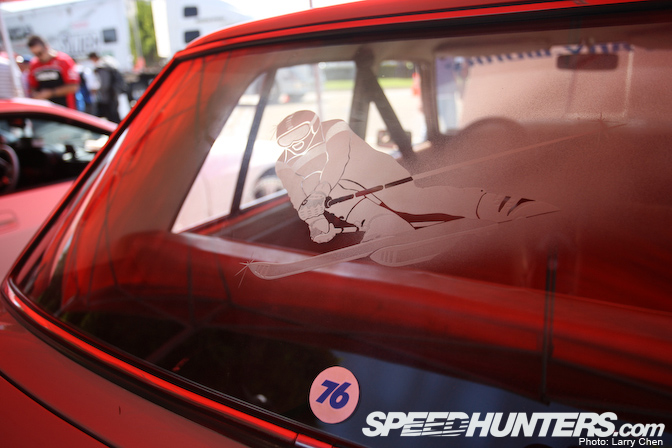 I'm totally loving the back window decoration.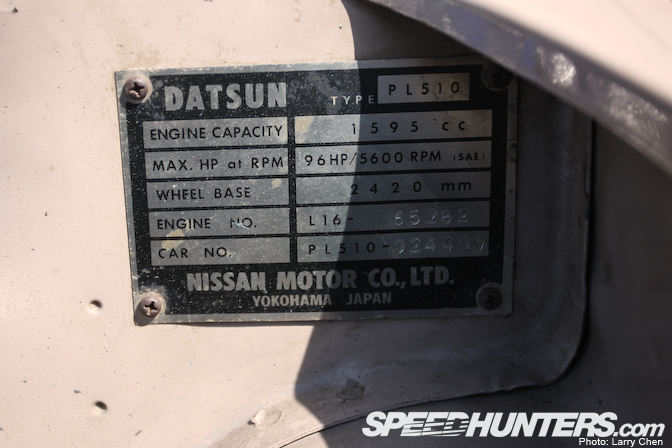 Max stock horsepower is 96 but this beast has over six times the amount under the hood.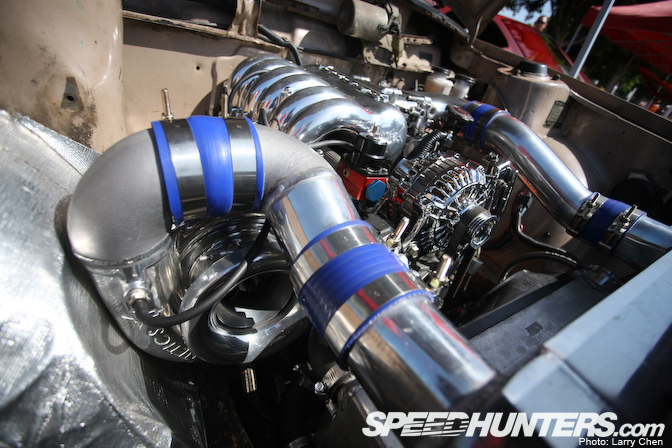 Bam! Three rotor awesomeness. The block alone costs over 5 grand, with the entire motor costing the owner 20 grand. The best part is this is the owner daily drives it. I bet if he floors it rolling at 60mph he would spin those thin Azenis no problem.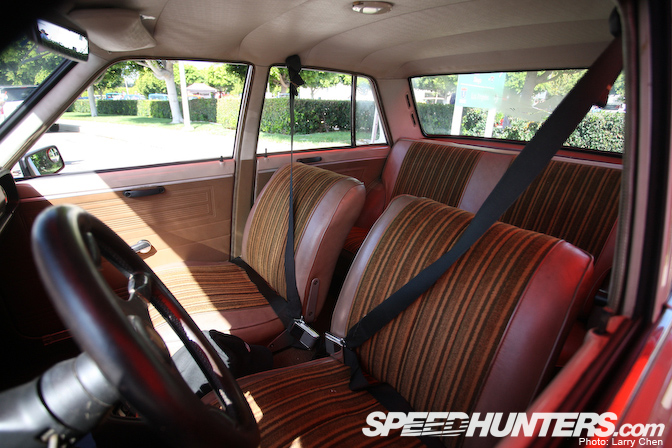 To add to the sleeper look the interior seriously looks like it just rolled off the assembly line.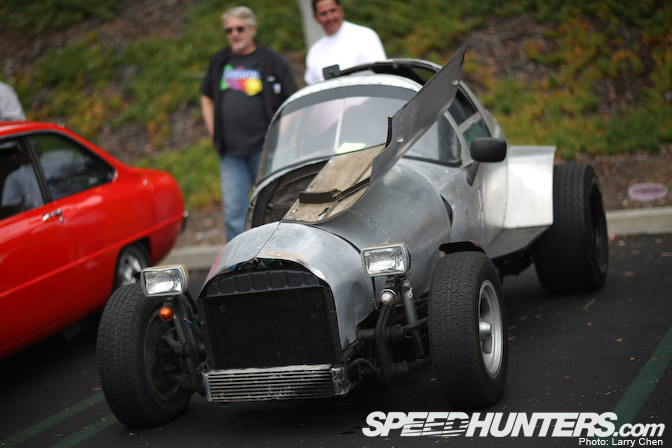 This airplane car was definitely the weirdest thing at Seven Stock.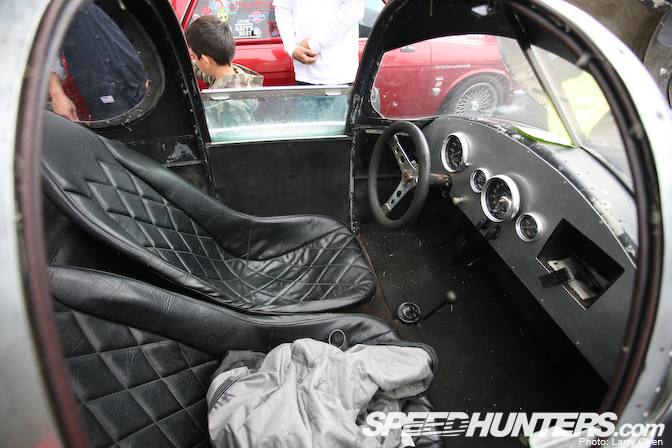 This cockpit was seriously tiny. It was driven in by girls who could not be found.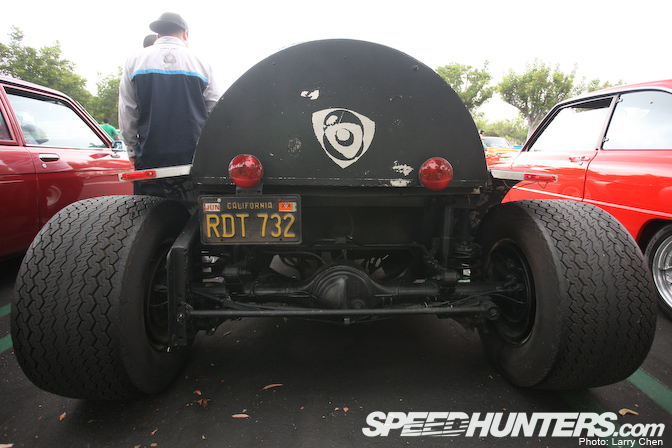 The rear end is off of an RX-2. So at least this hybrid still uses some Mazda parts.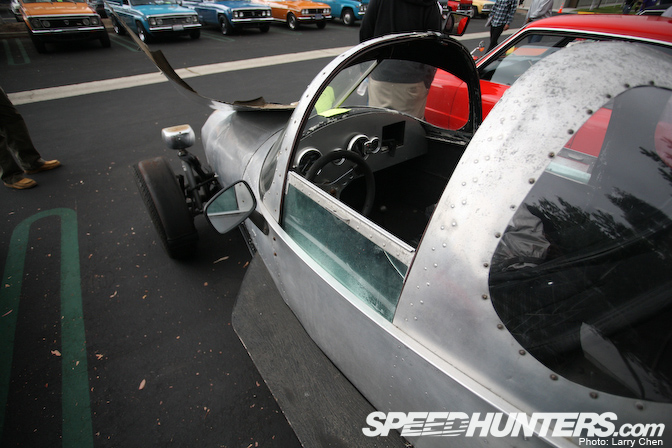 The front axle is off of some old Volkswagen.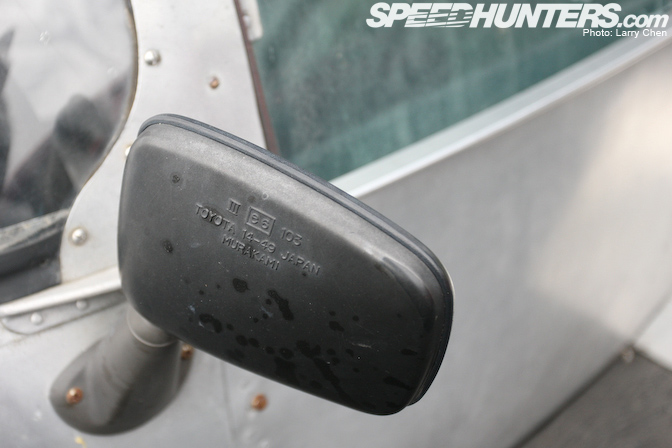 A true hybrid. So far from what I can tell this thing has parts from Mazda, Volkswagen and Toyota.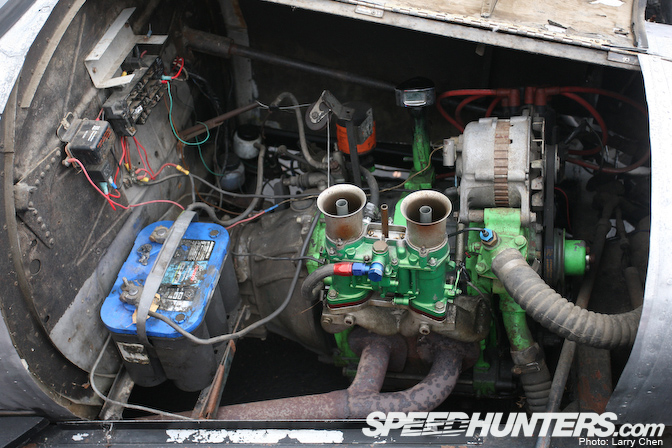 A really old 13b with some Mickey Mouse rigged throttle linkage. At least it will be easy to change the oil on this thing thanks to the "sure grip".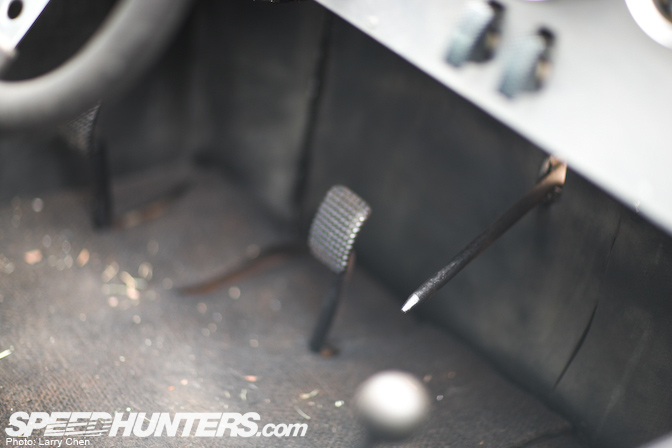 What you're looking at is the gas pedal. I bet those girls don't take off their high heels to drive home after a night out in this bad boy.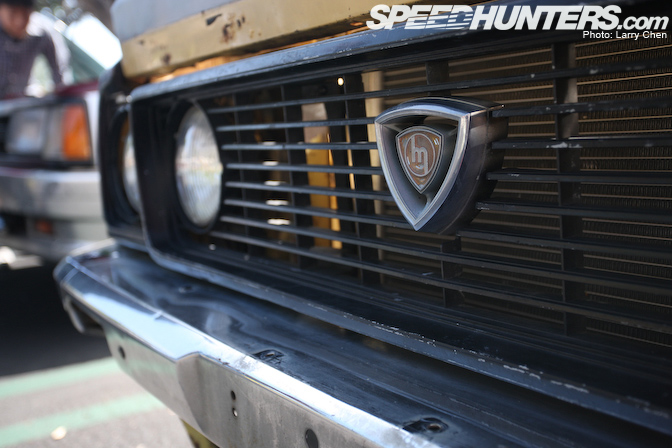 The Datsun 510 I commented about earlier was definitely a sleeper but it would still get looks and people like me would still drool at how mint it was from the outside, regardless of the beast within. But I wouldn't flinch if a mom in a big SUV leaving the grocery store happened to back into this truck.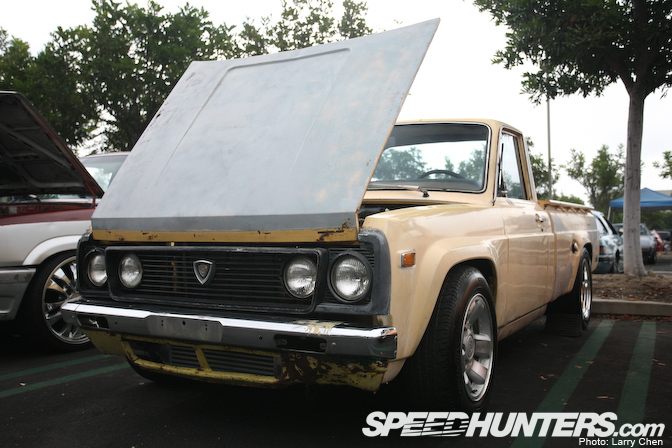 This truck had its fair share of winters with enough rust to give me tetanus just looking at it.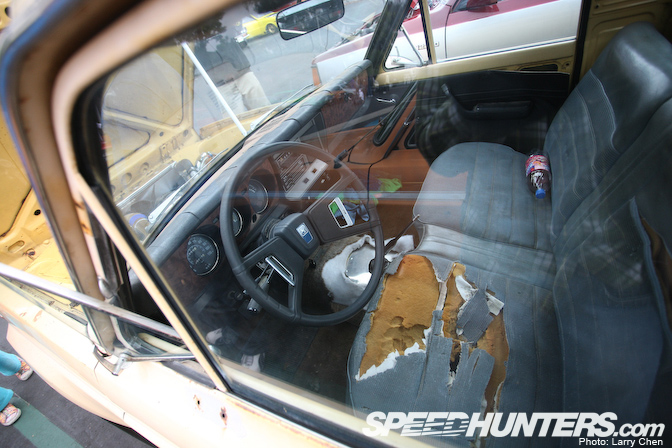 You can see the owner modified the seat with his behind. It probably took 20 years to get it to how he liked it.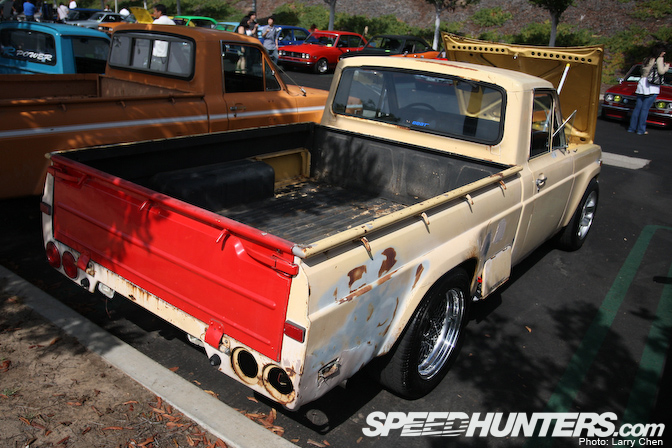 The red tailgate adds a nice touch to the rear of the car, and he must not get pulled over too often since he doesn't bother to put in the right taillights.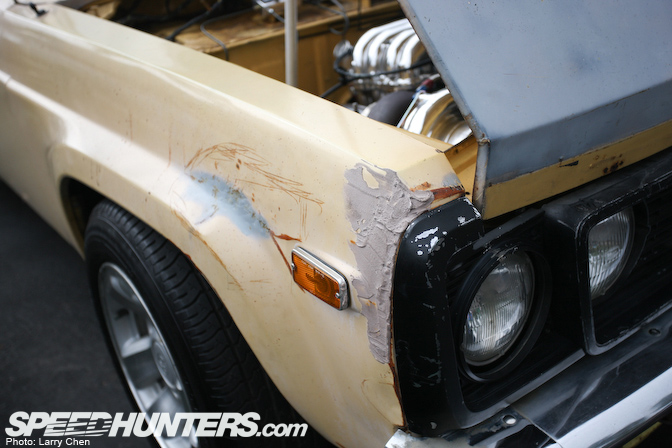 At least Bondo is better than rust.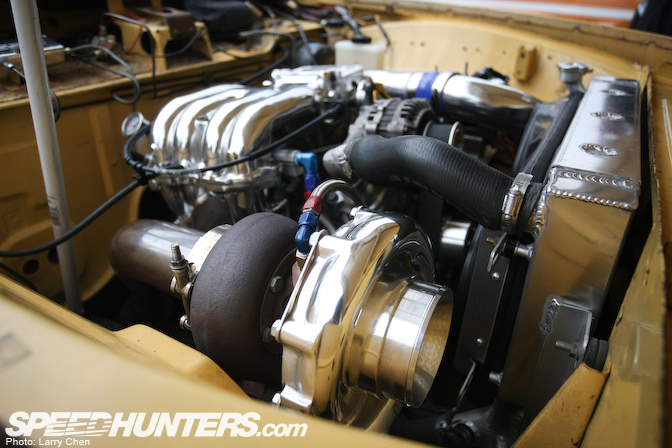 I never would have expected this rust bucket packed so much heat. Turbo 2 FC transmission and a 13B out of a 93' RX-7 FD.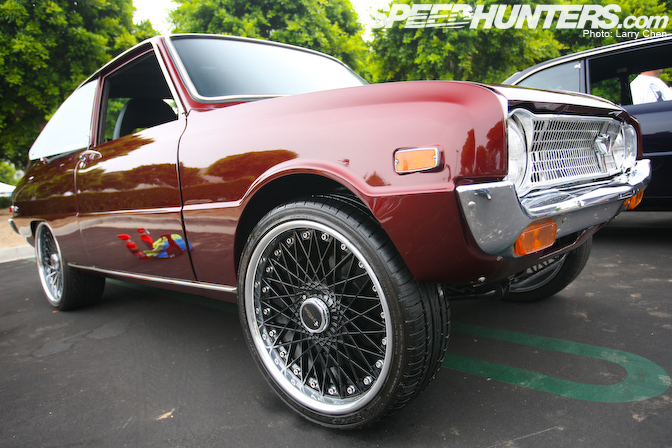 There were quite a bit of Mazda 
R100 This was one of the more extravagant ones.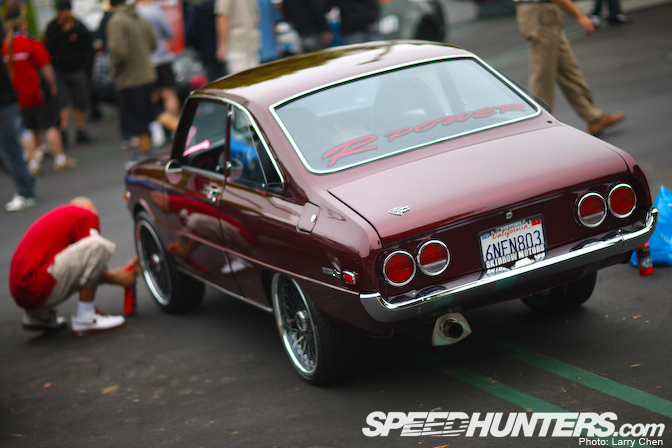 R power indeed.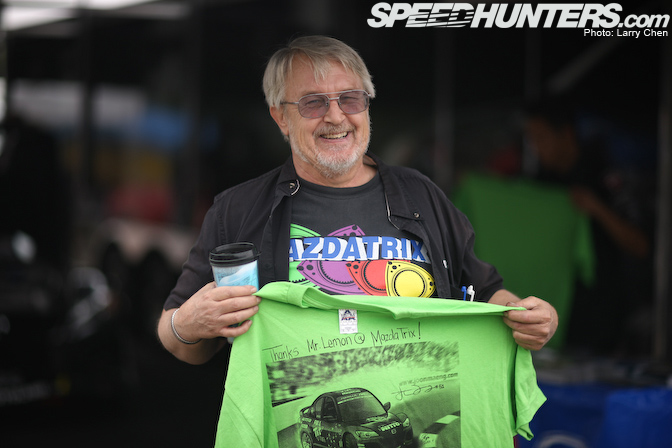 Dave Lemon, the owner of Mazda Trix, came out to support the rotary crowd. He is holding a signed T-shirt from Bergenholtz Racing driver Joon Maeng.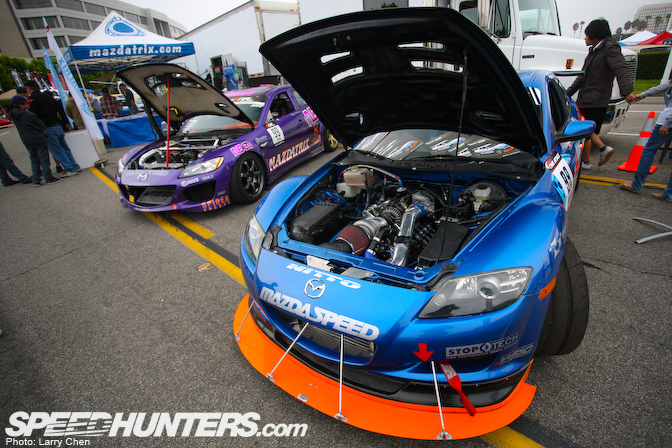 Dave brought out his Redline Time Attack car as well as Kyle Mohan's Formula D RX-8. Kyle could not be at his favorite car show because he was driving round 8 of the Redline Time Attack series at Spring Mountain Speedway in Nevada.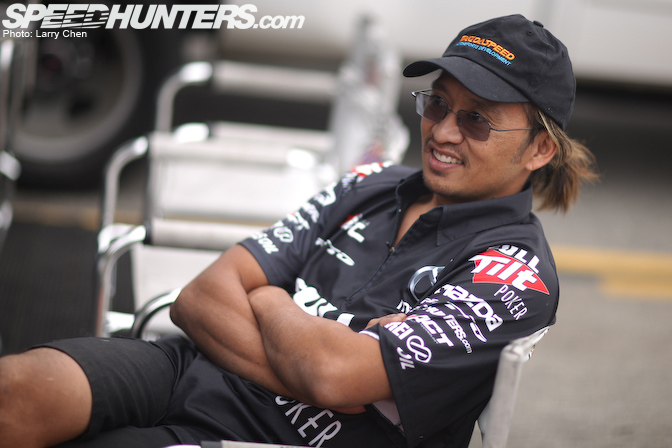 Ron Bergenholtz thinks if the president of Mazda USA told the rotary heads at Seven Stock to take a mysterious purple pill they would gulp it down without hesitation. It's amazing how loyal rotary enthusiasts are. It's almost cult like.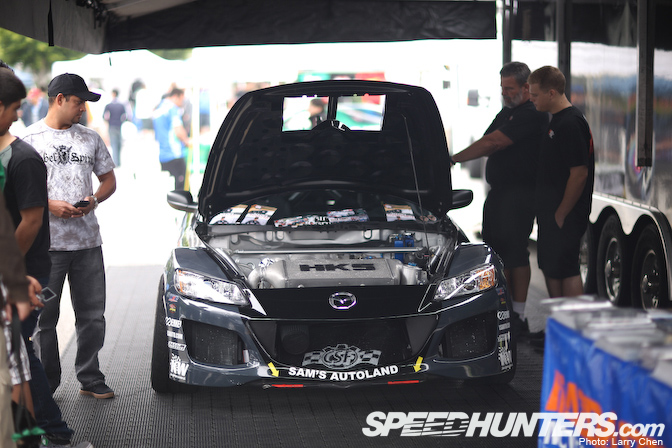 Ron deafened a crowd of delighted fans when he started the RX-8 and let it bounce off the rev limiter for an hour or two.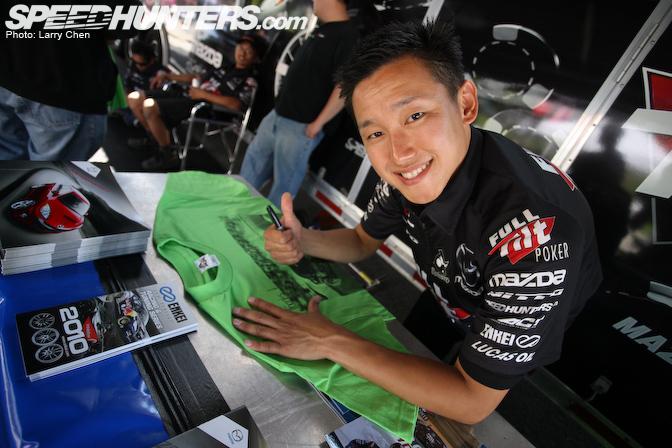 Joon Maeng loves his fans so much he gives out personalized T-shirts to all of them.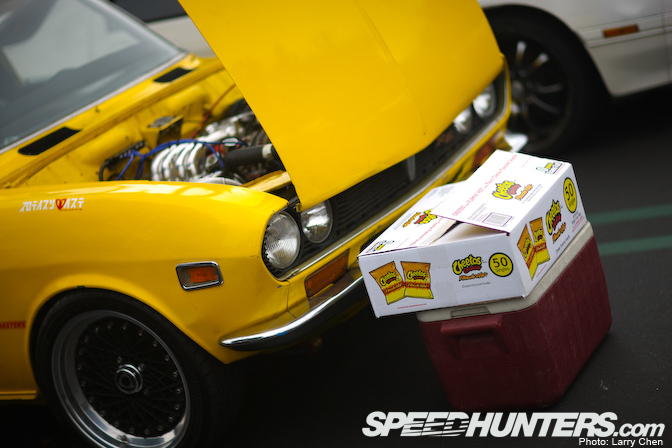 I like this guy's style. Matching his snack to his car.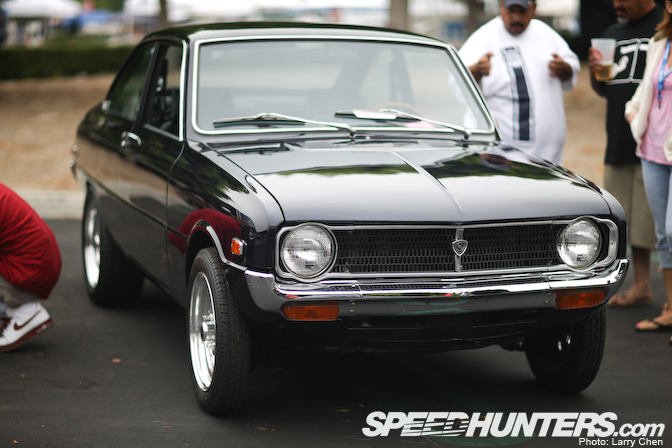 There were quite a few RX-2 owners who didn't have a problem with giving up their 60-0 distance by running itty bitty front tires for better 0-60 time and 60ft time.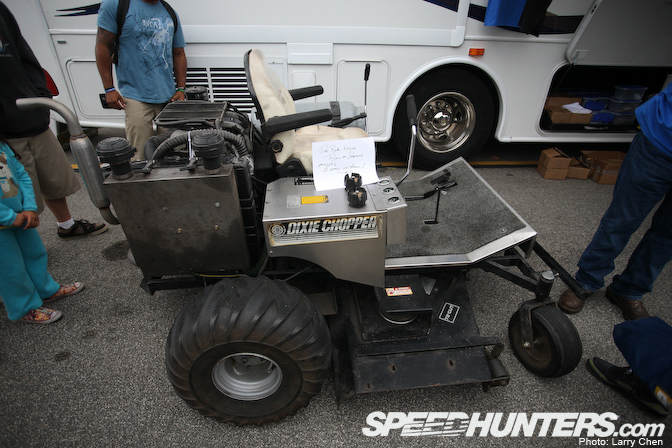 The owner of this rotary powered lawn mower claims he can mow 5 acres in one hour.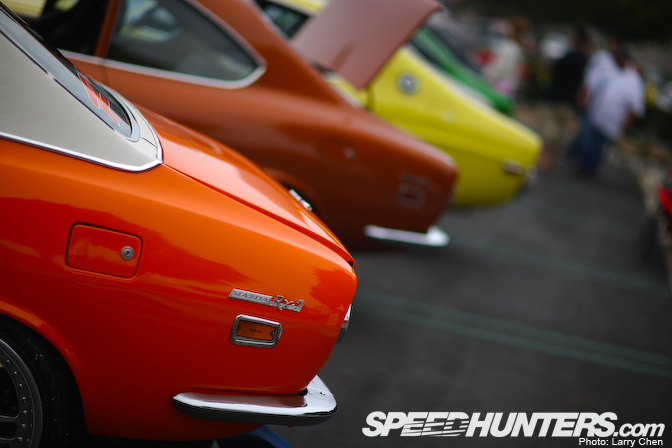 That is all for now. Stay tuned for some more crazy rotary creations in Part 2.
-Larry