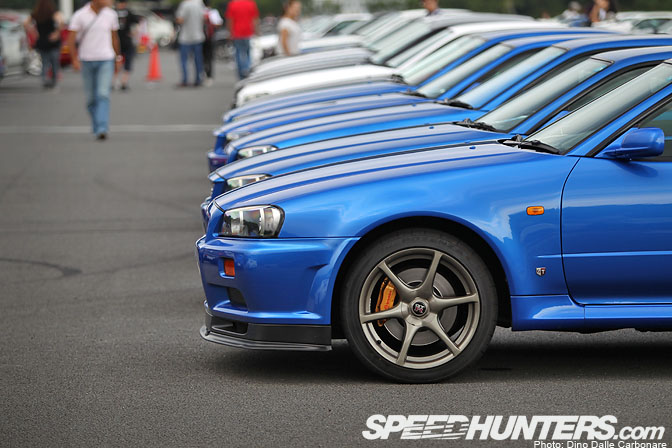 It's been a very long time since I hit up the GT-R Magazine organized R's Meeting in Fuji Speedway, but after what I saw yesterday this is one gathering I'm never going to miss again. If you are into GT-Rs this is it, nothing will match the number of cars that flock to Fuji Speedway. Before the event I heard there would be 1000 GT-Rs there, but walking through all the different parking lots I can safely say there were quite a lot more than that.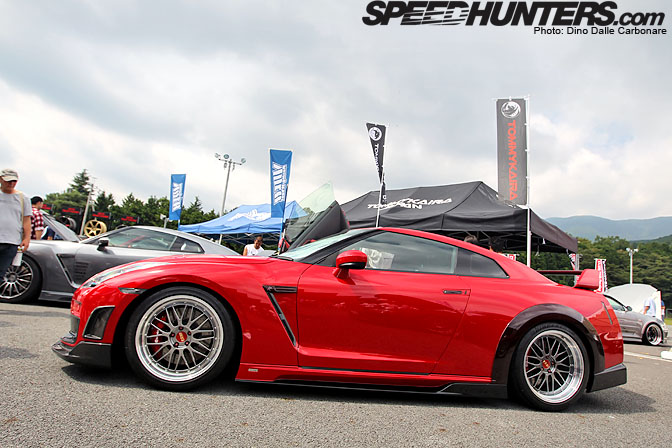 Up in the display area behind the main grandstands tuners from across Japan had lined up their latest demonstration cars, setting up tents displaying their products and selling parts at unbelievable discounts. The relaxed nature of the event was great, but with so much to see and shoot I kept moving around all day trying to cover as much as I could.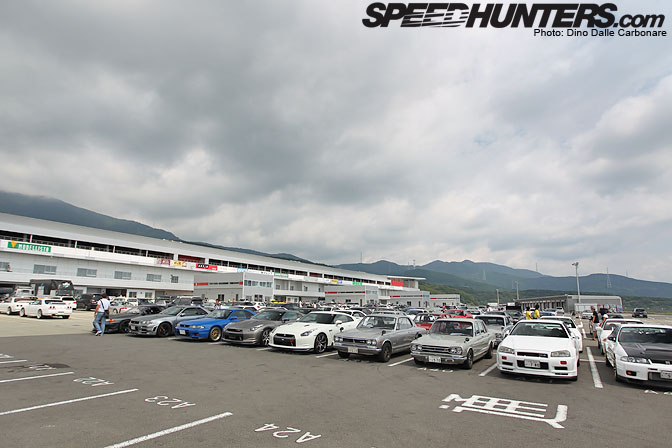 The paddock was lined with all generations of GT-Rs ready to participate in the various soukoukai, or track day, sessions that had been organized.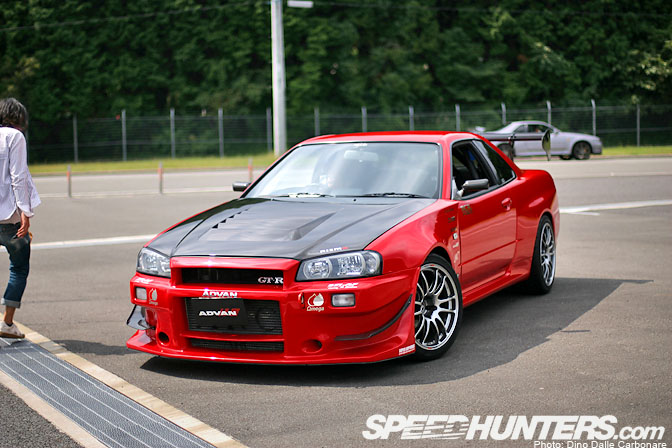 It was great seeing renowned demo cars like the MCR R34 time attack beast glittering under the warm rays of the sun. I have to apologize even before I get started as I probably, and without noticing it, took far more shots of R34s than other generation of R's. Sorry, I just can't help it!!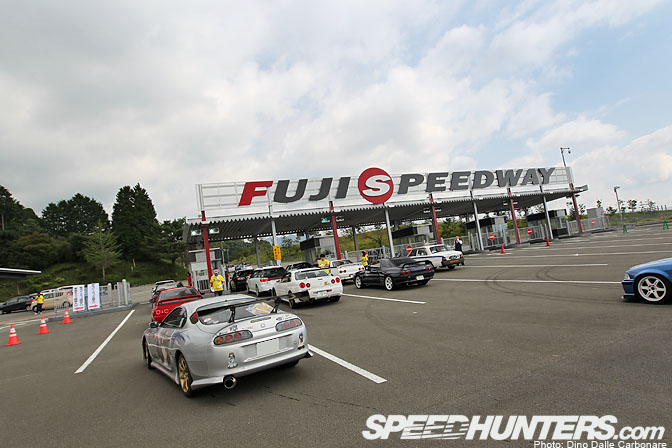 Like with all events held on a weekend things got started very early. Departure from Tokyo at 7 am was required to make it to Fuji Speedway in good time, but due to an unexpected 15-mile traffic jam on the Tomei Expressway it took 3.5 hours. In case you are wondering the distance is just under 100 km, or 60 miles.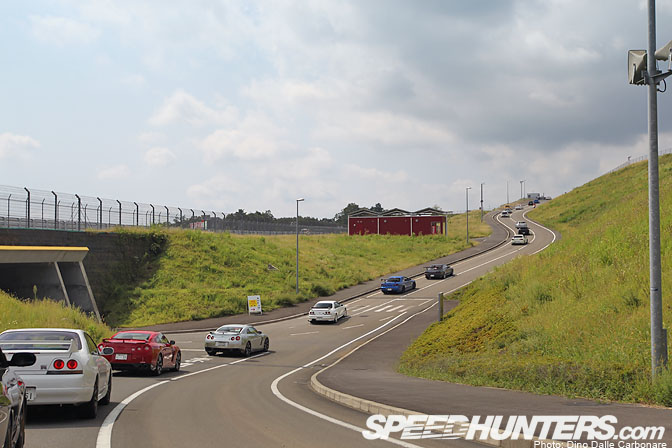 But despite the torture of the Japanese road system, once inside, all was cured with views like this, GT-Rs as far as the eye could see!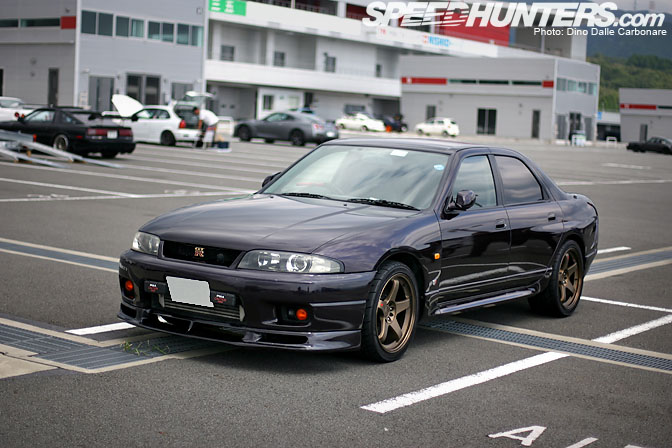 The first car I came across in the paddock was this Autech 4-door R33 GT-R, a very rare car indeed.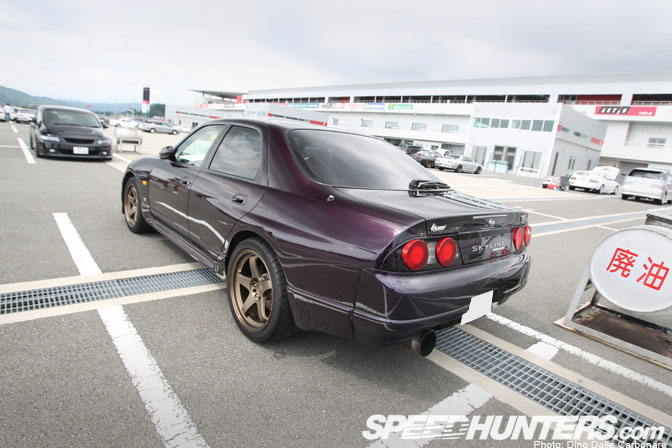 It was riding on Nismo LM GT4 18'inch wheels and fitted with an HKS exhaust system.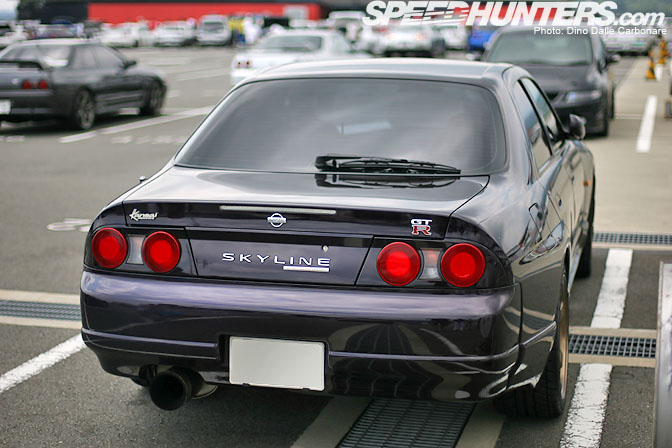 You can see how the rear fenders and doors were blistered to accommodate the wider track. This car was built to celebrate the 40th anniversary of the Skyline.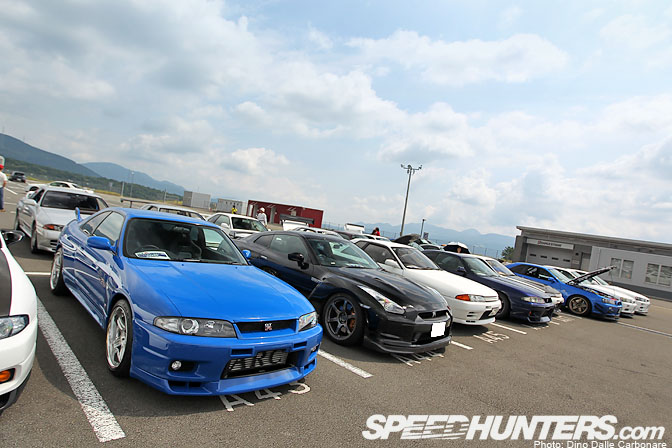 These are some of the cars line up for the special circuit run that GT-R Magazine organized. Spots to participate in these sessions were snapped up instantly via internet, as soon as the event was announced months ago. Owners showed up ready for action with fresh rubber and fluids…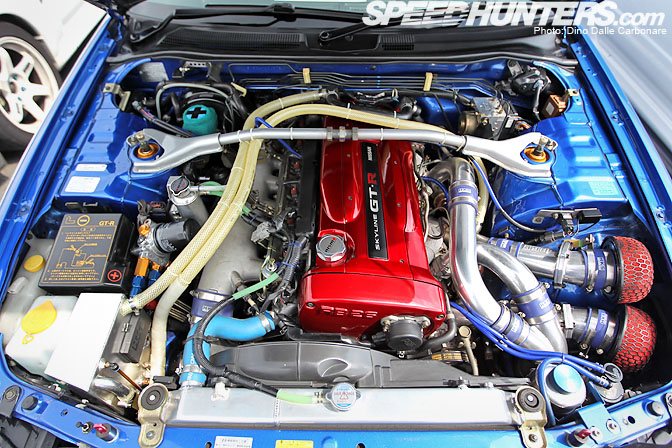 …ready to push their cars to the limit around the F1 track. Most cars there are of course highly modified with engine bays looking something like this!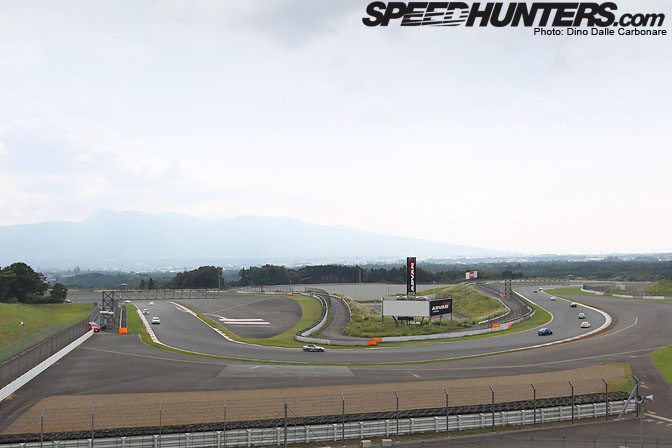 The first morning session.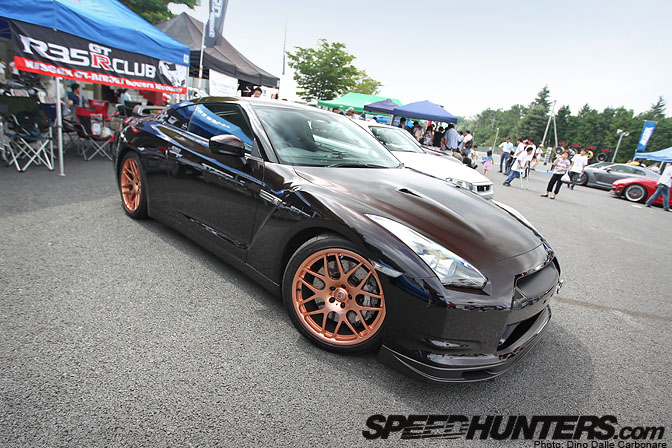 I dropped by the R35 GT-R Owner's club tent where I spotted a car that belongs to a friend of mine. This is the first Spec V I'd ever driven, way before even Nissan had any press cars to hand out to the media in Japan! The car has been slightly tuned and now rides on very light…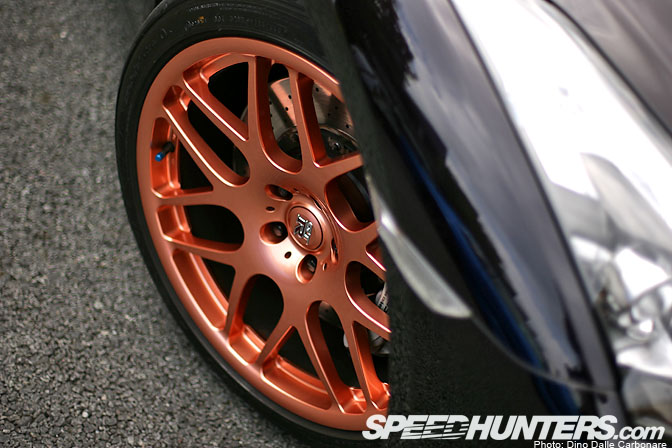 …Neez 7Model wheels. He has just experimented with an interesting change of color from the regular dark silver. This shade is supposed to be copper, very original to say the least!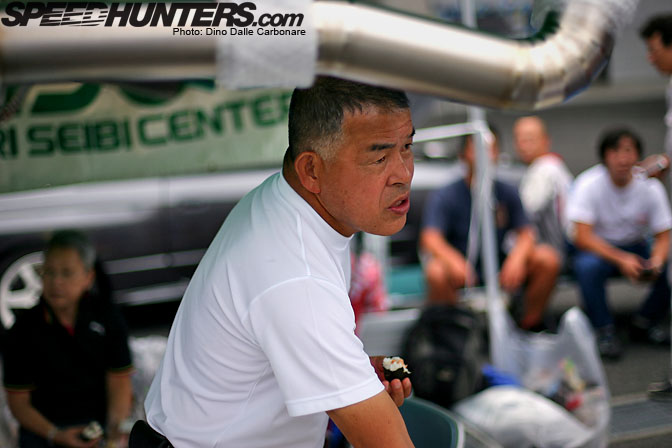 It was great to catch up with Uchinaga-san from Midori, one of the friendliest tuners around.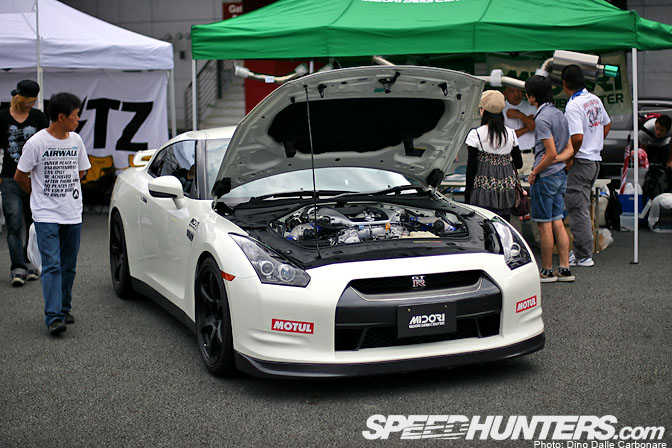 Like all GT-R shops most of their time is taken up by R35 parts development and their car is now running a full titanium exhaust system. All the suspension at Midori are set up by Michael Krumm, the ex Super-GT Nissan driver, now in FIA GT driving for the Sumo Power GT-R team. I can't wait to sample this R35!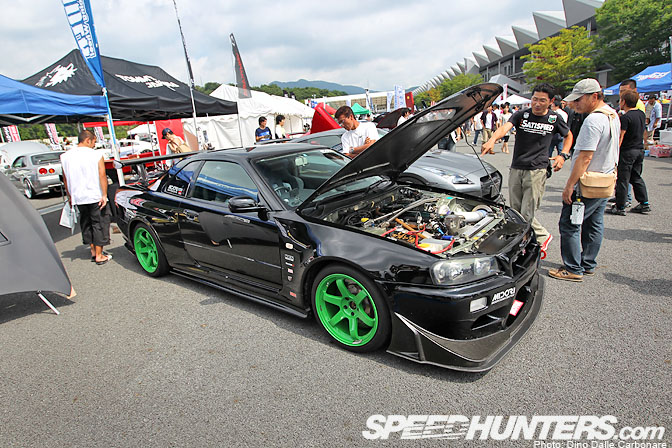 The R35 is definitely important for all, but Midori also had this very extreme customer BNR34 they built on display, wearing their signature green TE37s. Midori in Japanese means green, which explains the interesting choice of color.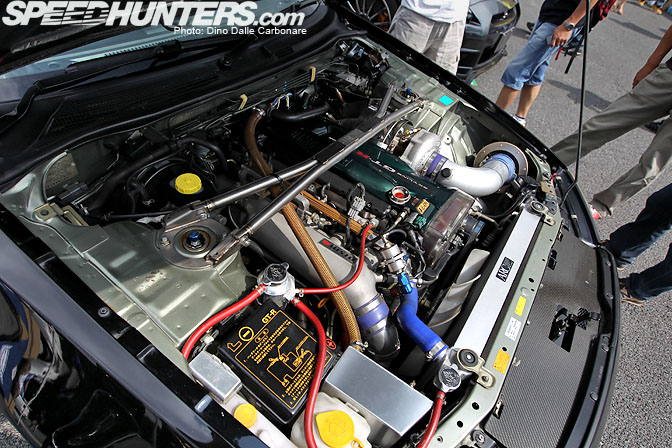 Under the hood lives a 650 HP RB28 with all the right parts like a HKS T04Z turbo, Nismo GT plenum and HKS V-cam.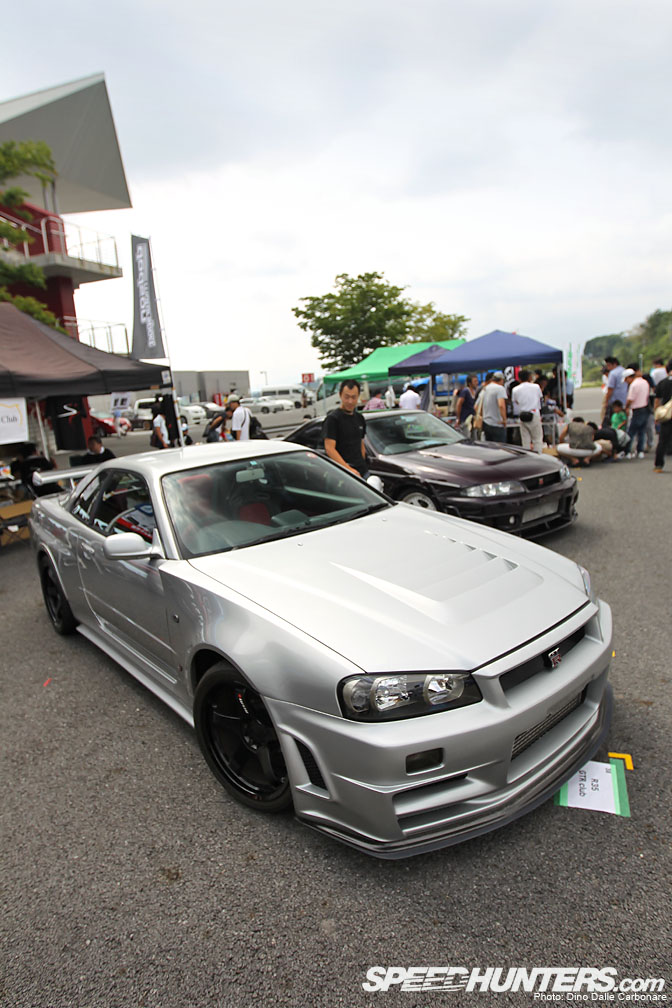 The GTR Owners Club had a tantalizing pair of Nismo cars for us all to admire…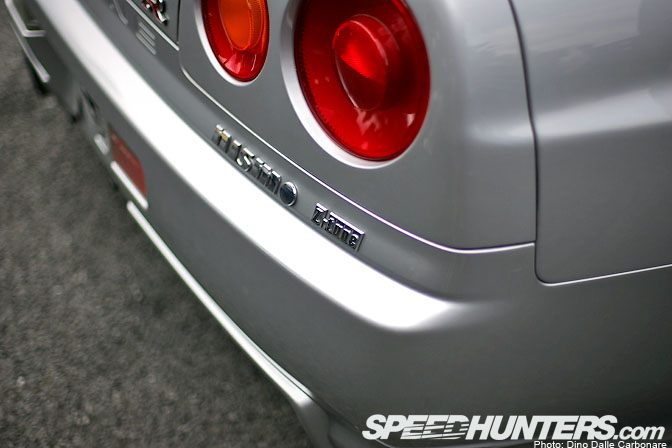 … one of only 16 Z-tunes ever made…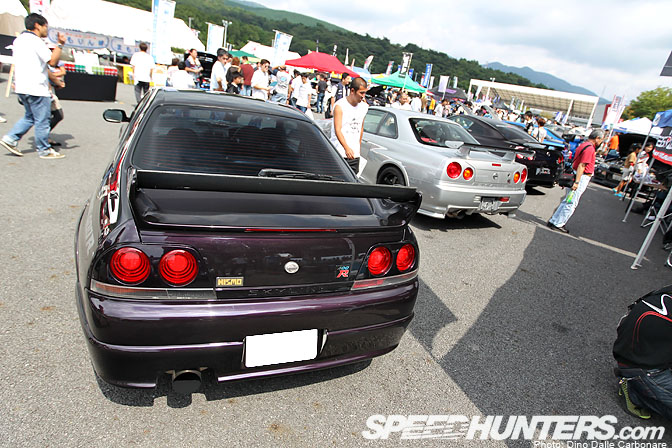 …and a of course the 400R, the car that really made a name for Nismo back in the mid-nineties.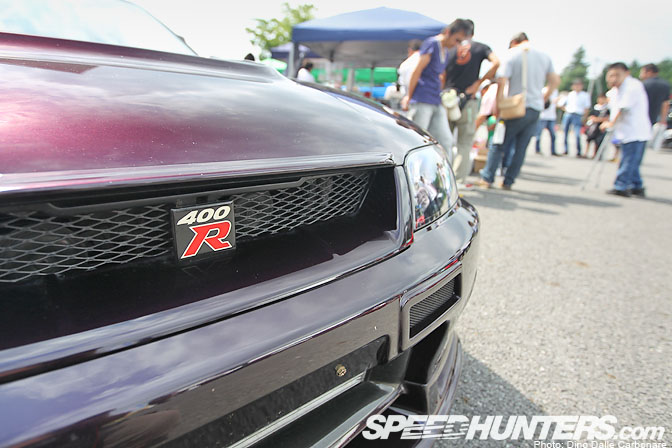 Not a badge you see every day!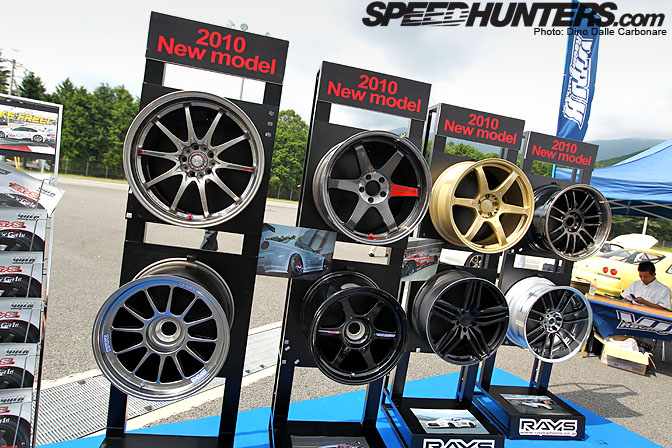 It seemed the R's Meeting was the place where a lot of tuners and parts manufacturers released new cars and products like Rays Engineering with this new selection of wheels.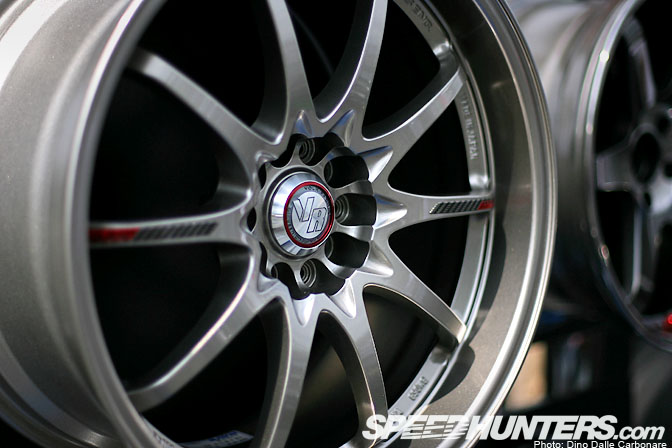 Having CE28Ns on my car I was instantly drawn to this new Genesis version of the rim. Apparently they are built using the same technology as their forged F1 wheels, making them even lighter.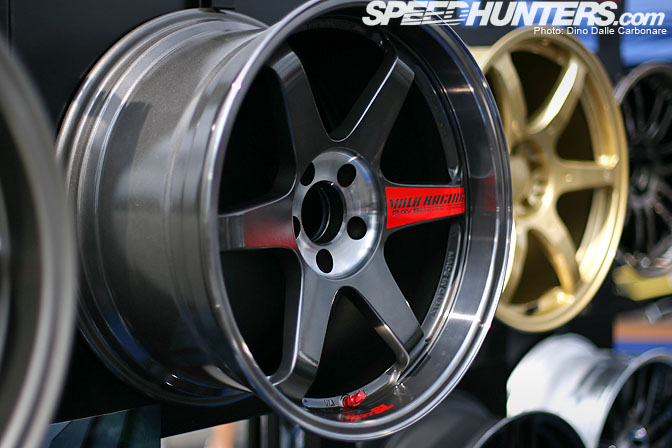 Also spotted this 19-inch version of the TE37 Super Lap rims, the same wheels the R-Magic time attack FD3S runs.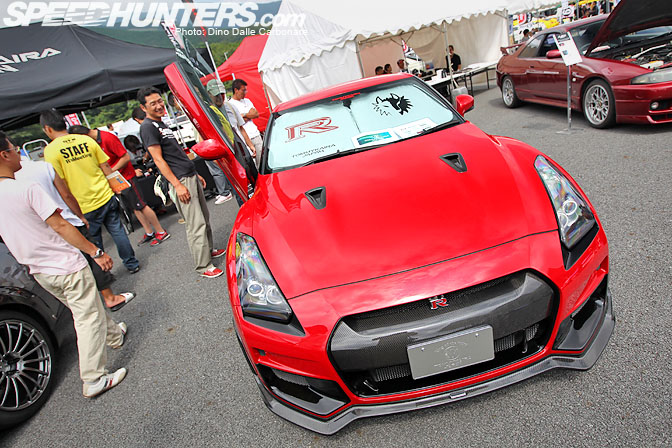 Tommy Kaira had two of their complete Silver Wolf R35 GT-Rs on display, this one going for a Lamborghini look!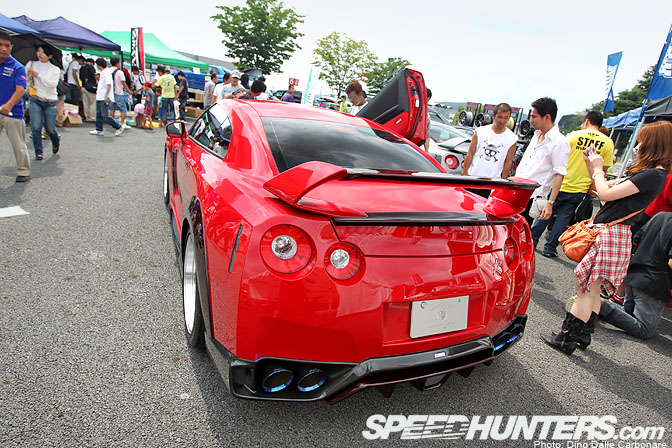 There is top quality carbon all around the car, from the overfenders and rear spoiler…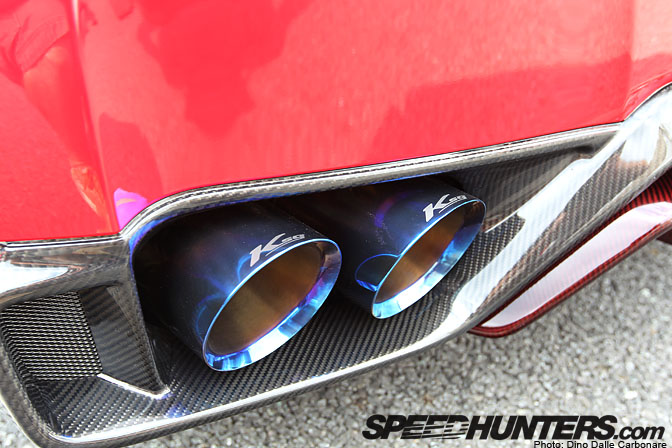 …to the rear diffuser. Tommy Kaira teamed up with Kreissieg to create this big bore quad-pipe titanium exhaust.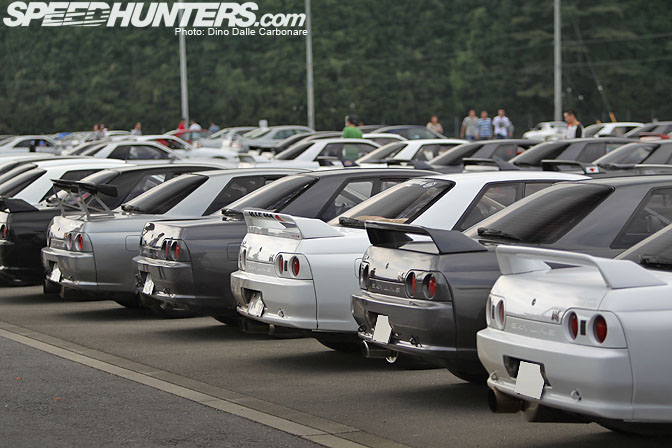 GT-R Magazine always gives a chance to its readers to appear in the special GT-R Owners book they publish each year. This is another of those things you have to sign up for way in advance, and like the track sessions all spots were take up rather quickly. A series of photographers set up shooting hundreds of GT-R each. With typical Japanese precision all owners were asked to line up neatly and wait for their turn. The above shot is of the R32 area…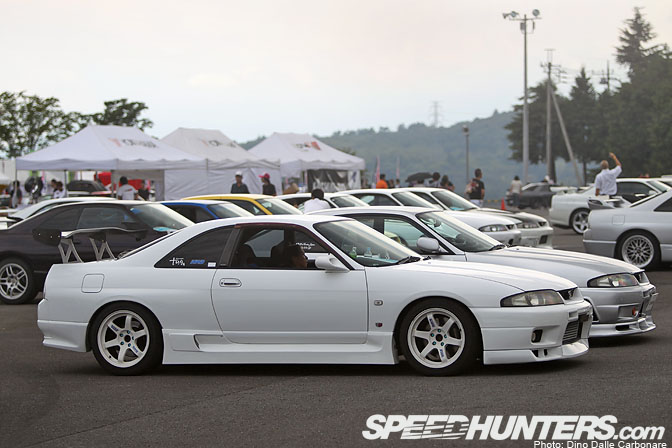 …with the R33s a little further up, behind the tuner displays.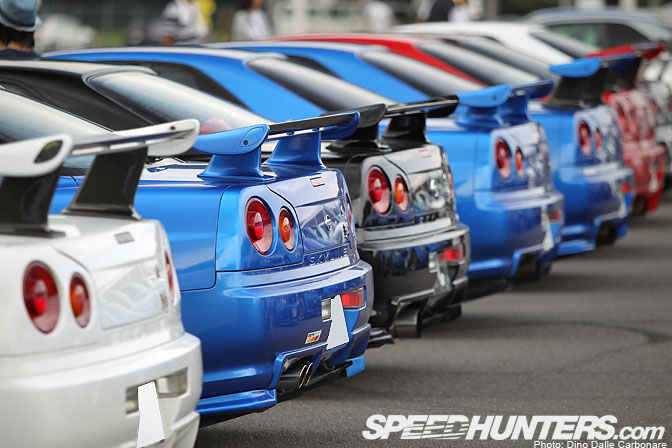 It was however R34 owners that took the win for most cars present, with lines and lines of meticulously cleaned cars ready to get their shots taken.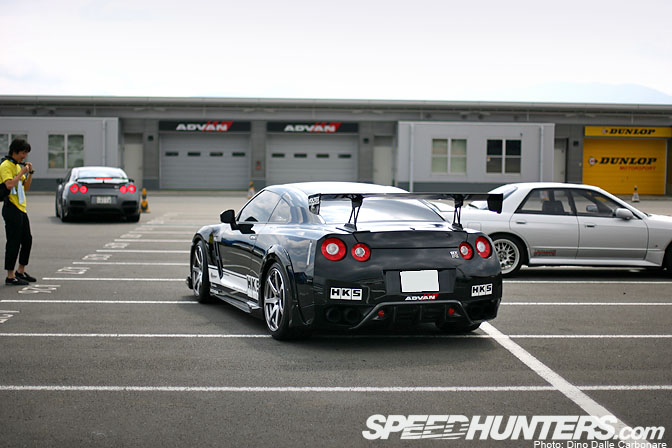 With non-stop action throughout the day I made sure to check the paddock often. I run into this HKS tuned R35 GT-R wearing what looked like Wald rear overfenders and a rather big GT-wing. It will never seize to amaze me how much R35 owners spend on modifying their cars!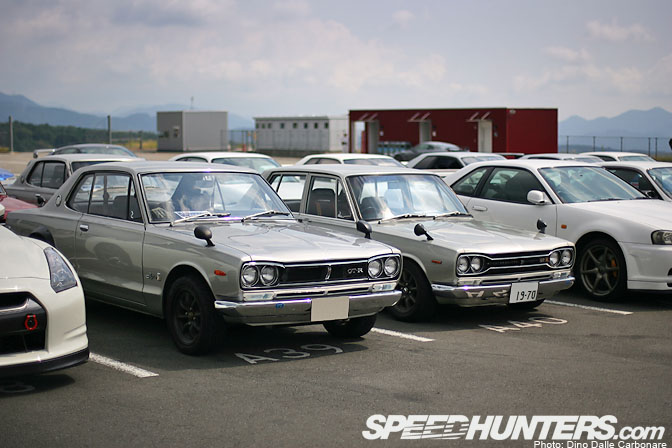 Quite a difference in height! Stock 70s suspension versus a dropped look!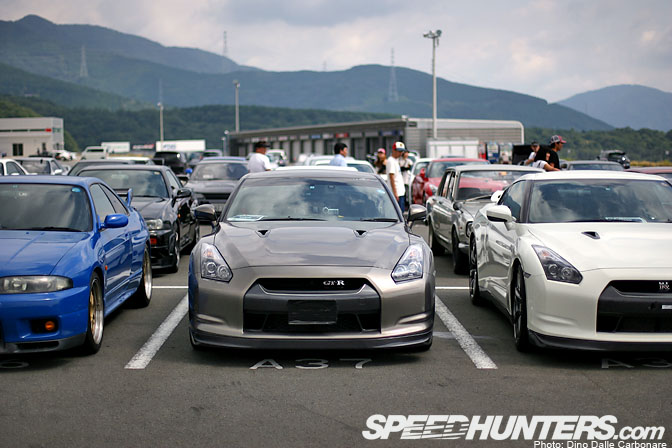 That's it for part one. There is tons more unbelievable GT-R goodness yet to come, so make sure you check back soon for the second installment of pictures from Fuji!
-Dino Dalle Carboanre