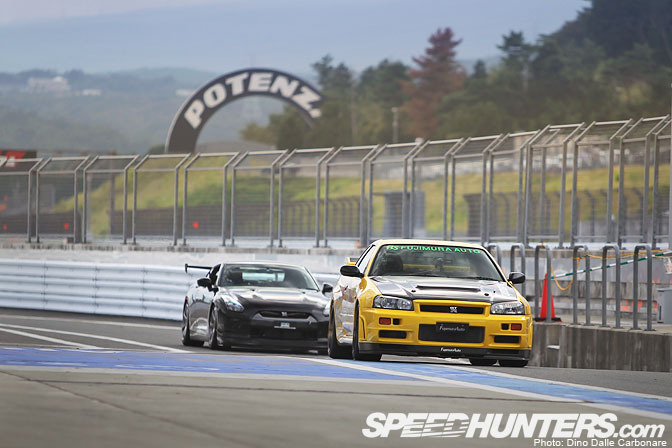 As I was nerding out on GT-R related goodness at R's Meeting last Sunday I heard an announcement over the PA system that the tuner session would be the next event on track. Not wanting to miss anything of importance I decided to stay a little longer in the display area and check out some more cool demo cars and interesting tuning parts…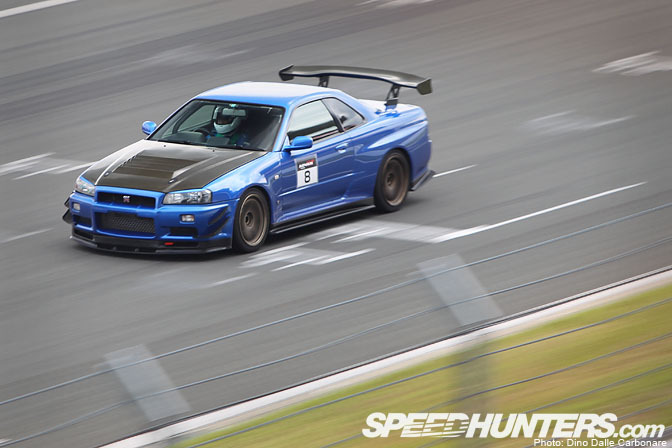 …while the privateers finished up their last track outing of the day.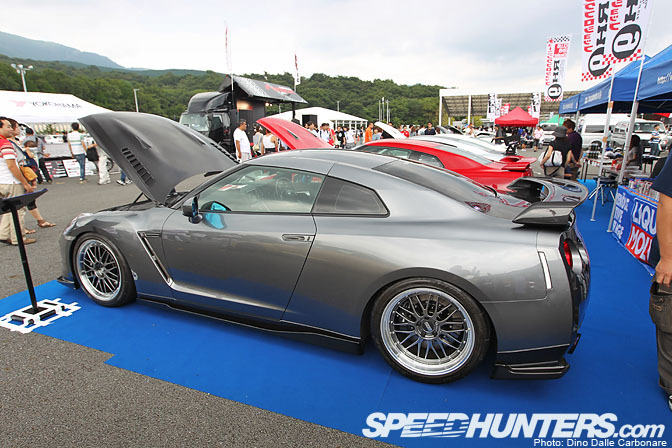 Phoenix's Power was out to prove they are top dogs when it comes to modifying R35s, with this selection of cars. This dark silver example might look familiar, as it's the 770 hp beast I featured the other week.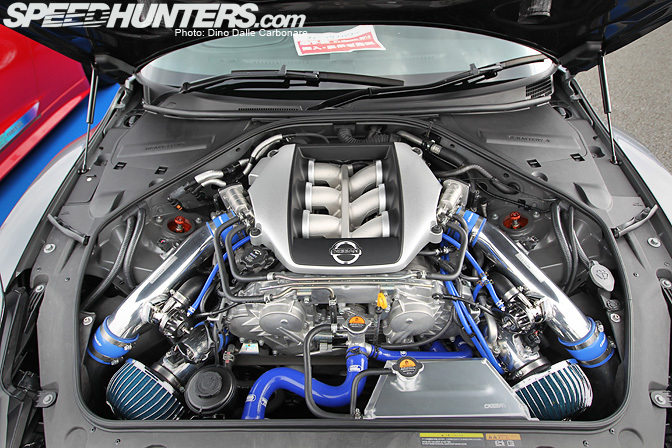 The engine is still looking as impressive as ever with the full GReddy hard piping kit and the upgraded turbines hiding under all the ancillaries. Latest addition however is more for piece of mind…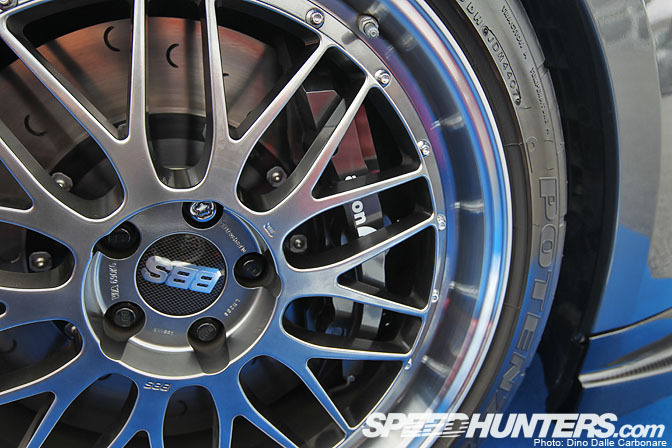 …than anything else. The factory Brembo brakes were just not up to the job of shaving off speed efficiently, especially at the race track. So on went prohibitively expensive Alcon monobloc 6-pot calipers both front and rear, along with 400 mm floating discs. Most people can buy a second hand performance car with the cost of the full kit!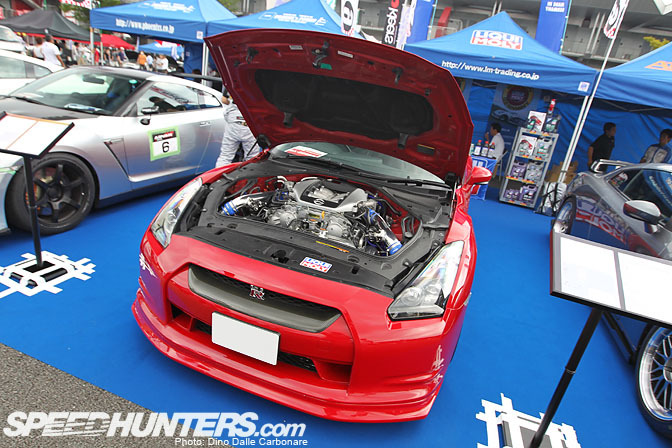 The red Phoenix's Power demo car is still looking as great as ever and a perfect example of how fast the R35 can be with a few choice modifications.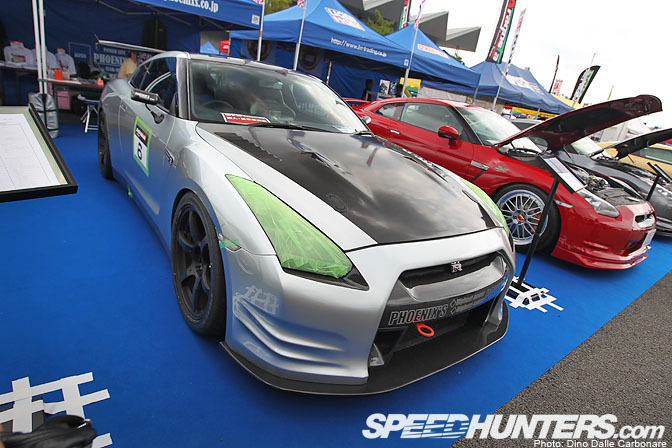 Here is yet another R35 we have seen already, now fitted with the brand new Phoenix's Power GT1-inspired front bumper shown for the first time at the R's Meeting.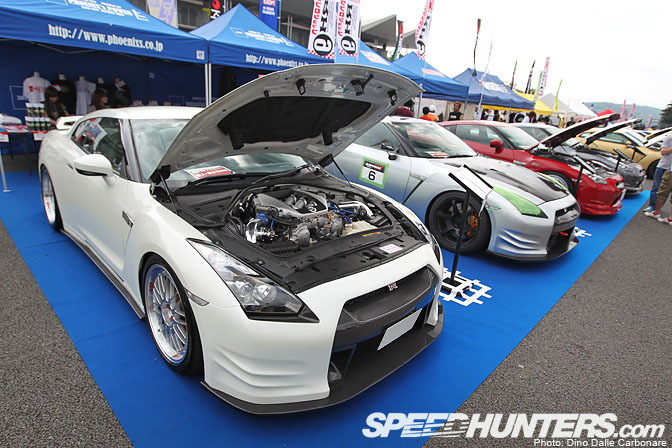 The bumper looks especially good on the new white demo car along with all the optional carbon grille, splitter and intakes.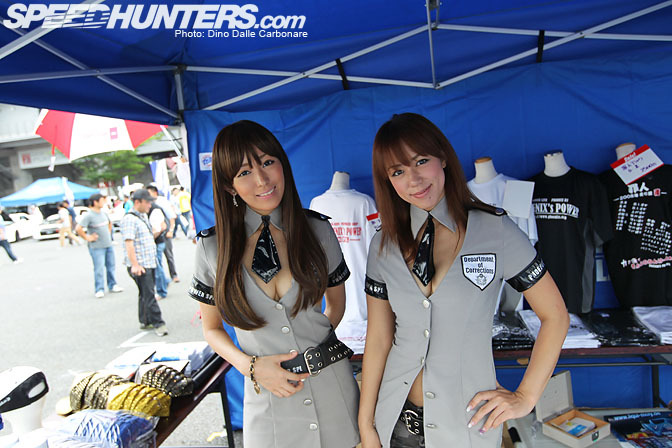 It was however the Phoenix's Power girls that were getting all the looks, wearing very interesting "Department of Corrections" uniforms.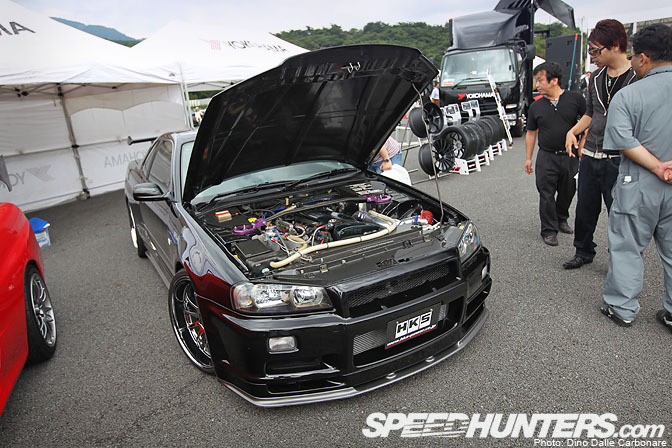 Every time I see the HKS BNR4 development car it is running a different set-up!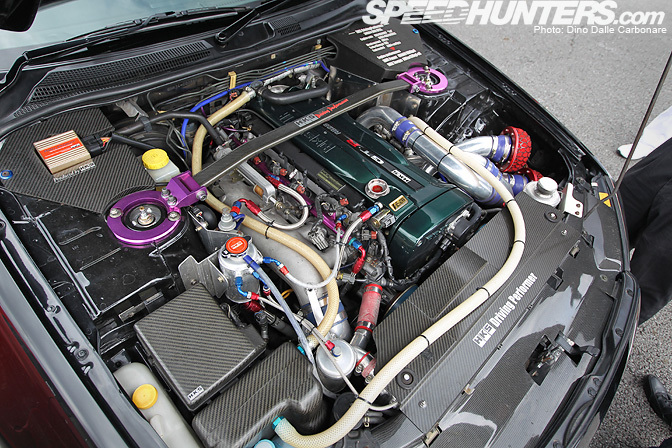 Since the HKS Premium Day things have changed under the hood. All the one-off carbon parts remain but the prototype exhaust-side V-Cam has disappeared as well as the high-pressure fuel injection system. Maybe things we can hope to see in production form at the next Tokyo Auto Salon? And HKS guys, please hurry up and get those variable-geometry turbines released, there are a lot of people waiting for them!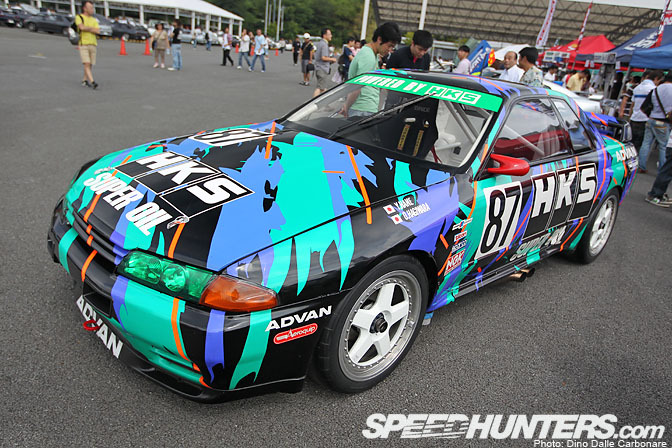 The legendary Gr.A HKS GT-R!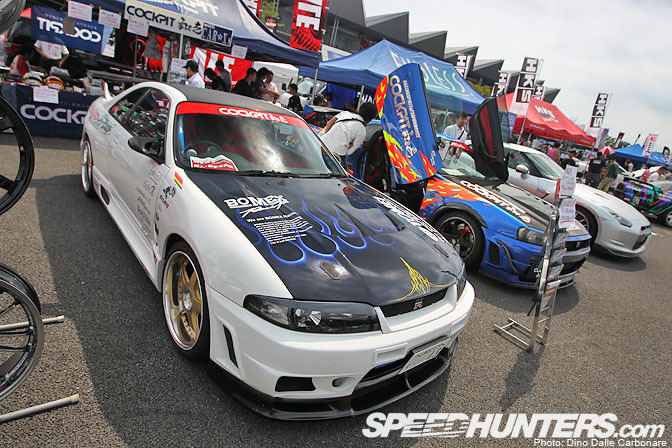 The tiny Cockpit Wako shop is always a popular destination for those looking at getting more performance out of their cars, and on top of their usual Lambo-style BNR34, they had this more simple and humble looking BCNR33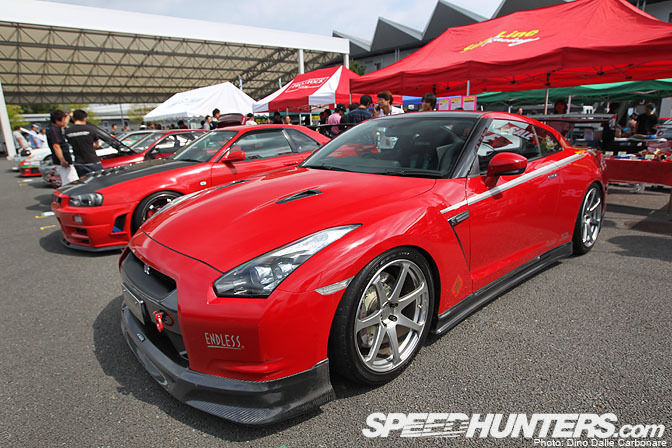 Saito-san of Sun Line Racing came all the way up from Okayama with his two GT-R demo cars. Since we saw the car back in June it has now gained a front lip spoiler, side skirts and rear diffuser garnish all made of carbon fiber.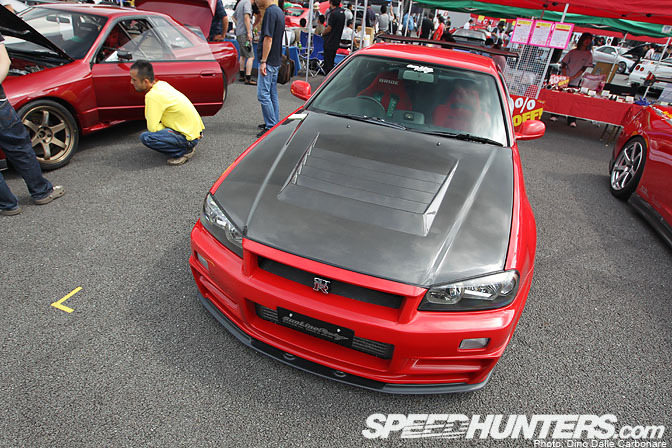 This is Saito's own personal BNR34. Like for most tuners the older generation of GT-Rs have kind of been put on the back-burner.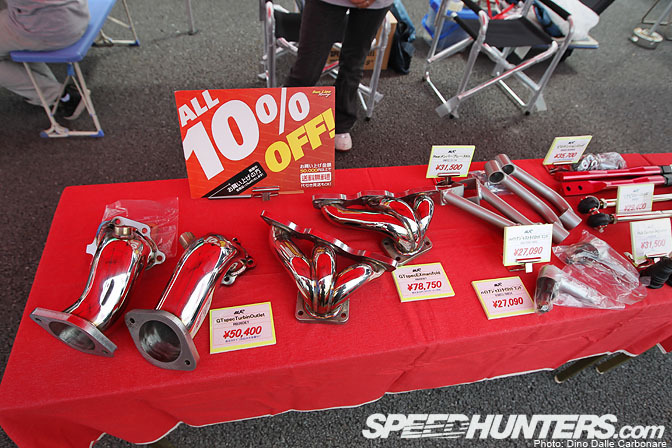 Sun Line had 10% off everything on their catalogue for the day.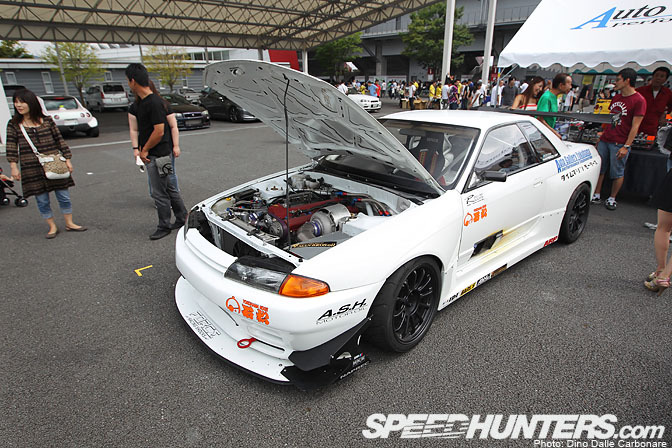 One of the fastest BNR32s in Japan is the Auto Gallery Yokohama demo car, easily recognizable thanks to its side exit exhaust and wastegate screamer pipe which happen to shoot straight out of the passenger side door. This beast can lap Fuji in 1:43 sec, an astonishingly quick time only about 9-sec of the pace of a modern Super GT GT500 race car!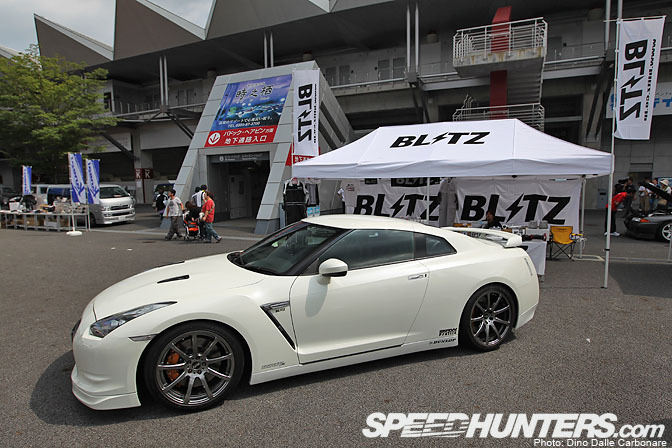 Blitz's demo car is very nice and all, but I couldn't help but wonder when we will be seeing Nomuken's RWD R35 in D1! The final round in Fuji is next month!  Any bets?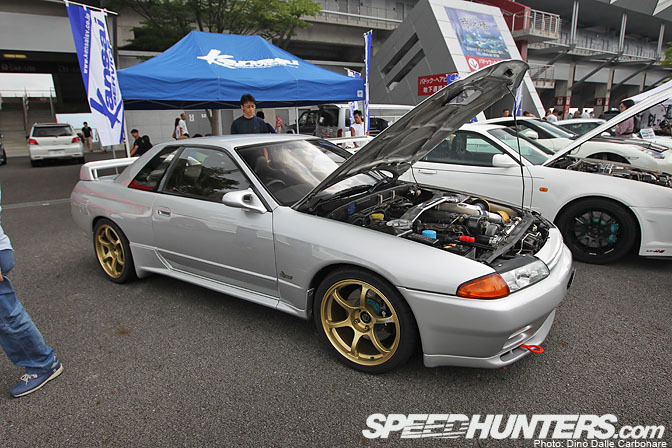 HKS Kansai Service had a great lineup of parts on display as well as their old R32 demo car, which seems to look cleaner and cleaner every time I see it.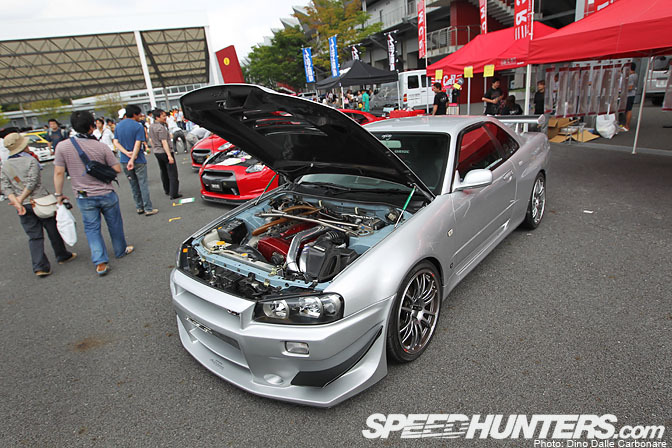 Kobayashi-san at MCR has over the years successfully promoted his company thanks to countless great results at tuner shootouts on Hot Version DVDs and at time attack events. Along with the red R34 circuit car we saw in Part 1 he also brought the street-tuned silver demo car…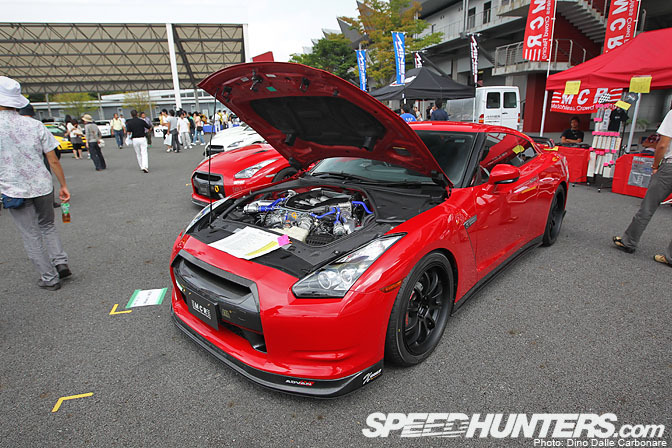 …as well as two R35 GT-Rs.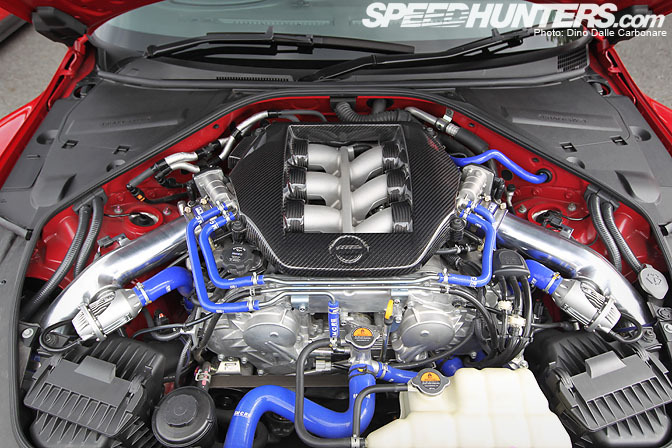 Kobayashi is really extracting the full potential of the R35, something he's been devoted to doing since the car came out in late 2007.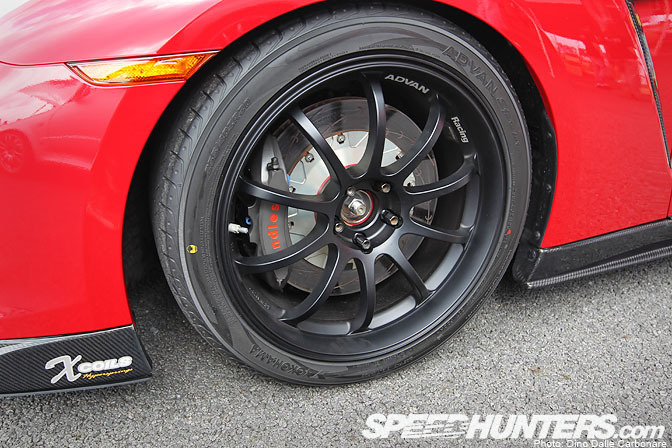 Behind the matte black Advan RZ's is the Endless brake kit with 6-pot monobloc calipers and 380 mm 2-piece rotors.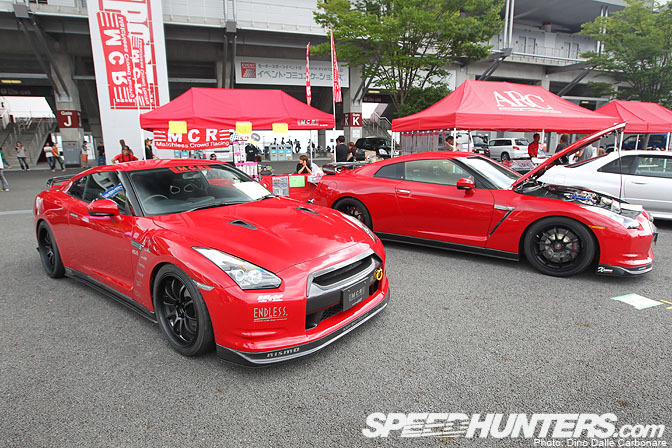 Nice pair.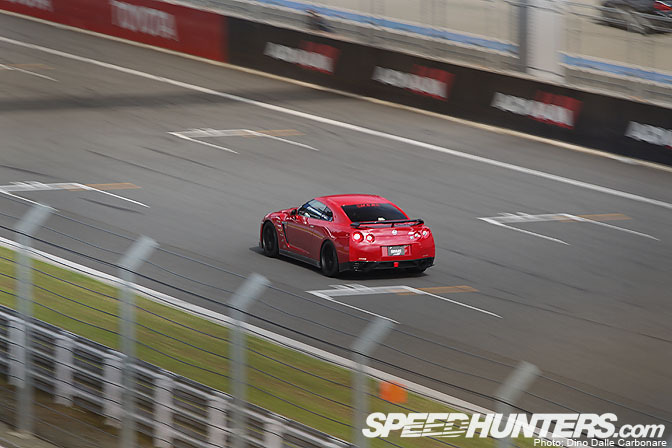 Unlike most tuners Kobayashi-san drives his own cars at events and races and is always right on the pace with well known pro-drivers.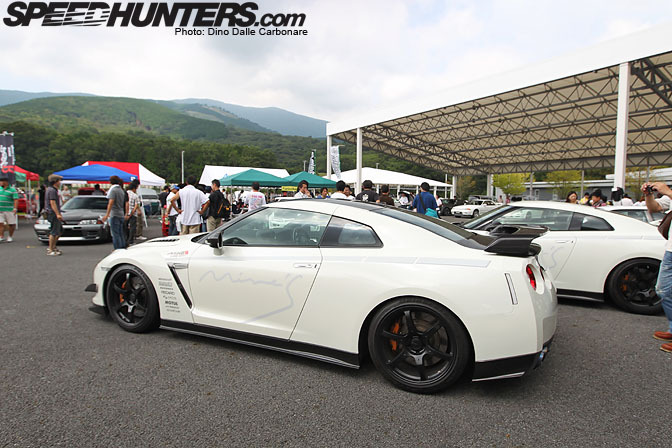 MCR's fiercest competitor has always been Mine's. Both companies strive to create the most responsive and balanced set-ups on all their cars.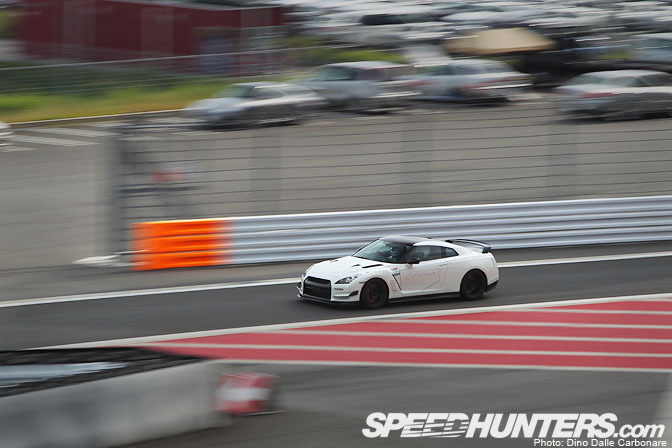 Out on track their performance is very evenly matched for the R35…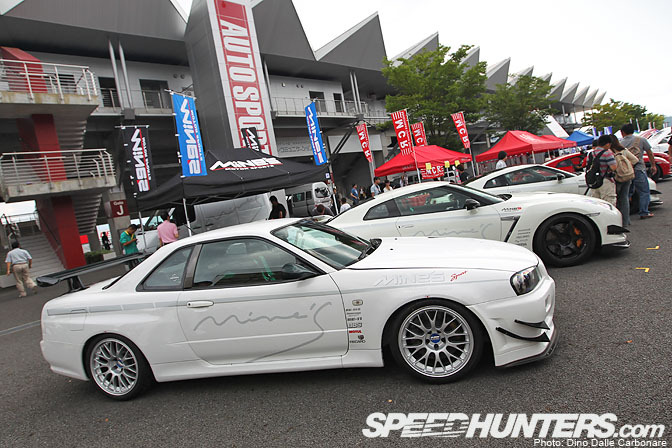 …as well as the BNR34. Haven't seen this particular car in quite a while, the most epic san-yon out there! This by the way, is still faster than their R35!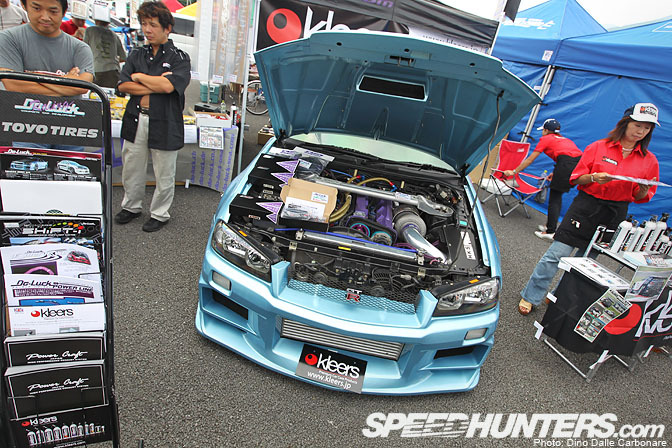 It was nice to check out the Do-Luck GT-R, a car I had only seen once before. Great to see they are still holding on to this, a car that has, without a doubt, a very unique look about it.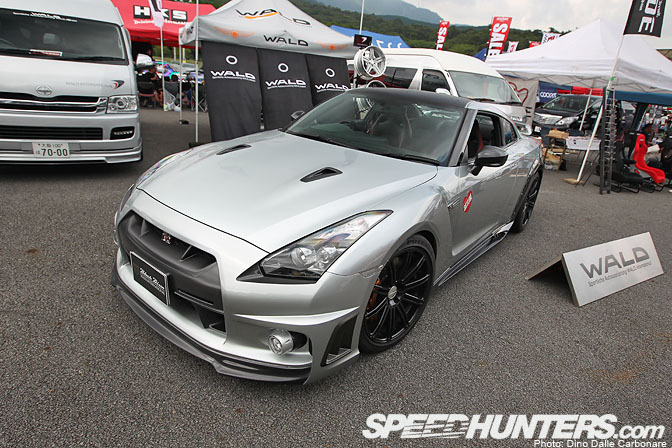 For those that prefer to take a more luxurious route with their R35s Wald was on hand to offer guidance.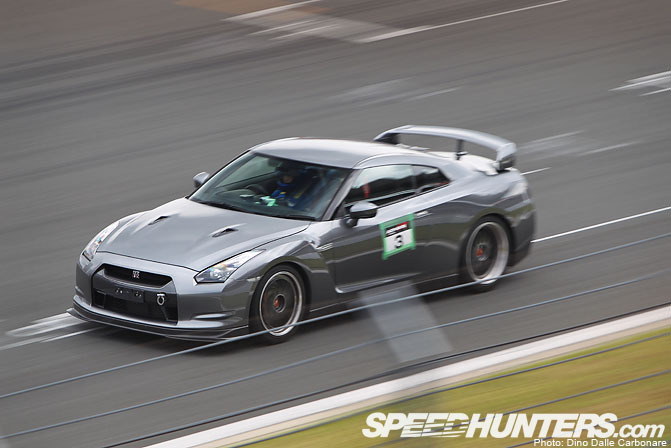 It was time to then cross over under the track…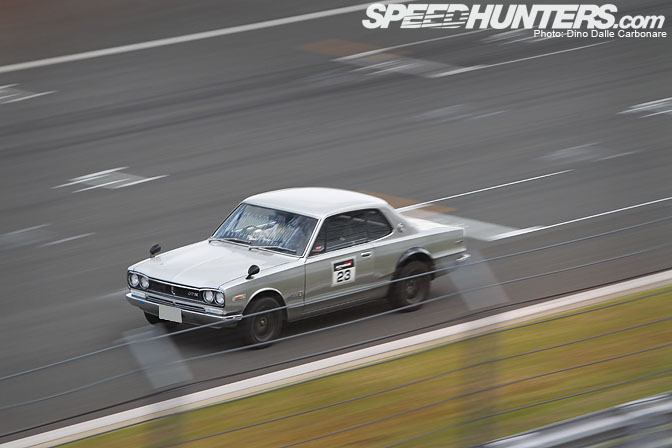 …and head to the paddock area to get ready for the demo car run that would follow the owner's soukoukai.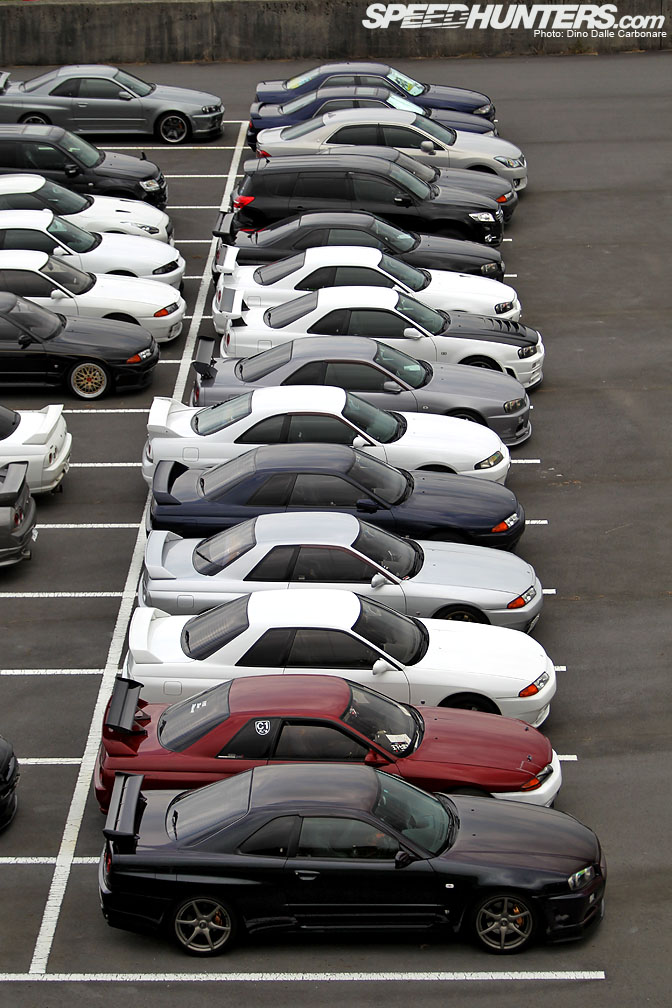 I couldn't pass up the opportunity to grab a few shots at some of the parking lots scattered around the Fuji compound. It's hard to say which is more interesting, looking at the tuner demo cars or checking miles and miles of parked GT-Rs of every generation!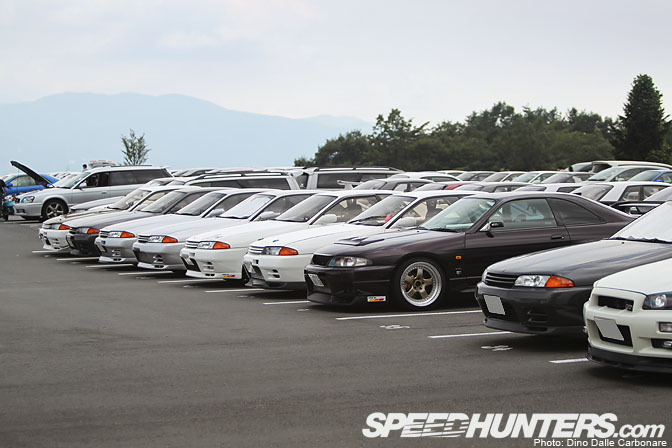 Seems barely believable right?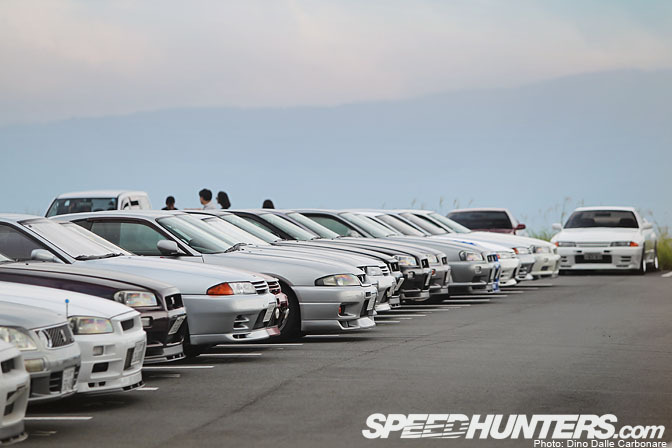 But it was the same story everywhere I looked!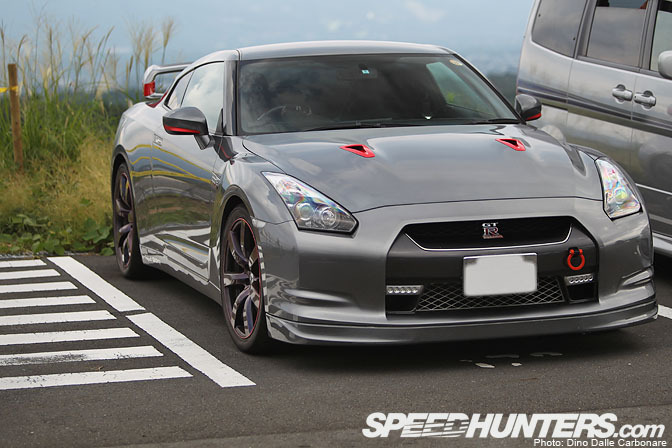 How about red…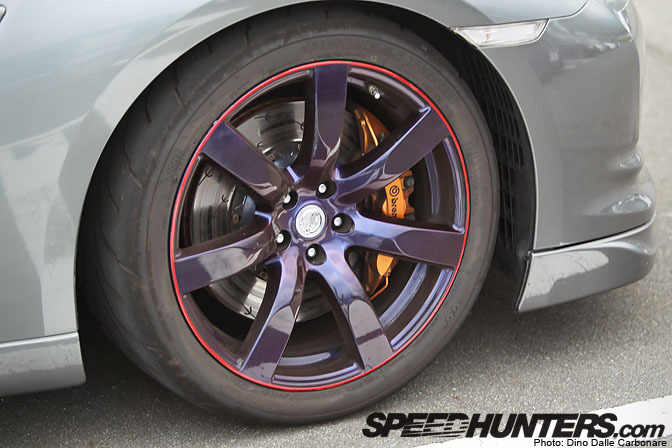 …and Midnight Purple accents for your R35?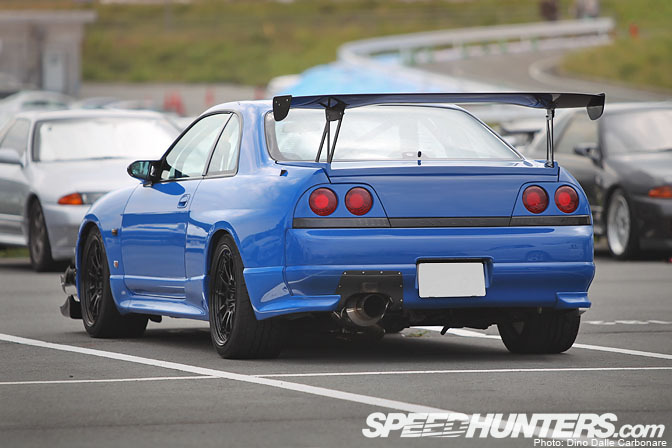 Next up is the final part from the R's Meeting as we head straight to the pits to get up close and personal with some time attack beasts.
-Dino Dalle Carbonare